top 8 Instagrammable places in Las Vegas
Las Vegas is a fantastic city in the United States with a lot to offer. Many people connect Las Vegas with resorts since there are so many of them here.
Those who enjoy photography should visit Las Vegas at least once. The city has it all, whether you're looking for colorful attractions, beautiful views, or unusual locales. There are numerous Las Vegas Instagram places to choose from.
1. "Welcome to Fabulous Las Vegas Nevada" Sign
The Welcome to Fabulous Las Vegas Nevada sign is one of the most Instagrammable locations in Las Vegas. It is easily recognized and a popular destination for many people.The sign is one of the top photo opportunities in Las Vegas. That's because most people who see your snapshot can tell right away that you're in this lovely city. Furthermore, it is entertaining to photograph something that most people have previously seen.
The sign itself is also very attractive. The bright red letters look fantastic when combined with the blue of the other letters! This is also why it's one of the top Instagram destinations in Las Vegas.Furthermore, the palm trees and hotel in the background make this an excellent location for capturing the unique atmosphere of the city in a single photo.
Location: 5100 Las Vegas Blvd S, Las Vegas, NV 89119, USA
Opening hours: 24 hours 
Entrance Fees: Free
2. The Fountains for Bellagio
The Fountains of Bellagio, a stunning water and light show choreographed to music, is a must-see in Las Vegas. The show starts every 15 minutes in the evening. Take a photo of the fountains from the neighbouring pedestrian bridge, or go big and reserve a table on the patio at Lago for the best view and a really fantastic meal – it's a bit pricey, but worth it.
Location: 3600 S Las Vegas Blvd, Las Vegas, NV 89109, United States
Opening hours: 24 hours 
Entrance Fees: Free 
MODS, the Museum of Dream Space, is a popular Las Vegas Instagram spot. If you like innovative photography, visit MODS. Rooms are colourful and unique. The Museum of Dream Space makes every shot unique! You'll want to capture many artworks because there are so many. 
Posing in front of the art will seem spectacular.The first digital art museum in the nation, it's unique! Yayoi Kusama inspired the museum. She is a Japanese modern artist. She's famous for her limitless rooms. 
Location: 3327 S Las Vegas Blvd Suite 2732, Las Vegas, NV 89109, United States
Opening hours: Mon to Sat 10 AM to 8 PM , Sun 11 AM to 6 PM 
Entrance Fees: $48 for adults , $25 for the children ages 6 to 12
4. Fire State Park Valley
Valley of Fire State Park is a natural wonderland filled with stunning red rock formations and ancient petroglyphs. The park is most known for the famous road cutting through the red rocks, but we found so many more just otherworldly places hiking on just a couple of the many trails,  and even a drive through the park gives you nonstop jaw-dropping views. Valley of Fire is about an hour's drive from Las Vegas, but it is well worth the day trip – just be careful in the summer.
Location: Moapa Valley, NV 89040, United States
Entrance Fees: $10 per vehicle
Seven Magic Mountains is a public art installation that everyone can visit for free. It consists of seven columns of rocks all painted in a very bright colour.It is unlike anything else in the city. The contrast between the dry beige desert and the colourful blocks makes the rocks stand out a lot. This makes for unique Instagram photos.
The Seven Magic Mountains is an outdoor art installation by the Swiss artist Ugo Rondinone comprising seven stacks of painted boulders each one painted a vibrant hue ranging from luminescent yellow to jet black. Each registers around 30 feet in height.Any time between sunrise and sunset (the official opening hours) works in terms of photography but earlier in the morning is the best to avoid crowds.
Location: S Las Vegas Blvd, Las Vegas, NV 89054, United States
Opening hours: 24 hours
Entrance Fees: Free
Moving out of Venice and heading to its southerly neighbour, Rome, the Las Vegas Trevi Fountain is a replica of the world's most famous fountain.It's located next to The Forum Shops at Caesars Palace which is one of the best destinations if you want to do some shopping in Las Vegas.
Despite being one of the best Instagram spots in Las Vegas, the Trevi Fountain is usually relatively quiet so you can capture some shots from all the angles without having to wait for long.And if the replica of the Trevi fountain revoked your wanderlust for visiting Rome, make sure to check out the most Instagrammable places in Rome as well!As it's usually not that crowded you can go any time of day but mornings are the best if you want to have it all to yourself.
Location: Piazza di Trevi, 00187 Roma RM, Italy
Opening hours: 24 hours 
Entrance Fees: Free
7. Bellagio Conservatory & Botanical Gardens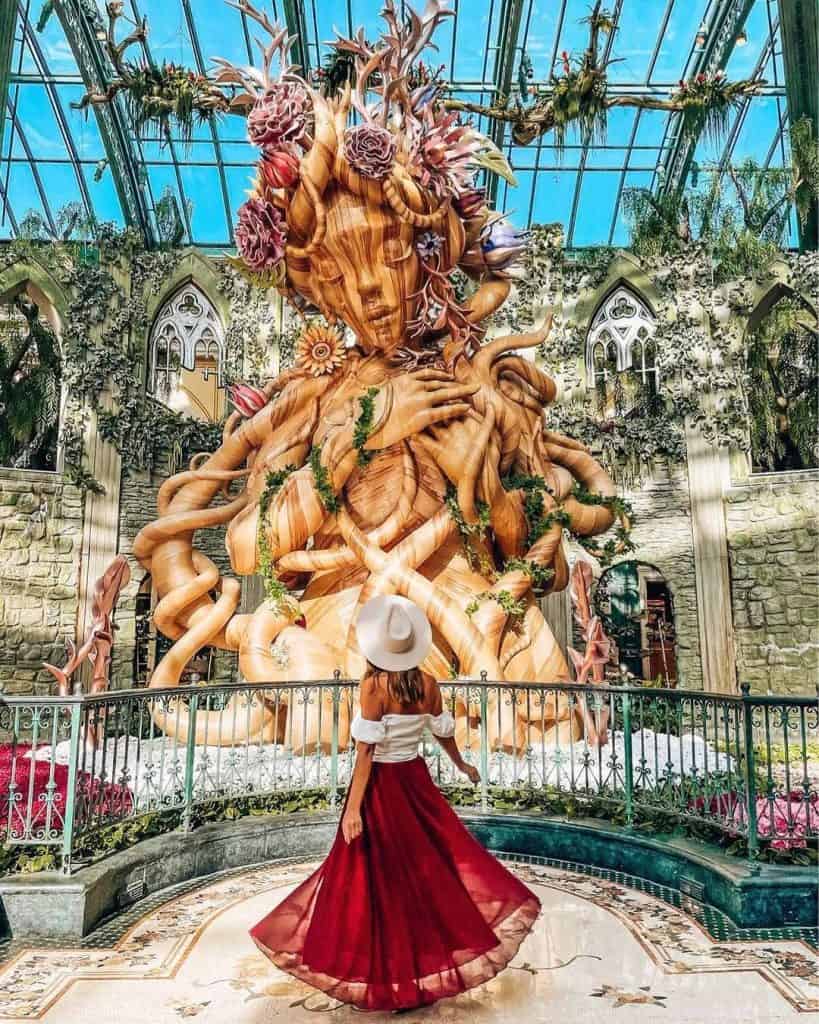 The centrepiece of the entrance to one of the most well-known hotels and casinos, the Bellagio Conservatory & Botanical Gardens is a floral wonderland that changes every season and features special displays to commemorate the holidays.
Depending on the time of year you visit, you can expect a backdrop of summer blooms, pumpkins, or Christmas elves. This is one of the photo spots in Las Vegas where having a wide-angle lens is very much needed.
Location: 3600 S Las Vegas Blvd, Las Vegas, NV 89109, United States
Opening hours: 24 hours 
Entrance Fees: Free
Another of the awesome themed hotels, The Luxor Hotel & Casino whisks you out of the Nevada desert and into the realm of Ancient Egypt, with colossal sphinx sculptures and a resort shaped like a giant pyramid!Take a wander through the grounds but if you want to cut to the chase then the best place to shoot from to get the full panorama of the hotel is in front of the huge painted Sphinx that marks the entrance to the resort.
Taking your pictures from here gives you a view of the pyramid and various interpretations of Egyptian art and sculpture. Another epic location at one of the quirkiest Las Vegas Instagram spots is the smaller Sphinx at the foot of the obelisk. 
Location: 3900 S Las Vegas Blvd, Las Vegas, NV 89119, United States
Las Vegas is an internationally renowned major resort city, known primarily for its gambling, shopping, fine dining, entertainment, and nightlife. The Las Vegas Valley as a whole serves as the leading financial, commercial, and cultural centre for Nevada.
Common Questions About Places In Las Vegas
Start Planning Your USA Trip Now!
Book Your Flight:
Use Skyscanner to find a cheap flights. A travellers favorite way to book flights, as it searches websites and airlines around the world with one click.
Book Your Bus or Transportation Within USA:
There are two ways to book your transporation, ask your hotel or hostel, go to the local bus terminal, or book online, for a less stressful trip using 12go.asia
Book Your Accomodation: 
Find the best hotels or hostels at HostelWorld, Booking.com, Agoda.com. Perks include with no upfront payment. Pay when you check out and Free cancellations.
Dont Forget Your Travel Insurance:
Two popular choices are SafetyWing and WorldsNomads. A traveler should buy traveler's insurance to protect themselves against unexpected events such as trip cancellations, medical emergencies, and lost or stolen baggage. It provides peace of mind and financial protection in case of unforeseen circumstances.
Useful Apps?
Checkmy Bus / Wanderu / Busbud – Booking Busses
Whatsapp / Groupme / Boostone – Communication
HiJiffy / Hotel Tonight / Agoda – Booking Hotel
Trip.com / Goibibo – Booking Train
Seamless / GrubHub / Uber Eats – Food Delivery
Uber / Lyft / Wingz – Booking Taxi
Want More Information On USA?
Be sure to check out my nomad travel guide on the USA for even more tips.
Disclosure: Please note that some of the links above may be affiliate links, and at no additional cost to you, I earn a commission if you make a purchase.