Top 10 Instagrammable Spots in Austin
Austin, Texas's capital, is well recognized for its laid-back atmosphere. The city has numerous neighborhoods, each with its own distinct personality. Agribusiness buildings, restaurants, pubs, and nightclubs may be found in downtown Austin. This bustling metropolis is alive with action. Live music is popular in Austin, Texas. The SXSW and Austin City Limits music festivals are held in the city's numerous music venues. Austin is artistically beautiful, with its recognized street art, distinct architecture, and magnificent skyline. There are plenty of Instagrammable spots in Austin, so you won't have to look far, but here are a few ideas to get you started.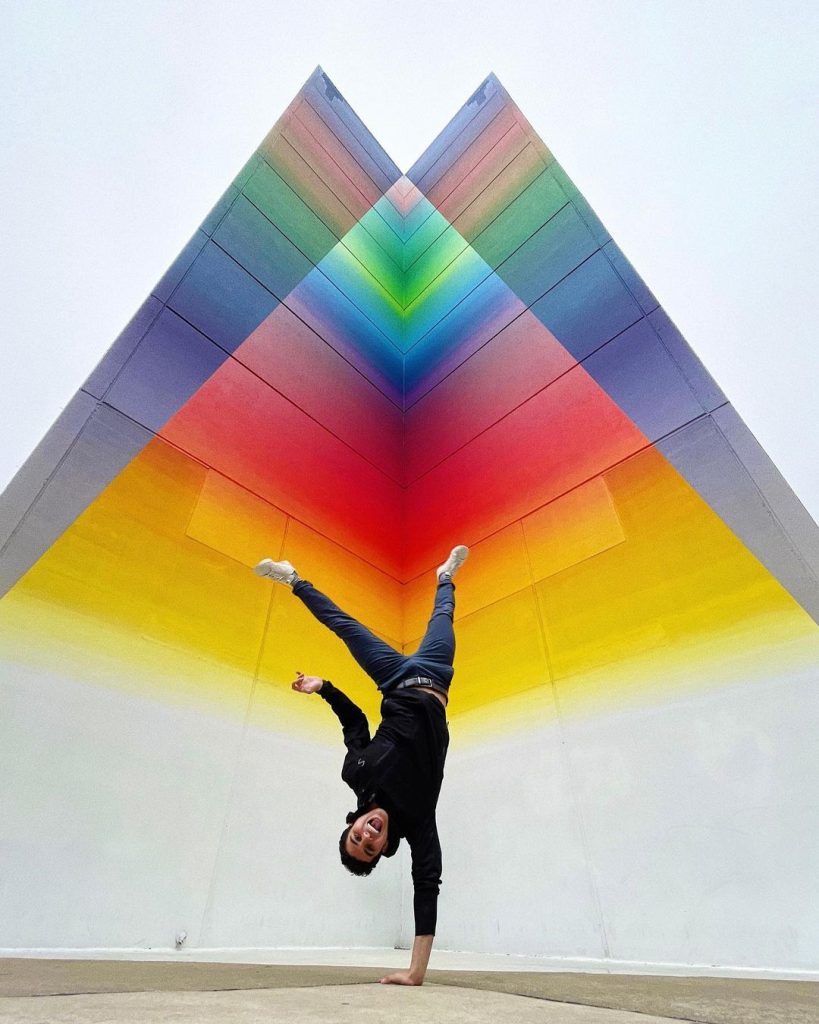 The Austin Convention Center's Second Street Parking Garage is home to the 103-foot-tall Tau Ceti color spectrum. The gigantic Tau Ceti mural is named after a star in the Cetus constellation. It is composed of three colossal triangles in a rainbow of hues. The Austin mural is beautiful and features a wide range of shades. The only ways to get at it are in orange, yellow, red, pink, purple, green, and blue; parking in the garage; and going straight up to the artwork. The best Instagram spots in Austin: You can take pictures of the mural from right beneath or directly across the junction at the northwest corner using a wide-angle lens.
Location: E 2nd St and Brazos St, Austin, TX 78701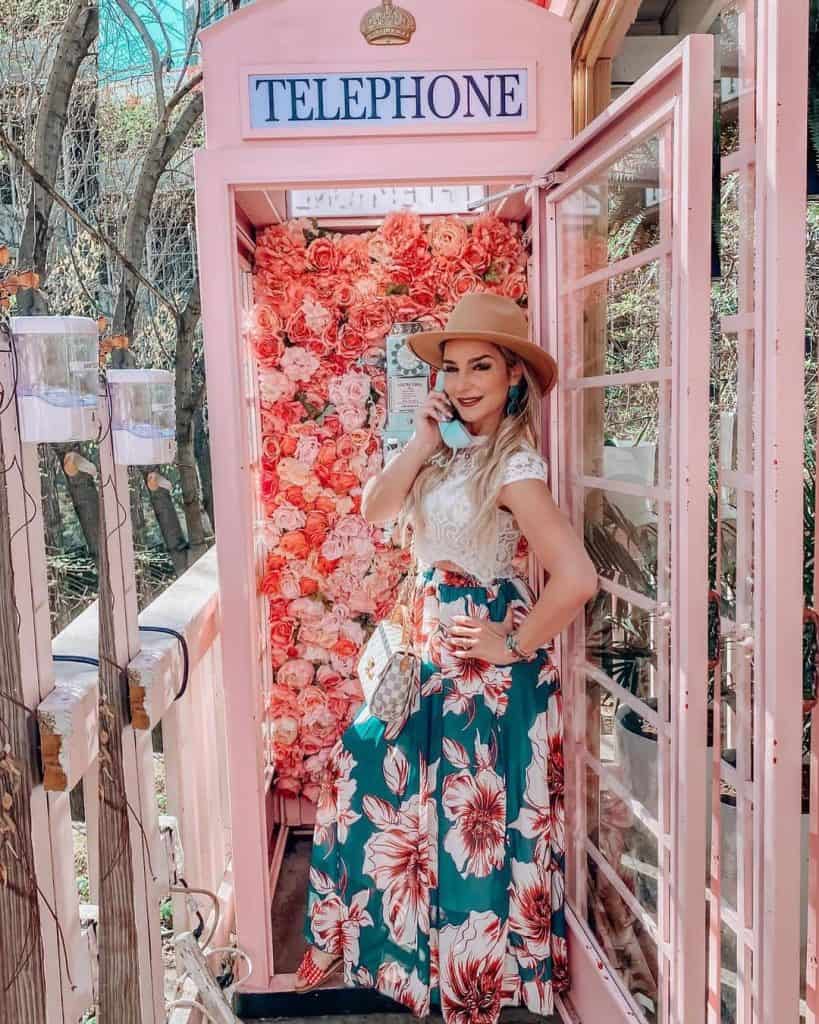 If you're looking for a taco restaurant in Austin that will look nice on Instagram, Taquero Mucho would be the best place. It is a terrific Mexican restaurant where you can enjoy delicious tacos. Taquero Mucho in Austin provides several photo options.
This flower-adorned phone booth is one of them. The food was delicious, and the restaurant offered various cute pink photo options. Pink colors are lovely, especially if you wear pink yourself. The beautiful pink flowers go perfectly with the phone booth. This position is impressive since you can update your Instagram while standing inside the phone booth. 
Location: 508 West Ave, Austin, TX 78701
3. "You're My Butter Half."
Another incredibly well-liked Austin mural, "You're My Butter Half," is a bright blue work of street art painted on the side of a building on East MLK. This mural is one of Austin's most popular subjects for photos. It is carelessly positioned on the side of a building in a quiet neighborhood. The blue on the wall looks fantastic with the colors of the bread and butter. The red heart on the wall makes this place quite romantic. Additionally, it's the perfect spot for best friends or couples to take Instagram pictures. Finding parking close enough to the mural for you to approach and take pictures is relatively easy.
Location: 2000 E Martin Luther King Jr Blvd, Austin, TX 78702
4. I Love You So Much, Austin Wall
Located on the wall of Jo's Coffee facing South Congress Avenue is the famous "I Love You So Much" mural. The artwork's humorous history; was supposedly created as a peace offering between Jo's Coffee's proprietors. Her drunken argument with the shop owner escalated. She later made an explicit declaration of her love as an apology. The words "I love you so much" are sprayed in red on a light green wall in the city's hip South Congress (SoCo) district.
In addition, the red writing looks great against the green background. In addition, the phrase "I love you so much" is included, which is a nice touch. Someone with an old Polaroid camera has also been seen hanging around, offering to take pictures of passersby for a nominal fee. People now wait in long lines to take cute but corny pictures with their friends and significant others.
Location: Wall of Jo's Coffee, 1300 S Congress Ave
The Cute Nail Studio is the nail parlor in Austin with the most colorful decor. This fantastic rainbow nail art store on East 7th is well-known for its creative nail designs, vibrant body hair dying, mini tattoos, tooth gems, rainbow-colored building, Instagram-able restroom, and freshly developed take-home product line. Cute Manicure Studio is the ideal manicure salon to pamper yourself while admiring the vibrant rainbow spa's views. 
Location: 1211 E 7th St Austin, TX 78702
6. 360 Bridge at Lake Austin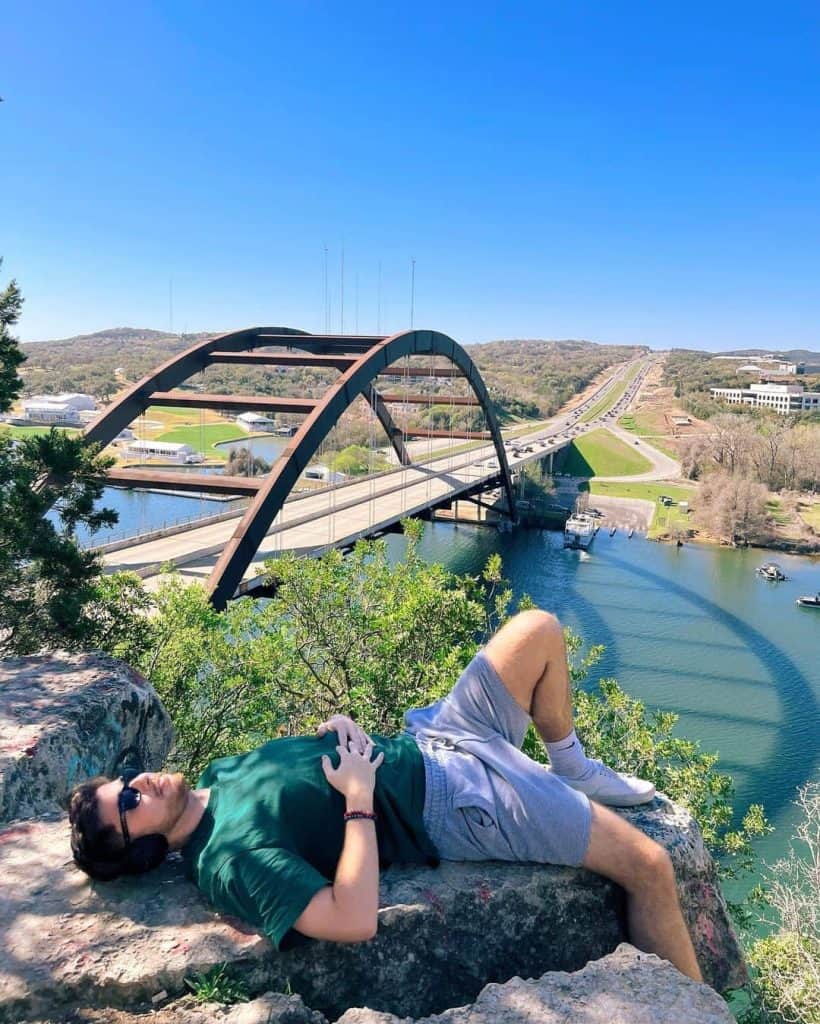 Because of the tremendous blue hue of the water and the beautiful aspect of the bridge, the 360 Bridge is undoubtedly one of Austin's most Instagrammable destinations. It is particularly stunning due to the bridge's magnificent structure and the lovely flowing river. 
The fact that these photos can be taken from such a high vantage point makes them appear great. Just keep in mind that getting to the overlook necessitates a rocky ascent. While there, you should take pictures from as many different angles as possible.
Location: 5300 N Capital of Texas Hwy, Austin, TX 78730, USA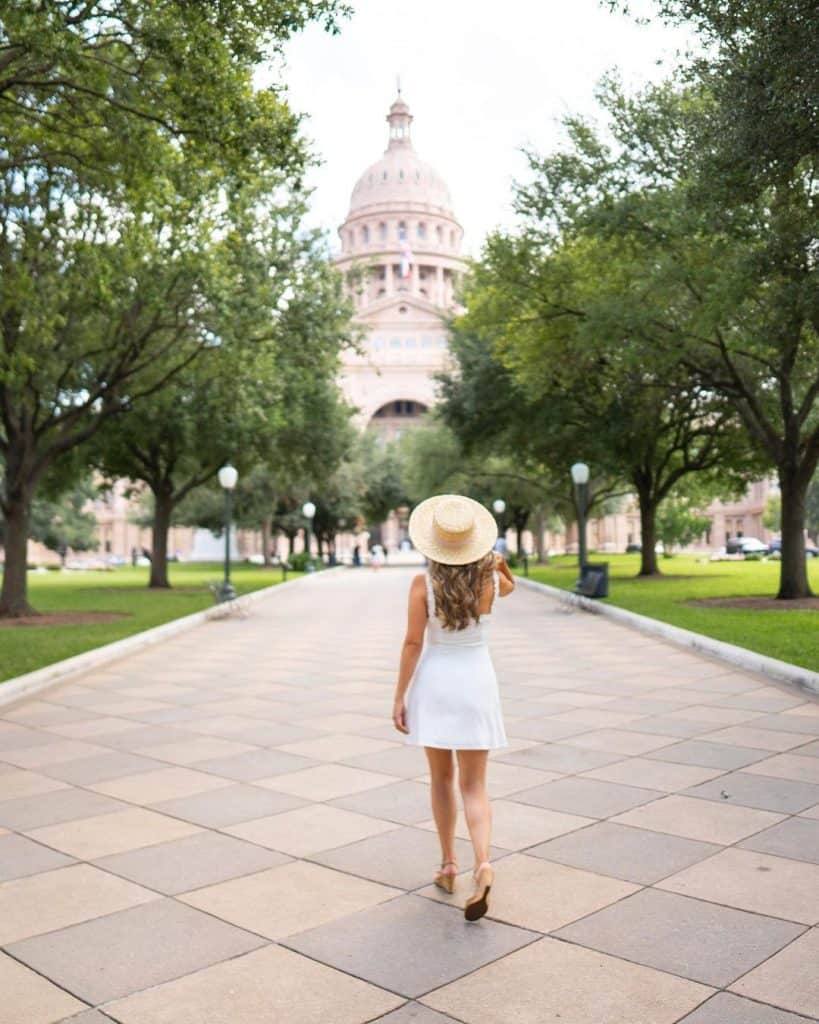 While there, you must visit one of Austin's most iconic buildings. The Texas Capitol, a visually gorgeous building, is one of Austin's most picturesque photo sites. One of the most prominent state capitals in the nation, the Texas Capitol, offers some magnificent photo opportunities. It is midway between the University of Texas campus and Austin's downtown. Self-guided or free guided tours are available to explore this Texas Capitol, and photography is permitted. 
Location: 1100 Congress Ave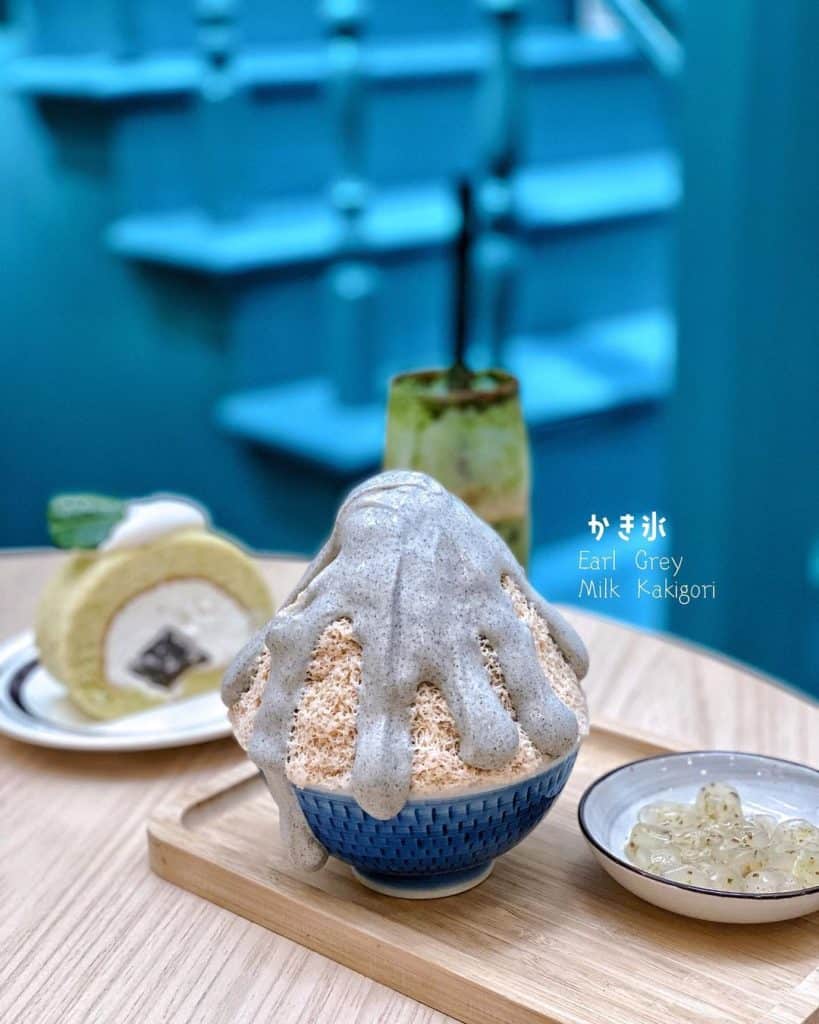 If you want to stay in the South Congress neighborhood, check out the Austin Motel. Because the Austin Motel is in a fantastic location, you can stop for an Instagram photo in front of the famous neon Austin Motel street sign. Austin Motel is one of the most appealing signs. It's a simple sign with only two colors and a simple font. This elegance stems from its simplicity. You can walk from the hotel to restaurants, supermarkets, and coffee shops. In addition, visitors to the motel can park for free. 
Address: 1220 S Congress Ave Austin TX 78704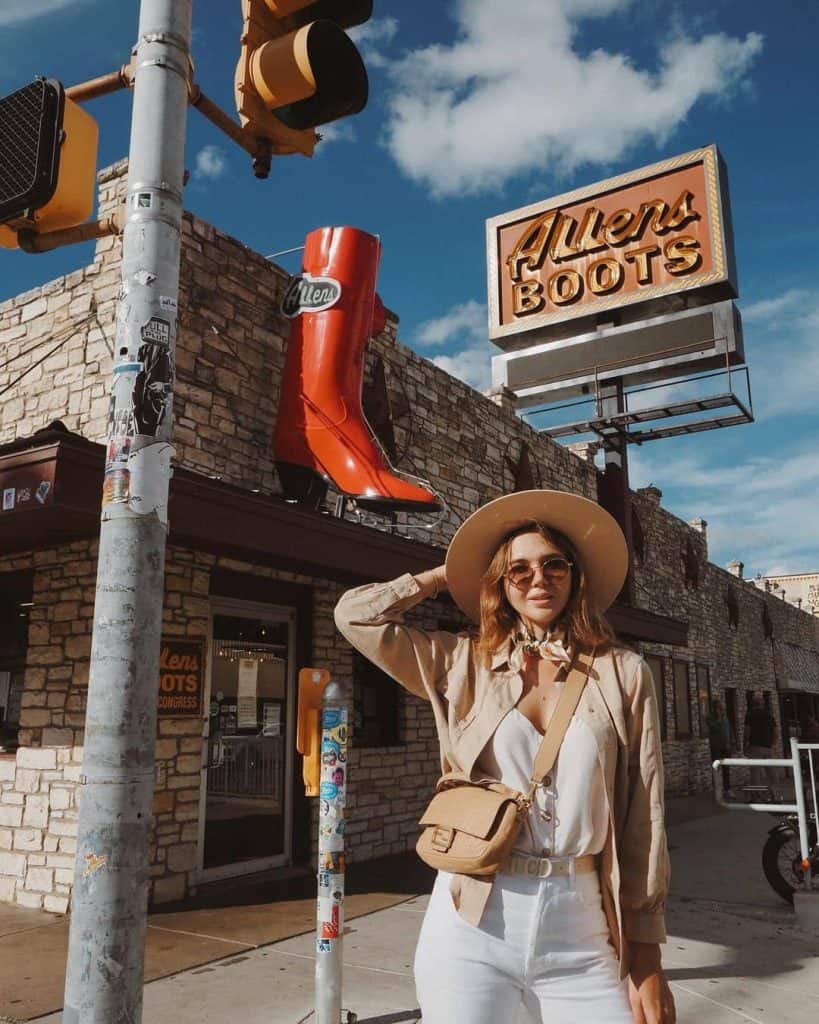 Allens Boots, a family-run establishment on South Congress Avenue since 1977, is dedicated entirely to cowboy boots. This well-known sign portrays the store's wares, which include cowboy boots and western wear, such as stylish hats and leather belts. This South Congress shop is a must-visit if you're looking for a new pair of boots. View the photographs of every famous person they have dressed on their "wall of fame."
Location: 1522 S Congress Ave, Austin, TX 78704, USA
10. Congress Avenue bat bridge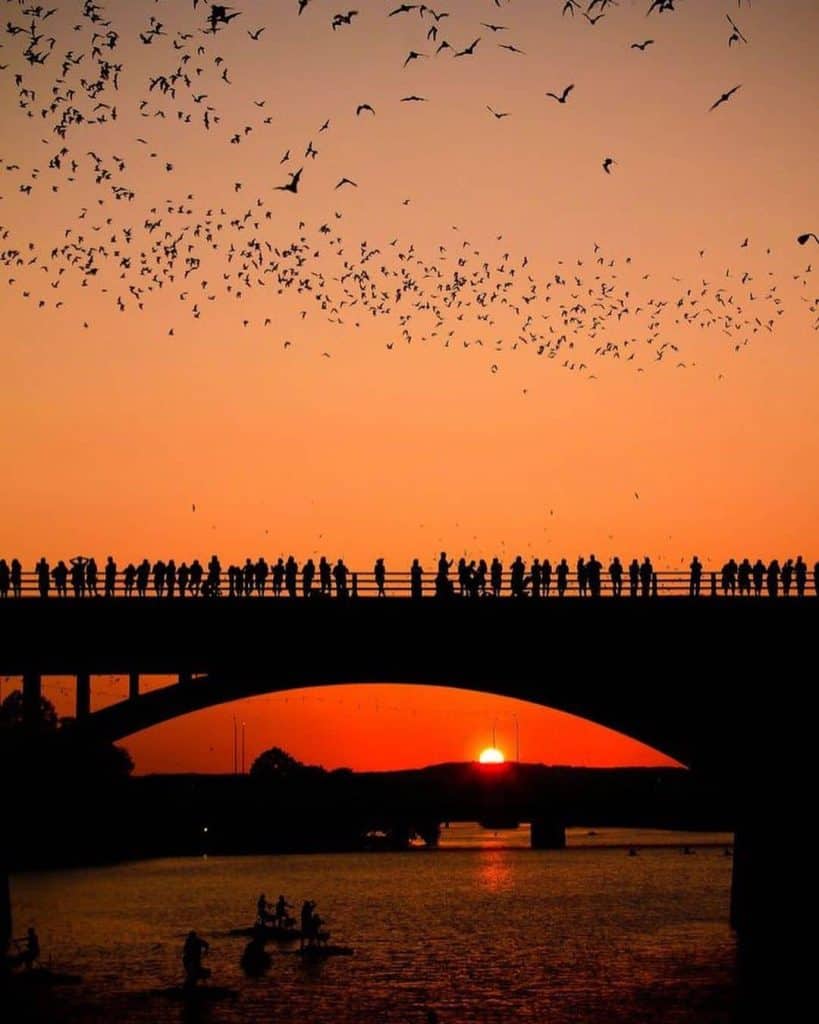 When you first hear of the Congress Avenue bridge, you might not think of Austin as a city. Between late spring And early fall (May through October), you may watch more than a million Brazilian free-tailed bats take flight from beneath the Congress Avenues Bridge at dusk. Each night, the bats fly in formation for about 45 minutes. Thousands of bats can be seen flying across a colorful sky after the sun has set. This special occasion can be documented on Instagram, allowing you to capture and share your experiences with your followers. A popular Austin activity is watching the nightly bat departure from the bridge, so arrive early to find a good parking spot and a viewing spot.
Location : Congress Ave., Austin, TX 78704, USA
Austin, Texas, is a beautiful American city. It's a great Texas city for vacations. That's because there are plenty of unique activities to partake in here in the city. Austin is a photographer's paradise due to the abundance of stunning locations. The place's scenic beauty makes it an ideal destination if you're seeking an excellent backdrop for your photographs.
COMMON QUESTIONS ABOUT instagrammable spots in austin
Start Planning Your USA Trip Now!
Book Your Flight:
Use Skyscanner to find a cheap flights. A travellers favorite way to book flights, as it searches websites and airlines around the world with one click.
Book Your Bus or Transportation Within USA:
There are two ways to book your transporation, ask your hotel or hostel, go to the local bus terminal, or book online, for a less stressful trip using 12go.asia
Book Your Accomodation: 
Find the best hotels or hostels at HostelWorld, Booking.com, Agoda.com. Perks include with no upfront payment. Pay when you check out and Free cancellations.
Dont Forget Your Travel Insurance:
Two popular choices are SafetyWing and WorldsNomads. A traveler should buy traveler's insurance to protect themselves against unexpected events such as trip cancellations, medical emergencies, and lost or stolen baggage. It provides peace of mind and financial protection in case of unforeseen circumstances.
Useful Apps?
Checkmy Bus / Wanderu / Busbud – Booking Busses
Whatsapp / Groupme / Boostone – Communication
HiJiffy / Hotel Tonight / Agoda – Booking Hotel
Trip.com / Goibibo – Booking Train
Seamless / GrubHub / Uber Eats – Food Delivery
Uber / Lyft / Wingz – Booking Taxi
Want More Information On USA?
Be sure to check out my nomad travel guide on the USA for even more tips.
Disclosure: Please note that some of the links above may be affiliate links, and at no additional cost to you, I earn a commission if you make a purchase.