top 13 Instagrammable places in Vancouver
Vancouver is an outdoor paradise surrounded by mountains and ocean, but it also offers great culture. Vancouver is famous for its rough beauty, but it also has a bustling culture.Vancouver is proud to be one of the best places to live in the world. It always ranks in the top ten of the world's best places to live. Walking about Vancouver, you can't help but take images. Vancouver's beauty—from colourful murals to magnificent attractions—makes you want to Instagram it.
Visit the following sites while exploring Vancouver—they'll transform your Instagram game!
Looking for some art ideas for your future photos? The Digital Orca greets cruise ship guests as they arrive at the terminal at Canada Place. It's near Fly Over Canada in Coal Harbor.
Digital Orca was built next to the Vancouver Convention Centre in 2009. Douglas Coupland honours the west coast of Canada Orca whale with this stunning show. The huge piece of digital art shows a killer whale in the middle of a jump, frozen in a way that links the past, the present, and the future. Here are some reasons we included the Digital Orca in our top instagrammable Vancouver spots.
Location: Vancouver Convention Centre 1055 Canada Place
Opening hours: 24 hours 
Entrance Fees: Free
2. Vandusen Botanical Garden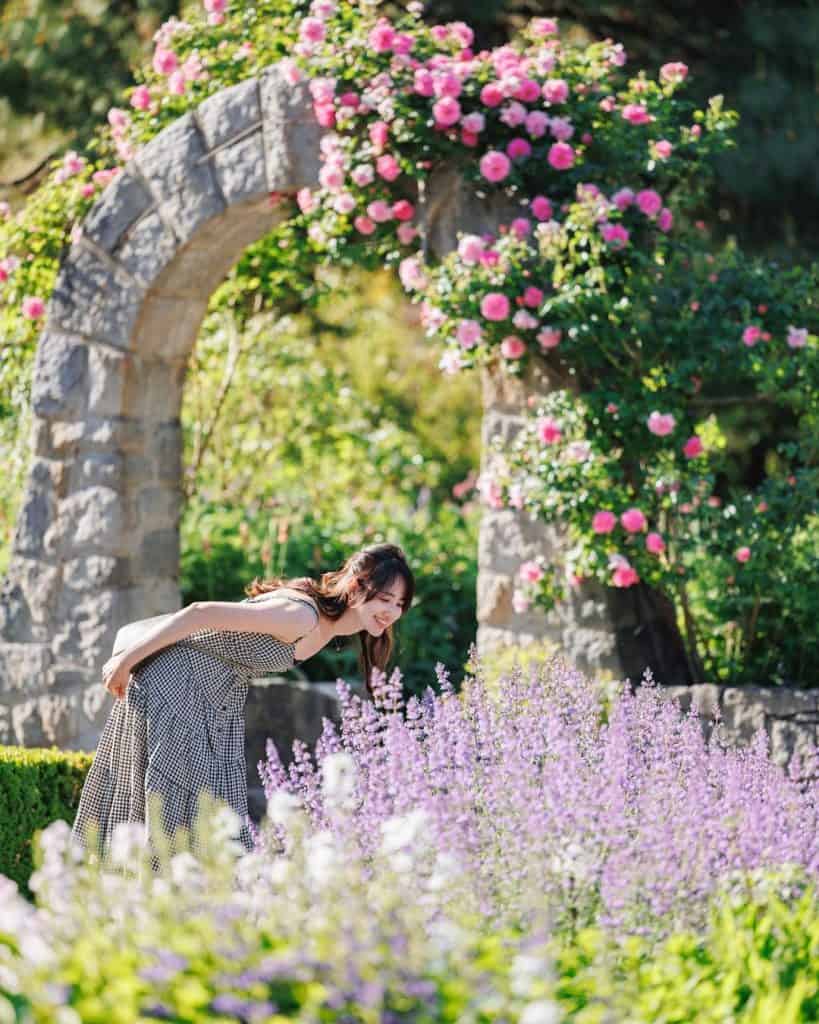 Vandusen Botanical Garden is a top Vancouver Instagram spot. The VanDusen Botanical Garden is a real oasis in the middle of the city. It is 55 acres big and is right in the middle of Vancouver. These grounds are ideal for wildlife photography with over 7,500 plant types and an Elizabethan hedge maze.
Seasonal light shows, exhibits, and events take place all over the grounds, bringing art and nature together in a way that is both beautiful and enlightening. 
Location: 5251 Oak St, Vancouver, BC V6M 4H1, Canada
Opening hours: Daily 10 AM to 5 PM 
Entrance Fees: Adult $8.9 for Winter , $12.3for Summer 
The Lions Gate Bridge looks amazing from the Prospect Point Lookout in Stanley Park. Make sure you take some pictures from the other side of Prospect Point, which looks out over the water. Stanley Park is a famous place to visit in the summer, when both locals and tourists come to enjoy the beautiful scenery and beaches in the middle of the city.
Location: 5601 Stanley Park Drive
Gastown is one of Vancouver's coolest neighbourhoods. It was the first village and the centre of how Vancouver grew. There are now lots of cool art shops and cocktail lounges in the old Victorian buildings. The Gastown Steam Clock is one of the area's most popular places to visit because of its old-fashioned look and unique whistle that tells the time. 
The district still has unique shops, galleries, and some of the city's top restaurants! Cobblestones and a steam clock create fantastic backdrops year-round in Gastown!Gastown is indeed a top Vancouver Instagram destination.
Location: Gastown Clock is at 305 Water Street, Vancouver, BC V6B 1B9
5. Lynn Canyon Suspension Bridge
Capilano Suspension Bridge shows Vancouver's natural beauty in summer and winter!One of Vancouver's major attractions. Visit early or late in summer to avoid crowds. They put on a beautiful light show in the winter. It leads to tall evergreen trees, cedar-scented rainforest air, and Treetops Adventure, which has 7 hanging footbridges with views 110 feet above the forest floor.
Cliffwalk follows a granite cliff along the Capilano River. It is made up of a maze-like series of narrow cantilever bridges, stairs, and platforms. Only 16 anchor points in the cliff hold the building up!
Location: 3735 Capilano Road, North Vancouver
When it opened in 2016, Alley-Oop was the first re-imagined laneway with murals on both sides. The idea was to improve people's moods and turn a once-dreary alley into a fun, welcoming public place. Vancouver's business district's bright pink and yellow paint and basketball hoops invite workers to play, exercise, and socialise.
Due to its unusual architecture and background attractiveness, the West Hastings St laneway between Granville St and Seymour St is most popular for photos and movies!
Location: 688 W Hastings St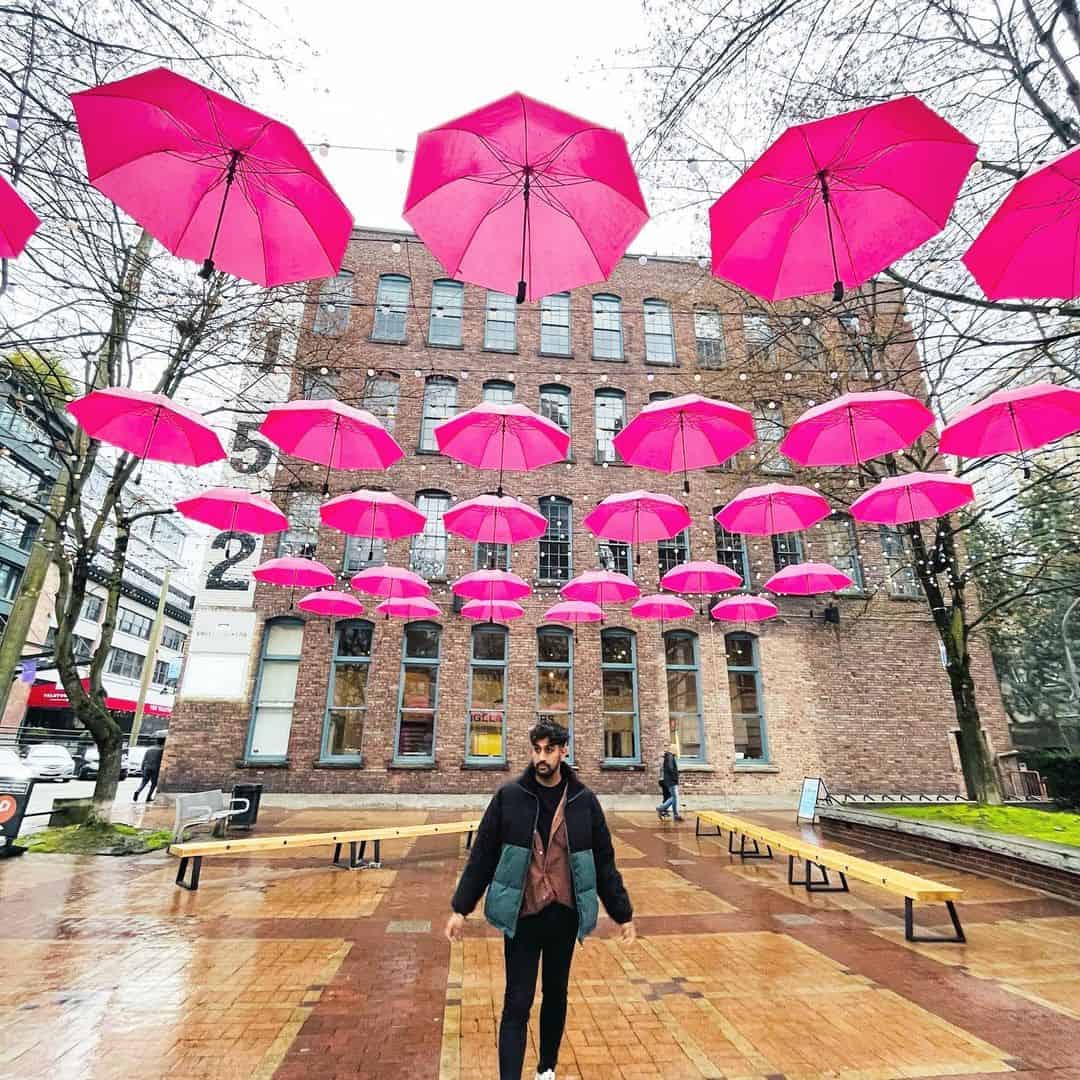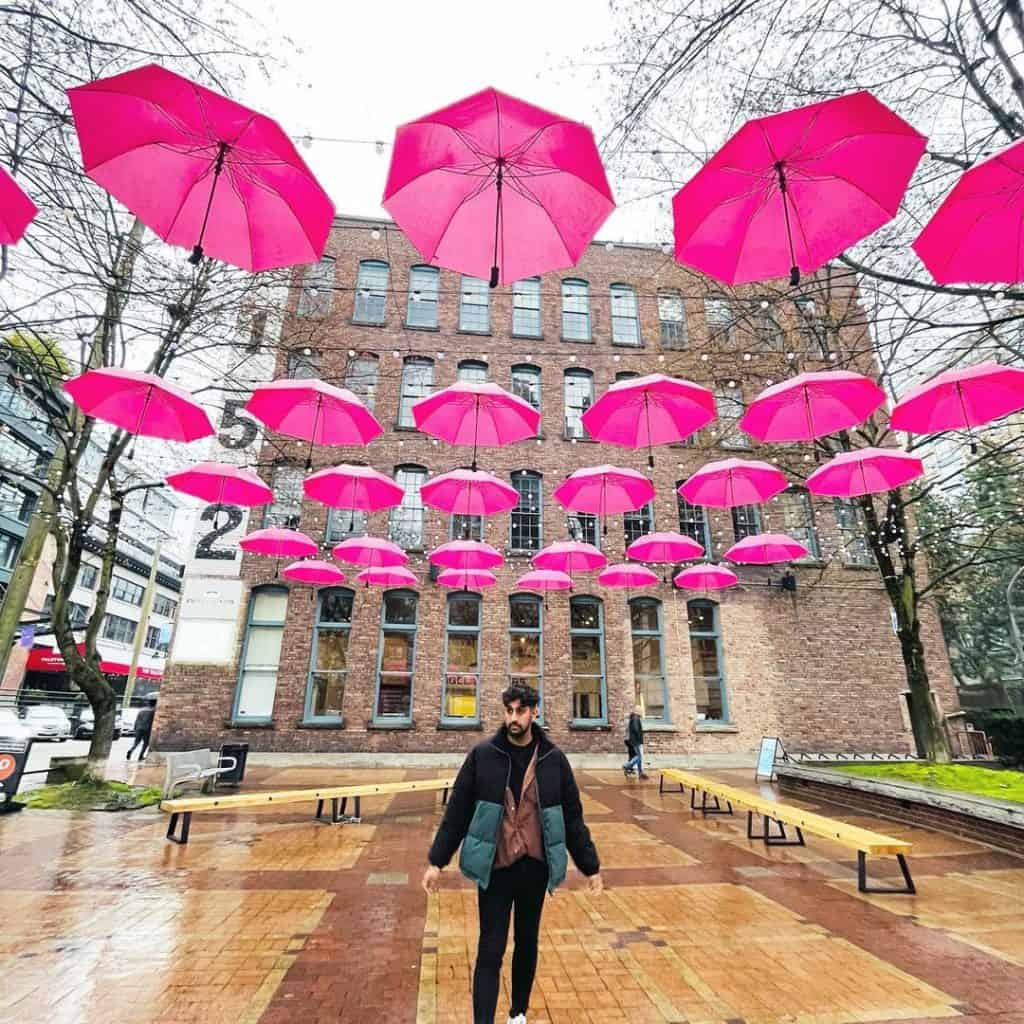 Yaletown has colourful umbrellas. They are in Bill Curtis Square behind Yaletown-Roundhouse Canada Line Station. The Yaletown Business Association named it #underbrella to symbolize Raincouver but also to tell you to hang up your umbrella now that summer's arrived. Come see the colourful umbrellas in the sky, which change with the seasons. It will also keep you dry if it rains.
Location: 1198 Mainland
8. Robson Square & Ice Rink
Robson Square is downtown Vancouver's center. Free daily skating on an outdoor ice rink takes over the square from December to February. The square's historic and new structures and ice rink illumination make it a great nighttime photo spot. Robson Square is no surprise on our list of Vancouver's most instagrammable spots.
Location: 800 Robson St, Vancouver, BC V6E 1A7, Canada
Opening hours: Daily 9 AM to 9 PM
Photographers will love this cool mirror light show in Richmond. The Moon & Back Gallery is the first of its kind in Vancouver. It has a lot of interactive and photogenic art shows. The installations are spread out in different rooms, giving you great places to take pictures. This is without a doubt one of the best places in Vancouver to take an Instagram photo.
Location: 150-12111 Bridgeport Rd, Richmond, BC V6V 1J4, Canada
Opening hours: Mon to Thurs 2 PM to 9 PM , Fri to Sun 12 PM to 9 PM 
Entrance Fees: $25 for Adults 
The Jukebox Print is one of the most Instagrammable places in Vancouver. It will add a splash of colour to your feed. Jukebox Print is a popular printing company in Vancouver, and their office building is pretty cool, too.
The building's front is a dream for Instagrammers because it is painted in bright stripes. It's in the Mount Pleasant neighbourhood, which is known for being cool and artsy. This cool place to take pictures is on West 4th Avenue.
Location: Vancouver, British Columbia, Canada
11. Aurora Winter Festival
Celebrate Christmas at Vancouver's Aurora Winter Festival. Impressive light shows are just the beginning… Find fun rides, market stalls, and food gardens, as well as a frozen river you can skate down, in a winter wonderland. Take your camera to the Aurora Winter Festival to create the most spectacular winter content.
Location: Toronto, ON M6K 3C3, Canada
The Audain Art Museum, another Patkau Architects masterpiece, is stunning. The museum's permanent collection spans the late 18th century to the present. The anthology highlights Canada's cultural diversity by featuring musicians from throughout the province. One of Vancouver's most Instagrammable spots.
Location: 4350 Blackcomb Way, Whistler, BC V8E 1N3, Canada
Opening hours: Tues & Wed Closed , Other days 11 AM to 6 PM 
Entrance Fees: $20
13. Lakeland Flowers (Abbotsford)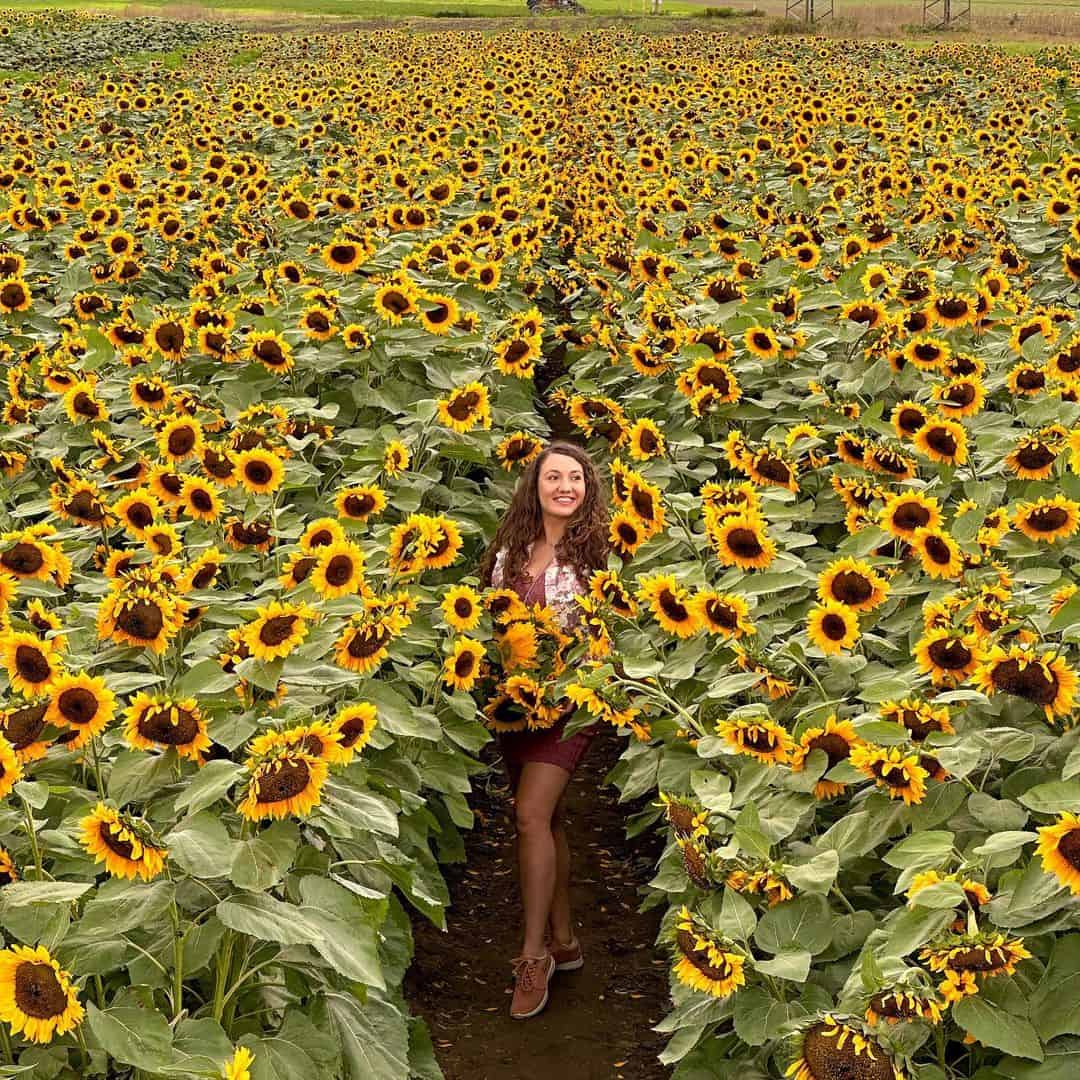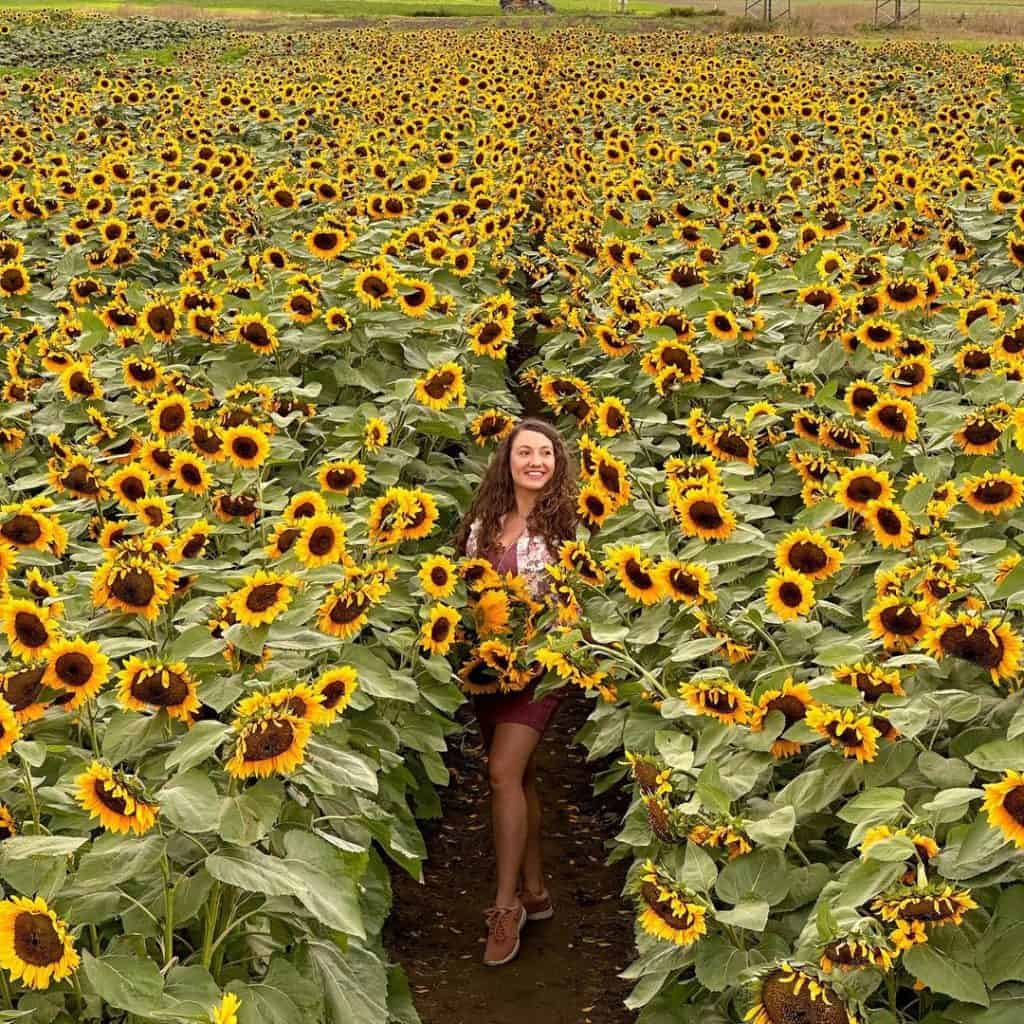 If you are seeking for the perfect sunset flower shots, a trip to Abbotsford, which is famous for its tulips in the spring and sunflowers in the summer, is an absolute necessity. Check out their website for information on upcoming photoshoots; they are available in the spring and the summer.
Location: Lakeland Flowers 3663 Marion Rd., Abbotsford, BC
Opening hours: Daily 10 AM to 6 PM
In conclusion, Vancouver's natural beauty, bustling city life, and numerous sights and activities make it worth visiting. From the beautiful mountains and parks to the busy neighbourhoods and booming food scene, there are a lot of things to do and see.
Common Questions About Places In Vancouver
Start Planning Your Canada Trip Now!
Book Your Flight:
Use Skyscanner to find a cheap flights. A travellers favorite way to book flights, as it searches websites and airlines around the world with one click.
Book Your Bus or Transportation Within Canada:
There are two ways to book your transporation, ask your hotel or hostel, go to the local bus terminal, or book online, for a less stressful trip using 12go.asia
Book Your Accomodation: 
Find the best hotels or hostels at HostelWorld, Booking.com, Agoda.com. Perks include with no upfront payment. Pay when you check out and Free cancellations.
Dont Forget Your Travel Insurance:
Two popular choices are SafetyWing and WorldsNomads. A traveler should buy traveler's insurance to protect themselves against unexpected events such as trip cancellations, medical emergencies, and lost or stolen baggage. It provides peace of mind and financial protection in case of unforeseen circumstances.
Useful Apps?
Busbud / Omio / Wanderu – Booking Busses
TextNow / Whatsapp / Snapchat – Communication
Booking.com / Trivago / Kayak – Booking Hotel
VIA Rai / Omio / Wanderu – Booking Train
SkipTheDishes / UberEats / Instacart – Food Delivery
Canadian Cab App / Zoom.cab / Beck Taxi – Booking Taxi
Want More Information On Canada?
Be sure to check out my nomad travel guide on the Canada for even more tips.
Disclosure: Please note that some of the links above may be affiliate links, and at no additional cost to you, I earn a commission if you make a purchase.