top 9 Instagrammable places in Tulum
Tulum is undeniably one of the most photogenic places in the world. Its bohemian and eco-friendly ambiance makes every corner picturesque, and interestingly, the Instagram algorithm appears to favour Tulum photos. In this list, we've compiled the top 10 most Instagrammable places in and around Tulum for your visual delight.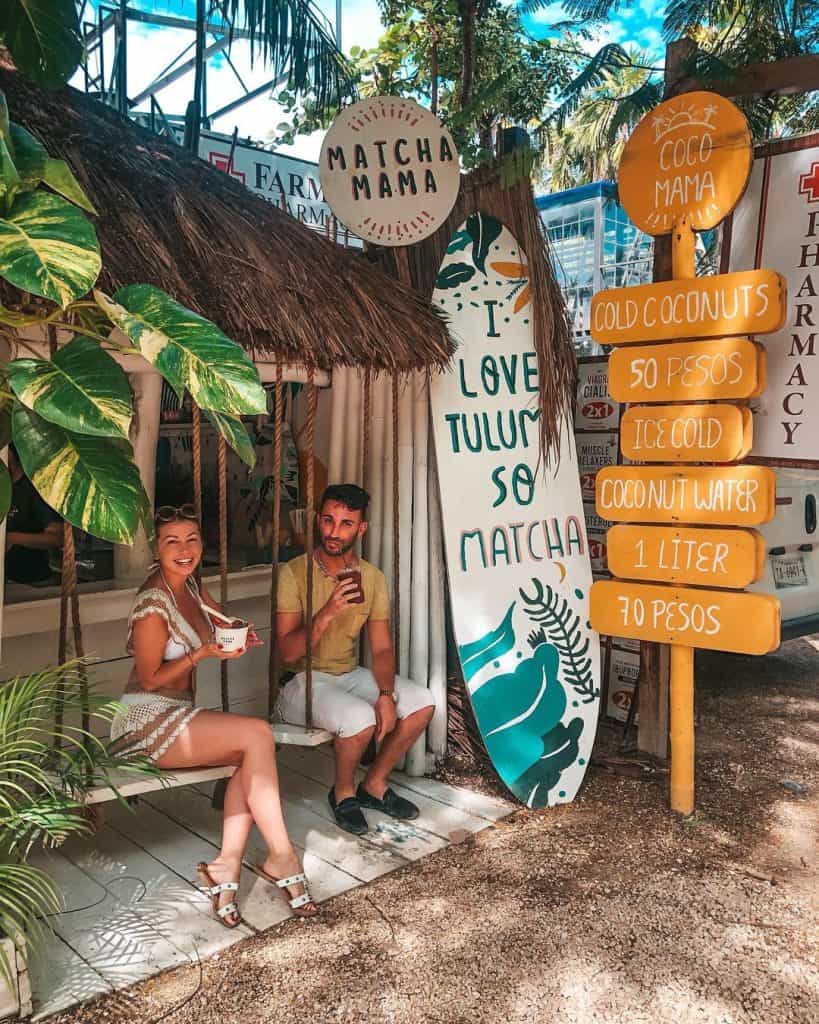 The small yet charming Matcha Mama shack on South Beach Road is a treasure trove for both Instagram enthusiasts and food lovers. This delightful spot serves up a variety of plant-based and gluten-free treats, including smoothie bowls, juices, acai bowls, and kombuchas, all in an adorable setting adorned with matcha-themed decorations and swing seats. They offer fresh smoothie bowls, cold coconuts, and matcha coffees, making it the perfect place to kickstart your day with a delicious and nutritious breakfast. Don't miss trying their Acai Berry smoothie bowl, which not only tastes amazing but will also look fantastic in your photos.
Location: Quintana Roo 15 470 Zona Hotelera • 77780, QROO 15 60, Tulum Beach, Zona Hotelera, 77780 Tulum, Q.R., Mexico
Opening hours: Daily 8 AM to 6 PM
2. Follow That Dream Sign
The "Follow that dream" sign stands out as one of the prime Instagram spots in Tulum. As you wander along Tulum's south beach road, you'll come across charming boutiques and vibrant, shack-style cafes that face luxurious private resorts. Amidst these boutiques and food shacks, there's a street sign that boldly proclaims "Follow That Dream," and it's a major hit on Instagram. This spot is a personal favourite in Tulum and never fails to bring a smile as we pass by.
3. Escultura Ven a la Luz
A top photo spot in Tulum is the Ven a la Luz sculpture at Ahau Tulum Hotel. However, due to its popularity, it can get extremely crowded. If you don't go early in the morning, expect long lines and extended waiting times. This stunning 10-metre-high sculpture by Daniel Popper features a woman figure symbolising the profound bond between people and nature, making it a favourite Instagram-worthy location in Tulum. Because it's one of the best Instagram spots, you might need to endure lengthy queues during the day for that perfect photo.
Location: QROO 15, Tulum Beach, Q.R., Mexico
Opening hours: Daily 9 AM to 10 PM 
Entrance Fees:  60 MXN (3 USD)
Vagalume is a new Tulum Beach club with a unique design, direct beach access, great food, and Instagram-worthy decor, particularly its hand-held bridge leading to the beach, providing stunning ocean views. The club has a Moroccan-Bali vibe with beautiful rugs and wooden chairs, and the outdoor area features a pool, relaxation spaces, and stylish macrame umbrellas. Morning visits are ideal for photos since it gets busier from noon to late in the evening.
Location: Supermanzana QROO 15, Tulum Beach, 77776 Tulum, Quintana Roo, Mexico
Opening hours: The beach club is open from 7:00 AM to 10:30 PM. The entrance is open to the public 24/7.
Entrance Fees: You can snap a photo in the entrance without paying any fee. The entrance to the beach club itself is free, but you need to make a reservation, and there is a minimum consumption requirement of $150 USD.
For those seeking the finest Instagram-worthy spots in the vicinity of Tulum, a visit to Cenote Suytun in Valladolid, which is approximately an hour away, is an absolute must. This underground cenote features a small opening in the ceiling that allows natural light to cascade gracefully onto the platform below. The sheer beauty of Cenote Suytun is nothing short of extraordinary, making it one of Mexico's most exquisite destinations, and standing on its platform offers a truly unforgettable experience.
Location: Carretera Ticuch Km 8 S/n, 97780 Valladolid, Yuc., Mexico
Opening hours: Daily 9 AM to 5 PM 
Entrance Fees: 150 MXN
If you're on the lookout for more Instagram-worthy spots in Tulum, the Muyil Ruins are a hidden gem that often goes underappreciated but is definitely worth your time. While Tulum offers numerous opportunities to explore Mayan ruins, a visit to the Muyil Ruins comes highly recommended. What makes this experience exceptional is the relative absence of crowds; during our visit, we encountered only a handful of other tourists. Located just a short 20-minute drive from the centre of Tulum, the Muyil Ruins promise a tranquil and captivating journey through history.
Location: Reforma Agraria-Puerto Juárez km 25, 77710 Chunyaxché, Q.R., Mexico
Opening hours: Daily 8 AM to 4:30 PM
Entrance Fees: 65 MXN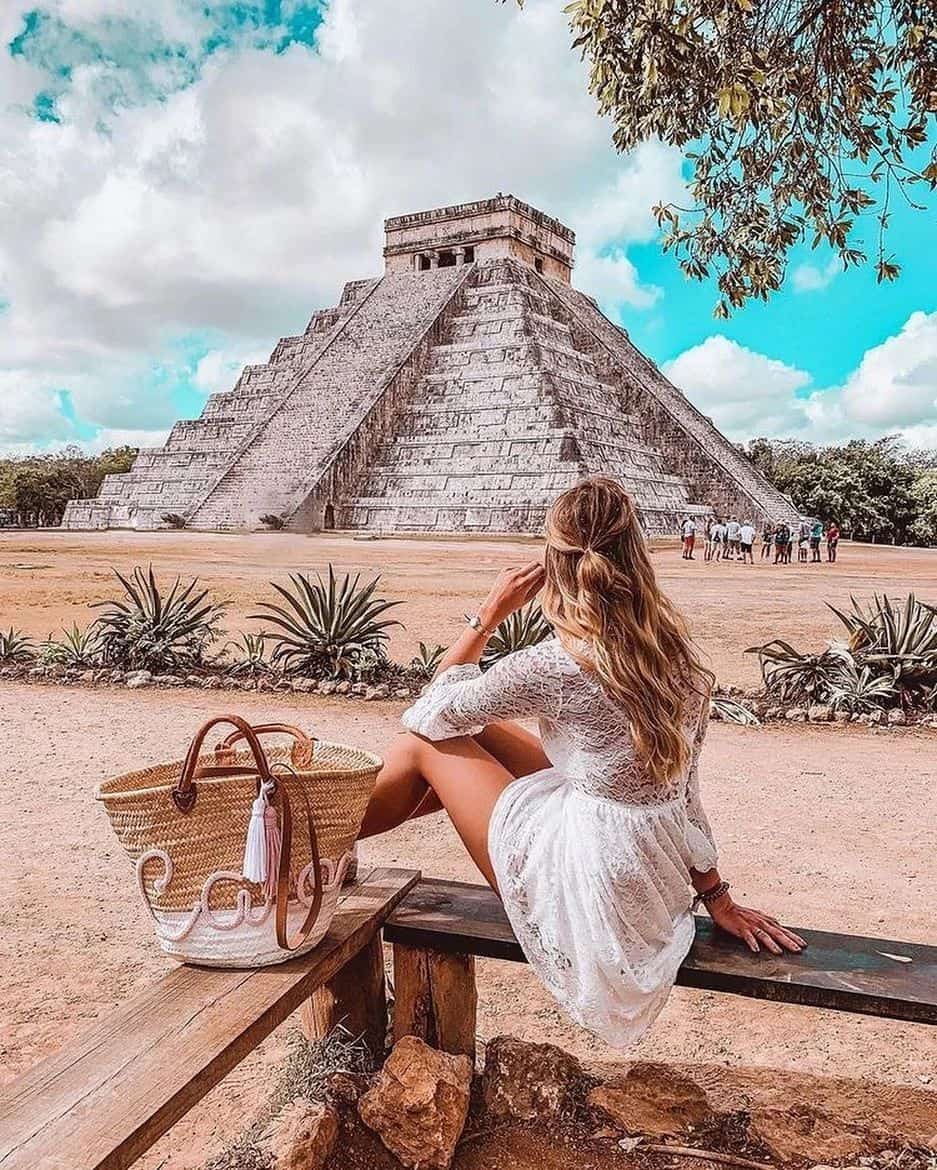 One of the top Instagram spots near Tulum is Chichen Itza, which is also one of the new seven wonders of the world. It's a two-hour drive from Tulum, but if you have the time, it's definitely worth visiting. To capture the perfect Instagram photo, it's best to go there in the morning or just before it closes in the afternoon.
Opening hours: Daily 8 AM to 5 PM 
Entrance Fees: 571 MXN
Another Tulum hotel with an Instagram-worthy entrance is Selina Tulum. It's conveniently located just a few steps away from other famous Instagram spots in Tulum, making it a fantastic spot for snapping a photo. The entrance features a wooden design in the shape of a circle with sun ray motifs, creating a highly photogenic setting that's perfect for Instagram pictures. The best part is that Selina Tulum is less crowded than some other Tulum Beach spots, so you can visit at your leisure without worrying about long lines.
Location: Carr. Tulum-Boca Paila Km. 7.5, Tulum Beach, Zona Hotelera, 77780 Tulum, Q.R., Mexico
Opening hours: 24/7
Entrance Fees: Free
Nestled within the lush and enchanting Mayan jungle, Azulik Uh May stands as a veritable haven for Instagram enthusiasts and art aficionados alike, rendering it one of the foremost must-visit destinations in the vicinity of Tulum. This captivating art museum, with its beguiling blend of natural surroundings and human creativity, is situated approximately 30 minutes away from the bustling heart of Tulum, beckoning travellers on a short but intriguing journey to a world where art and nature seamlessly intertwine.
Location: Grulla 23, 77796 Francisco Uh May, Q.R., Mexico
Opening hours: Daily 10 AM to 5 PM 
Entrance Fees: 20 USD
10. Sian Kh'an Biosphere Reserve
The difference between the bustling Tulum and the untouched beauty of Sian Ka'an Biosphere is striking. This reserve, located only 10 km south of Tulum, offers great photo opportunities. It has beautiful beaches, lush vegetation, quiet Muyil Mayan ruins, a coral reef, and a mangrove-lined canal.
You can explore parts of the Sian Ka'an reserve on your own. We drove just south of the visitor center from the Tulum entrance, stopped at the beaches and viewpoints, and even saw a sunbathing crocodile. However, for a more comprehensive experience of the reserve, it's best to join a guided tour. While these tours can be expensive, they provide an exceptional way to experience Sian Ka'an.
In recent years, Tulum has emerged as a siren song for travelers of all stripes, beckoning with the alluring harmony of ancient Mayan secrets perched upon cliffside guardians, whispering their tails to the Caribbean Sea. Here, history's whispers linger amidst well-preserved ruins, conjuring an enchanting day tour. Meanwhile, the beaches, with their ethereal sands and the ocean's cerulean embrace, orchestrate the perfect serenade for those seeking relaxation.