top 10 Instagrammable places in San Francisco
San Fran, the "Golden City," is a content creator's paradise with breathtaking views, lush gardens, and intriguing neighbourhoods. You should plan where to photograph before packing your camera bag and going to San Francisco.
Beautiful sites in San Francisco are easy to find. This tourist destination has many Instagram-worthy spots, from iconic sights like the Golden Gate Bridge to quirky spots like the Sutro Baths.
In a big, busy city like San Francisco, you'll need to plan your itinerary carefully to visit all the must-see photos.
San Francisco cinema's crown treasure is the Golden Gate Bridge. Its 746-foot towers, sweeping main cables, and "International Orange" colour make this Art-Deco masterpiece one of the world's most photographed bridges.
The Golden Gate Overlook is where to get the best shots of this classic! This hilltop observation platform south of the suspension bridge offers a panoramic view of the bay, Marin Headlands, and suspension bridge.
It is approximately 15-20 minutes from downtown, depending on traffic, and there is a vast, free parking area in front of it. You can visit the overlook, which is easy to reach, or hike into the bluffs.Avoid crowds by going early morning or late evening.
Location: Golden Gate Brg, San Francisco, CA, United States
Opening hours: 24 hours 
Entrance Fees: Free
Do you want to get away from the busy city and spend some time relaxing? Visit the Palace of Fine Arts. The Palace of Fine Arts is a prominent San Francisco landmark for good cause. This massive Roman-style temple is beautiful from many angles.
Here for an engagement photography or just to photograph the architecture, you won't be disappointed.Trade exhibits, private parties, and special events use it.Early morning before crowds. 
Location: 3601 Lyon St, San Francisco, CA 94123, United States
Opening hours: Tues to Sun 10 AM to 5 PM (Closed on Mondays)
Entrance Fees: Free
Most people know Bernal Heights as one of San Francisco's most Instagrammable spots.Mostly because someone has made a swing in a tree, which makes for an epic fairytale shot over the city.
Bernal Heights offers great hiking and stunning vistas. Bernal Heights, one of San Francisco's largest parks, has a 1-mile loop walk to a summit with a 360-degree view of San Francisco Bay, the Golden Gate Bridge, downtown, San Bruno Mountain, and the East Bay hills. The park also has photogenic birds including hummingbirds, American kestrels, and western meadowlarks.
Location: Residential neighbourhood in southeastern San Francisco
Opening hours: 24 hours 
Entrance Fees: Free
San Francisco's Chinatown, the largest outside Asia, is rich in culture and history. The colourful neon signs, blazing red lanterns, beautiful lanes, and modest flower shops inspire visitors as they walk through this bustling region.One of the oldest and liveliest Chinatowns is in San Francisco. Also, the largest Chinatown outside Asia! Chinese-inspired structures, lanterns, temples, and decorations line the streets.
You can find some of San Francisco's most Instagrammable sights and delicious restaurants in Chinatown. 
Dragon's Gate, the magnificent southern gateway, is one of San Francisco's top photo places. Walk down Grant Avenue, lined with tea stores, herbalists, markets, and restaurants, with your camera ready.Morning is great for shooting without people, but night is better for seeing the neighbourhood lit up and the restaurants and karaoke bars in full swing.
Opening hours: Most stores open around 10 AM. They often stay open late until around 9 or 10 PM. 
Entrance Fees: Free but budget for food and souvenirs
5. Conservatory of Flowers
The Conservatory of Flowers is one of the best places to take pictures of flowers in San Francisco. You can have a great time taking photos and close-up pictures of the flowers.It has 5 galleries with 2,000 bright flowers surrounded by beautiful greenery and many unusual blooms from throughout the world. 
Changing seasonal blooms, tropical greenery, and charming water features await you.San Francisco's Conservatory of Flowers has stunning native plants. Despite its small size, plant nerds can spend half a day admiring the trees and flowers. It's also a great indoor sport for bad San Francisco weather.
Location: 100 John F Kennedy Dr, San Francisco, CA 94118, USA
Opening hours: Closed on Mondays but open Tues to Sun 10 AM to 4:30 PM 
Entrance Fees: The Conservatory is always free for San Francisco locals with ID, but entry is also free on the first Tuesday of the month.$10 per person, Tues to Thurs, or $12 per person, Fri to Sun. You can purchase tickets online in advance or at the venue.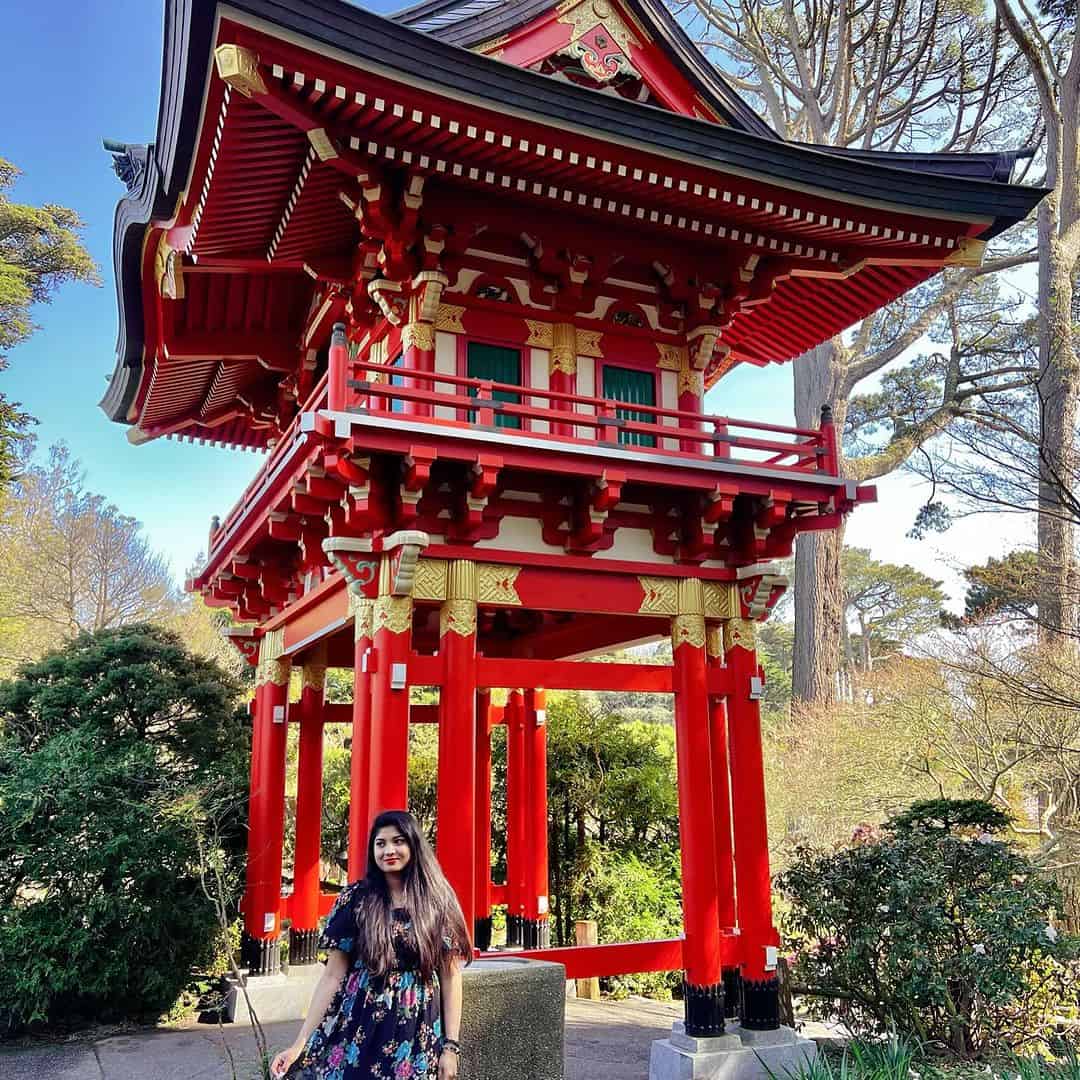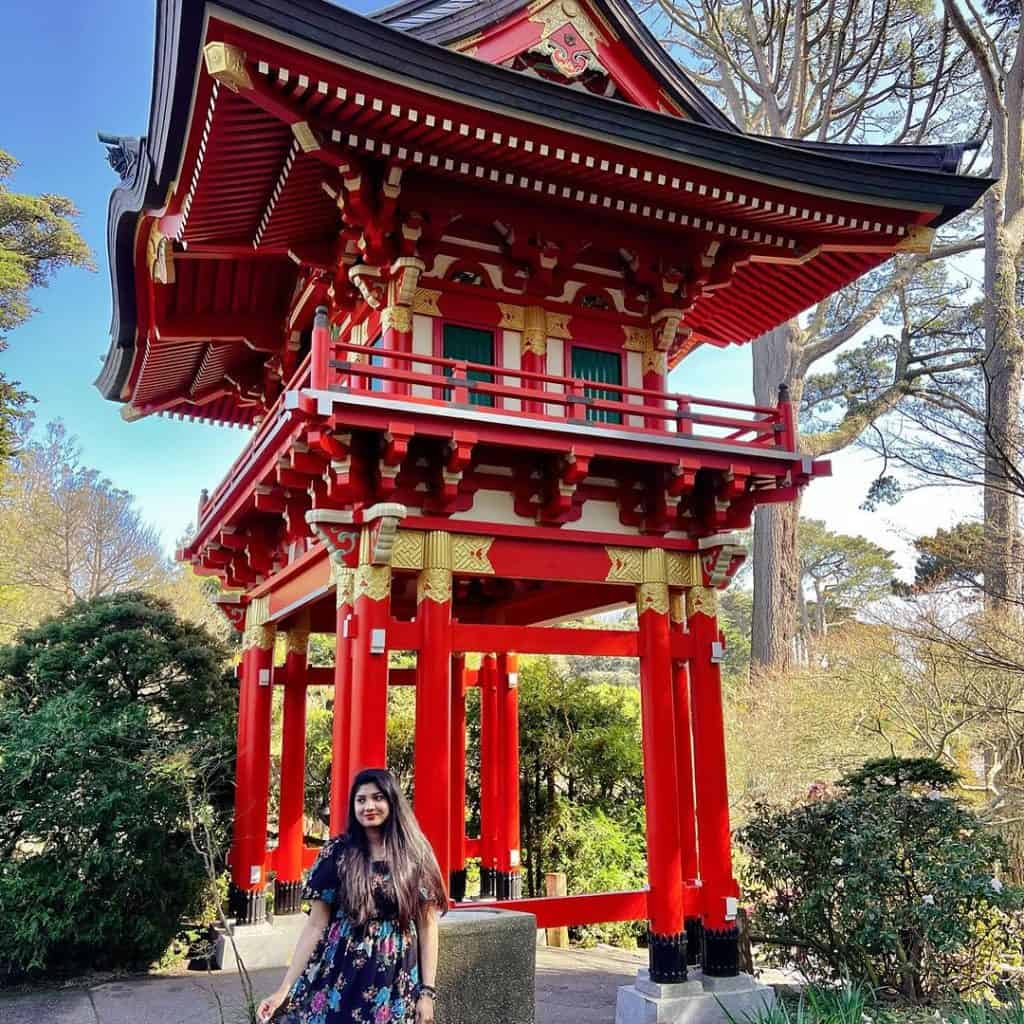 The Japanese Tea Garden has beautiful architecture, statues, hedges, and flower beds. Near the main gate, the hedges have been trimmed to look like dragons and Mount Fuji. Make sure to visit the Pagoda, a 5-story Buddhist shrine model, in front of a bright Zen garden with a tiny waterfall, bonsai trees, and azaleas. The garden is on Hagiwara Tea Garden Drive in Golden Gate Park. 
It has a cluster of cherry blossom trees that bloom in March and April, making it one of the best sites to photograph spring photos in San Francisco.
Location: 75 Hagiwara Tea Garden Dr, San Francisco, CA 94118, USA
Opening hours: Daily from 9 AM to 4:45 PM
Entrance Fees: $10 per person. If you can visit between 9 AM – 10 AM on Monday, Wednesday, or Friday, then there is no admission charge. 
Umbrella Alley is a small area near Fisherman's Wharf where artists work on projects they love. The artists' group takes care of the murals and balloons, which are full of color. Everything about this place is great!
It's not very big, but you can shoot from a lot of different angles and in a lot of different places.Come in the morning if you want to see the shapes of the balloons on the ground.
Location: 218 E Main St, Louisville, OH 44641, United States
Opening hours: 24 hours 
Entrance Fees: Free
California Street is one of the longest and most important streets in San Francisco. It runs from west to east through the city and connects Lands End to the Ferry Building.
Because there are so many cable cars going up and down the road, it's very pretty and one of the best places in San Francisco to take shots that show what the city is like. From here, trams go over the bridge and give you a standard view of a California city.
Shooting in front of Dim Sum Corner is great. From here, you can see skyscrapers and the Golden Gate Bridge in the distance down a steep street.Mornings are better to avoid traffic. California Street is quieter on weekends, so you have to stand in the middle of the road to capture the shot.
Location: California Street, near Dim Sum Corner
Entrance Fees: Free.
First on this list is the SkyStar Wheel in Golden Gate Park, one of the top photo places in San Francisco for aerial views of downtown, the bay, and the Pacific Ocean.
This 150-foot-tall (46-metre) travelling wheel was just put up in 2020. It will only be in the park for a short time before it moves on to the next city. But don't worry, you have until 2025 to get your ride! Each cycle lasts 12 minutes, and one million coloured lights illuminate the installation at night.
Location: 1 Bowl Dr, San Francisco, CA 94121, United States
Opening hours: Sat to Thurs 10 AM to 8 PM , Fri 10 AM to 9 PM
Entrance Fees: $18 per person, $12 for seniors (65+) and children (12 and under)
For vintage architecture lovers, the Ferry Building is a must. This massive Beaux-Arts building, founded in 1898 as a San Francisco Bay ferry terminal, with elegant arches and a 245-foot clock tower.After photographing the building's magnificent façade, visit the Ferry's Building farmer's market, one of California's best for its variety of fresh farm products and artisan cuisine.
Location: 1 Ferry Building, San Francisco, CA 94105, United States
Opening hours: Daily 7 AM to 8 PM
Entrance Fees: Free
Golden Gate Bridge, Alcatraz Island, and Fisherman's Wharf are just a few of the well-known landmarks that make San Francisco one of the world's most recognizable cities. San Francisco is also noted for its mountainous topography and its population of people from many different backgrounds. 
Common Questions About Places In San Francisco
San Francisco offers numerous Instagrammable spots. Some popular ones include the Golden Gate Bridge, Alamo Square (home to the iconic Painted Ladies), Lombard Street (known as the "crookedest street in the world"), Pier 39 (for its sea lions), Twin Peaks (for stunning panoramic views), and the colorful street art in the Mission District.
 For breathtaking views of the Golden Gate Bridge, head to the Marin Headlands or Baker Beach. Both locations offer different perspectives and stunning photo opportunities. For a unique shot of the bridge, you can also visit Battery Spencer in the Marin Headlands.
 The Mission District is known for its vibrant street art scene. Walk along Valencia Street, Clarion Alley, and Balmy Alley to discover a variety of colorful murals and artistic expressions.
Start Planning Your USA Trip Now!
Book Your Flight:
Use Skyscanner to find a cheap flights. A travellers favorite way to book flights, as it searches websites and airlines around the world with one click.
Book Your Bus or Transportation Within USA:
There are two ways to book your transporation, ask your hotel or hostel, go to the local bus terminal, or book online, for a less stressful trip using 12go.asia
Book Your Accomodation: 
Find the best hotels or hostels at HostelWorld, Booking.com, Agoda.com. Perks include with no upfront payment. Pay when you check out and Free cancellations.
Dont Forget Your Travel Insurance:
Two popular choices are SafetyWing and WorldsNomads. A traveler should buy traveler's insurance to protect themselves against unexpected events such as trip cancellations, medical emergencies, and lost or stolen baggage. It provides peace of mind and financial protection in case of unforeseen circumstances.
Useful Apps?
Checkmy Bus / Wanderu / Busbud – Booking Busses
Whatsapp / Groupme / Boostone – Communication
HiJiffy / Hotel Tonight / Agoda – Booking Hotel
Trip.com / Goibibo – Booking Train
Seamless / GrubHub / Uber Eats – Food Delivery
Uber / Lyft / Wingz – Booking Taxi
Want More Information On USA?
Be sure to check out my nomad travel guide on the USA for even more tips.
Disclosure: Please note that some of the links above may be affiliate links, and at no additional cost to you, I earn a commission if you make a purchase.