Free Things to do in Salt Lake City
Salt Lake City is an outdoor person's dream destination. Surrounded by peaks of the huge Wasatch Mountain Range, and filled with attractions, Salt Lake Valley offers something for everyone. Whether you're into history, religion or outdoor activities, in Salt Lake you'll find something to happily spend your time doing, and best of all for free.
Here are some of Salt Lake City's free top attractions.
International Peace Gardens
One of Utah's hidden gems, this garden has impressive works of sculptures and monuments from 28 different nations. Come here and explore all 28 nations for free! Take pictures in Vietnam, Denmark, Japan and more. 
Hike Ensign Peak
Go early in the morning or in the evening to watch the sun. Take this hike to see Salt Lake City's skyline. The hike itself is easy to make.
JOSEPH SMITH MEMORIAL BUILDING
Visitors can go on guided tours that go over the past 70 years of the building's history.. The building will amaze you beyond its history with its stunning architecture and decor. In the lobby the Family Search Center will help you figure out your genealogy, and even interact with your family tree via interactive touchscreen displays. Guests are encouraged to attend an early morning video exhibit about the Mormons history. Afterwards, grab a bite to eat at one of the three on-site restaurants.
TABERNACLE ON TEMPLE SQUARE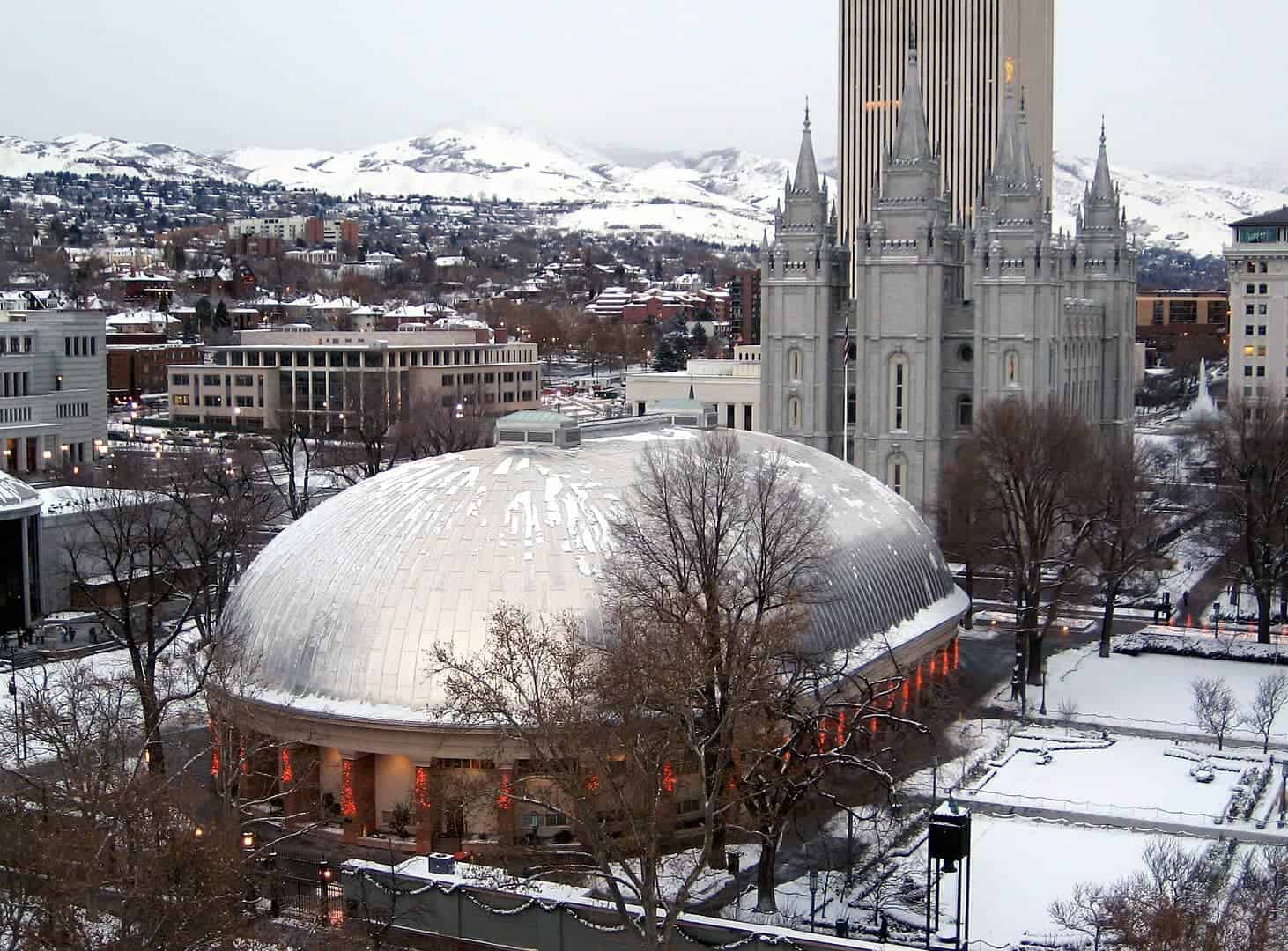 Built over four years and finished in 1867, the Tabernacle houses the world-renowned Mormon Tabernacle Choir. The 11,623-pipe organ stands 30-plus feet above the audience, and a curved ceiling enhances the acoustics of the house. The sacred structure is open to the public primarily for concerts and meetings, but visitors are encouraged to attend a weekly choir rehearsal or a Sunday broadcast. If you're interested in seeing the world-famous Tabernacle Choir, check out the concert and rehearsal schedule online, and be sure to arrive early.
Explore City Creek Center
A brisk walk across the street from temple square, get lost in this massive shopping center. Grab a bite to eat or go for some last minute shopping. This is a great place to take a pitstop as you explore the city.
Visit the Salt Lake City Library
A beautiful multi story library, take a ride up the glass elevators to the top level and take in the expansiveness of this place. Visit their rooftop garden with 360 views and look towards the skyline covered in peaks covered in snow. With over 500,000 books, you will find something that tickles your fancy. 
CATHEDRAL OF THE MADELEINE 
This elegant Roman Catholic cathedral, completed in 1909, was designed to emulate Romanesque exterior style and Gothic interior design. The building includes gargoyles, colorful walls, finely carved wood carvings, and magnificent stained-glass windows. The cathedral has  beautiful chapels, shrines, bells, screens, and other decorative and functional elements. Stop by the office to pick up a self-guided tour booklet between 9 am and 5 pm, and remember to treat the working sanctuary and worshipers with respect when you visit. 
Thinking of Visiting Other Major US Cities? Check out City Pass to save money.
Fort Douglas Military Museum
Utah has a military rich history, visit Fort Douglas and see their array of displays full of metals, guns, and uniforms. Step outside and you will find helicopters, tanks and more! The museum is open from 9:00 am to 4:00pm every day but on Sunday, the easiest way to get there is via the rail system or by car.
DAUGHTERS OF UTAH PIONEER MEMORIAL MUSEUM
This museum features four stories each dedicated to demonstrating various aspects of human history that influenced Utah and Salt Lake City. The main floor is based on Brigham Young and Heber C. Kimball, the Mormon founders. Doll exhibits can be found on the second floor, and the basement contains military memorabilia and artifacts. Additional displays can be found in a separate building called the Carriage House. This museum is dedicated to the pioneers who trekked more than 2,000 miles to reach Utah.
FIFTH WATER HOT SPRINGS
Located south of Salt Lake City (and east of the Spanish Fork), Fifth Water Hot Springs is one of Utah's most popular outdoor destinations. These Naturally heated pools act as a relieving reward for tired legs. Get a pretty early start if you make the trip in winter; winter road restrictions stretch the hike by about 4 miles (in each direction). Take plenty of water, as soaking for extended periods can dehydrate you.
FAMILY HISTORY LIBRARY
Family is one of the most fundamental and sacred principles of the Mormon faith; Mormon theology affirms that families are forever related through the sacred ceremonies of the Church. The LDS(Latter Day Saints) maintains a library with a wealth of genealogical material dating from 1550 to 1910, in an effort to maintain and record these links. Yet not all library names belong to Mormons; far from that!
BONNEVILLE SHORELINE TRAIL
If you are in Salt Lake City, look north and east at the foothills above the town. The Bonneville Shoreline Trail crosses over the city, spanning approximately 100 total miles. This trail does not have a map but is rather a wide and rich network of interconnected trails with several points of access. More than 10,000 years ago, a huge body of water called Lake Bonneville filled the Salt Lake Valley (and much of northwestern Utah). Under hundreds of feet of water, caused by natural, earthen dams and wet climatic conditions, the huge lake would have submerged modern Salt Lake City. When one of the natural dams finally burst, the lake drained once and for all, leaving this once-massive lake behind the visually noticeable ancient shorelines. For more information on trail access visit the website of the trail.
BONNEVILLE SALT FLATS
Known as the location of the record breaking land speed record. The Salt Flats are over an hour's drive from downtown but if you visit at the right of the year ( when it's not rainy), you may end up with some beautiful photoshoots like photos. See the reflective sky across the flats, a natural mirror. 
Whether you're a history buff, nature enthusiast, or just looking to soak in the culture, SLC serves up a smorgasbord of experiences that cost, well, nada! I mean, why splash the cash when the best things in life (and in Salt Lake City) are free? So, the next time you find yourself in this city with a backdrop of snow-capped mountains, remember: adventure doesn't always come with a price tag. Ready to explore? Salt Lake City is waiting, and your budget is breathing a sigh of relief!
The city's public transportation, like the TRAX light rail, is efficient. Plus, many free attractions are within walking distance of each other downtown.
alt Lake City hosts numerous events like the Downtown Farmers Market and summer concerts at Pioneer Park, which are open to the public for free.
While the inside of the temple is reserved for Latter-day Saints ceremonies, the Temple Square grounds, with its stunning gardens and historic buildings, are open to all and free to explore.
Start Planning Your USA Trip Now!
Book Your Flight:
Use Skyscanner to find a cheap flights. A travellers favorite way to book flights, as it searches websites and airlines around the world with one click.
Book Your Bus or Transportation Within USA:
There are two ways to book your transporation, ask your hotel or hostel, go to the local bus terminal, or book online, for a less stressful trip using 12go.asia
Book Your Accomodation: 
Find the best hotels or hostels at HostelWorld, Booking.com, Agoda.com. Perks include with no upfront payment. Pay when you check out and Free cancellations.
Dont Forget Your Travel Insurance:
Two popular choices are SafetyWing and WorldsNomads. A traveler should buy traveler's insurance to protect themselves against unexpected events such as trip cancellations, medical emergencies, and lost or stolen baggage. It provides peace of mind and financial protection in case of unforeseen circumstances.
Useful Apps?
Checkmy Bus / Wanderu / Busbud – Booking Busses
Whatsapp / Groupme / Boostone – Communication
HiJiffy / Hotel Tonight / Agoda – Booking Hotel
Trip.com / Goibibo – Booking Train
Seamless / GrubHub / Uber Eats – Food Delivery
Uber / Lyft / Wingz – Booking Taxi
Want More Information On USA?
Be sure to check out my nomad travel guide on the USA for even more tips.
Disclosure: Please note that some of the links above may be affiliate links, and at no additional cost to you, I earn a commission if you make a purchase.