Top 10 Instagrammable Places in Los Angeles
Lahore, the capital of the state of Punjab and the second largest city in Pakistan, is a city steeped in more than a thousand years of history and brimming with wonders. Known as the cultural heart of Pakistan, it boasts a vibrant arts scene, delectable cuisine, colorful festivals, soulful music, a thriving film-making industry, beautiful gardens, and a community of intellectuals.
If you happen to be in Lahore and are looking for some visually appealing, artsy content to share on your Instagram, then here is a list of 10 must-visit places that will surely leave you in awe.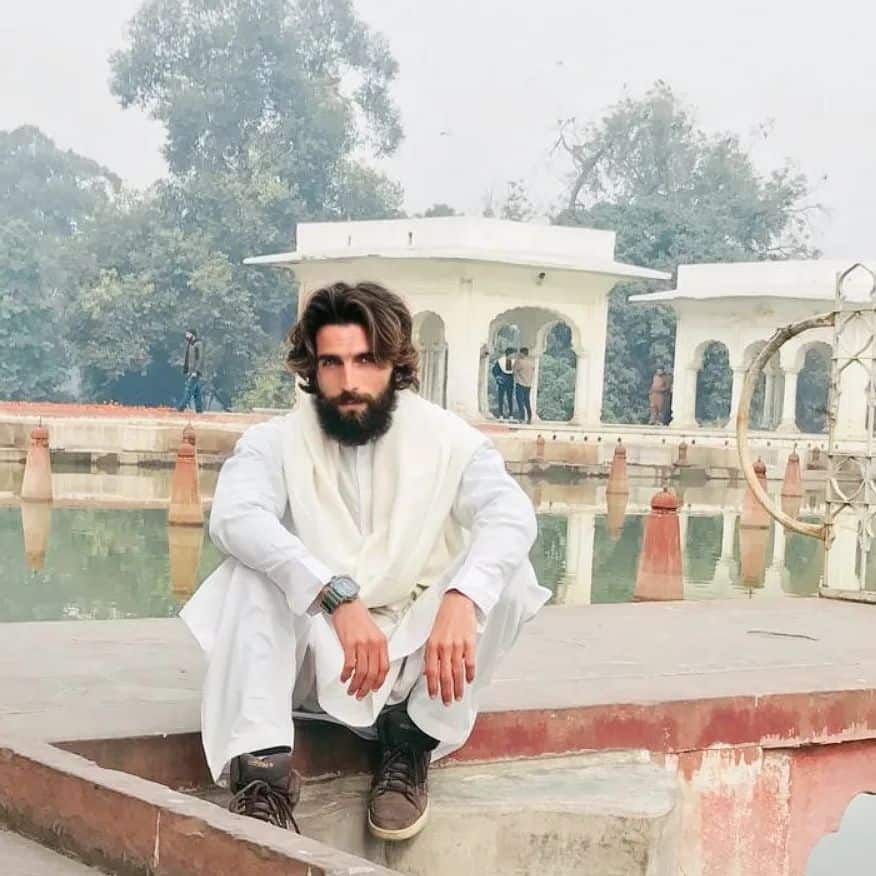 Shalimar Gardens is the second UNESCO World Heritage Site in Lahore and one of the most Instagrammable places in Pakistan. The grounds are also a piece of Mughal history. In the middle of the 17th century, they were built in the style of Persian pleasure gardens.  The gardens were built by the Mughal Royal family so that they could have people over. During the time of the Sikhs, a lot of the native marble in the gardens was taken away. But many of the more than 400 original waterfalls and water features are still there.
The garden complex still has a big pool with waterfalls, and the atmosphere is very relaxed, making it a great place to go for a walk.  Everyone is amazed by how big the yard is, how beautiful the terraces are, and how nice the marble baths are. Locals have always used it as their favorite place to have lunch. If you want to do something relaxing in Lahore, a walk through the Shalimar Gardens is a good choice.
Location: Next to the Grand Trunk Road, about 5 kilometers east of the Delhi Gate of the Walled City of Lahore.
Opening hours: 8 am – 6 pm daily
Entrance Fee: 500 PKR ($3 USD)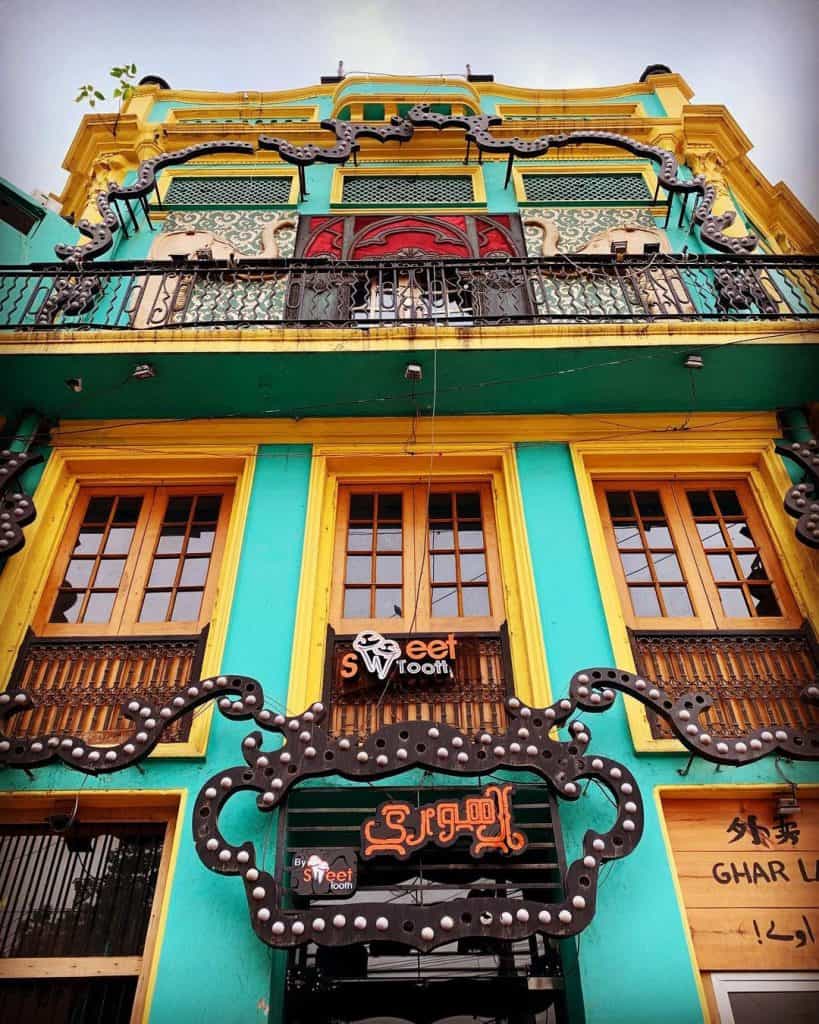 One thing that makes Sweet Tooth stand out is that its treats are so different and unique. From the famous chocolate burger to the Belgian chocolate, the restaurant serves desserts that not only please your sweet tooth but also look great on Instagram. This dessert bar's bold use of teal and bright yellow, along with its funny notes in Urdu and Punjabi, will make it stand out more than any Instagram effect. The beautiful building and view from the roof are both reminders of the glory of the Mughals. Take some crazy selfies and pictures here if you like photos with colorful backgrounds. No matter how often you go, you'll always find a new place to take shots.
Location: 94-D, Mall, 1 Main Blvd Gulberg, Block D1 Gulberg III, Lahore, Punjab 54000
Opening hours: 12 pm to 2 am Daily 
Entrance Fee: None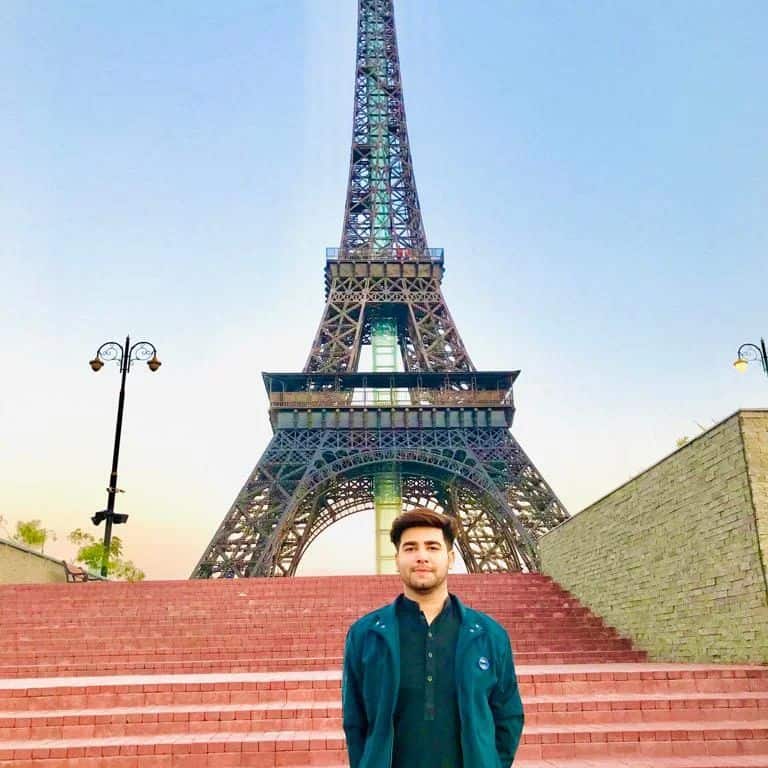 Who needs to fly all the way to Paris just to see the Eiffel Tower and take sweet or pretty pictures of it? Several towers around the world were made with the Eiffel Tower as their model, and our own Bahria Eiffel Tower is just as good as all the others. Here, you can take pictures with your friends or quickly snap a picture of yourself to show the world. Maybe it's fun on its own to make people think you're in Europe.
Location: Bahria Town Main Blvd, Violet Block Bahria Town, Lahore, Punjab 54000, Pakistan
Opening hours: 12 a.m. to 8 p.m. daily  
Entrance Fee: 200 PKR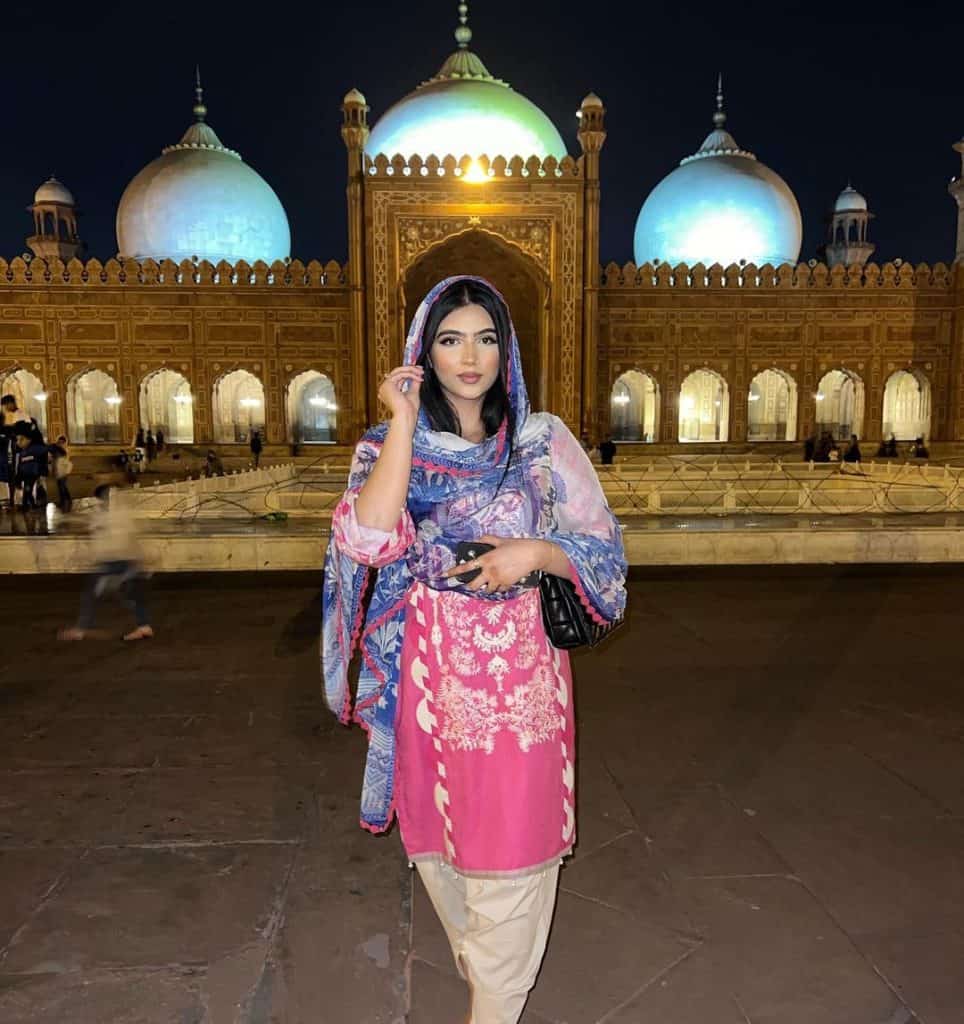 One of the best places to see in Lahore is the Badshahi Mosque. This mosque is just a few minutes' walk from the Lahore Fort and is another great work from the Mughal era. It became the Mughal Empire's biggest imperial mosque, and it might be one of the best examples of Mughal design.  It is also one of the best places to visit in Lahore because non-Muslims can go inside the mosque. But please cover yourself from wrist to ankle, and women should also wear a hat. Most of the time, non-Muslims can't go into many churches around the world. The Badshahi Mosque's arches and beautiful platforms are always ready to give you a great picture-taking spot. 
Location: West of Lahore Fort along the outskirts of the Walled City of Lahore
Opening hours: 8 am – 8 pm daily
Entrance Fee: Rs 50 per person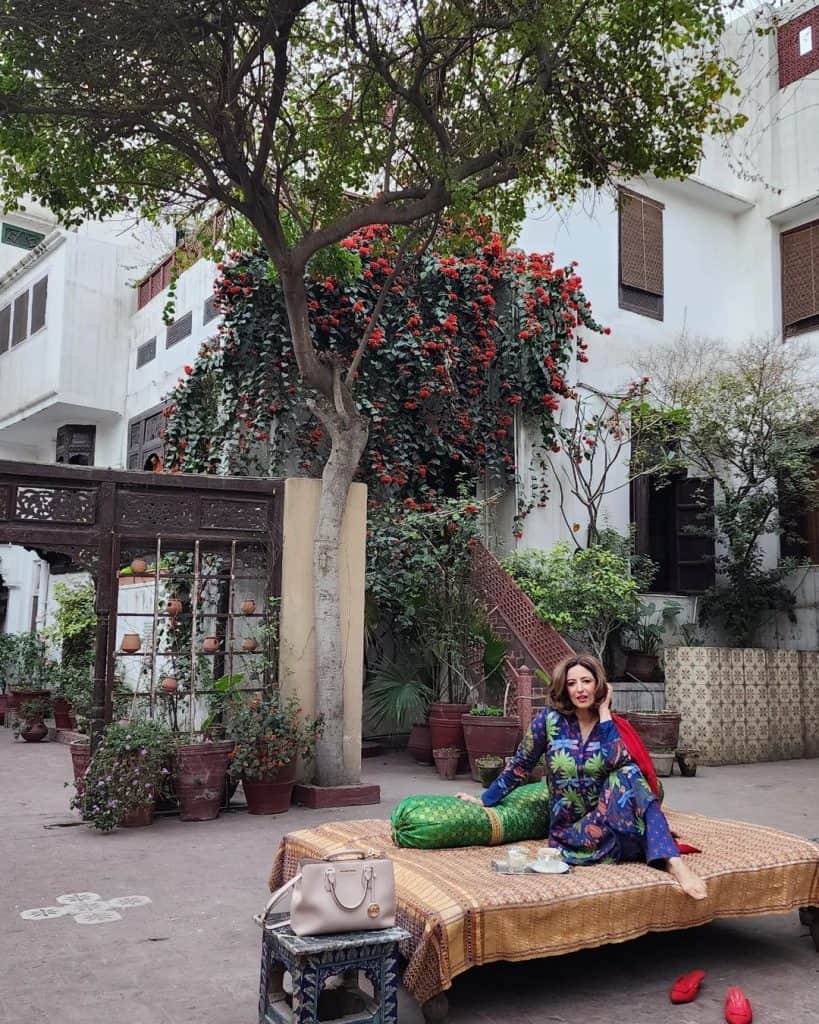 If you go to Lahore, you shouldn't miss the Haveli Baroodh Khan. It is a building that was built when the Sikhs ruled Pakistan in the 18th century. During that time, it was used to store weapons and as a place for commanding leaders to live. Now, it looks like a real haveli from the past, and recently, university students have been flocking here to take pictures. It was filled with wonderful things, like priceless art and photos. is used for some of Lahore's most important cultural events. It's another nation to visit, but it's still one of the best things to do in Lahore.
Location: In the Walled City of Lahore facing the Lahore Fort, close to Taxali Gate
Opening hours: 9 am to 6 pm 
Entrance Fee: None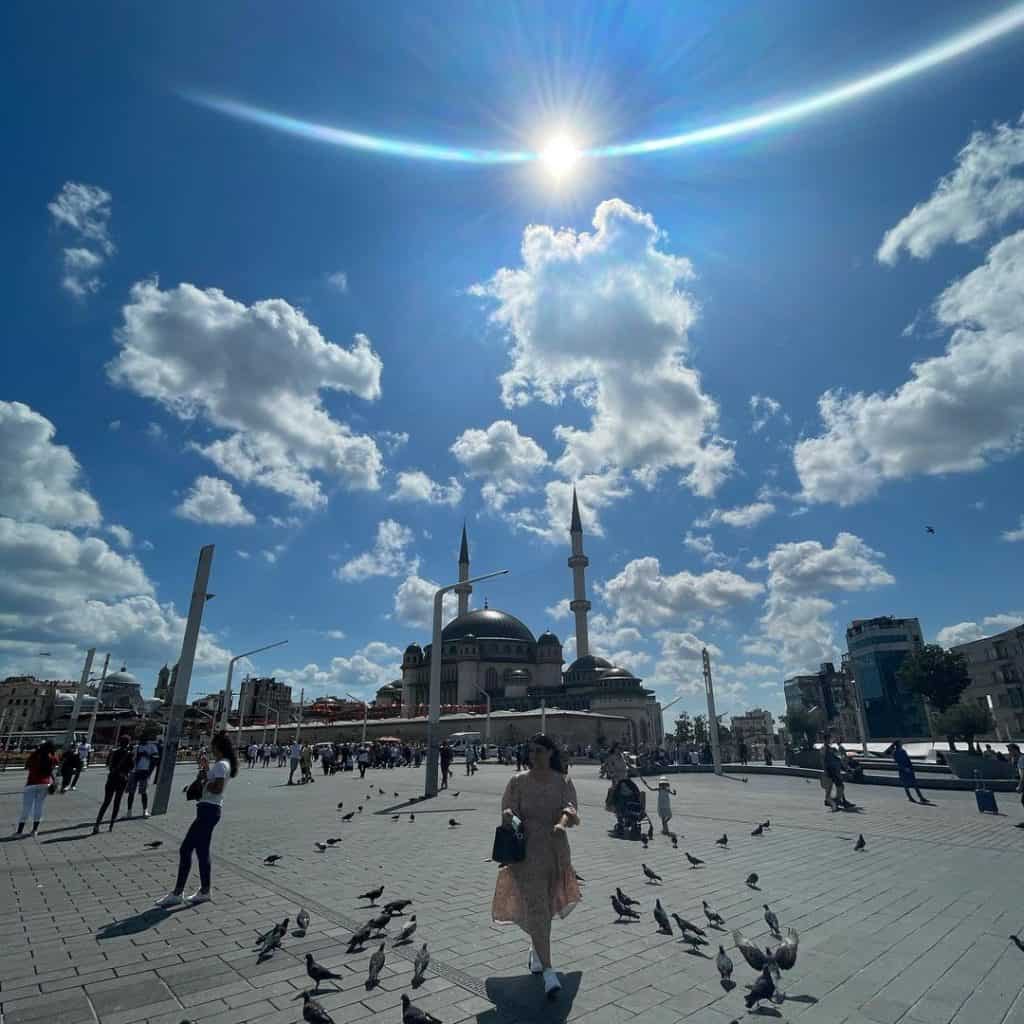 Let's talk about the newest building in Lahore, which has been catching the attention of both locals and tourists. On Anarkali Road, the icon is in a very important spot. Not only does it connect old and new Lahore, but it is also where Pakistani and Turkish cultures meet. What makes it so Instagrammable? That's the real question. It is made up of a lot of birdhouses and small trees set up on a tall white pool. It looks like a giant birdhouse tree from a distance. It's worth putting on your Instagram, whether you stand in front of it or take a quick picture of it from your car.    
Location: H894+JRC, Mall Rd, Anarkali Bazaar Lahore, Punjab 54000
Opening hours: 24 hours 
Entrance Fee: None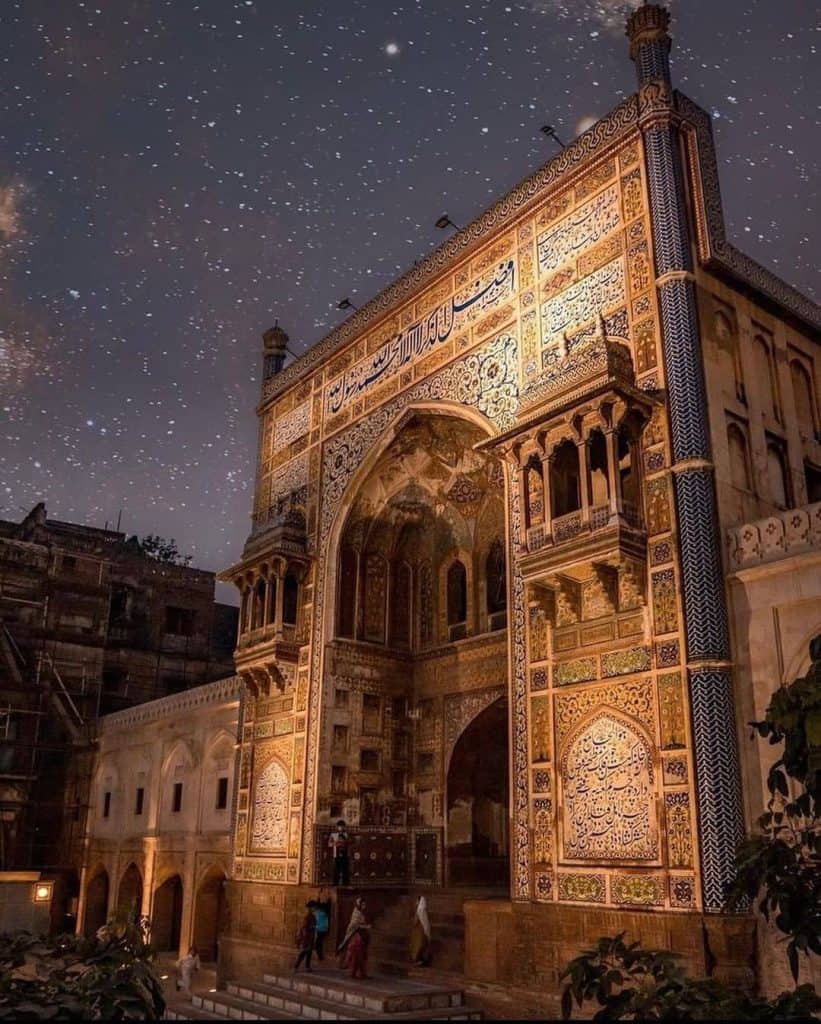 One of Lahore's historic gems, the Wazir Khan Mosque, is steeped in rich history and is an architectural marvel from the Mughal era dating back to the 1600s. It's a favorite destination for visitors to Lahore, and for good reason. Its square-shaped structure features exquisite Kashi-Kari faience tile work and beautiful portraits that are both intricate and vibrant. Whether you're a tourist or a local, the mosque's stunning design is sure to leave you in awe. Don't forget to capture the breathtaking sunsets from above and marvel at the magical feel of the thick brick decorations, each with its own unique story. While the exterior of the mosque displays a Persian style, the interior exudes the essence of Punjab. Don't miss the chance to explore this remarkable landmark and immerse yourself in its rich history and stunning beauty.
Location: Shahi Guzargah, Dabbi Bazar, Chota Mufti Baqar Walled City of Lahore, Lahore, Punjab 54000
Opening hours: 5 am to 8 pm 

Entrance Fee: None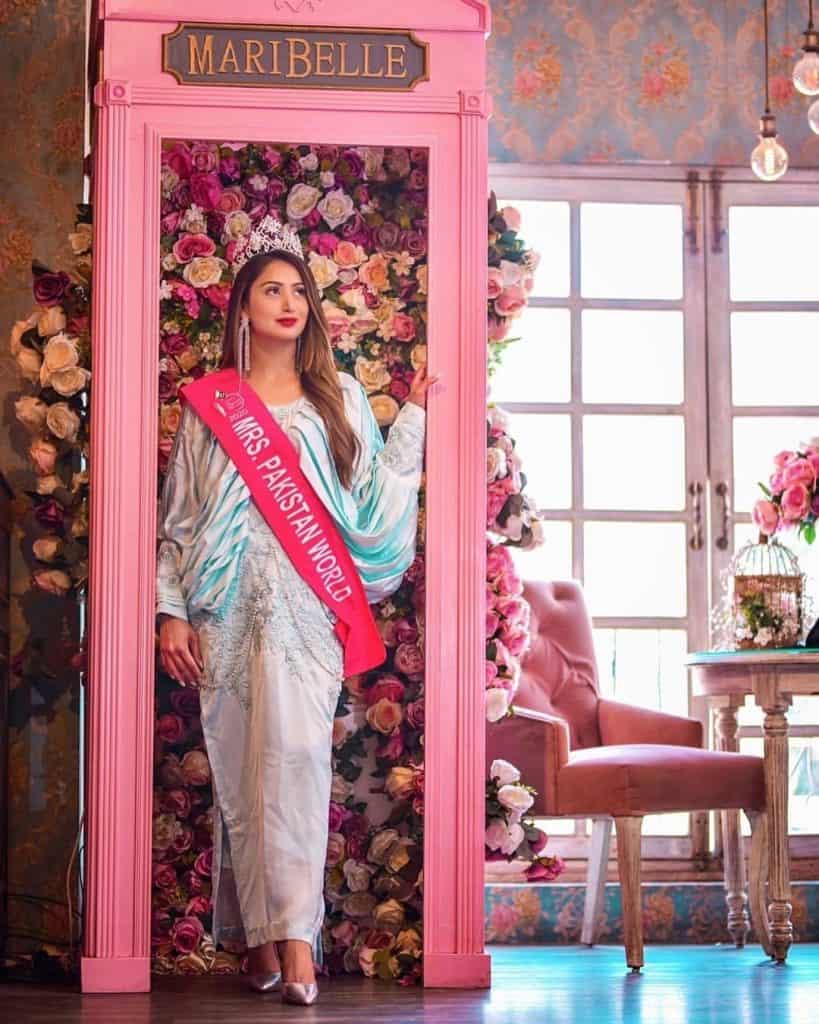 If you search the term #maribelle on Instagram, your feed will be filled with different shades of pink and flowers in a flash. Everything at Maribelle is a beautiful pink statement of beauty and Frenchness: the quilted velvet seats, the simple walls, the fine silverware, and the delicious desserts. One of the two most Instagrammable parts is the baby-pink phone box, which has a "Proudly Pink Barbie Doll meets Doctor Who" vibe. On the other hand, the quote "Adventure Awaits, But First Dessert" is likely to be the first thing you notice. It is written in gold on a beautiful flower wall with rosettes. If you post a picture of that beautiful wall on Instagram, you'll get as many likes as there are flowers on the wall.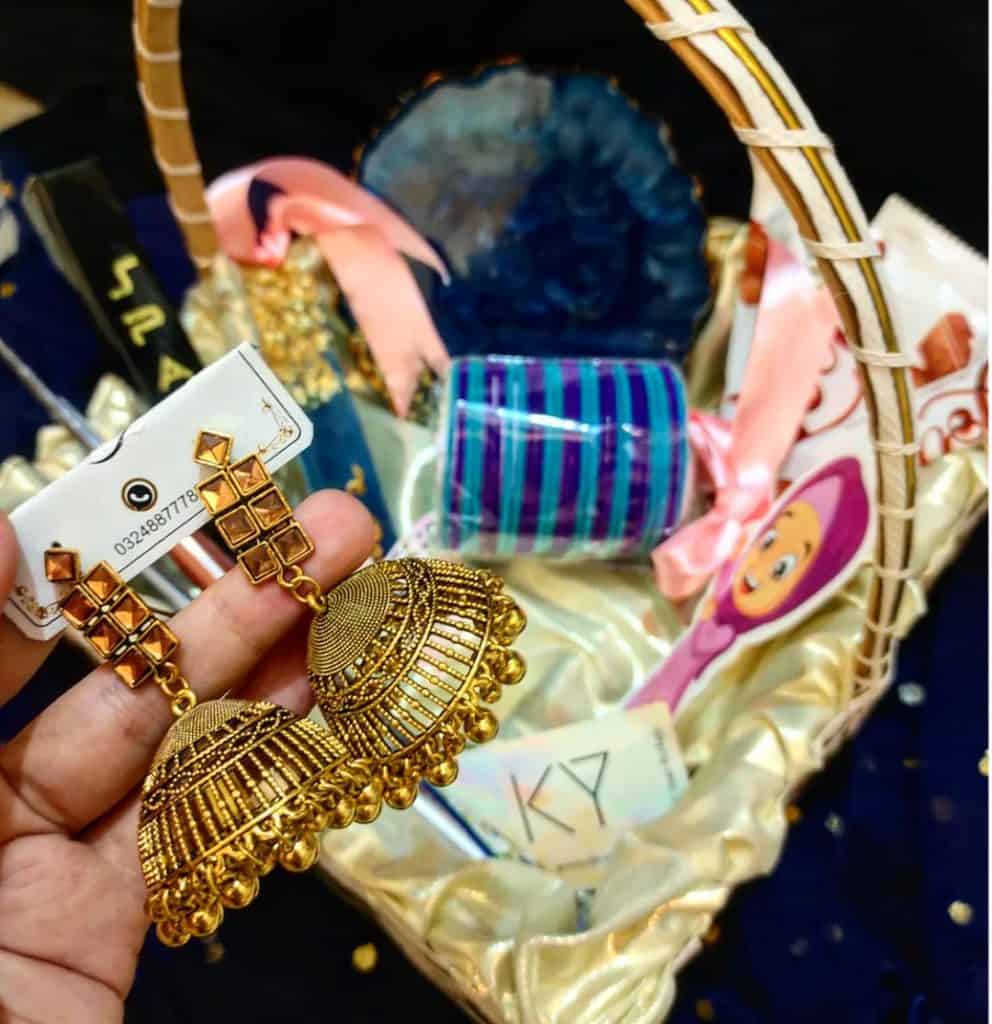 The Naqsh School of Fine Arts is in the ancient neighborhood of Walled City in Lahore. The goal of this art school is to keep Pakistani art forms like clay, calligraphy, painting, and drawing alive.
There is a store at the Art Gallery where you can buy art made by Naqsh students. It is definitely one of the most beautiful places to visit in Lahore. Also, you can buy genuine Pakistani gifts that are made by hand and are one-of-a-kind.
Location: F9C4+QF9, Nishtar Town, Lahore, Punjab
Opening hours: 10:30 am to 10 pm Daily Entrance Fee: None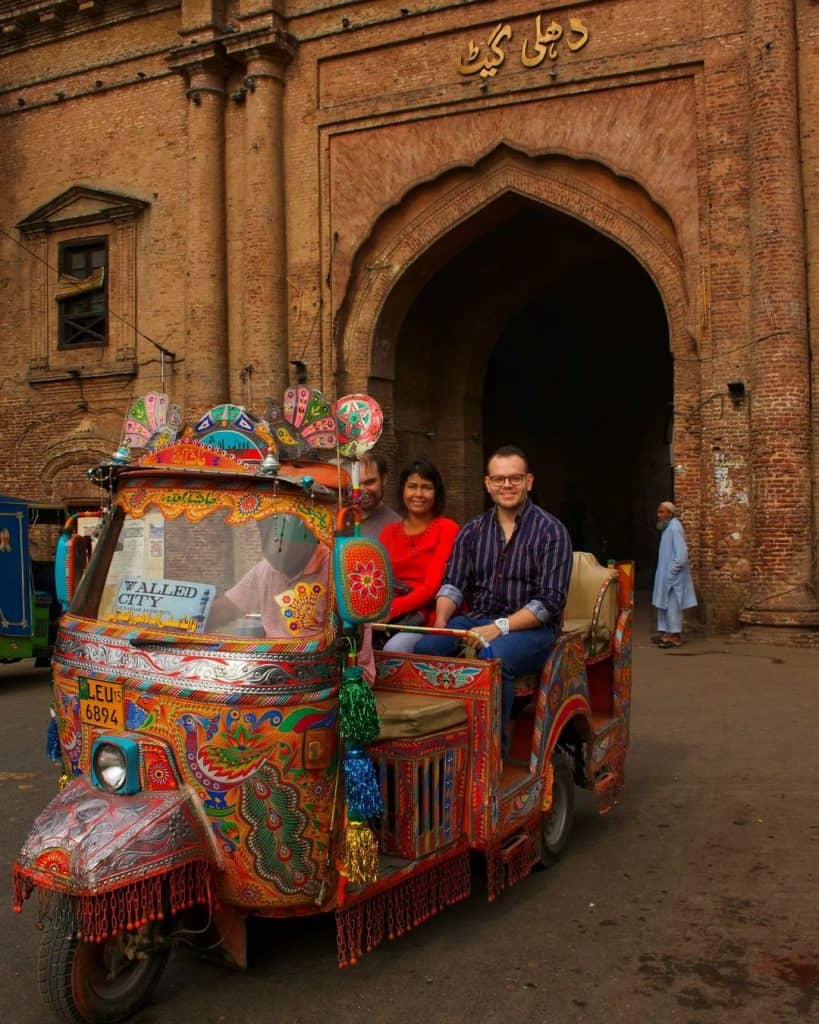 Calling all Lahoris! Get ready to don your traditional Punjabi attire and explore the historic Walled City. Keep an eye out for the vibrant Rangeela Rickshaw, a local rickshaw adorned with colorful truck art that never fails to catch the eye. Take a ride in this unique vehicle, strike a pose, and fulfill your dreams of becoming a Desi model. With its captivating design, there's no better Instagram-worthy spot than the Rangeela Rickshaw. Don't miss out on this perfect photo opportunity for your Instagram feed!
Location: 7 Bagwan Das Building Circular Road, Lahore, Pendjab, Pakistan-54000
Opening hours: 24 hours 
Entrance Fee: None
Today, people know that Lahore is the land of chances. People from all over Pakistan and the rest of the world come to live there because it is getting more modern, has nicer lives, is becoming more industrialized, and is always full of life.
Common Questions About Places In Lahore
Start Planning Your Pakistan Trip Now!
Book Your Flight:
Use Skyscanner to find a cheap flights. A travellers favorite way to book flights, as it searches websites and airlines around the world with one click.
Book Your Bus or Transportation Within Pakistan:
There are two ways to book your transporation, ask your hotel or hostel, go to the local bus terminal, or book online, for a less stressful trip using EasyBook or 12go.asia
Book Your Accomodation: 
Find the best hotels or hostels at HostelWorld, Booking.com, Agoda.com. Perks include with no upfront payment. Pay when you check out and Free cancellations.
Dont Forget Your Travel Insurance:
Two popular choices are SafetyWing and WorldsNomads. A traveler should buy traveler's insurance to protect themselves against unexpected events such as trip cancellations, medical emergencies, and lost or stolen baggage. It provides peace of mind and financial protection in case of unforeseen circumstances.
Useful Apps?
SasataTicket.pk / Bookme.pk / Bookkaru.com – Booking Busses
Pakistani Chat / My Zong / TelloTalk – Communication
Careem/ Eat Oye! / ShowTime's Pakistan – Booking Hotel
Pakistan Railways Official / Make Train Ticket Booking Online / Pak railway – Booking Train
foodpanda / Savour Foods / Hardee's Pakistan – Food Delivery
Uber / InDriver / Bykea – Taxi Booking
Want More Information On Pakistan?
Be sure to check out my nomad travel guide on the Pakistan for even more tips.
Disclosure: Please note that some of the links above may be affiliate links, and at no additional cost to you, I earn a commission if you make a purchase.