top 9 Instagrammable places in Seoul
Even if Tokyo, London, and Paris get more tourists' attention, there's no denying that Seoul is a fantastic city to visit in its own right, thanks to its many instagrammable hectic streets, constant enthusiasm, and unique combine of traditional and modern.Anytime of year, from winter to fall to summer, Seoul is a place that may excite any photographer. 
This is a city that will give your Instagram feed a makeover, no matter if you're on a family vacation, a love trip with your partner, or just want to learn more about the culture. Seek out photo opportunities at some of Seoul's most beautiful landmarks.
1. The Grand Palaces of Seoul
The five major palaces of Seoul—Gyeongbokgung, Changdeokgung, Gyeonghuigung, Deoksugung, and Changgyeonggung—date back to the Joyston Dynasty. Almost everyone who goes sight-seeing in Seoul has to go to at least one of the five grand buildings. The well-preserved royal complexes provide infinite Instagram settings.Remember that most tourist spots in South Korea close on Mondays. The only palace open on Mondays is the Gyeongbokgung Palace.
Many visitors to Seoul borrow hanboks and tour the city's historic palaces. Renting a hanbok is a great way to experience Korean culture and take colourful photos in Seoul. Koreans and foreigners are invited to put on the joyful clothes.
Location: 99, Yulgok-ro, Jongno-gu, Seoul
Opening hours: 9 AM to 6 PM (Feb – May/Sep – Oct) | 9 AM to 6.30 PM (Jun – Aug) | 9 AM to 5.30 PM (Nov – Jan)
Entrance Fees: Combination Ticket (Adult: 10,000 won, Child 5,000 won) to 4 palaces (Changdeokgung incl. Secret Garden, Changgyeonggung, Deoksugung, Gyeongbokgung) and Jongmyo Shrine
Namsan Seoul Tower Observatory was Korea's first multipurpose tower and offers amazing views of the city and neighbouring mountains.This 236-metre-tall N Seoul Tower is also one of the most popular Seoul Instagram locations, where you may express your love for someone special by securing a lock on the famous love lock bridge.
A shuttle bus from downtown Seoul will take you to the cable car. The tower is open seven days a week, all year, and guided group excursions with English-speaking guides are available. 
Location: 105 Namsangongwon-gil, Yongsan-gu, Seoul, South Korea
Opening hours : Daily from 10 AM to 11 PM
Entrance Fees: US$8.14
Tourists from all over the world go to Heunginjimun because it is both one of the oldest traditional gates in Seoul and one of the most breathtakingly wonderful sceneries in all of Seoul. Even while this huge building is beautiful to shoot at any time of day, sunset is typically the greatest time to do it.
During the night, it's lit up with hundreds of bright lights that bring out the colours and shadows of the gate. The speeding cars also make great long-exposure photos for your feed that really show how fast things are moving.If you're into history, this could be one of the most significant places in Seoul to share online. It's about 22 minutes away from the centre of the city to the east.
Location: 288 Jong-ro, Jongno-gu, Seoul, South Korea
Opening hours: 24 hours 
Entrance Fees: Free
The Bukchon Hanok town is a traditional Korean town that is full with hanboks, which are traditional Korean buildings that date back to as far as the Joyston Dynasty. The streets of the Bukchon Hanok Village are narrow and twisting.
A lot of tourists enjoy coming here to take photos of themselves posing in Korean traditional clothing in front of the stunning architecture and lovely walking streets.However, it is essential to show proper respect for the genuine nature of this location. Unlike many hanok towns, it was not made for tourists but is a real neighbourhood where people live.
Location: Bukchon Hanok Village, 37, Gyedong-gil, Jongno-gu, Seoul

Opening hours: 24 hours 
Entrance Fees: Free
Insadong is in the centre of Seoul's tourist area, and it used to be a very important place where valuable old traditional goods were shown. Tourists now visit its souvenir stores, galleries, and cafes. You should include this in your South Korea travel plan.
Insadong activity suggestions: Insadong has delicious street food. Dragon Beard candy, the 'king' of desserts, is honey ribbons wrapped around almonds. The Alive Trick-Eye Museum lets you capture funny images in optical illusions and the Tea House serves traditional Korean teas.
Location: 44 Insadong-gil, Gwanhun-dong, Jongno-gu, Seoul
Opening hours: Daily 9:30 AM to 6:30 PM 
Entrance Fee: Free
6. Starfield Library, Coex Mall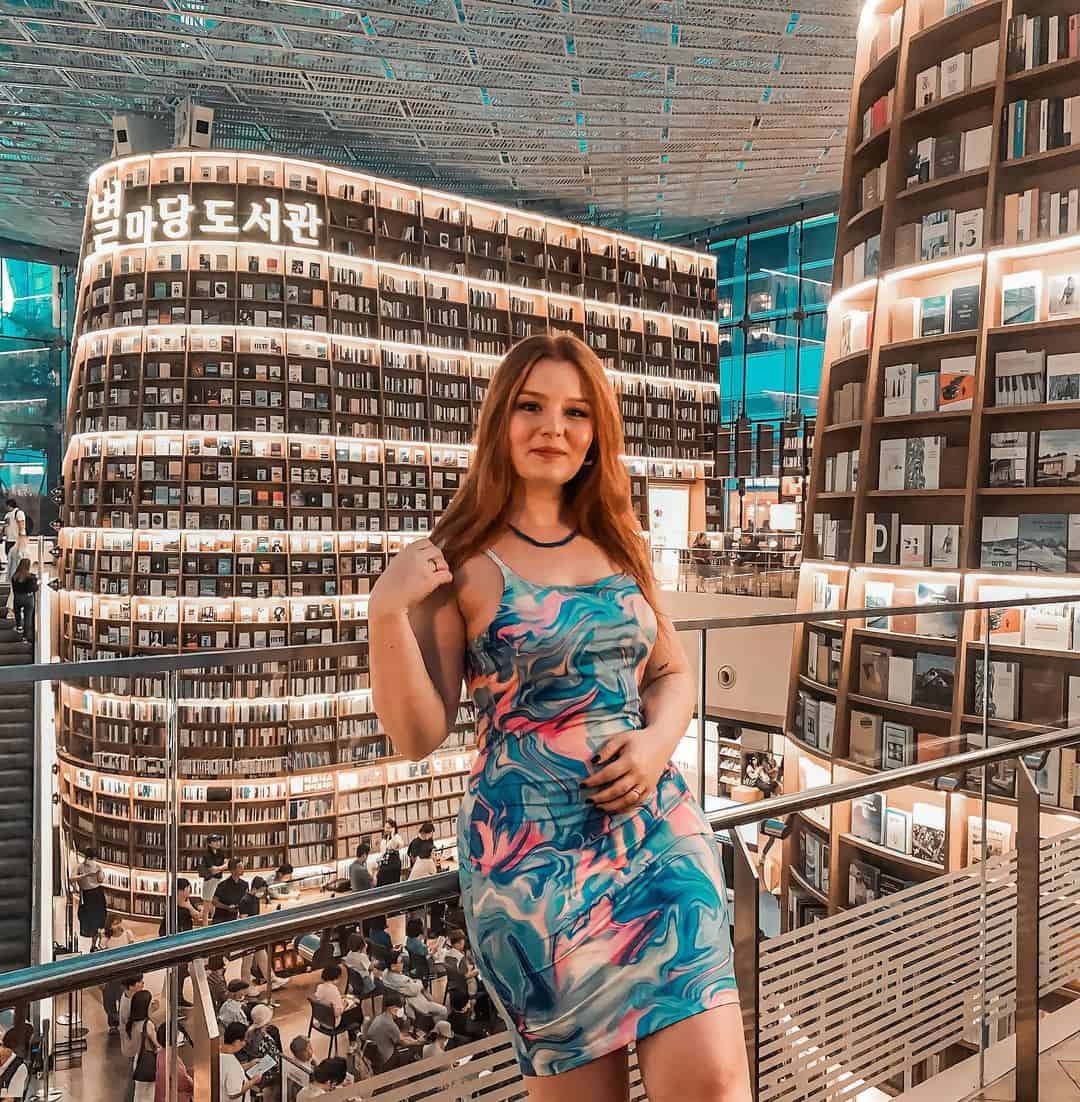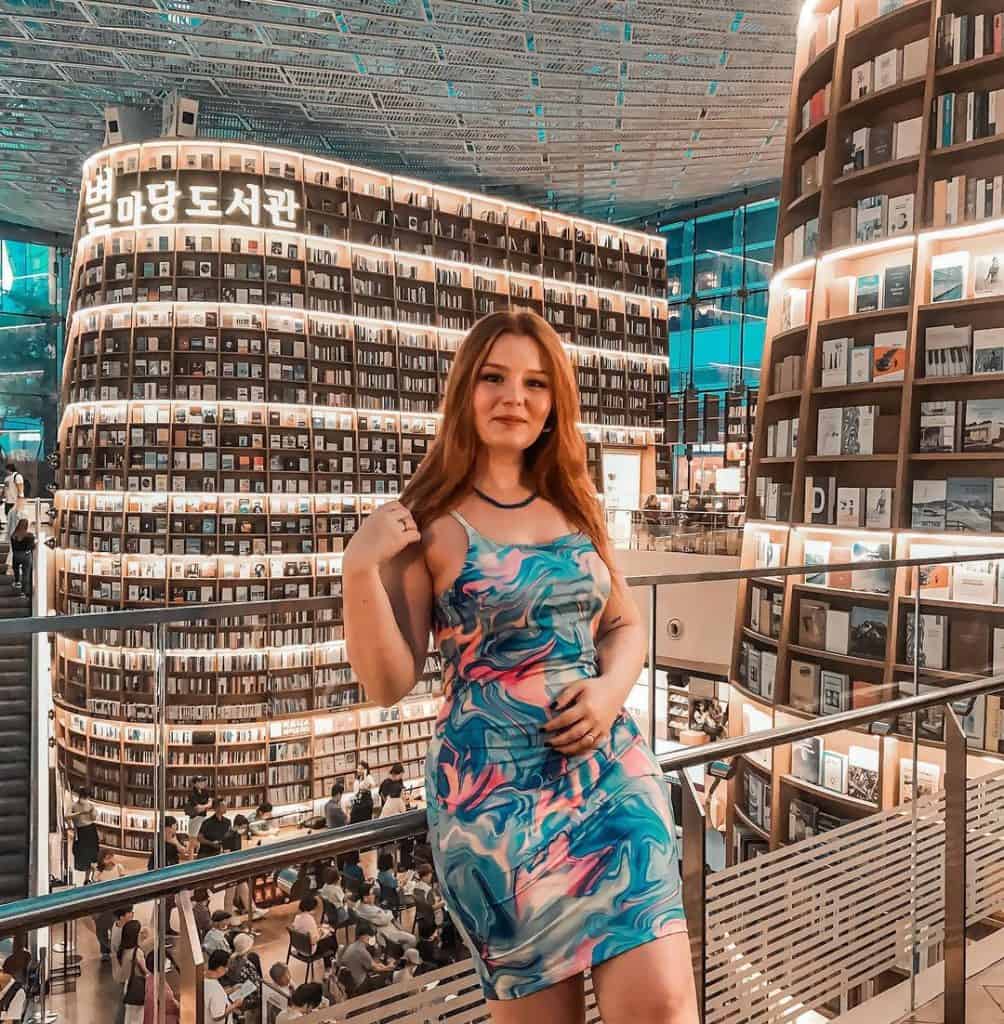 This wonderful library in COEX mall includes over 50,000 books and magazines! The two-story library hosts monthly book readings, piano concerts, and children's entertainment. Visitors spend all day riding up and down, documenting every corner of this library.
These rows, shelves, and collections may fill your feed with colour and a wonderful mix of modern and antique.In the COEX mall, you can shop, attend a fair or event, see a movie, visit the aquarium, and more! COEX is a must-see in Gangnam, especially with youngsters. 
Location : 513 Yeongdong-daero, Samseong 1(il)-dong, Gangnam-gu, Seoul
Opening hours: Daily 10.30 AM to 10 PM 
Entrance Fees: Free
Common Ground is a big, colourful shopping area made out of old shipping containers. It is full of young, hip, and fun people who go there to shop, eat, and have fun. This is the place to go if you want to find edgy photos that will stand out in your feed and find great deals on big-name and tourist goods. 
It's made of 200 shipping barrels and is every Instagrammer's dream. The industrial look and colour of Common Ground goes well with almost any outfit. You can wear it with a dirty, dark-coloured outfit, or you can wear bright colours like orange and yellow to make the photo really stand out.
Location: 200 Achasan-ro, Jayang 4(sa)-dong, Gwangjin-gu, Seoul
Opening hours: Daily 11 AM to 10 PM
Entrance Fees: Free
Get ready to let your inner fashionista out and walk like a boss along Garosu-gil when you're ready. This tree-lined avenue is famous on the Internet as the perfect spot to take pictures of your outfit of the day. In fact, it's a top location for taking Instagram photos in Seoul.
Take pictures of yourself posing along the sidewalk to capture the charming European atmosphere, or stop in at one of the numerous cafes for a bite to eat and a bird's-eye view of the action.The vibe of your pictures may change depending on the season you visit (summer vs. winter), so be sure to pack accordingly.
Location: Sinsa-dong, Gangnam-gu, Seoul
Opening hours: 24 hours (Mon – Sun)
Entrance Fees: Free
Yongma Land brings you to the 1980s. The abandoned theme park, which closed in 2011, is again open to tourists for a nominal fee of KRW10,000 (~S$11.07) and remains a popular Seoul Instagram location. You can wear retro clothes that match the rides or colourful modern clothes to show the time difference.Take creative photos in front of the carousel in the park until sunset. For the perfect reflection shot, hide your camera behind the carousel-side puddle.
Location: 118 Mang-ro 70-gil, Jungnang-gu, Seoul
Opening hours: 10am to 6pm (Mon – Sun)
Entrance Fees: KRW 10,000 (~S$11.07)
Seoul has an innovative culture that can be compared nowhere else in the world. It is a destination where you can have a taste of everything in one trip: art, history, food, tradition, futurism, the seashore, the mountains, and fun.
Common Questions About Places In Seoul
Start Planning Your south korea Trip Now!
Book Your Flight:
Use Skyscanner to find a cheap flights. A travellers favorite way to book flights, as it searches websites and airlines around the world with one click.
Book Your Bus or Transportation Within South Korea:
There are two ways to book your transporation, ask your hotel or hostel, go to the local bus terminal, or book online, for a less stressful trip using EasyBook or 12go.asia
Book Your Accomodation: 
Find the best hotels or hostels at HostelWorld, Booking.com, Agoda.com. Perks include with no upfront payment. Pay when you check out and Free cancellations.
Dont Forget Your Travel Insurance:
Two popular choices are SafetyWing and WorldsNomads. A traveler should buy traveler's insurance to protect themselves against unexpected events such as trip cancellations, medical emergencies, and lost or stolen baggage. It provides peace of mind and financial protection in case of unforeseen circumstances.
Useful Apps?
KaokaoBus /K-Eta- Local Transportation
NaverMaps, KaoKaoMaps – GPS
Baemin and Yogiyo  – Food Delivery
T-Money : Payments and Transporation
Papago – Translation
Whatsapp/KaoKao- Communication
Want More Information On South Korea?
Be sure to check out my nomad travel guide on the South Korea for even more tips.
Disclosure: Please note that some of the links above may be affiliate links, and at no additional cost to you, I earn a commission if you make a purchase.