The 7 Best Cities For Digital Nomads in Malaysia
Digital nomads work as location-independent remote workers which allows them to explore low-cost places that also offer good life quality. 
The infrastructure in Malaysia is excellent for the digital nomad lifestyle and tourism attractions.
Nomads seeking their next great adventure can consider Malaysia since it is very affordable, yet has all the modern comforts of a first-world country. Out of the various cities, let's see the top 7 places in Malaysia for digital nomads!
For digital nomads, Penang is a fantastic location. 
It offers a:
Low cost of living

English is common

Many coffee shops and coworking spaces
Most importantly, though, it's a beautiful city to experience island life and a place with a rich cultural history.
In Georgetown, Malaysia, you may explore the city at your leisure, stopping at any cafés or streets that catch your eye.
Pull up a city map where famous and beautiful artwork can be found but the best way to explore street art is to wander the neighborhoods yourself.
Georgetown is highly recognized for its cuisine. The most incredible place to try street cuisine in Georgetown is one of the many hawker centers, also known as food courts, that can be found around the city.
You can check here to find the hawker centers in Georgetown. 
Malaysian, Chinese, and Indian cultures are most prevalent in Penang. The multicultural aspect of Penang has a lot to contribute to the experiences of its tourists, especially digital nomads. Its richness is one of the things that makes it so fascinating. You will find it is easy to make friends in this city.
Co-working Spaces
In Penang, there are various co-working facilities. The ADA Serviced Office in Straits Quay, a charming coastal mall, is a well-liked headquarters.
It has access to delicious meals and views of the harbor and the ocean. Although the co-working space is ample, a day pass is relatively expensive (RM50 a few years back). 
However, if you believe you'll use it frequently, getting a  monthly pass is best.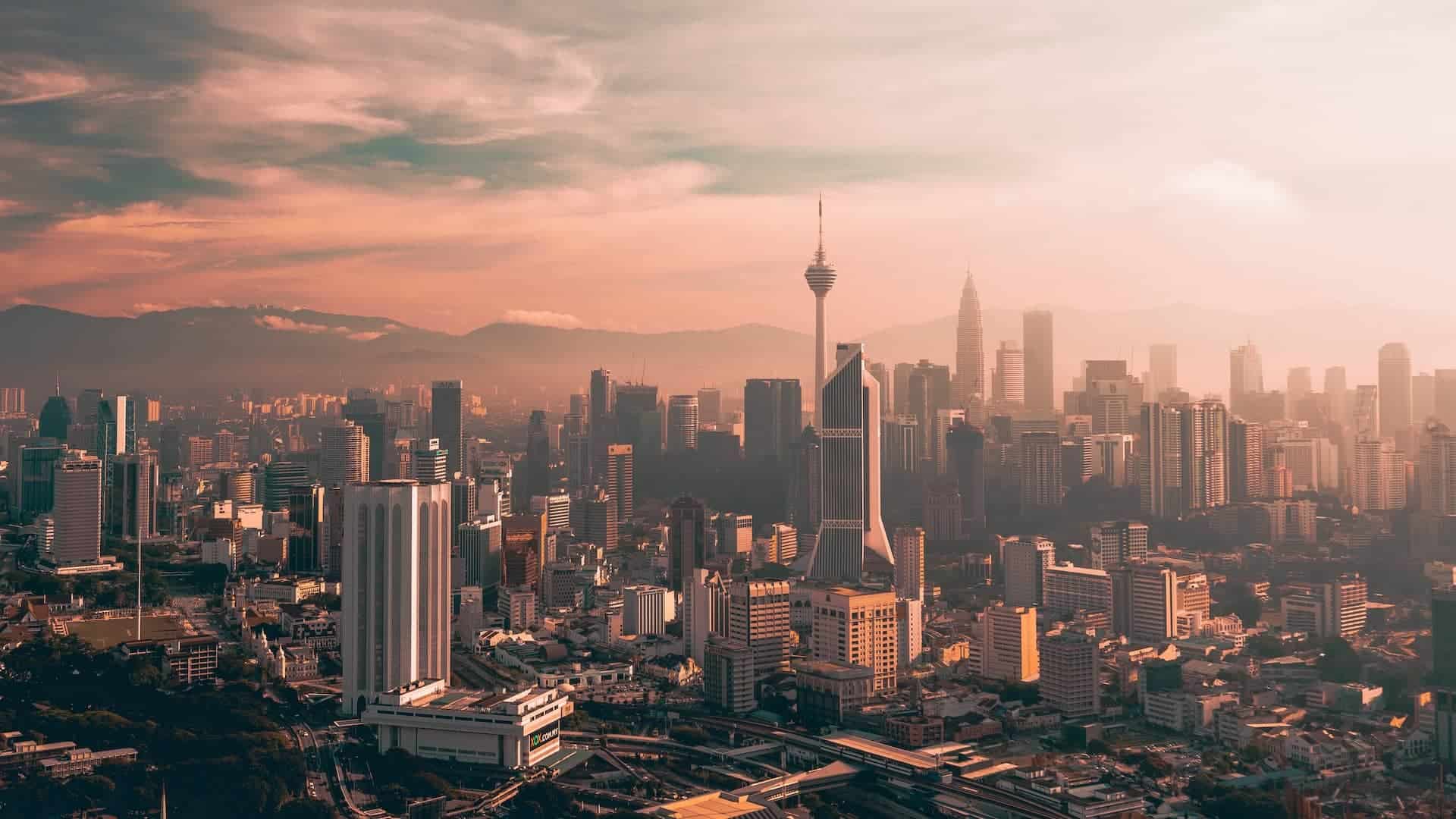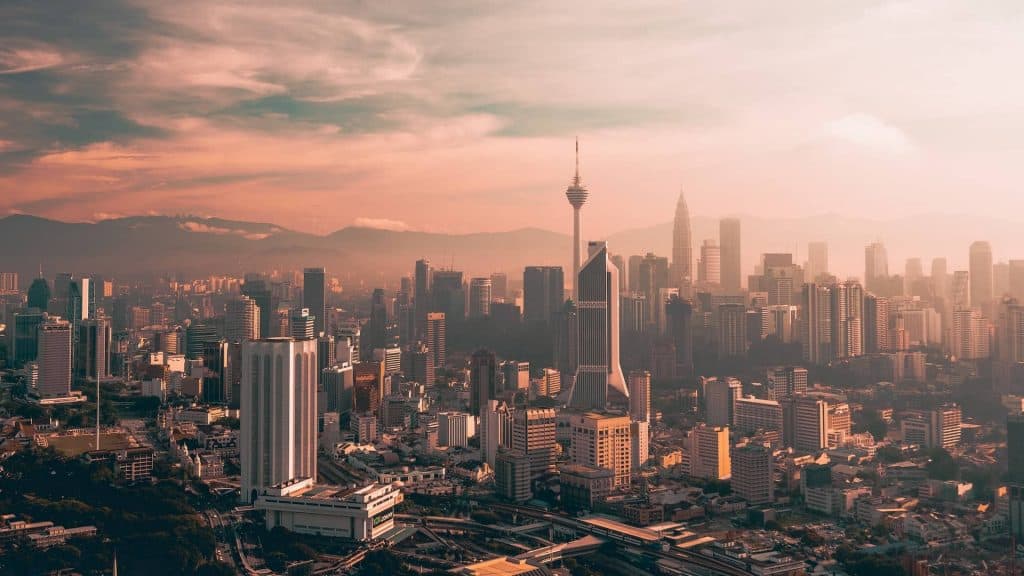 In the center of Malaysia, Kuala Lumpur is an energetic and contemporary metropolis. With more than 1.8 million residents and serving as the capital, it's now well-liked by expatriates and digital nomads.
Here you will find city life, similar to Bangkok, Thailand or New York city. Lots of food, cafes, malls and people being busy.
If you want to see Kuala Lumpur but are short on time see our Two-day itinerary.
You can find the largest digital nomad and remote working population, as well as the best amenities like co-working places and networking opportunities in Kuala Lumpur.
Kuala Lumpur offers affordable solutions regardless of your financial situation. It's gorgeous everywhere, from its sophisticated, high-tech metropolis to its older, more historical cultural locations.
KL is:
Reasonably priced

Offers great coworking spaces

Amazing nightlife and restaurants
Kuala Lumpur is easily accessible from virtually everywhere globally and serves as a fantastic starting point for excursions across Asia, thanks to its significant airport hub.
Kuala Lumpur's top places for housing include:
Mont Kiara 
The city core is typically avoided by long-term expatriates and digital nomads who think of Kuala Lumpur as their home. They live in neighborhoods outside of the city. 
The most well-liked location for expatriates is Mont Kiara, studded with luxurious highrises, foreign schools, and quaint cafés.
Ismail Taman Tun
TTDI is another well-liked area outside of the metropolis. Even though it is located further from the city center, it has a convenient transportation link. 
Prices are comparable to Mont Kiara. However, compared to living in the city center; you may expect more peace.
Co-working Spaces
Here are a few top workplaces in Kuala Lumpur:
START Co-Working Space

Common Ground

Whitespace

WORQ

Paper + Toast: My personal choice when close to downtown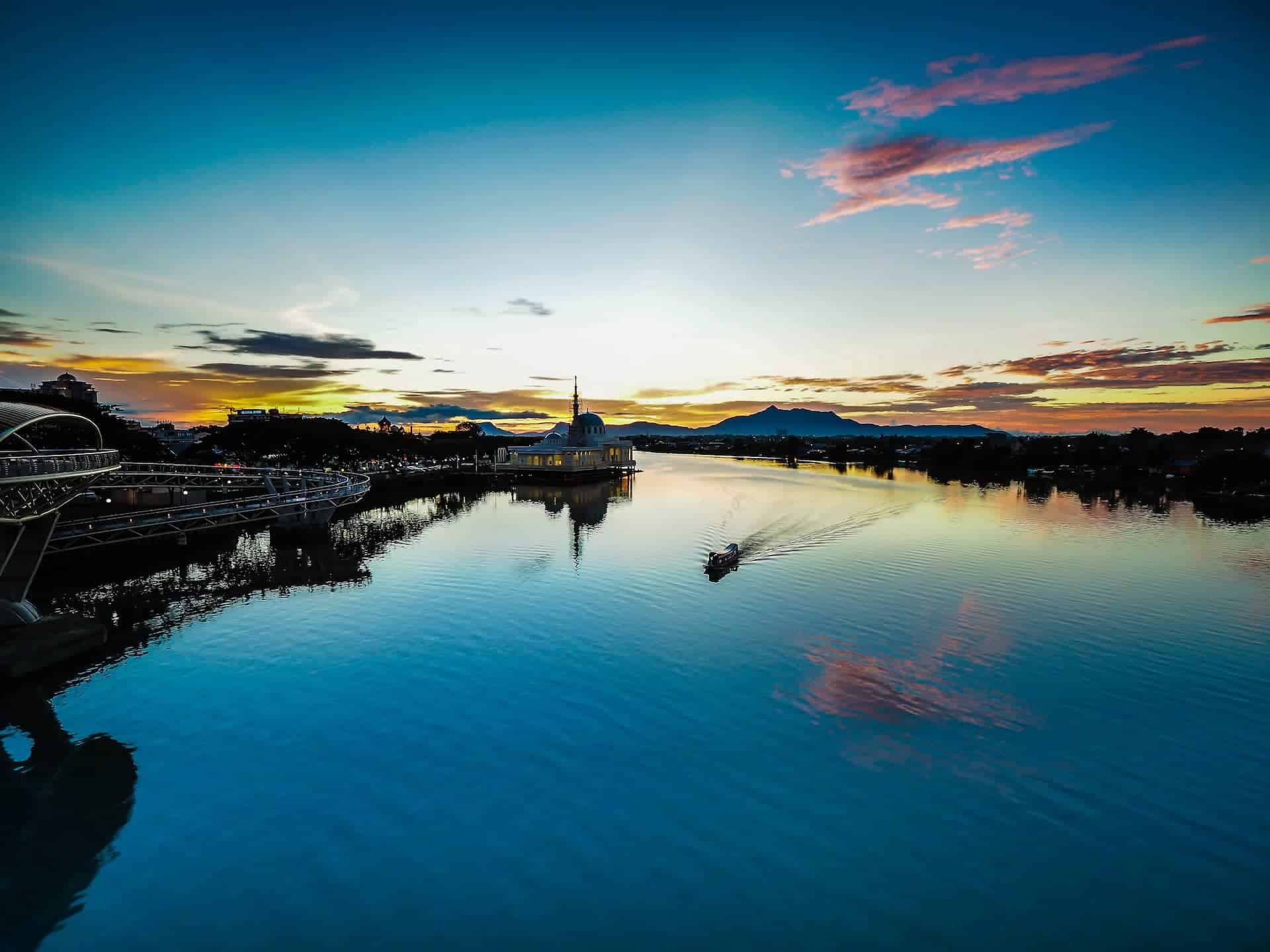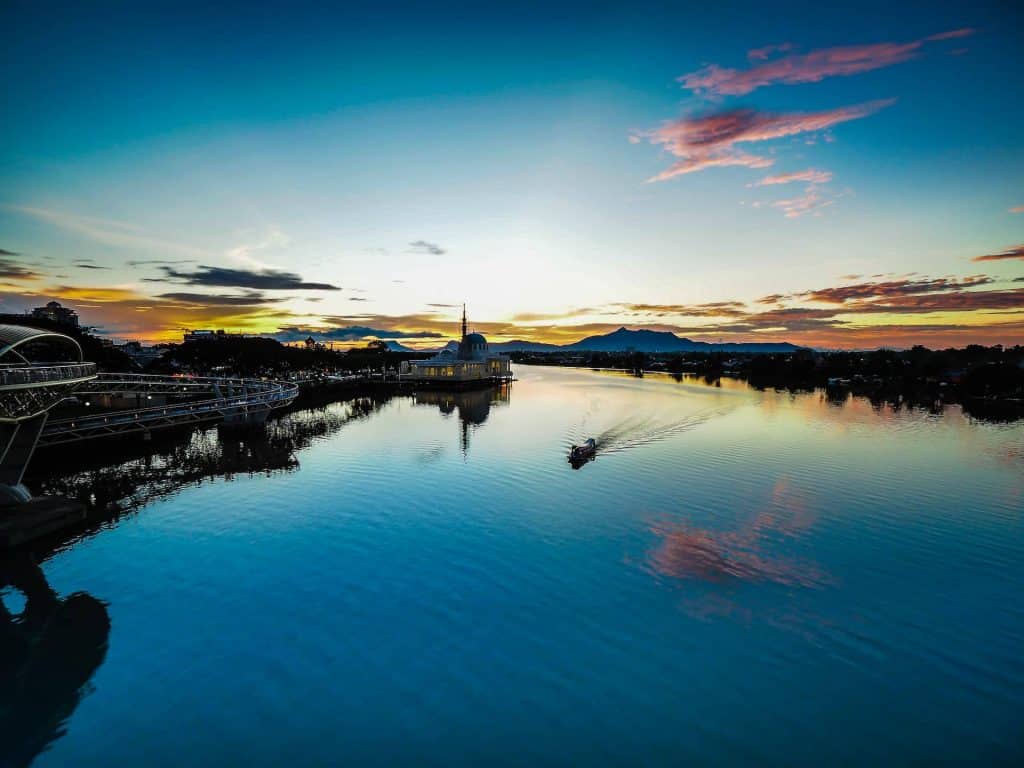 On the island of Borneo, Sarawak, a state in Malaysia, is Kuching. The capital. 
Even though Sarawak's predominant religion is Christianity, Malaysia is a Muslim nation. English is quite well-known among Kuching locals as the state's official language.
Malay and Chinese are widely spoken here as well. Most visitors from other nations do not require a visa and are permitted a 90-day stay.
Kuching has a reasonably low living expense for Westerners. Local apartments may be obtained for far less than Airbnb apartments that are usually available for <$700 a month. 
Kuching is renowned for its cleanliness and some of Asia's cleanest air.
Co-working Spaces
There are inexpensive co-working spaces, dependable internet, and simple transportation rental options.
A lot of digital nomads are now discovering Kuching. Consequently, the city is home to many co-working facilities. The most well-liked co-working locations are:
My Placa

iCube Innovation

381 Hub.
Check here to find office spaces wherever you are in Malaysia.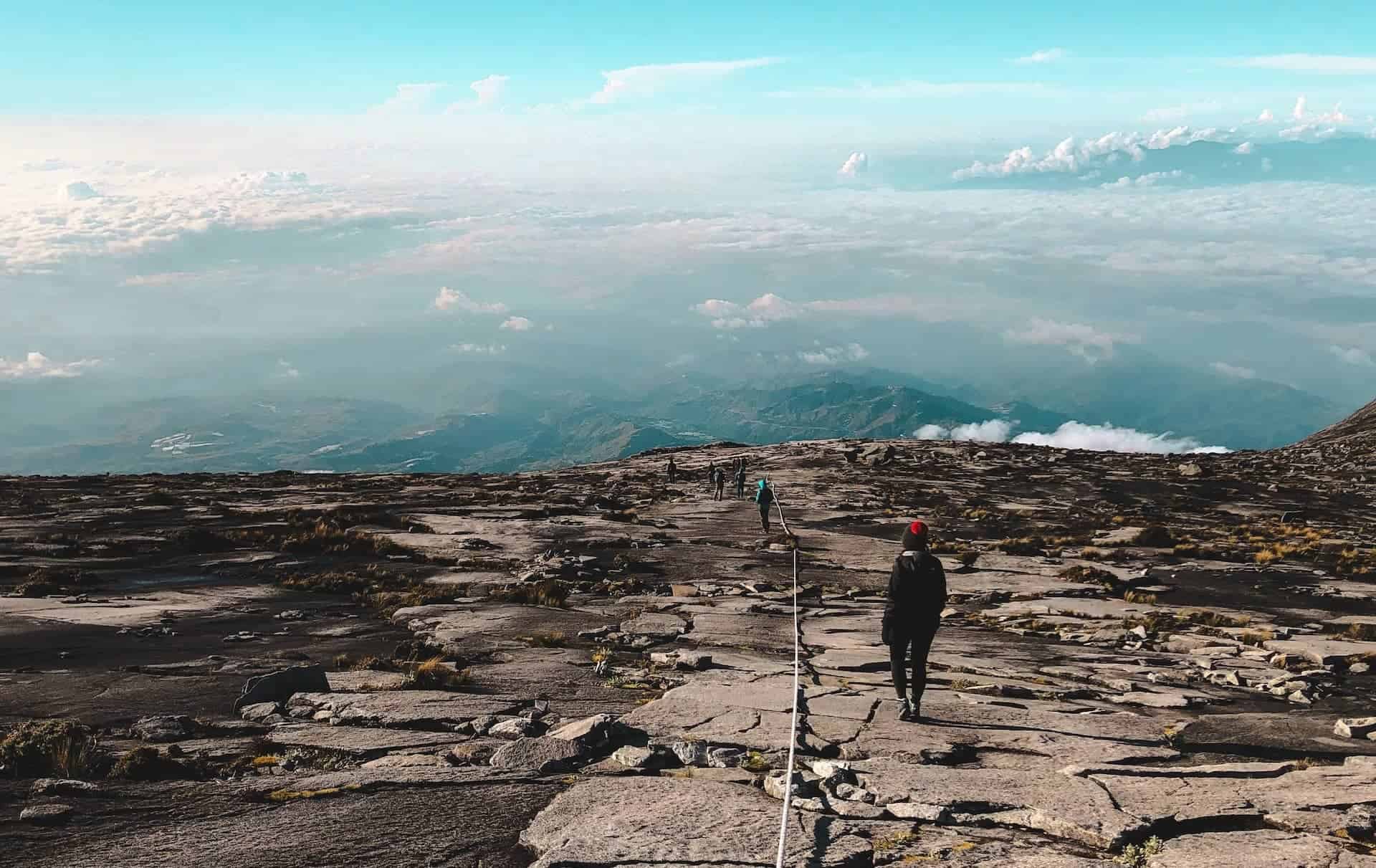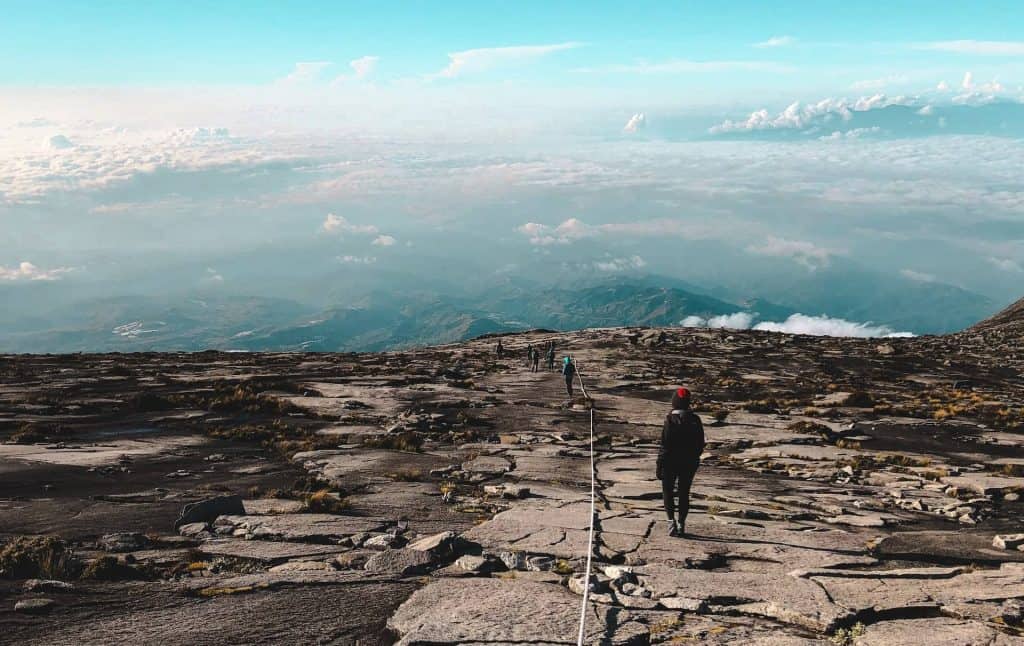 You need to go no farther than Kota Kinabalu if you're searching for a peaceful, laid-back spot to stay. 
The city, which has 576,000 citizens, serves as the Sabah state capital of Malaysia in the northern region of Borneo. 
You can expect a wide variety of restaurants, from well-known western brands to Chinese and ethnic restaurants. 
Kota Kinabalu, one of the best towns in Malaysia for digital nomads to live in, is a walking city with good tourist amenities and a booming food and café subculture. 
Important: The average monthly cost of living in this place is $815. You could have a place to live in for about $195 on average per month if you rent an apartment!
Co-working Spaces
A few well-known co-working spaces in Kota Kinabalu, are: 
Regus

Protege Hub

Workify

GASpace

Opis Co-working Space.
You can also check more working spaces in Kota Kinabalu here and choose what works for you. 
A strategic border town connecting Malaysia and Singapore is Johor. While Singapore might be expensive, especially with lodging and entertainment, Johor is inexpensive and has excellent weather. 
You may establish a base in Johor and regularly travel to Singapore, thanks to the excellent transit there. 
Because Johor Bahru is an accessible entry point for business people operating in Singapore, it is a popular choice among digital nomads. 
You'll come for the prices:
58-cent cappuccinos

87-cent pints of beer
However, you'll stay for the kind residents and beautiful surroundings.
If you like to work in cafés, there are numerous options in Johor Bahru as there are a growing number of locations with WiFi.
Co-working Spaces
Additionally, there are several co-working spaces throughout the city because the digital nomad population here is expanding. The spaces are:
Infinity 8

DreamSpace Shared Office

Regus
Worldwide digital nomads travel to Langkawi–another well-liked beach location in Malaysia. 
Langkawi, an archipelago of 99 beautiful islands, is encircled by a clear blue sea and a soft sand coastline. 
If you wish to take some time off from work and enjoy some traveling, Langkawi is a popular tourist destination with various sights and heritage landmarks to see. 
You can rent a car from many places in the city , and getting about is relatively easy then. My suggestion is that you get a motorcycle or scooter. Don't forget your international drivers license!
In Langkawi, transport and accommodation are both reasonably priced. 
Like the rest of Malaysia, it's simple to find a modest studio for USD300 per month, and eating locally is fairly affordable.
Co-working Space
The Jetpack Langkawi is the only co-working space for Langkawi that is featured in Coworker. You will have no difficulty finding a café to work in since the island's cafe scene is flourishing.
In Malaysia, Malacca is among the most well visited and liked tourist spots. 
Popular attractions such as the marketplace on Jonker Walk, with its assortment of sellers and street entertainers, are worth experiencing. Christ Church or the renowned Maritime Museum are great places to visit during the day too.
Malacca is renowned for the diverse cultural areas that make up the metropolis. For instance, you could appreciate visiting Little India to experience Indian culture. Alternatively, you might see the Portuguese Settlement to learn more about Portuguese culture.
Click on the youtube video link to watch a tour of Little India and the Portuguese Settlement. 
Co-working Spaces
Malacca-based digital nomads might feel comfortable working at Dreambase Coworking. This premium office co-working facility has a café, a chill-out area, and even complimentary water.
Malaysia offers a lot to digital nomads searching for a vibrant, diverse, and exciting place to base themselves while they work. It's an ideal country for those who enjoy nature and those who find calmness in the chaos.
If you need help with getting a visa for Malaysia, search visaguide.world and see the requirements for other countries as well. 
And, check out this extensive Malaysia backpacking guide before you begin your journey! It's got everything you need. 
Safe travels!
Yes, Malaysia is a very affordable country, with a many unique tourists offerings, yet has strong wifi and many cafes and coworking areas.
I suggest Kuala Lumpur for a city experience, Penang for a more lay backed life, or Langkawi for island vibes.
Thanks for reading. Any suggestions? comment below
Start Planning Your Malaysia Trip Now!
Book Your Flight:
Use Skyscanner to find a cheap flights. A travellers favorite way to book flights, as it searches websites and airlines around the world with one click.
Book Your Bus or Transportation Within Malaysia:
There are two ways to book your transporation, ask your hotel or hostel, go to the local bus terminal, or book online, for a less stressful trip using Easybook or 12go.asia
Book Your Accomodation: 
Find the best hotels or hostels at HostelWorld, Booking.com, Agoda.com. Perks include with no upfront payment. Pay when you check out and Free cancellations.
Dont Forget Your Travel Insurance:
Two popular choices are SafetyWing and WorldsNomads. A traveler should buy traveler's insurance to protect themselves against unexpected events such as trip cancellations, medical emergencies, and lost or stolen baggage. It provides peace of mind and financial protection in case of unforeseen circumstances.
Usefull Apps?
Grab/Uber – Local Transportation
Food Panda/Grab – Food Delivery
Whatsapp – Communication
Want More Information On Indonesia?
Be sure to check out my nomad travel guide on the Malaysia for even more tips.
Disclosure: Please note that some of the links above may be affiliate links, and at no additional cost to you, I earn a commission if you make a purchase.