top 10 instagrammable places in Chiang Mai
Chiang Mai is the biggest city in Northern Thailand. Until the 16th century, it was the capital of the Lanna Kingdom. The Old City of Chiang Mai is a great place for people who like history because it has old temples, old city walls, and other sights that have been around for a long time.
Chiang Mai is surrounded by mountains, which makes it a great place for tourists and people who like to be in nature. It is also home to two traditional towns and has a lot of different things to do.
Your Chiang Mai itinerary must include temples. Wat Rajamontean is one of Chiang Mai's top photo sites. It's not a traditional Thai temple, and it has unique characteristics. Wat Rajamontean is small and can be seen in 30 minutes, but don't miss the huge Buddha and the interior.
The admission is free and few tourists visit. This allows you to visit Wat Rajamontean at any time and create a lovely Chiang Mai postcard. A wide-angle lens is essential.
Location: 149 Mueang Chiang Mai District, Chiang Mai 50200, Thailand
Opening hours: Daily 7 AM to 6 PM 
Entrance Fees: Free 
In 1975, Thapae, the most famous gate, was rebuilt with shining red bricks. It hosts hundreds of tourists and community events and is a reminder of Chiang Mai's great heritage.They were always guarded and open only from sunrise to sundown. In wartime, bamboo bridges across the moat were removed and the gates closed. 
With so many cars and people going by and through the gate, it might be hard to get a shot like the one below, but it's worth the trouble. Early morning arrivals avoid crowds.
Location: Tha Phae Road, Chang Khlan Sub-district, Mueang Chiang Mai District, Chiang Mai 50200, Thailand
Opening hours: 24 hours 
Entrance Fees: Free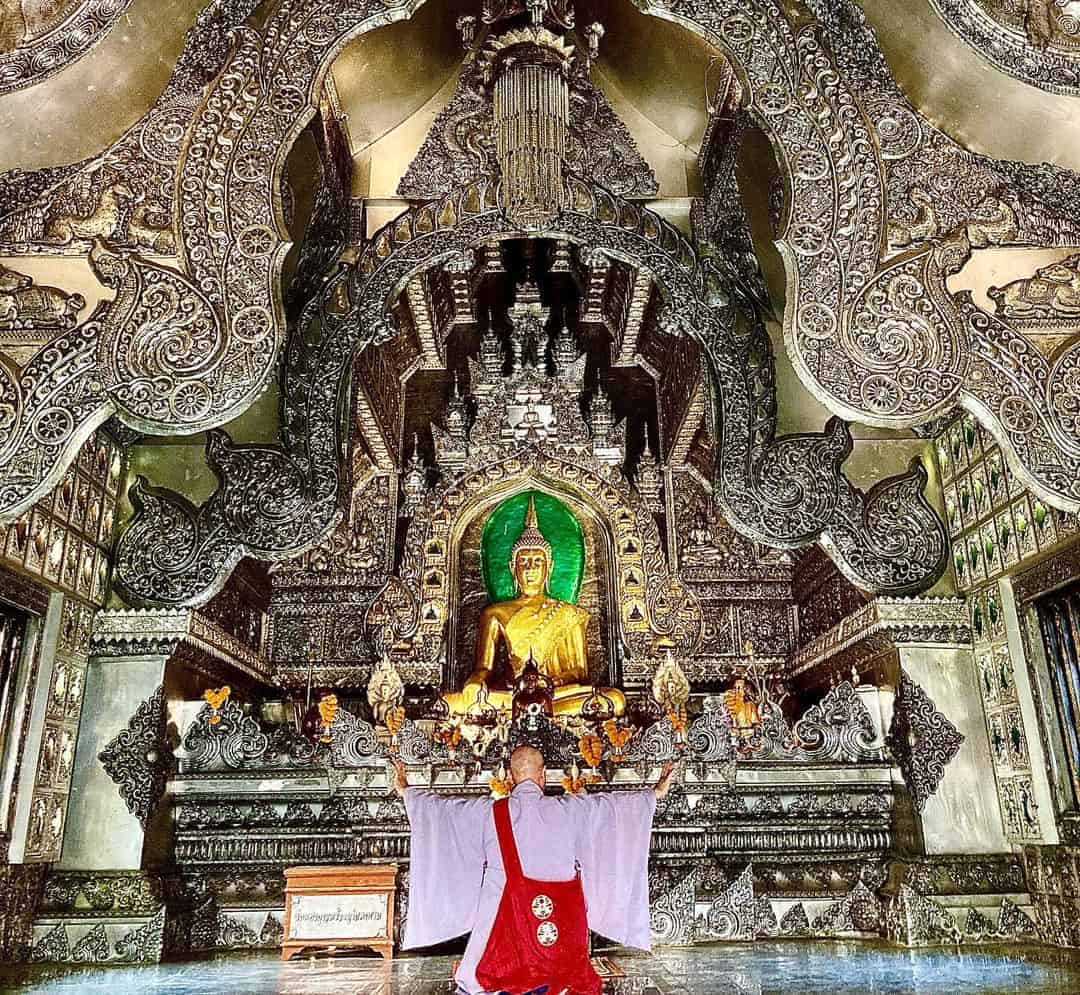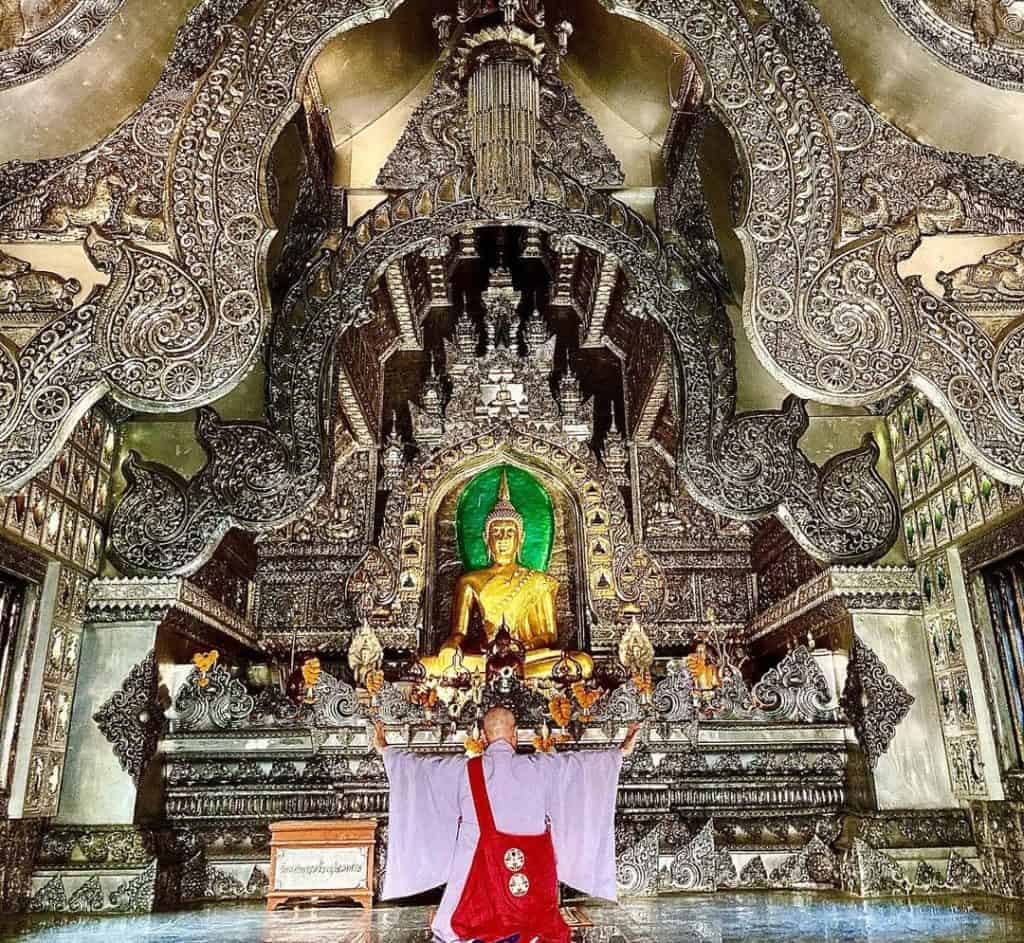 One of Chiang Mai's famous temples is Wat Sri Suphan, or Silver Hall. It is unique and covered in silver and aluminium. Even if you've seen many Thai temples, don't miss The Silver Hall.Females cannot enter the temple, but they can admire its beauty from the outside. Front of the entrance and behind the temple are great for photos. The back needs a wide-angle lens, but the front can use numerous.Visit Lanna ArtIsans Art Gallery before entering The Silver Hall. 
Location: Wualai District, Chiang Mai
Opening hours: 6 AM to 5:30 PM except Saturday closes at 9:30 PM 
Entrance Fees: 50 Baht 
The Grand Pavilion, also known as Hor Kham Luang, is another hidden gem just outside of Chiang Mai, and it can be found in Royal Park Rajapruek. There are several picturesque spots in these gardens, but the Grand Pavilion is where all eyes will be attracted.
We recommend bringing a zoom lens so you may experiment with different viewpoints. Right in front of the Grand Pavilion or next to the pond, you can find a lot of interesting views. Go exploring and spark your imagination!To get about the park, visitors can either ride buses or rent bicycles near the main gate. If you're a flower fanatic, you should set aside at least a few hours to explore Royal Park Rajapruek.
Location: 334, Mae Hia, Mueang Chiang Mai District, Chiang Mai 50100, Thailand
Opening hours: Daily 9 AM to 6 PM 
Entrance Fees: 200 Baht 
Another stunning Lanna temple in Chiang Mai is Wat Lok Moli. Both Viharn and the nearby big chedi are popular locations for photographers visiting Chiang Mai.It is right next to Wat Rajamontean, and like Wat Rajamontean, it is not too crowded. These two sights are easily complementary to one another. 
The massive chedi of Wat Lok Moli was built in 1527, but the temple itself has been around since the 14th century. During the Mangrai dynasty, Burmese monks lived at the place where the temple is now. This temple is also where the ashes of several people from the Mengrai family are kept. 
Location: 298/1 Manee Nopparat Rd, Chiang Mai 50200, Thailand
Opening hours: Daily 6 AM to 5 PM 
Entrance Fees: Free
6.Bo Sang Umbrella Village
Bo Sang Umbrella Village is the place to go if you value variety in your photographic subjects and are willing to schedule in some travel time. You may probably guess that it's a tiny town in Thailand where umbrellas are made and used as decorative elements throughout the community.You can go shopping, check out the umbrella-making process, or just explore the beautiful countryside outside of Chiang Mai.
Spend an afternoon away from Chiang Mai's tourist traps learning about this traditional art form. There are numerous trendy cafes in addition to conventional dining options including delicious Khao Soi.
Location: Q37J+XPQ, 1014, Ton Pao, San Kamphaeng District, Chiang Mai 50130, Thailand
Opening hours: Daily 8:30 AM to 5 PM 
Entrance Fees: Free
7.Doi Inthanon National Park
Doi Inthanon National Park is another fantastic destination outside of Chiang Mai. Doi Inthanon is the tallest mountain in Thailand, and the National Park is full of interesting scenery and waterfalls. This is a great place to take pictures of nature. It is home to the Karen hill people and has many other interesting cultural attractions.
Hikers can explore the Mighty Wachirathan and Mae Ya Waterfall, as well as the Karen people and the famous Pagoda of Chiang Mai. All of these places are great for taking pictures, so you won't want to miss out.
Location: Chiang Mai 
Opening hours: Daily 5:30 AM to 6:30 PM 
Entrance Fees: 300 Baht for Adults , 150 Baht for Children
Anyone looking to add a bit of life to their Instagram feed should make the short trip to the I Love Flower Farm, which is located just 30 minutes outside of Chiang Mai's city centre. The entry charge of 70 baht* includes a sweet snack and herbal tea set, and guests are encouraged to dance and play among the gorgeous purple and white blooms of this 8-rai garden dedicated to local flowers. This is the place to go if you're in search of stunningly beautiful and fantastical photographs.
Location: In Mae Rim District, Chiang Mai
Opening hours: Daily 8 AM to 6 PM 
Entrance Fees: 70 Baht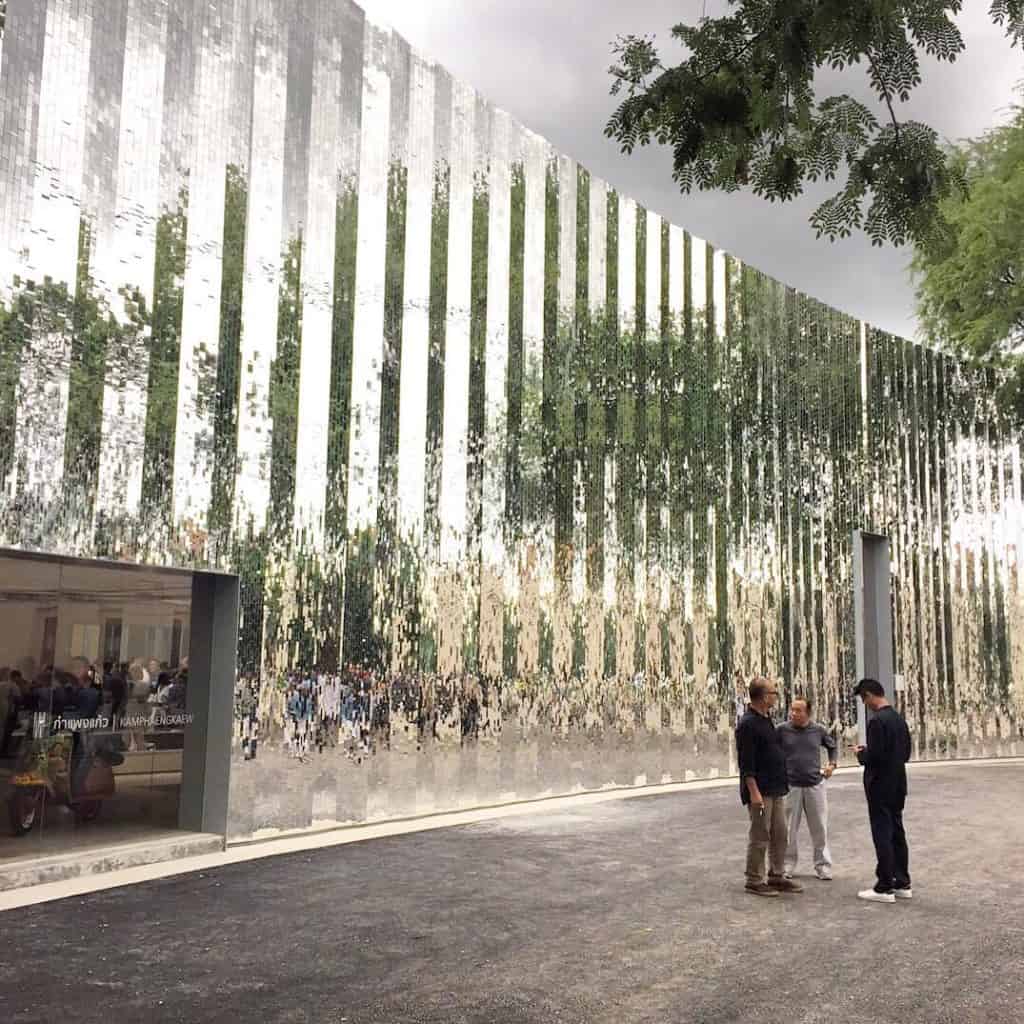 The name of the museum is a play on words, since "Mai" in Chiang Mai means "new city." It is also an honour to Eric Bunnag Booth's great-grand aunt "Chao Chom Iam", who was a royal partner to King Rama V and lived when Thailand was becoming more modern. The double meaning goes all the way to what MAI IAM means, which is "brand new."
Instead of highlighting the architecture, Maiiam's modern industrial interior and dazzling exterior were designed to present the museum's works. But it's not clear whether or not they've reached this goal. Not many shooters can say no to that wall that looks like a mirror.
Location: 122, Moo 7 Ton Pao San Kamphaeng District, Chiang Mai 50130, Thailand
Opening hours: Close on Tues, Wed & Thurs / Rest of the days are open from 10 AM to 6 PM
Entrance Fees: Adults 150 Baht , Students 100 Baht, children under 12 are free
Spend a leisurely Sunday morning in Huay Tung Tao, just like a real local does. From the old city, it only takes 15 minutes on a motorbike or songthaew to get to the reservoir, which is a great place to spend a couple of quiet hours. Posting from Huay Tung Tao will prove to the world that you are a real traveller because it is still relatively undiscovered by tourists. 
Although there are many other things to do once inside (for an extra 20THB), most visitors just want to hang out in the charming bamboo huts that line the lake and enjoy food they brought from home.
Location: 283 ม.3 ดอนแก้ว Amphoe Mae Rim, Chang Wat Chiang Mai 50180, Thailand
Opening hours: Daily 6:30 AM to 8 PM 
Entrance Fees: Park Fee : 50 Baht for foreigner ad 20 Baht for Thailand resident
If you're looking for a true taste of Thailand, Chiang Mai is the place to go. It's home to a variety of historic sites, beautiful temples, and bustling local markets. Chiang Mai is an exciting and authentic place to dive into Thai culture through its people, cuisine, and markets.
Common Questions About Places In Chiang Mai
Start Planning Your Thailand Trip Now!
Book Your Flight:
Use Skyscanner to find a cheap flights. A travellers favorite way to book flights, as it searches websites and airlines around the world with one click.
Book Your Bus or Transportation Within Thailand:
There are two ways to book your transporation, ask your hotel or hostel, go to the local bus terminal, or book online, for a less stressful trip using Easybook or 12go.asia
Book Your Accomodation: 
Find the best hotels or hostels at HostelWorld, Booking.com, Agoda.com. Perks include with no upfront payment. Pay when you check out and Free cancellations.
Dont Forget Your Travel Insurance:
Two popular choices are SafetyWing and WorldsNomads. A traveler should buy traveler's insurance to protect themselves against unexpected events such as trip cancellations, medical emergencies, and lost or stolen baggage. It provides peace of mind and financial protection in case of unforeseen circumstances.
Useful Apps?
Grab/Uber – Local Transportation
Uber Eats/Grab – Food Delivery
Whatsapp – Communication
Want More Information On Thailand?
Be sure to check out my nomad travel guide on the Thailand for even more tips.
Disclosure: Please note that some of the links above may be affiliate links, and at no additional cost to you, I earn a commission if you make a purchase.