Top 10 Instagrammable Spots in Bangkok
If you're a digital nomad looking for a destination that is accessible all year, then Bangkok is a city you shouldn't miss. With its vibrant atmosphere, stunning temples, and bustling markets, it's a photographer's paradise. However, before you start your adventure, it's essential to be mindful of the weather conditions, as the heat can be intense during the hot season. In this article, we will explore some of the top places to visit in Bangkok that will give you plenty of opportunities to capture Instagram-worthy shots. So grab your camera and let's dive into the city's breathtaking perspectives.
1. The Royal Grand Palace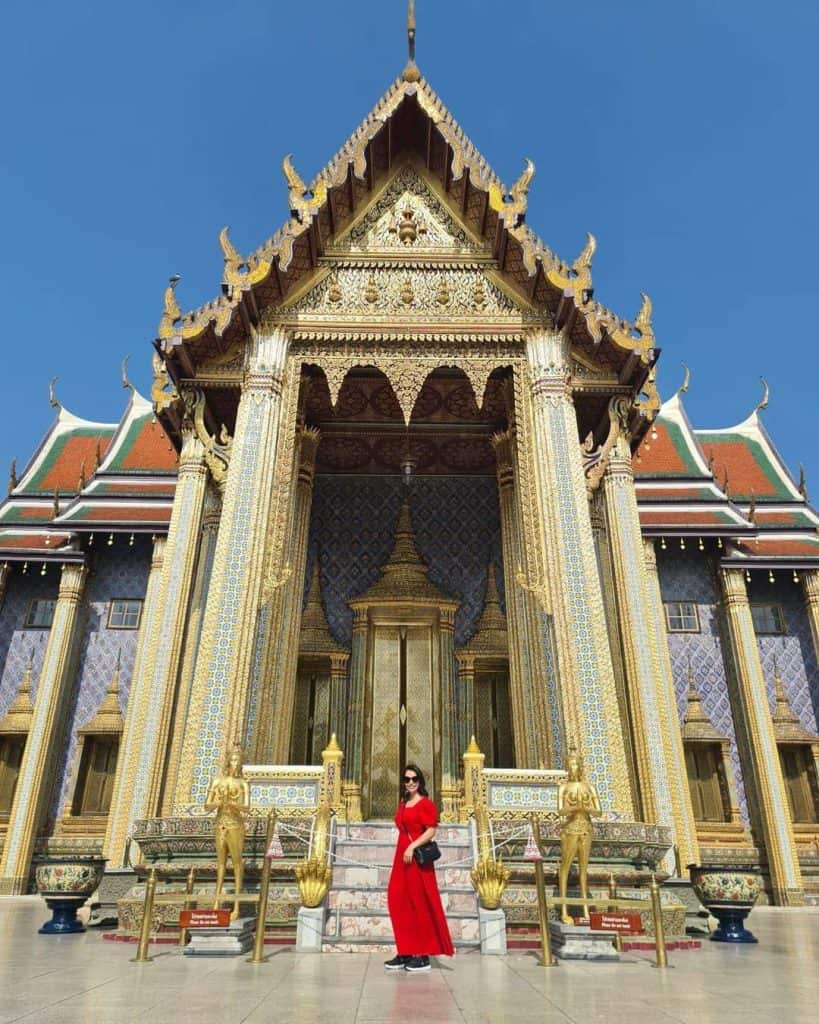 The Grand Palace in the heart of Bangkok is an architectural masterpiece that served as the official residence of the monarch for many years. With its elaborate golden spires, intricate detailing, and vast rooftops, the palace is a favorite among tourists. Its over 100 buildings, well-manicured gardens, and striking statues make it a perfect spot for Instagram-worthy photographs. For a dreamy shot, head to the steps in front of Wat Phra Kaew, an awe-inspiring temple adorned in gold and home to the revered Emerald Buddha. Despite being a famous landmark, the palace is always crowded, but visiting in the morning can help you avoid the throngs. Undoubtedly, the Grand Palace is a must-visit Instagram location and the most notable monument in Bangkok.
Location : Na Phra Lan Rd, Phra Borom Maha Ratchawang, Phra Nakhon, Bangkok 10200, Thailand
Opening hours : 8:30 am to 3.30 pm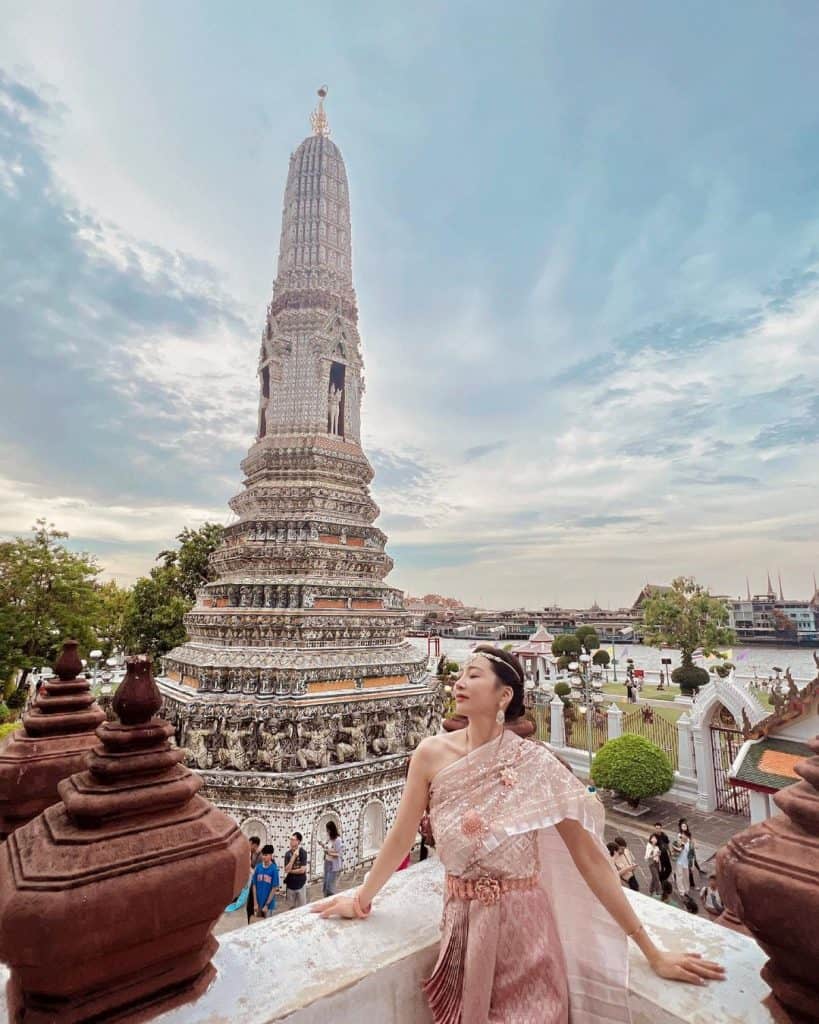 When it comes to Bangkok's must-see temples, Wat Arun stands out as a stunning example of Khmer architecture, reminiscent of the famous Angkor Wat in Cambodia. Named after the Indian god of dawn, Aruna, this temple should definitely be on your bucket list for Bangkok. However, to capture the best photos, head to the grounds surrounding the temple and the opposite bank of the Chao Phraya River at sunrise or dusk. To get there, take a short and exciting ferry ride across the river. Once there, you'll find a relatively quiet and peaceful environment, a nice escape from the busy metropolis.
Location : 158 Thanon Wang Doem, Wat Arun, Bangkok Yai, Bangkok 10600, Thailand
Opening hours : 8 am to 6 pm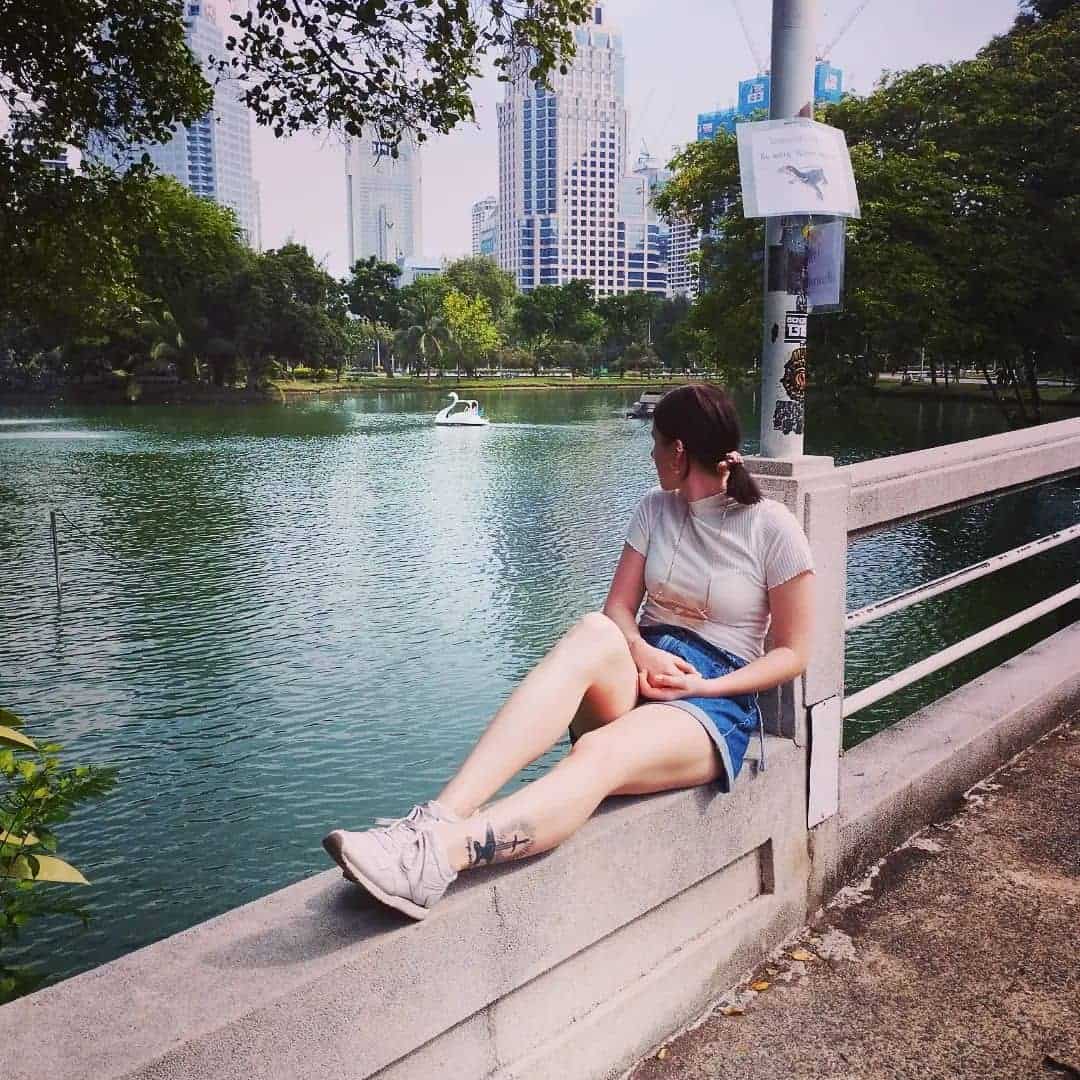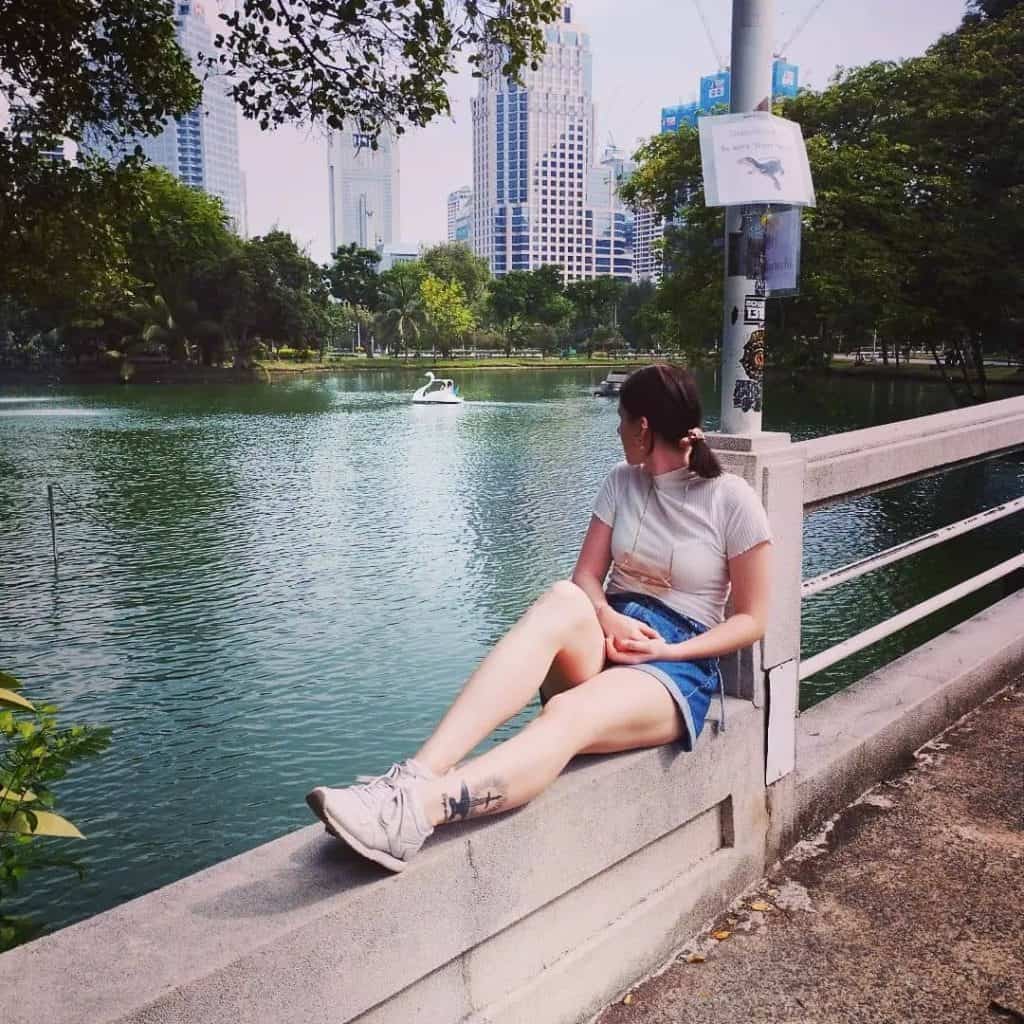 Lumphini Park is a spacious green space situated in the heart of Bangkok, providing a peaceful respite from the city's hustle and bustle. Not only is it a serene location, but it also offers stunning photo opportunities with skyscrapers as a backdrop. Although not as well-known as other Instagram locations in Bangkok, it's usually relatively quiet, and you can capture some great shots without interruption. Just be cautious of the enormous monitor lizards who roam the park!
Location : Lumphini, Pathum Wan, Bangkok 10330, Thailand
Opening hours : 4:30 AM to 10 PM
The Airplane Graveyard is an intriguing location where decommissioned aircraft are laid to rest. There are three plane bodies, including a massive 747 that you can even explore inside. The site is popular among Instagrammers, photographers, and tourists who love to climb and take pictures. However, be respectful of any areas belonging to locals who have moved into some of the abandoned buildings. Admission prices vary depending on the mood of the locals, ranging from 200 to 300 Baht.
Location: Ramkhamhaeng Alley 103, Hua Mak, Bang Kapi District. 
Opening hours: 9 AM to 6:30 PM
5. Chang Chui Plane Night Market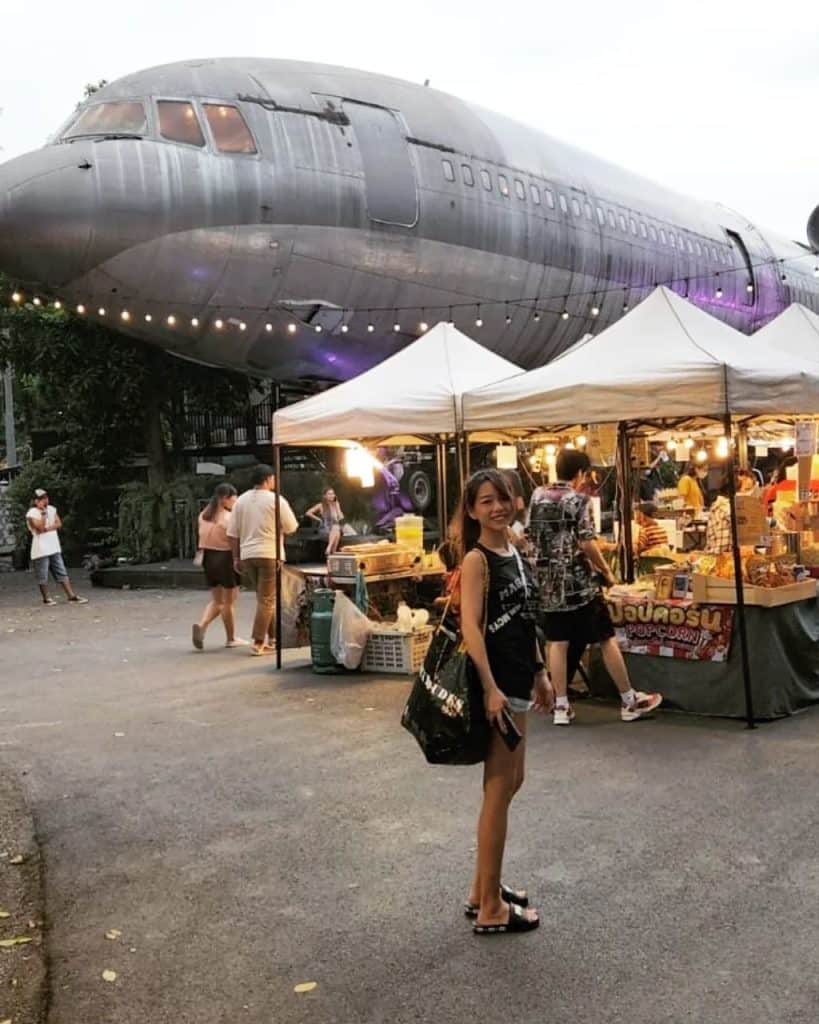 Chang Chui Plane Night Market is a unique night market situated in a peaceful neighborhood on the outskirts of the city center. Built around a decommissioned airplane, visitors can enjoy delicious local street food, admire art displays, and purchase stunning items made by local artists. While it may require a bit of walking to reach, the experience is undoubtedly worth it.
Location : 460/8 Sirindhorn Rd., Khwaeng Bang Phlat, Khet Bang Phlat, Krung Thep Maha Nakhon 10700, Thailand
Opening hours : Thursdays– Tuesdays (closed Wednesdays), 11 a.m.–11 p.m.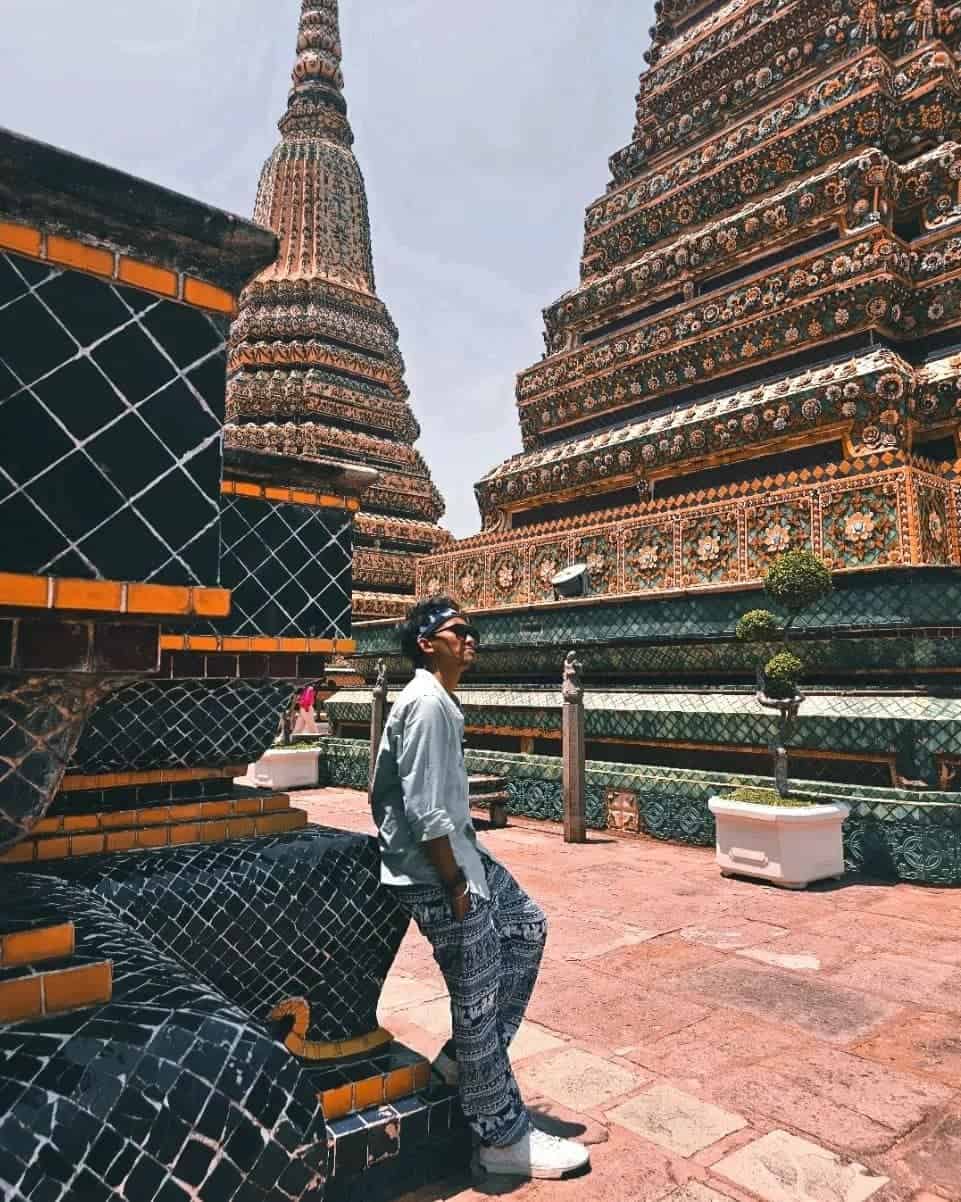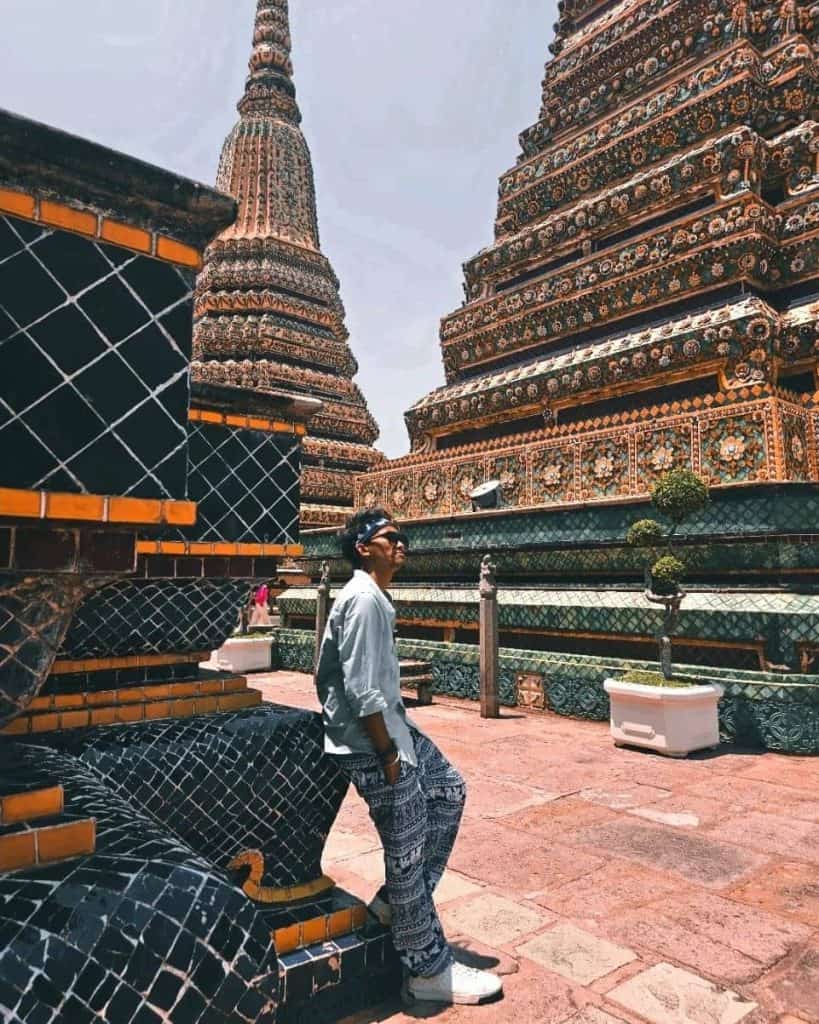 Wat Pho, also known as the Temple of the Reclining Buddha, is a must-visit temple in Bangkok's ancient district. This stunning temple boasts hundreds of golden Buddha statues, elaborately decorated stupas and chedis, and even a school of massage and medicine. The main attraction of Wat Pho, however, is the gigantic reclining Buddha statue, which is wrapped in gold leaf and measures 46 meters long and 15 meters high.
To capture the best shots, it's important to arrive early in the morning before the crowds arrive. A great spot for photos is standing close to the Buddha's feet, providing a fantastic angle to capture the statue from top to bottom. Visiting Wat Pho can easily be combined with excursions to the Grand Palace and Wat Arun. Take your time exploring the temple complex to discover additional beautiful Instagram opportunities.
Location: 2 Sanam Chai Rd, Phra Borom Maha Ratchawang, Phra Nakhon, Bangkok 10200, Thailand.
Opening hours : 8 am to 6.30 pm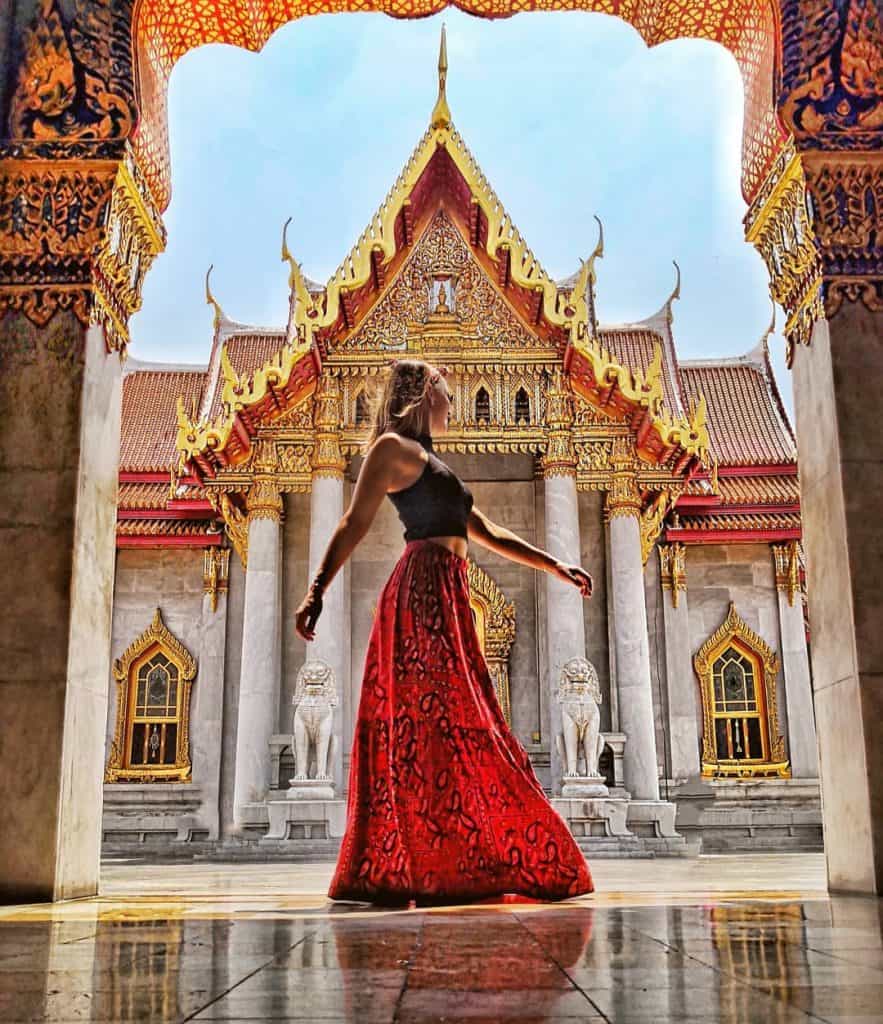 Wat Benchamabophit, located slightly outside the city center, is a lesser-known attraction in Bangkok, which makes it a quieter and more peaceful place to visit. Despite being a 15-20 minute drive from the Grand Palace, it's still easily accessible. Visitors are required to dress modestly by covering their shoulders and knees, similar to other temples in Bangkok, and pay an entrance fee of 50 Baht per person. The temple complex is remarkable, with beautiful white buildings adorned with intricate carvings of animals and flowers. Although it may not be as grand as the Palace, it's a perfect spot for photographers looking for a quieter location for photos.
Location :69 Rama V Rd, Dusit, Dusit District, Bangkok 10300, Thailand. 
Opening hours : 8.30 am to 5.30 pm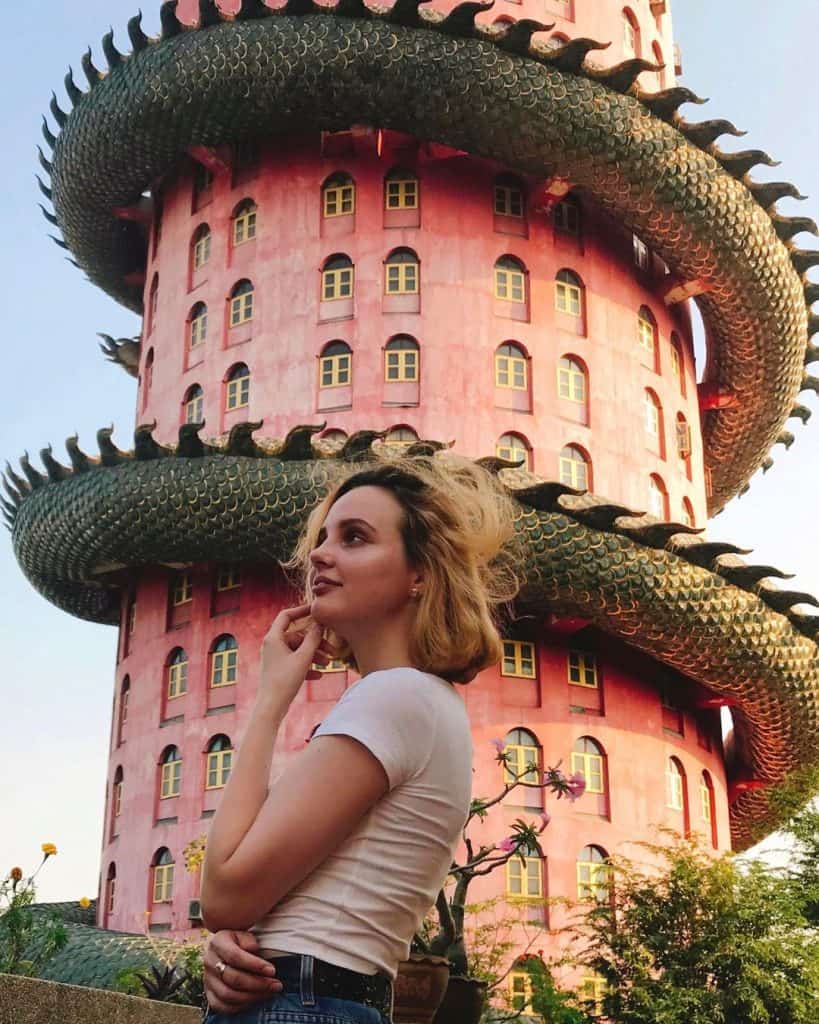 The Dragon Temple, with its striking 80-meter-tall pink cylindrical structure and a massive dragon sculpture surrounding it, is a hidden gem in Bangkok. Due to its location, about an hour away from the city center, it's not yet a well-known tourist spot, making for a peaceful visit. The vibrant dragon sculpture is a fantastic sight, perfect for taking stunning Instagram photos.
Location: 92 Sam Phran, Amphoe Sam Phran, Chang Wat Nakhon Pathom 73110, Thailand
Opening hours: 6 AM to 6 PM Daily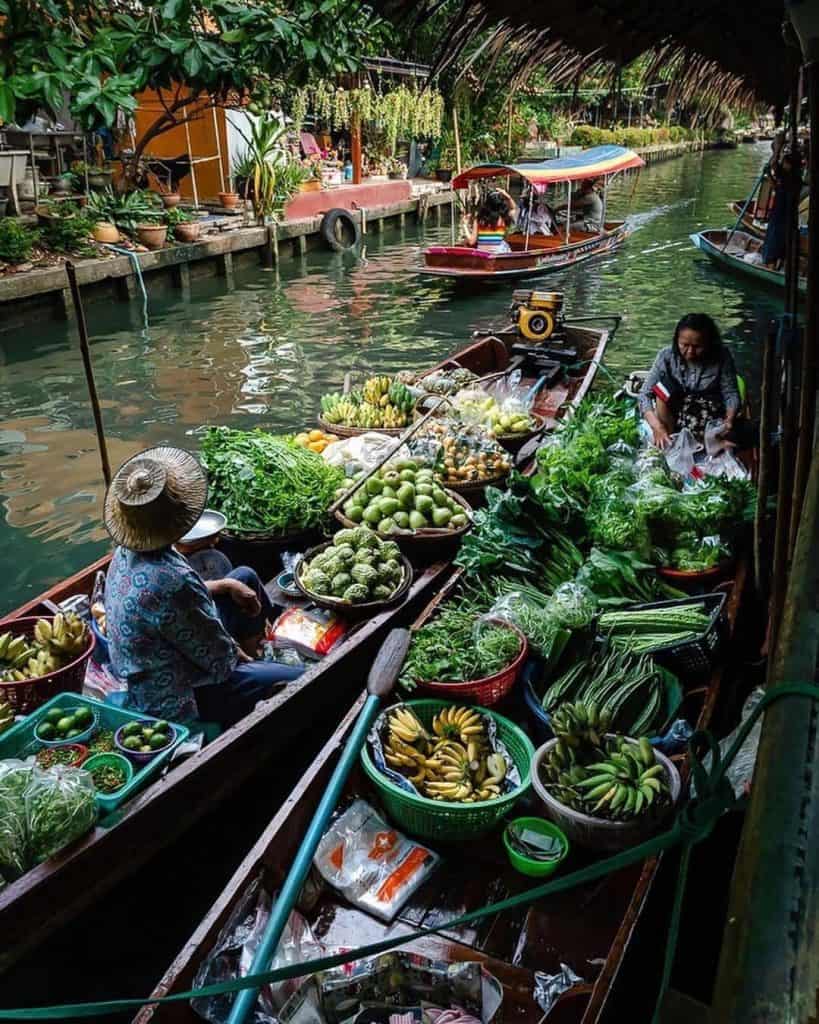 Damnoen Saduak is the most well-known floating market in Thailand and offers a one-of-a-kind atmosphere with endless opportunities for striking photos. The market is situated approximately 100 kilometers outside of Bangkok, making it a bit of a trek to get there. However, it's well worth the effort because of the unique ambiance and the constantly changing array of colorful images. The market is composed of a multitude of floating stalls and kitchens on the Damnoen Saduak Canal. The abundance of vibrant and brightly colored fruits piled high in the boats lining the canal creates some of the most fascinating and unforgettable photo opportunities in the world. To capture images from one of the wooden boats, it's best to arrive early, as later in the day it can get crowded and cause boat traffic jams along the canals.
Location : Damnoen Saduak, Damnoen Saduak District, Ratchaburi 70130, Thailand
Opening hours : Daily 8 AM to 4 PM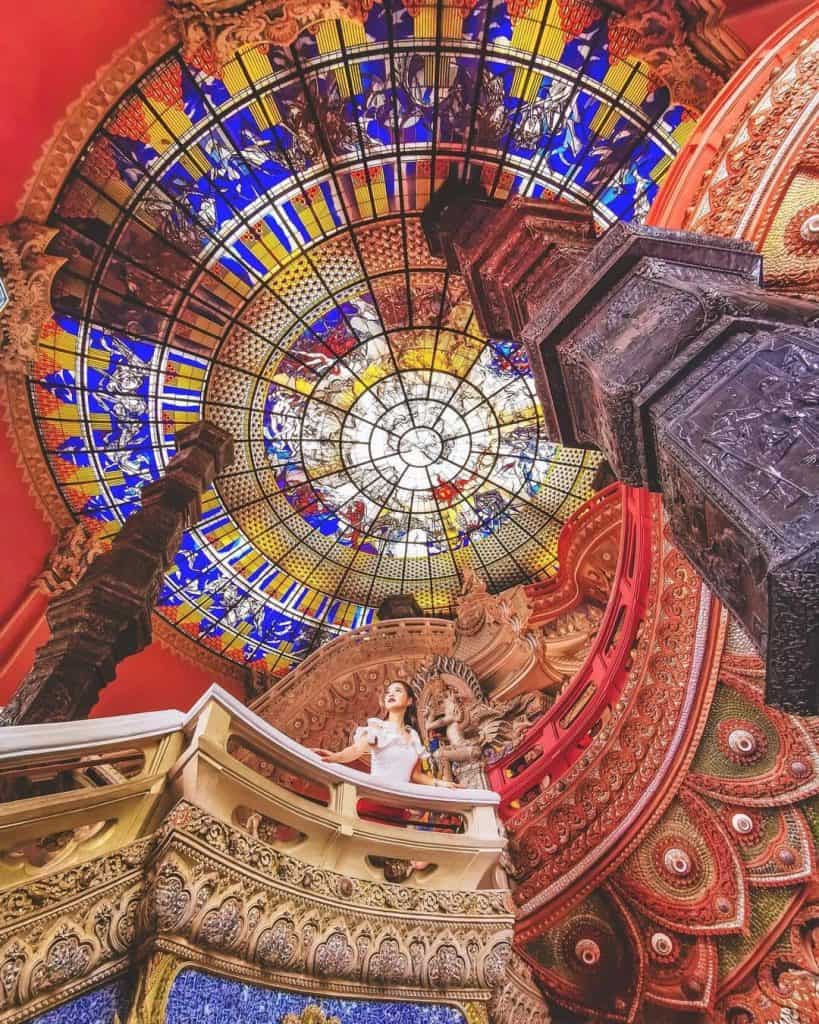 The Erawan Museum is a must-visit location for anyone looking for stunning architectural beauty and excellent photo opportunities in Bangkok. Its curved staircases and stunning stained glass windows create a surreal atmosphere that will leave you awestruck. The museum is also home to a famous three-headed elephant sculpture that is worth capturing in your photos. The museum is divided into three floors, each representing a different realm in Hindu cosmology: the earth on the first floor, the underworld on the second floor, and heaven on the third floor. Be sure to bring your camera to capture the incredible sights on each level.
Location : 99 Bang Mueang Mai, Mueang Samut Prakan District. 
Opening hours: 9 AM to 6 PM
If you're planning a trip to Bangkok and want to capture some amazing Instagram photos, the top ten locations mentioned in this list are a great place to start. From iconic temples and markets to impressive museums, each location offers unique photographic opportunities that are sure to make your social media feed stand out.
Of course, there are many other beautiful and photogenic spots in Bangkok that aren't included in this list. If you have any additional suggestions for photo-worthy locations, feel free to share them in the comments section. Whether it's a hidden gem or a well-known tourist spot, every recommendation is valuable for those looking to capture the beauty and vibrancy of Bangkok through their camera lens.
common questions about instagrammable spots in bangkok, tailand
Start Planning Your Thailand Trip Now!
Book Your Flight:
Use Skyscanner to find a cheap flights. A travellers favorite way to book flights, as it searches websites and airlines around the world with one click.
Book Your Bus or Transportation Within Thailand:
There are two ways to book your transporation, ask your hotel or hostel, go to the local bus terminal, or book online, for a less stressful trip using Easybook or 12go.asia
Book Your Accomodation: 
Find the best hotels or hostels at HostelWorld, Booking.com, Agoda.com. Perks include with no upfront payment. Pay when you check out and Free cancellations.
Dont Forget Your Travel Insurance:
Two popular choices are SafetyWing and WorldsNomads. A traveler should buy traveler's insurance to protect themselves against unexpected events such as trip cancellations, medical emergencies, and lost or stolen baggage. It provides peace of mind and financial protection in case of unforeseen circumstances.
Useful Apps?
Grab/Uber – Local Transportation
Uber Eats/Grab – Food Delivery
Whatsapp – Communication
Want More Information On Thailand?
Be sure to check out my nomad travel guide on the Thailand for even more tips.
Disclosure: Please note that some of the links above may be affiliate links, and at no additional cost to you, I earn a commission if you make a purchase.