Top 10 Instagrammable Places in New York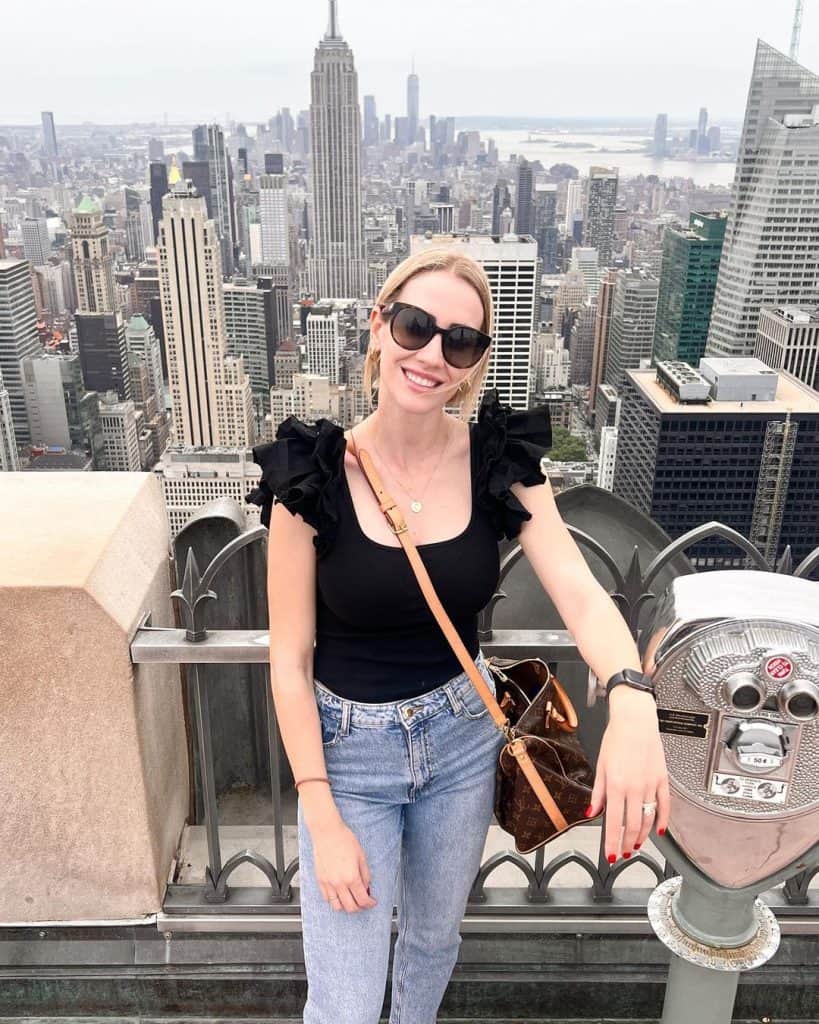 If you're looking for an Instagram-worthy photo op in New York City, Top of the Rock is an excellent choice. Nothing you could ever take on your own could compare to the vistas from the observation deck. The Empire State Building is only one of several landmarks visible from the building's three observation decks, located on levels 67, 69, and 70. Make sure you get your tickets in advance if you plan on visiting Top of the Rock. You can schedule an appointment and place an order with them online. Get there on time, or you could miss your place in line. Planning your photo shoot early in the morning to avoid crowds or closer to sunset can get the best results at the Top of the Rock. The sunsets in New York City are stunning and would make for great Instagram material.
Location: 30 Rockefeller Plaza, New York, NY 10112
Opening hours: 8 am to 12 pm Daily 
Entrance Fees: General Admission ticket $40 per person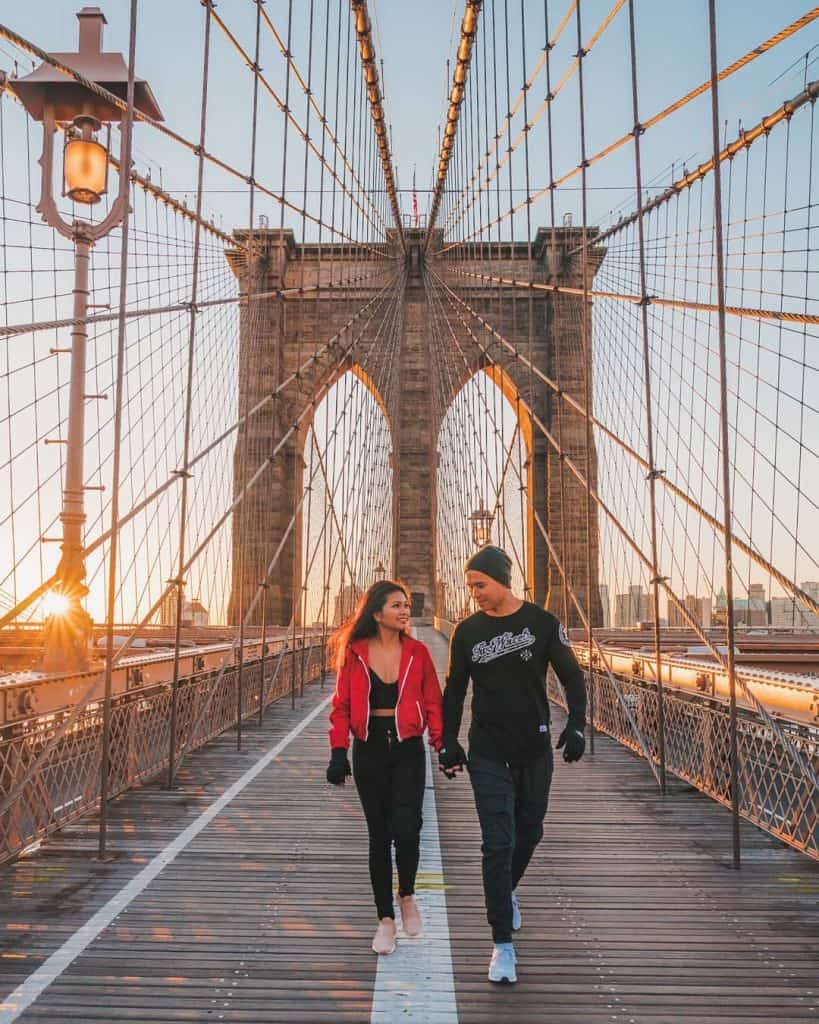 The Brooklyn Bridge is a popular photo-op spot because it is one of New York City's most recognizable monuments. You should visit this landmark even if you don't care about getting good Instagram photographs. The city offers a wide variety of photo ops, from distant skyscrapers to one-of-a-kind buildings up close. Watching the sun go down over the Brooklyn Bridge is one of life's greatest pleasures. You can't go wrong with a photo of this iconic bridge, whether you begin your crossing in Brooklyn or Manhattan. The beauty of the sunset reflected off the bridge is amazing. Photos of the Brooklyn Bridge taken before 8 a.m. on a weekend morning tend to come out the best.
Location: New York, NY 10038, United States
Opening hours: 24 hours Daily 
Entrance Fees: None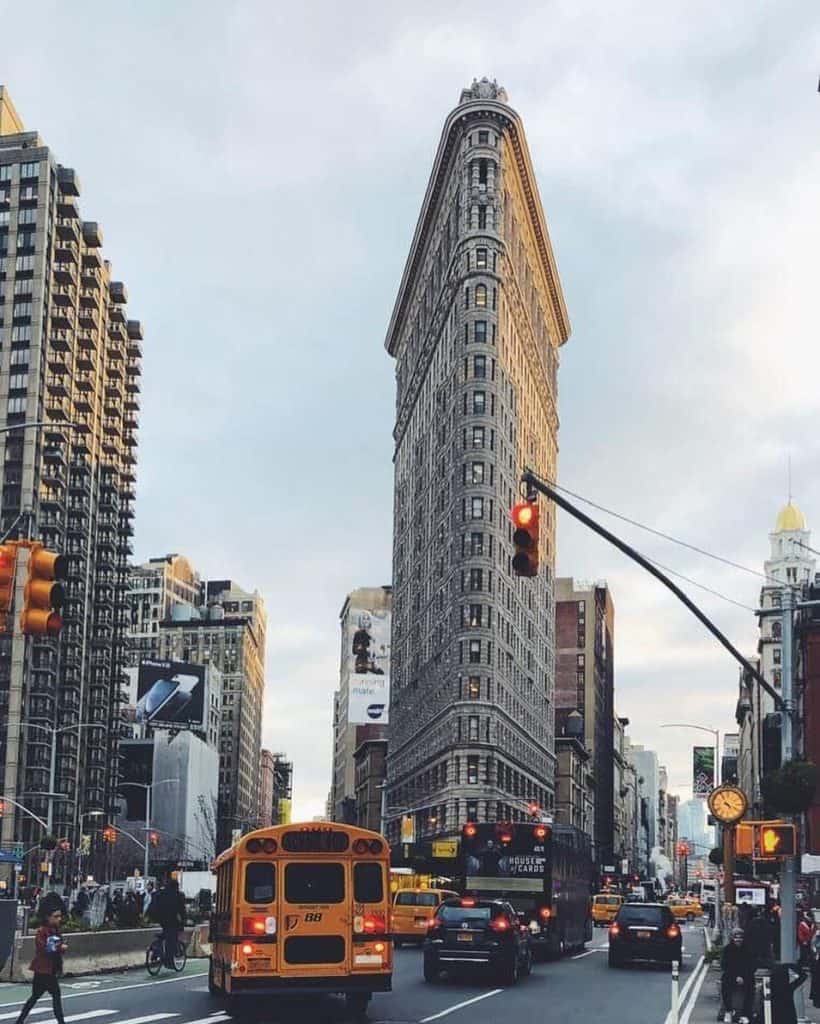 When people think of this city, this building almost always comes to mind. Photographing in this location might be challenging due to the high volume of traffic and crowds.  The central area to the right of the building, the enormous gold clock, or the left side of the structure with the flowering trees are all great places to take pictures in the spring. Great all year views are easily had from the plaza right across 23rd Street from the skyscraper. Visit Madison Square Park and Eataly NYC Flatiron while you're in the area for some great photo ops and wonderful food.
Location: 175 5th Ave, New York, NY 10010
Opening hours: 24 hours Daily 
Entrance Fee: None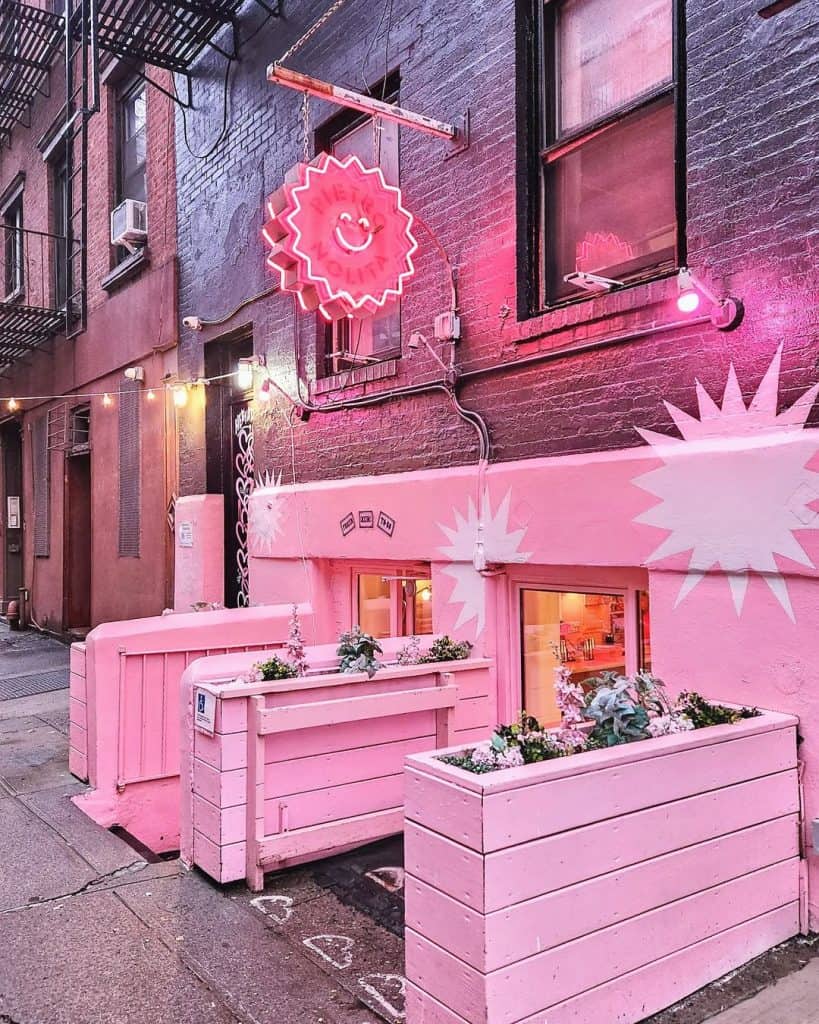 The SoHo eatery Pietro Nolita serves authentic Italian cuisine. The restaurant's menu is influenced by Italian cuisine but changes frequently to make use of the best seasonal and local ingredients. The restaurant is housed in a renovated bank, and its large, arched windows offer views of the busy street below, where people are out and about on their way to and from work. In 2016, this café launched and quickly became one of the most pink-themed cafés in New York City. Everything in this pink paradise is photo-ready, from the Pepto-pink chairs and planters outside the restaurant to the graffiti-covered heart-shaped restroom. It's one of the hippest spots in NYC to snap a picture.
Location: 174 Elizabeth St, New York, NY 10012
Opening hours: 12 pm to 10 pm 
Entrance Fee: None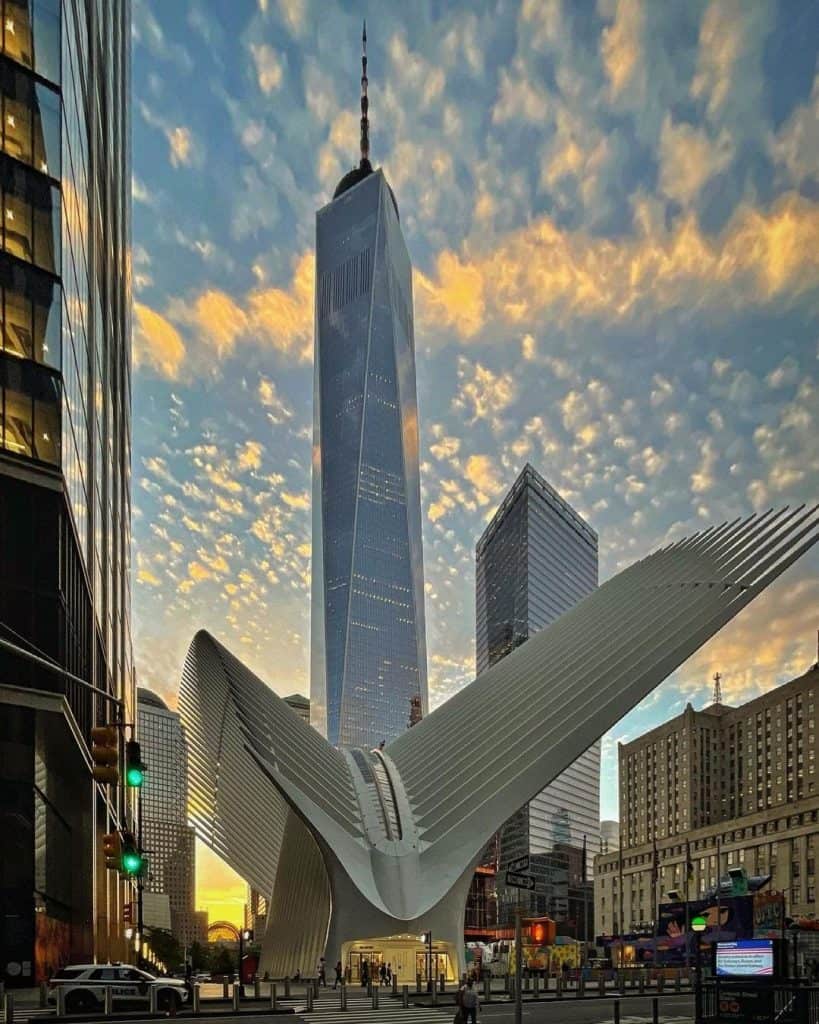 One World Trade Center in New York City is home to the famous Oculus sculpture. The building was given its Greek name, which means "eye," because of its resemblance to a human eye when seen from above. One of the most Instagrammable places, this transit point is home to a wide variety of stores and restaurants. As soon as they opened their doors, it became a popular place to take pictures. The main hall is frequently used for seasonal events and even unexpected concerts. Keep in mind that getting a good shot with a professional camera might be difficult. Even if it's technically forbidden, you can snap away on your phone without problems. Take some stunning pictures from inside or outside this one-of-a-kind structure.
Location: 185 Greenwich St LL3110, New York, NY 10006, USA
Opening hours: 11 am to 6 pm Daily 
Entrance Fee: None
6. The Hudson Yards Vessel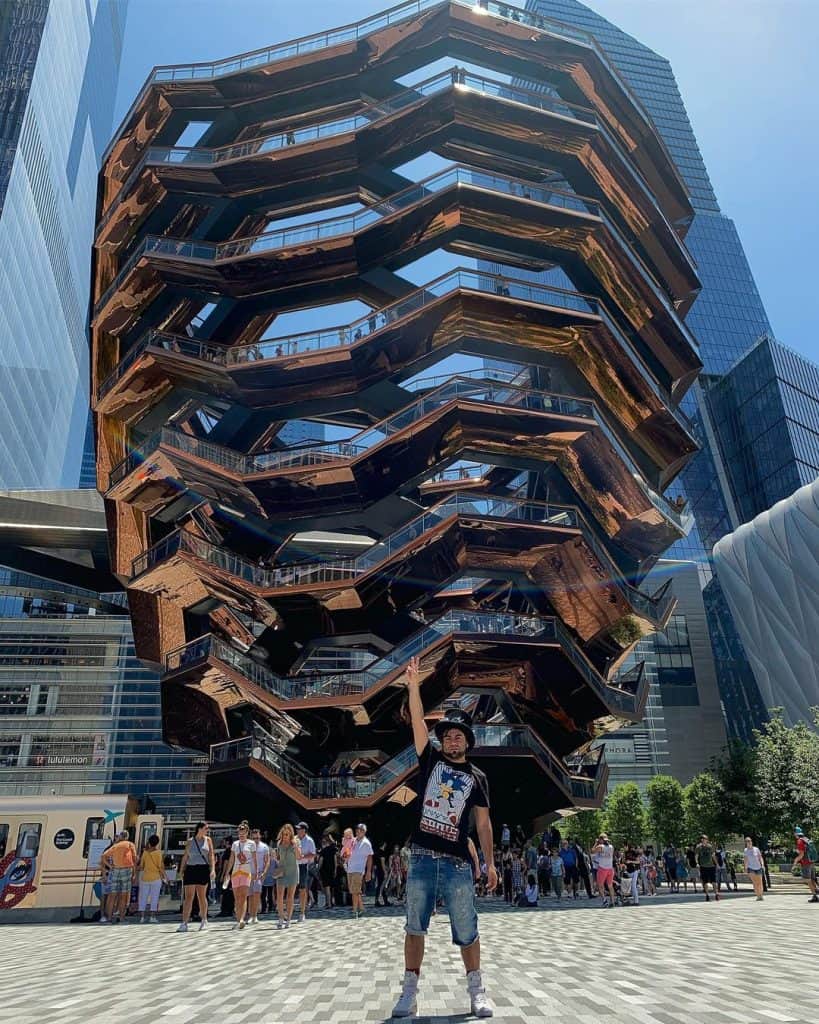 Located in Hudson Yards, the Vessel has become one of New York City's most talked-about landmarks thanks to social media's widespread fascination with its Beehive-like design.  It is located in the West 30s and features many high-rise office and residential buildings, a shopping mall, an arts center, and a public plaza. However, it is now impossible to climb up this Vessel. The plaza surrounding the monument provides plenty of room to set up the perfect image, despite the fact that climbing the structure is no longer an option. If you're in the neighborhood, do as the locals do and walk down The High Line (located next to Hudson Yards) to Chelsea Market. If the High Line isn't too crowded, it's a beautiful area to take shots for Instagram.
Location: Address: The Shops and Restaurants at Hudson Yards, New York, NY 10001
Opening hours: 10 am to 8 pm Daily 
Entrance Fees: Tickets to Vessel are free during the first hour of operation and $10 per person at all other times.
7. The Museum of Ice Cream
In reality, the museum was built for Instagram, the go-to social media platform and virtual playground for ice cream fans of all ages. People can visit the "museum" called the Museum of Ice Cream in New York City to pose for Instagram photos next to ice cream sculptures and other works of art. The museum's collection is large and varied; it is not only focused on ice cream, but each gallery has its own subject, and many of these themes involve frozen treats. Pose with a scoop of vanilla ice cream bigger than your head or board a bright pink subway car. This is one of the most popular areas in New York City to take pictures because it is either cute or fun.
Location: 558 Broadway, New York, NY 10012, USA
Opening hours: 10 am to 7 pm Daily 
Entrance Fees: $49 for all visitors three years of age and older.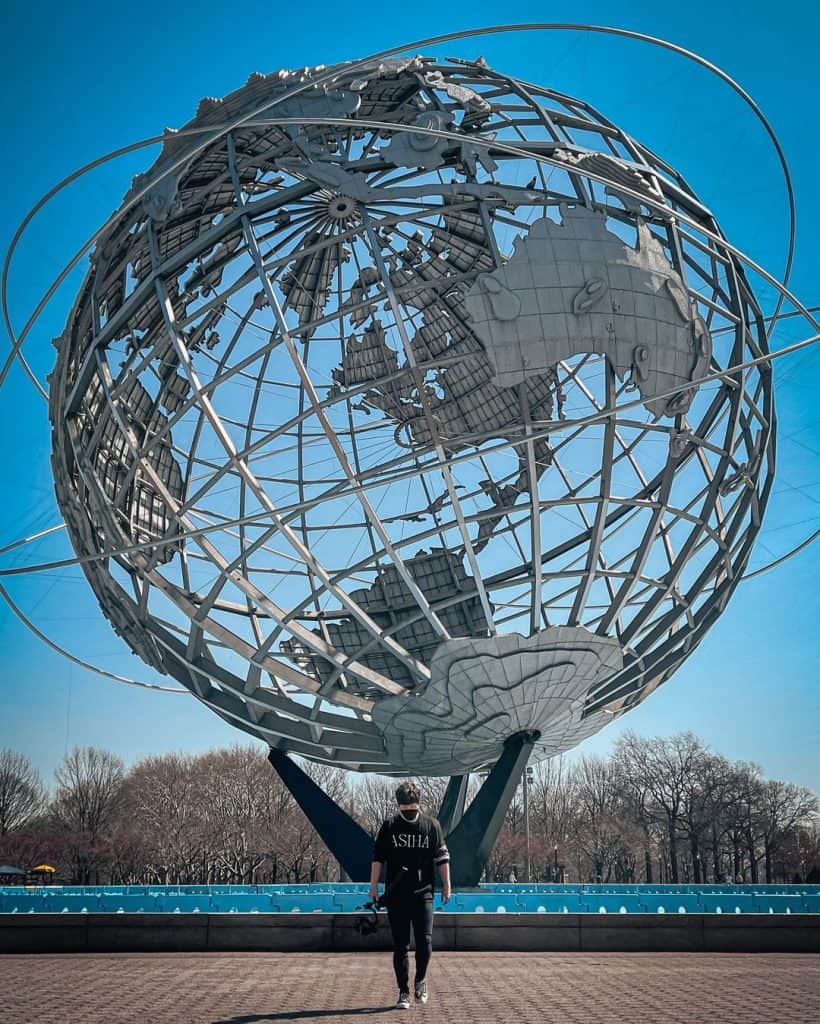 Flushing Meadows Park is the best place to go in Queens if you want to escape a city of concrete. Part of the 1939 New York World's Fair, this park ranks as the city's fourth-largest. It has also become one of the most famous parks in New York City. The enormous Globe is one, and in the spring (cherry blossom season), there are many, many pink trees that bloom and look like cherry blossoms and are perfect for Instagram. The recreation center and zoo are both must-sees while you're in town. Go for a spin on the boating lake, or carve it up on the skateboards. Discover something new at the botanical garden or art gallery. 
Location: Between Grand Central Pkwy and, Van Wyck Expy, 11354
Opening hours: 6 am to 9 pm Daily
Entrance Fee: Price only for events you see/play, carry an identity proof with you
9. Statue of Liberty National Monument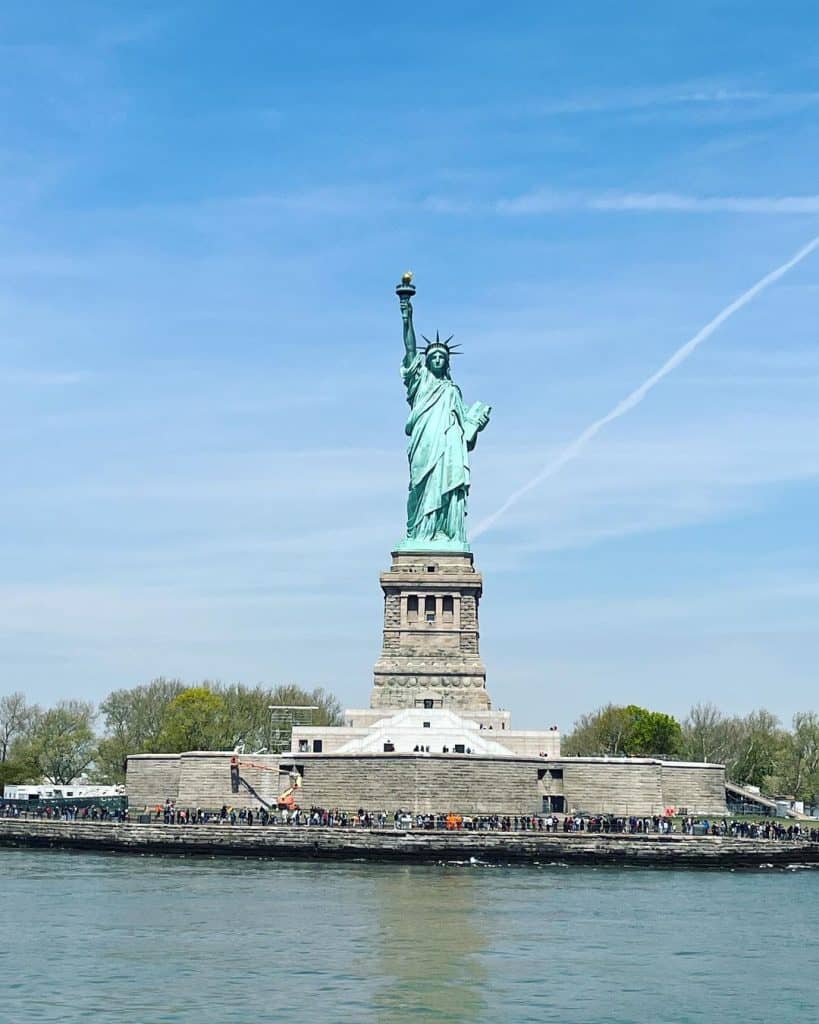 A trip to New York would be incomplete without seeing the Statue of Liberty, an iconic symbol of the city. In honor of America's 100th anniversary of independence, France presented the country with the Statue of Liberty. The statue portrays a lady with a torch, which might represent either freedom or illumination. It's 151 feet tall, and the copper construction interacted with the salt in the air. There was some damage, but now it's getting fixed.
Location: Liberty Island in Upper New York Bay, off the coast of New York City
Opening hours: 9 am to 5 pm Daily 
Entrance Fees: It costs nothing, unless you count the ferry ride and your decision on whether or not to visit the statue's base or her head.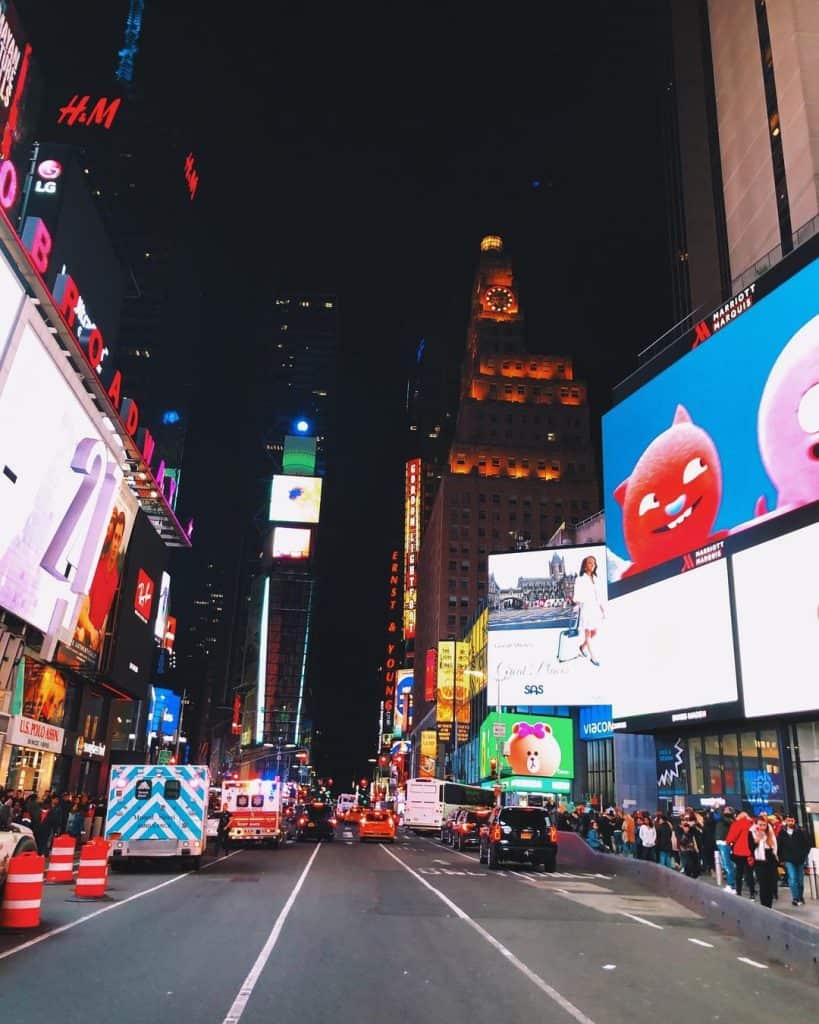 New York City's Times Square is one of the busiest intersections in the world.Times Square is a popular location for Instagram images due to its colorful neon lights and crowded atmosphere, especially among first-time visitors to New York City. If you're a photographer or a New York City newcomer, however, it's one of the most Instagrammable spots in the city. Times Square is a busy place, so getting a picture without people in it is nearly impossible. If you want to see Times Square without the crowds, weekdays are the best times to visit.
Location: Midtown Manhattan, New York City Start around 42nd Street and 7th Ave
Opening hours: Most of the shops are open from 9 am to 10 pm Daily 
Entrance Fee: Depending on where in Times Square you go, you may need to buy a ticket to enter. Entry ticket prices will vary depending on the location.
New York is a destination that many people wish to visit once in their lives. This town, with its spectacular architecture, iconic sites, and special excitement.
Common Questions about places in new york city
Start Planning Your USA Trip Now!
Book Your Flight:
Use Skyscanner to find a cheap flights. A travellers favorite way to book flights, as it searches websites and airlines around the world with one click.
Book Your Bus or Transportation Within USA:
There are two ways to book your transporation, ask your hotel or hostel, go to the local bus terminal, or book online, for a less stressful trip using 12go.asia
Book Your Accomodation: 
Find the best hotels or hostels at HostelWorld, Booking.com, Agoda.com. Perks include with no upfront payment. Pay when you check out and Free cancellations.
Dont Forget Your Travel Insurance:
Two popular choices are SafetyWing and WorldsNomads. A traveler should buy traveler's insurance to protect themselves against unexpected events such as trip cancellations, medical emergencies, and lost or stolen baggage. It provides peace of mind and financial protection in case of unforeseen circumstances.
Useful Apps?
Checkmy Bus / Wanderu / Busbud – Booking Busses
Whatsapp / Groupme / Boostone – Communication
HiJiffy / Hotel Tonight / Agoda – Booking Hotel
Trip.com / Goibibo – Booking Train
Seamless / GrubHub / Uber Eats – Food Delivery
Uber / Lyft / Wingz – Booking Taxi
Want More Information On USA?
Be sure to check out my nomad travel guide on the USA for even more tips.
Disclosure: Please note that some of the links above may be affiliate links, and at no additional cost to you, I earn a commission if you make a purchase.