top 9 Instagrammable places in Malacca
Melaka for me is the most Instagrammable town in Malaysia. It is relatively small but packed with beautiful old houses, vintage coffee shops and colourful murals. Loads of efforts are made to make it an ultimate destination for tourists who usually stop by when travelling between Kuala Lumpur and Singapore. I love Malacca for its pedestrian-friendly layout, very friendly people, good food, fantastic night market and chill vibes. It is definitely on my Malaysia must-visit list and here are Top 10 Instagram-worthy spots to make you want to come here ASAP.
Malacca, a state in Malaysia, is rich in culture and history. It was once an important trading post for the East and West. This is evident in the architecture of the city, which reflects a mix of Malay, Chinese, and European styles. These days, Malacca is a popular tourist destination and UNESCO World Heritage Site. It was also the filming location for the famous Singapore-made TV drama, The Little Nyonya.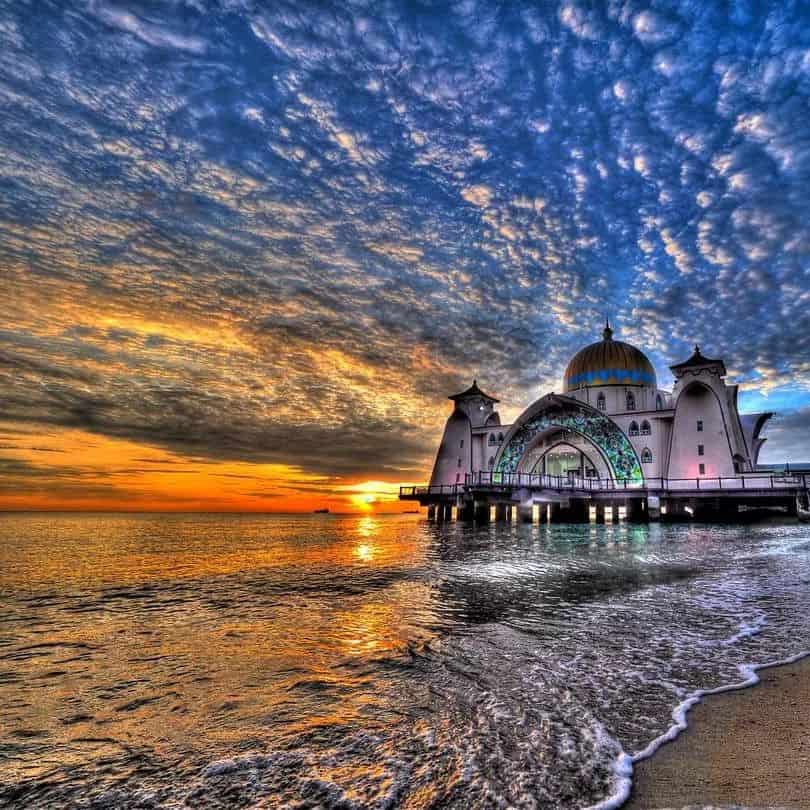 Melaka Straits Mosque is one of the most popular places to take pictures in Malacca. The mosque is located on a man-made island and is surrounded by the Straits of Malacca. The mosque was built in 2006 and can accommodate up to 12,000 people. The architecture of the mosque is simply stunning and it is definitely worth a visit!
The Malacca Straits Mosque, located on an artificial island in the Strait of Malacca and overlooking the waterway, is a dramatic modernist structure. Construction of the mosque cost around RM10 million and was officiated by Malaysia's then-Yang di-Pertuan Agong Tuanku Syed Sirajuddin Syed Putra Jamalullail in 2006. The mosque is a floating structure that is elevated above the water when the tide is high.
Home to over 200 brands, Freeport A'Famosa Outlet is a popular spot for shopping and dining. This Portuguese fort was built in the 16th century and is now a popular spot for history buffs and instagrammers alike.
The A'Famosa Fortress is a Portuguese remnant of an age long past that still stands today in Melaka, Malaysia. The fortress was once one of the most imposing structures in the region and held dominion over the surrounding areas until it was destroyed by Dutch forces in 1641. The remains of this fort are still standing to this day, and provide a glimpse into history as well as a lesson in architecture.
3. Jonker Street Night Market
Jonker Street Night Market is a popular attraction in Melaka that takes place on Friday thru Sunday evenings. It's packed with food and souvenirs, as well as entertainment, making it a great place to spend a night out.
We're sure you'd heard of Jonker Street even before you arrived in Malacca, it is one of the most popular tourist spots in Malacca. This bustling street is lined with heritage buildings, colourful murals and traditional shops selling a variety of goods. It is the perfect place to take a stroll and snap some pictures for your Instagram feed. The Jonker Street market comes alive at night with colourful lights, stalls selling street food and handicrafts, and live music.
4. The Chee Family Mansion
The Chee Family Mansion was built in 1784 and is one of the oldest Chinese homes in Malaysia. It is an ancestral home of the Chee family, an old Peranakan clan residence located along Heeran Street. The residence's architectural style is influenced by the Dutch, Portuguese, British, and Chinese cultures.
Today, it remains a private residence for reunions of the Chee family. The residence facade resembles a neoclassical castle which sets itself apart from the heritage shophouses. The Chee Family Mansion is a 5-minute walk from Jonker Street and located right opposite a 2-star hotel – The Baba House. 
5. Baba & Nyonya Heritage Museum
Malacca is rich in the Peranakan culture, which is a fusion of Chinese and Malay traditions. This can be seen in the city's architecture, food and art. Check out the Baba & Nyonya Heritage Museum located in a beautiful Peranakan house and discover the local history and culture of the Peranakans. The museum is a stone's throw away from Jonker Street. 
The heritage museum Baba Nyonya is a place that celebrates the cultural and historical blending of Chinese and Malay cultures which is known as Baba Nyonya. It features a variety of crafts, furniture and paintings from the two cultures that have come together to make this unique form of Malaysian life. The museum offers a snapshot of the lives and history of the local Chinese Malays people in one location.
The Encore Melaka is a performing arts theatre located in Kota Syahbandar that features immersive visual and auditory experiences aimed at showcasing the history of Melaka and its values. The theatre has a seating capacity of 2,000 and features state-of-the-art theatre technology including sophisticated hydraulics system to support the 240 metre-long stage.
The Red Square is located in the heart of Malacca and is home to many historical landmarks. The most popular landmark in the square is the red-painted Christ Church. The church was built by the Dutch in 1748 and is one of the oldest surviving buildings in Malaysia.
Other notable landmarks include the Stadthuys, a former town hall that now houses a museum, and the Porta de Santiago, a 16th-century Portuguese fort. The Red Square is also a great place to take pictures of traditional Malaysian architecture and street art. 
The Red Square is just a 2-minute walk from Jonker Street.The red-brick Christ Church in Melaka is one of the most recognisable tourist attractions in Malaysia, and remains the oldest operational Protestant Church in the country. Inside, you'll find 200-year-old handmade pews, decorative fanlights and plaques honouring Dutch soldiers and locals.
8. The Shore Sky Tower Melaka
The tallest building in Malacca, the Shore Sky Tower is located on the waterfront and offers stunning 360 views of the city and surrounding area. The tower is also home to a sky deck, which is perfect for getting that perfect Instagram shot!
Locally known as Padang Pasir Klebang, this site is referred to as the sand dunes or the white desert of Malacca. It's located on an unnamed road, off Jalan Klebang Utama. You have to walk quite a distance to get to the sand dunes when you travel via Grab or Taxi and drop off at Malacca Sand Dunes Car Park. We recommend visiting during the sunset hours because the heat can be unbearable in the afternoon. Remember to bring food and drinks along to enjoy the sunset view. Don't forget to wear sunscreen!
Common Questions About Places In Malacca
Start Planning Your Malaysia Trip Now!
Book Your Flight:
Use Skyscanner to find a cheap flights. A travellers favorite way to book flights, as it searches websites and airlines around the world with one click.
Book Your Bus or Transportation Within Malaysia:
There are two ways to book your transporation, ask your hotel or hostel, go to the local bus terminal, or book online, for a less stressful trip using Easybook or 12go.asia
Book Your Accomodation: 
Find the best hotels or hostels at HostelWorld, Booking.com, Agoda.com. Perks include with no upfront payment. Pay when you check out and Free cancellations.
Dont Forget Your Travel Insurance:
Two popular choices are SafetyWing and WorldsNomads. A traveler should buy traveler's insurance to protect themselves against unexpected events such as trip cancellations, medical emergencies, and lost or stolen baggage. It provides peace of mind and financial protection in case of unforeseen circumstances.
Usefull Apps?
Grab/Uber – Local Transportation
Food Panda/Grab – Food Delivery
Whatsapp – Communication
Want More Information On Indonesia?
Be sure to check out my nomad travel guide on the Malaysia for even more tips.
Disclosure: Please note that some of the links above may be affiliate links, and at no additional cost to you, I earn a commission if you make a purchase.