Best 8 cities in the philippines for digital nomads and remote workers.
Looking for the best place to live in philippines? The low cost of living in the Philippines is the main attraction for digital nomads. Although it may not be the cheapest place to live relative to other Southeast Asian nations, the Philippines is nevertheless a reasonable choice for a digital nomad's budget. It's important to remember that cost of living varies depending on where you live, with large cities like Manila and Cebu having the highest costs. Popular tourist locations like Boracay and Palawan also have higher lodging costs.
Manila
The capital of the country, Manila, boasts an advanced infrastructure and developed cities that are perfect for digital nomads.
Digital nomads can dwell in Manila in areas like Ortigas, Makati, and Bonifacio Global City. You will be reminded of Singapore by the tall skyscrapers, excellent dining options, premium shopping areas, and vibrant nightlife with a range of speakeasies, bars, and clubs that can be found there.
Nonetheless, Manila has a greater cost of living than any other major metropolis. The average cost of living for digital nomads in Manila is $1,200 per month. Rent could be anything from $400 to $1,000 per month, depending on the area and type of accommodation.
Coworking spaces in Manila
For digital nomads, Manila offers various coworking options. Some of the best coworking spaces in Manila include Mind Zone, Space 1851 Co-working Hub, 47 East, and Warehouse Eight.
Cebu

One of the biggest cities in the Philippines is Cebu, however it isn't as big or as crowded as Manila. Cebu, which is well-known for its beautiful beaches, is ideally situated and a great starting point for traveling to the many islands in the Visayas, including Bohol and Siargao.
Beyond its stunning beaches, Cebu is known for its rich culture, which is home to several religious and cultural monuments. The city offers an impressive fusion of classic and modern. While its ancient alleys are lined with Spanish colonial houses and Baroque churches, the city's business sector includes a number of skyscrapers. As a digital nomad in the Philippines, Cebu is undoubtedly a fascinating area to reside.
Cebu is an ideal location for a digital nomad to live because the city has a strong digital nomad culture and a sizable expat community. If you enjoy outdoor activities, Cebu has a ton of exciting things you can do there when you have free time. You can try canyoneering in Kawasan Falls, scuba diving on the beaches of Moalboal, while swimming with the sardines, or swim with enormous whale sharks in Oslob.
Cebu is one of the greatest cities in the Philippines for digital nomads because it has a lot of quality lodging options for visitors from other countries. The average monthly cost of living in Manila is $1,270, however the monthly rental is less expensive. For as little as $308 a month, you might lease a studio with one bedroom in the heart of the city. Instead, if you want to meet people, go to Crazy Monkey Cebu. Or, if you'd rather party, ICON, The Sentral Cebu, and Rue Cebu all provide DJ sets and live music.
Coworking spaces in Cebu
The Company Cebu, Desko Cebu, Workspace Café, and Avant Offices Inc. are among the top options.
Thinking of Visiting Other Major US Cities? Check out City Pass to save money.
Davao
South of Mindanao Island, one of the larger Philippine islands, sits Davao City. It is one of the biggest cities in the nation, with a population of 1.6 million. Davao has a more relaxed vibe than Manila and Cebu. It's an excellent spot to live for digital nomads in the Philippines because it's not very crowded, has a low crime rate, and is reasonably priced.
The tallest mountain in the nation, Mount Apo, is located near Davao. As a result, it's a refuge for digital nomads who enjoy outdoor activities like hiking, camping, and trekking. Visit the Philippine Eagle Center, a conservation facility dedicated to protecting the Philippine eagle, the nation's national bird, if you enjoy animals.
As the average cost of living in Davao is only $1,000 per month and the average rent for a one-bedroom studio apartment is only $250, you'll be spending less when you live there as a digital nomad in the Philippines.
Coworking Spaces in Davao
There are a few coworking spaces in Davao, a developed city, with reasonable Internet speeds. Dev Hub, Spacelab, and Meek Coworking Café are the top three. There are also little coffee shops like Blugré Coffee that are good for working, as well as multinational chains like Starbucks and The Coffee Bean & Tea Leaf.
Palawan
One of the most well-liked tourist spots in the Philippines is Palawan, an island rather than a city. Most digital nomads reside in Puerto Princesa, the country's capital. Palawan is one of the top digital nomad cities in the Philippines, known for its pristine islands and pure white sand beaches.
Palawan is the place to go if you want to live in a city that is more convenient to the beach. It is a long, narrow island in the eastern Philippines that is home to beautiful beaches and amazing natural attractions. You will spend your free time visiting Palawan's numerous beaches, lagoons, and limestone cliffs. 
As a well-liked tourist location, Palawan has a little higher cost of living. A one-bedroom studio apartment in Palawan may run you $450 per month, while a digital nomad could spend on average $1,500 there.
Coworking Spaces in Palawan
There are a few coworking spaces in Puerto Princesa, the capital of Palawan, including the Think Space and Workhub Palawan. A café or coffee shop job is another option. There are many top-notch cafes in Palawan, some of which give their patrons access to free Wi-Fi.
Siargao
Digital nomads who enjoy surfing will find Siargao to be the perfect place to call home. In fact, surfers make up the bulk of the population in Siargao. These half-naked surfers will be hurrying to the coast on their motorbikes with surfboards mounted on the rack when the tide is high.
Nevertheless, Siargao offers more than just surfing. The island's relaxed ambiance draws digital nomads looking to get away from the Philippines' busy cities. Another factor that makes this teardrop-shaped island popular with digital nomads in the Philippines is that it is home to some of the most stunning beaches in the nation. If you want to have a good time when it gets dark, go to Cloud 9, the island's most well-liked beach, where there will be bonfires, drinks, and dancing.
Guyam Island, Daku Island, and Naked Island offer some of the nicest beaches in the area, where you can learn to surf, go island hopping, or simply spend gorgeous days relaxing. One of the most popular options among tourists is the triple island tour. Other fantastic alternatives include visiting other breathtaking natural landmarks including Sugba Lagoon, Sohoton Cove National Park, and Taktak Waterfall, or exploring the island's numerous caverns like Hagukan Cave, Magkukuob Cave, Balitas Cave, and Crystal Cave.
Siargao's cost of living is fairly comparable to those of major cities like Manila and Cebu, however lodging is less expensive. For only $300 a month, you may rent a studio with one bedroom.
Coworking Spaces in Siargao
Siargao is a small island, thus there aren't a lot of coworking spaces there. Lexias Hostel Workspace, a co-working space that simultaneously serves as a hostel, bar, and restaurant, is one location that digital nomads should visit.
Baguio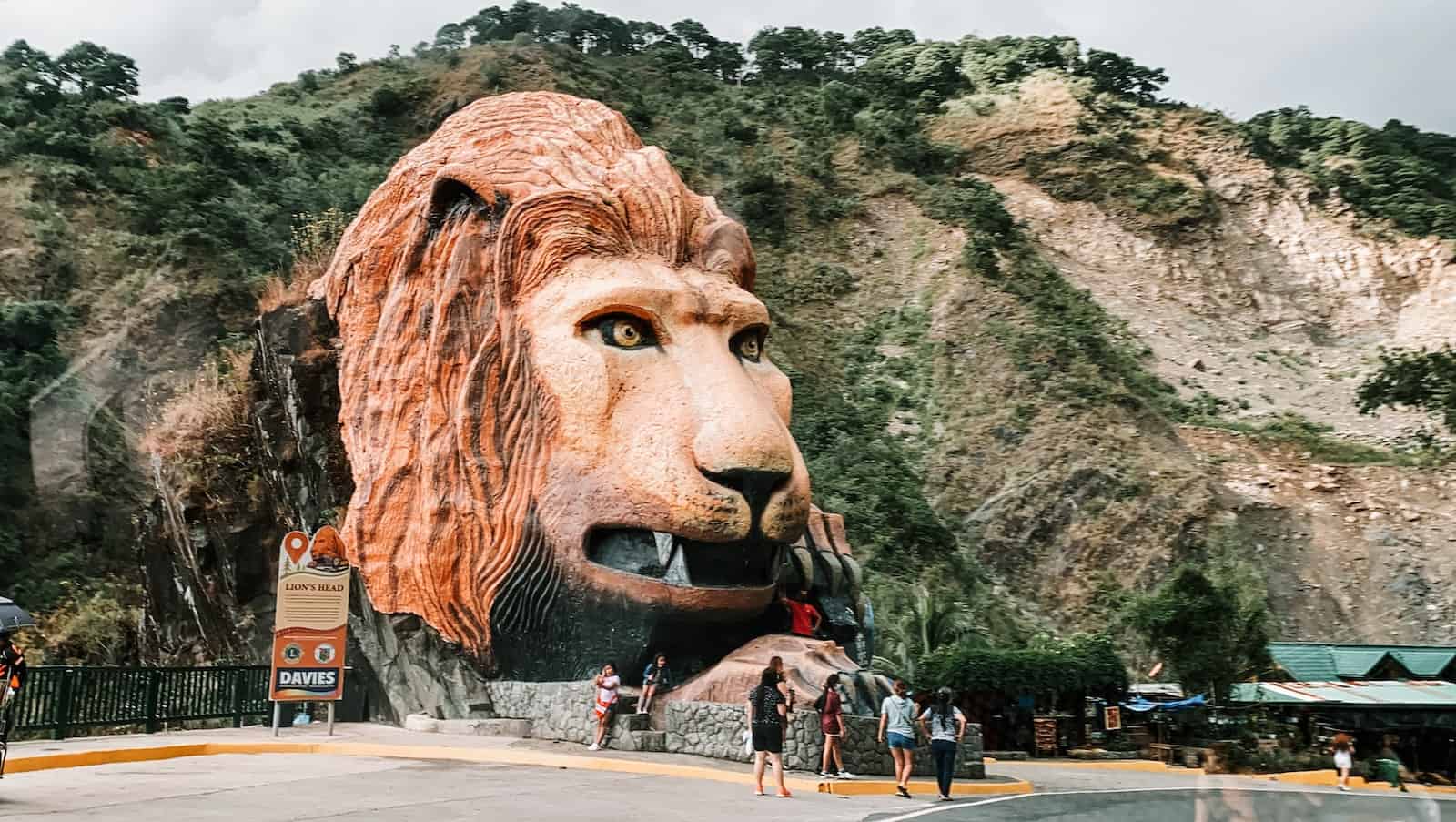 On the island of Luzon, Baguio is a mountainous city that can be reached by car from Manila in four to six hours. Baguio, which is 5,000 feet above sea level, is well known for its chilly climate. In fact, it is known as the "Summer Capital of the Philippines" since this is where people travel to in the summer to avoid the heat in the lowlands. Baguio is growing in popularity among English learners from other Asian nations, including South Korea, Vietnam, and Japan, in addition to digital nomads.
There are lots of things to do in Baguio if you choose to live a nomadic lifestyle. There are many trekking opportunities, including scaling Mount Pulag, the highest summit on the island. Craft 1945 offers Spanish food and top-notch craft beer, while Baguio Craft Brewery is another well-liked option if you're searching for a pleasant location to dine and drink at night.
Baguio's average monthly cost of living is $1,400, which is regrettably expensive. But, there are solutions to reduce your living costs. Additionally, a studio apartment might be rented for as little as $300 per month.
Coworking Spaces in Baguio
There are two well-known coworking spaces in this area: Calle Uno, where you can find a food hub for your coffee or lunch break needs, and Workhub, which also offers conference rooms and event space.
La Union
Another well-liked surfing destination in the Philippines is La Union, which has a lot of lovely beaches. In addition to its beaches, the province is well known for its historic landmarks, natural wonders, and centuries-old cathedrals. La Union is a viable option for digital nomads seeking a base near the ocean.
La Union can have high living expenses due to its popularity as a tourist destination. In La Union, a digital nomad's monthly living expenses average $1,450. While a studio apartment might set you back $300 each month.
Coworking Spaces in La Union
The Attic Room, a 40-sq-m coworking space in San Juan City, is a new coworking space in La Union. There are also several coffee cafes where you can work for hours while using the free Wi-Fi.
Boracay
The most well-liked beach resort in the Philippines is Boracay, so go there if you want to be surrounded by beaches while working remotely. Beautiful beaches may be found on the island, which also has a vibrant nightlife. Also, it has a huge selection of food alternatives and a richness of water sports.
You won't be alone because the location attracts a lot of tourists, locals, and digital nomads. This isn't the finest location for introverts or those who like more solitude and serenity, but it's ideal if you're eager to socialize and party all night long!
Nonetheless, given that it is the top tourist destination in the nation, you can anticipate that everything will be expensive. Spending an average of $1,800 a month is what you can anticipate on lodging and food.
Coworking Spaces in Boracay
In Boracay, there aren't a lot of coworking spaces, but you can work in local cafes and starbucks.
The Philippines is a dream spot for digital nomads. Imagine working with a beach view or sipping local coffee in a city café. Whether you want the buzz of a city or the calm of the coast, there's a perfect spot waiting for you in the Philippines. Ready to change your workspace? The Philippines is waiting!
Yes! With many digital nomads around, internet quality has improved. But having pocket Wi-Fi is always a good backup.
Definitely! It's known for its affordable living costs, from rent to food.
Maybe start at half the price and see how it goes. But don't go too low; be respectful.
Start Planning Your Philippines Trip Now!
Book Your Flight:
Use Skyscanner to find a cheap flights. A travellers favorite way to book flights, as it searches websites and airlines around the world with one click.
Book Your Bus or Transportation Within Phillipines:
There are two ways to book your transporation, ask your hotel or hostel, go to the local bus terminal, or book online, for a less stressful trip using 12go.asia or Easybook.
Book Your Accomodation: 
Find the best hotels or hostels at Booking.com or at Agoda.com. Perks include with no upfront payment. Pay when you check out and Free cancellations.
Dont Forget Your Travel Insurance:
Two popular choices are SafetyWing and WorldsNomads. A traveler should buy traveler's insurance to protect themselves against unexpected events such as trip cancellations, medical emergencies, and lost or stolen baggage. It provides peace of mind and financial protection in case of unforeseen circumstances.
Want More Information On Phillipines?
Be sure to check out my nomad travel guide on the Phillipines for even more tips
Disclosure: Please note that some of the links above may be affiliate links, and at no additional cost to you, I earn a commission if you make a purchase.