TOP 8 INSTAGRAMMABLE SPOTS IN Tokyo,Japan
As a digital nomad in Tokyo, you'll find that this bustling capital city of Japan offers endless opportunities for adventure and creativity. The beautiful chaos of the city is perfect for capturing stunning photos to share on your Instagram feed. From churches to street art, Tokyo is full of exciting places to snap the perfect shot. Whether you prefer the day or night, Tokyo's most famous landmarks are always a great backdrop for your photos. Discover the best spots in Tokyo for Instagram-worthy photos and take your feed to the next level. Check out these top eight places to capture the perfect Instagram shot: Sensoji Temple in Asakusa, Tokyo Sky Tree, Shibuya Crossing, Akihabara, Kabukicho in Shinjuku, Meiji Jingu Shrine, Nihonbashi in Ginza, and the Rainbow Bridge from Odaiba Island.
1. Sensoji Temple Asakusa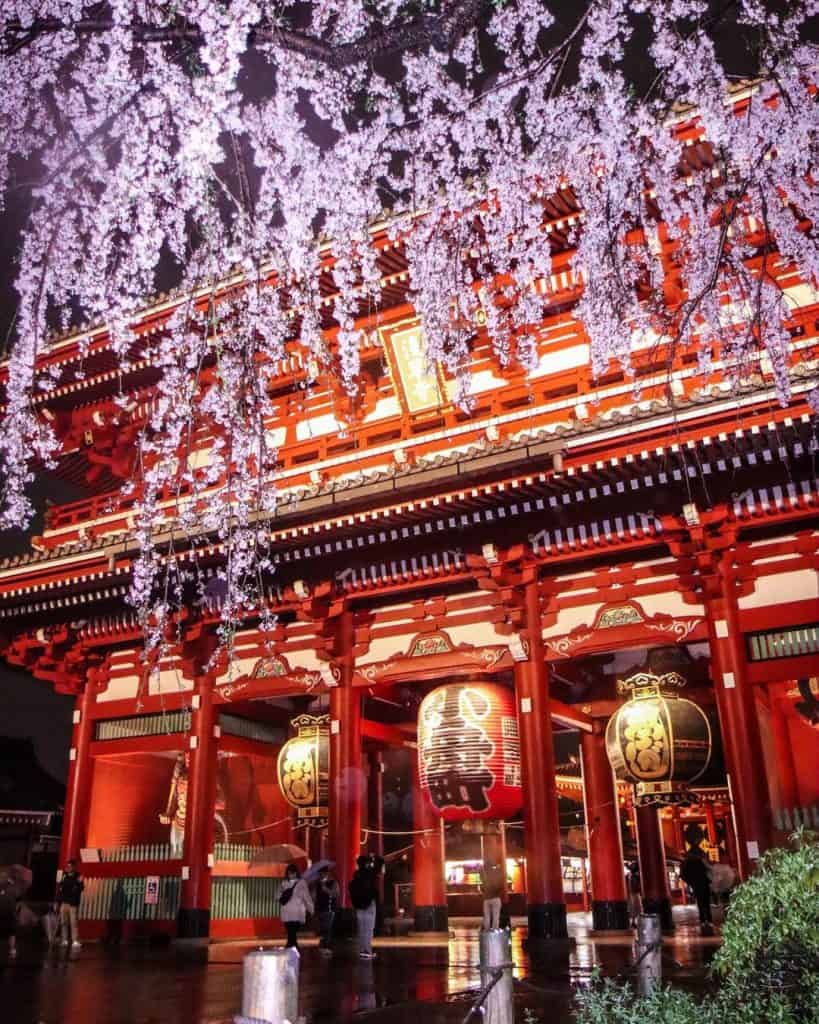 If you're in Tokyo, don't miss the chance to visit the Sensoji Temple and Pagoda in Asakusa. This ancient site is known for its enormous lantern at the entrance and is over hundreds of years old. With a 5-story pagoda, statues, monuments, and smaller shrines, it attracts over 30 million visitors annually, making it the most-visited place in the world. While the Sensoji lantern is the main attraction, there are plenty of spots to snap photos and add variety to your Instagram feed. From the historic structures and lantern-style streetlights to the occasional rickshaw, the area is always bustling with tourists. Some of the best photo opportunities include capturing the temple with the Tokyo Skytree in the background or exploring the old-fashioned side streets. Don't miss the chance to see the bright red and gold details that shimmer in the sun.
Location: 2-chōme-3-1 Asakusa, Taito City, Tokyo 111-0032, Japan
Opening hours: 6 a.m to 5 p.m Daily (April to September) , 6:30 a.m to 5 p.m (October to March) 
Entrance fee: None
Akihabara, located in the heart of Tokyo, is a popular electronics hub and an anime and manga lover's paradise. This vibrant neighborhood is renowned for its towering buildings brimming with the latest electronic gadgets, numerous independent stores that sell manga and anime, and shops that offer merchandise from Japanese animation. As soon as you step out of the station, you will be greeted by colorful images of anime and manga characters that adorn the walls and buildings.
Apart from popular maid and cat cafes, there are a plethora of shops selling electronics, games, manga, and toys. If gaming is your forte, Akihabara is the perfect destination. You might also come across women dressed as maids beckoning you to visit their shops. Don't worry, these are legitimate maid cafes where the maids serve customers and keep them entertained throughout their stay.
Location: Sotokanda and Kanda-Sakumachō districts in Chiyoda
Opening hours: 10 a.m to 5 p.m (till 9 p.m for Sat & Sun) 
Entrance fee: None 
Shibuya Crossing is a bustling intersection in the heart of Tokyo. This junction is known for its large crowds, and when the traffic signal changes, it's a breathtaking sight to see so many people move in unison. Shibuya Crossing is considered one of the busiest intersections in the world. To capture the perfect shot for Instagram, you can take a photo in the middle of the crowds or get a bird's-eye view of the crossing from above. However, make sure to be careful not to get hurt while trying to take the perfect shot. A popular spot to get a great view of the crossing is the Shibuya Class rooftop restaurant at Magnet 109, where you can enjoy delicious Korean barbecue and bottles of soju while admiring the bustling scene below.
Location: In front of Shibuya Station 
Opening hours: stores (10 a.m. to 9 p.m.) and restaurants (11 a.m. to 11 p.m.) 
Entrance Fee: None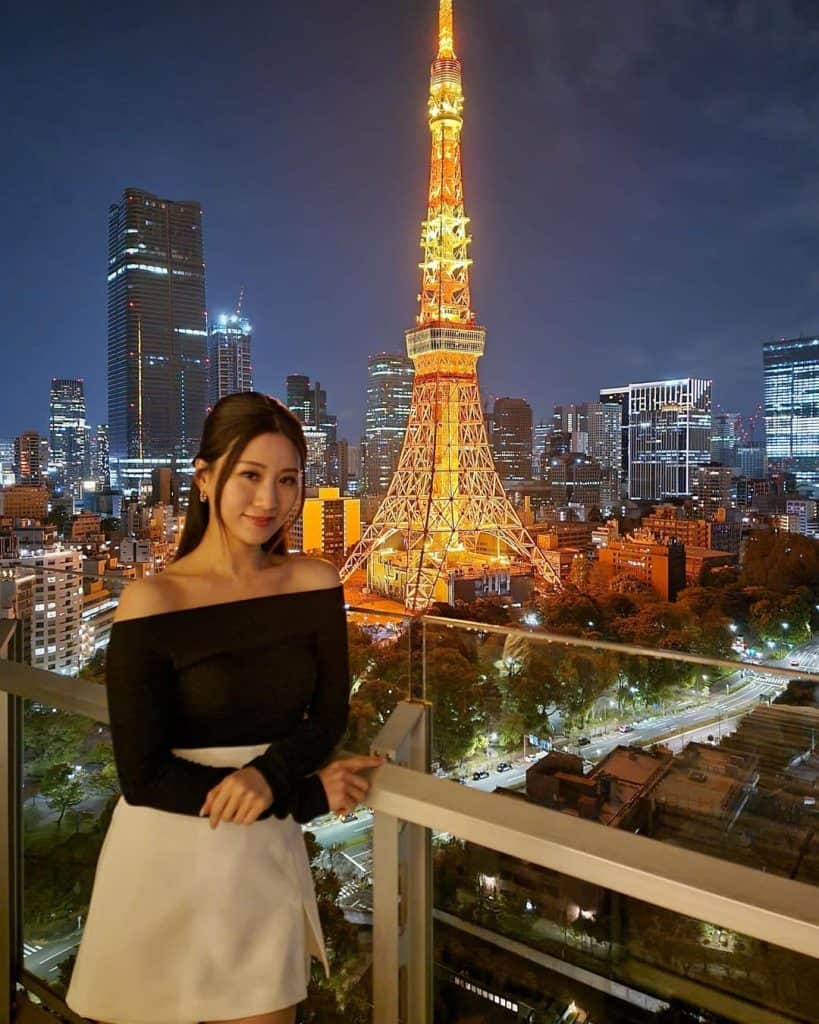 For Instagram enthusiasts visiting Tokyo, the Tokyo Skytree in Oshiage is a must-see landmark that offers a stunning vantage point to view the entire city. As the tallest building in Japan and the world, the Skytree provides different entry fees depending on the lower or upper deck you want to visit. You can also opt for "fast tickets" to skip the queues or dine at the Sky restaurant for a meal and priority access to the viewing platforms. Sunset is a popular time to visit, providing the perfect opportunity to capture breathtaking photos. Additionally, Tokyo Tower is another iconic landmark that shouldn't be missed, often compared to the Eiffel Tower.
Location: Tokyo's Shimbashi, Shiodome, Hamamatsucho and Shinagawa district.
Opening hours: 10 a.m. to 9 p.m. Daily
Entrance Fee: Adult (1,200 yen), High School (1000 yen), Children (500 yen) 
Shinjuku's Kabukicho has a lot of exciting places to see that will make your feed stand out, from great restaurants to flashing lights of every color. There are rows and rows of bright signs for restaurants, bars, clubs, and services. You'll also want to take pictures of the Robot restaurant and the famous Golden Gai Street. There are small clubs, late-night snack bars, smoky pubs, and rock clubs. Remember to stop by the Samurai Museum and Ninja Trick House Pubs. They are 17 minutes west of downtown.
Location: Shinjuku, Tokyo, Japan
Opening hours: 24 hours Daily 
Entrance Fee: None 
Meiji Shrine, a serene Shinto shrine located in a verdant forest, is dedicated to the revered Emperor Meiji Jingu and is a significant cultural landmark in Tokyo. A standout feature of the shrine is its majestic cypress Torii gate, which makes for a stunning photo opportunity. This sanctuary offers a peaceful escape from the bustling city life and provides a unique traditional Japanese experience that is perfect for Instagram. As you approach the shrine, you'll encounter a path flanked by rows of large sake barrels that serve as an excellent backdrop for photos. These barrels are donated by sake makers from all over Japan each year, making for a fascinating cultural display.
Location: 1-1 Yoyogikamizonochō, Shibuya City, Tokyo 151-8557, Japan
Opening hours: 5:20 a.m. to 5:20 p.m. daily 
Entrance Fee: None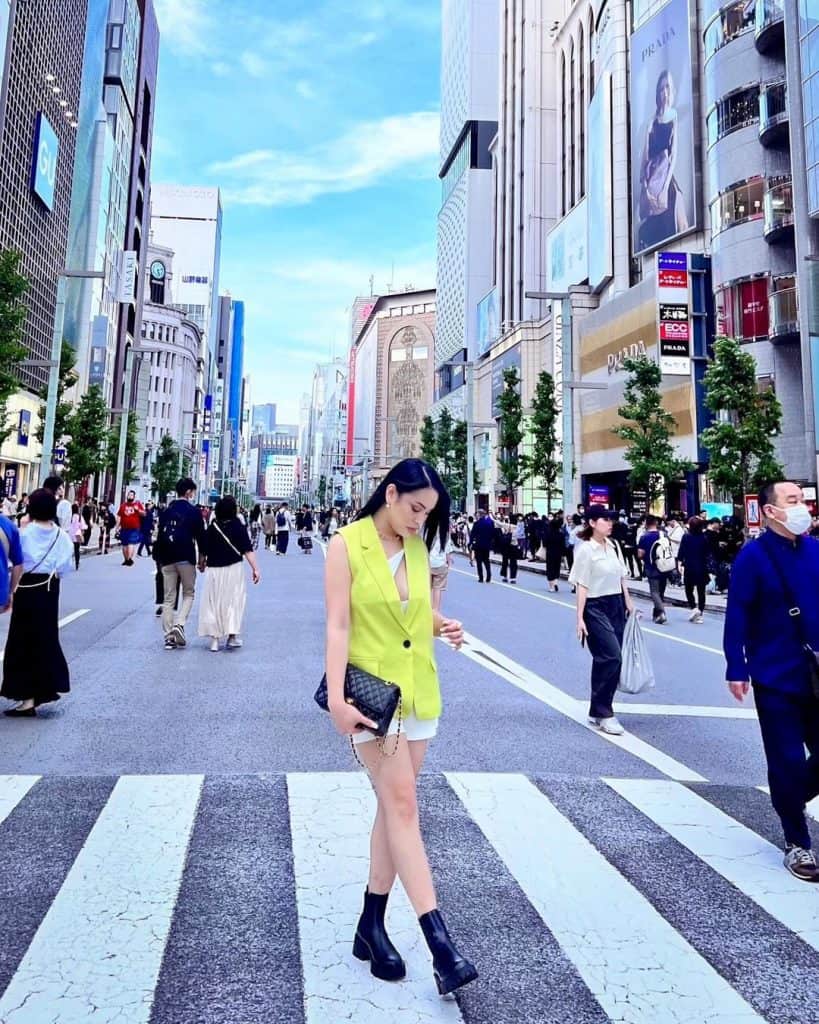 Located in the Ginza district, Nihonbashi is a bustling business area that was named after the iconic Nihonbashi Bridge that spans across the Nihonbashi River. This area offers numerous picturesque spots that are perfect for Instagram. From the bridge itself, you can capture stunning shots of the river flowing beneath it. The Nihonbashi Mitsui Tower, Mandarin Oriental, and Kilometre Zero are other popular attractions in the vicinity that are sure to make your Instagram feed stand out. Nihonbashi is situated just 20 minutes to the east of Tokyo's city center.
Location: Chuo City, Tokyo 103-0027, Japan
Opening hours: different times for different shops 
Entrance Fee: None
8. Rainbow Bridge from Odaiba Island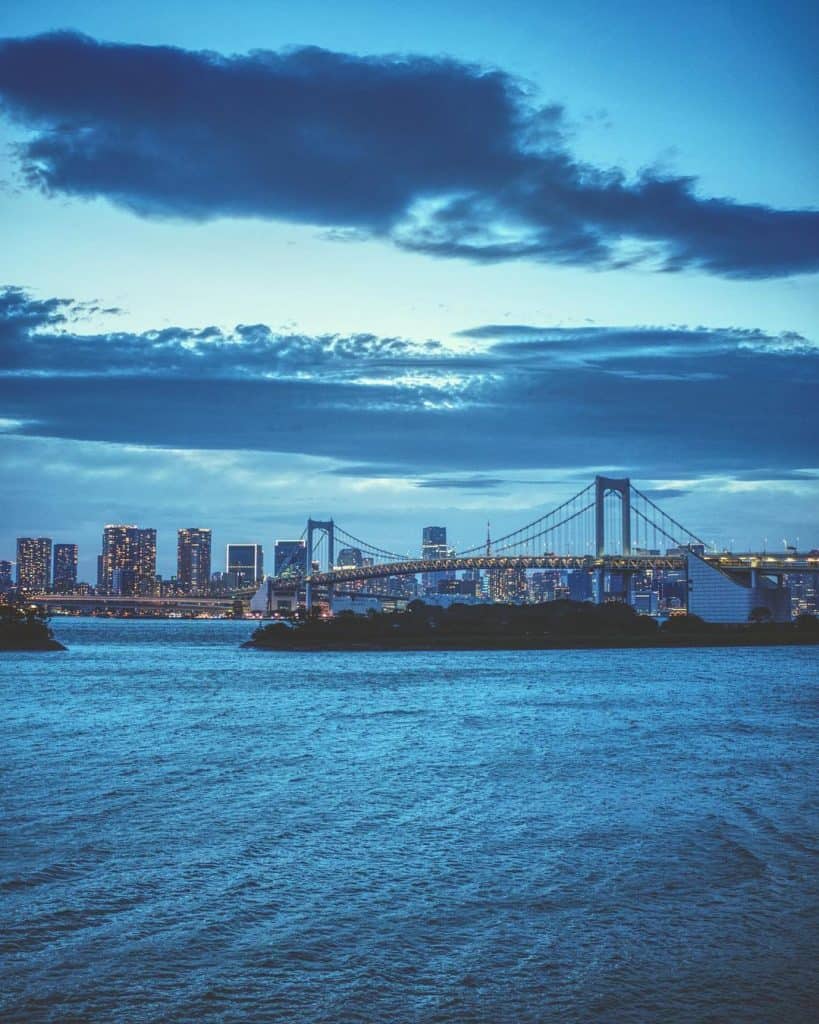 From Odaiba Island, you can take a picture of the Rainbow Bridge, a 798-meter-long suspension bridge you can walk across. On the bridge, some walkways can only be used by people on foot. It takes about 25 minutes to walk from one side to the other. You'll get some of the best views of Tokyo city from the Odaiba Island side of the bridge as you walk.
Try to take pictures of the bridge itself if you're here in December, especially at night when it's lit up in the rainbow colors that give it its name—eighteen minutes southeast of the center of Tokyo.
Location: Northern part of Tokyo Bay, connecting Odaiba to central Tokyo
Opening Hours: 24 hours 
Entrance Fee: None 
In conclusion, Tokyo is a vibrant and dynamic city that offers countless opportunities for capturing stunning Instagram photos. From the bustling Shibuya Crossing to the serene Meiji Shrine, and from the modern architecture of the Tokyo Skytree to the historic landmarks of Nihonbashi, there is something for everyone. Whether you're into anime, food, nature, or architecture, Tokyo has it all. So grab your camera and explore these 8 cool locations for some of the most Instagrammable spots in Tokyo.
COMMON QUESTIONS ABOUT INSTAGRAMMABLE Spot in tokyo
Start Planning Your Japan Trip Now!
Book Your Flight:
Use Skyscanner to find a cheap flights. A travellers favorite way to book flights, as it searches websites and airlines around the world with one click.
Book Your Bus or Transportation Within Japan:
There are two ways to book your transporation, ask your hotel or hostel, go to the local bus terminal, or book online, for a less stressful trip using JapanBusOnline or 12go.asia
Book Your Accomodation: 
Find the best hotels or hostels at HostelWorld, Booking.com, Agoda.com. Perks include with no upfront payment. Pay when you check out and Free cancellations.
Dont Forget Your Travel Insurance:
Two popular choices are SafetyWing and WorldsNomads. A traveler should buy traveler's insurance to protect themselves against unexpected events such as trip cancellations, medical emergencies, and lost or stolen baggage. It provides peace of mind and financial protection in case of unforeseen circumstances.
Useful Apps?
S.Ride- Local Transportation
Norikae Annai – Train TimeTable
UberEats, Demae-can – Food Delivery
Whatsapp/Viber- Communication
Want More Information On Japan?
Be sure to check out my nomad travel guide on the Japan for even more tips.
Disclosure: Please note that some of the links above may be affiliate links, and at no additional cost to you, I earn a commission if you make a purchase.