Top 10 Instagrammable Spots in Kyoto
As a digital nomad, Kyoto is a city worth adding to your travel bucket list. As the heart of Japanese culture, it offers many historical sites, mouthwatering local cuisine, and exciting activities. It's also a popular destination for Instagram photos, making it the perfect place to capture and share your travels with the world. Whether you visit during the spring when the cherry blossoms bloom or in the fall when the trees' leaves turn fantastic shades of red, orange, and yellow, Kyoto is a beautiful destination to explore year-round. Here are the top 10 Instagrammable places in Kyoto that you shouldn't miss.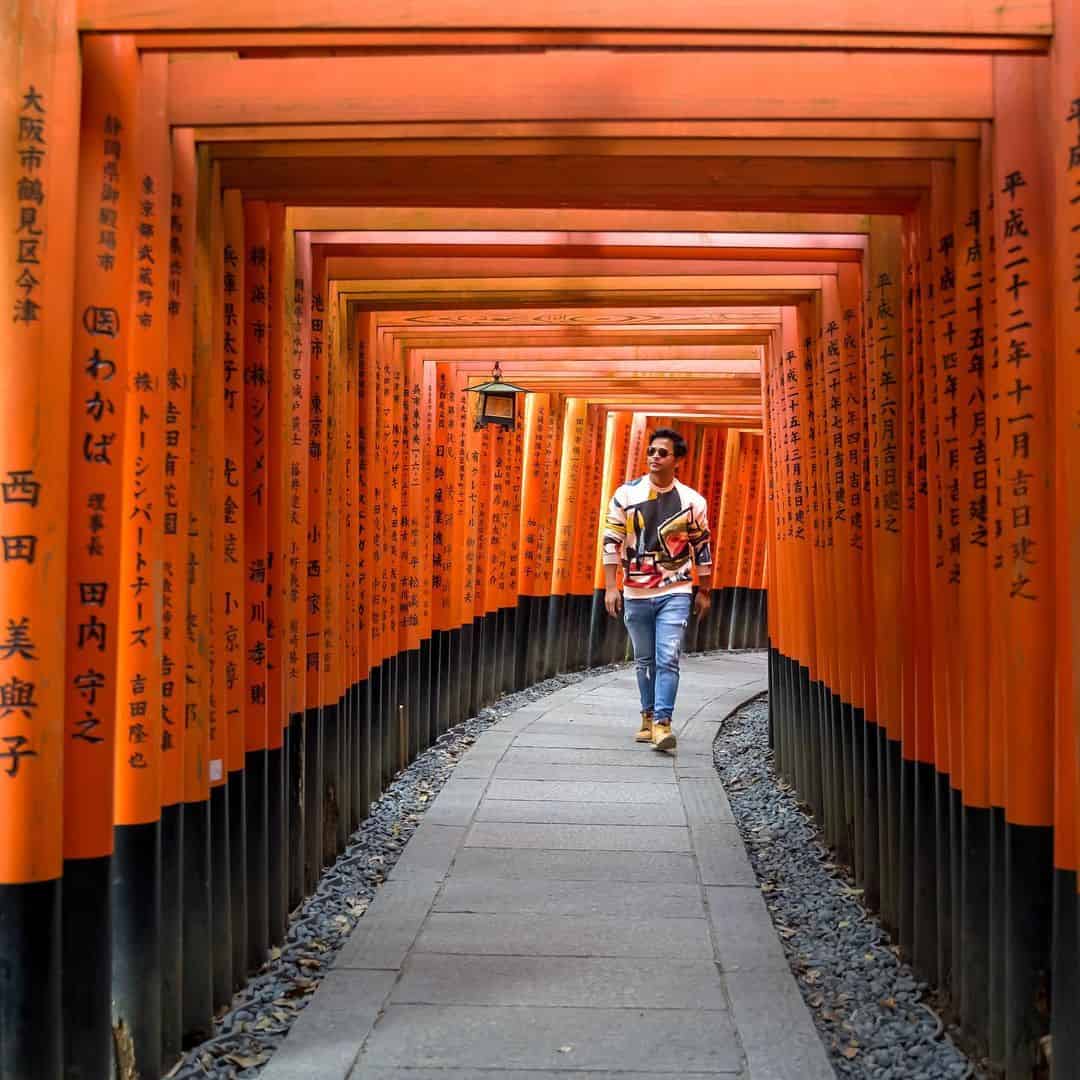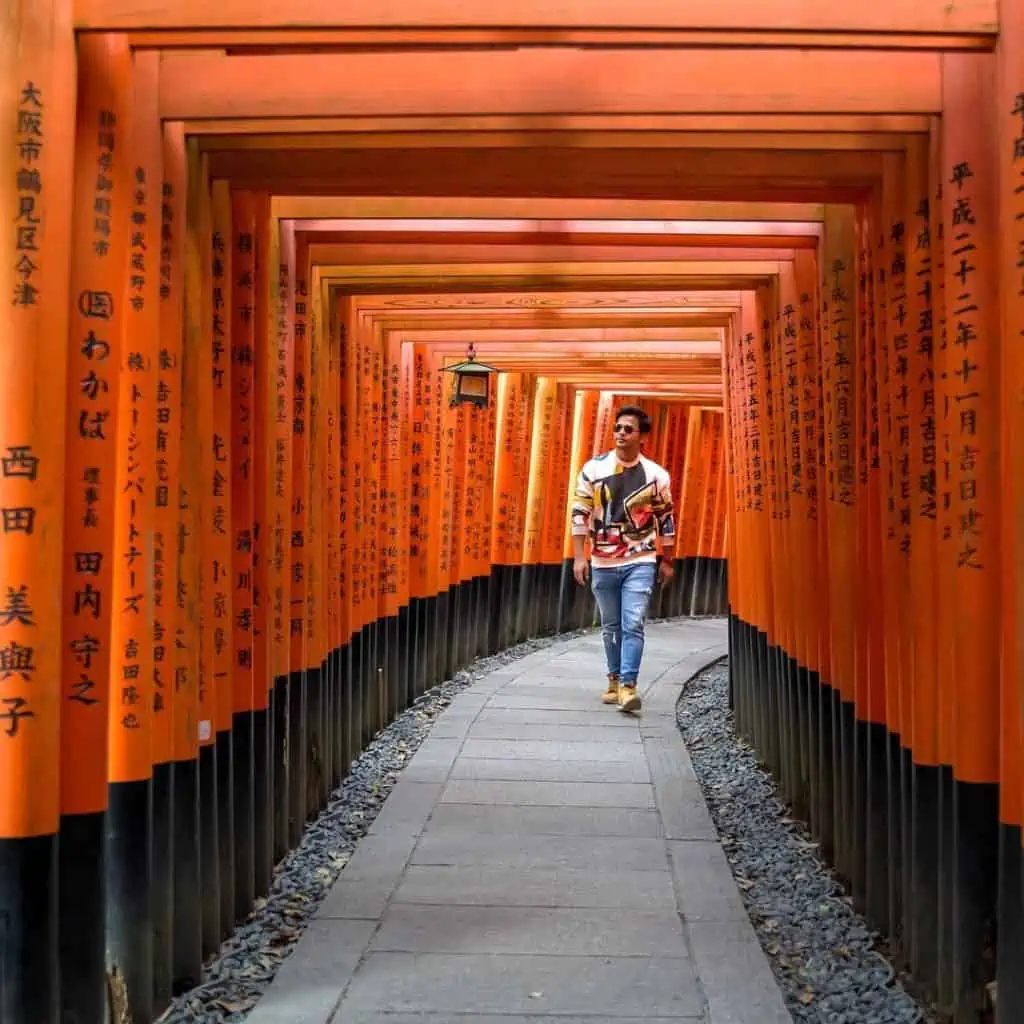 One of Japan's most iconic views is the vibrant, vermilion-colored torii gates at Fushimi Inari Taisha in Kyoto. The Senbon Torii Thousand Torii Gates are a must-see feature, along with its main hall and sub-shrines which provide excellent photo opportunities. For quieter and undisturbed photographs, it's best to visit early in the morning. Although the climb to the mountaintop may be extended, the fantastic view is worth the effort. Fushimi Inari Shrine celebrations take place annually in April and October.Location: Southern Kyoto, 68 Fukakusa Yabunouchichō, Fushimi Ward, Kyoto, 612-0882, Japan
Opening hours: 24 hours
Entrance fee: None
2. Arashiyama Bamboo Forest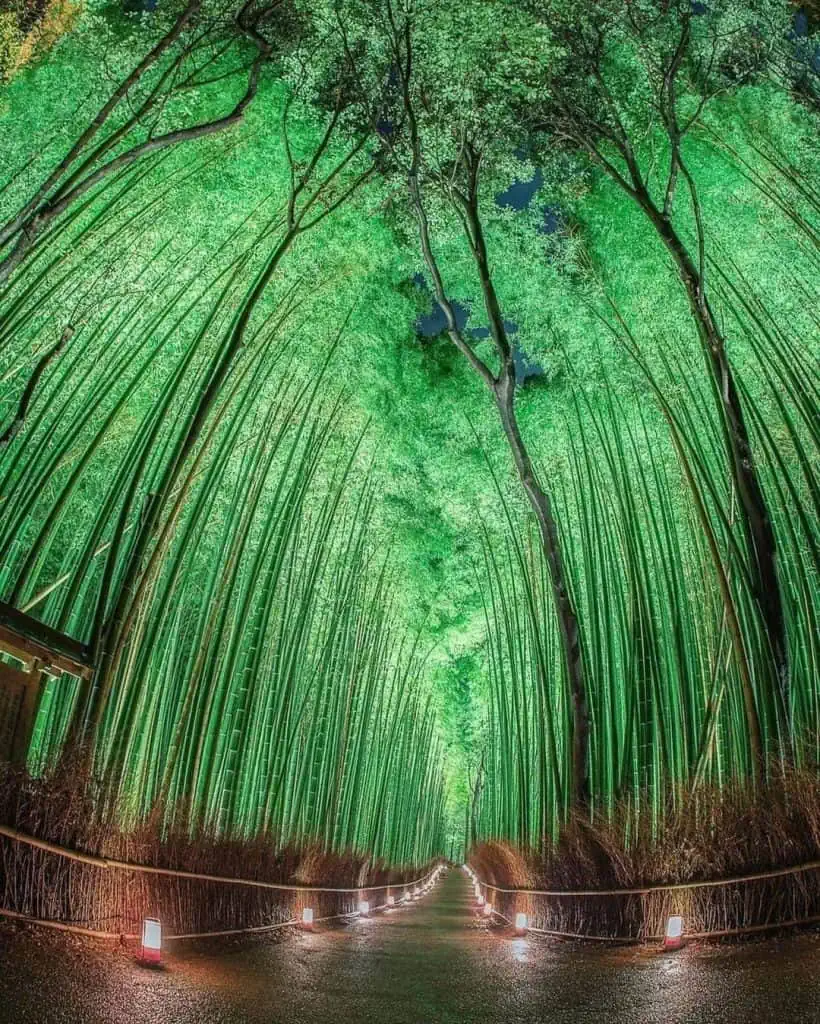 The Arashiyama Bamboo Grove is a popular tourist destination where visitors can escape from the crowds. It's a unique bamboo tunnel that provides an exceptional experience. The bamboo forest's beauty stands out, mainly when the early light is absorbed through the bamboo stalks and leaves. Although visitors are advised to come early to avoid crowds, it's best to embrace the public and not stress about waking up too early. Taking a tricycle or wearing a kimono provides an excellent opportunity to take incredible photos that look like they were taken from a different era.

Location: At the foot of the "Storm Mountains" in the north of the city of Kyoto
Opening hours: 24 hours
Entrance fee: None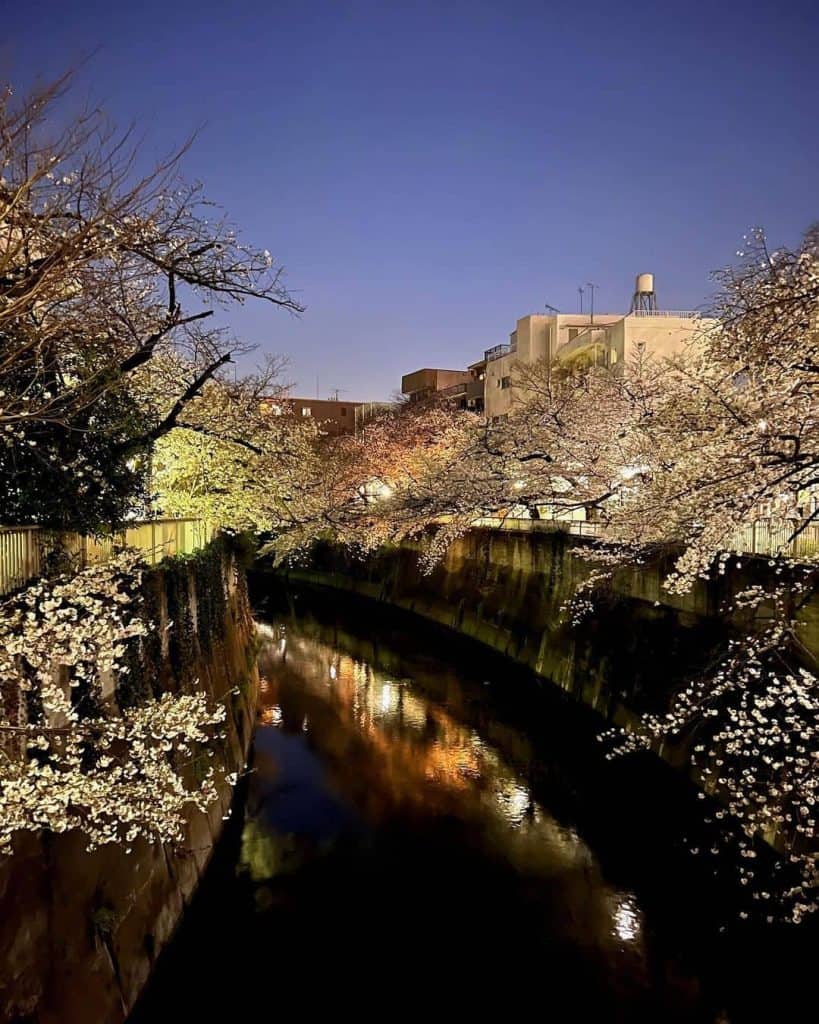 Philosopher's Path is a popular walking route that offers breathtaking scenery along the Lake Biwa canal, making it an ideal place to capture photos. The cherry trees along the roadside are stunning during the full spring blossom, and the leaves turn red in the fall. Since Kyoto University is nearby, you can follow in the footsteps of intellectuals and authors like Kitaro Nishida. It's best to wait until dusk to avoid crowds, and you may also spot fireflies and lush hydrangeas along the path.
Location: Between Ginkakuji and the neighborhood of Nanzenji
Opening hours: 24 hours 
Entrance Fee: None
The tallest building in Kyoto, Kyoto Tower, is situated directly above Kyoto Station and is a well-known landmark as it can be seen from Kyoto Station. It stands out, both literally and metaphorically. You can buy treats and souvenirs from the area at the newly opened Kyoto Tower Sando. From the viewing deck, you can see the beauty of each season and the whole city of Kyoto. Try to go at night when the World Heritage temples and shrines have to light up, and the leaves are starting to change color. The Kyoto Tower is also a fantastic place to see. It lights up in different colors at different times of the year.



Location: 721-1 Higashishiokōjichō, Shimogyo Ward, Kyoto, 600-8216, Japan
Opening hours: Daily from 11 am to 7 pm
Entrance Fee: 800 yen for adults, 650 yen for high school students, 550 yen for elementary and junior high school students, and 150 yen for children under 6.
Kinkaku-ji Temple, also known as The Golden Pavilion, is a stunning Zen temple and a popular tourist attraction in Kyoto. Its two upper floors are adorned with gold, making it a must-visit spot for photographers and travelers alike. The temple looks remarkably breathtaking when viewed from across the pond. Visitors can take a break and enjoy some tea at the teahouse before continuing their exploration of other Instagram-worthy spots in the area.

Location : Kinkakujichō, Kita Ward, Kyoto
Opening Hours: Daily from 9 am to 5 pm
Entrance Fee: 500 Yen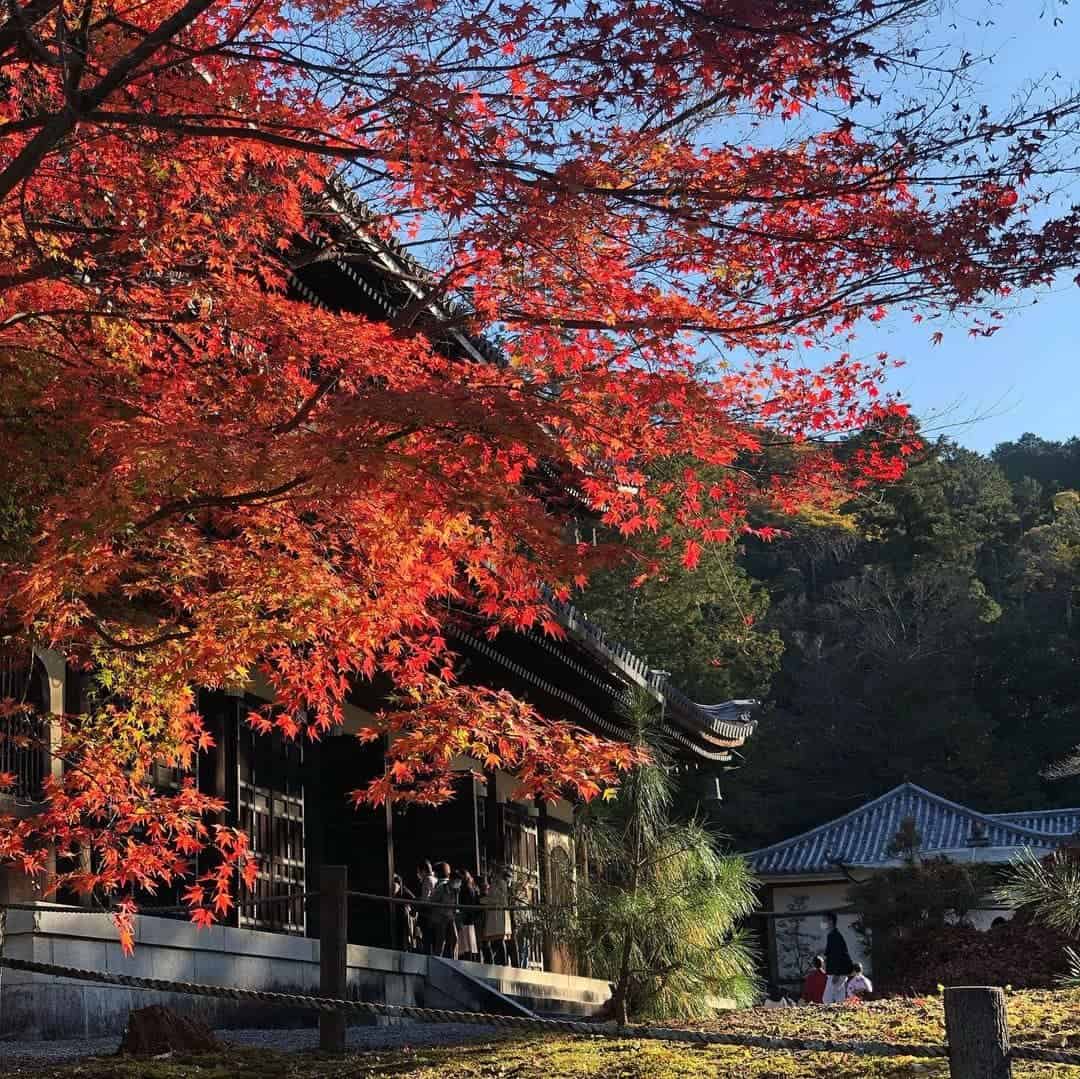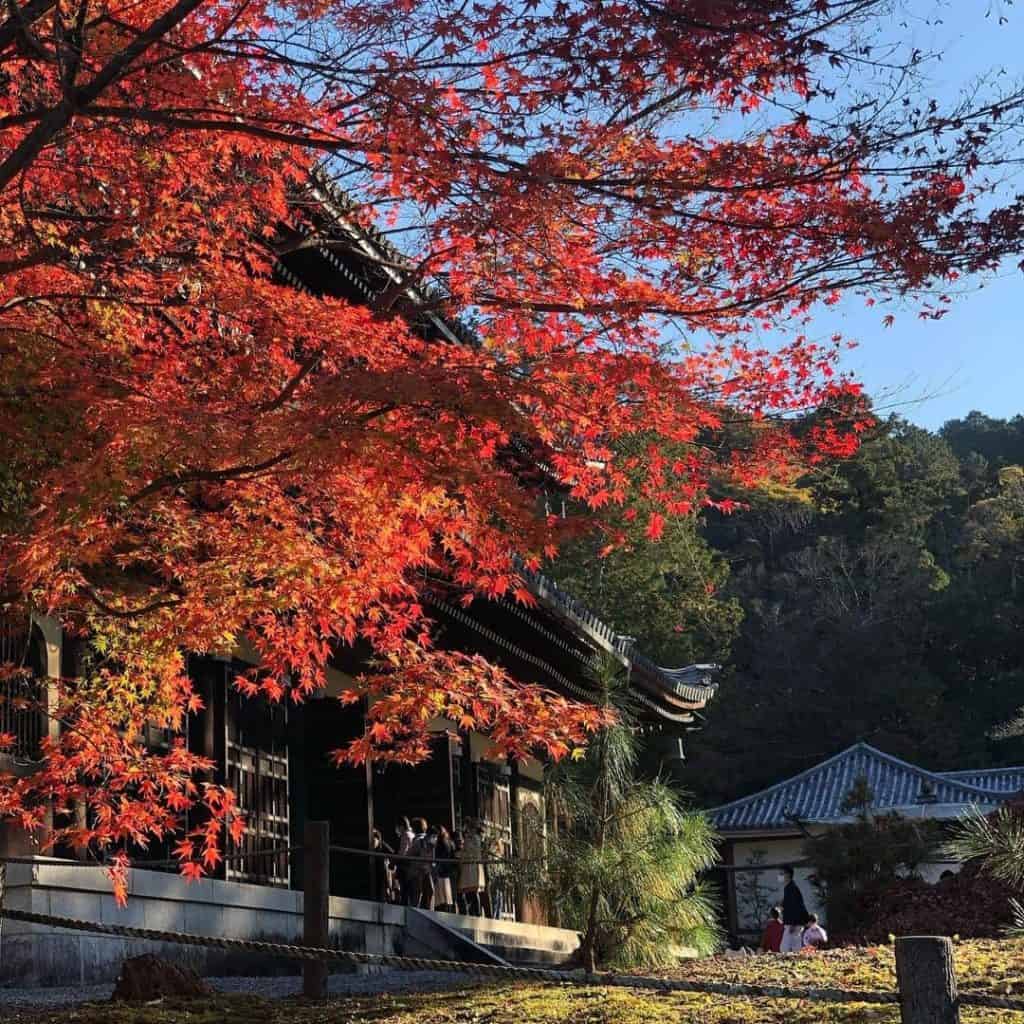 Nanzen-ji Temple boasts a magnetic structure and a vast canal that have transported goods and water between Kyoto and Lake Biwa for over a century. The temple complex also has several well-preserved traditional structures and minor temples that glimpse into the past. A stunning view of the Higashiyama mountains is available from the temple's surrounding, lush green forests. For those seeking to witness the spectacular autumn colors, exploring other temples in the Nanzenji complex, such as the Konchi-Temple and the Tijuana Temple, is a must. The garden is remarkably breathtaking when the leaves turn red in the fall. Visitors will not run out of photo opportunities at Nanzen-ji Temple, as the surroundings offer countless picturesque spots to capture the perfect shot for Instagram.
Location : Nanzenji Fukuchich, Sakyo Ward, Kyoto 
Opening Hours: Daily from 8:40 am to 5 pm 
Entrance Fee: None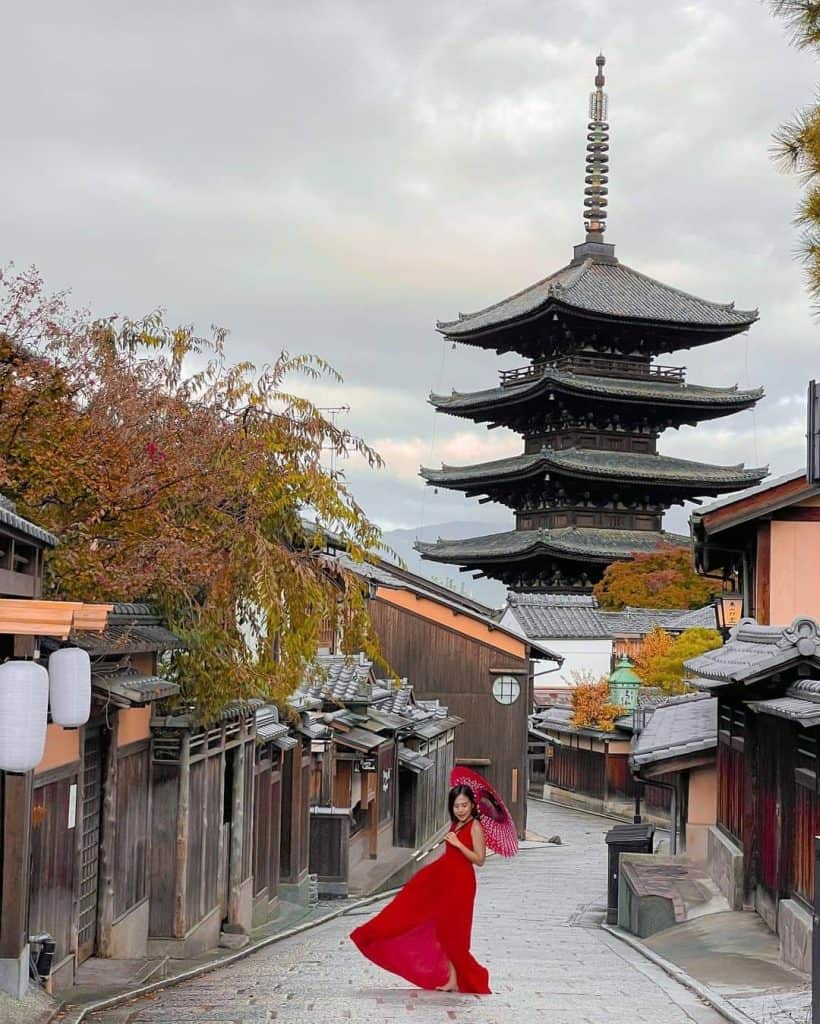 Yasaka Pagoda, the oldest pagoda in Kyoto, is easily recognizable when strolling through the Higashiyama neighborhood. This five-story wooden tower is the only surviving part of Hokanji Temple after suffering damage from fires, wars, and natural disasters. Lucky visitors may have the chance to pay an entrance fee and climb to the second floor to view the inner structure and enjoy a stunning vista of the city. For those seeking a more peaceful and picturesque view of Yasaka Pagoda without crowds, the best time to visit is after dark, when the road leading up to it is lit up and empty.
Location:  Higashiyama Ward, Kyoto
Opening Hours: 10 am to 4 pm (close irregularly) 
Entrance Fee: 400 Yen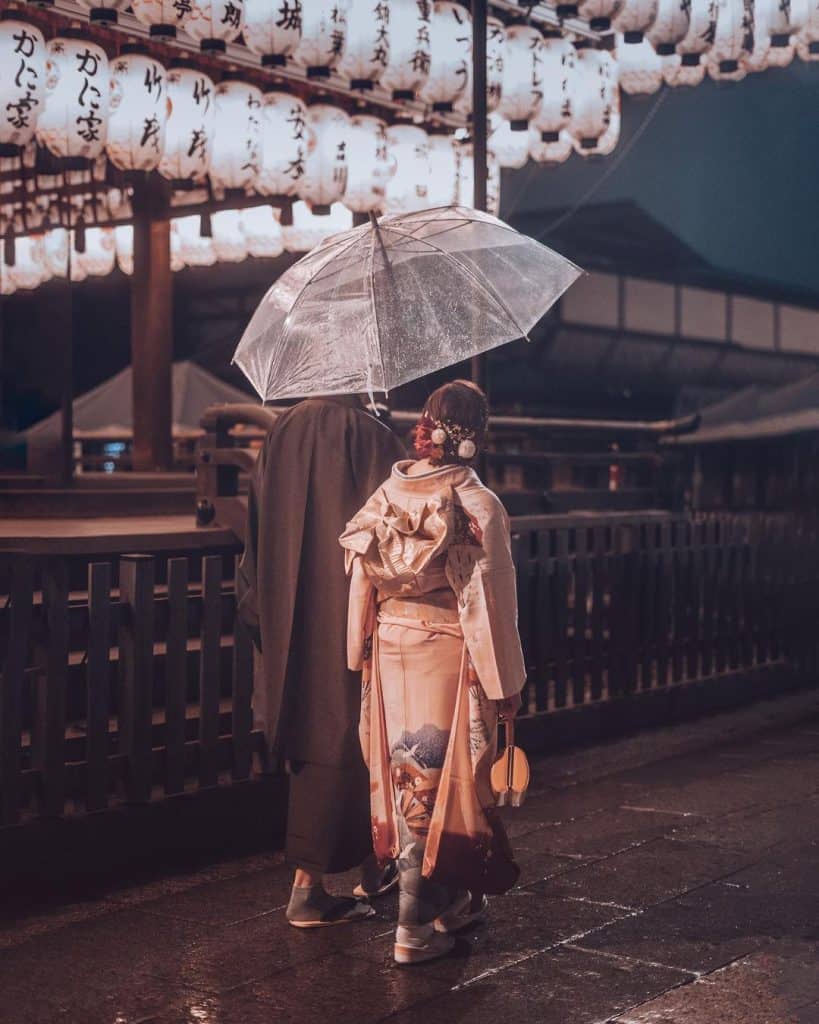 Gion Entertainment District is a must-visit location in Kyoto for those seeking picturesque spots for their Instagram feed. This district is known as Kyoto's most famous traditional entertainment district, boasting beautiful lanes filled with temples, shrines, and ancient structures.
For those who wish to capture unique and striking photographs, we recommend renting kimonos and exploring the narrow streets of Gion. This will allow you to recreate a vintage-style photo that looks like it came straight out of a Japanese magazine from another era.
Location: Around Shijo Avenue between Yasaka Shrine in the east and the Kamo River in the west
Opening hours: 24 hours 
Entrance Fee: 600 Yen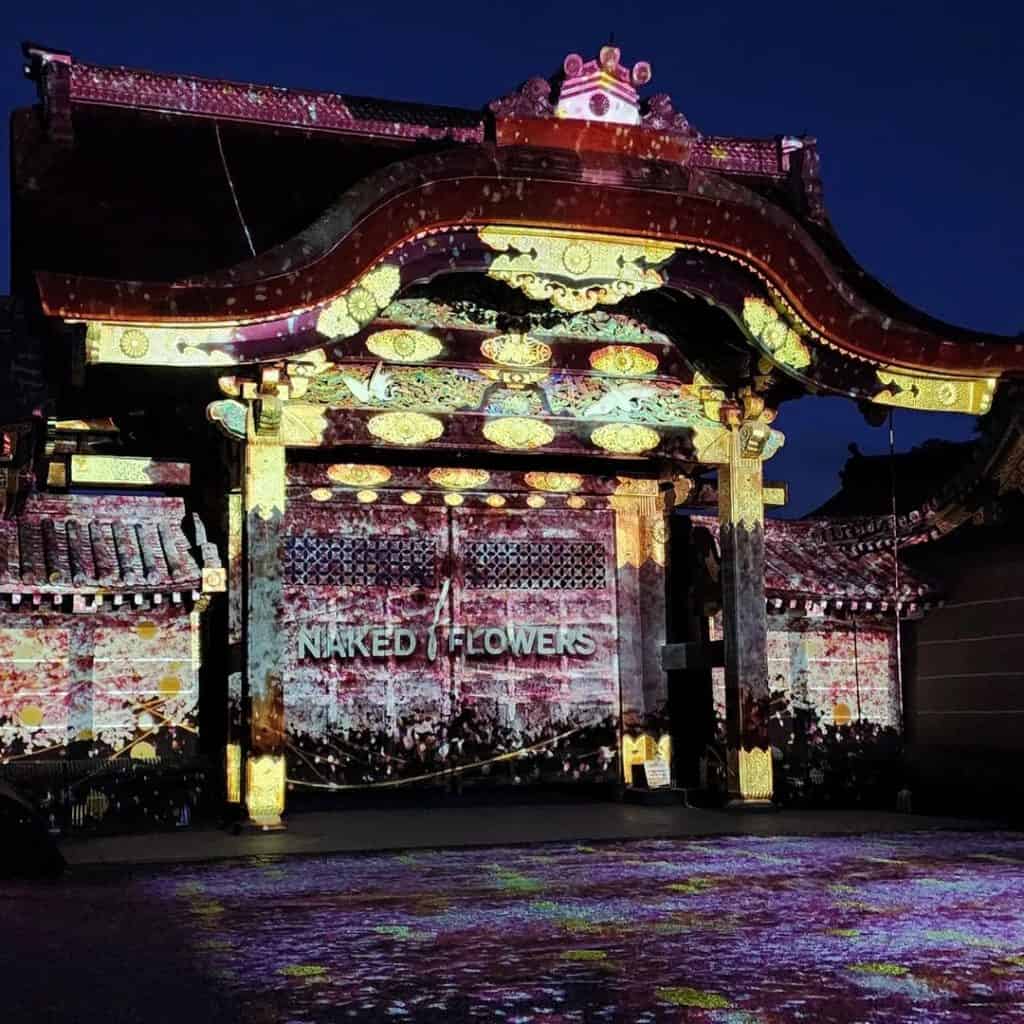 For those interested in delving deeper into Kyoto's rich history and culture, Nijojo Castle is a must-visit destination. The garden boasts a variety of trees, including maple, ginkgo, and plum, which provide stunning vistas throughout the year. Visitors will find a vast expanse of well-maintained historic buildings, beautiful parks, and an opportunity to glimpse into Japanese history.


Passing through the grand Karamon Gate, a monumental wooden structure coated in gold, is a prerequisite for entering Ninomaru. The best time to visit the castle is in the spring, when the plum fields are in full bloom, or in late November, when the trees turn brilliant shades of orange and red. Staying here is an opportunity to snap pictures that look like they were taken in a bygone era of Japanese history.
Location : 541 Nijjch, Nakagyo Ward, Kyoto, 604-8301, Japan
Opening hours: Daily 8:45 am to 5:00 pm (last entry 4:00 pm)
Entrance Fee: 800 yen Daigo-ji Temple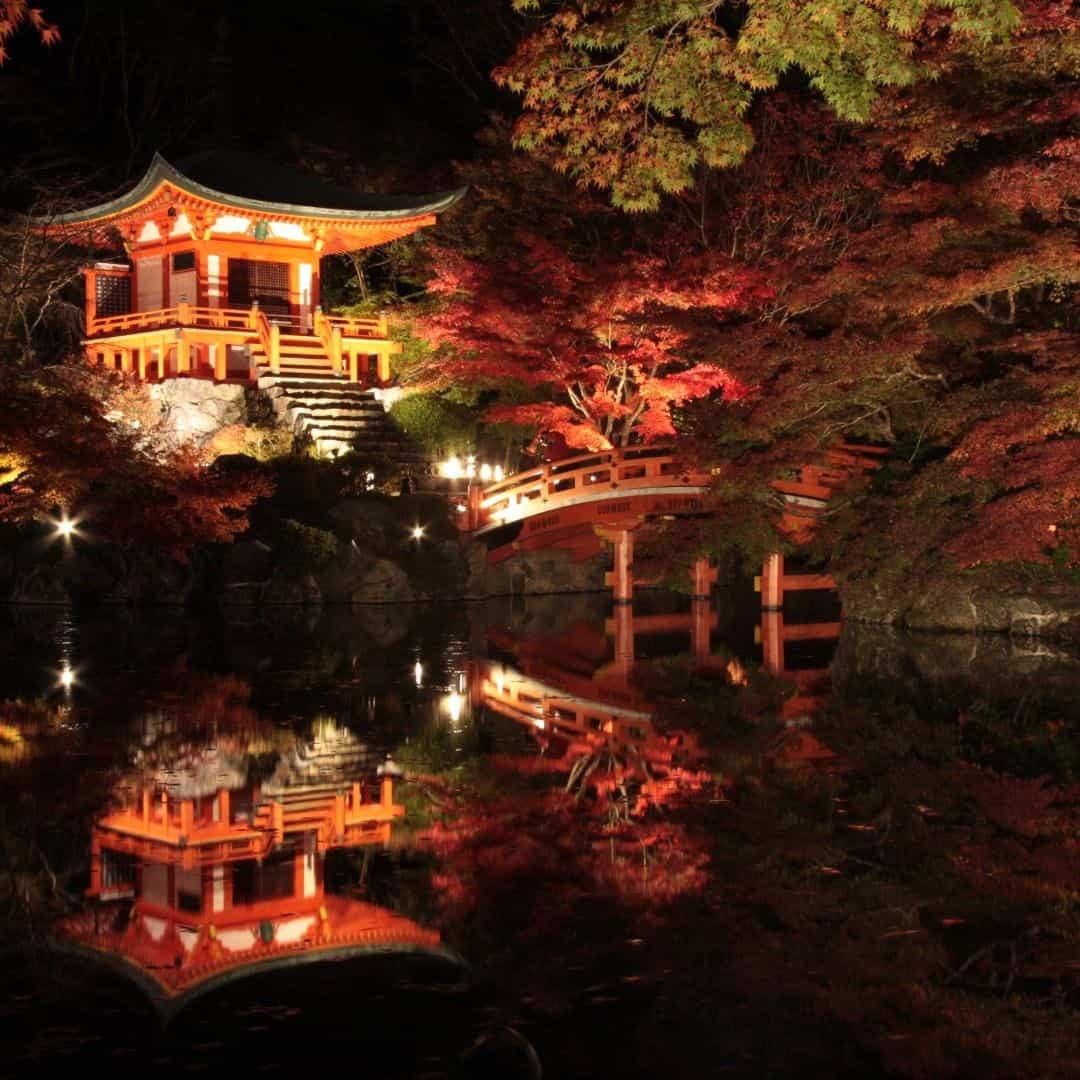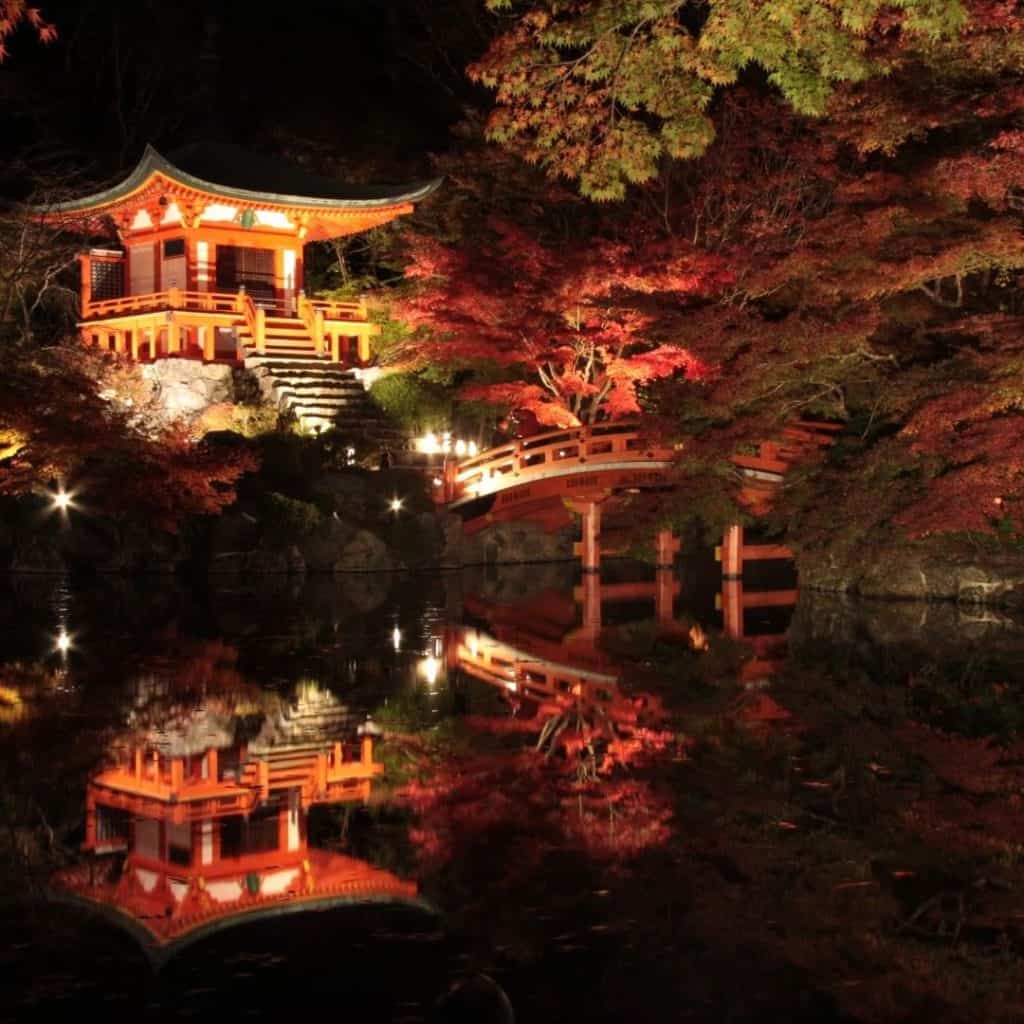 Daigo-ji is a Shingon Buddhist temple in Kyoto that sits atop a hillside, offering a unique and stunning view. Its famed Bentendo Hall is a bright red building that stands out beautifully next to a serene pond, surrounded by vibrant foliage and a striking red bridge, providing ample photo opportunities. Visiting during autumn is highly recommended, as the plants surrounding the temple turn a spectacular red and orange, creating a stunning backdrop that complements the building. Daigo-ji is undoubtedly one of the top 10 places to visit in Kyoto for breathtaking fall foliage.
Location: Daigohigashiojicho, Fushimi Ward, Kyoto
Opening hours: Daily 9 am to 4 pm 
Entrance Fee: 500 Yen
In conclusion, Kyoto is a city rich in culture, history, and natural beauty, making it a perfect destination for photography enthusiasts. The locations mentioned in this blog offer an ideal blend of traditional Japanese architecture, serene landscapes, and vibrant colors that will leave you mesmerized. Whether you want to capture the autumn colors or the beauty of cherry blossoms, Kyoto has something to offer all year round. Remember to charge your camera batteries and explore these fantastic places in Kyoto to capture memories that will last a lifetime.
COMMON QUESTIONS ABOUT INSTAGRAMMABLE spots in Kyoto, Japan
Start Planning Your Japan Trip Now!
Book Your Flight:
Use Skyscanner to find a cheap flights. A travellers favorite way to book flights, as it searches websites and airlines around the world with one click.
Book Your Bus or Transportation Within Japan:
There are two ways to book your transporation, ask your hotel or hostel, go to the local bus terminal, or book online, for a less stressful trip using JapanBusOnline or 12go.asia
Book Your Accomodation: 
Find the best hotels or hostels at HostelWorld, Booking.com, Agoda.com. Perks include with no upfront payment. Pay when you check out and Free cancellations.
Dont Forget Your Travel Insurance:
Two popular choices are SafetyWing and WorldsNomads. A traveler should buy traveler's insurance to protect themselves against unexpected events such as trip cancellations, medical emergencies, and lost or stolen baggage. It provides peace of mind and financial protection in case of unforeseen circumstances.
Useful Apps?
S.Ride- Local Transportation
Norikae Annai – Train TimeTable
UberEats, Demae-can – Food Delivery
Whatsapp/Viber- Communication
Want More Information On Japan?
Be sure to check out my nomad travel guide on the Japan for even more tips.
Disclosure: Please note that some of the links above may be affiliate links, and at no additional cost to you, I earn a commission if you make a purchase.