The Best Cities in Brazil for Digital Nomads to Work Remotely
Brazil is a popular tourist destination, known for its stunning beaches, friendly people, and exceptional weather. It's also a hotspot for digital nomads, offering endless adventure and benefits for those working there for months or years. However, there are some challenges to being a digital nomad in Brazil, like finding the safest cities in brazil. This blog explores what to expect from the digital nomad lifestyle in Brazil, from the caution needed in choosing activities and destinations to the endless opportunities for adventure.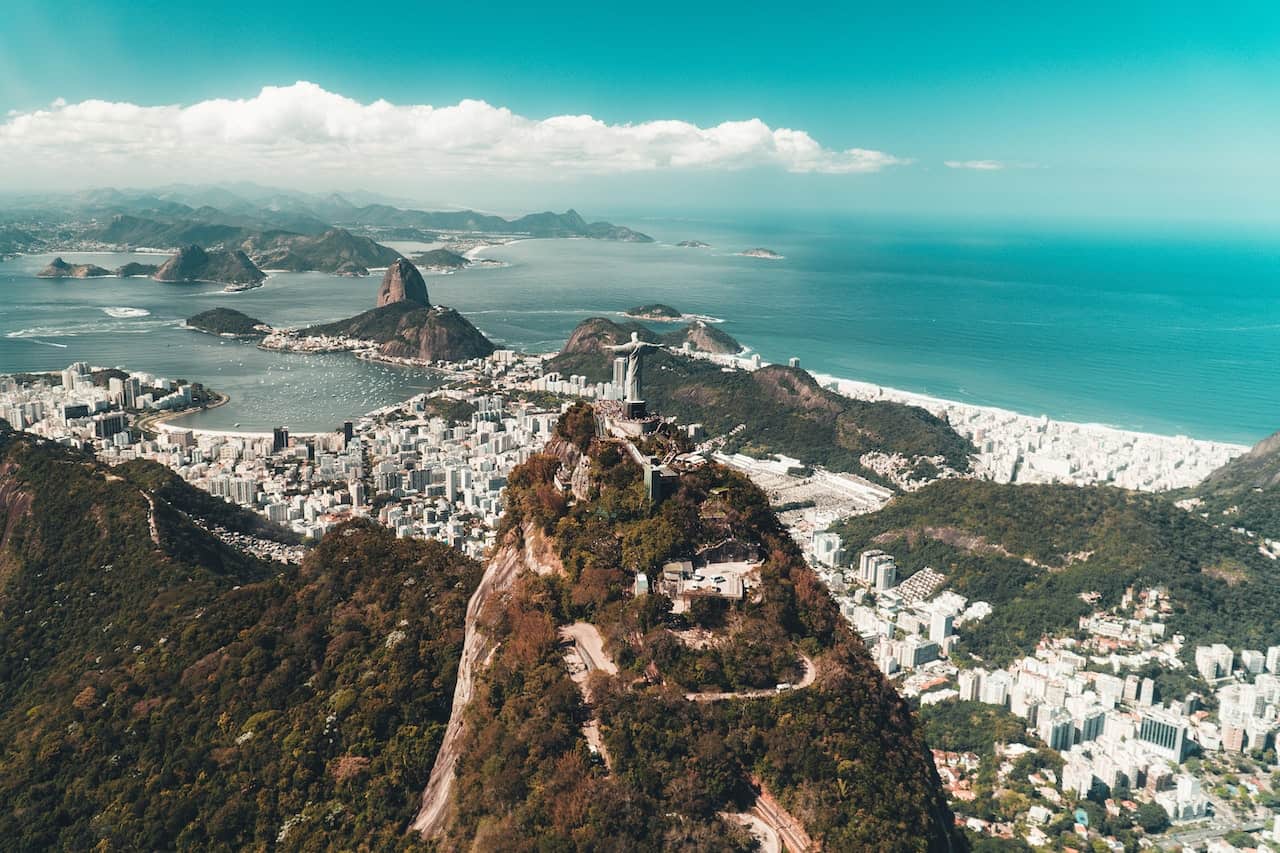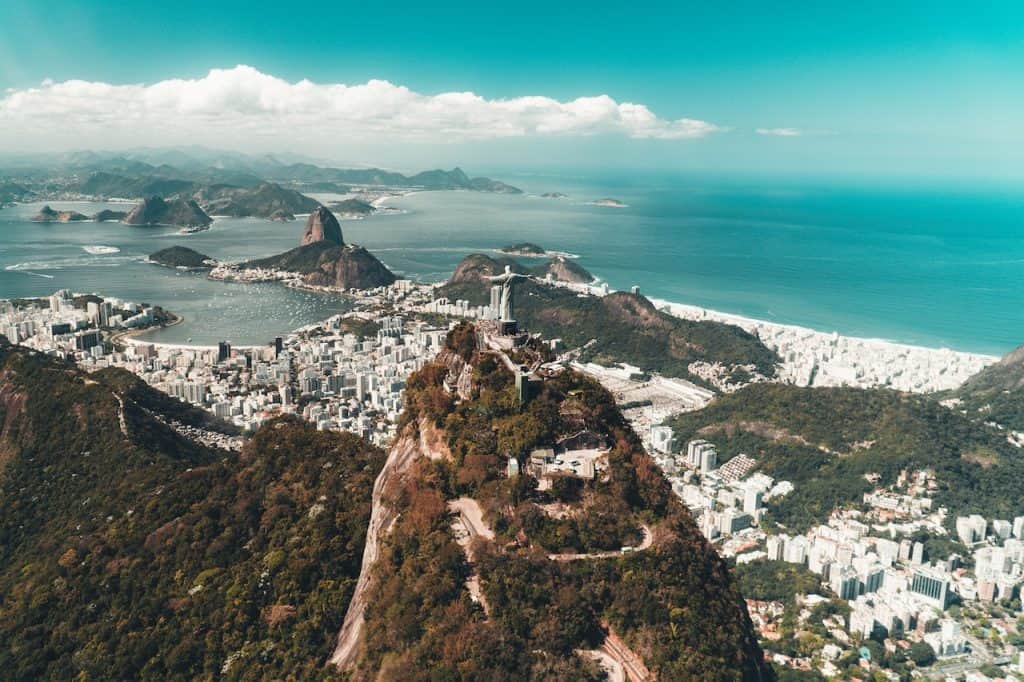 Rio de Janeiro, the historic capital of Brazil, is home to a vibrant art scene, superb cuisine, and a rich history and the best place to live in brazil. This fantastic city, known for hosting recent Olympic events, is impossible to overlook. You can grab a coconut and sip on it as you tour the area lined with beaches (including the well-known Copacabana beach).
 Rio has a highly vibrant and exciting vibe that is nevertheless extremely relaxing. 
Although there is a small selection, the WiFi in this area's coffee shops and coworking spaces is adequate. The Santa Teresa neighborhood has the most coworking spaces per square mile. If you speak English, it is simpler to travel around because most residents are laid back and talk in English. A sizable digital nomad community can also be found here. Digital Nomads flock to this exciting city because of everything it offers. The city welcomes guests from wherever regardless of whether they want to visit the Cristo Redentor or need some beach time. 
You won't ever get bored or run out of things to do here, from the Sambodromo stadium, where the city's enormous Carnival is held every year, to their conical church or Tijuca National Park. Rio de Janeiro's one drawback is that there are some high-crime zones that you should stay away from. Therefore, it is crucial to exercise caution and keep a sharp lookout.
Visit during summer to enjoy Rio's many things to do, like the beach, botanical garden, or many hiking spots.
Who is it for: digital nomads looking for fun and vibrant cosmopolitan cities

Population: 6.3 million

Cost of living: USD 700-1720

Average weather range: 18°C to 31°C (65°F to 88°F)

Best neighborhoods to stay in: Copacabana, Ipanema, Botafogo, Flamenco, Jardin Botanico
Rio's Top 2 Coworking Spaces:
1.WeWork
The co-working space offers stunning city views and provides all the amenities necessary for a productive workday, including high-speed internet, meeting rooms, and printing facilities.

Location: 81 Av. Alm. Barroso, Centro, Rio de Janeiro, RJ, 20031-004, Brazil
2. Regus
Regus is a buzzing place where like-minded professionals may connect.
The space boasts modern, spacious offices with plenty of natural light and a comfortable working atmosphere. It also provides access to an on-site cafe, meeting rooms, video conferencing facilities, and administrative support.
Location: Botafogo, Rio de Janeiro, RJ, 22290-160, Brazil, Rua Lauro Müller, 116-32nd Avenue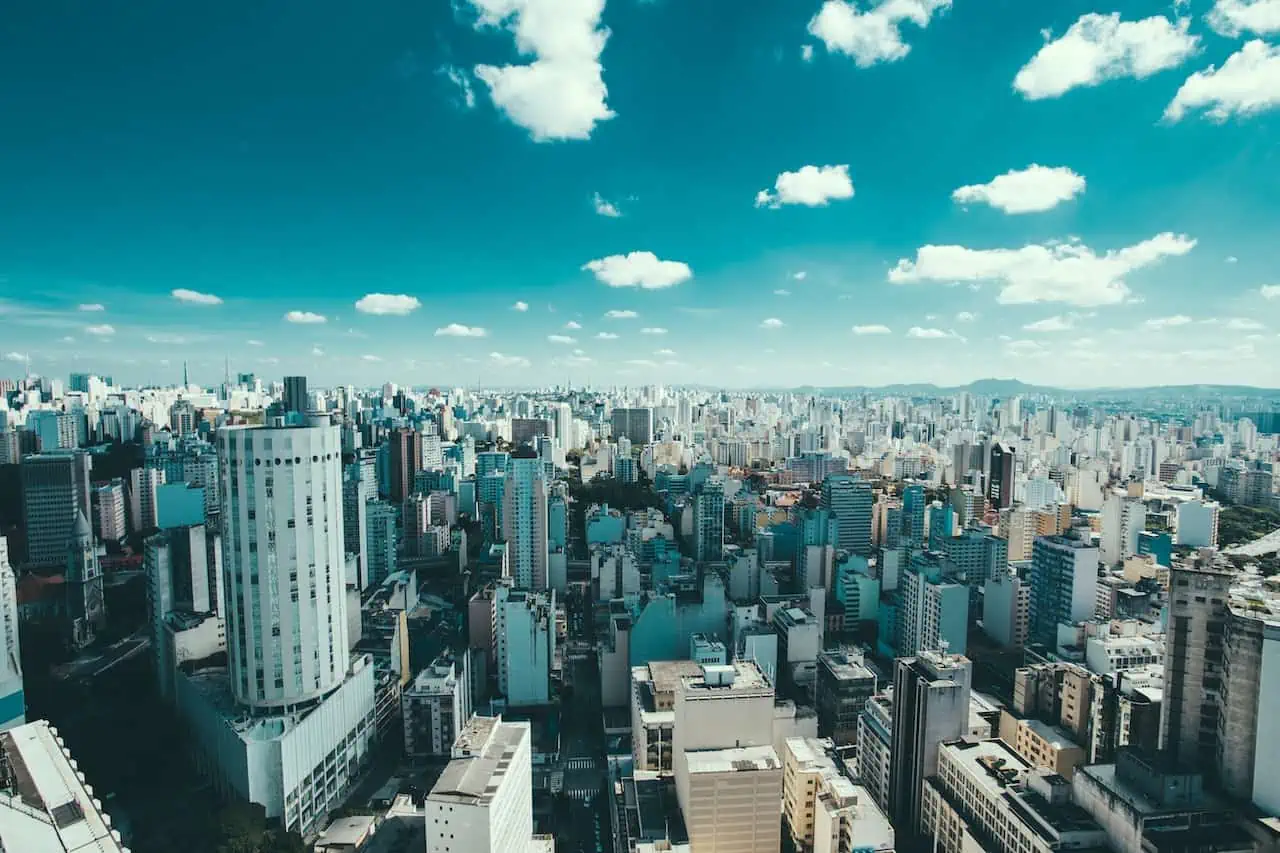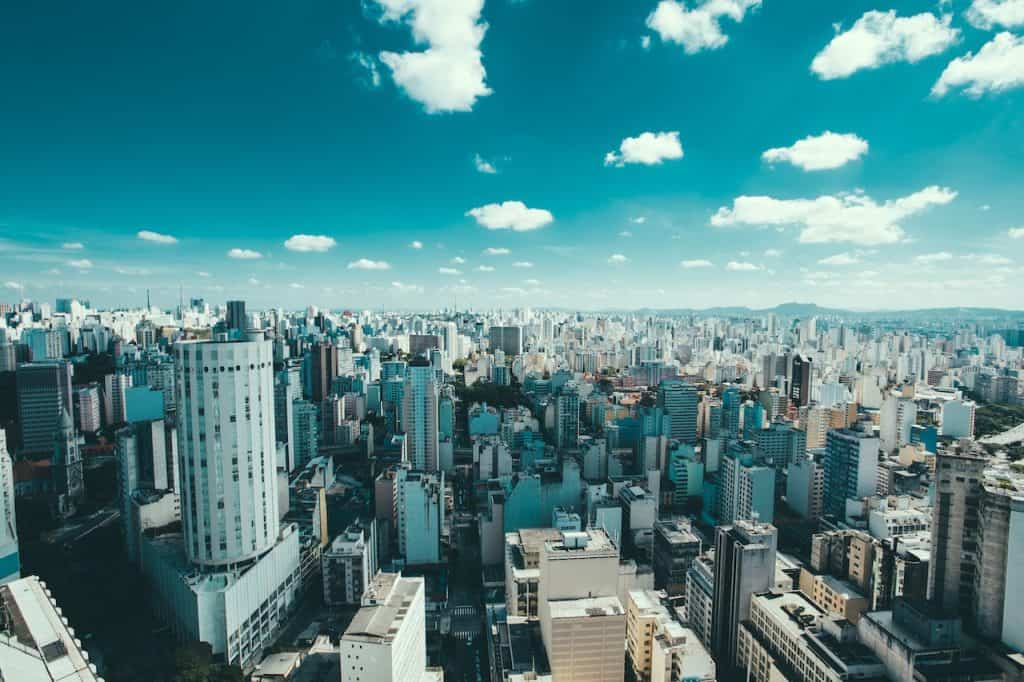 The largest city in the southern hemisphere is Sao Paulo. As a result, it should come as no surprise that there are few outdoor natural settings. Sao Paulo might be for you if you want a metropolitan lifestyle and a moderate temperature. In Sao Paulo, nearly everyone uses some variation of English. This city, home to 20 million people, is the nation's economic engine. Additionally, Sao Paulo has plenty of English speakers if you're concerned about communication difficulties.  
The city has several corporate headquarters, attracting many foreigners and creating many career opportunities. Particularly in Vila Madalena, there are various nice cafes where you can work and hotels where you can stay, and the Wi-Fi is speedy. Living in a metropolis has its drawbacks, including the frequently horrible traffic. Avoid traveling at rush hour and consider using public transit when possible.
Who is it for location-independent workers who like big metropolitan hubs
Population: 11.3 million
Cost of living: USD 1000-1900
Average weather range: 5°C to 33°C (41°F to 91°F)
Best neighborhoods to stay in: Consolação, Bela Vista, Downtown
Top 3 Coworking Spaces in São Paulo:
Google Campus

Google Campus in São Paulo is an excellent option for startups, as it provides a tailored coworking experience. Its location in Paraíso, São Paulo, is easily accessible and conducive to networking.

Location: Rua Coronel Oscar Porto, 70 – Paraíso, São Paulo – SP, 04003-000, Brasil
VIP OFFICE Coworking
A top choice for those seeking a coworking experience with special treatment. The space is well-equipped and offers all the necessary amenities for a productive workday.

Location: Alameda Santos, 1773 – Jardim Paulista, São Paulo – SP, 01419-002, Brasil

You Coworking
Trendy spot in São Paulo's Jardim Paulistano neighborhood. Its relaxed vibe and modern facilities make it a popular choice for entrepreneurs and freelancers looking for a comfortable and inspiring work environment. The location on Avenida Brigadeiro Faria Lima is convenient and easily accessible.

Location: Av. Brg. Faria Lima, 1755 – Jardim Paulistano, São Paulo – SP, 01452-001, Brasil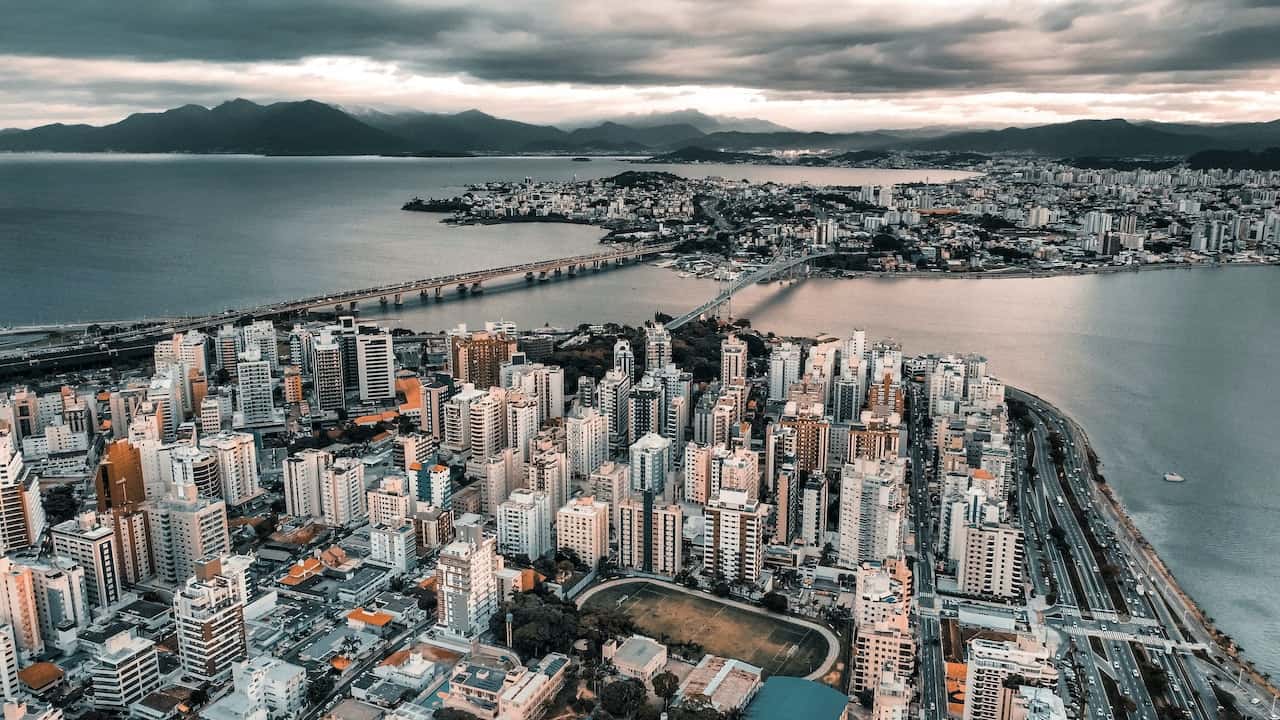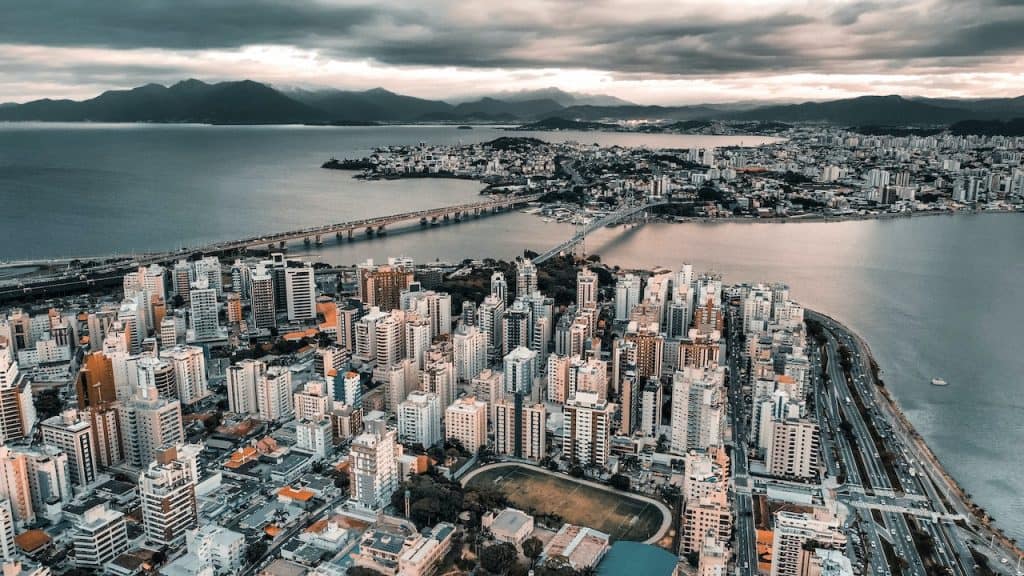 Off the coast of Brazil, there is a sizable tropical island called Florianopolis. The island, which the people affectionately call "Floripa," has a distinctly American or European aesthetic. Beautiful white-sand beaches dot the countryside, which is surrounded by mountains. Here, you may enjoy some incredible surfing. One of the safest areas to reside in Brazil is Floripa. Finding allies will be easy because there are numerous coworking space possibilities, and it is a hub for digital nomads. If coworking is not your thing, there are also a ton of hip cafes with Wi-Fi where you can sit and work. Given that most people here speak some English, you'll discover that it is easy to get around. 
Although public transportation could be better, you may also use Uber and cabs. There is an excellent standard of living and pleasant people here. There are numerous things to complete. You can go shopping at the neighborhood market in Floripa, go hiking, learn to kite surf, see the historic district, take in the street art, or visit the Hercilio Luz Bridge. Like Ibiza, the city offers a thriving nightlife that caters to all tastes, from upscale bars to food trucks. If you participate in one of the neighborhood Forró events, you might even pick up some Brazilian dance steps.  
Who is it for nature-loving remote workers
Population: 508,800

Cost of living: USD 900-1600

Average weather range: 3°C to 29°C (37°F to 84°F)

Best neighborhoods to stay in: Costa da Lagoa, Santo Antonio de Lisboa, Voo Panorâmico Floripa
Top 2 Coworking Spaces in Florianápolis:
Impact Hub Floripa Primavera  
Located in the Associação Catarinense de Empresas de Tecnologia, this sophisticated coworking space is perfect for making good contacts in Florianópolis.

Location: Associação Catarinense de Empresas de Tecnologia – ACATE, Rod. José Carlos Daux, 4150 – Salas 1 & 2 – Saco Grande, Florianópolis – SC, 88032-005, Brasil
2. Lemonadde Coworking + Offices

Offering flexible desks and private offices, this coworking space in Itacorubi is an excellent option for remote workers needing versatility.
Location: Rod. Admar Gonzaga, 440 – 5 andar – Itacorubi, Florianópolis – SC, 88034-000, Brasil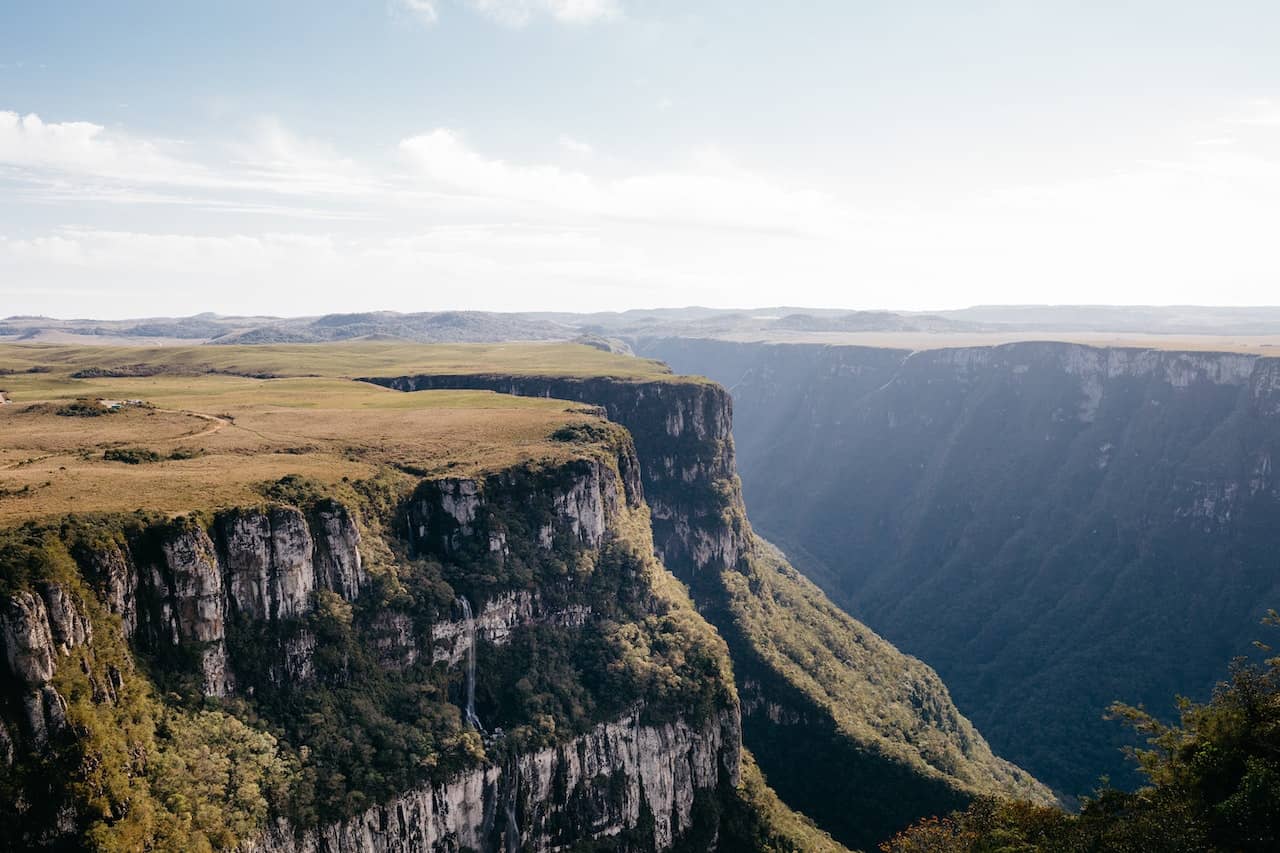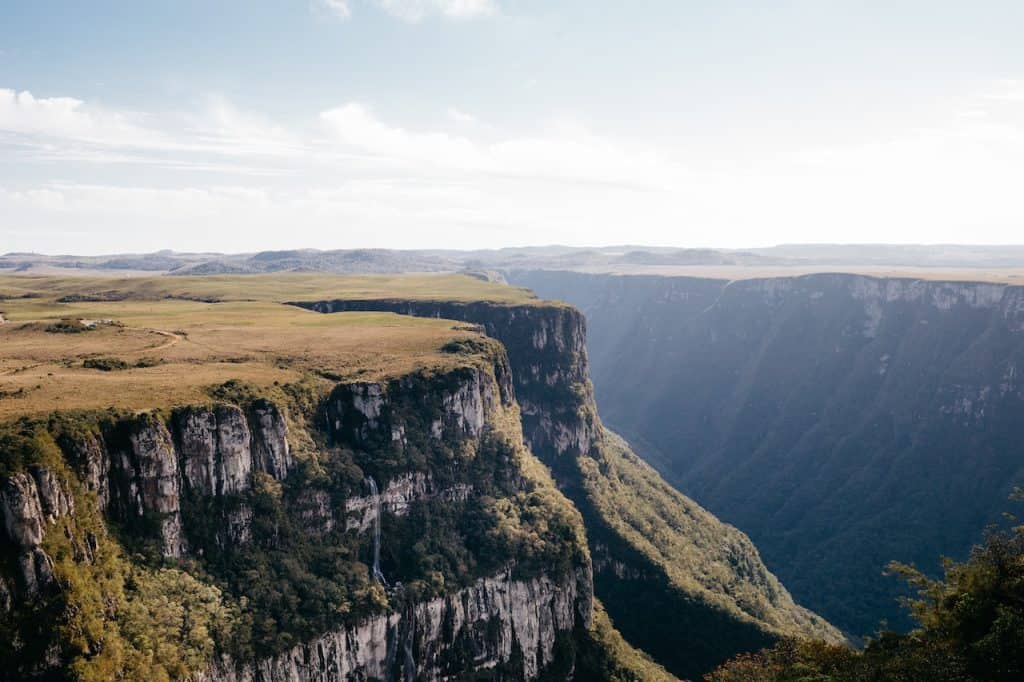 The beaches in Fortaleza are also well-known; after all, they are one of Brazil's biggest draws. Iracema and the lovely Praia do Futuro are popular tourist destinations in this city since they are prime locations for getting a tan and enjoying the water. The Fortaleza Central Market is a terrific place to mix walking with buying delicious tropical fruits, so you may sample as many different flavors as you like while you're there.
For digital nomads who wish to work and play in a vibrant, sunny city with a rich culture and endless outdoor activities, Fortaleza is a great option. It's understandable why Fortaleza has grown to be a favorite location for digital nomads worldwide, given its low cost of living, stunning beaches, and delectable cuisine. Suppose you bear in mind to exercise common sense safety precautions, like watching out for your possessions and being alert to your surroundings. In that case, you'll have a fantastic time in this incredible city.
Who is it for: digital nomads looking to live by the sea
Population: 2.47 million
Cost of living: USD 900-1500+
Average weather range: 20°C to 35°C (68°F to 95°F)
Best Neighborhoods to stay in: Downtown, Mucuripe, Meireles
Top 3 Coworking Spaces in Fortaleza:
Elephant Coworking
A highly-rated and unique coworking space in the Aldeota neighborhood of Fortaleza, Brazil. It offers a comfortable and modern workspace environment, which has garnered numerous positive reviews from its users. The location is easily accessible and convenient, making it an excellent option for those who live or work in the area.

Location: R. Barbosa de Freitas, 1741 – Aldeota, Fortaleza – CE, 60170-021, Brasil
Coworking em Fortaleza (CE)
This Coworking Spac is another great option, offering excellent facilities for small teams. Their amenities are great, providing a good atmosphere and a fast internet connection.
Location: Av. Washington Soares, 55 – 307 – Cocó, Fortaleza – CE, 60175-657, Brasil
HG+ Coworking
The co-working space area is designed to inspire creativity and productivity with unique and contemporary decor. It offers a variety of workspaces, including private offices, dedicated desks, and flexible seating options, all equipped with high-speed internet. 
Location: R. Marcondes Pereira, 1271 – Dionísio Torres, Fortaleza – CE, 60135-222, Brasil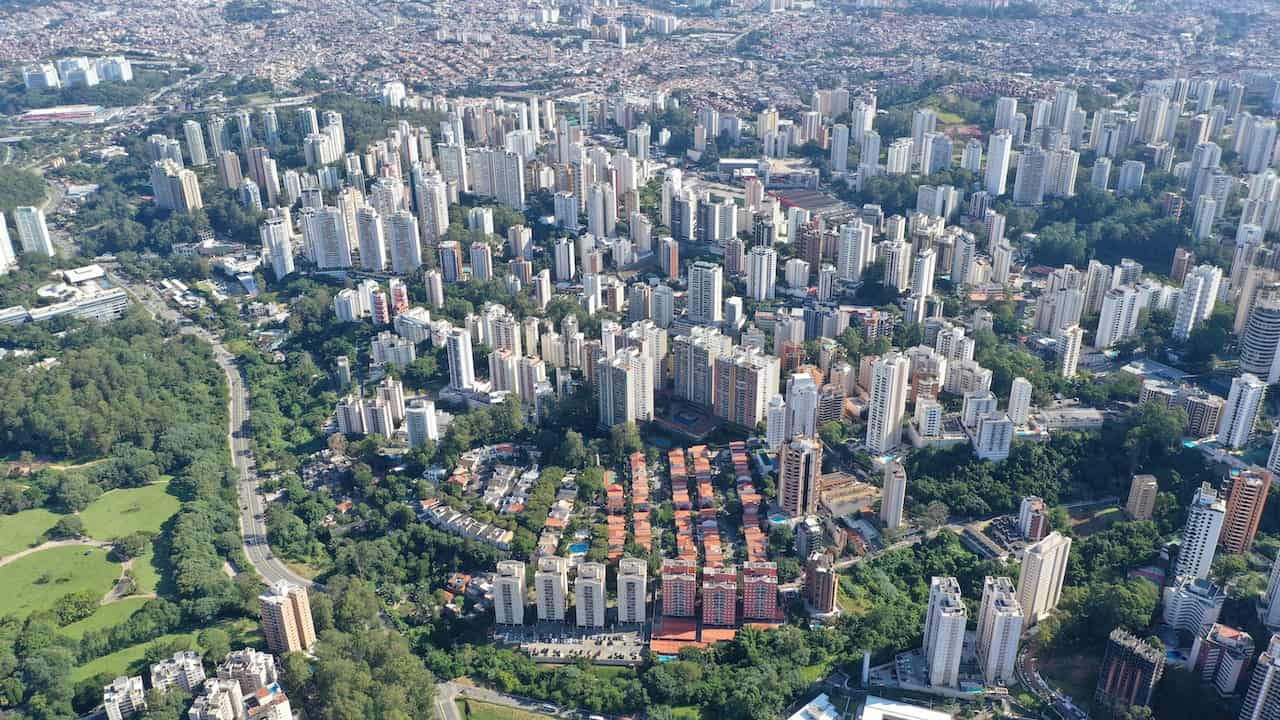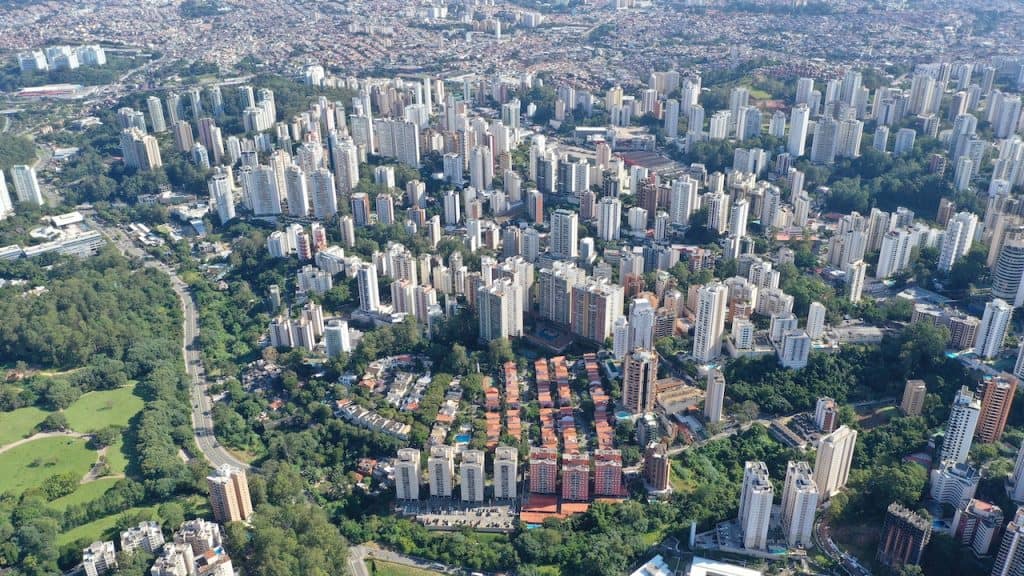 It is reasonably comparable to Rio and Sao Paulo. However, Belo Horizonte, also known as "The Garden City," is a little less overwhelming regarding significant city activity. It is surrounded by mountains and is situated in southeast Brazil. Suppose you love the city but are wary of remaining in a vast city. In that case, Belo Horizonte has a similar ambiance to Rio and Sao Paulo but without the crazily busy city life. Belo Horizonte is one place where finding the right balance between work and leisure time may be possible.
The cost of living is meager here, especially for housing. Compared to Rio or Sao Paulo, there are many locations to work and far less traffic. In Belo, working from a coffee shop is a practice that has been practiced previously. Therefore you should stick to coworking or working from your residence. It serves as a hub for start-ups and tech businesses. 
There are also numerous parks where you may relax in lovely green spaces and get some much-needed exercise, such as the Mangabeiras, Freedom Square, or the municipal park. Even boat trips and hikes are possible close to the city. 
Who is it for: digital nomads looking for big cities with fewer crowds and more parks
Population: 2.3 million

Cost of living: USD 800-1600+

Average weather range: 14°C to 32°C (57°F to 89°F)

Best neighborhoods to stay: Lourdes, Downtown, Savassi
Top 3 Coworking Spaces in Belo Horizonte:
Hábil Coworking
A coworking space in Belo Horizonte that provides a supportive environment for women and LGBT allies. It is located in the Estoril neighborhood, making it easily accessible and convenient for professionals. The space offers various amenities, including high-speed internet, meeting rooms, and a communal kitchen.
Location: Av. Raja Gabáglia, 3502 – Estoril, Belo Horizonte – MG, 30494-310, Brasil
BH Office Coworking
Provides a range of amenities, such as meeting rooms, printing facilities, and a communal kitchen. It is popular for freelancers, startups, and remote teams looking for a dynamic and professional workspace environment.

Location: R. Sergipe, 1062 – Funcionários, Belo Horizonte – MG, 30130-174, Brasil
In conclusion, Brazil has become an attractive destination for digital nomads looking for a place to work remotely. With its warm climate, beautiful beaches, vibrant culture, and affordable cost of living, Brazil offers an appealing combination of work and play. Some of Brazil's best cities for digital nomads to work remotely include São Paulo, Rio de Janeiro, Florianópolis, Fortaleza, and Belo Horizonte. Each of these cities has a growing coworking culture, excellent infrastructure, and a variety of amenities and attractions to make the work experience more enjoyable. Ultimately, Brazil provides an exciting opportunity for digital nomads to combine work with adventure and enjoy all that this vibrant country has to offer.
Common Questions about the best cities in brazil for digital nomads
Start Planning Your Brazil Trip Now!
Book Your Flight:
Use Skyscanner to find a cheap flights. A travellers favorite way to book flights, as it searches websites and airlines around the world with one click.
Book Your Bus or Transportation Within Brazil:
There are two ways to book your transporation, ask your hotel or hostel, go to the local bus terminal, or book online, for a less stressful trip using 12go.asia
Book Your Accomodation: 
Find the best hotels or hostels at HostelWorld, Booking.com, Agoda.com. Perks include with no upfront payment. Pay when you check out and Free cancellations.
Dont Forget Your Travel Insurance:
Two popular choices are SafetyWing and WorldsNomads. A traveler should buy traveler's insurance to protect themselves against unexpected events such as trip cancellations, medical emergencies, and lost or stolen baggage. It provides peace of mind and financial protection in case of unforeseen circumstances.
Useful Apps?
DeÔnibus / Busbud / Check My Bus – Booking Bus
WhatsApp Messenger / Telegram – Communication
Bookking.com / Hotels.com / Agosda.com – Booking Hotel

Peru Rail / Bookaway / Inca Rail – Booking Train
iFood / HelloFoods / Ubereat – Food Delivery
Call Me Cab / Morioh / Tripadvisor – Booking Taxi
Want More Information On Brazil?
Be sure to check out my nomad travel guide on the Brazil for even more tips.
Disclosure: Please note that some of the links above may be affiliate links, and at no additional cost to you, I earn a commission if you make a purchase.