top 10 Instagrammable places in Cusco
If you're looking for an authentic South American adventure, Cusco is the place to go.Cusco is a fantasy city with cobblestone streets and ancient monuments.
We created a list of must-sees during your time in Cusco. The one thing you can't miss on this trip is your camera or phone, because that's how you'll get the greatest photos to post on social media and earn a spot among the most Instagrammable locations.
Machu Picchu in Peru is a must-see. It has become one of the city's most mysterious locations. Machu Picchu has its own unique features, like the sun of the temple, deep valleys, and sites far from Cusco. Rail is the best route to reach Machu Picchu, and April to October is the optimum season. You can photograph Machu Picchu's vast valleys and adventurous mountains like many visitors. 
When you get to this world of wonder, you will know right away that you are in a magical and mysterious place. Enjoy the morning, view Machu Picchu in its glory, and capture the best photos anywhere. Visit Machu Picchu in the afternoon to grab the best sunset photographs.Machu Picchu is worth a morning or afternoon visit. Llamas, alpacas, andean bears, pumas, andean condors, and others may be kind guests.Bring your camera and enjoy Machu Picchu.
Location: Peru 
Opening hours: 24 hours 
Entrance Fees: $45 per person 
The salt mines of Maras are another feature of Cusco. Since before the Incas, salt water from a stream under the ground has been used to evaporate in the ponds. This method is over 500 years old.We'll see this amazing spot and others on our Sacred Valley day tour. You can buy excellent salty chocolate and other salts after the tour.
You can take the best "salt mines" photos and a selfie or amazing memory here. We recommend bringing a raincoat, hat, sunscreen, sunglasses, footwear, paperwork, and cash to Maras.
Location: MRWW+G8W, Urubamba 08655, Peru
Opening hours: Daily 6 AM to 6 PM 
Entrance Fees: $2.5
Palccoyo might be the place to go if you want to get away from the crowds more than Rainbow Mountain in Vinicunca. Palccoyo is becoming a popular alternative to the more and more crowded Vinicunca because it has three different "rainbow mountains" and a much easier walk. 
Your eyes will see magic when you go to Rainbow Mountain. You will be able to enjoy the mountain's bright shades of pink, blue, purple, and gold. Foreigners and Peruvians who come here to enjoy this wonderful way of life are amazed by these colours.
Location: Suecia 348, Cusco 08000, Peru
Opening hours: 24 hours open , Sunday closed 
Entrance Fees: 10 soles 
The Humantay lagoon is a secret gem in the Andes, and its beautiful turquoise water is sure to surprise you. People say that this is one of the most beautiful and magical places in Cusco.Once you get to the crystal-clear lake, you will have about an hour to take pictures, walk around, and just enjoy it.
To see this natural wonder, you have to go on a walk. It's an adventure, but when you reach the top and see the lagoon, it will all be worth it. Let yourself be charmed by the peace and mystery.
Location: In the Cusco Region of southern Peru in the Vilcabamba mountain range
Opening hours: 24 hours 
Entrance Fees: Free
The Cristo Blanco is a towering figure of Jesus Christ that stands 8 meters (26 feet) tall and looks out over Cusco.It is right next to Saqsayhuaman, and from this spot you can see Cusco's whole city in a beautiful way.Most of the people who go there pray and take pictures from up high. From the top, it is possible to see the center of Cusco. Tourists can learn a lot from the view, and it also makes a great background for a picture that can be shared on Instagram. So, the picture could become the Instagram picture with the most likes.
Location: Cristo Blanco, Cusco 08003, Peru
Opening hours: 24 hours 
Entrance Fees: Free
The Plaza de Armas (main square) of Cusco is the central nucleus of the city, where you will be able to take one of your best pictures in Cusco.There are many different celebrations and parades taking place here, such as Easter celebration, Inti Raymi and new years eve.
Besides that you are able to find many different restaurants, cafes, banks and much more there.We recommend you to go to one of the cafes that have a balcony facing the Plaza de Armas so you can enjoy this beautiful view.
Opening hours: Sat & Sun 9 AM to 10 PM 
Entrance Fees: Free
It takes about eight minutes to walk south from Plaza De Armas to get to San Pedro Market. As soon as you walk into the market, you'll smell the pleasant smell of spices. You'll also see a wide range of metals, traditional clothes, and other interesting things to buy.
So you can take pictures while going through the market and post the most interesting and lively ones on Instagram to get the most liked photo on Instagram.
Opening hours: Mon & Tues 11 AM to 9 PM , Wed & Thurs 11 AM to 10 PM , Fri 11 AM to 12 PM , Sun 10 AM to 10 PM 
Entrance Fees: Free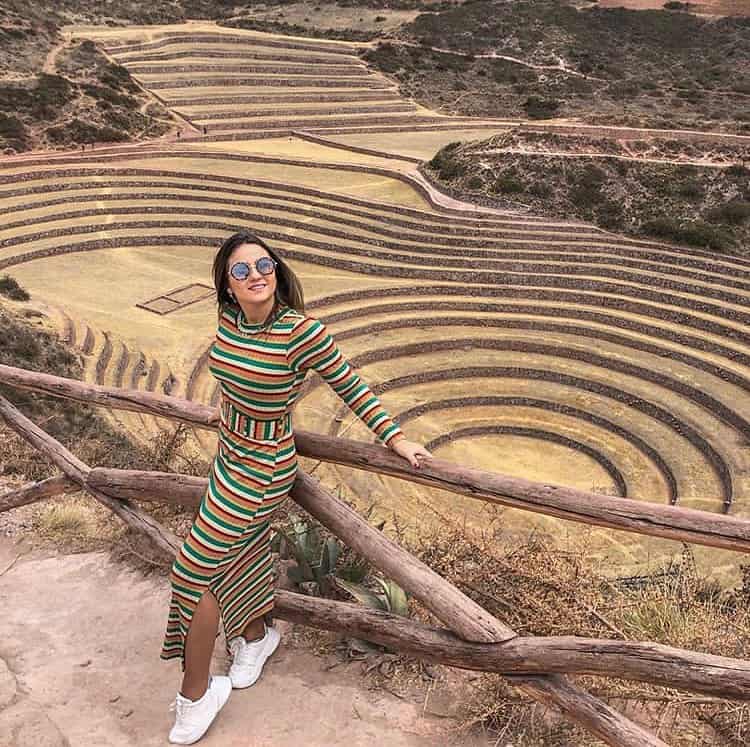 The Moray temples in the Sacred Valley of the Incas near Cusco are a great place to visit.The huge circular Inca balconies are very stunning and look just like a Roman amphitheatre.
Because of how they are built, how deep they are, and how they face the wind and sun, the temperature change between the top and bottom parts of the terraces can be as much as 15 C.Because of this difference, the Incas could put different crops on each level and see which ones did best.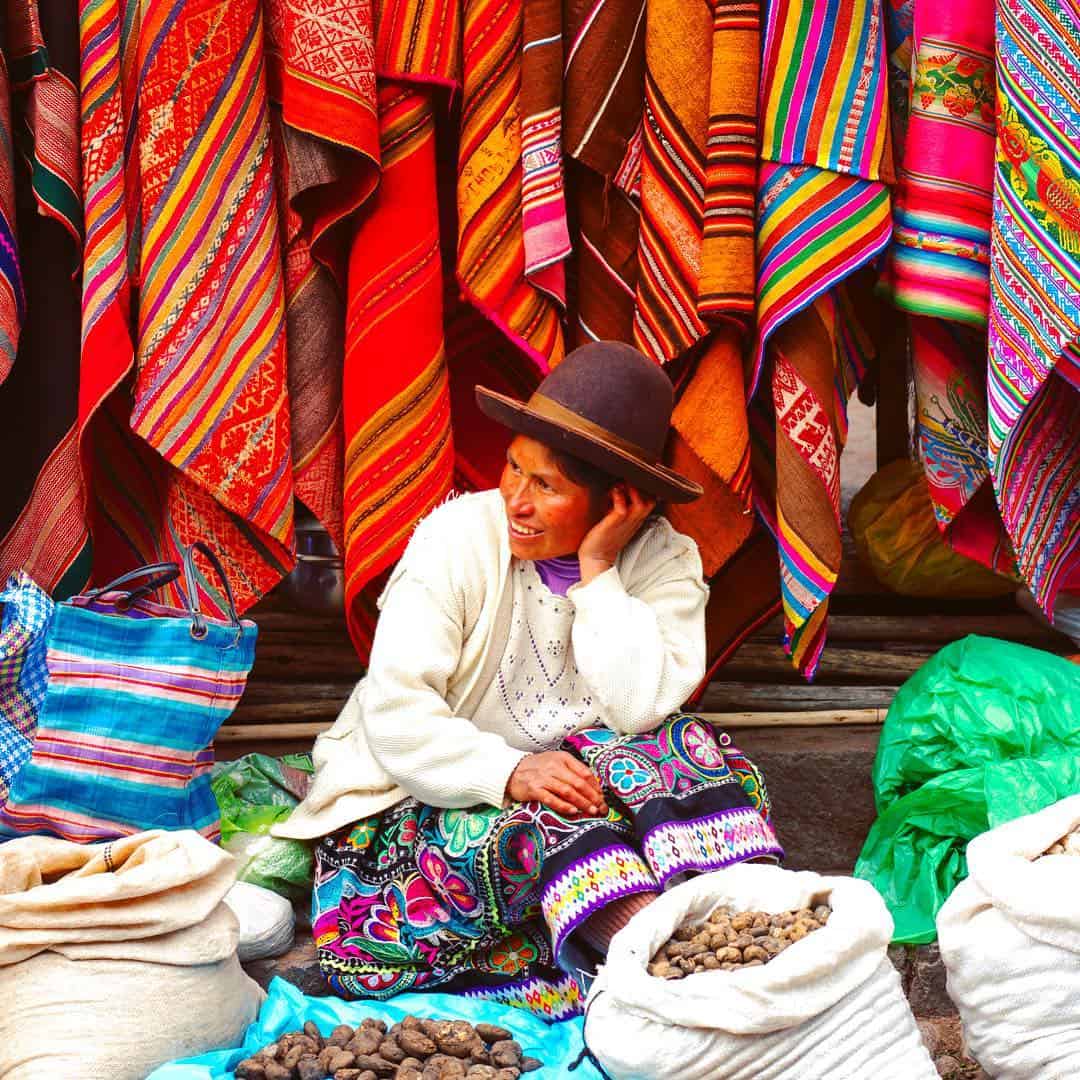 The market at Pisac is my favourite of the many you'll find in and around Cusco. It's biggest on Sundays, when all the native people sell their goods in the main plaza. But if you can't make it on Sunday, you can go any other day of the week.
In the small town of Pisac, there are shops selling everything you can think of on every street corner.
Walk through Plaza de Armas leads to Cusco Cathedral, the city's most famous attraction. Plaza de Armas features bars, restaurants, street musicians, and more. We recommend visiting twice a day because special events happen here every time. The primary Cusco attraction is Plaza de Armas. 
Cusco Cathedral is the symbol on top. It has rooms that are shaped like rectangles and wooden doors that are also shaped like rectangles. These doors aren't normal, though; they are made out of old andesite stones. If you want the best Instagram photos, visit this one.
Location: Cusco 08002, Peru
Opening hours: Mon to Sun 6 AM to 8 PM 
Entrance Fees: $12
The mysterious city of Cusco is a great place to take pictures. This shouldn't be a surprise, since the city has a lot of natural and historical beauty and is one of the most beautiful in Peru and the world. It is like a live museum because of the streets, mansions, corners, squares, water fountains, and other things that make it up.
Common Questions About Places In Cusco
Start Planning Your Peru Trip Now!
Book Your Flight:
Use Skyscanner to find a cheap flights. A travellers favorite way to book flights, as it searches websites and airlines around the world with one click.
Book Your Bus or Transportation Within Peru:
There are two ways to book your transporation, ask your hotel or hostel, go to the local bus terminal, or book online, for a less stressful trip using EasyBook or 12go.asia
Book Your Accomodation: 
Find the best hotels or hostels at HostelWorld, Booking.com, Agoda.com. Perks include with no upfront payment. Pay when you check out and Free cancellations.
Dont Forget Your Travel Insurance:
Two popular choices are SafetyWing and WorldsNomads. A traveler should buy traveler's insurance to protect themselves against unexpected events such as trip cancellations, medical emergencies, and lost or stolen baggage. It provides peace of mind and financial protection in case of unforeseen circumstances.
Useful Apps
Redbus / Busbud / 12go.co – Booking Bus
WhatsApp Messenger / Telegram – Communication
Booing.com / Agoda / Peru or Less – Booking Hotel
Bookaway / HHR Train / Busbud – Booking Train
Trip.com / Booking.com / Klook – Booking Hotel
Perú Taxi Service / Lima Airport Taxis / 12.go.asia – Booking Taxi
Want More Information On Peru?
Be sure to check out my nomad travel guide on the Peru for even more tips.
Disclosure: Please note that some of the links above may be affiliate links, and at no additional cost to you, I earn a commission if you make a purchase.