Top 10 Instagrammable places in Buenos Aires
Buenos Aires, the vibrant capital of Argentina, is a captivating blend of South American colors and European sophistication. This city seamlessly intertwines the old and the new, celebrating rich traditions while embracing modernity. Its streets are a showcase of diverse architectural styles, ranging from classic 16th-century designs to mid-20th-century structures heavily influenced by waves of European migration. Here are some of the most Instagrammable places in Buenos Aires that beautifully capture this fascinating mix:
Staying in Palermo Soho feels like a slice of Brooklyn in Buenos Aires. This neighborhood is a vibrant hub, brimming with fantastic bars, restaurants, and boutiques. What sets it apart is the abundance of colorful street art adorning nearly every wall. While many neighborhoods in Buenos Aires boast art, Palermo's concentration is particularly striking.
San Telmo, Buenos Aires' oldest neighborhood, is a treasure trove of history and charm. Its narrow, tree-lined cobblestone streets are lined with single-story colonial houses, creating a picturesque backdrop for photography in Buenos Aires. San Telmo holds the distinction of being the birthplace of tango, Argentina's cherished intangible cultural heritage, which emerged in the 19th century.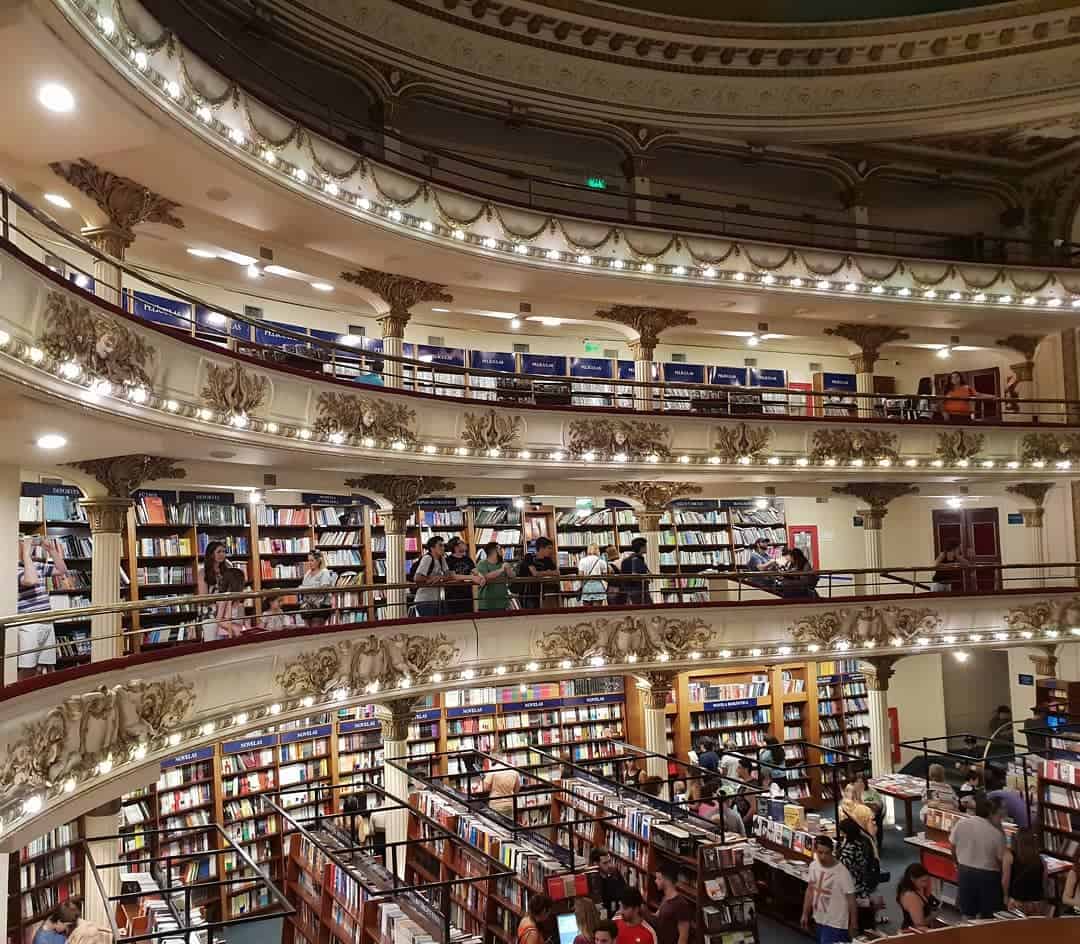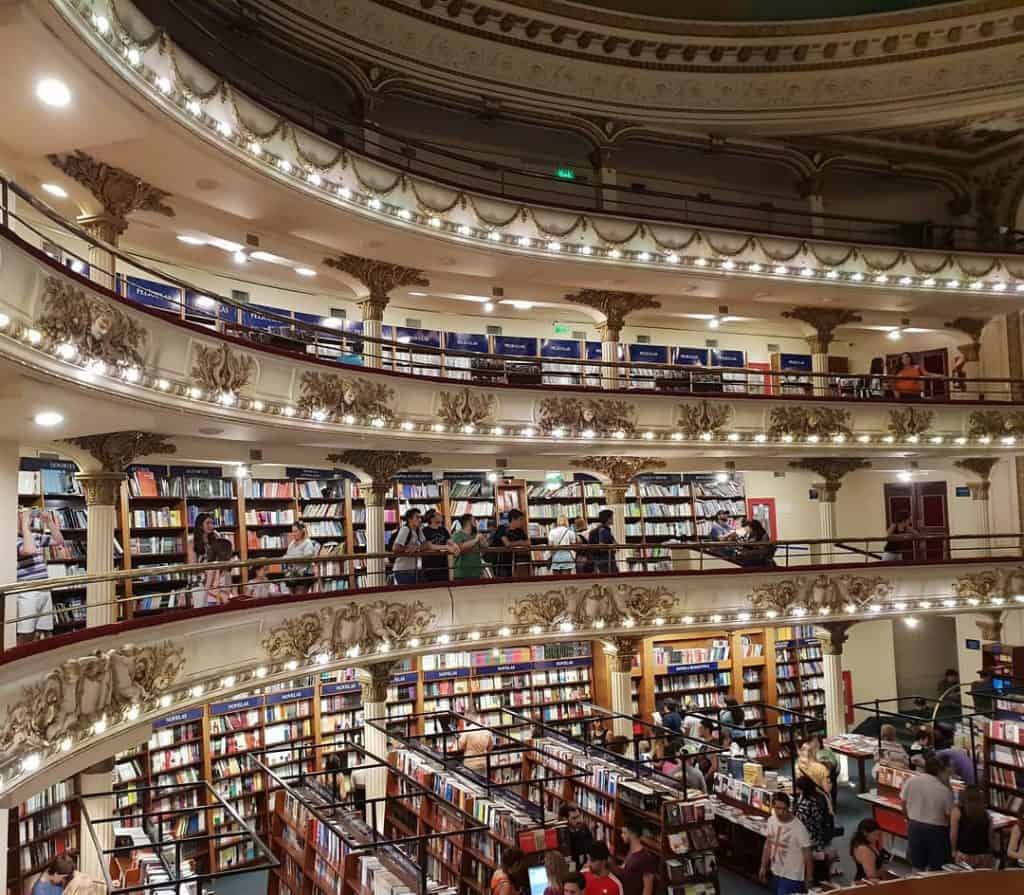 Don't miss El Ateneo Splendid when you're in Buenos Aires. This famous bookstore is more than just a bookstore; it's truly one of the world's most beautiful. Originally a performing arts theatre in 1919, then a cinema, it retains its old-world charm even as a bookstore. The interior is a testament to its history, with original 1920s decorations, including a beautifully adorned dome.
For some stunning photo opportunities, head upstairs to the balcony for a bird's-eye view, or visit the stage cafe, another popular spot for pictures. While you're there, order a coffee at the bar and sink into one of the comfy chairs scattered around the shop before immersing yourself in a good book. It's a place where history, literature, and beauty come together in one remarkable setting.
Location: Av. Sta. Fe 1860, C1123 CABA, Argentina
Opening Hours: Monday – Thursday, 9 AM – 10 PM; Fridays and Saturdays, 9 AM – midnight; Sundays, 12 noon – 10 PM
Entrance Fees: Free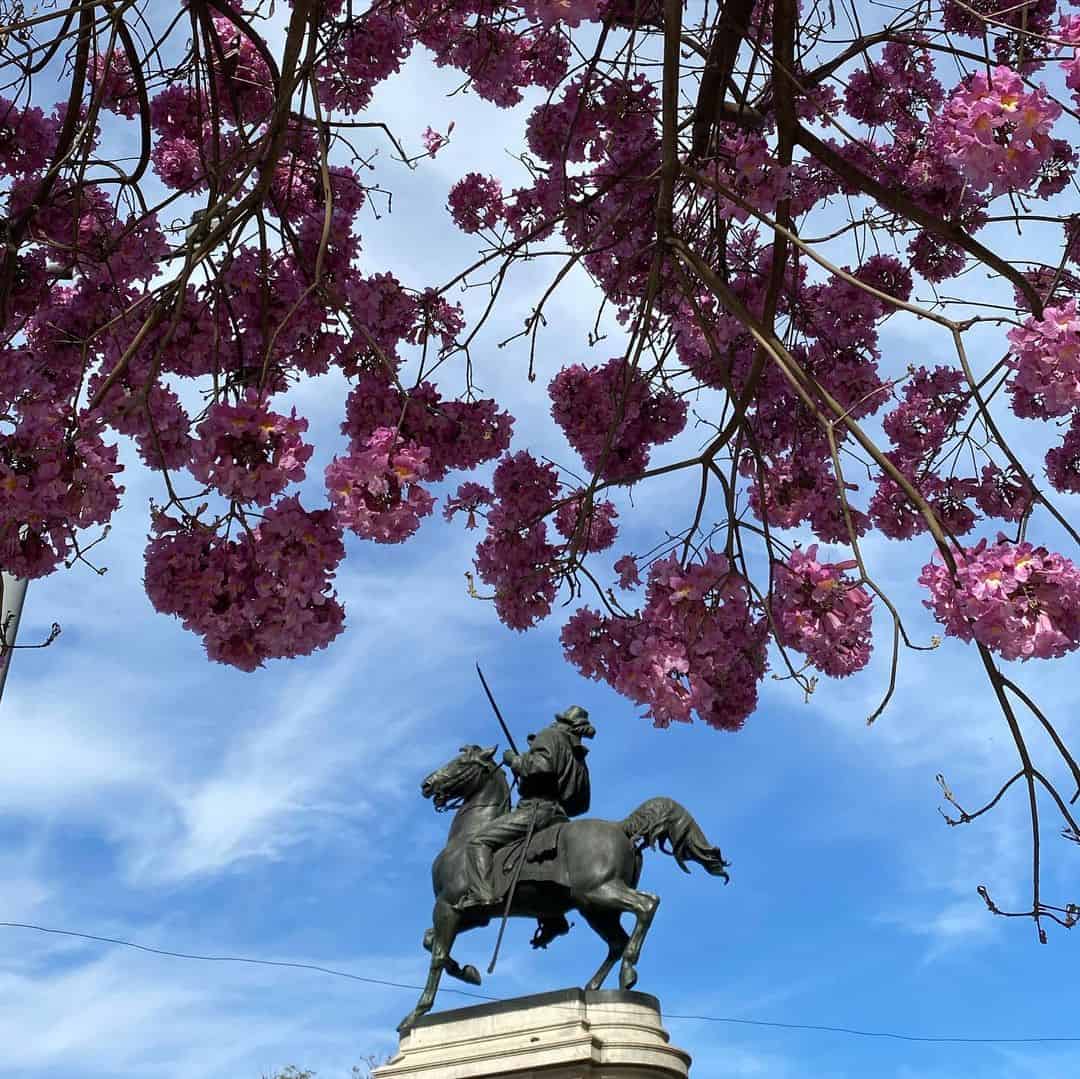 In Palermo, Plaza Italia is a charming and tranquil square where you can unwind after a day of exploring Buenos Aires. It features a splendid monument honoring the Italian politician Giuseppe Garibaldi, a replica of one found in Brescia, Italy. Shaded by trees, you can relax on benches and soak up the peaceful atmosphere.
Plaza Italia holds historical significance as the departure point for the city's first electric tram in 1894. Today, it remains a vital transportation hub, providing easy access to public transit. Moreover, it's conveniently located next to the Eco Park and the Botanical Garden, both exceptional places to explore while in the city.
The Buenos Aires Botanical Garden is a peaceful oasis amid the bustling Argentine capital. Boasting over 5,000 plant and tree species from around the globe, it offers a tranquil escape. The art nouveau greenhouse and the red-brick English-style building are photogenic highlights. As you stroll through the garden's paths, you can discover various landscaping styles, including Roman, Japanese, and French gardens.
This heaven allows you to wander among trees and explore Argentina's rich native flora. The garden also houses a stunning collection of sculptures and an English-style house that resembles a castle—a photographer's paradise in the heart of Buenos Aires.
When seeking picturesque spots for photography in Buenos Aires, Recoleta Cemetery might not be your initial choice, but it's a hidden gem. Located in the heart of the city, this cemetery is often considered one of the world's most breathtaking final resting places. Nestled on a hill in the charming Recoleta neighborhood, the cemetery boasts over 6,000 graves arranged like a city, with orderly rows and streets lined with mausoleums. What makes it truly remarkable is the diverse architectural styles on display, from Greek temples to miniature Baroque cathedrals. It's a unique and captivating destination for photographers.
For a memorable day trip from Buenos Aires, consider visiting Colonia del Sacramento, Uruguay, just an hour away by ferry. This charming town, nestled within a UNESCO World Heritage Site, boasts beautiful cobblestone streets and colorful buildings. Don't miss the Colonia del Sacramento Lighthouse; after ascending its 111 steps, you'll be treated to breathtaking views that make the trip worthwhile. It's a highlight you won't want to miss!
8. Jardin Botanico Carlos Thays
Escape the city's hustle and bustle at this serene oasis, abundant with greenery and vibrant flowers. Explore five greenhouses, admire sculptures, and stroll among rose bushes. Capture perfect photos in the sunlight filtering through the greenhouses, and be sure to visit the butterfly garden.
Location: C1425 Buenos Aires, Argentina
Opening hours: Tuesday – Friday, 8.00 AM – 6:45 PM ,  Saturdays, Sundays and public holidays, 9:30 AM – 6:45 PM. Closed on Mondays.
Entrance Fees: Free
9. Caminito Boca - Villa Iberia Street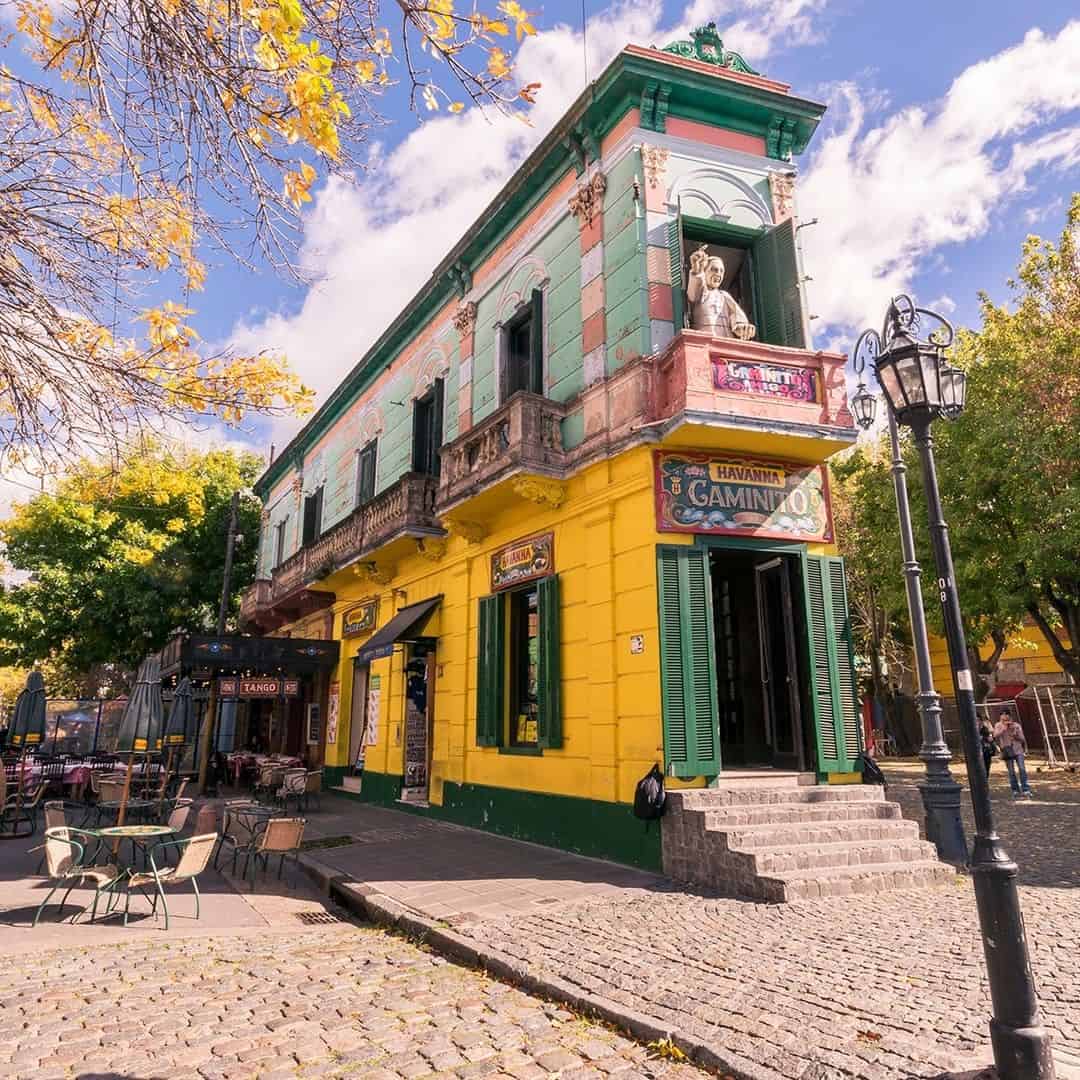 Caminito in La Boca is indeed a famous and vibrant area of Buenos Aires, Argentina. It's known for its distinctive and colorful architecture, as well as its rich cultural and historical significance. The most iconic feature of Caminito is its colorful houses, which were originally painted with leftover paint from the nearby shipyard. You'll find numerous street artists and performers along Caminito. 
Tango dancers, musicians, and artists display their talents, adding to the lively atmosphere of the street. Caminito is lined with shops and stalls selling artwork, handicrafts, and souvenirs. It's a great place to pick up unique gifts or mementos from your trip to Buenos Aires.
This is the place to go if you want unique craft cocktails, a cool crowd, and a lovely environment. This amazing botanical-themed drugstore bar in the center of Palermo is not to be missed. The Boticario Bar was formerly an old pharmacy, and the theme has been carried over into their beverages. With a neon sign, their tagline "todo para enfermo" means "everything for the sick." Their signature cocktails, such as a Tea Hibiscus Tonic with gin, a Sparkling Grass with whiskey and lemongrass, or a fungus negroni with gin, vermouth, campari, and smoked mushrooms, are unusual and fresh. Their ambiance is ideal for a romantic evening out.
It is one of the world's most exciting capitals due to its rich architectural and cultural heritage, modern creative energy, electrifying nightlife, distinct traditions, a bustling arts scene, extensive parks, and warm, friendly hosts.