TOP 12 THINGS TO DO IN ARUGAM BAY
Calling all digital nomads searching for the perfect beach getaway, Arugam Bay beckons you with its pristine shores and laid-back vibes. Located on the stunning east coast of Sri Lanka, this surfer's paradise offers many experiences that will ignite your sense of adventure. From riding the waves to exploring hidden lagoons, we've handpicked the top 12 activities in Arugam Bay for you. Immerse yourself in the sun-soaked beaches, soak up the local culture, and embrace the carefree spirit of this coastal gem. Prepare for an unforgettable escape in Arugam Bay, where the beach becomes your office, and the waves become your inspiration as a digital nomad.
1. WATCH THE SUNSET FROM ELEPHANT ROCK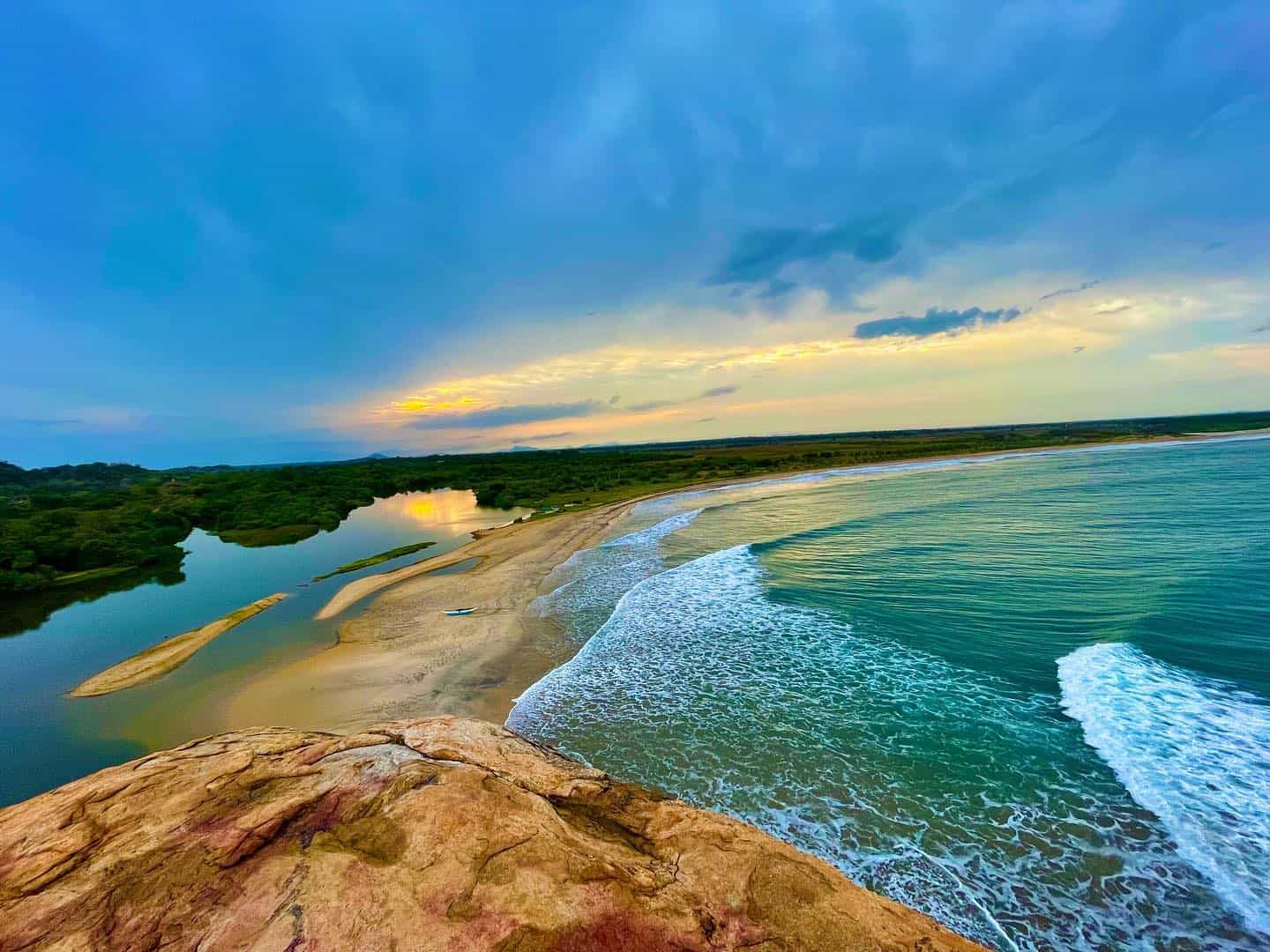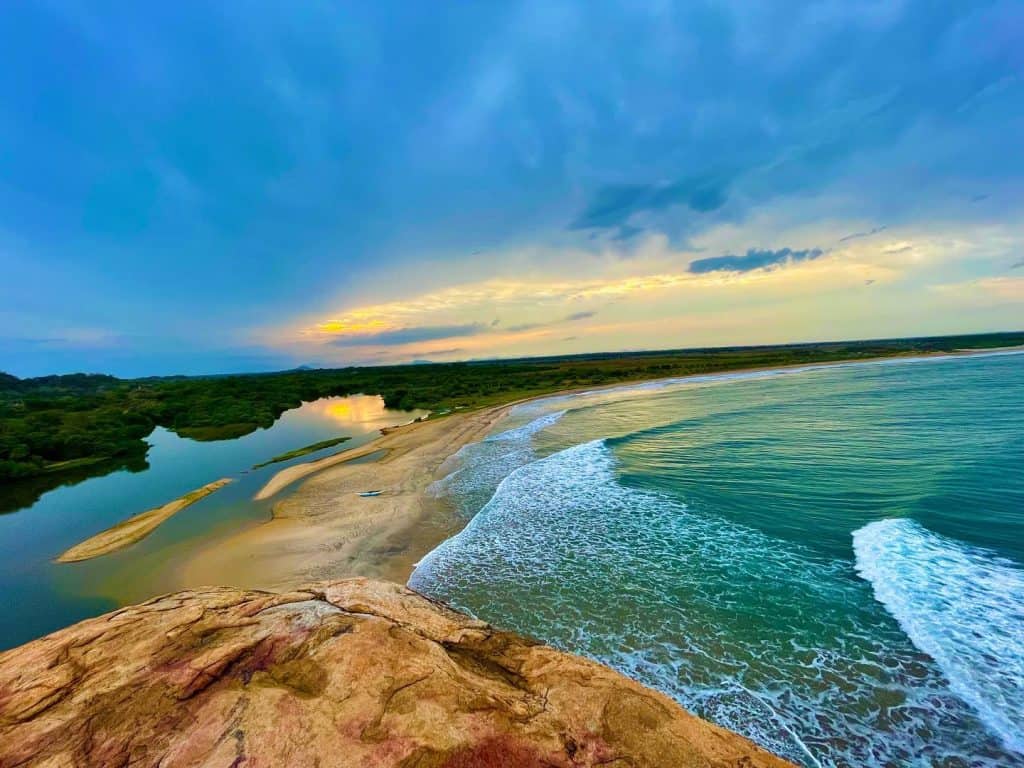 Elephant Rock in Arugam Bay is a stunning location for sunset viewing. Located 15-20 minutes south of Arugam Beach, it involves a short hike with some scrambling sections. From the top is a panoramic view of Arugam Bay and Peanut Farm Beach, making for a beautiful sunset experience. The rock got its name due to occasional elephant sightings, as elephants sometimes wander from Yala/Kumana National Park. Seeing multiple elephants near the road was an exciting experience.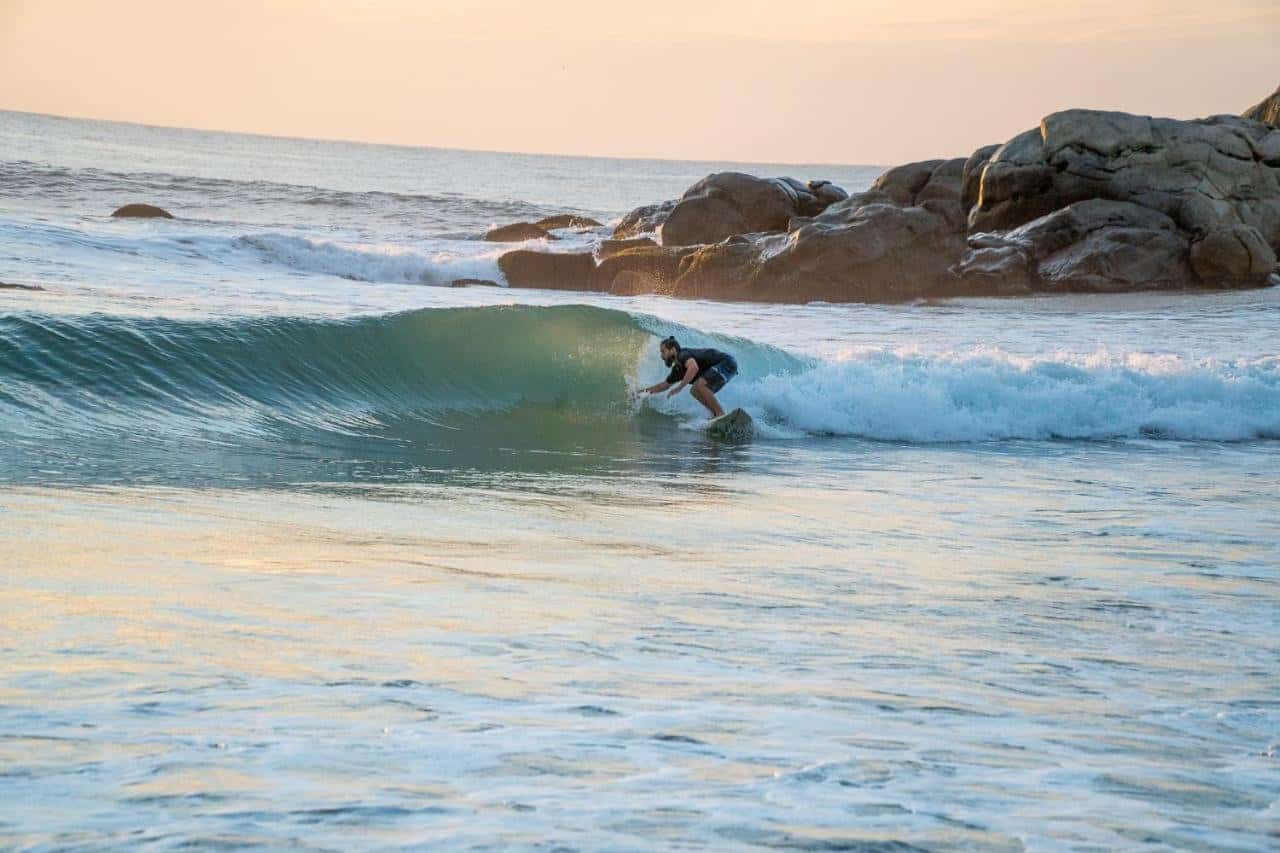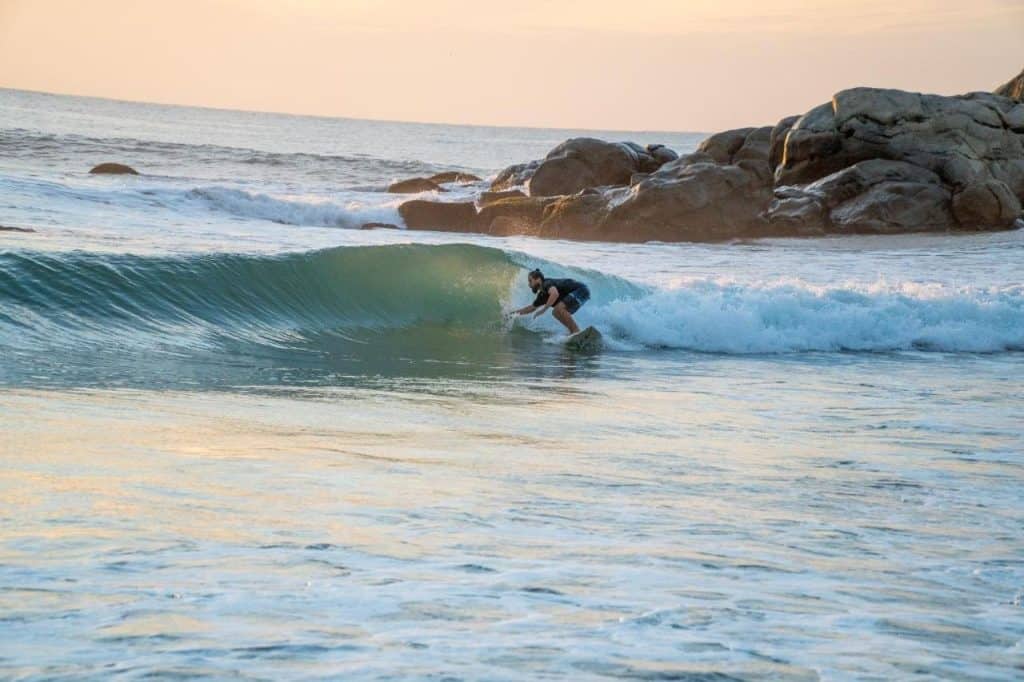 Arugam Bay is globally recognized as a top surfing destination, making it a must-visit for surf enthusiasts. With its three main surf spots – Main Point, Whiskey Point, and Peanut Farm – offering diverse wave conditions for surfers of different skill levels, the opportunity to surf in Arugam Bay is highly recommended. Whether you are an intermediate surfer seeking challenging breaks or a beginner looking for manageable waves, Arugam Bay's surf scene caters to all. Embracing the vibrant surf culture and riding the waves in this coastal paradise is essential to the Arugam Bay experience.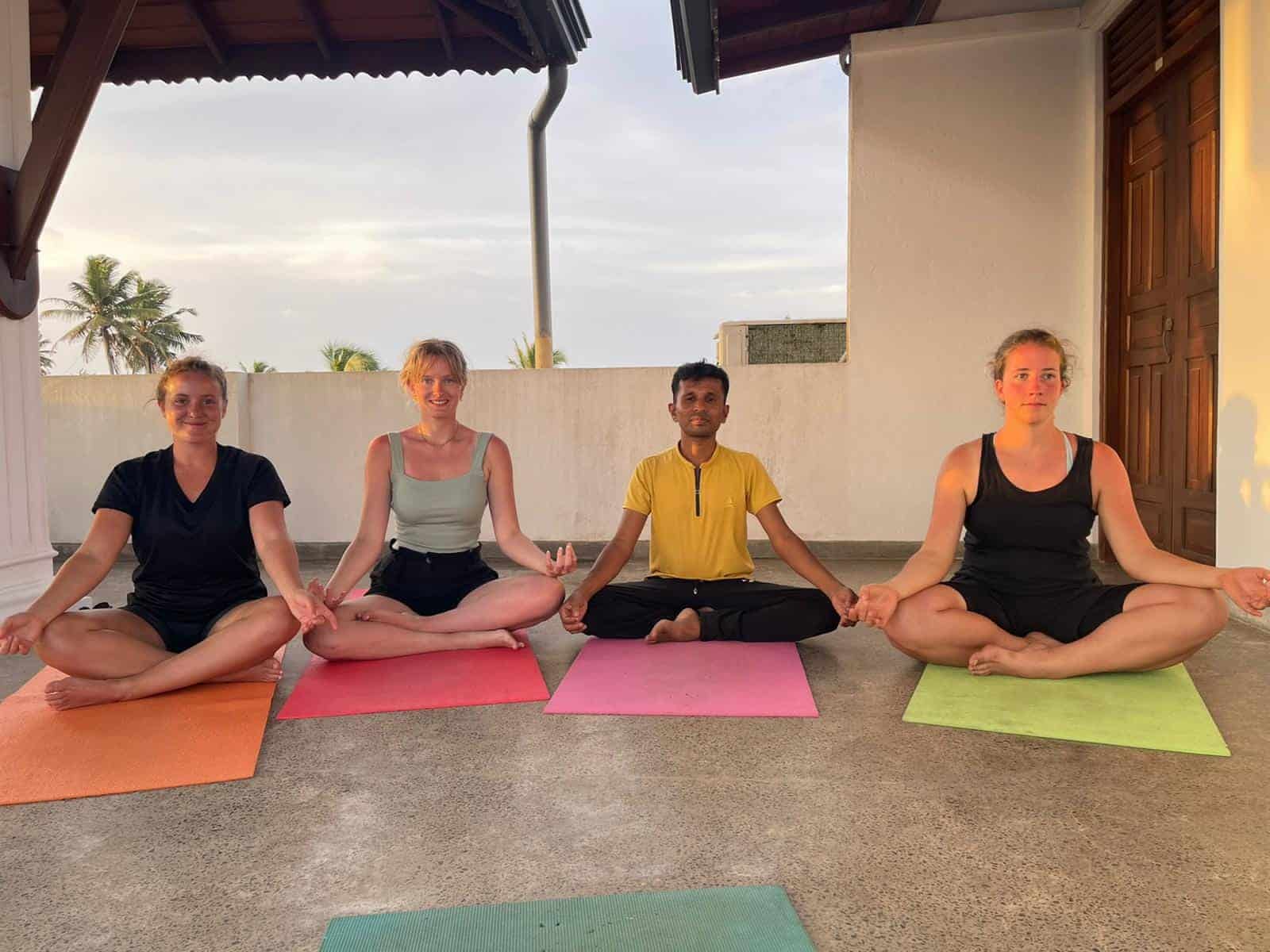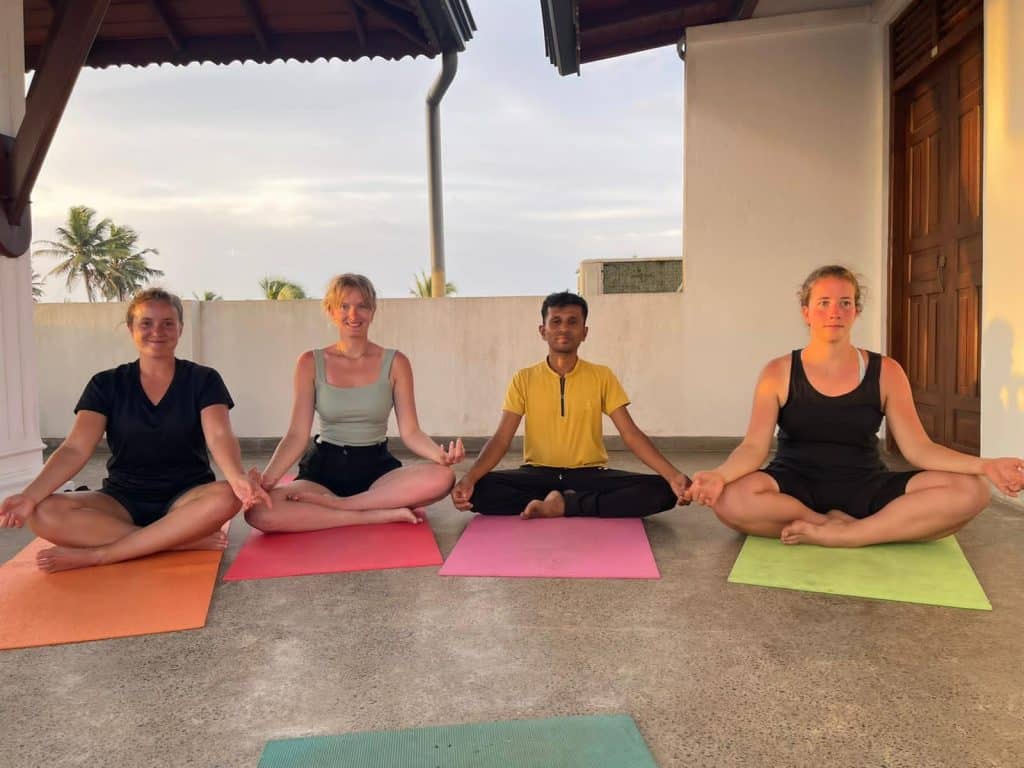 Arugam Bay is not only a popular surfing destination but also a thriving hub for yoga. Along the main street, numerous yoga places offer classes and retreats suitable for all levels. Starting the day with yoga provides a refreshing way to exercise, relax, and find balance. The beautiful surroundings of Arugam Bay enhance the yoga experience, creating a serene and meditative atmosphere. Engaging in yoga here allows visitors to combine the excitement of surfing with the wellness benefits of yoga, promoting physical and mental well-being.
Arugam Bay's nightlife was once known for its wild beach parties, but with recent restrictions, the parties have become more controlled yet still enjoyable. The two main hotspots for nightlife are Mambos and Whiskey Point. Mambos hosts a weekly beach party on Saturdays, but spontaneous gatherings can still turn into lively beach parties even when they claim there won't be a party. During peak season, parties are frequent, making it easier to meet people, especially in hostels. To find a company for a night out, reaching out to the Sri Lanka Backpackers Group on Facebook can be helpful. Whiskey Point, located about 15 minutes from the main strip, offers another excellent party spot on Friday nights. Free transport is available to the point, but you'll need to arrange a tuk-tuk ride back. The entire strip of Arugam Bay is lined with bars offering a variety of drinks, and enticing cocktail offers to kickstart the night.
5. ENJOY A MASSAGE OR AYURVEDIC TREATMENT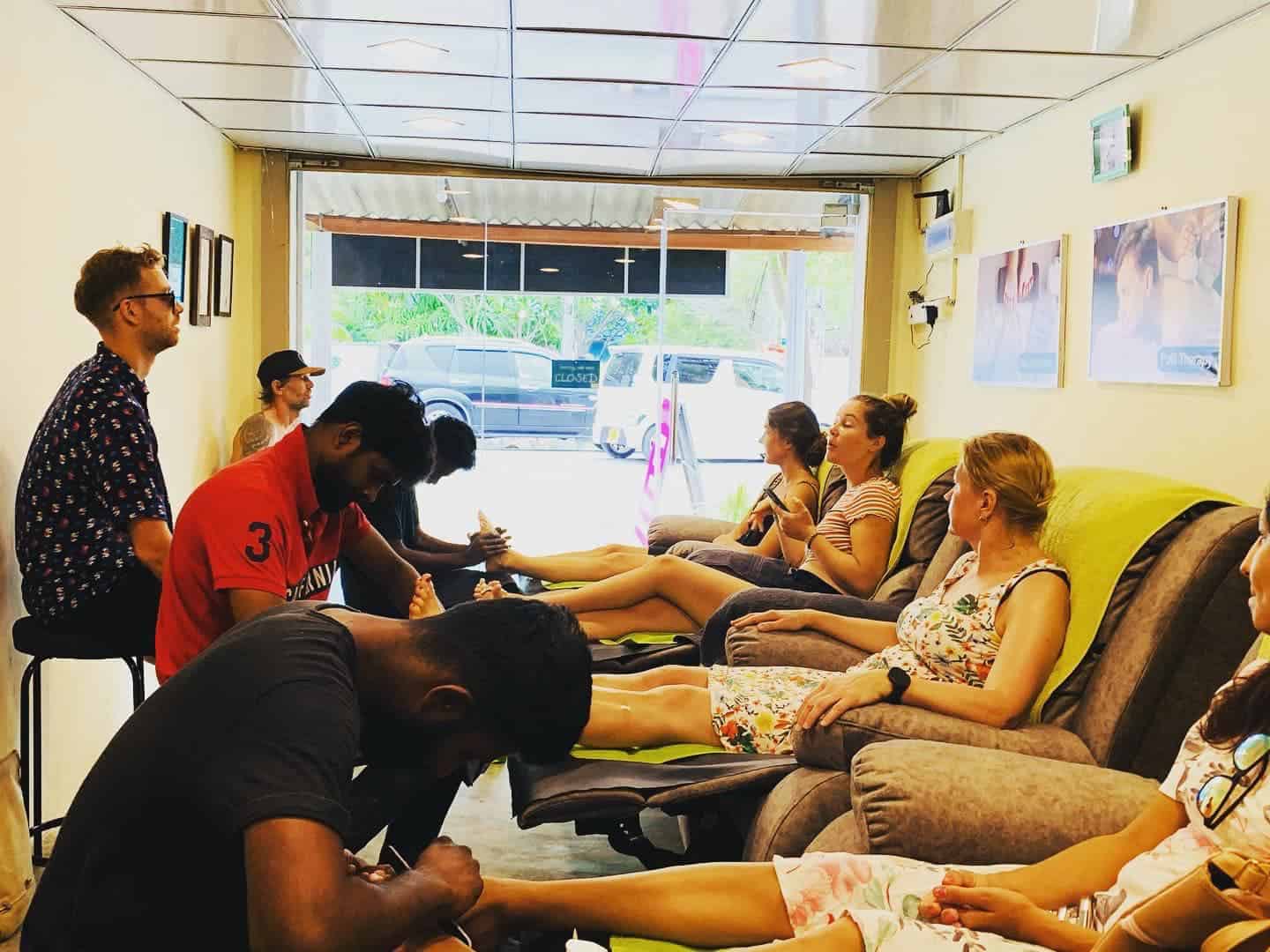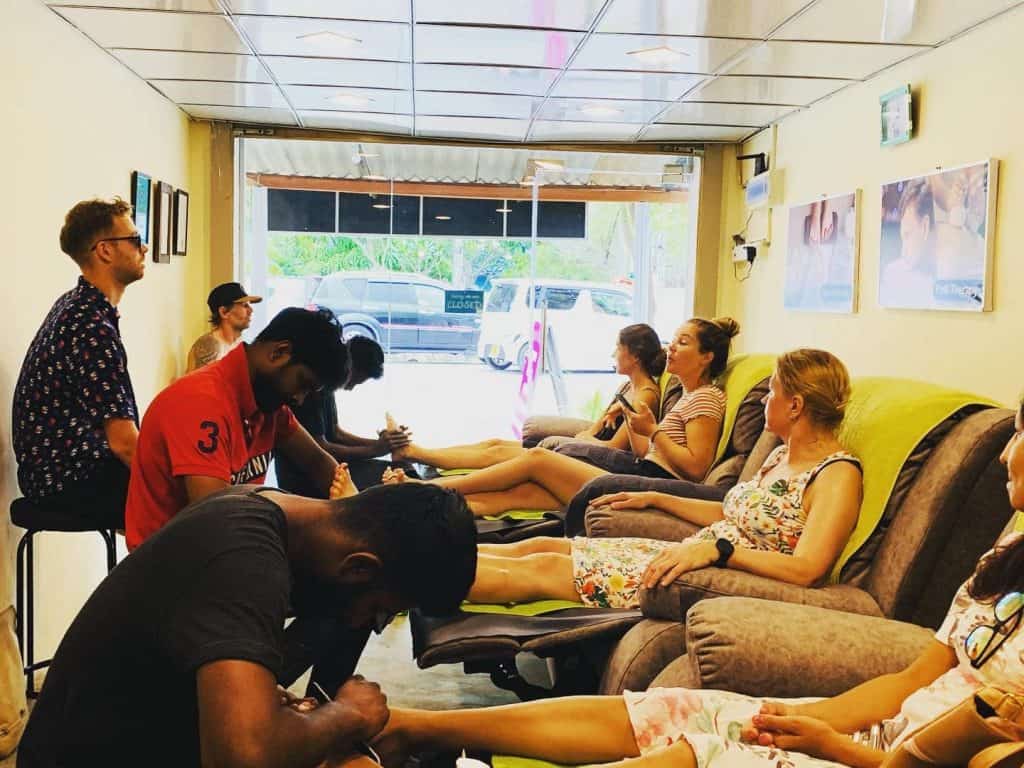 In Arugam Bay, Sri Lanka, the Arugam Bay Ayurveda Treatment Centre provides a range of beauty and Ayurvedic treatments. Like the rest of Southeast Asia, this region is known for its affordable beauty services and traditional Eastern therapies. The center offers massages and remedies for various ailments, harnessing the healing powers of ancient Eastern medicine. Visitors can experience the benefits of Ayurvedic treatments, and for those with more time, an entire week can be dedicated to a comprehensive Ayurvedic treatment program.
6. SHOP AT THE SURF SHOPS AND BOUTIQUES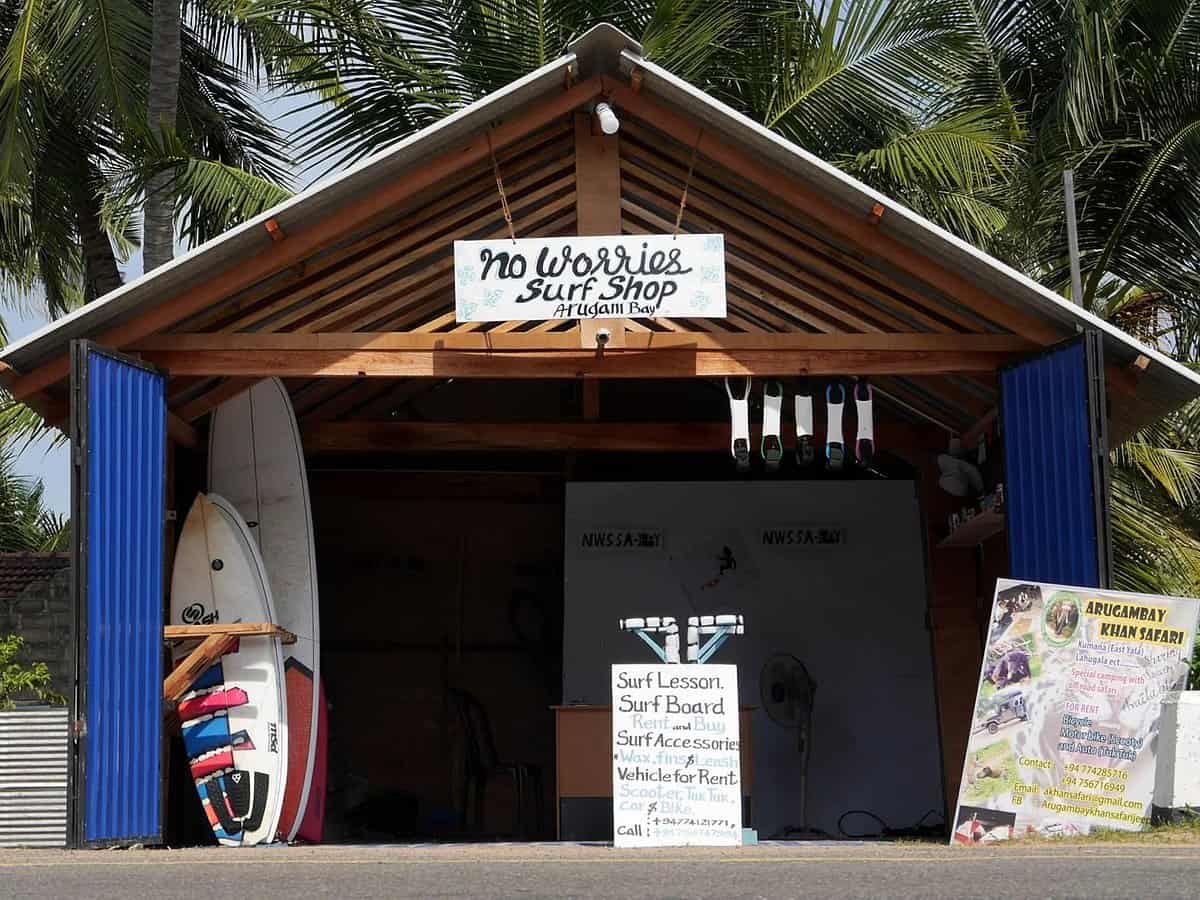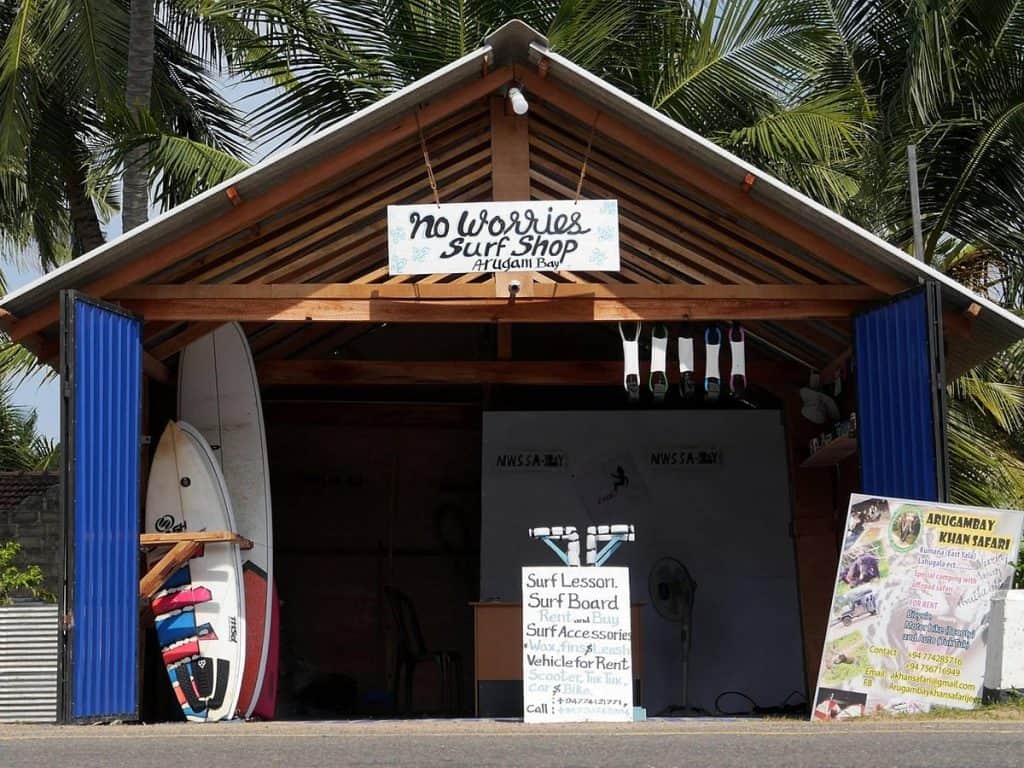 Arugam Bay may be small, but its main road has various shops and boutiques to explore. In addition to the usual tourist shops, unique artisan stores are offering handmade clothing, cosmetics, and jewelry. Local vendors also sell handmade bags, hats, and accessories made from recycled materials. Shopping in Arugam Bay provides a pleasant diversion from sunbathing, and a visit to Salty Swami's surf shop is recommended for fun merchandise and coffee.
7. VISIT THE COLOURFUL BOATS
Arugam Bay, a small fishing village, showcases a picturesque sight of colorful fishing boats along the main beach. The best time to witness this spectacle is in the early morning as the ships set out, offering a perfect opportunity to capture photos with the rising sun as a backdrop. Some fishermen may even allow tourists to join them on their boats if there is space and kindly asked. Another option is to visit in the afternoon when the fishermen return from their expeditions, providing an engaging spectacle as they count and display their catch. The presence of fishing boats and the activities surrounding them offer an authentic and captivating experience in Arugam Bay.
Crocodile Rock is a popular attraction in Arugam Bay, known for its resemblance to a crocodile and the presence of crocodiles in the area. Situated on a secluded beach towards the south of Arugam Bay, visitors can climb to the top and enjoy stunning panoramic views of the surrounding landscape, including paddy fields, the lagoon, the ocean, and golden sandy beaches. Surfers also favor the site. Crocodile Rock has gained attention due to reported crocodile sightings and occasional attacks, which have received media coverage. Despite these incidents, the beach remains relatively untouched and tranquil, surrounded by dunes and free from heavy tourist traffic. It is close to other popular destinations in Arugam Bay, such as Elephant Rock and Panama.
9. TAKE A LAGOON BOAT TRIP AT POTTUVIL
A lagoon boat trip at Pottuvil is a must-do activity for visitors. Pottuvil is known for its beautiful lagoons, offering a serene setting to explore by boat. You can observe various bird species and aquatic creatures like crocodiles and monitor lizards. The boat trip allows you to appreciate the area's rich biodiversity and stunning landscapes, with lush mangroves and vibrant water plants. Overall, it's an immersive experience to discover the natural beauty and wildlife of Pottuvil.
10. SEE THE MUHUDU MAHA VIHARA TEMPLE
11. RIDE THROUGH PANAMA TANK
The path from Arugam Bay to Panama Tank offers incredible views and takes about 20 minutes to reach. You'll encounter picturesque landscapes, including rural villages, coastal areas, and lush forests. The area is known for its abundance of crocodiles, often spotted lounging around Panama Tank or Crocodile Point. While keeping a safe distance from these predators is advisable, observing them in their natural habitat is a memorable experience. The village of Panama is an excellent place for birdwatching, with rare bird species flying in the sky, likely due to its proximity to the Kumana Bird Sanctuary and Heritage Park. If you have the time, visiting the sanctuary is highly recommended. Overall, the journey to Panama Tank offers scenic beauty and photography and wildlife observation opportunities.
12. BUY A CUSTOM HAND-MADE SWIMSUIT
Last but not least, one of the best things to do in Arugam Bay is to visit a local vendor who handcrafts custom swimsuits. This unique experience allows you to select from various fabrics and collaborate with the owner to design your swimsuit. With creative freedom and personalized attention, you can create a one-of-a-kind piece that reflects your style. The affordability and quick turnaround time make it even more appealing. It's a fantastic way to take home a unique souvenir from your time in Arugam Bay while supporting local craftsmanship. Just be aware that due to its popularity, your custom order may have a wait time.
In conclusion, Arugam Bay is a haven for digital nomads seeking a beachside retreat and fun activities. This picturesque destination on Sri Lanka's east coast offers many activities to indulge in. Arugam Bay has everything from riding the waves and exploring hidden lagoons to immersing yourself in the vibrant local culture. Whether you want relaxation or adventure, this coastal gem provides the perfect backdrop for your digital nomad lifestyle. Soak up the sun, embrace the laid-back atmosphere, and let the beauty of Arugam Bay inspire your work and leisure. Prepare to create unforgettable memories as you embark on an amazing journey in this tropical paradise.
Common questions about THINGS TO DO IN ARUGAM BAY