10 Fun Things To do in Moalboal
Just a 3-hour drive from Cebu City, Moalboal is a tropical paradise awaiting its visitors. Its lush green landscapes, sunny climate, and gorgeous beaches attract thousands of tourists annually. 
Moalboal is a huge tourist destination, so English is widely understood and spoken, even among the locals. 
For tourists looking for an adventure-filled tropical vacation, Moalboal is an amazing place to be. 
If you've decided to go to Moalboal but are confused about how to spend your days there, don't worry; this article will guide you through the top 10 things you can do in Moalboal. Some of these you do not want to miss out on!
1. Witness the breathtaking Sardine Run
Moalboal's most popular attraction, the Sardine Run, is on the top of our list. Millions of sardines crowd the Panagsama waters throughout the year, so you can experience this spectacle regardless of when you go to Moalboal. 
Put on your lifejackets and snorkeling gear and dive into the waters to get a chance to swim amongst this school of fish. If you're a seasoned swimmer, you'll get to see the sardines crowd around you as you float in the water. However, if you don't wish to get wet, you can also admire the silver sardine schools from your boat. If you are lucky you can even see turtles close to you as you snorkel.
This one-of-a-kind experience should surely make it to your bucket list. Your Moalboal trip is not complete without it. I recommend booking via [ Name of place here] and get a guide, he will help you locate turtles and sardines. 
Bonus Tip: Bring a gopro!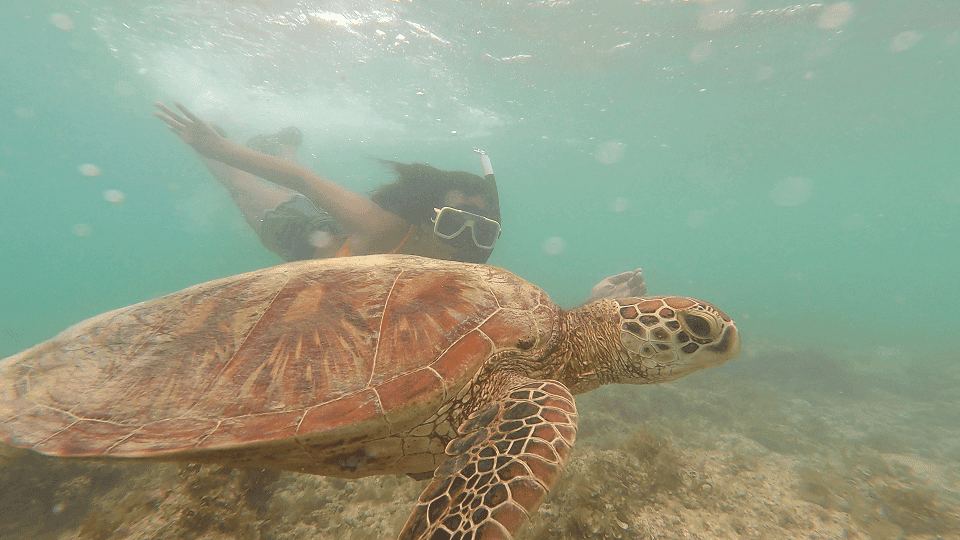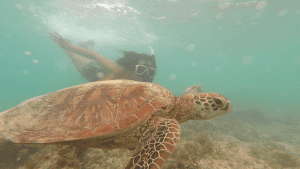 2. Book the Snorkeling Tour at Pescador Island
If marine life fascinates you and you've got some swimming and diving experience under your sleeve, the Pescador Island snorkeling tour is a must. Pescador island is exceptionally famous among tourists, and rightfully so; its jaw-dropping marine life is not to be missed.
This snorkeling tour will take you through everything from clown fish to barracudas and vibrant color reefs. You're also likely to see the dolphins up close. 
And if you're lucky, you may even spot a whale shark. This 49-foot-long mammal is truly one of nature's most mesmerizing creations. 
Snorkeling Fee
The registration fee to dive with whale sharks costs about 150 PHP, and snorkeling gear rental is 300 PHP, plus a 3500 PHP half-day boat rental for seven people. 
Although, on the pricier side, this adrenaline-inducing experience is worth it.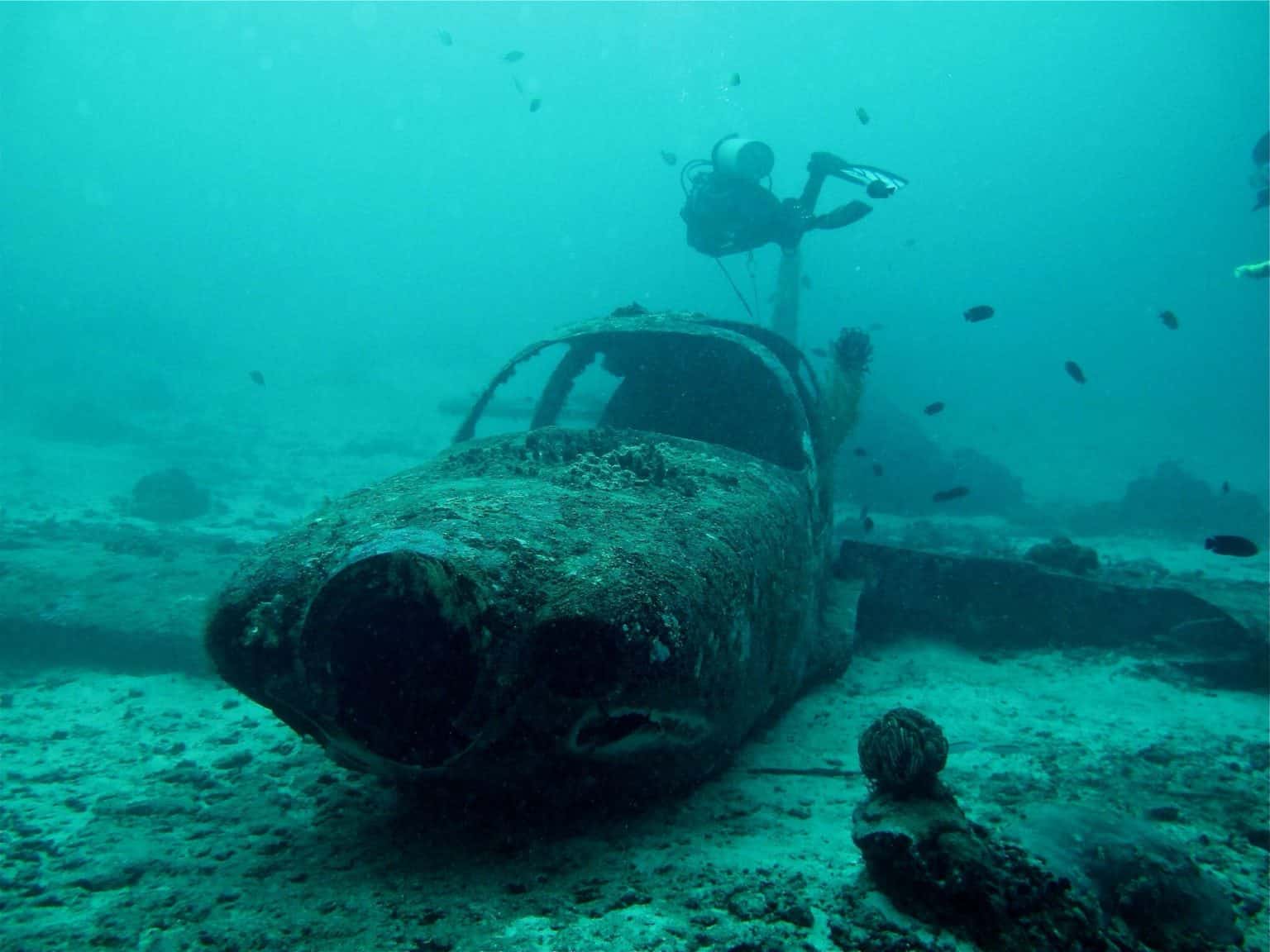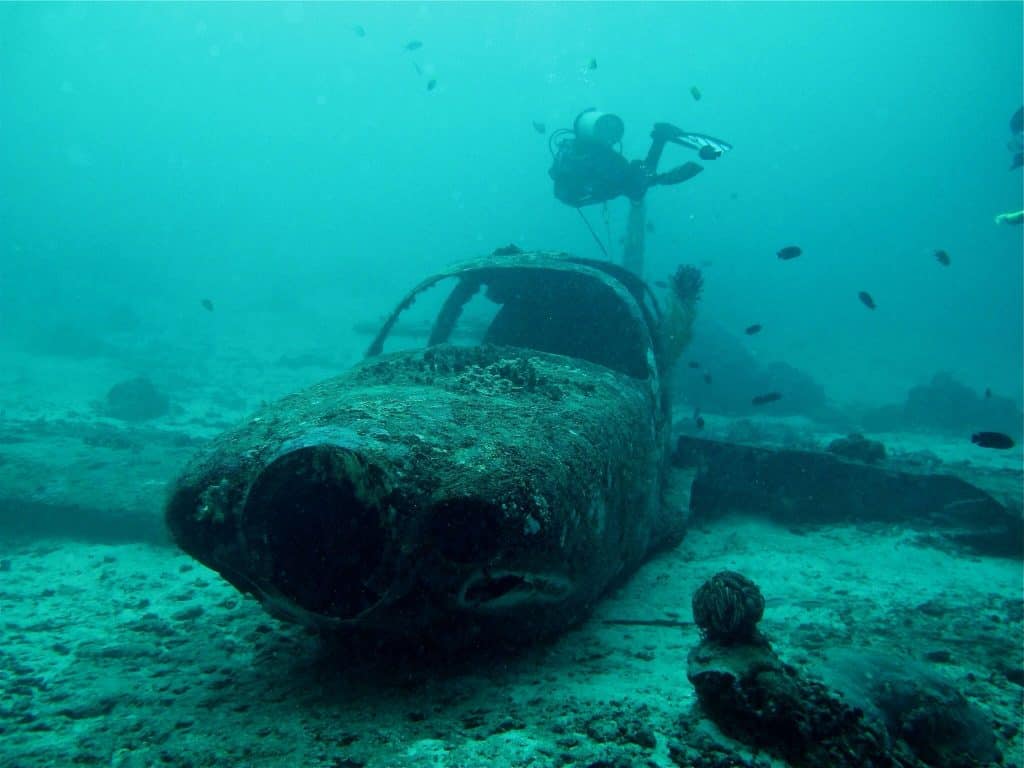 3. Underwater Airplane Wreck
Is deep-water diving not your cup of tea? Do big fish scare you? Well, no need to worry because Moalboal has something for you. The airplane wreck is a great underwater attraction for unseasoned divers as it is only 7 meters from the shoreline. 
This dive may not contain colorful coral reefs. However, you'll still get to swim among the black and white Damselfish. Keep a lookout for the Pufferfish, The Emperor, and the Yellow Ribbon Sweetlip, as they often swim in this area.
4. Relax at the Sunny Basdaku White Beach
Only a 20-minute bike ride from Panagsama beach, White Beach is one of the popular tourist chillout spots in Moalboal. The deep blue waters of the sea brushing up against the white sand of the beach makes it feel like a scene from a movie. 
Due to its popularity, White Beach is often quite crowded. However, you'll always find space to set up your umbrella and beach blanket and bathe in the sun's rays. There are a few tuck shops near the beach, so feel free to indulge in refreshing cocktails or ice cones. 
Stay here till sunset and watch the sky melt into hues of purples and pinks as the sun disappears into the horizon.
5. Short Hike to Kawasan Falls
Let's take a break from the sea and beach and head towards the jungles of Moalboal. The world-famous Kawasan Falls is a must-visit place when visiting Moalboal. 
Kawasan Falls is technically located in Badian, a small town in Cebu; however, it's only a short bicycle ride away from Pangasama Beach in Moalboal. 
This trio of waterfalls falls gracefully into a bed of naturally occurring lagoons and pools within the jungle. You can appreciate the waterfall from afar and snap gorgeous pictures here while enjoying its natural beauty. Or you can put on your bathing suit and swim in the peaceful, clean, still waters of the lagoons. I'd recommend the latter. 
The waterfalls are best experienced during daylight, so I recommend going there in the morning, so you have ample time to relax on the nearby rocks.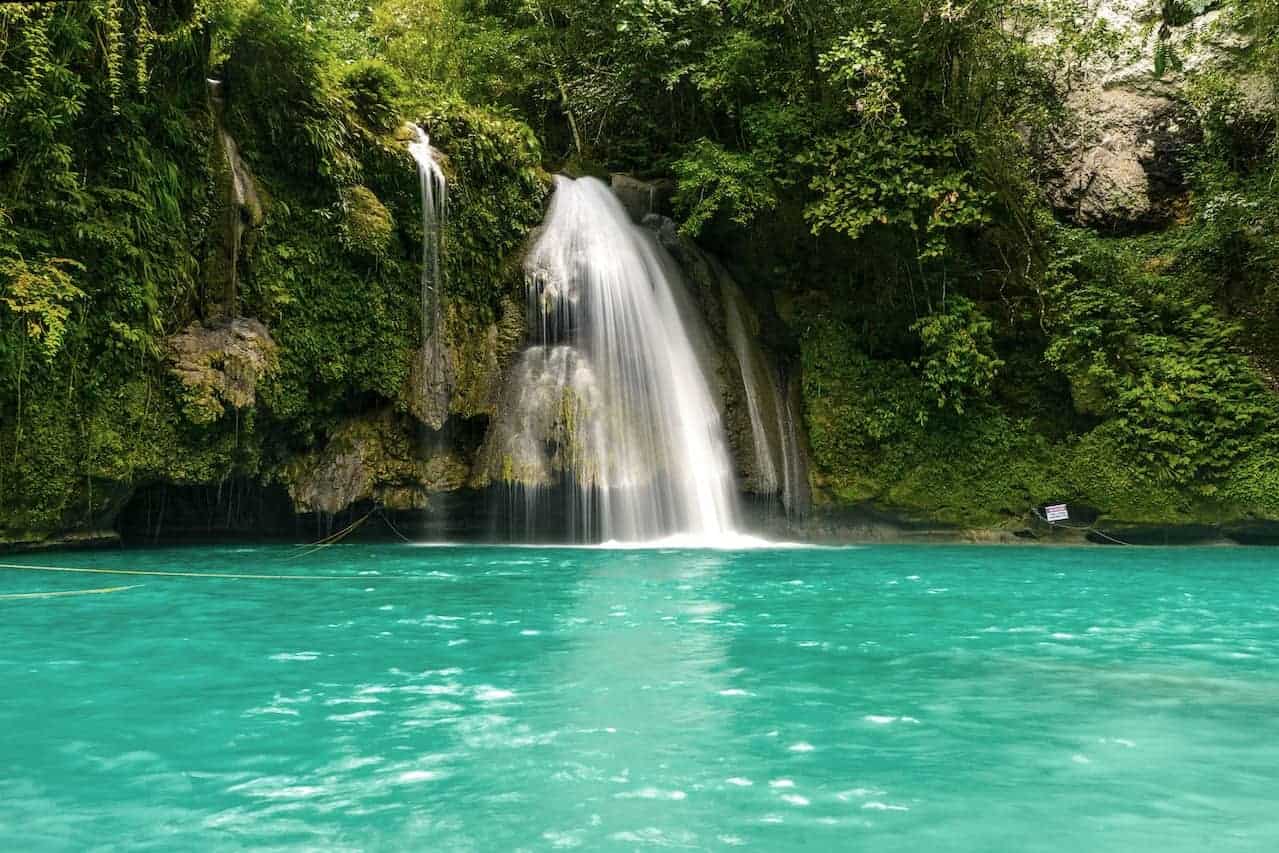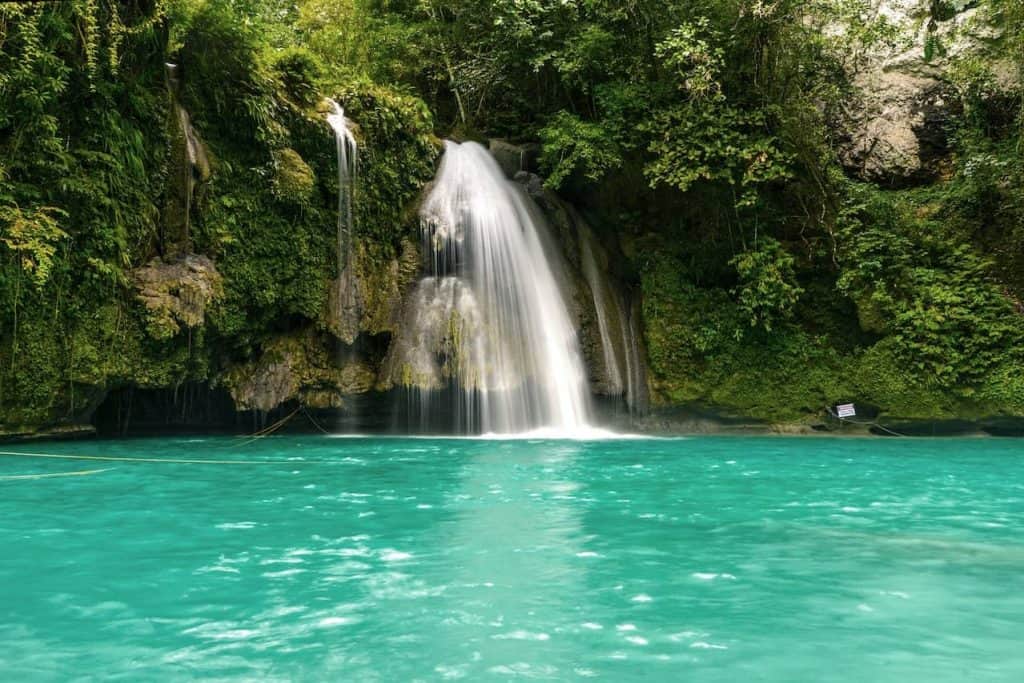 6. Visit the Taginis Falls
While on the topic of waterfalls, how can we forget the gorgeous Taginis Falls? Located in the highlands of Moalboal, this wonderous cascade of waterfalls For tourists wanting to spend some peaceful alone time away from civilization, the Taginis falls provide a great escape. 
Yes, this waterfall is not as grand or mesmerizing as the Kawasan falls; however, it is much more private. Therefore, making it the perfect place to go with your significant other for a romantic personal experience. Plus, it's free, so if you're on a budget, this is the place to be!
7. Adventure Climb on Mount Lanaya
Moving on from the beach and jungles, Moalboal is home to one of the highest and most gorgeous mountains in Cebu, Mount Lanaya. For tourists looking to have a fun-filled outdoor day without getting wet in the water, Mount Lanaya is an outstanding choice. 
Mount Lanaya offers a variety of trails to its climbers. The easier and shorter trails are great for first-time hikers. However, the true beauty of the landscape lies in the lengthier and tougher courses. 
These trails are sure to get your heart racing and sweat dripping. Plus, once you reach the Kalo Kalo Peak, it'll all be worth it. The views from the top are unparalleled and quite literally the cherry on top of the cake.
8. Embark Upon a Canyoneering Adventure
Just outside of Moalboal, adventure awaits you in Alegria and Badian. Go on a canyoneering excursion to experience all things at once. Canyoneering is every adrenaline junkie's dream. 
This is the perfect example of an island adventure, from crossing rugged landscapes to balancing yourself across narrow bridges and streams. You'll splash into waterfalls, float through Cebu's canyons and enjoy the breathtaking views at Kawasan. 
Due to its popularity, many tour companies currently take visitors on group canyoneering trips. Book a package that suits your requirements, and let the expert tour guides steer you through this adventure. 
Canyoneering prices start at as low as 3090 PHP per person. 
Grab your friends and your swimsuits because this high-thrill adventure is not one to miss.
9. Explore the Busay Cave
One of the easiest yet most fun activities to do in Moalboal is exploring the Busay Cave. This 650-foot-long tunnel provides families with an incredible thrill-seeking adventure that is both easy to cross and mesmerizing. 
A small spring and pool inside the cave allow visitors to stop and catch their breaths while soaking their feet in the calm waters. The beautiful stalactites and stalagmites are unique features of the caves. Tourists can book a guided tour through these caves or go in alone. 
Tour packages usually start at around 1000 PHP per person.
10. Enjoy the Moalboal Nightlife
Located in Cebu, the province famous for its thrilling nightlife, Moalboal lives up to the standards. During the day, this tropical paradise serves as an adventurous hub. 
As night falls, Moalboal turns into a lit party place. Full of bars, loud music, and neon lights, Moalboal's nightlife is one of a kind.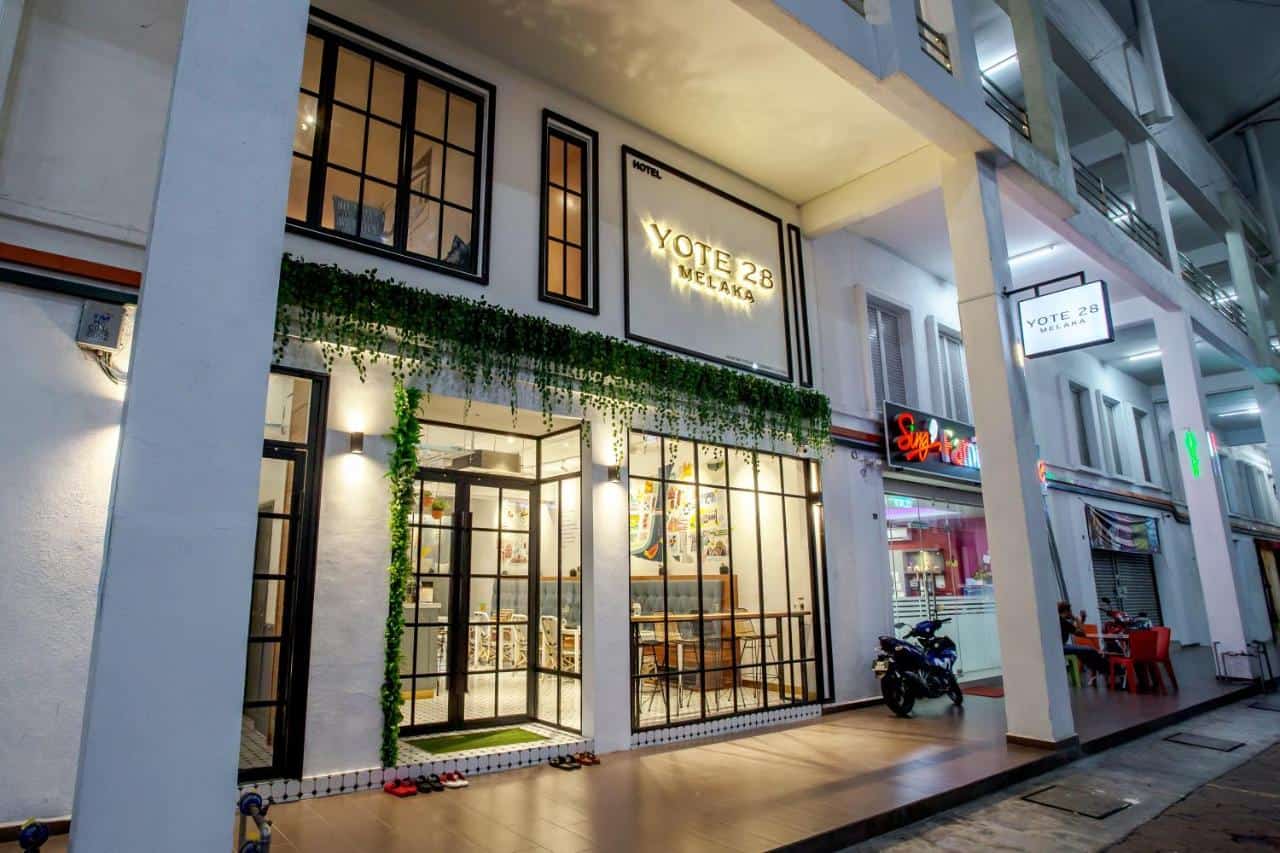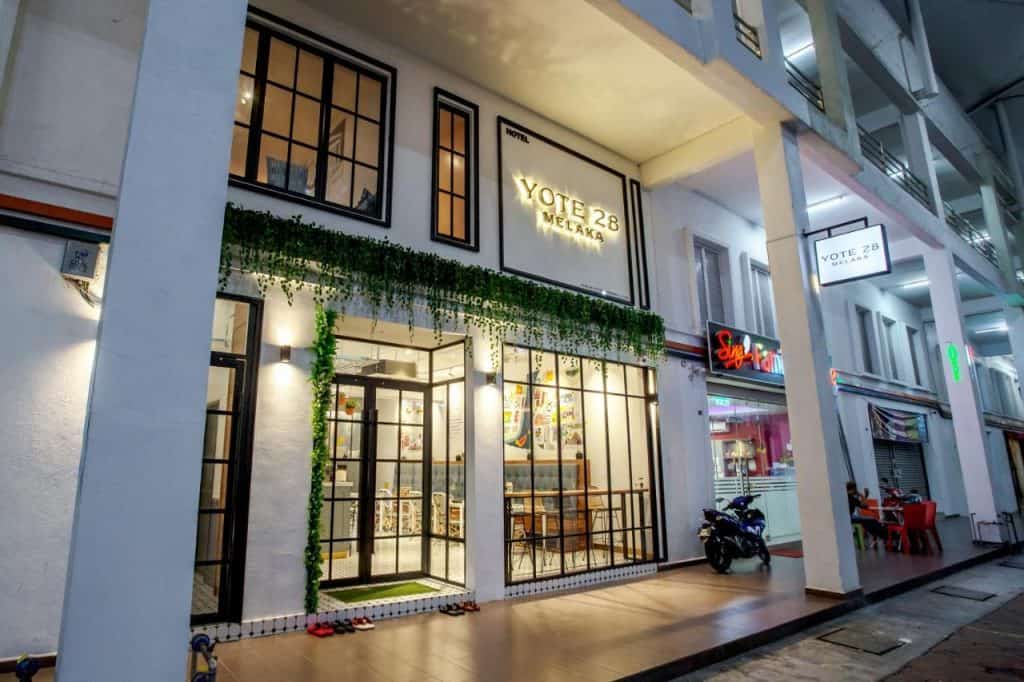 For backpackers and digital nomads, I recommend 
Common Questions about THINGS TO DO IN MOALBOAL PHILIPPINES
Thanks for reading. Any suggestions? comment below
From thrilling adventures to peaceful beach days, Moalboal has something to offer all of its visitors. After a hectic day of exploring the peninsula, tourists can go back and relax at their resorts and indulge in some decadent island food. 
Although there are many more things to do in Moalboal, this article covered the top 10 most sought-after activities. Let us know if we missed out on something, and share your Moalboal experience with us if you choose to go.
Start Planning Your Philippines Trip Now!
Book Your Flight:
Use Skyscanner to find a cheap flights. A travellers favorite way to book flights, as it searches websites and airlines around the world with one click.
Book Your Bus or Transportation Within Phillipines:
There are two ways to book your transporation, ask your hotel or hostel, go to the local bus terminal, or book online, for a less stressful trip using 12go.asia or Easybook.
Book Your Accomodation: 
Find the best hotels or hostels at Booking.com or at Agoda.com. Perks include with no upfront payment. Pay when you check out and Free cancellations.
Dont Forget Your Travel Insurance:
Two popular choices are SafetyWing and WorldsNomads. A traveler should buy traveler's insurance to protect themselves against unexpected events such as trip cancellations, medical emergencies, and lost or stolen baggage. It provides peace of mind and financial protection in case of unforeseen circumstances.
Want More Information On Phillipines?
Be sure to check out my nomad travel guide on the Phillipines for even more tips
Disclosure: Please note that some of the links above may be affiliate links, and at no additional cost to you, I earn a commission if you make a purchase.