Best Cities to Party In the Phillipines [2023]
Friendly locals, beautiful beaches, and lots of flowing beer and cocktails If you love to party, the Philippines is the place to go. Each of the following cities in the Philippines has something to offer: KTVs, restro-bars, Clubs, gogos, and many bars. See this nightlife guide to ensure you plan to visit the best nightlife spots in the philippines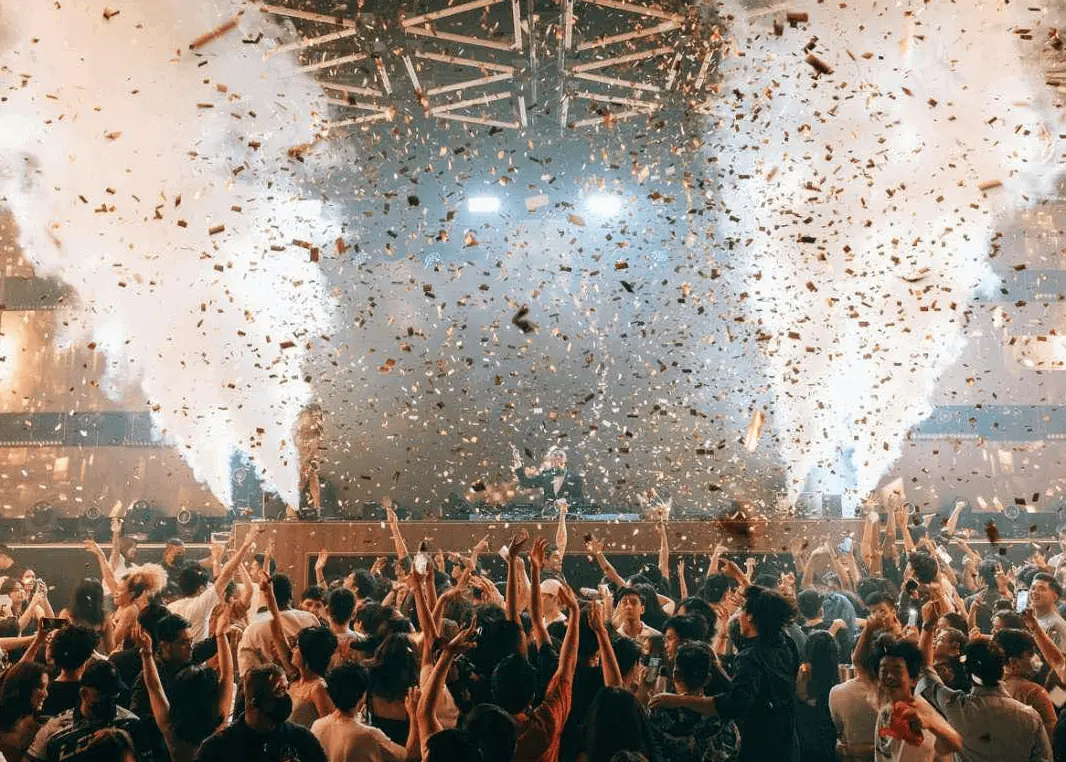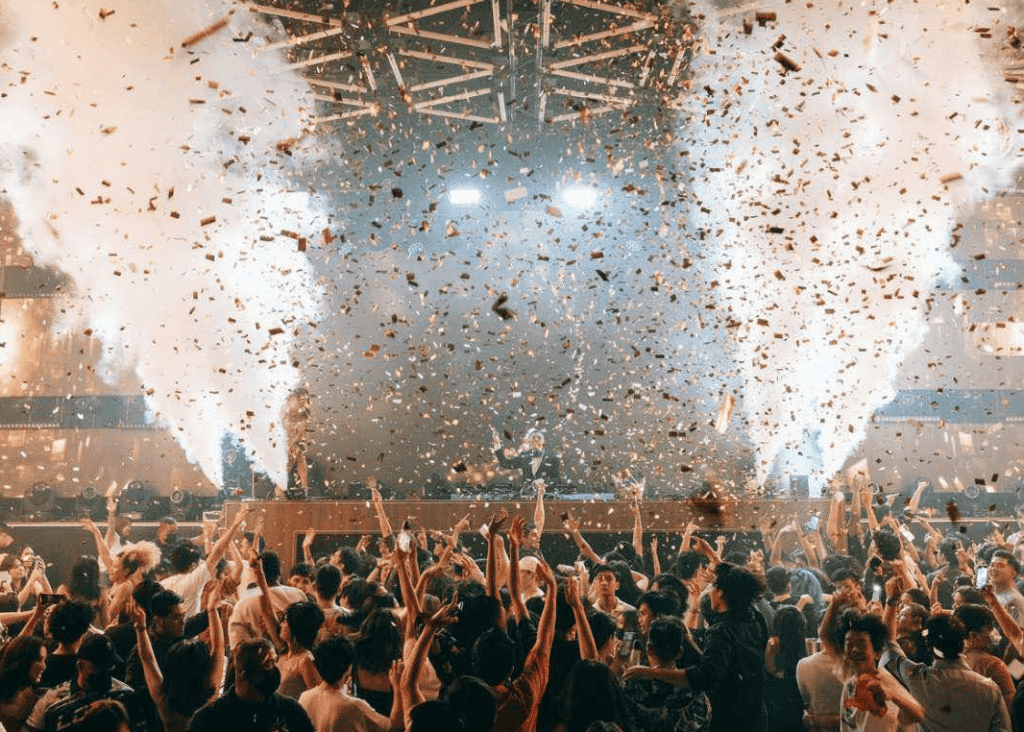 When talking about traveling to the Philippines, travelers frequently start by suggesting Manila, the capital city, as their first stop. This city has a large young working population, which means there are a ton of places to discover and undoubtedly a ton of people to meet.
While Manila is not as chaotic as places like Cebu and Angeles, it still has a lot to offer savvy visitors who know how to navigate unfamiliar Asian cities. It is worthwhile to stop in Manila for a few days to enjoy all of the different nightlife options. 
Burgos Street in the Makati neighborhood, BGC, and Quezon City are the three main nightlife areas here, and each has a distinctive vibe. You can find everything in these areas, from sports bars and massage parlors to KTVs and a ton of other things in between.
Manila's nightlife can be world-class, but the prices at these venues will be much higher than in other parts of the Philippines. If you are a single man looking for girls, there are plenty of opportunities. If you are interested in just making friends, I suggest staying at a local hostel and joining their nightlife activities. Lubd and Z Hostels are great places to meet locals and other travelers. 
P. Burgos Street is considered the redlight district, so be prepared to be catcalled by some of the working girls; simply say no, and you will be left alone. If you are more of the shy type but want to give Manila nightlife a change, go to one of the local gogo bars. If you are interested in knowing more about nightlife in Makati, check out my post, Best Places to Party in Makati.
Looking For Friends To Go Out?
Pull up couchsurfing or tinder on your phone!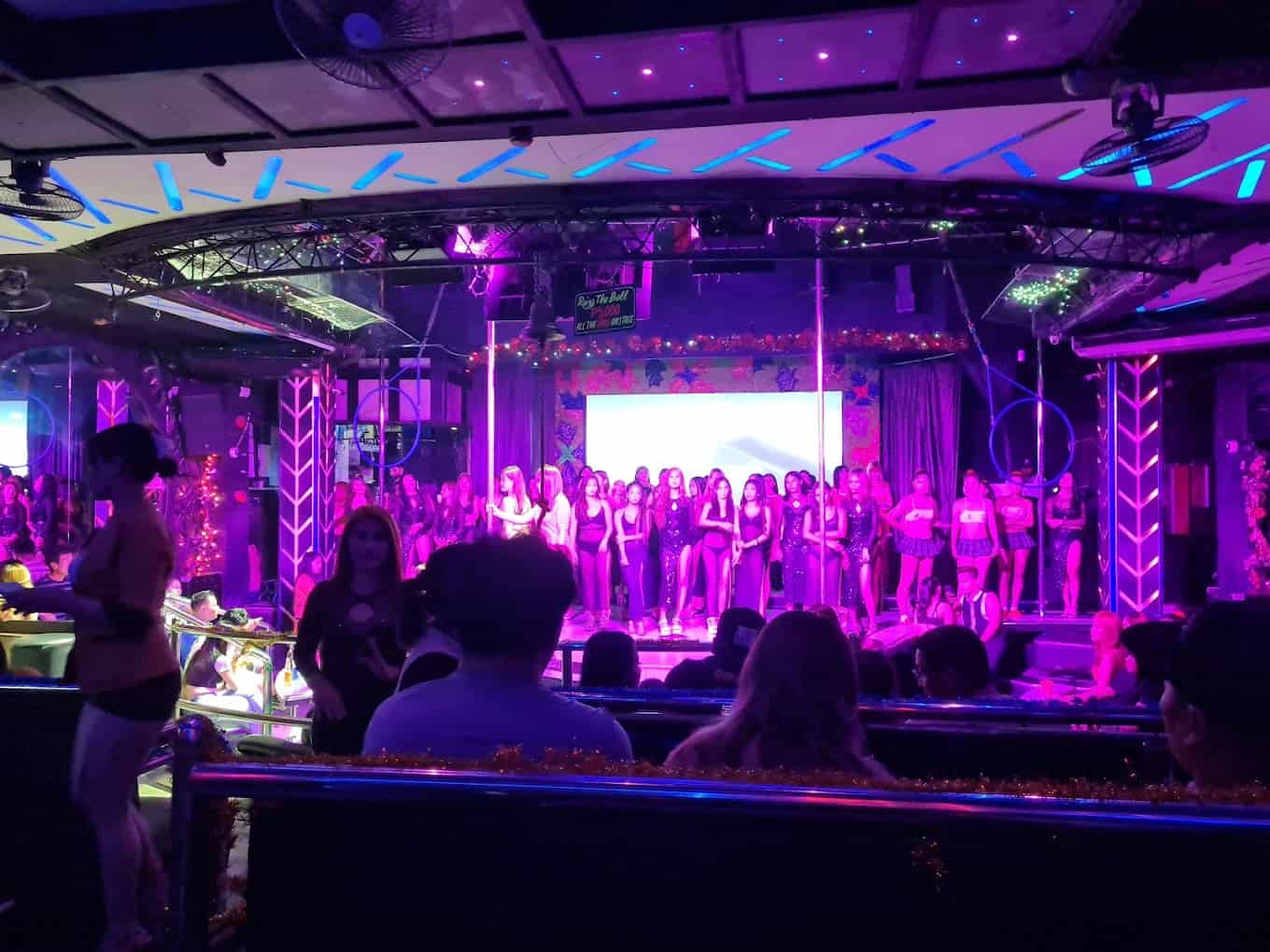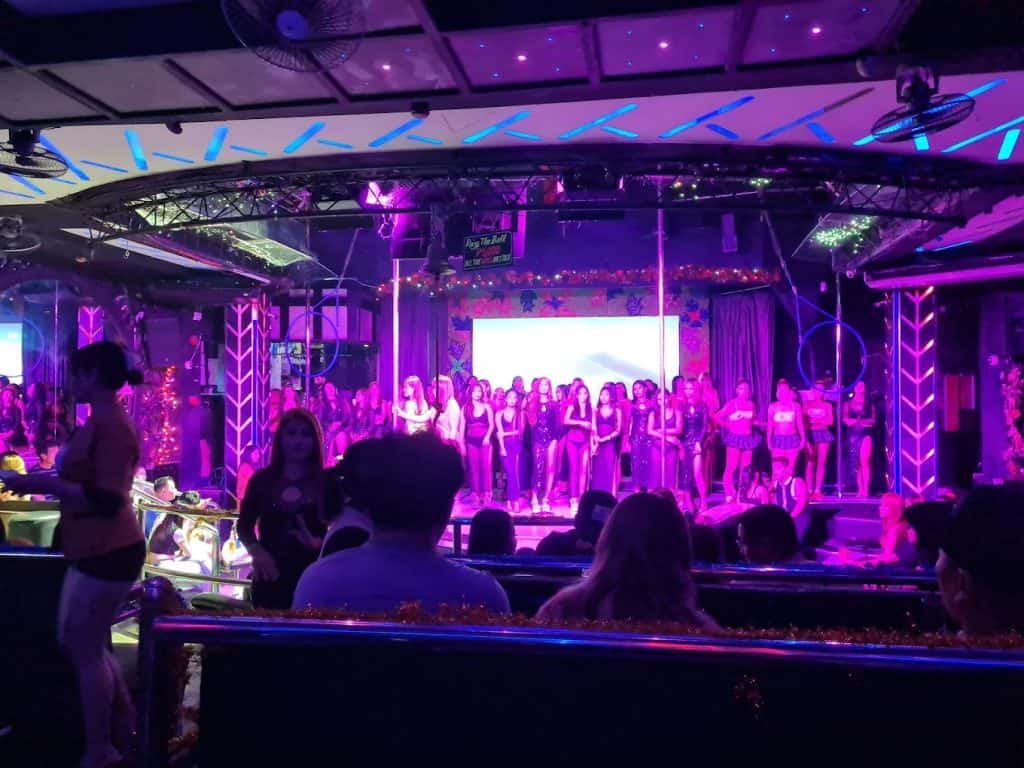 If you are planning a bachelor party, Angeles is likely the best place if you are looking for "working girls", as it has the largest red light district and walking street area in the Philippines. From gogo bars to sports bars and clubs, the city is your playground.
I don't recommend the city for any tourist activities aside from the nightlife. So expect some wild nights and relaxing days. You will find many expats here looking for a fun time; if that is not your scene, Manila or Cebu are better spots for you.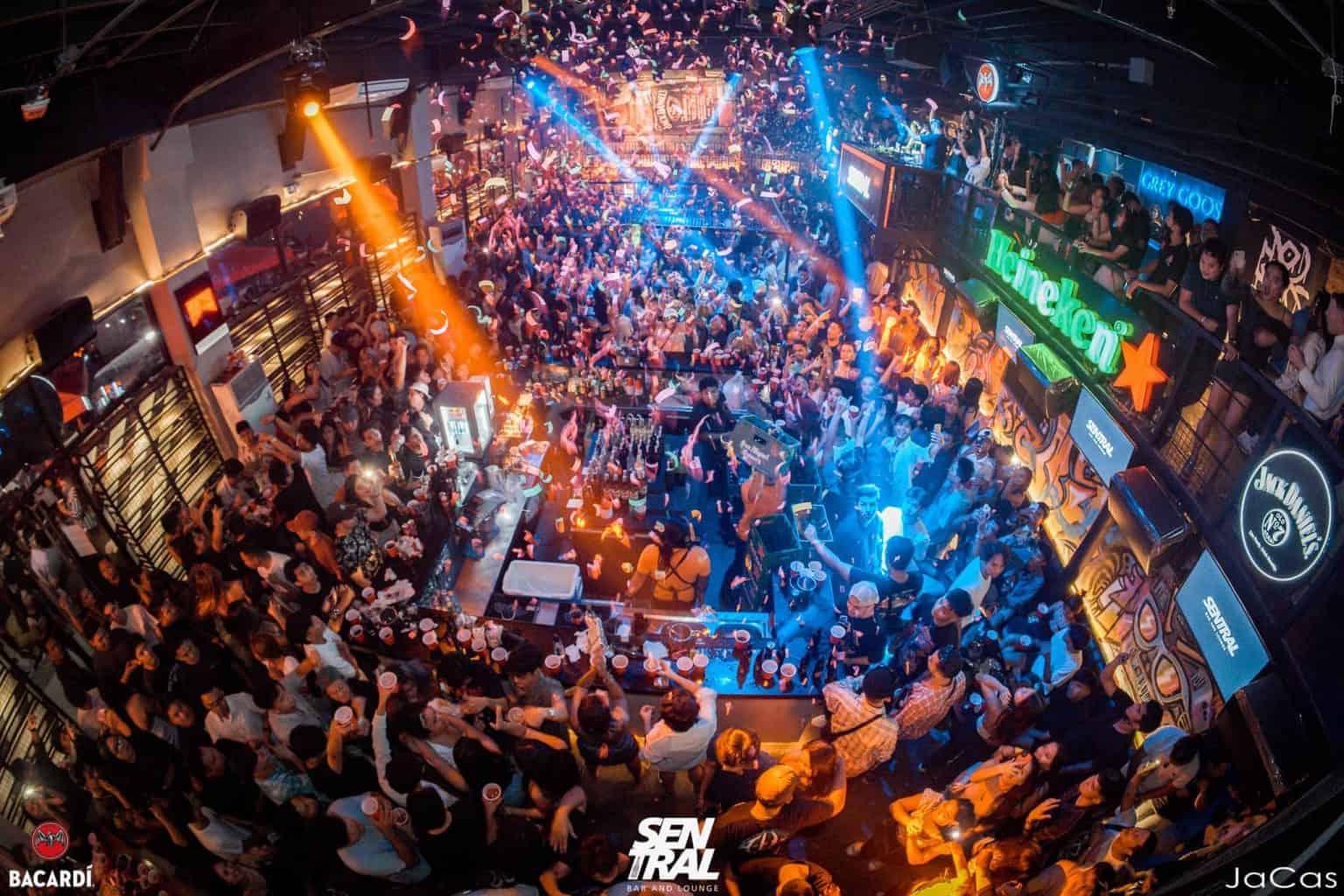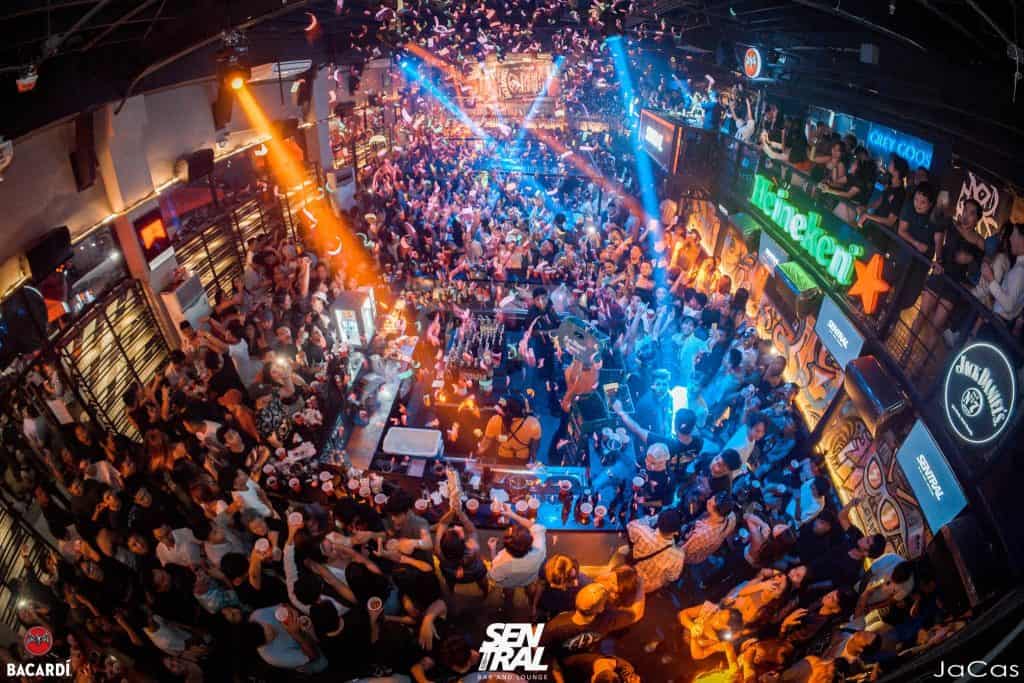 Ask around, and you will find that many travelers prefer the nightlife in Cebu. Although not as busy as Manila, you will still find a very outgoing society. Start your night at a sports bar or Mad Monkey Hostel, where you can get free shots every hour in the evening. 
After a visit to some sports bars, head to Mango Square, where all the best nightclubs in Cebu are found. Here you'll find sports bars, bikini dance bars, and nightclubs. Liv Superclub, Icon, and The Sentral Cebu are the most popular clubs to spend the night away. Find out more about the nightlife in Cebu here.
Party Tips: If you have a group, its cheaper to book a table with a bottle, than individual cocktails.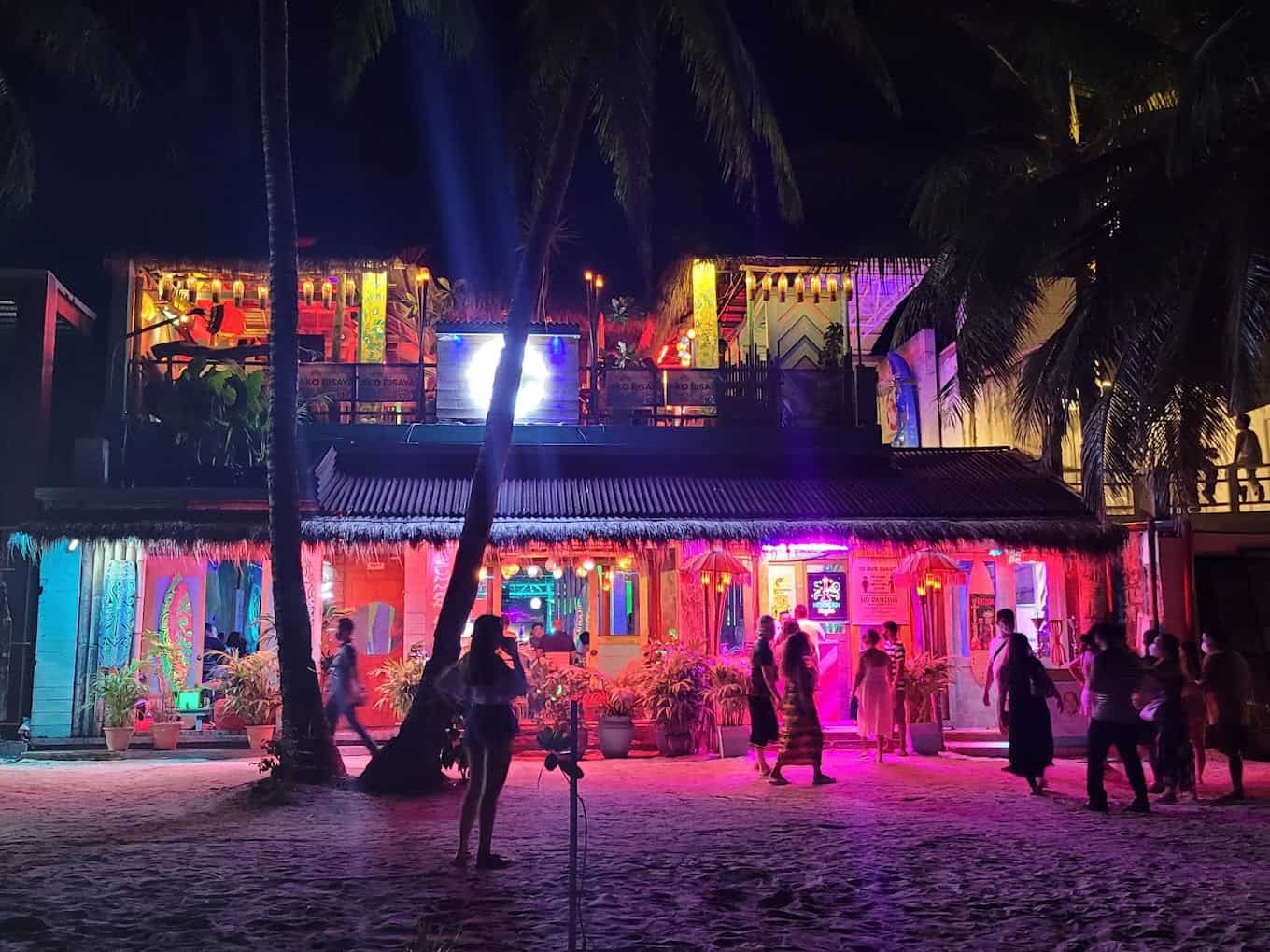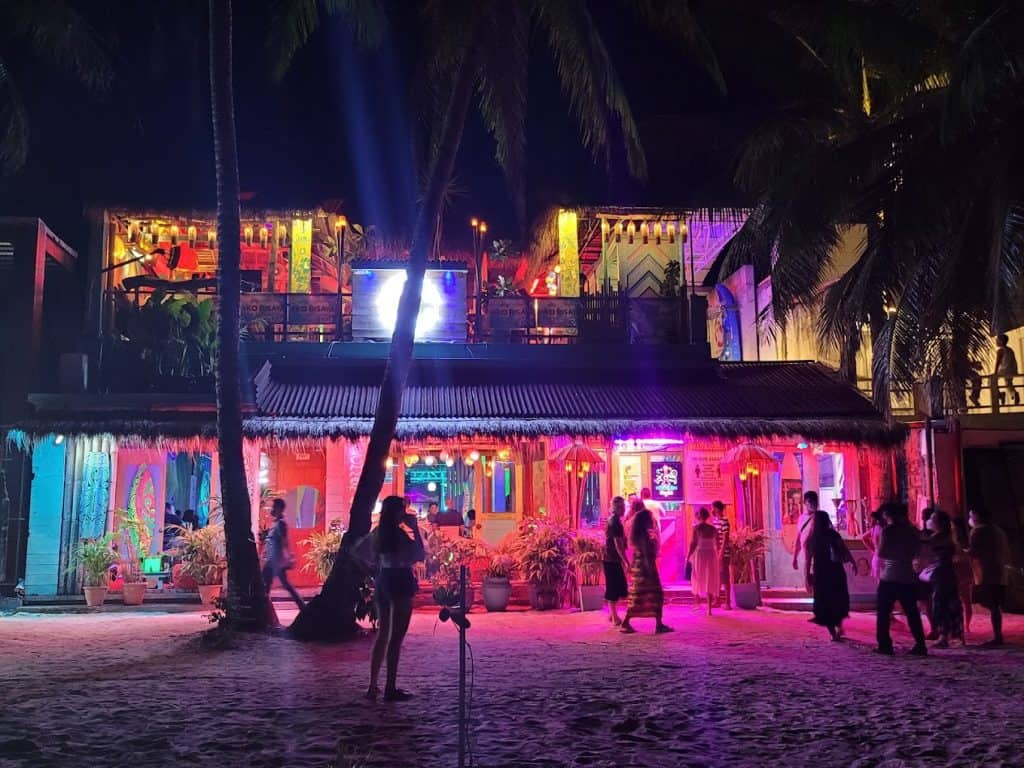 For many, when they think of the Philippines, they imagine the beaches of Boracay. From beach bums and divers to party animals, this island attracts everyone. Enjoy a relaxing day at the beach during the day and get your dance moves ready for the nightlife.
This island is more family-friendly, so you won't have to worry if you are traveling with young children. For those still looking for some fun, there are still plenty of places. You will find the bars and clubs in "Stations 1 and 2".  
Walk down 'Beach Walk to find two popular bars, Coco Bar and Exit Bar. For nightclubs, check out Summer Place and Epic.
Epic is the most popular nightclub in Boracay and closes at 5 a.m.
Summer Place, similar to Epic, has laser lights, a DJ, and a dancefloor to dance the night away. night away. 
Cocomangas:Another popular club with a spacious dance floor and bar
Club Paraw is an open-air beach club where a popular pub crawl tour ends. 
Boracay Stars Disco Pub: If you are looking for a more local experience with laser lights and a live DJ.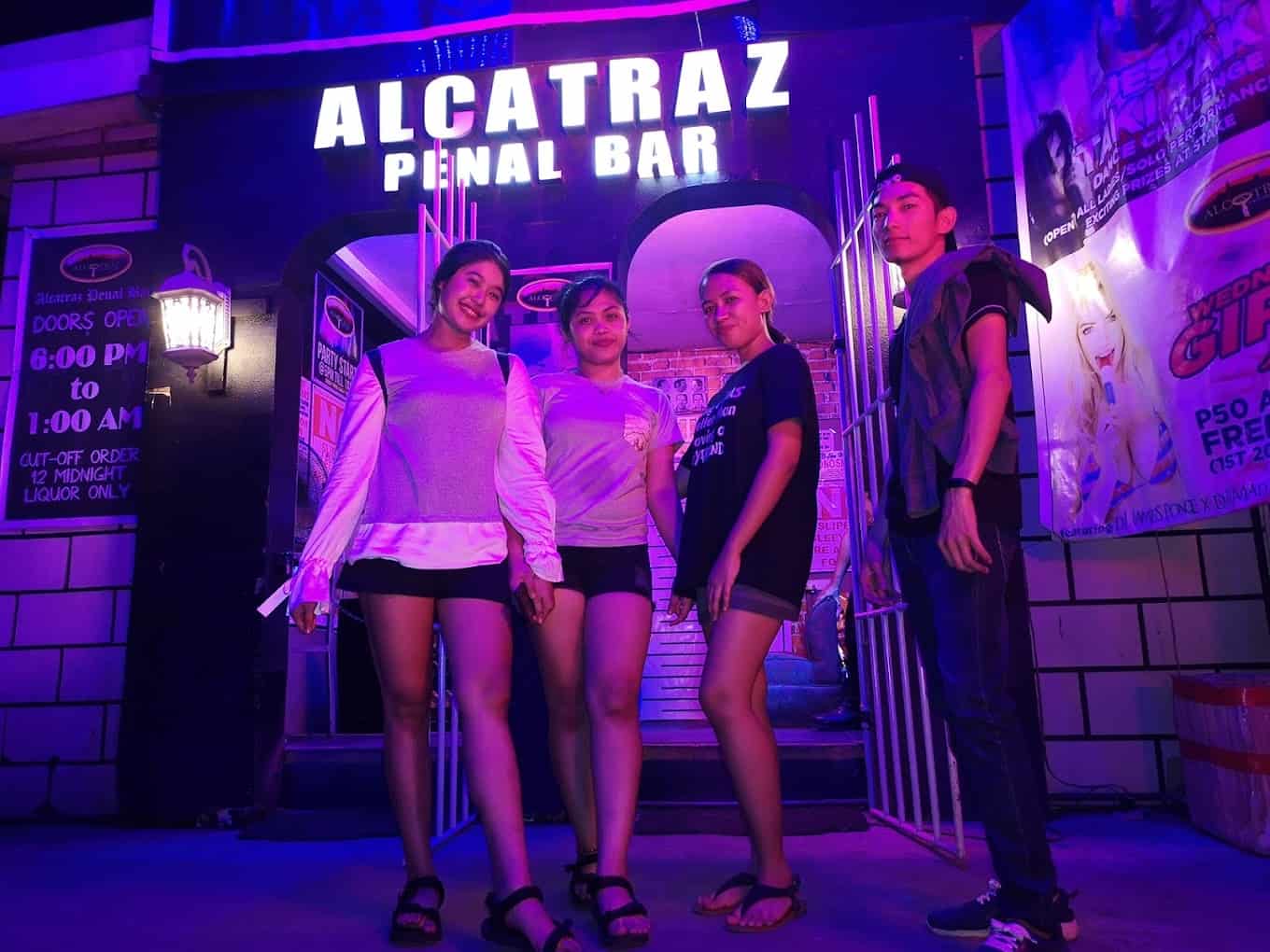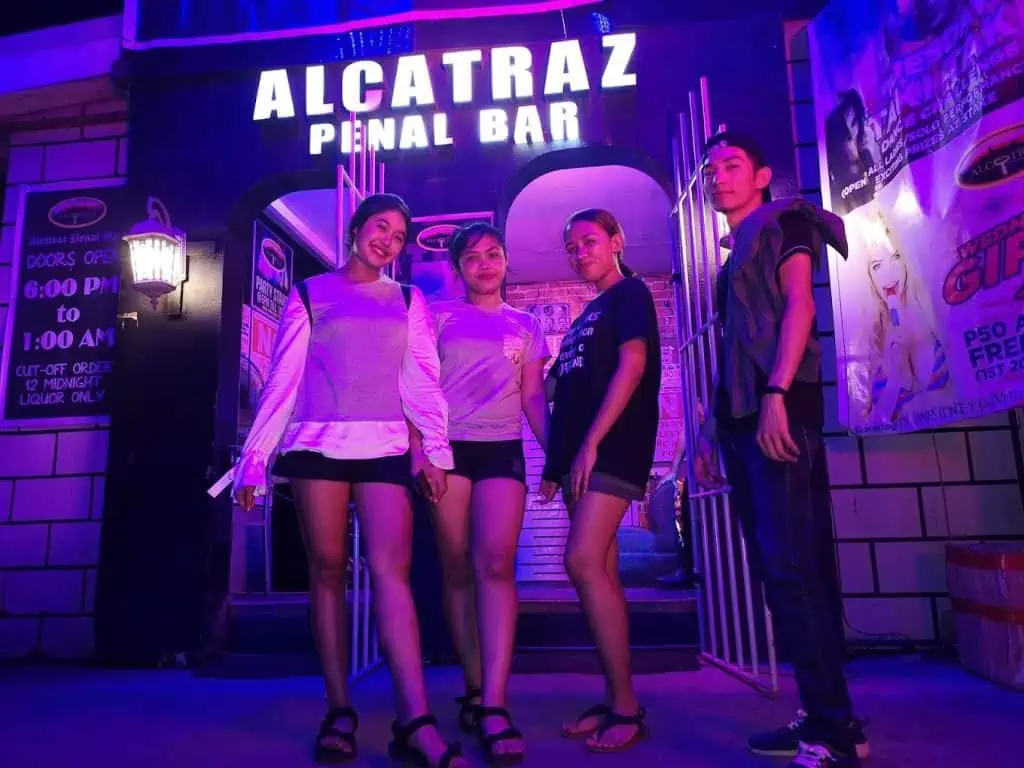 Usually last on a traveler's list, Davao is an underrated destination. The city is full of nightlife in two areas: Polo Street and the Royal Mandaya Hotel. The nightlife is not as wild as in other cities, but it is cheaper.
Alcatraz Penal Bar is The most popular nightclub in Davao and a favorite of the locals.
The Grid: Next to alcatraz, a mix of a bar and a club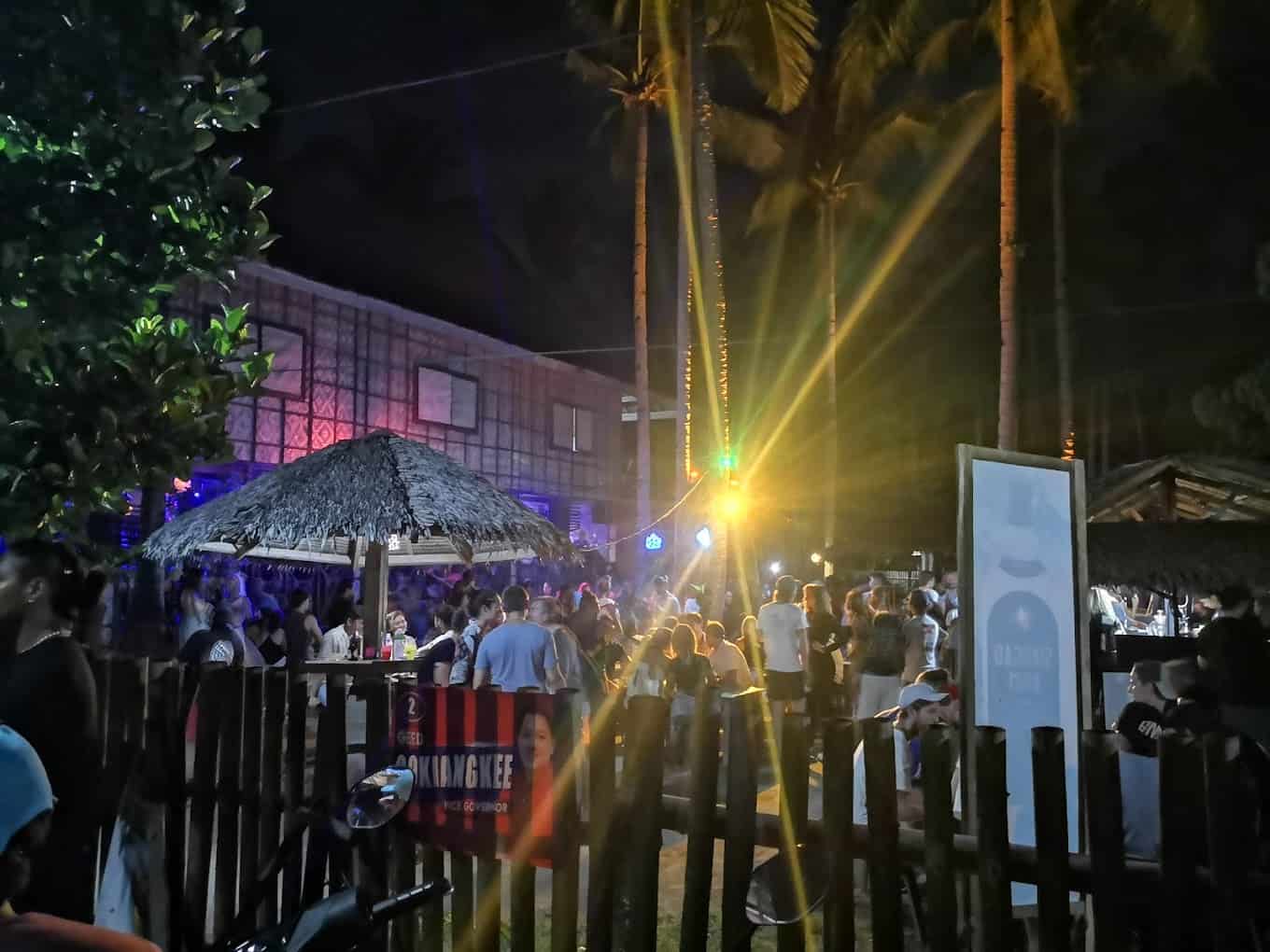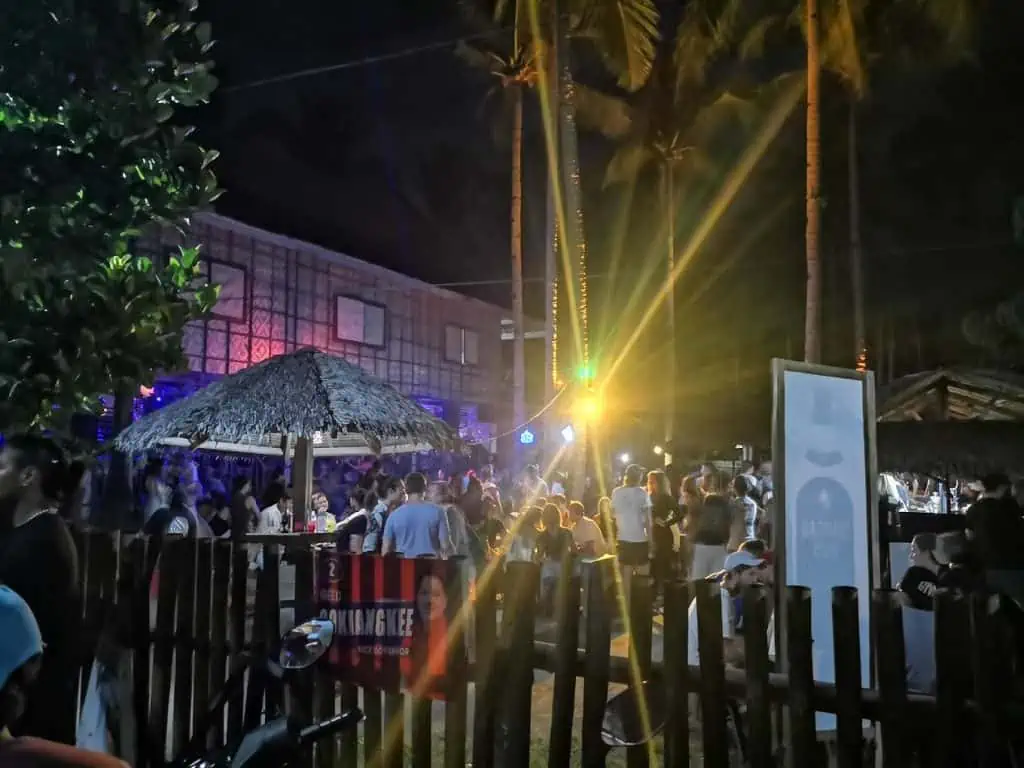 For those who enjoy the nightlife, Siargao is undoubtedly a paradise. The island, one of the most tranquil and paradisiacal, is rising in popularity for its vibrant nightlife. Siargao stands out from other islands due to its exciting nighttime activities. The island is well known for its surfing and motorcycle adventures. There is always something happening here, including events, parties, live music performances, deejays, and more. Take advantage of the affordable Siargao travel deals and arrange a trip to this paradise of excitement and fun in the nightlife.
General Luna is where most of the action happens at night in Siargao. This is where the majority of the restaurants, bars, and nightclubs are located, catering to both locals and tourists.
 Some of the top locations are listed below:
Sibol Bar,  Rum Bar, Siargao Beach Club & Restobar, and Bar 150 Siargao
To learn more about the nightlife in Siargao, click this link.
Palawan - Puerto Princesa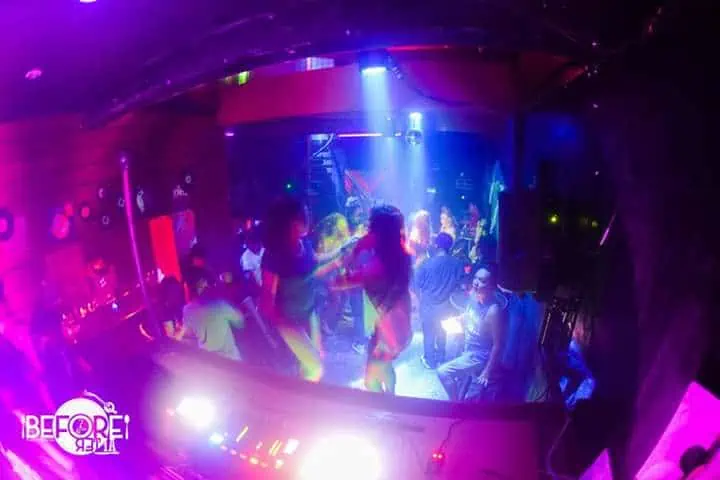 Does Palawan have nightlife? Nightclubs, Pubs, Bars, Live Music Venues, Comedy Clubs, KTV, Beach Bars, Cocktail & Wine Bars, and Brew Pubs are what you will find in all of Puerto Princesa. 
The top three bars are
Top 7 Places To Party In The Philippines
Manila

Los Angeles City

Cebu

Boracay

Davao

Siargao

Palawan
Common questions about nightlife in the Philippines
Manila (particularly areas like BGC and Makati), Cebu City, Boracay, and Angeles City are known for their vibrant nightlife scenes.
San Miguel Beer is the most popular local beer. For spirits, try lambanog (a coconut wine) or Tanduay rum.
While tipping is not mandatory, it's appreciated. If you're satisfied with the service, leaving a tip of around 10% is a good gesture. Most places include an automatic service charge.
Start Planning Your Philippines Trip Now!
Book Your Flight:
Use Skyscanner to find a cheap flights. A travellers favorite way to book flights, as it searches websites and airlines around the world with one click.
Book Your Bus or Transportation Within Phillipines:
There are two ways to book your transporation, ask your hotel or hostel, go to the local bus terminal, or book online, for a less stressful trip using 12go.asia or Easybook.
Book Your Accomodation: 
Find the best hotels or hostels at Booking.com or at Agoda.com. Perks include with no upfront payment. Pay when you check out and Free cancellations.
Dont Forget Your Travel Insurance:
Two popular choices are SafetyWing and WorldsNomads. A traveler should buy traveler's insurance to protect themselves against unexpected events such as trip cancellations, medical emergencies, and lost or stolen baggage. It provides peace of mind and financial protection in case of unforeseen circumstances.
Want More Information On Phillipines?
Be sure to check out my nomad travel guide on the Phillipines for even more tips
Disclosure: Please note that some of the links above may be affiliate links, and at no additional cost to you, I earn a commission if you make a purchase.