The Best Instagram Spots In South Korea
South Korea is an Instagrammer's paradise due to its crowded streets, nonstop energy, and fascinating blend of traditional and contemporary culture. You'll find excellent photo spots here that would look fabulous on your Instagram.
My goal is for you to have as much fun as possible exploring some of the top Instagram sites in South Korea, from the vibrant cafés to the stunning palaces and grandeur.
To help you rock your gram, here are the 16 Best Instagram Spots In South Korea for you.
South Korea has beautifully renovated a deserted area into a photogenic destination. Artistic excellence is due to a staircase of 99 steps painted in vivid hues. 
You may rest your weary limbs on one of the seats that function as works of art scattered throughout the staircase. The creative types will feel at home in this hidden treasure.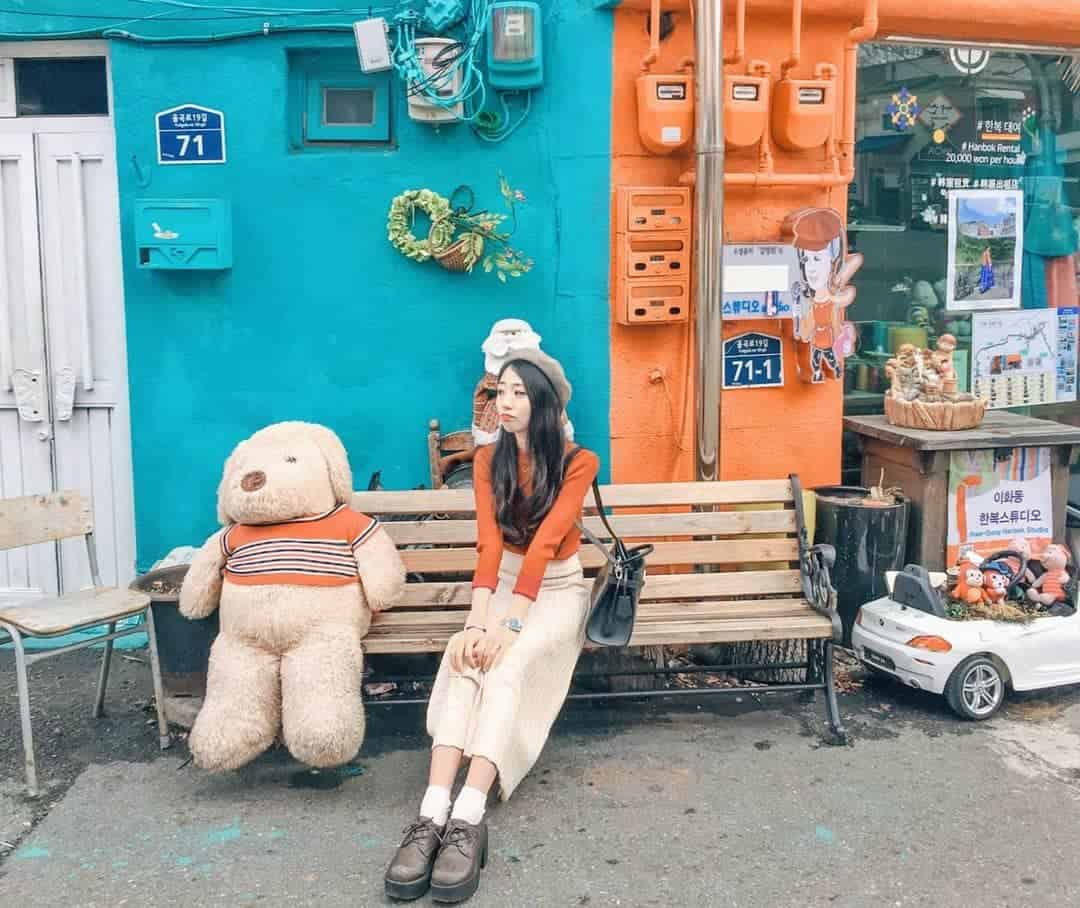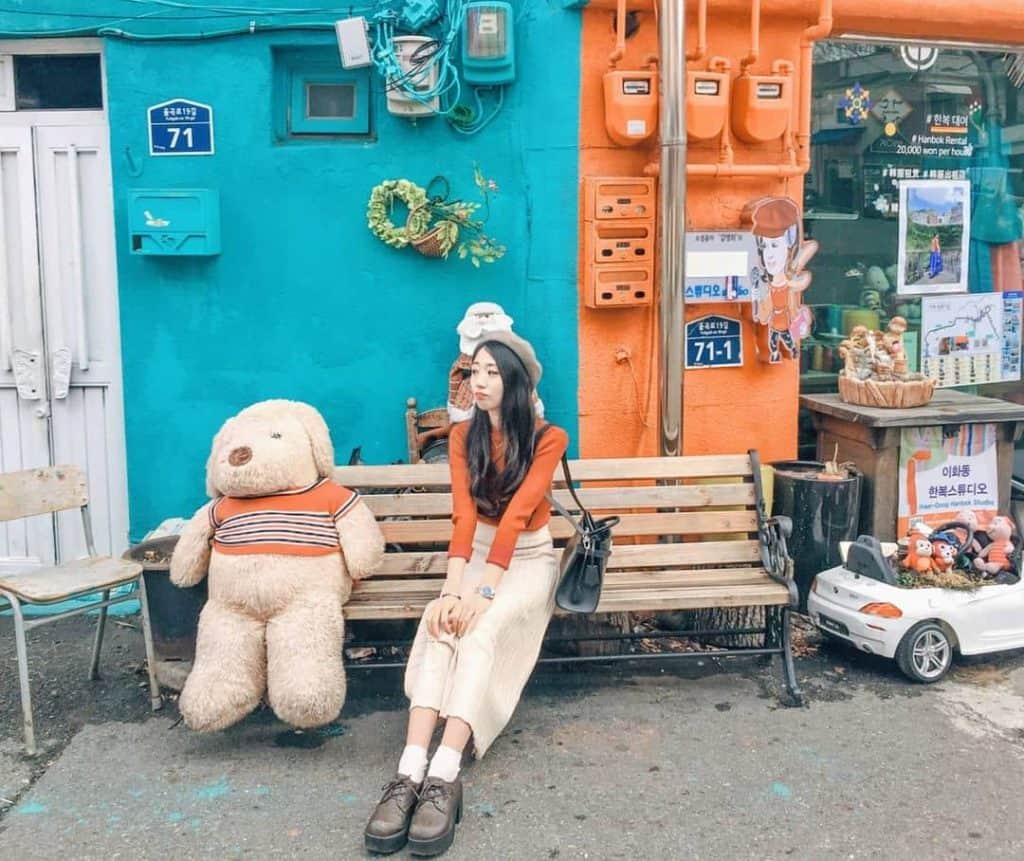 It is among the most visited spots in Seoul by tourists searching for photogenic spots to post on social media. Stairs and rocky streets are to be expected, but the wonderful, vibrant streets and stunning vistas of Seoul from above are well worth the effort. 
If you need a break from the ascent, the little downtown area teems with cafes, pubs, and patios. 
Remember: This is a neighborhood filled with locals, and you should treat them with the utmost respect.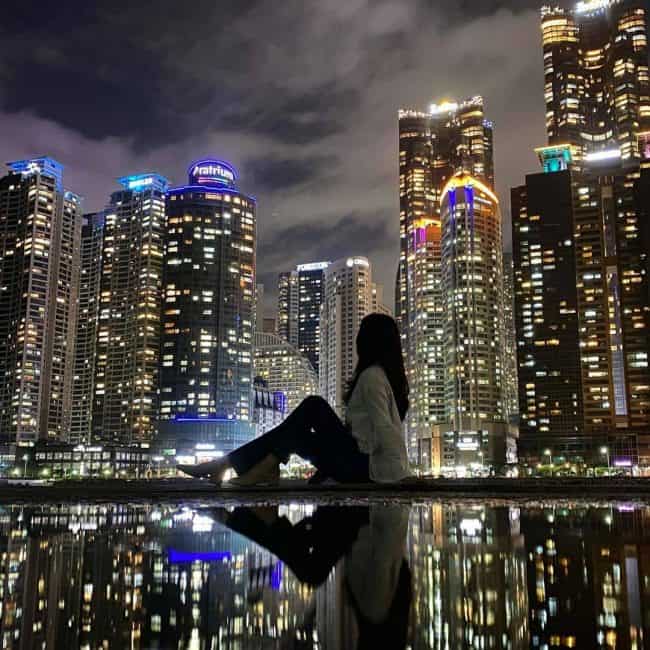 Bay 101 is the ideal place in the city to see the breathtaking sights of the lighted buildings and glittering harbor. Located on Dongbaekseom Island, this expansive maritime amusement park offers various activities and attractions. 
If you want to see a show, go there early (before the regulars arrive) and make room for yourself. Bay 101 is the perfect place to ease up and enjoy the breathtaking view.
It's a bookstore but offers some of the best backdrops in Seoul for posting on social media.  Arc N Book hosts various events, from book readings to book launches. You'll find cozy nooks and little couches to curl up in with a good book.  
Inside the bookstore, you'll discover a variety of snacks and drinks, including several eateries, a coffee shop, and an ice cream parlor. 
The most Instagrammable area, though, is the stack of books that spirals up like a spiral.
5. Songdo Yonggung Suspension Bridge
engineering and a picturesque location worthy of an Instagram post. 
The bridge, which finished in 2020 after being damaged by a typhoon, is 127.1 meters in length and 2 meters in width. 
Make the most of the trail; the view is breathtaking from whichever direction you look! 
There are breathtaking vistas at every turn, combining the calm sea with the endless blue sky and unusual sedimentary structures formed millions of years ago. It's incredible to see it in person.
The Gangnam neighborhood of South Korea is home to Urban Hive. The office building's honeycomb-inspired architecture spans 17 stories. 
Honeybees construct their wax cells in a hexagonal array, and this building's facade is perforated with perfectly round holes to reflect this. Yet there is more to the pattern than greets the eye visually
The Jangrim port of Busan, also known as "Bunezia," is a fishing village with a rustic appeal.  
Interesting Fact: Jangrim Port was considered Busan's Venezia (Venice); that's why it was named Bunezia. 
An eerie likeness exists between the two! Pinch yourself to be sure you haven't somehow been transported somewhere other than South Korea. 
Jangrim Port is a stunning location for any photographer if you want to snap a photo along the harbor or in front of the impressive clock tower.
Just a 50-minute ferry ride from Tongyeong will bring you to Yokjido Island, where breathtaking scenery awaits around every corner. 
Crystal-clear turquoise beaches, miles of white sand, craggy cliffs of limestone, and verdant vegetation distinguish this area. 
Stroll around, and you'll find a striking suspension bridge that provides a breathtaking view of the rocky shoreline plunging into the deep blue ocean below. 
To see the island from above, you may also take a monorail journey to the peak of Mount Cheonhwang, and there you can indeed capture some gram-worthy pictures.
Another commonly photographed location in Seoul may be found across the Han River in the trendy Gangnam district. 
COEX Mall is home to Starfield Library. It has large walls covered with dozens of books. Indeed the best place for people to praise art and its athletics.  
Tip: If you want to take a gram-breaking photo, you should probably go with a friend.
10. Bongeunsa Buddhist temple
Only a short distance from the Starfield Library is the most revered Bongeunsa Buddhist temple in Korea, dating back more than a millennium. The inside of the modest temple is a picture-perfect setting for an Insta-worthy snap or two. 
With the arrival of spring, the garden is transformed into a spectacular display of blooms you will enjoy wandering through. 
Your senses and your Instagram feed will be captivated by the vibrant flashes of color.
As the most famous palace in Korea, Gyeongbokgung Palace also draws the highest number of visitors. 
Tip: Your chances of avoiding the crowd are higher if you go early in the morning and enter via the Gwanghwamun gate. 
The vista they provide is breathtaking, despite the extreme cold. We also recommend Changdeokgung Palace, which is less busy but has just as many photogenic places if you are someone who has a hard time dealing with large groups of people.
Busan's Mer de Cour café is perched on a cliff above the city's coastline. Everything about this place is Instagram-worthy, from the great outside to the airy inside. 
The scenery is photogenic, and the menu is modest yet full of hearty dishes perfect for enjoying while taking in the view.
Fill your stomach with various pastries and drink them with a chilled drink. Imagine a citrus lemonade with just the right amount of tartness and sweetness, a strawberry-filled croissant, a whole sandwich loaded with veggies and savory meat, a cup of freshly made coffee, or any combination thereof.
Terraced rice paddies, seaside vistas, and fields of bright yellow rapeseed flowers are just a few reasons why the southern part of Cheongsando Island is so well-known for its natural beauty. 
The island is also well-known for its dedication to the slow-living philosophy, with an annual "Slow Walking Festival" encouraging tourists and locals to take their time on the island's scenic footpaths.
14. Bukchon Hanok Village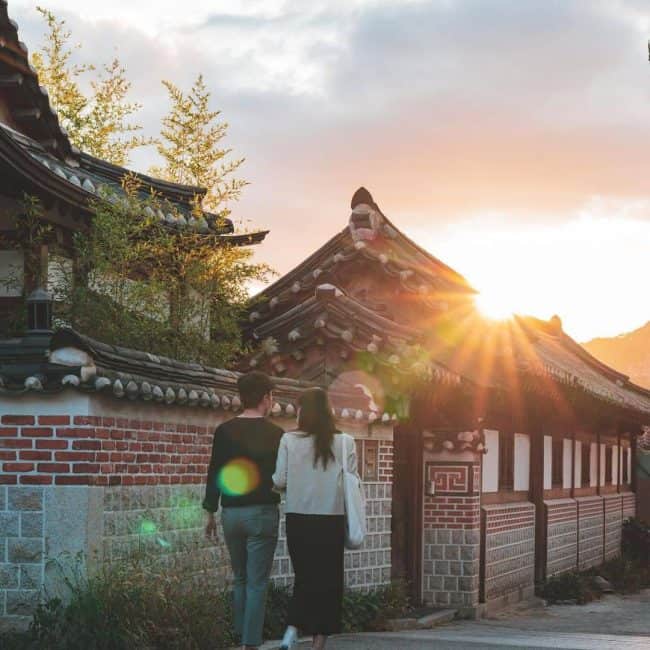 If you want to get into the spirit of Korean culture, you should visit Bukchon Hanok Village. Not only are the spots picturesque, but they also function as cafes, teahouses, and cultural institutions. 
After you've had your fill of taking photos of yourself in hanbok at the venue, browse the nearby shops for some traditional Korean souvenirs.
Twenty miles west of Busan, on the coast, lies the sleepy hamlet of Jinhae, which is famous for its cherry blossoms. 
Each year in the spring, the city has the biggest cherry blossom festival in all of South Korea, and hundreds of thousands of pink trees line the streets, trains, and streams for the occasion.
If you want to see the sun rising in South Korea, head to the easternmost city of Homigot. Geography makes it the first place in the nation to see the sunrise, and the town celebrates this with an annual Sunrise Festival on New Year's Day. 
The sculpture "Hand of Harmony," which can be seen from far away, adds to the area's beauty by depicting two hands, one on land and one in the water, extending upward in a gesture of unity.
Korea is a mesmerizing destination for fresh experiences and photographic inspiration because of its eco-friendly initiatives and cutting-edge infrastructure. To help you plan your next Instagram-worthy trip, I've compiled a list of must-see locations in Korea. Explore it and rock your IG feed. Also, in the comment section below, let us know which place got you the most likes.
Common Questions about iNSTAGRAM SPOTS IN SOUTH KOREA
Thanks for reading. Any suggestions? comment below
Start Planning Your south korea Trip Now!
Book Your Flight:
Use Skyscanner to find a cheap flights. A travellers favorite way to book flights, as it searches websites and airlines around the world with one click.
Book Your Bus or Transportation Within South Korea:
There are two ways to book your transporation, ask your hotel or hostel, go to the local bus terminal, or book online, for a less stressful trip using EasyBook or 12go.asia
Book Your Accomodation: 
Find the best hotels or hostels at HostelWorld, Booking.com, Agoda.com. Perks include with no upfront payment. Pay when you check out and Free cancellations.
Dont Forget Your Travel Insurance:
Two popular choices are SafetyWing and WorldsNomads. A traveler should buy traveler's insurance to protect themselves against unexpected events such as trip cancellations, medical emergencies, and lost or stolen baggage. It provides peace of mind and financial protection in case of unforeseen circumstances.
Useful Apps?
KaokaoBus /K-Eta- Local Transportation
NaverMaps, KaoKaoMaps – GPS
Baemin and Yogiyo  – Food Delivery
T-Money : Payments and Transporation
Papago – Translation
Whatsapp/KaoKao- Communication
Want More Information On South Korea?
Be sure to check out my nomad travel guide on the South Korea for even more tips.
Disclosure: Please note that some of the links above may be affiliate links, and at no additional cost to you, I earn a commission if you make a purchase.