Top 10 Instagrammable places in Turkey
For thousands of years, the topography of Turkey has hosted civilizations. Every area of Anatolia (Asia Minor) offers photographers breathtaking views. Every photographer's desire is to visit Turkey! From Cappadocia's magnificent rooftop bars and sunset hills to Istanbul's breathtaking historical and architectural monuments, the country is rich in picturesque locations. Without further ado, here are Turkey's best Instagrammable locations!
1. Red Valley, Cappadocia
Cappadocia is a fairy-tale land and one of Turkey's most popular tourist destinations.Cappadocia activities include photographing fairy pipes, viewing rock churches, trekking through the valleys, and flying in a hot air balloon. You can be certain that if you participate in all of these events, you will come home with a great photo library.
The magnificent Red Valley is located in central Turkey's Goreme National Park. It is well-known for its red rocks, fairy chimneys formed by previous volcanic eruptions, and hot air balloons. Sunset Hill is the finest place to take photos and watch the sunset. It's a tall rock that you must climb.
Location: Red Valley, Goreme, Cappadocia, Turkey
Opening hours: The Cappadocia Red tour begins at 09:30 AM as you are picked up from your hotel in Cappadocia and ends at around 5 PM
Entrance Fees: fee varies between 3-5 TL
2. Blue Lagoon Beach, Ölüdeniz
Tourists love to photograph the lovely Blue Lagoon Beach, with its blue sea and stunning mountainous surrounds, which make it a photographer's dream. This location is ideal for relaxation because there are no loud beach clubs around. The popular spot is perfect for snorkeling and rafting due to its shallow water and plenty of marine life.
Location: Ölüdeniz, Fethiye, Mugla Province, Turkey
Pamukkale, located in Denizli Province, is famous for its beautiful hot springs – a wonderful natural wonder! The presence of underground volcanic activity brings hot water to the surface. Furthermore, the white calcium ponds that we see today were formed as the minerals in the water solidified and filtered down the hillside. It's virtually impossible to take a bad picture here!
Location: 20280 Pamukkale/Denizli, Turkey
The Ortaköy Mosque, located on the waterside of the Ortaköy Pier Square, is one of the most popular sites on the Bosphorus shore for people to meet and simply hang out and converse.With the Bosphorus Bridge in the background, it provides a stunning view as well as a lovely photo opportunity. However, if you want to have the space to yourself, come early in the morning, as it may get quite crowded during the day.
Location: Mecidiye, Mecidiye Köprüsü Sk. No:1 D:1, 34347 Beşiktaş/İstanbul, Türkiye
Opening hours: Daily 4 AM to 10 PM 
Entrance Fees: While there's no fee to enter, they do accept donations. Also be aware that during prayer time, visits are not permitted.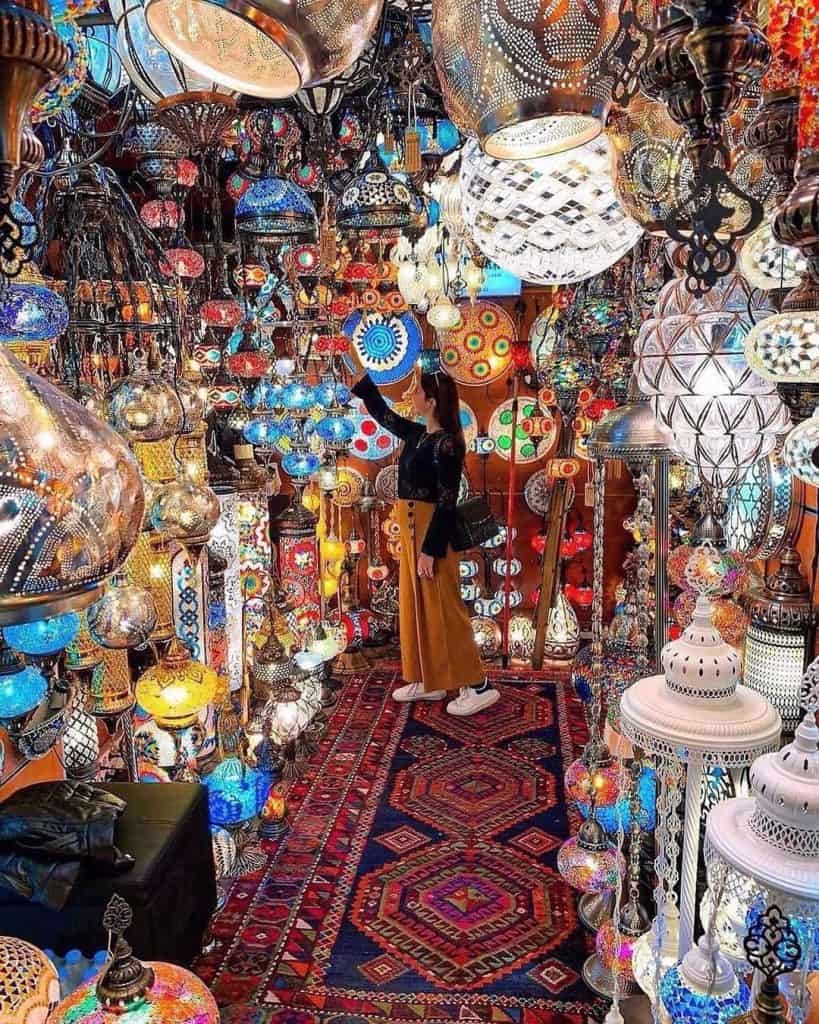 With 62 covered streets and over 4000 businesses, Istanbul's Grand Bazaar is one of the world's largest and oldest covered markets.My favorites were the ones that sell blankets and lamps because they are so colorful. And they make an excellent backdrop for some great shots.The tram is the most convenient way to get to Grand Bazaar, with Beyazid (T1) being the closest stop.
The Blue Mosque (Sultan Ahmed Mosque) is one of Istanbul's most recognized and visited landmarks.Between 1609 and 1616, this UNESCO World Heritage Site was constructed.The architectural wonder is highlighted by hand-painted blue tiles, 200 glass windows, and a marble mihrab. Some argue that the amazing structure is what Ottoman architecture is all about! When taking images inside the Blue Mosque, turn off your flash. Also, avoid photographing people who are praying.
Location: Sultan Ahmet, Atmeydanı Cd. No:7, 34122 Fatih/İstanbul, Turkey
Entrance Fees: Free
7. Taurus Mountains, Antalya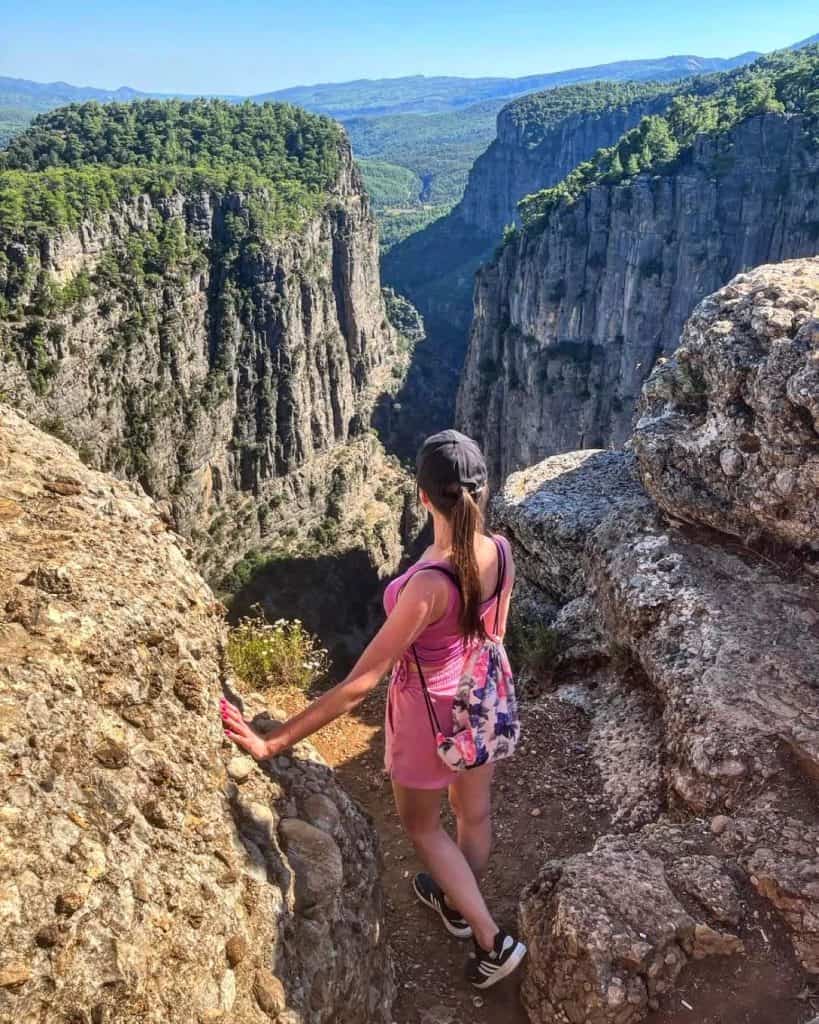 The Taurus Mountains are a breathtaking environment in Antalya. They were produced by the collision of the European and African plates. Demirkazik (3,756 m), Emler and Kizilkaya (3,723 m), and Nemrut (3,916 m) are the highest peaks. Trek through the majestic mountains on St. Paul's trail for the best photos. With views of the city and snow-covered mountain peaks, it's an unforgettable nature experience.
Location: Taurus Mountains, Antalya, Turkey
Oludeniz acts as an aquarium for unique sea species. Oludeniz, one of Turkey's most photographed beaches, provides guests with a one-of-a-kind experience.Oludeniz is a location that all photographers wish to include in their portfolio. If you wish to shoot bird's eye shots in the area, you can fly from Mount Babadag.
In Oludeniz, you can swim with massive turtles and photograph the lagoon's colorful sea fauna. In addition, Belcekiz Beach, which is near Oludeniz, will offer variations to your panoramic photographs.
9. Topkapi Palace Museum, Istanbul
Topkapi Palace, built in the 15th century, was a symbol of Ottoman rule. After being converted into a museum in 1924, it still serves as a representation of the great past. Several photogenic rooms await visitors, including the Harem and Imperial Treasury. The complex also has collections of firearms, ceramics, and jewels.
Location: Cankurtaran, 34122 Fatih/İstanbul, Turkey
Opening hours: Tuesdays closed , Rest of the weeks 10 AM to 4 PM
10. Hagia Sophia, Istanbul
The Hagia Sophia Grand Mosque is a significant reminder of the Byzantine and Ottoman Empires. It was first used as a church, then as a mosque, and now as a museum. The original 6th-century ceiling mosaics, with floral and geometric designs, as well as the gold and silver-plated, glass, and terracotta mosaics, all add to Hagia Sophia's allure.Photographs are permitted within the mosque, but not during prayers.
Location: Sultan Ahmet, Ayasofya Meydanı No:1, 34122 Fatih/İstanbul, Turkey
Opening hours: 24 hours 
Entrance Fees: Free
Turkey's cultural and historical treasures, as well as its Mediterranean environment, draw visitors from all over the world. Because the country is located between Southeastern Europe and Western Asia, many of its tourist sites are influenced by both the West and the East.