Ever heard of Pai? No, it's not something you eat (that's pie!), but a slice of Thai paradise you absolutely can't miss! Nestled in the mountainous regions of Northern Thailand, this tranquil town has morphed into a haven for backpackers, nature lovers, and anyone looking to escape the urban hustle. From cascading waterfalls to boho cafes, I've got the scoop on the top 14 must-do things in Pai.
Wat Phra That Mae Yen: Big Buddha 
Known as white buddha, I suggest motorbiking or taking a bicycle here before walking up 353 steps to the top. Bring a hat and some water to keep cool. Be sure to bring appropriate clothing, by having your knees and shoulders covered. Take your shoes off once you reach the top. For you drone lovers, there are no rules against using a drone here… yet. 
Spend time in the town's many cafes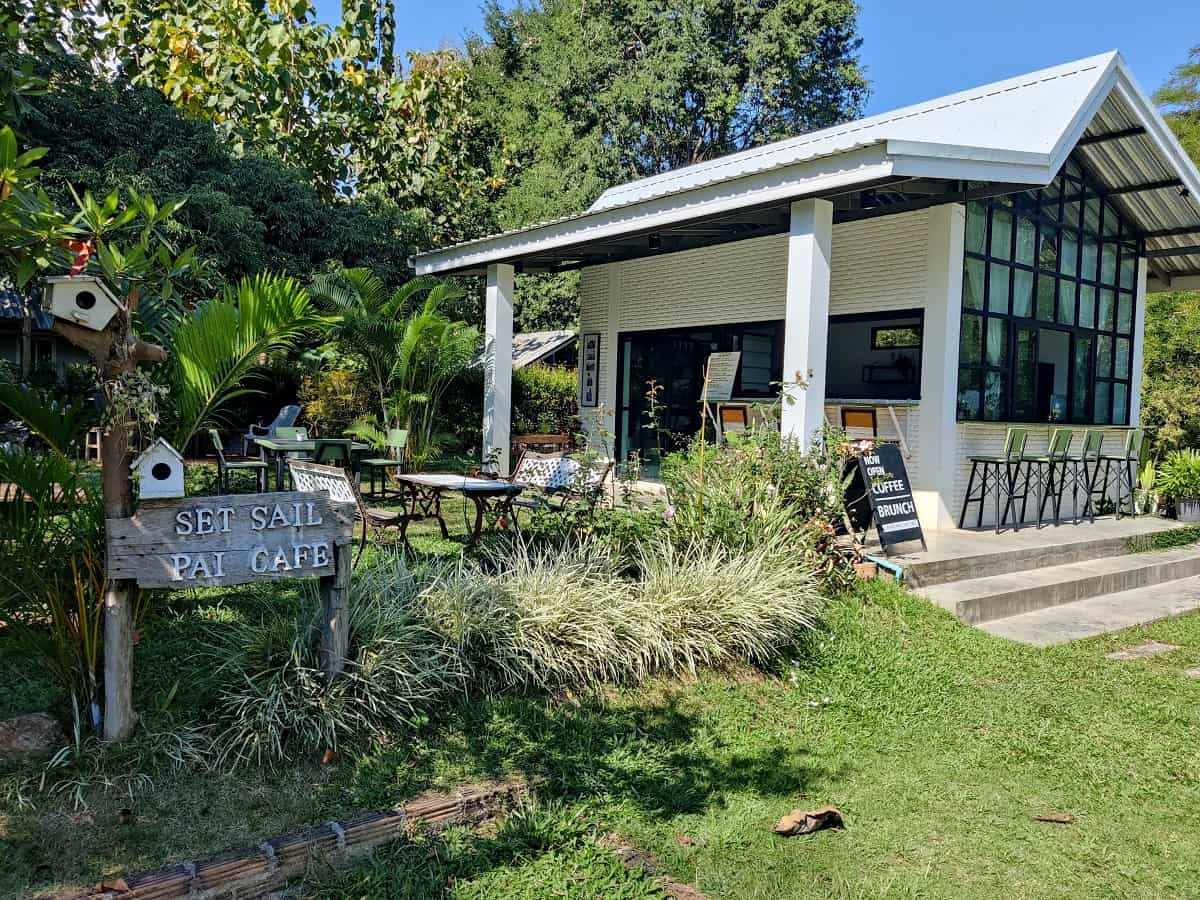 Coffee In Love is a charming cafe located in the heart of Pai, Thailand. The cafe serves a variety of specialty coffee drinks and freshly baked pastries. The cozy and welcoming atmosphere of Coffee In Love makes it a popular spot for both locals and tourists to relax and enjoy a cup of coffee.
Thai Pai Memorial Bridge
The Thai Pai Memorial Bridge is significant because it is a major transportation route in Thailand, connecting the northern and southern regions of the country. It is also a symbol of unity and national pride, as it was named after a popular Thai nationalist leader and was funded by the Thai government and private donations. The bridge has also had a positive economic impact on the surrounding area, boosting trade and tourism.
Pai Canyon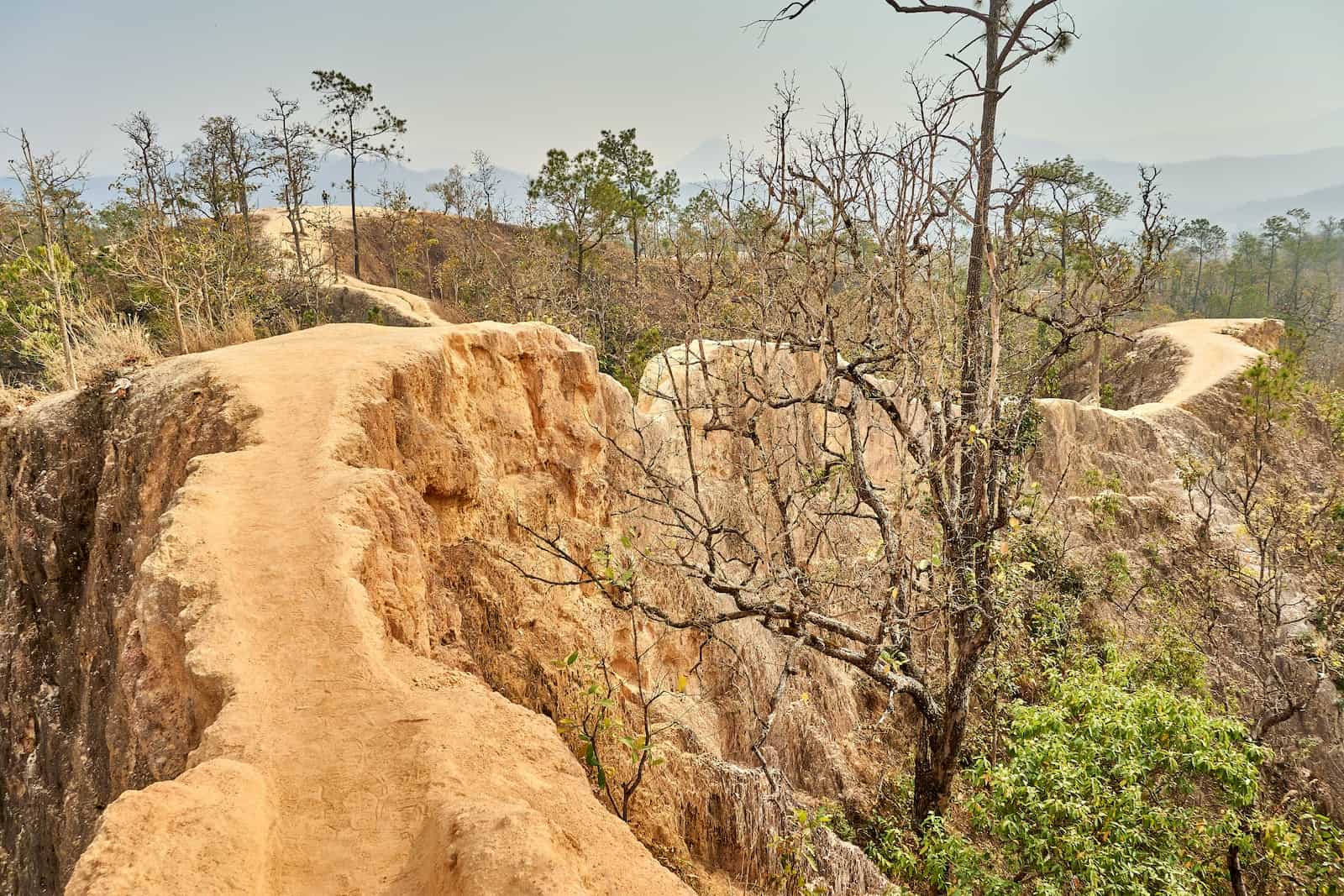 Called the grand canyon of thailand, it's not as grand as its comparison, but its still a beautiful spot to go watch the sunset. Just a short drive from the main town, there are plenty of food stalls, to enjoy sunset and a quick dinner here. The initial hike isnt too bad, but bring a small towel to sit on, as this place fills up in the evening. Come early to secure a spot, or just for a hike.
Chinese Village/Santichon Village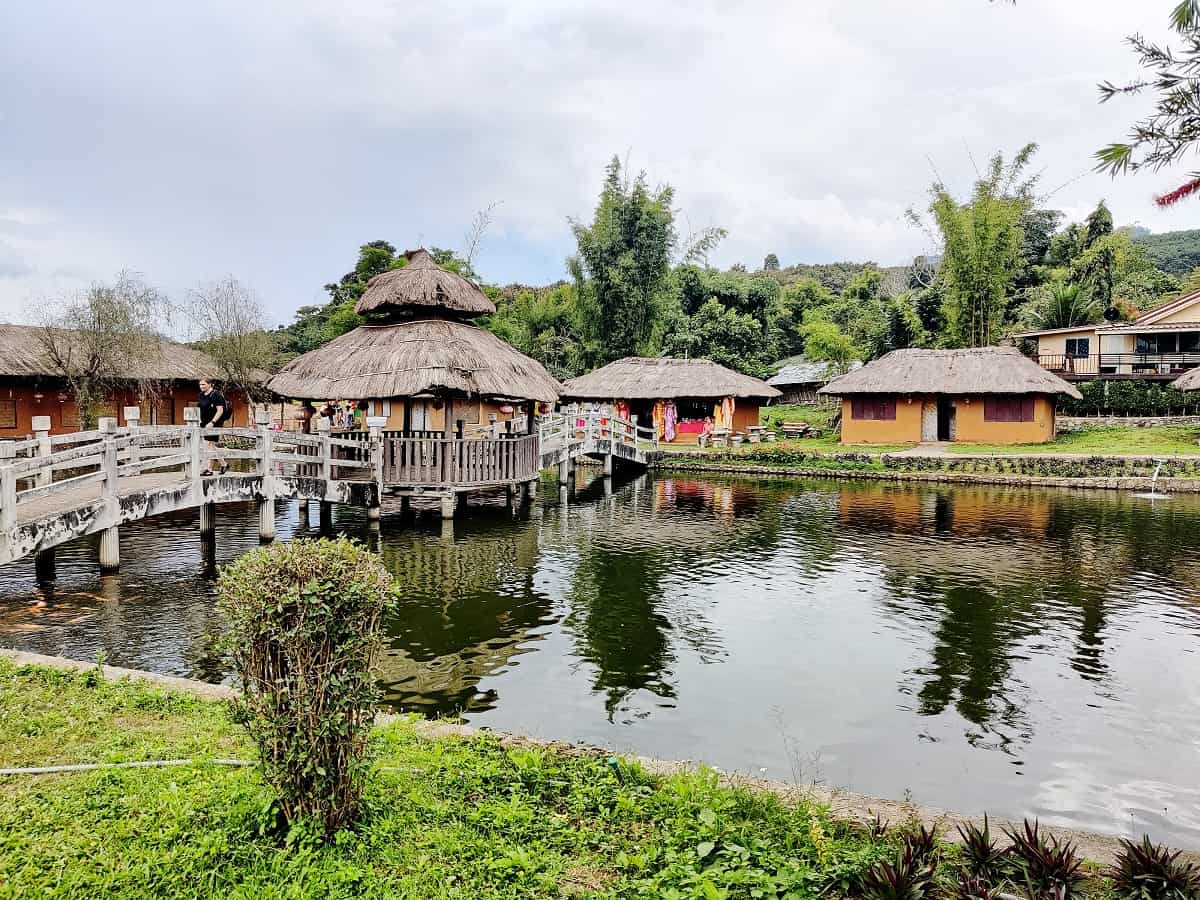 Checkout this ethically chinese village, you can buy souvenirs, ride a horse, shoot bb guns, shoot a bow and much more. Drive yourself here to take your time, or go on one of the day tours that include this stop.
Pam Bok Waterfall
Less touristy than some of the other waterfalls, and has some shade. Come check out the lesser known  waterfall behind this main one, by following a path up the mountain.
Land Split
On the way to Pam Bok Waterfall, this tourist spot was caused by earthquakes and some soil erosion.  Enjoy an orchard, as you walk to the split, and enjoy the fresh jams, fruit and wine they sell.
Pai Bamboo Bridge: Kho Ko So
Be impressed by the strength and length of this bamboo bridge. There are a few cafes and places to grab a snack.  A great spot for a digital nomad to do some work, bring a wifi hotspot, as I am not sure about the wifi strength of the  cafes. Come during the wet season, to enjoy green rice fields. Follow the bridge all the way down, to discover a  Buddhist monastery.
Pai Night Market
Make your way to the main street, to find this night market. There are all sorts of vendors for food,drinks  and souvenirs. For those who enjoy the hippie scene, you can get clothing here. Walk around, grab a snack and  make your way to one of the local bars for a drink.
Sai Ngam Hot spring or Tha Pai Hot Spring
Thai Pai Hot Spring, about 7 km from town, visit during the cooler months and enjoy the soothing warm water. You will  find many backpackers here. Bring some sandals.
Sai Ngam Hot spring is north of town, about 25 minutes, this hotspring is another great option.
Tham Lod Cave
Tham Lod Cave is a popular attraction in Pai, Thailand, known for its stunning stalactites and stalagmites. Visitors can explore the cave by boat, and there are also several smaller caves within the complex. The cave is also home to a variety of wildlife, including bats, fish, and birds.
Pai Circus Hostel
Not only does his hostel have a nice pool overlooking town, but they also have daily activities. Become a member to enjoy lessons from experienced teachers, learn juggling, staff, and more.
Take Muay Thai Class or Watch a Fight
Details coming soon
Get A Massage
There are many local providers of massages in town, just take a walk around and shop for the best price!
Pai is a digital nomad hotspot. Don't just travel, live the Pai vibe! Perfect for backpackers, nature enthusiasts, and chill seekers!
Start Planning Your Thailand Trip Now!
Book Your Flight:
Use Skyscanner to find a cheap flights. A travellers favorite way to book flights, as it searches websites and airlines around the world with one click.
Book Your Bus or Transportation Within Thailand:
There are two ways to book your transporation, ask your hotel or hostel, go to the local bus terminal, or book online, for a less stressful trip using Easybook or 12go.asia
Book Your Accomodation: 
Find the best hotels or hostels at HostelWorld, Booking.com, Agoda.com. Perks include with no upfront payment. Pay when you check out and Free cancellations.
Dont Forget Your Travel Insurance:
Two popular choices are SafetyWing and WorldsNomads. A traveler should buy traveler's insurance to protect themselves against unexpected events such as trip cancellations, medical emergencies, and lost or stolen baggage. It provides peace of mind and financial protection in case of unforeseen circumstances.
Useful Apps?
Grab/Uber – Local Transportation
Uber Eats/Grab – Food Delivery
Whatsapp – Communication
Want More Information On Thailand?
Be sure to check out my nomad travel guide on the Thailand for even more tips.
Disclosure: Please note that some of the links above may be affiliate links, and at no additional cost to you, I earn a commission if you make a purchase.