Where to Party in Pohkra, Nightlife in Pohkra
Pokhara is the second best place in Nepal to go out after Kathmandu's Thamel. Pokhara's vibrant nightlife is well-known. Enjoy live music and delicious cuisine at local restaurants and nightclubs. A night by lakeside Pokhara has many places to relax that are quiet and nice. You won't miss anything, and the weather will be ideal. According to laws issued by the government of Nepal, Pokhara's nightlife establishments must close to guests at midnight. You should avoid doing any unlawful activity at the clubs and pubs, as the authorities often inspect these establishments after dark. Pokhara is a great destination for vacationers of all budgets.
Here is a list of nightclubs in Pokhara and bars you may check out in Pokhara, Nepal. So, have a look around and make a list of the nightclubs you'd like to visit on your next trip.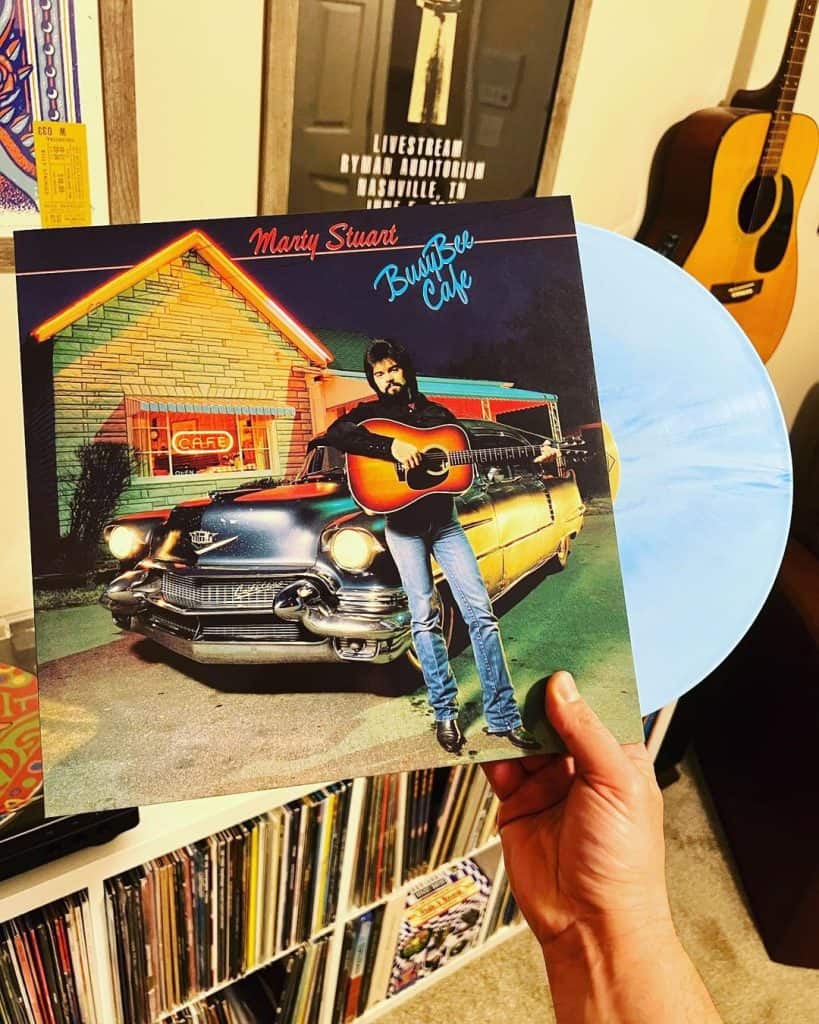 The Busy Bee has been a Pokhara landmark for almost 20 years, beloved by both natives and visitors alike. It features both an outdoor bar and an inside dance floor, where you can enjoy live music from regional acts. It's open till 2:00 AM, making it one of the late-night options in Pokhara. Delicious drinks and snacks are available, as well as a projector for watching sporting events and a foosball table for some friendly competition.
Live music and other events are frequently held there, making it an ideal spot to experience Pokhara's thriving music scene. The bar has a wide range of beers, hard drinks, shots, and tasty snacks to choose from. If you're in Pokhara for the nightlife, you have to stop by Busy Bee. It's the best place to dance, meet people, or just chill out.
Location: Baidam Road, Lakeside Pokhara
Opening hours: 11:30 AM to 2:00 AM Daily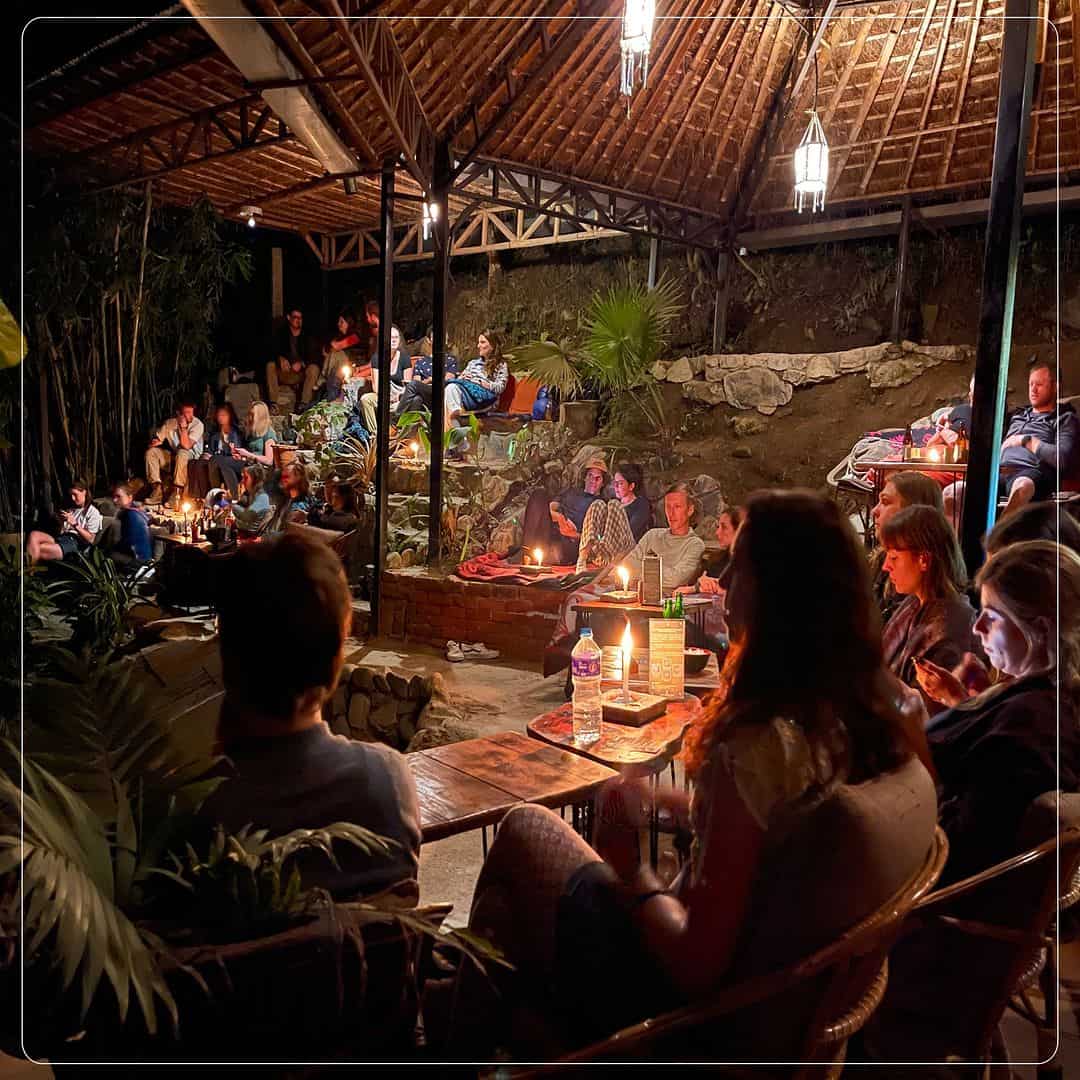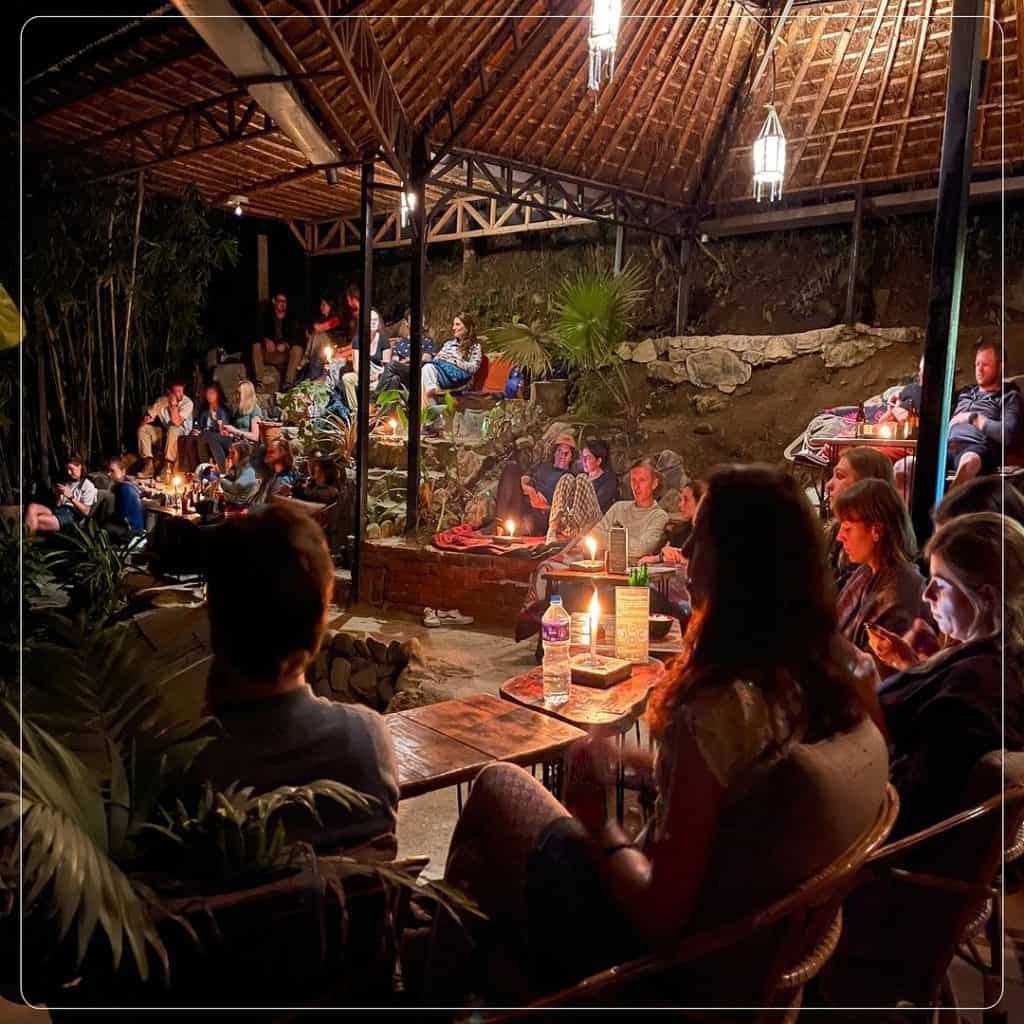 Movie Garden is an alternative to the typical night out, where you can relax with your loved ones while viewing a film in an outdoor amphitheater. According to the plan, a different movie is shown every day. Pokhara is home to a one-of-a-kind and eccentric club. Every night at 7, for roughly $3 (300 Nepali Rupees), the theater shows a film. Blankets, popcorn, pizza, and other snacks are offered for those who feel the chill. 
Enjoy a relaxing evening under the stars with your friends or significant other while watching a movie in this setting. Movie Garden is Pokhara's premier nightlife destination for movie fans and those who simply appreciate a beautiful evening.  The bar's laid-back vibe and unique selection of entertainment make it a hit with both locals and visitors. 
Location: Baidam Road, North Lakeside, Pokhara 33700
Opening hours: 6:00 PM to 11:00 PM every day
Looking For Happy Hours?
 Be sure to check out the instagram of each bar and club, as they add drink specials and events there.
3. Paradiso Sports Bar & Grill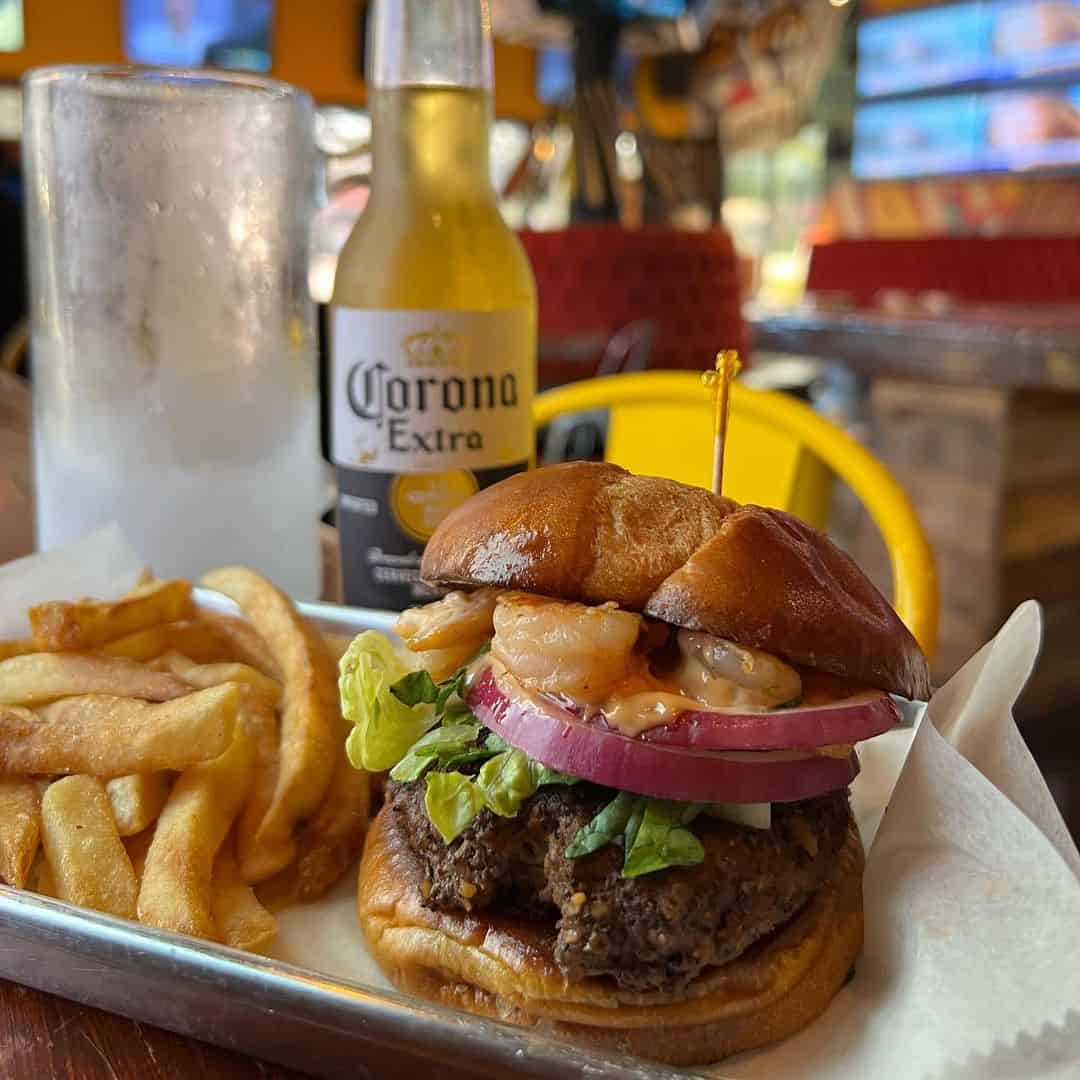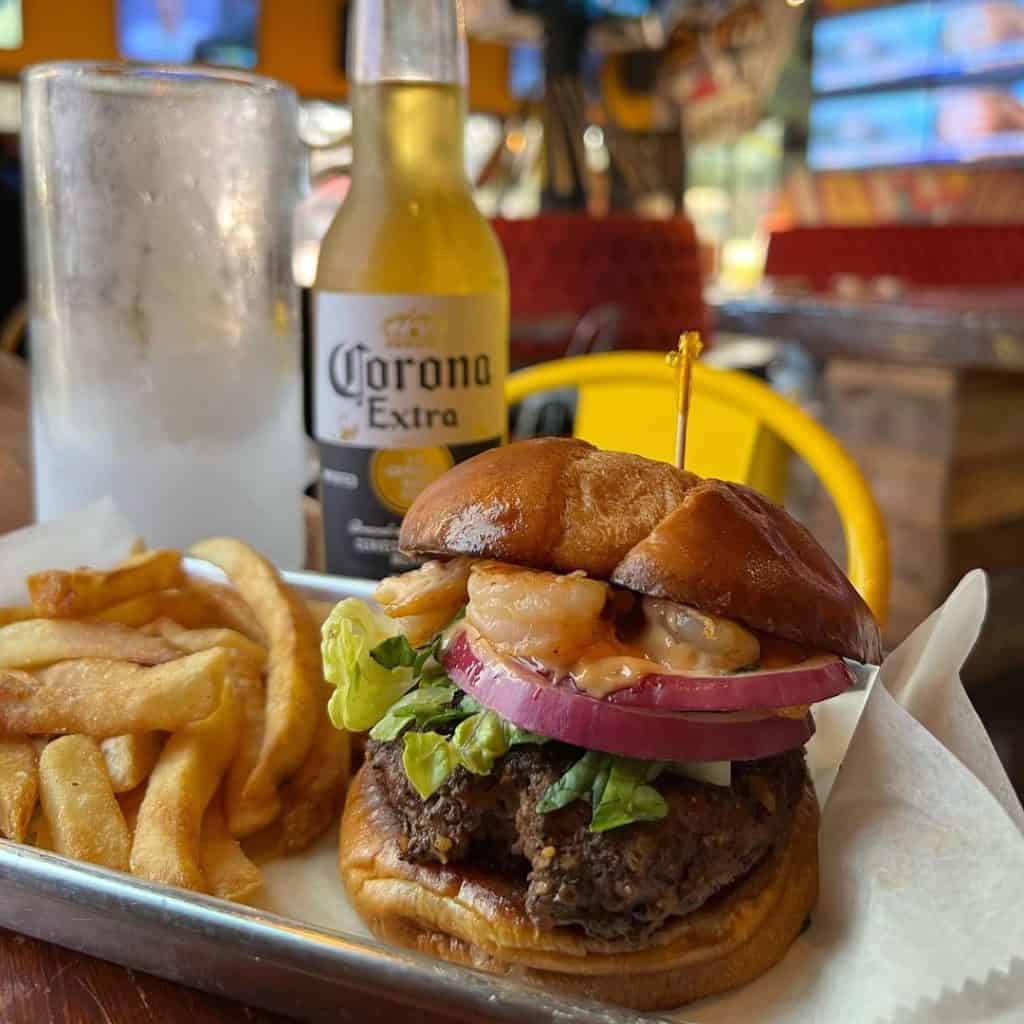 The Paradiso Sports Bar & Grill, formerly known as Club Amsterdam, is a traditional sports bar that can accommodate big parties. Here, patrons may enjoy the company of friends, smoke Hookah, and chow down on some tasty fare while watching everything from international soccer to Formula One races on the big screen.
Some of the best things about this place are that it has free wifi, pool tables, live screenings of football and rugby games, a range of food, including modern fusion and traditional Nepali, live rock music, hookah, and great drinks.
Location: Lakeside Ward No. 6, Baidam, Pokhara
Opening hours: Monday-Saturday 11:00 AM to 2:00 AM, Sunday 11:00 AM to 12:00 AM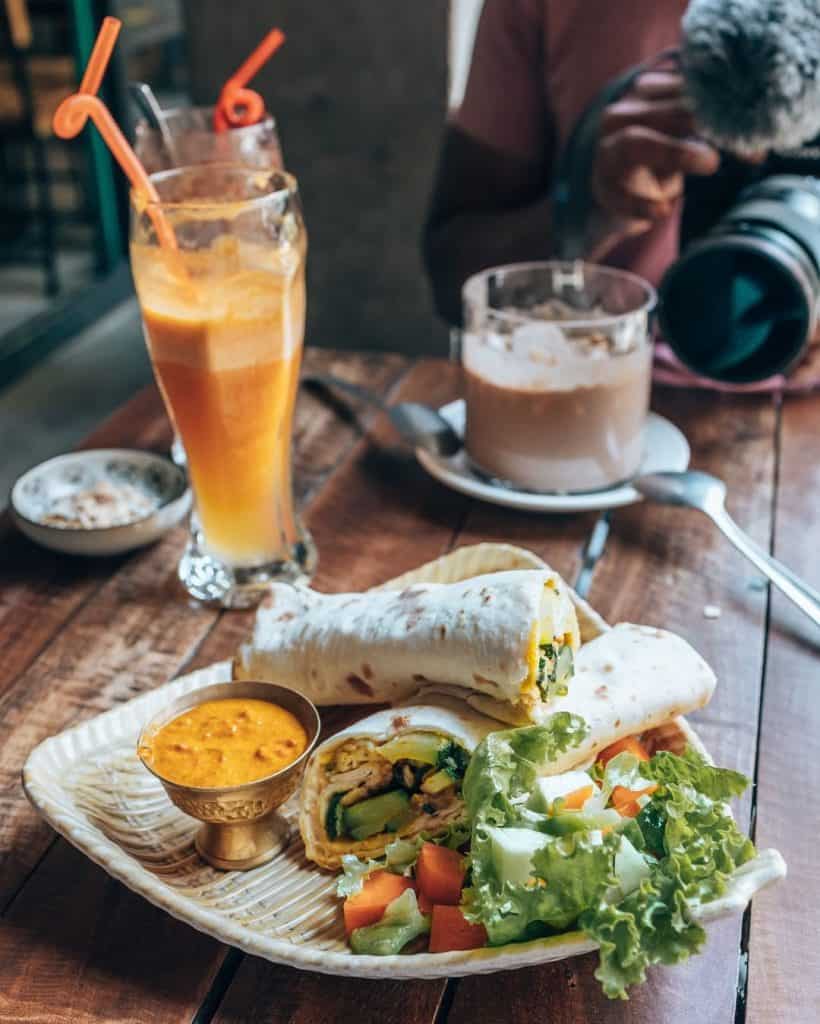 OR2K is a vegan restaurant in Pokhara with stunning views of Phewa Lake and the mountains beyond. Enjoy a diverse selection of dishes from the Mediterranean, Nepal, and Asia while watching a film. Pokhara, a highland town, is a wonderful getaway from the hustle and bustle of everyday life. One of the friendliest people in the world as hosts makes this small, party-hungry town the ideal spot to unwind and forget about your worries.
Location: Center Point Building, Baidam 6, Lakeside, Pokhara

Opening hours: 8:00 AM to 11:00 PM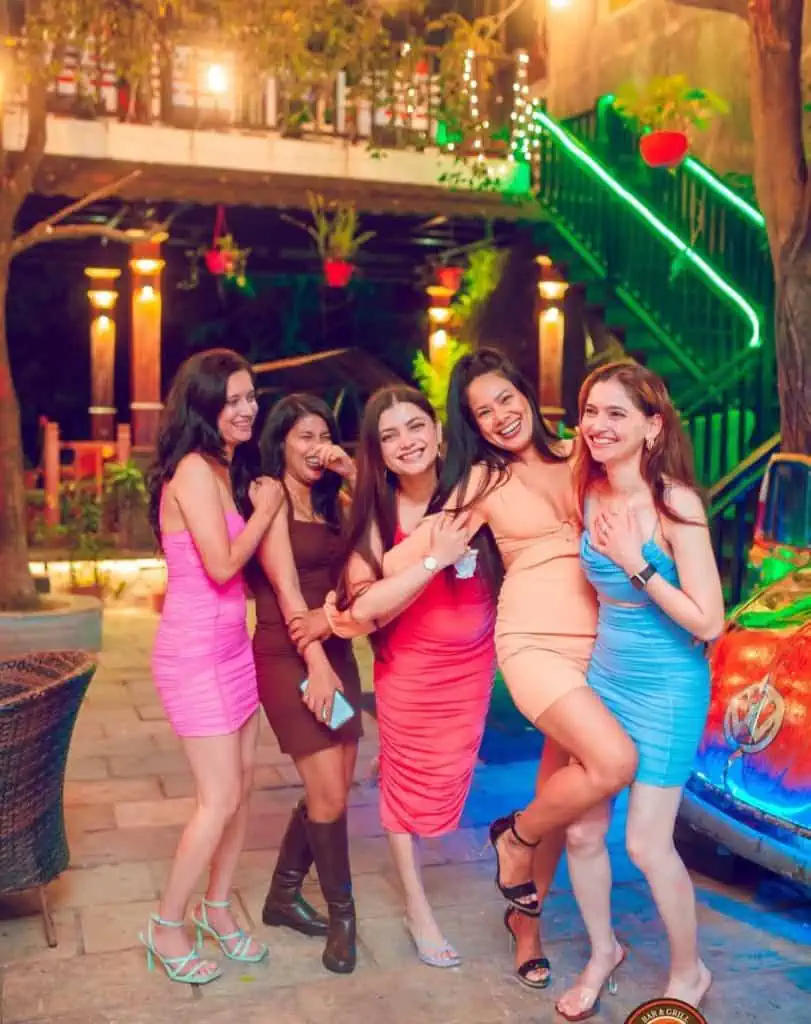 The name itself gives away the main attraction at this place. Only here can you find a selection of international jazz musicians performing live in Pokhara. If you're looking for a bar that stocks both foreign and local liquor brands, look no further than All that JThat If you prefer cocktails, don't worry; the bar has a good selection for you to choose from.
Address: Lakeside-6, Pokhara, 33700, Nepal
Opening hours: 6 PM to 2 AM Daily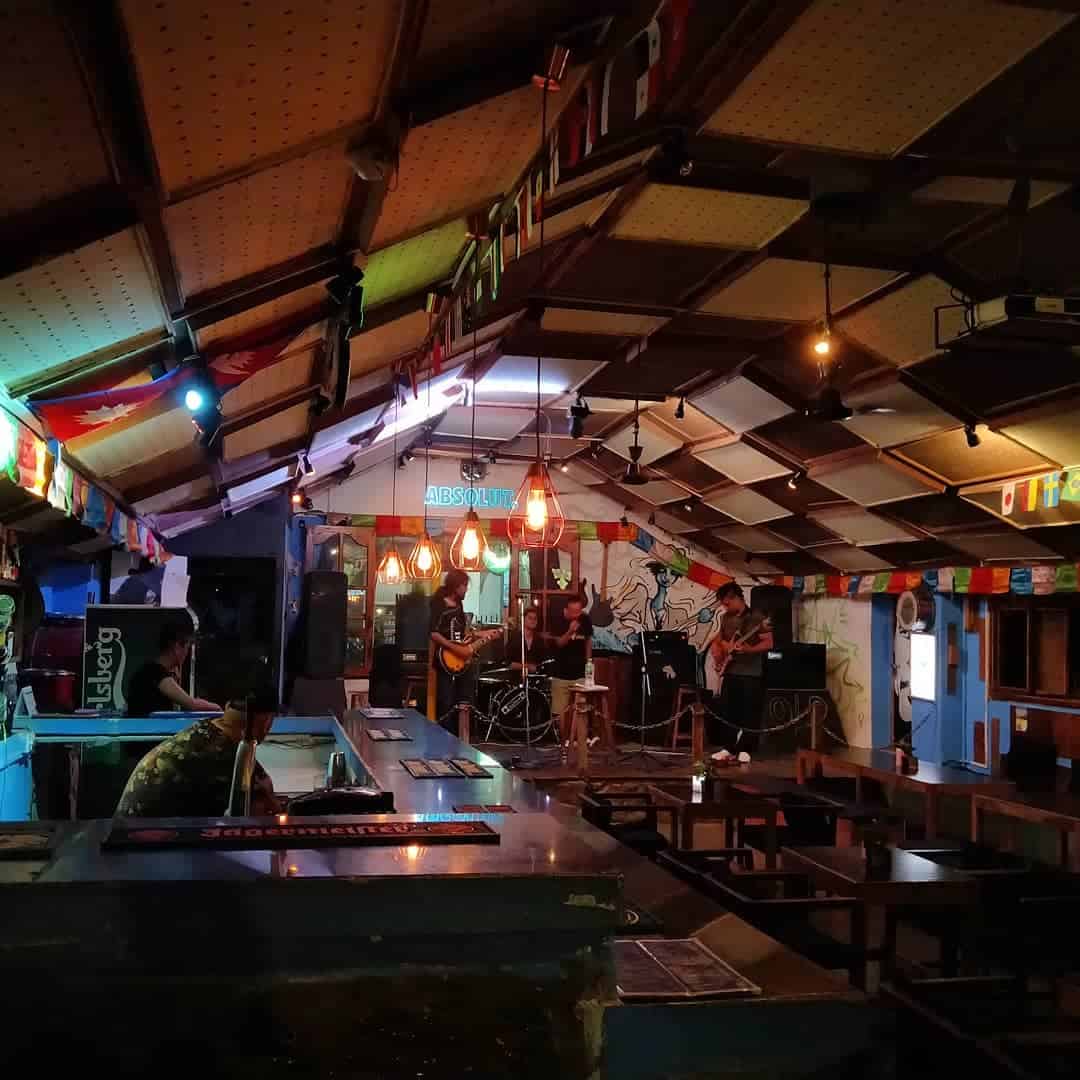 The Old Blues Bar, which opened in 1978 and has been entertaining visitors from all over the world ever since, is considered "old" by Pokhara's standards. Over the years, this venue has hosted performances by countless musicians from all over the world. Don't be afraid to put your stamp on the evening if you're a musician and take center stage. Even though it is a little out of date by Pokhara standards, this blues bar is still going strong, so gather your friends and go on over.
Location: Hallanchowk, Lakeside, Pokhara 33700
Opening hours: 6:00 PM to 11:30 PM every day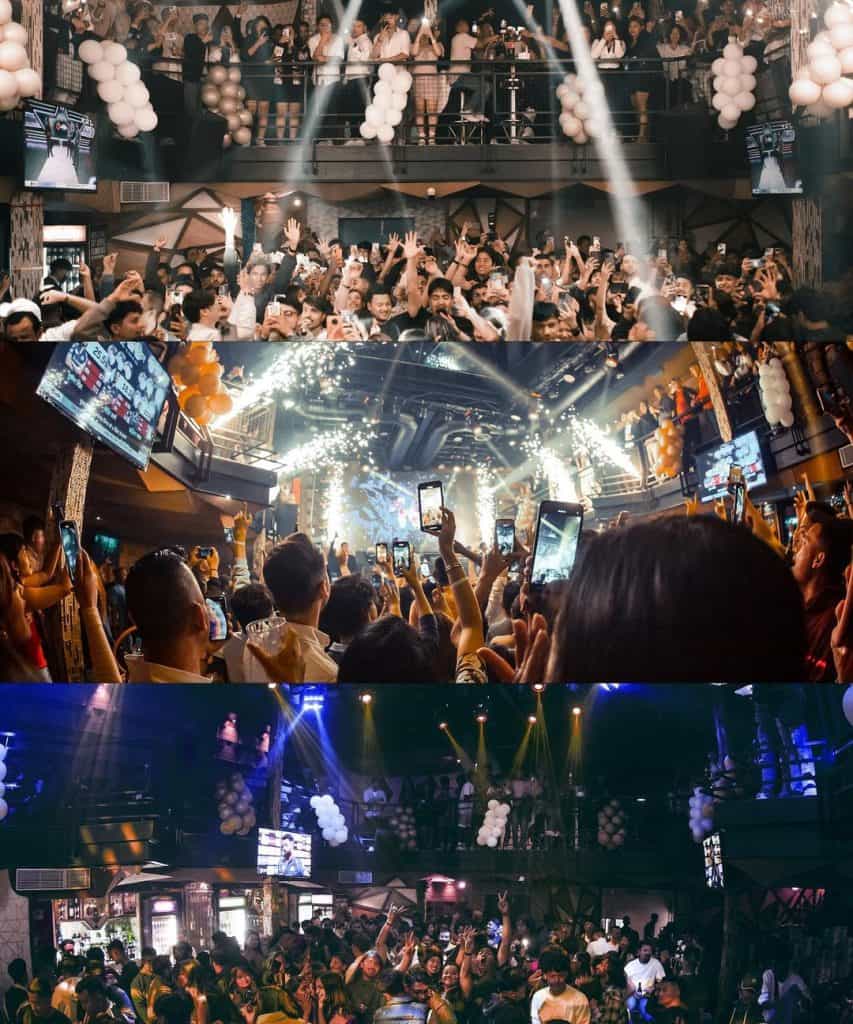 The Treasure Lounge is a recent addition to Pokhara's bar and club scene. The place has exploded in popularity among teenagers. The lounge's modern design, luxurious furnishings, and tasteful accents create an upscale environment. This is a top spot for serious clubbers and party animals, as there are dance floors on every level of the club. Live music and other events are regularly featured in the lounge, contributing to Pokhara's thriving nightlife. People who love to party all night and don't mind a bit of a crowd should go to Treasure Lounge.  
Location: 6X74+3R2, Pokhara 33700, Nepal
Opening hours: Mon to Fri 2 PM to 4 AM , Sat & Sun 2 PM to 6 AM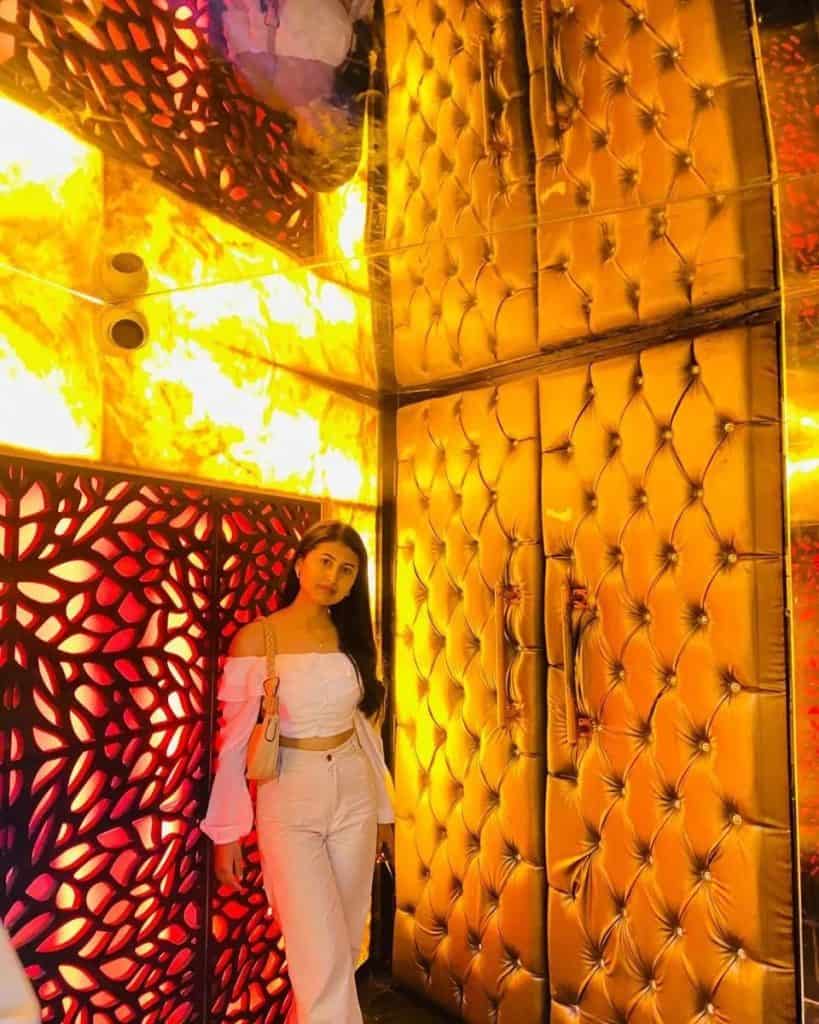 One of the newest nightlife destinations in Pokhara is Club Sixteen, located inside Fresh Elements Restaurant. One of the most fashionable spots to spend a night out, it features state-of-the-art furnishings, lighting, and audio equipment. The club frequently attracts DJs from all around the world, providing a lively and varied musical selection. Club 16 Pokhara is a must-see for every club hopper, whether you're in the mood to dance, mingle, or relax after a day of sightseeing.
Location: Middle Path St, Pokhara 33700, Nepal
Opening hours: 9 PM to 6 AM Daily
Pokhara has the best nightlife in all of Nepal. It would be a stretch to call Pokhara one of the world's hottest party destinations, but the city does boast a sufficient number of bars and clubs to guarantee that visitors and residents alike have a good time after dark
common questions about nightlife in nepal
Start Planning Your Nepal Trip Now!
Book Your Flight:
Use Skyscanner to find a cheap flights. A travellers favorite way to book flights, as it searches websites and airlines around the world with one click.
Book Your Bus or Transportation Within Nepal:
There are two ways to book your transporation, ask your hotel or hostel, go to the local bus terminal, or book online, for a less stressful trip using EasyBook or 12go.asia
Book Your Accomodation: 
Find the best hotels or hostels at HostelWorld, Booking.com, Agoda.com. Perks include with no upfront payment. Pay when you check out and Free cancellations.
Dont Forget Your Travel Insurance:
Two popular choices are SafetyWing and WorldsNomads. A traveler should buy traveler's insurance to protect themselves against unexpected events such as trip cancellations, medical emergencies, and lost or stolen baggage. It provides peace of mind and financial protection in case of unforeseen circumstances.
Useful Apps?
PNBBS (West Nepal Bus Booking) / BusSewa /Bus Nepal.com – Booking busses
Nepali Chat / imo / WhatsApp – Communication
Hotel Nepal / HolidayPasal.com / Kayak – Hotel booking
Nepal Railways APK / IRCTC Train / App / Yatra App – Booking train
Bhojdeals (Now BHOJ) / Foodmandu / Pokhara Food Delivery – Food Delivery
Uberr / Taximandu / Tootle – Booking Taxi
Want More Information On Nepal?
Be sure to check out my nomad travel guide on the Nepal for even more tips.
Disclosure: Please note that some of the links above may be affiliate links, and at no additional cost to you, I earn a commission if you make a purchase.