top 10 Instagrammable places in Vienna
Vienna is one of Europe's most Instagrammable cities. Beautiful castles, gardens, and churches will make you smile as you walk about.With its Neo-Gothic, Baroque, and Art Nouveau architecture and grand parks and squares, it is one of Europe's most picturesque towns.
If you're visiting Vienna for a few days, bring your camera or phone to take photos of these Instagrammable sites. Vienna will help you create blog articles or share a memory with loved ones. 
Karlskirche is one of the most important and interesting buildings in Vienna. This church's architecture is very impressive. It has a central domed roof and two huge decorated columns on either side. The inside is also decorated with frescoes that show a lot of attention to detail.
This church's elevator lifts you up into the dome, revealing stunning city views and bringing you closer to the artistically painted walls and ceilings—so Instagrammable! Ressel Park adds to the setting by overlooking the church across a pond. The frescoes are also worth seeing inside.
Location: Karlskirche, Karlsplatz 10, 1040 Wien, Austria
Opening hours: Mon to Sat 9 AM to 6 PM , Sun 12 PM to 7 PM.
Entrance Fees: If you want to go inside the church and access the viewing platform the admission charge is €9.50.
2. Schönbrunn Palace & Gardens
This Baroque palace is a UNESCO World Heritage sites and a renowned Vienna destination. This mansion is beautiful and full of hidden treasures including paintings, statues, and gardens. Vienna's historical splendour is a must-see with free park admission year-round.
Every Vienna itinerary must include Schönbrunn Palace, one of the city's main attractions. Schönbrunn was originally a hunting lodge, but it became a palace in the 18th century.The Schönbrunn gardens are free, and you may take fantastic photos of the building's facade. 
Summer brings amazing tree tunnels and flowers to the garden, great for Instagram photos. The Schönbrunn Palace's outside steps can be used for photos or to view the gardens from above.
Location: Schönbrunner Schloßstraße 47, 1130 Wien, Austria
Opening hours: The park gates are opened at 6.30 am daily, while the Palace only opens at 9 am. If you want to avoid the crowds and have the park and the palace exteriors all to yourself, it's best to go early in the morning, before the palace opens.
Entrance Fees: Visiting the grounds and the gardens is entirely free.Tickets typically start from €22 per person, you can check the different ticket types here. 
Plant lovers will enjoy this place! The Palm House, Austria's largest greenhouse, is inside Schönbrunn gardens and easy to see. The home has three pavilions with tropical, subtropical, and Mediterranean plants.
The white spiral staircase near the entryway is one of Vienna's most Instagrammable spots! Many adorable spots and benches throughout the greenhouse are perfect for Instagram photos. This breathtaking scenery makes it nearly difficult to shoot a bad photo!Go around the time it opens if you want to enjoy it without a lot of people. 
Location: Schönbrunn Palace Park, 1130 Wien, Austria
Opening hours: Daily 10 AM 
Entrance Fees: The entrance ticket costs €9 per person.
One of Vienna's most popular tourist sights is also Instagrammable! This Baroque mansion, formerly Prince Eugene of Savoy's summer retreat, today houses a large Gustav Klimt collection. Nestled among gardens with fountains, Belvedere Palace offers ample shooting options without the need to enter the building.
Photo opportunities are finest at the Belvedere's front pond. Water reflections may occur on calm, windless days. Spring brings flowers, and winter brings Christmas decorations.This massive palace has two parts: upper and lower Belvedere. The Palace is known for its Baroque architecture and beautiful grounds. 
Location: Prinz-Eugen-Straße 27, 1030 Wien, Austria
Opening hours: Daily 10 AM to 6 PM 
Entrance Fees: Free if you only visit the Belvedere Garden and Botanical Gardens. An entrance ticket to Upper Belvedere costs €15.90, while it's €8.90 to Belvedere 21. If you want to visit both galleries, you can purchase a 2 in 1 ticket for €22.90.
5. State Hall of the Austrian National Library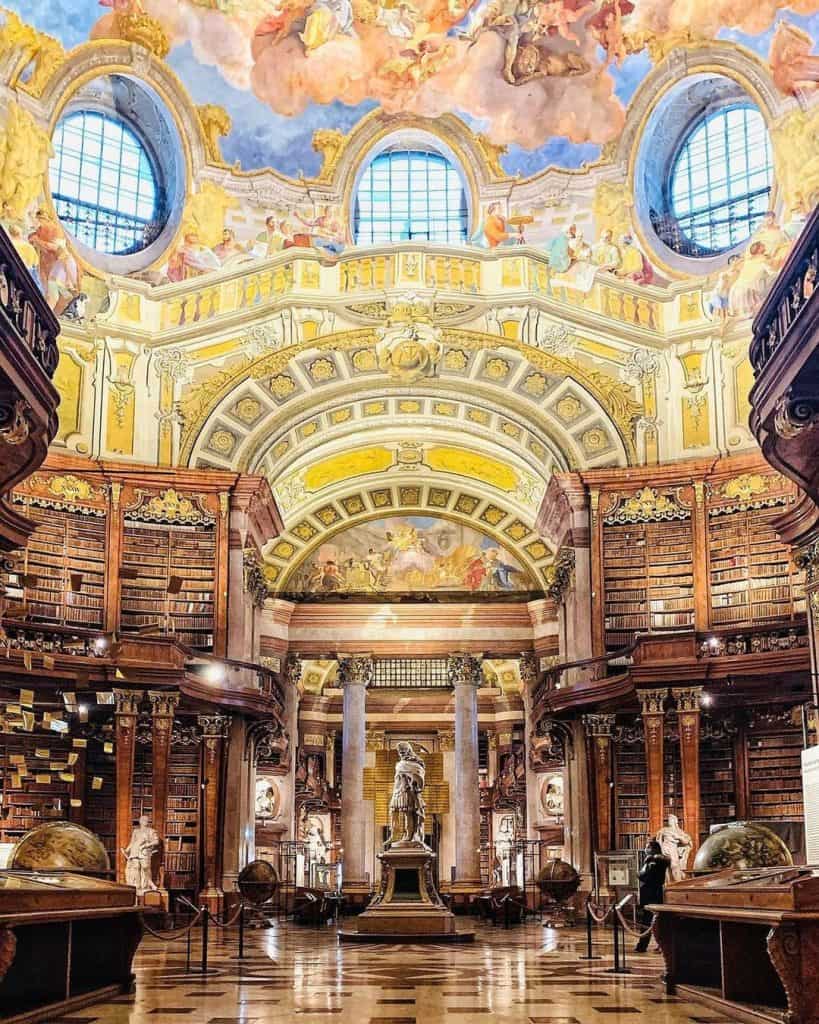 The Austrian National Library's Baroque State Hall has statues, Venetian globes, murals, and over 200,000 books.This library's width makes Instagram difficult. Nighttime illumination makes it lovely.
In the city after the rain, you may locate puddles like below for great reflections. This makes taking square or portrait photos easier (landscapes aren't Instagram-friendly). Try a wide-angle lens and capture shots closer to the building.
Without a book, you may enjoy the National Library's stunning views. One item you must see in the library is the baroque state hall. Marble columns and an elaborate ceiling make the scene stunning. You can take amazing shots in this space for a nominal cost. This is one of the world's most beautiful libraries, and its central location makes it a must-see in Vienna.
Location: Josefsplatz 1, 1015 Wien, Austria
Opening hours: The full opening hours are Tues to Sun, 10 AM to 6 PM, and Thurs 10 AM to 9 PM
Entrance Fees: €10. There is an additional fee to visit the other five museums at the complex.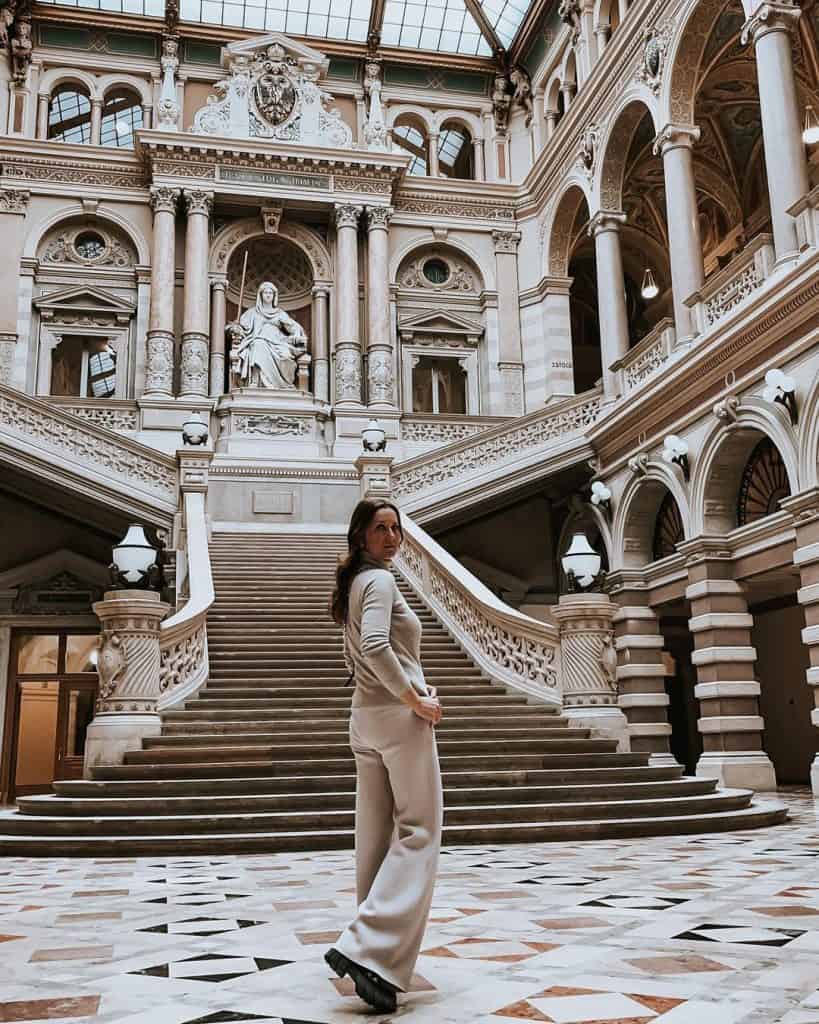 The Austrian Supreme Court is located in Vienna's Palace of Justice. The building looks great from the outside, but you should walk inside and snap more shots in the atrium. Hidden gem: Palace of Justice inside. The main hall floor and architecture at the entry are the building's principal attractions. For a high view, climb the stairs and go back. Palace of Justice boasts stunning architecture and interior decor. 
This court's rooftop terrace with a café offers amazing views of Vienna's old centre in addition to its attractiveness. This is one of the best places to take pictures in Vienna because it has a fancy staircase that goes up to a statue of Lady Justice and along a fancy railing.Get away from the crowds by going to the palace when it first opens. 
Location: Schmerlingpl. 10-11, 1010 Wien, Austria
Opening hours: Mon to Fri 7:30 AM to 3:30 PM (Closed on the Weekends) 
Entrance Fees: Free
Once you set foot in Prater, a massive park in the centre of Vienna, you'll understand why people say that we're never too old to feel young. The park is open all night and features rides including roller coasters, roller coaster rides, and the massive, iconic Big Wheel that will make your inner child come alive. 
Before the sun goes down, take a ride on the Riesenrad, a wooden gondola dating back to the 19th century, and relax while taking in the city's timeless panorama. When you're ready, stroll across this vibrant park. 
Location: 1020 Vienna, Austria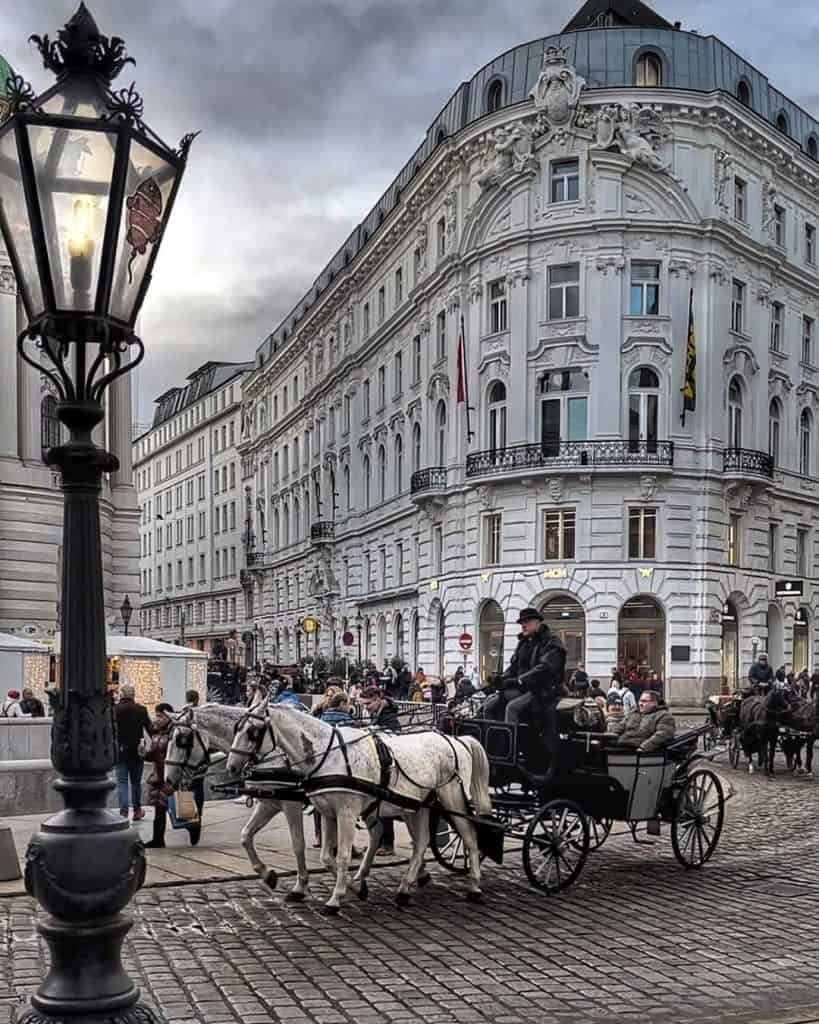 The Hofburg, a massive and spectacular palace complex, is located only a little further along the ring and is often considered to be one of the most photogenic places in all of Vienna. Many members of the Austrian royal family have called Vienna home, with the Hapsburgs being the most famous. It is now the president of Austria's official home. If you like books, you can find some great ones inside the house. 
Location: 1010 Vienna, Austria
Opening hours: Daily 8 AM to 6 PM 
Entrance Fees: Tickets for adults are EUR 14 (INR 1150) per person
Want to experience life as if you've been transported back in time? Michaelerplatz is the ideal location for you. Many of the city's historic structures and archaeological sites can be found in its central plaza. If you stand in this area, you'll be surrounded by gateways from the 1200s to the 1900s; to get the whole effect, ride through it in a horse-drawn carriage.
The square has the Hofburg palace complex entrance, open Roman excavations, the Michaelerkirche church, the Loos House, and the Palais Herberstein. 
10. Vienna State Opera House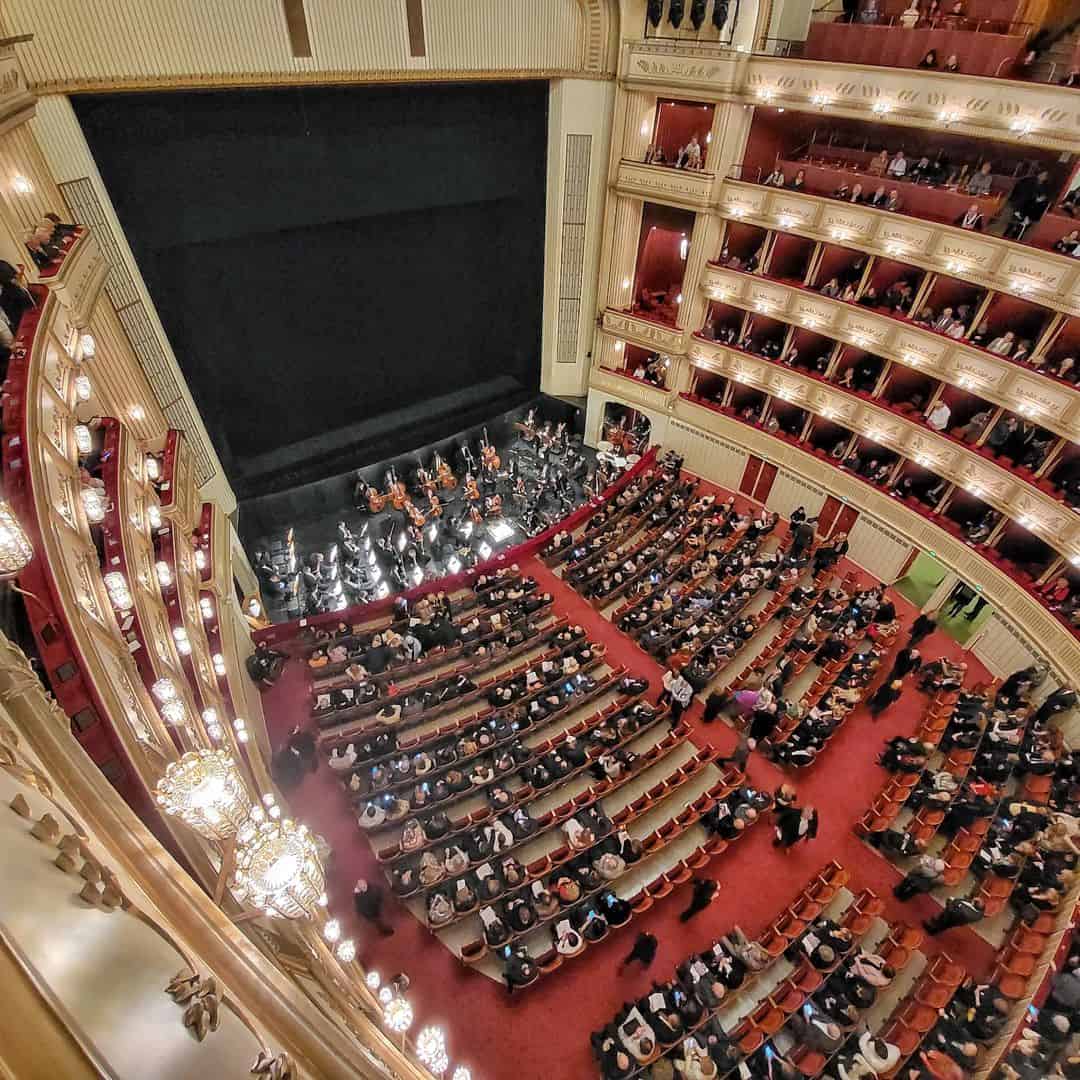 The Vienna Opera House is widely regarded as one of the world's finest performance venues. It's little wonder that photographers love this location so much.The building was built in the late 1800s, and its famous facade makes it a great place to take a great picture. The all-white building stands out against the blue sky and is a great example of Austrian design.
You may avoid the throng and get some beautiful photographs of the Vienna State Opera by going to the Albertina Museum on the other side of the street.Take some shots inside the theatre as well if you get the chance; seeing a live performance is an unforgettable adventure!
Location: Opernring 2, 1010 Wien, Austria
Entrance Fees: Approximately 9 euros. There will be an additional fee for different concerts and events
Vienna is also known as the "City of Music" because of the many well-known classical composers who made the city their home, including Beethoven and Mozart. 
Common Questions About Places In Vienna