top 14 Instagrammable places in Dublin
Dublin is a lovely city in Ireland with a lot to offer. Visiting the city is a lot of fun. There are several things to do and see. Those looking for a nice place to photograph will also enjoy Dublin.It has a distinct personality when compared to other European towns such as Rome, Paris, and Madrid. But it's an incredible site and a city that everyone should see.
We created a list of must-sees during your time in Cusco. The one thing you can't miss on this trip is your camera or phone, because that's how you'll get the greatest photos to post on social media and earn a spot among the most Instagrammable locations.
Dublin Castle is the best place to take pictures in the city. Dublin Castle is one of the most well-known places to visit in the city. It is a very big government building in Ireland that you must see if you are in the city.This is a popular place for tourists to visit and a great place to learn about Dublin's past. The castle has been there for more than 800 years. So, it's a very old building, which is pretty cool.
This castle is not only a beautiful sight, but also one of the best places in Dublin to take an Instagram photo. The house is built in a beautiful way. It's so much fun to take pictures here because they'll all turn out great.
Location: Dame Street , Dublin 2 
Ha'penny Bridge, which is 200 years old, is one of the best places to take pictures in Dublin, Ireland.It is a bridge for people to walk on that goes over the River Liffey and has amazing views of the city.It's one of the most popular places for tourists to visit in Dublin, and there are often a lot of people there taking pictures. If you want to take a great picture of Ha'penny Bridge, try to get there early in the morning or late at night when it's not as busy.
You can take a picture on the bridge with the camera, or you can take a picture from the side. No matter what you do, your photo will look great because this is one of the best places in Dublin to take an Instagram picture.
Location: Bachelors Walk , North City , Dublin 
Trinity College Library is another one of Dublin's most Instagrammable spots. The University of Dublin owns and runs this very old library.About 7 million books are in the library, which is a lot. The fact that this library is a formal deposit is interesting. This means that Irish book producers are required by law to leave a free copy of their books here.
You can get the best picture in the library when you take a picture in the Long Room.It is a beautiful place to take pictures. Because you can catch a lot of books all at once.Also, the colours in this picture give it a very classic look, which is great. It's one of the best places to take pictures inside in Dublin.
Location: College Green , Dublin 2 , Ireland reen, Dublin 2, Ireland
Temple Bar is a famous tourist site, but it is also one of the city's most photographed spots. Because of its rich red colours and energetic atmosphere, it is one of the best sites in Dublin to shoot photos.Remember that it is far less crowded during the day than at night.You will be able to catch the essence of Dublin in your photograph if you snap it at The Temple Bar.
Location: 47-48, Temple Bar, Dublin 2, D02 N725, Ireland
You may have found this adorable street lined with umbrellas while searching for yet another Instagrammable location in Dublin. What a charming setting; perfect for a snapshot.Here, shooting from below will yield the most interesting results. By doing so, you can effectively capture the umbrellas.
Location: 34 Anne's Lane 
6. Saint Stephen's Green Shopping Center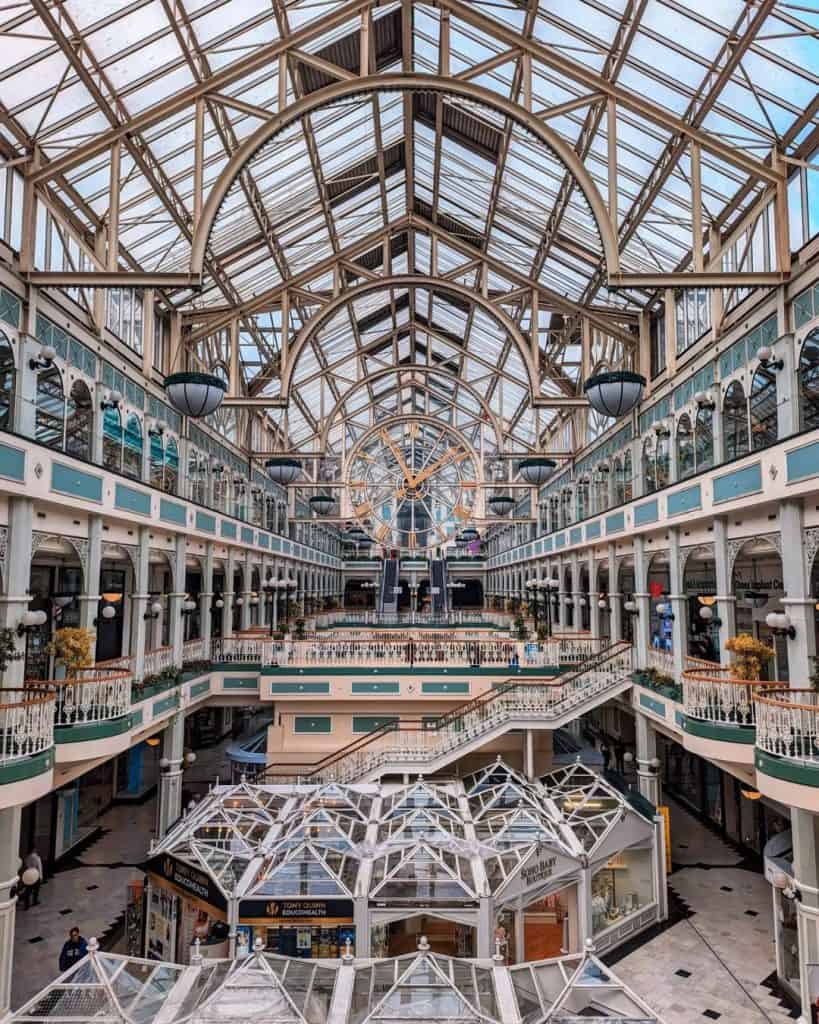 Stop by Saint Stephens Green Shopping Center while you're in town. Even though the mall's interior design is nothing special, it's nonetheless worth checking out. If you want to take advantage of all the great photo ops in Dublin, you should definitely check this place out. The decor inside is very stunning. This place has so many decorations. In addition, the combination of glass and steel creates a stunning aesthetic.The shopping mall also features a massive clock decorated in gold. You can set up shop at the mall's upper levels to take pictures of the clock and other features.
Location : Saint Stephen's Green , Dublin 
The Brazen Head is Ireland's first public house. The pub, established in 1198, is an architectural marvel. More importantly, there is always something entertaining to photograph there.From the outside, the bar looks amazing. It has a lot of castle-like features.
Furthermore, during certain times of the year, there are flowers here that will enhance your photographs.The bar is busiest in the evenings, so if you want a picture without any other guests in it, you should probably go in the morning.
Location: 20 Lower Bridge St, Usher's Quay, Dublin, D08 WC64, Ireland
8. Saint Patrick's Cathedral
St. Patrick's Cathedral is another place in Dublin that makes a good picture. Since it was built in 1191, the church is very old. Taking pictures of the church is a great idea, as it is a beautiful building.The area around the church is also very beautiful. There are green and beautiful trees. Also, there are beautiful flowers in the spring, like the ones in the picture above.But the real Instagram-worthy place is inside the church, where you can see the detailed designs on the walls and ceilings up close. The light coming in through the stained glass windows makes the church feel like a magical place.
Also, this place has a lot of places to take pictures from. It's amazing to be able to grab a croissant from their cute shop and watch people in the park. There is nothing better than going to Saint Patrick's Cathedral on a sunny day.
Location: Saint Patrick's Close, Dublin 8
9. Christ Church Cathedral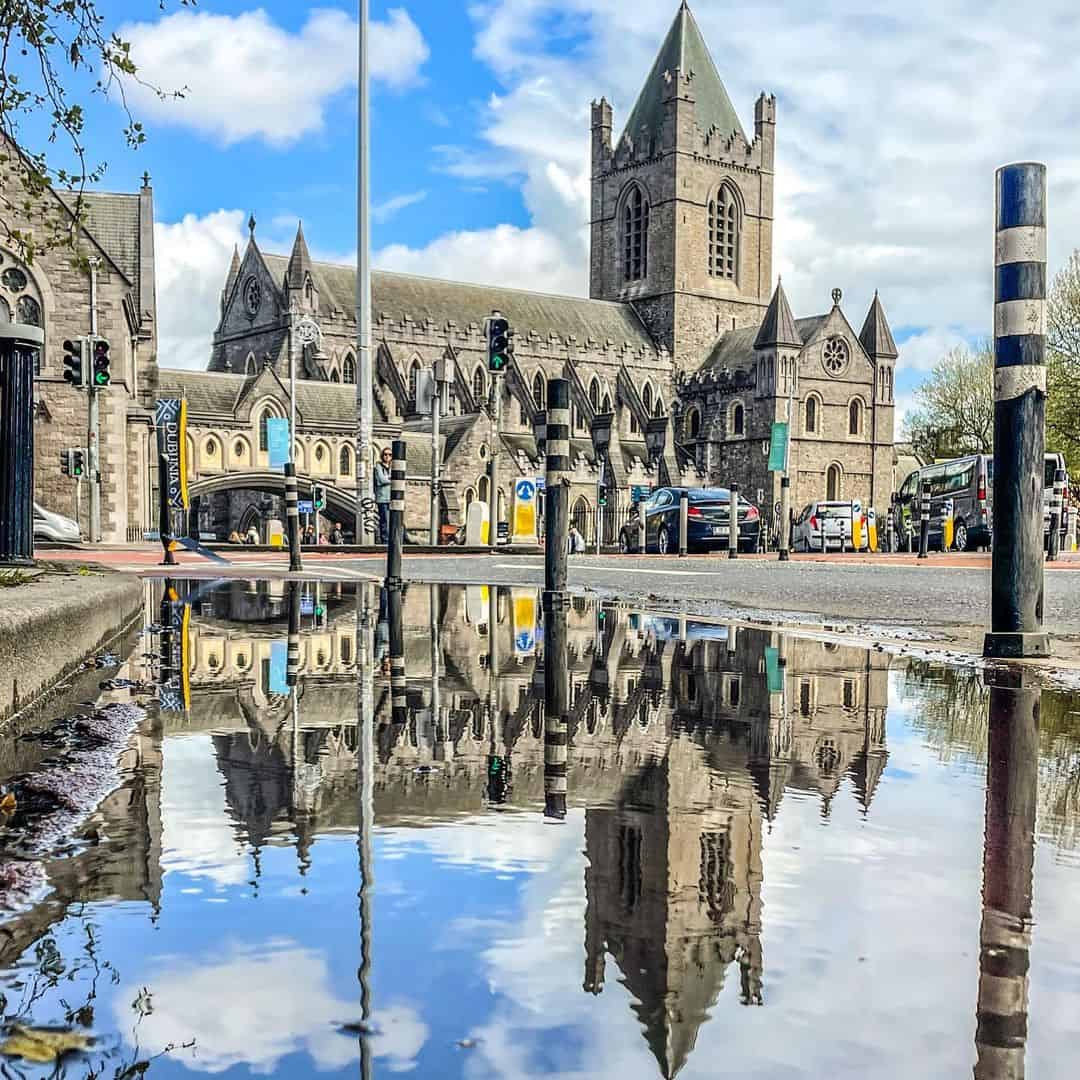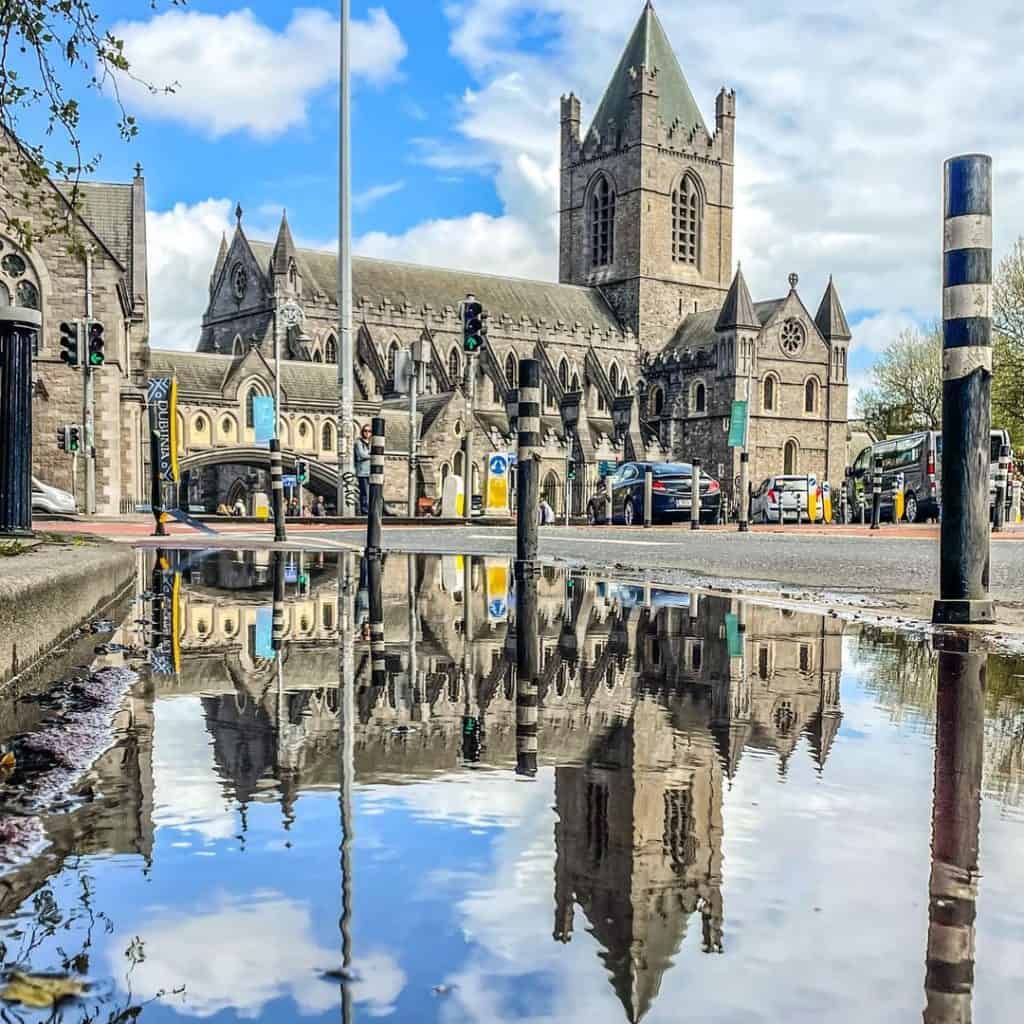 If you like architecture, this is one of Dublin's top photo sites. The Gothic and Romanesque cathedral near Dublin Castle is an attractive landmark in the city centre. Christ Church Cathedral's grassy lawn makes a great photo backdrop. Christ Church Cathedral is perfect for architectural or cool photos!
Be sure to check when their services are every day, though, because you want to be respectful of the people who are actually going to church here.
Location: Christchurch Pl, Wood Quay, Dublin 8, Ireland
10. Samuel Beckett Bridge
Samuel Beckett Bridge. This is a city cable-stayed bridge.The bridge spans 390 feet (120 metres), making it quite long. Furthermore, the bridge is quite tall. It stands 157 feet (48 metres) tall. Because the bridge is so large, it's difficult to photograph!
Taking shots of the bridge is especially enjoyable on a hot summer day. The bridge looks stunning when paired with the blue sky. However, the bridge looks stunning when combined with clouds!
Hawk Cliff is a picturesque location near the Vico Baths. It's also on this list of Instagrammable Dublin spots.The railing by the water is a great place to take a picture, and it adds a sense of adventure to your shot.
You can also make a wonderful shot of the sea because you are higher than the water!What's equally lovely is the contrast between the green of nature and the blue of the sea!
The James Joyce Statue is also one of Dublin's most Instagrammable landmarks. James Joyce was an Irish novelist. In addition, he was a poet and teacher. Seeing the statue when in Dublin is fantastic because James Joyce is one of the country's most recognized authors.You can also shoot a variety of photographs at the James Joyce Statue. You may, for example, stand next to the statue or take a walk towards it.
Location: N Earl St, North City, Dublin 1, D01 K5W5, Ireland
Opening hours: 24 hours 
Phoenix Park is a fantastic location that is one of the most Instagrammable in Dublin. It is a huge park located in Dublin. In reality, it is Europe's largest public park in the heart of a capital city!There are several grasslands here that are beautiful to photograph. There are also wild deer that you can sit near to. Capturing the animals in your shot is also fantastic!
White Rock Beach is another of Dublin's most Instagrammable spots. Because of the water and sand, the beach is highly attractive.It's one of the best photo places in Dublin, especially in the summer. This spot is magical on a sunny day.White Rock Beach is not only a beautiful location for photography; it is also a relaxing spot. 
If you have never been to Ireland before, Dublin is the perfect place to start your trip because it is centrally located to many of the country's cultural, historical, and natural attractions.
Common Questions About Places In Dublin