Top 10 Instagrammable Spots in Paris
If you're a digital nomad looking to add some stunning content to your Instagram feed, then Paris is the perfect city for you. From the world-famous Eiffel Tower to the charming cafes and streets, there are endless photo opportunities waiting to be captured. However, with so many amazing locations to choose from, it can be overwhelming to decide where to start. In this blog, we've curated a list of the most Instagrammable places in Paris that every digital nomad should know. We'll also provide you with tips on how to get around the city to make the most of your photoshoot. So grab your camera and let's explore the city of love and lights together!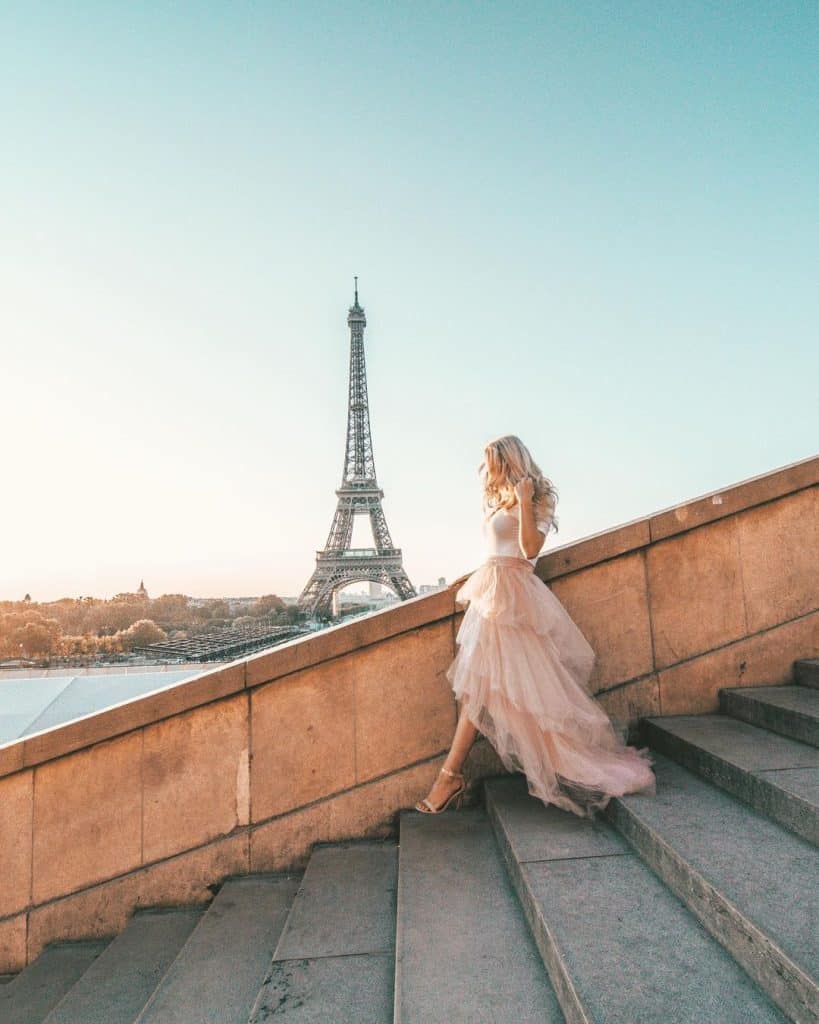 Looking for the most Instagrammable spot in Paris? Look no further than the Trocadéro Platform, with the stunning Eiffel Tower as your backdrop. Head there at sunrise for optimal lighting and fewer crowds, and take advantage of the open square and water feature for different poses and angles. Just be sure to keep an eye on your belongings, as theft can be an issue in this area. And don't forget to return in the evening to capture the tower's twinkling lights!
Location: Champ de Mars, 5 Av. Anatole France, 75007 Paris, France
Opening Hours: 24 hours daily 
Entrance Fee: None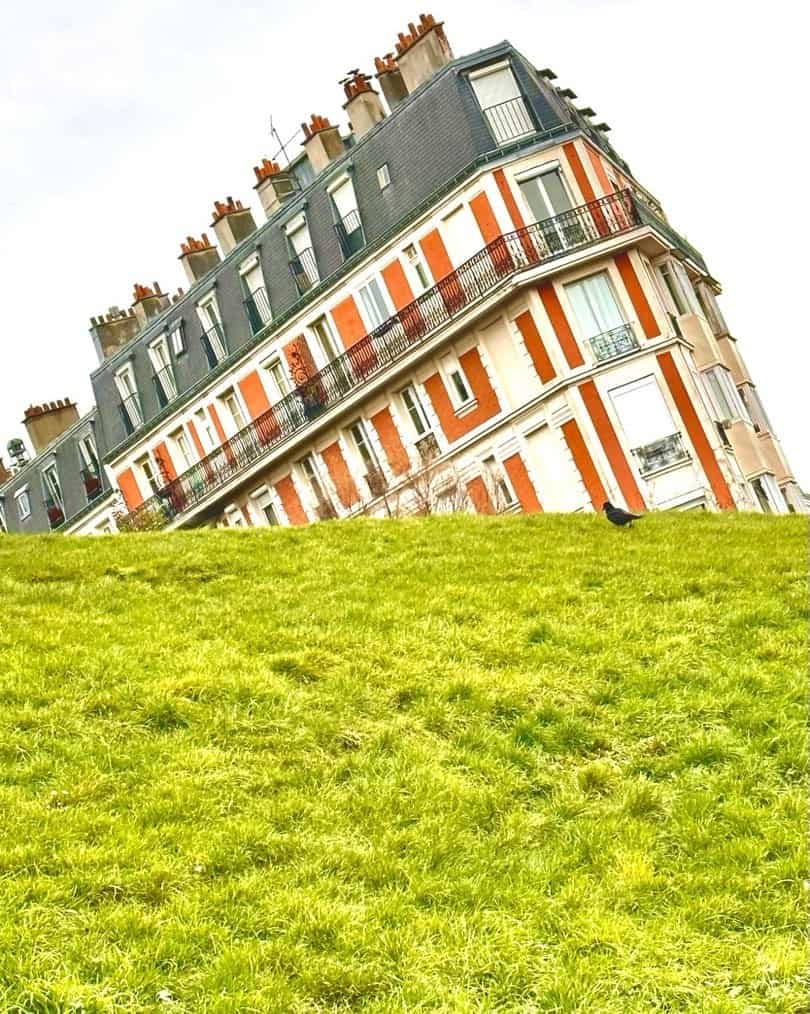 Looking for a unique and quirky spot to capture some Instagram-worthy shots in Paris? Look no further than the Sinking House of Montmartre! This offbeat attraction is located just to the right of the iconic Sacré-Cœur Basilica and is sure to turn heads with its optical illusion.
Despite its name, the Sinking House doesn't actually sink. Instead, it's an optical illusion created by the surrounding hill. To capture the illusion in your photos, tilt your camera until the hill is at the same level as your lens, and voila! You'll have an incredible shot that makes it look like the house is falling.
Location: In the hilly Montmartre district of Paris, close to the stunning Sacre Coeur Basilica.
Opening hours: 24 hours Daily
Entrance Fee: None
For a breathtaking view of Paris to capture on Instagram, look no further than Le Sacre Coeur, the stunning basilica located at the top of a hill overlooking the city. Its beautiful architecture and panoramic views make it one of the most popular and Instagrammable spots in Paris. The church itself is a great background for some of the most famous Parisian Instagram shots, but don't forget to turn around and snap pictures of the stunning cityscape. Be sure to visit in the morning to avoid the crowds that flock there in the afternoon.
Location: At the top of the Butte Montmartre
Opening Hours: Daily, 6:30 a.m. to 10:30 p.m. 
Entrance Fee: None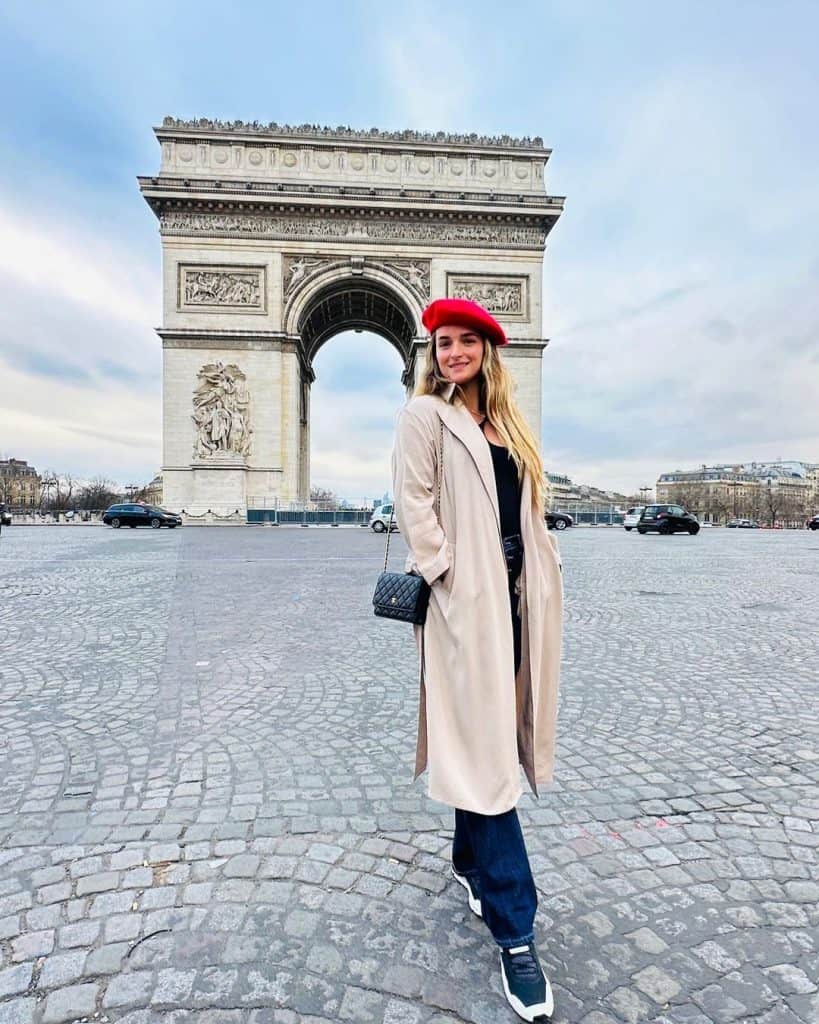 One of the most iconic and historical Instagram spots in Paris is the Arc de Triomphe. Located at the center of a bustling street intersection, it offers a 360-degree backdrop for your photos. Don't miss out on the stunning view of the city from the top of the monument. To avoid the crowds, it's best to visit in the morning, evening, or later in the day. These times offer the best opportunities to capture photos of the Arc de Triomphe with fewer people.
Location: Pl. Charles de Gaulle, 75008 Paris, France
Opening Hours: Daily, 10:00 a.m. to 10:30 p.m.  
Entrance Fee: 13 EUR ($14 USD) if you want to visit the top.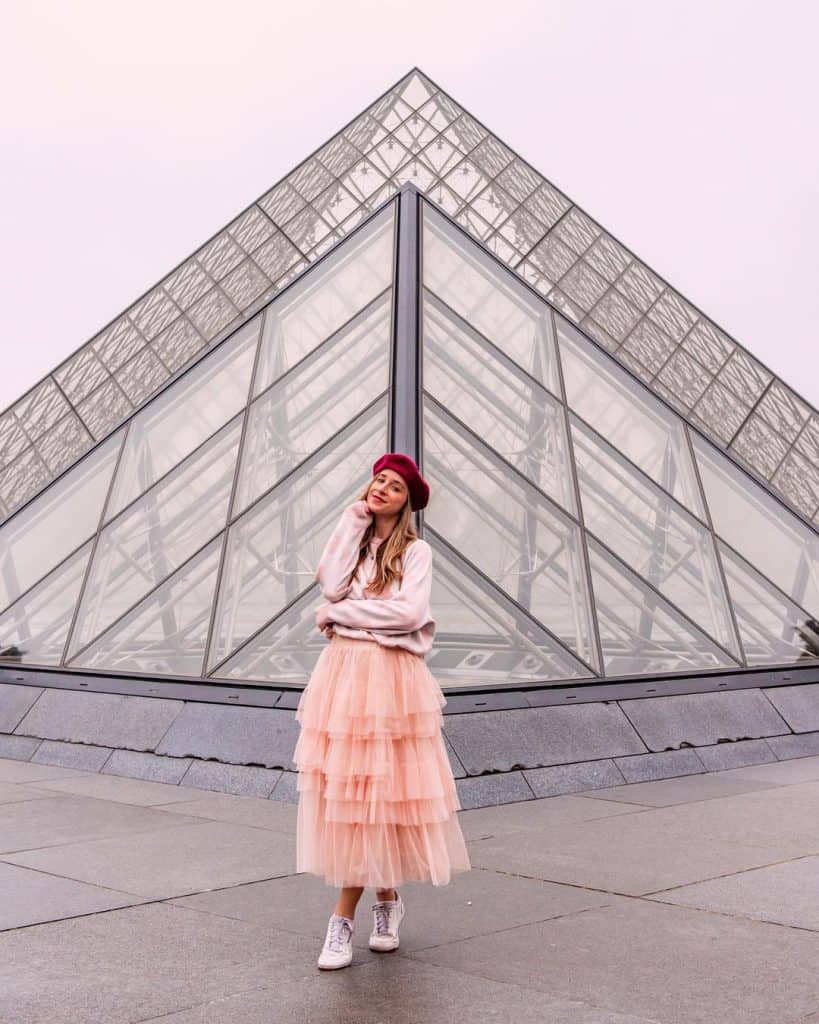 When it comes to iconic Instagram places in Paris, the Louvre is undoubtedly a must-visit spot. As the world's largest museum, it houses an impressive 380,000 pieces of art, and its history spans eight centuries. Not only is it a great place to explore and admire art, but the Louvre's exterior also makes for a fantastic photo opportunity.
One of the most recognizable features of the Louvre is its glass pyramid, which serves as the entrance to the museum. It's a great spot to take a photo straight on, with the building in the background. 
Location: 75001, Paris, France
Opening hours: 9:00 a.m. to 6:00 p.m. Wednesday through Monday (closed Tuesdays).
Entrance Fee: €15 per adult if bought at the entrance. This ticket allows you  to skip the queues and spend as much time as you like inside the museum to explore at your own pace. However, if you just wish to visit from the outside, the grounds are completely free to visit.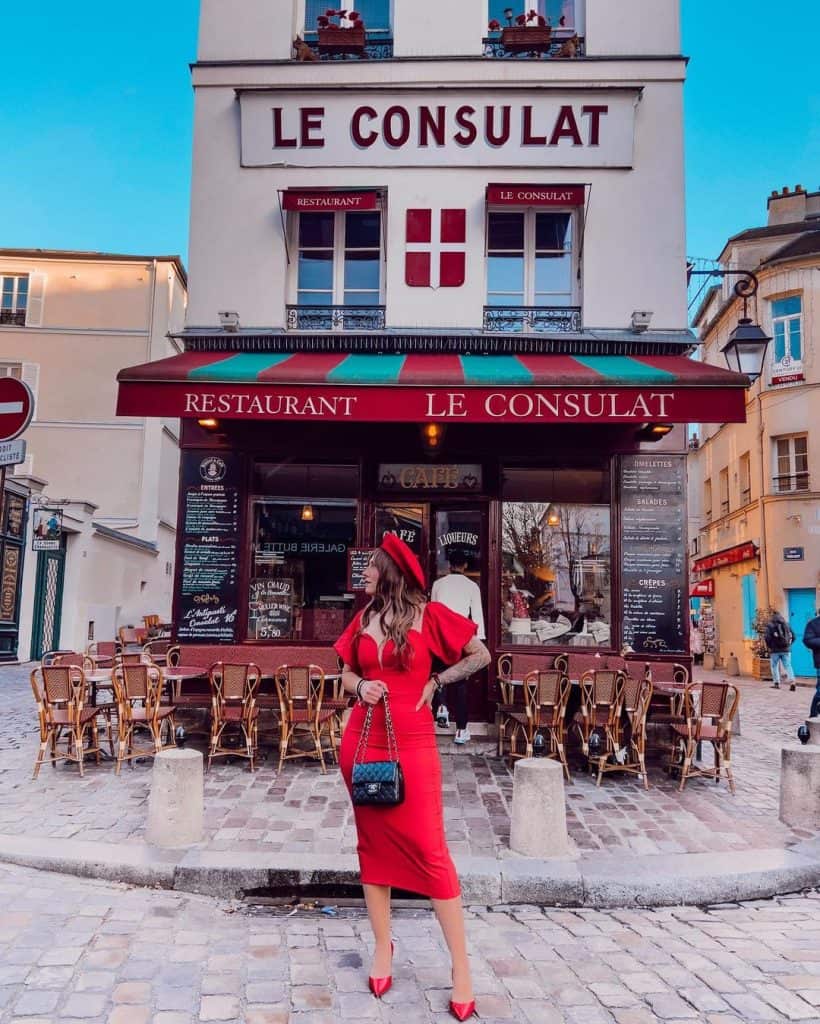 Le Consulat, a historic café located in Paris, is a charming three-story building that is a popular Instagram spot in the city. The ground floor of the café serves classic Parisian meals, such as French onion soup and escargot, and can get quite crowded during the weekends. For a more relaxed experience, it is recommended to visit during the week.
Le Consulat is an ideal location to capture Instagram-worthy photos in Paris, thanks to its colorful awnings, cute outdoor seating, and quaint cobblestone streets. Additionally, the area in front of the café features a delightful souvenir shop that sells 19th-century paintings by renowned artists like Henri de Toulouse-Lautrec, who used to frequent the neighborhood. 
Location: 18 Rue Norvins, 75018 Paris, France
Opening Hours: Daily, 11:00 a.m. to 10:00 p.m.
Entrance Fee: None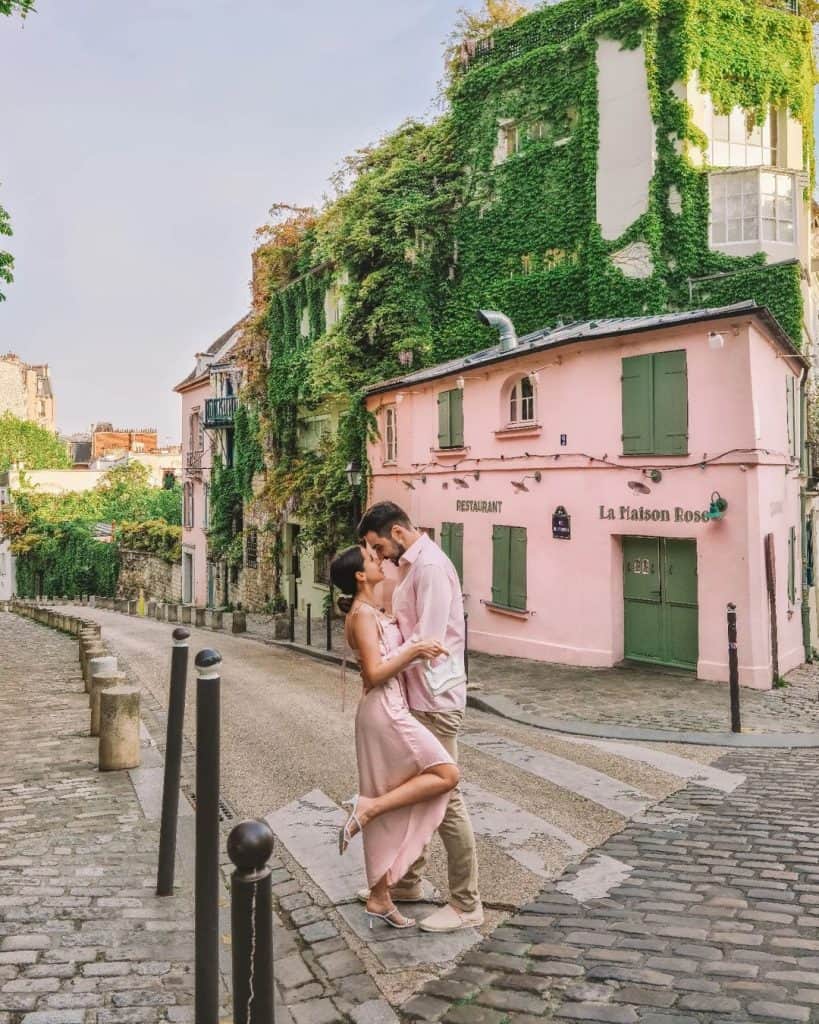 A charming pink house that has been serving as a restaurant for over a century. Its vibrant pink walls and green doors make it a popular Instagram spot in Paris. You can easily visit this place after taking photos at other nearby attractions like the Sinking House and Le Sacre Coeur. The house is situated on a cute brick street and is close to several other Instagrammable spots on this list. To avoid crowds of people who come here for lunch or dinner, it's best to visit La Maison Rose earlier in the day.
Location: 2 Rue de l'Abreuvoir, 75018 Paris, France
Opening Hours: 4:00 p.m. to 10:00 a.m. on Wednesday, 12:00 p.m. to 10:00 p.m. on Thursday and Friday, and 11:30 a.m. to 10:00 p.m. on Saturday and Sunday.
Entrance Fee: None
8. Palais Garnier (Paris Opera House)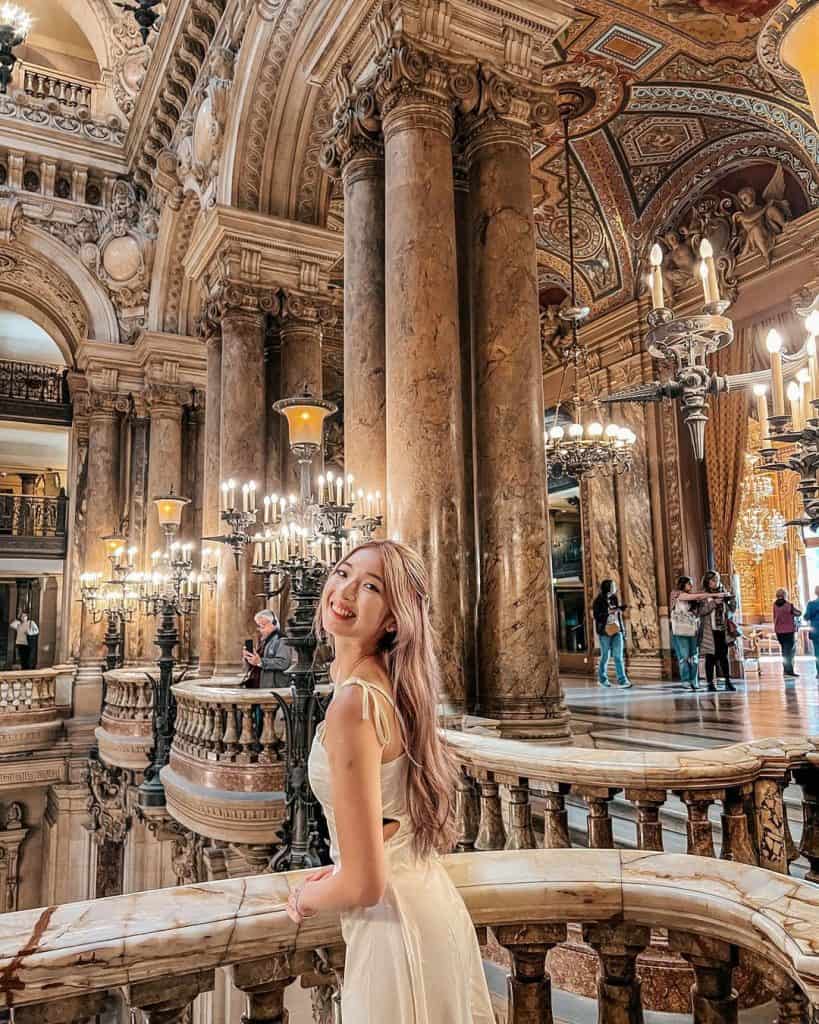 The Palais Garnier is a grand opera house, also known as the Paris Opera House. It is famous for showcasing ballet performances that have come to define Parisian culture. With its illustrious history, it's no wonder that the Palais Garnier is one of the most sought-after Instagram spots in Paris. While the building's interior is breathtakingly beautiful at any time of day, we recommend going when the doors first open to avoid crowds of people.
When taking pictures at this Parisian Instagram spot, it's important to note that staff members keep a close eye on professional photography. As such, it's better to take pictures with your phone than with a professional camera.
Location: Pl. de l'Opéra, 75009 Paris, France
Opening Hours: Daily, 10:00 a.m. to 5:00 p.m., unless there are afternoon performances or special closures.
Entrance Fee: 11 EUR ($12 USD) per adult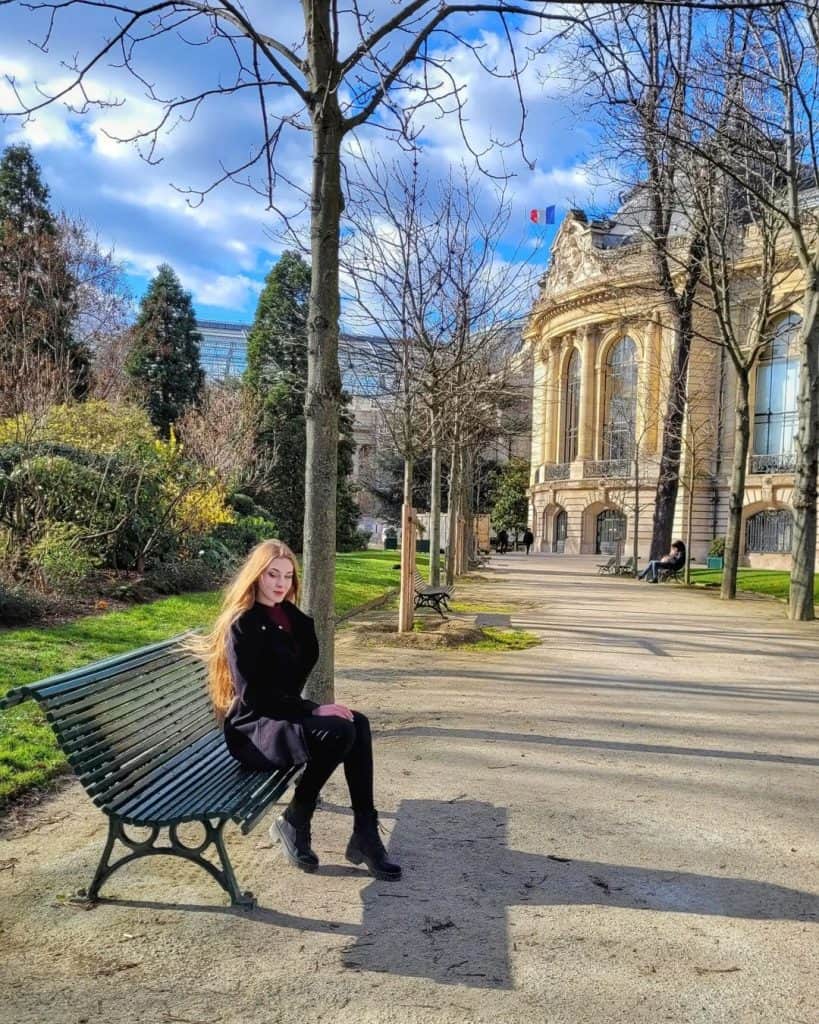 Next on our list of Paris Instagram spots is the Petit Palais, a stunning house that now serves as an art museum. "Petit Palais" means "small palace" in English, but the beauty of the building is anything but small. One of the most photogenic features of the Petit Palais is its famous golden gate, located in the middle of the entrance. The gate is adorned with intricate details and golden fixtures that catch the light beautifully. For the best photo opportunities, we recommend visiting the Petit Palais in the morning or at night, when there are fewer crowds. In addition to its stunning architecture, the museum inside is also well worth a visit.
Location: Av. Winston Churchill, 75008 Paris, France
Opening Hours: 10:00 a.m. to 6:00 p.m. Tuesday through Thursday and Saturday through Sunday, and 10:00 a.m. to 9:00 p.m. on Friday (closed Mondays).
Entrance Fee: None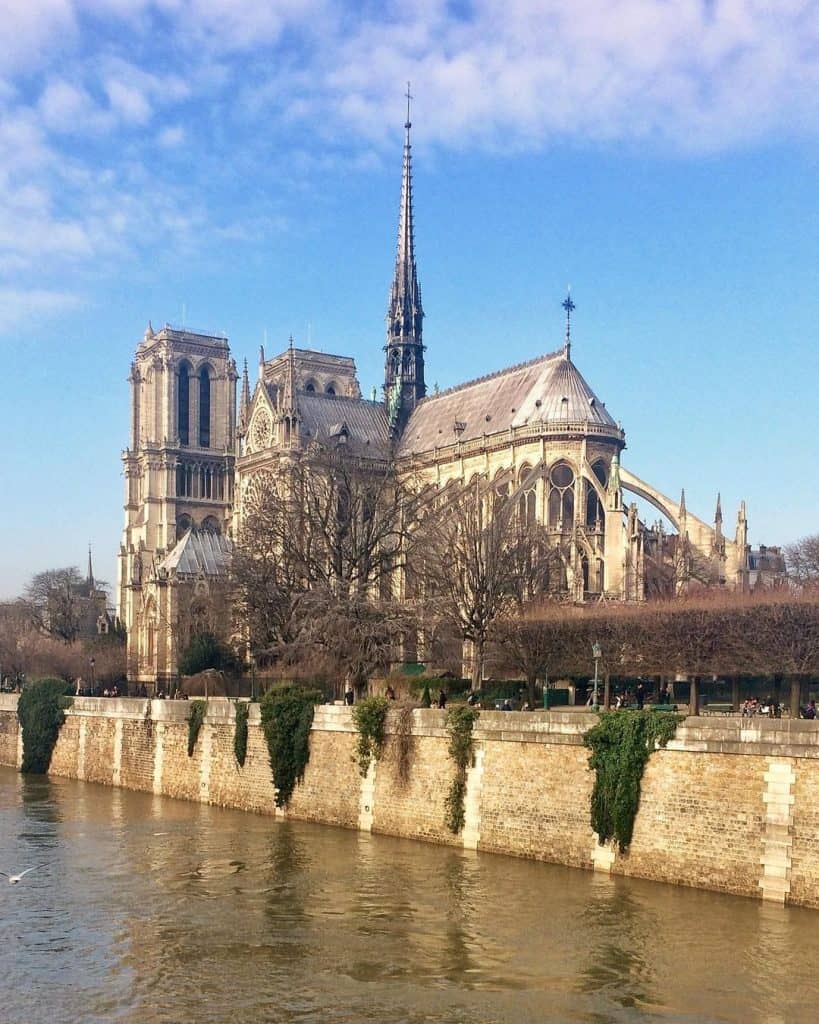 Another popular Paris Instagram spot is Notre Dame de Paris, a medieval church situated along the Seine River in the 4th district. Known for its Gothic architecture, featuring gargoyles, spires, and stained-glass windows, this iconic site is a must-visit. Despite the unfortunate fire that damaged it in 2019, restoration efforts are ongoing. To capture the best shots, visit early in the morning or later in the day, as afternoons can be crowded. The western towers of Notre Dame de Paris provide an ideal backdrop for your Instagram photos.
Location: On the eastern end of Île de la Cité in Paris (a small island in the Seine River).
Opening Hours: The cathedral of Notre Dame de Paris is closed, but you can photograph the exterior at any time.
Entrance Fee: None
Paris is a city full of picture-perfect spots for your Instagram feed. Its streets are lined with stunning buildings, picturesque cafes, and charming shops. As one of the most photogenic cities in the world, Paris offers an endless array of backgrounds for your photos, from classic architecture to iconic landmarks.
The beauty of Paris is both simple and alluring. The city has a timeless appeal that blends old-world charm with modern sensibilities. Whether you're strolling along the Seine or exploring hidden alleyways, there's always something new to discover.
Paris is a city that captures your heart, whether you're exploring it solo or with a partner. It's a place that you'll fall in love with over and over again, each time discovering something new and exciting to share with your followers.
COMMON QUESTIONS ABOUT instagrammable spots in paris
Start Planning Your France Trip Now!
Book Your Flight:
Use Skyscanner to find a cheap flights. A travellers favorite way to book flights, as it searches websites and airlines around the world with one click.
Book Your Bus or Transportation Within France:
There are two ways to book your transporation, ask your hotel or hostel, go to the local bus terminal, or book online, for a less stressful trip using 12go.asia
Book Your Accomodation: 
Find the best hotels or hostels at HostelWorld, Booking.com, Agoda.com. Perks include with no upfront payment. Pay when you check out and Free cancellations.
Dont Forget Your Travel Insurance:
Two popular choices are SafetyWing and WorldsNomads. A traveler should buy traveler's insurance to protect themselves against unexpected events such as trip cancellations, medical emergencies, and lost or stolen baggage. It provides peace of mind and financial protection in case of unforeseen circumstances.
Useful Apps
Omio / Busbud / Trainline – Booking Bus
Whatsapp / Snapchat / Telegram – Communication
France Hotels / Booking.com / Trivago – Booking Hotel
SNCF Connect app – Booking Train
Uber Eats / Deliveroo / Just Eat – Food Delivery
G7 / Talixo / KiwiTaxi – Booking Taxi
Want More Information On France?
Be sure to check out my nomad travel guide on France for even more tips.
Last Minute Travel Deals?
Find a group tour with G Adventures!
Disclosure: Please note that some of the links above may be affiliate links, and at no additional cost to you, I earn a commission if you make a purchase.