Top Instagrammable places in Quito
Quito is the capital of Ecuador and one of its most beautiful towns. It is a hidden gem surrounded by tall, green mountains and the snow-capped Andes. With its bright street art, colonial buildings, and busy marketplaces, the city is a living canvas.Quito is the world's first UNESCO World Heritage site.T his city holds a special place in the hearts of visitors because to its many museums, sights, and dozen or so historic churches as well as its growing eatery scene that honours traditional ingredients. 
The best time to visit Ecuador varies depending on where you are in the nation. Ecuador has no summer and winter seasons, and the weather varies according to altitude. For example, the dry season, which runs from June to September, is the greatest time to visit Quito. Other months, particularly November to February, can also be enjoyable. 
There are numerous locations to visit in Quito, Ecuador, so you won't have to think too hard about what to do in Quito.  This article will tell you about the most Instagrammable places in Quito as well as places to visit in Quito.
If you happen to be in Lahore and are looking for some visually appealing, artsy content to share on your Instagram, then here is a list of 10 must-visit places that will surely leave you in awe.
1. Basílica del Voto Nacional
Visit Basilica if you want to get a good overview of the city. The Basilica del Voto Nacional is an unfinished Roman Catholic church worth photographing for the structure and the perspective it provides.A 360-degree panorama of the city is available from the twin bell towers. For a better experience, schedule your visit in the early morning or late afternoon. 
You must climb uphill from Plaza Independencia to reach the basilica. When you arrive at the basilica, you must pay to enter. You must climb to enjoy an incredibly beautiful view of the entire city. Because the basilica is unfinished, you must walk and climb steep ladders and wooden planks linked together by rope to reach the summit.It is not suitable for those who are afraid of heights. But if you really want an amazing view, it'll be worth the effort.
Location: Venezuela 11-263 y, Quito 170130, Ecuador
Opening hours: Mon to Fri 9 AM to 5 PM , Sat & Sun 9 AM to 6 PM 
Entrance Fees: Total $4 to explore the entire Basilica
If you're looking for vibrant colors and old-world charm, La Ronda, one of Quito's oldest streets, is the place to go.It's one of the few remaining examples of colonial-era architecture in Old Town.This place will amaze you because the streets are lined with galleries, cafes, and the best traditional artisans who were asked by the government to show off their work. Some of the vendors are in the back of shops. They offer the best of Quito and are great places to buy gifts and keep traditional crafts alive. It's fun to take a walk, make a stop in a chocolate shop, and see the plants that decorate the brightly painted windows.
Location: between Calle Venezuela and Pedro Vincente Maldonado
Opening hours: 24 hours 
Entrance Fees: No Fees
3. Plaza Independencia from Hotel Plaza Grande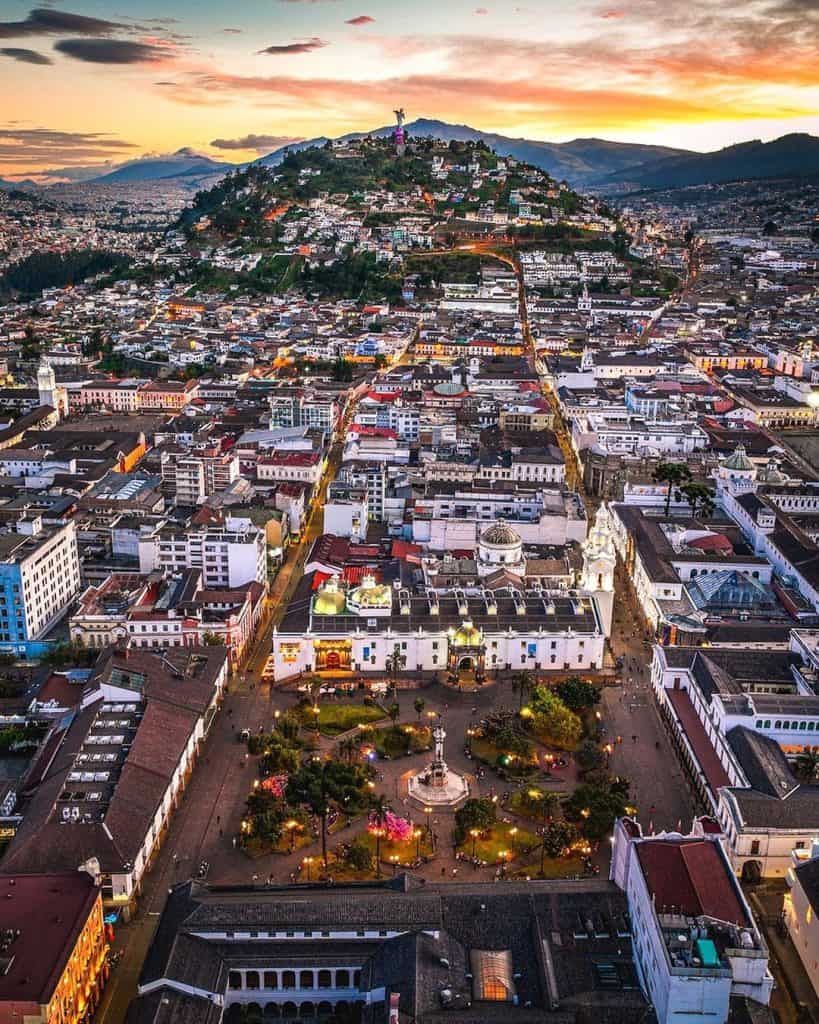 One of the most expensive hotels in the city, Hotel Plaza Grande has the only presidential apartment in all of Quito. It is situated on the busy and well-visited Plaza San Francisco. The hotel's terrace provides a breathtaking panorama of the surrounding area, including the town square, church, convent, street, and mountains in the distance.From the balcony of the Hotel Plaza Grande, you can see the Presidential Palace, Plaza Independencia, El Panecillo (with the angel statue), and the Cathedral of Quito in a unique way.
You get to see street food vendors and buskers, which adds to your experience.The central statues are a favourite photo backdrop for visitors of all ages to this destination. Spend quality time with your loved ones in this attractive location.
Location
: Chile OE4-22, Quito 170401, Ecuador
Opening hours
: 24 hours
Visit La Compañia if you just want to visit one church throughout your stay. The church is South America's best Spanish Baroque building.In spite of the fact that the front of the church is stunning, you are going to be completely blown away once you step inside. All of the temple is covered in seven tons of gold leaf. Quito's Sistine Chapel never disappoints; it amazes. If you visit this city, you'll have trouble finding a hotel at a reasonable price and with decent amenities. A clean, comfortable hotel room costs roughly 150 conventional units per day.
Location: García Moreno N10-43, Quito 170401, Ecuador
Opening hours: Mon to Fri 9:30 AM to 6 PM , Sat 9:30 AM to 4 PM , Sun 12:30 PM to 4 PM 
Entrance Fees: $5
The Virgin Mary monument on El Panecillo Hill is one of Quito's most impressive sights. The hill is one of Quito's most popular attractions because of the 134-foot aluminium Virgin of Quito statue, which can be viewed from everywhere.This site has amazing views of Quito and the volcanoes on clear days. 
Visit this place in the morning before the clouds roll in for a perfect and wonderful time with your loved ones.It has a wide view of Ecuador's city and the rest of the country. If you hike to the peak of this mountain, you will be rewarded with a breathtaking vista of the city below you.
Location: El Panecillo Hill
Opening hours: Mon to Thurs 9 AM to 6 PM , Fri to Sat 9 AM until 9 PM 
Entrance Fees: No entrance fee if you only want to view the statue from the outside.But there is a $2 entrance fee if you would like to go inside
If you enjoy an exciting, breath-taking ride that will have you on the edge of your seat, Teleferico is for you. People think that this sky tram is one of the biggest lifts in the world. The tram goes up the side of the hill Pichincha and stops on top of Cruz Loma, which gives you a great view of Quito. This location is exciting since visitors can cycle, walk, or ride the rides at the amusement park, Vulcano Park.
Location: Fulgencio Araujo, y, Quito 170527
Opening hours: Mon to Sun 9 AM to 7 PM 

Entrance Fees: It costs $8.50 for adults and anyone under 18 is $7.00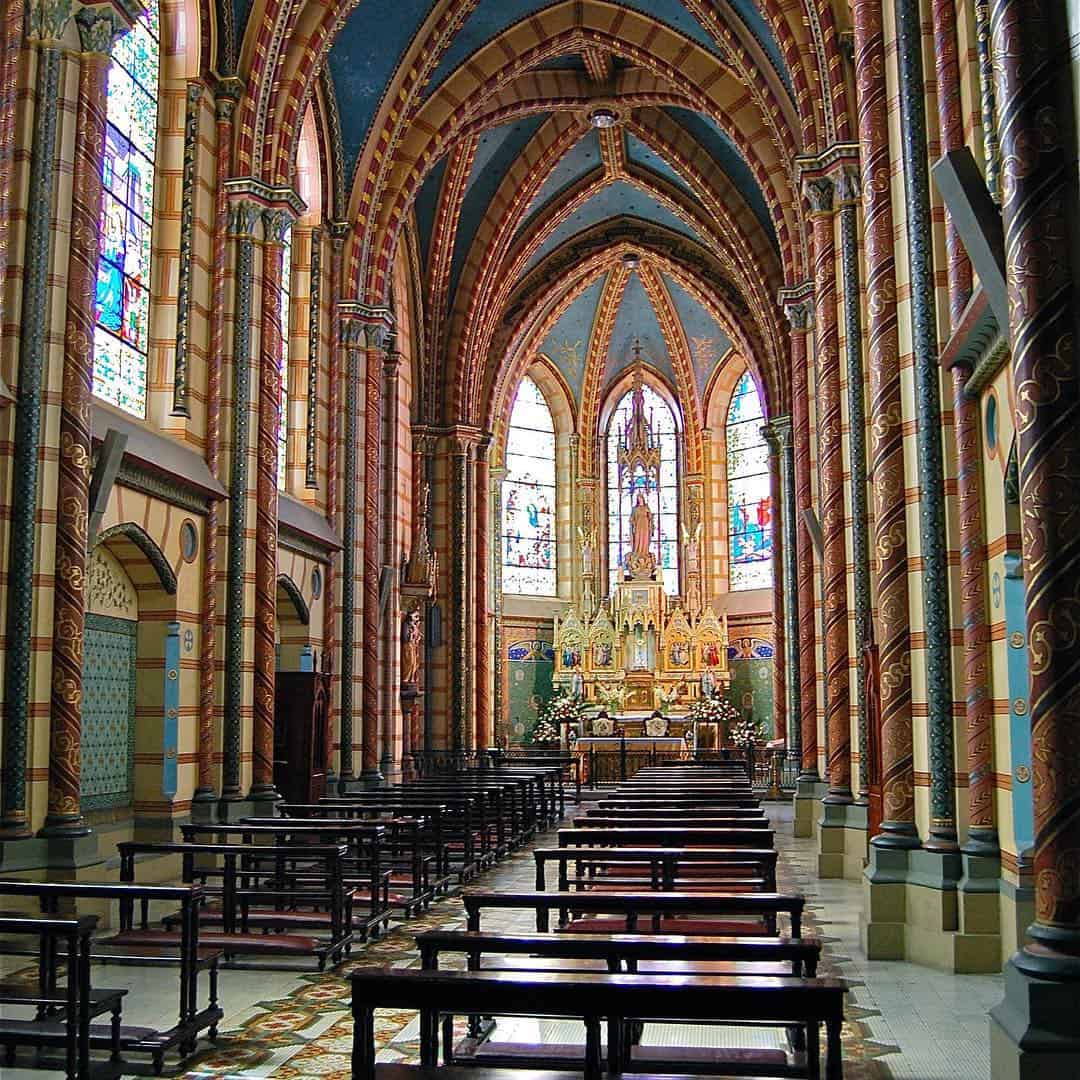 Quito's City Cathedral can be found in Independence Square in the city. In our opinion, it is one of the most beautiful sites in all of Quito, Ecuador, to go sightseeing. It is a big, stately building with white walls and a tiled roof. It was built in 1678 and rebuilt in 1806. The Quito Cathedral is widely regarded as one of the country's most eye-catching and stunning examples of colonial-era architecture. When travelling to this nation, it is highly recommended that travellers take a stroll around Independence Square and take in the sights of the historic structures that can be seen there.
Location: QFHP+RX7, Eugenio Espejo, Quito 170401
Opening hours: Mon to Sat 9 AM to 5 PM , Sun 10 AM to 2 PM 
Entrance Fees: No fees
We hope that by the time you've finished reading this article, you have a better understanding of everything there is to see and do in Quito. In addition, we ask that you share in the comments any more Instagrammable locations that you may be aware of or have visited in addition to those listed above. 
Common Questions About Places In Quito
 Some popular Instagram-worthy spots in Quito include the historic center (Old Town) with its colorful buildings and cobblestone streets, El Panecillo hill for panoramic city views, La Ronda street for its bohemian charm, the Teleferico (cable car) for stunning mountain vistas, Mitad del Mundo for its equatorial line monument, and the Guapulo neighborhood with its picturesque streets and views.
Absolutely! In addition to the well-known spots, Quito has several hidden gems worth discovering for stunning Instagram photos. Some of these include the Calle la Ronda for its rustic charm, the Itchimbia Cultural Center for its panoramic views of the city, the Guayasamin Museum for its beautiful gardens and art, the Quilotoa Crater Lake for its unique turquoise waters, and the Pululahua Geobotanical Reserve for its volcanic landscapes and viewpoints.
The best time for capturing Instagrammable moments in Quito depends on the location and the effect you want to achieve. Generally, early morning or late afternoon lighting offers a softer and warmer glow, enhancing the beauty of the city and its landmarks. Additionally, the golden hour, which occurs during sunrise and sunset, provides a magical atmosphere and beautiful colors for photography.
Start Planning Your Ecuador Trip Now!
Book Your Flight:
Use Skyscanner to find a cheap flights. A travellers favorite way to book flights, as it searches websites and airlines around the world with one click.
Book Your Bus or Transportation Within Ecuador:
There are two ways to book your transporation, ask your hotel or hostel, go to the local bus terminal, or book online, for a less stressful trip using 12go.asia
Book Your Accomodation: 
Find the best hotels or hostels at HostelWorld, Booking.com, Agoda.com. Perks include with no upfront payment. Pay when you check out and Free cancellations.
Dont Forget Your Travel Insurance:
Two popular choices are SafetyWing and WorldsNomads. A traveler should buy traveler's insurance to protect themselves against unexpected events such as trip cancellations, medical emergencies, and lost or stolen baggage. It provides peace of mind and financial protection in case of unforeseen circumstances.
Useful Apps
Ecuador Bus / CheckmyBus / Busbud – Booking Bus
Chat Ecuador / Ecuador Social – Date App. / Whatsapp – Communication
Bookaway / EasemyTrip / buenosaires.gob.ar – Booking Hotel
Rail.cc / EasyBook.com / Wego – Booking Train
Ubereats / Foodchow / Bolt – Food Delivery
Grab / Uber / Tanigo – Booking Taxi
Want More Information On Ecuador?
Be sure to check out my nomad travel guide on the Ecuador for even more tips.
Disclosure: Please note that some of the links above may be affiliate links, and at no additional cost to you, I earn a commission if you make a purchase.