Top 10 Instagrammable Spots in Dubai
Dubai is a popular tourist destination due to its year-round balmy climate, abundance of attractions, and accessibility for all types of travelers (including those on business trips). Dubai is a photographer's and influencer's dream, with its glitzy hideaways, breathtaking vistas, incredible settings, and cutting-edge architecture. You've come to the correct location to find the most photogenic spots in Dubai.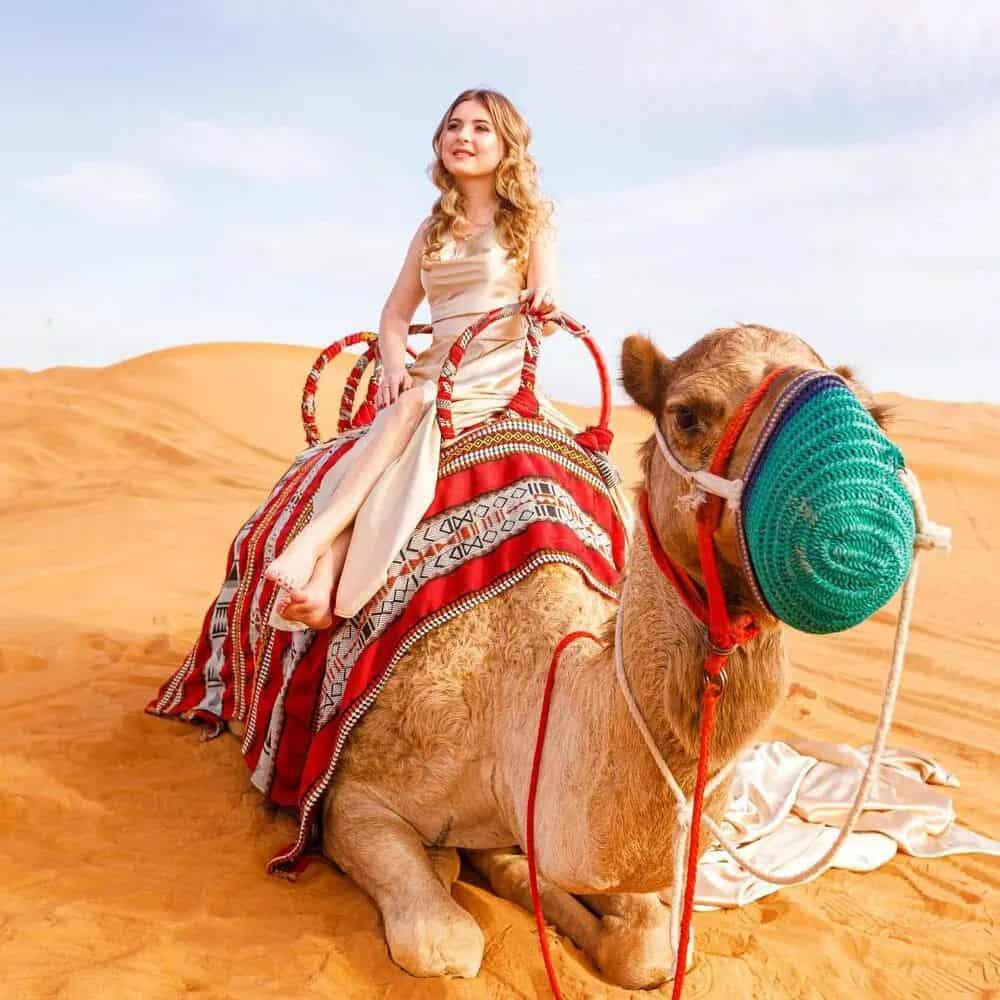 Seeing the Dubai Desert is a must for anyone visiting Dubai.  Booking a desert safari is a must if you want to see the desert in Dubai. Don't miss out the opportunity to shoot Instagram-worthy pictures of sand and desert wildlife on a safari in the city's mystical desert. It would be a shame to visit Dubai and not go on a desert safari. The amount of fun you can have in the desert is practically limitless. It's only natural that your camera roll would be overflowing after such an eventful year. 
The golden hour in the desert is a sight to see, and the desert is suddenly one of the most photogenic spots in Dubai. Going on a desert trip at daybreak, when the light is just as stunning, is another excellent choice.  The desert is a popular location for tourists and photographers in Dubai.
Location: Mostly on the city's outskirts 
Opening hours: 8 am to 11 pm 
Cost: Choosing the right Desert safari provider is crucial.The price per member for the tour usually begins at AED 450. Because rates can fluctuate depending on the dates you choose, it's smart to do a bit of initial research.
The Burj Park by Emaar is the best place to take an Instagram-worthy photo with the entire Burj Khalifa in the background. Burj Park is a small island at the base of Burj Khalifa in Downtown Dubai that may be reached by footbridges. The park is stunning thanks to the Dandelion Lights Sculpture, and it provides breathtaking vistas of more than simply the Burj Khalifa.In addition to the cycling and boating opportunities on Burj Lake and the Dubai Fountain Boardwalk, visitors can now try their hand at runway walk.With the high Burj Khalifa as a backdrop, you can get the perfect shot of these beautiful blooms.The one limitation is that you can't use a professional camera, so a phone with a wide-angle lens is essential.
Location: Burj Khalifa – Burj Khalifa Blvd – Downtown Dubai
Opening hours: 9 am to 11 pm Daily
Costs: Free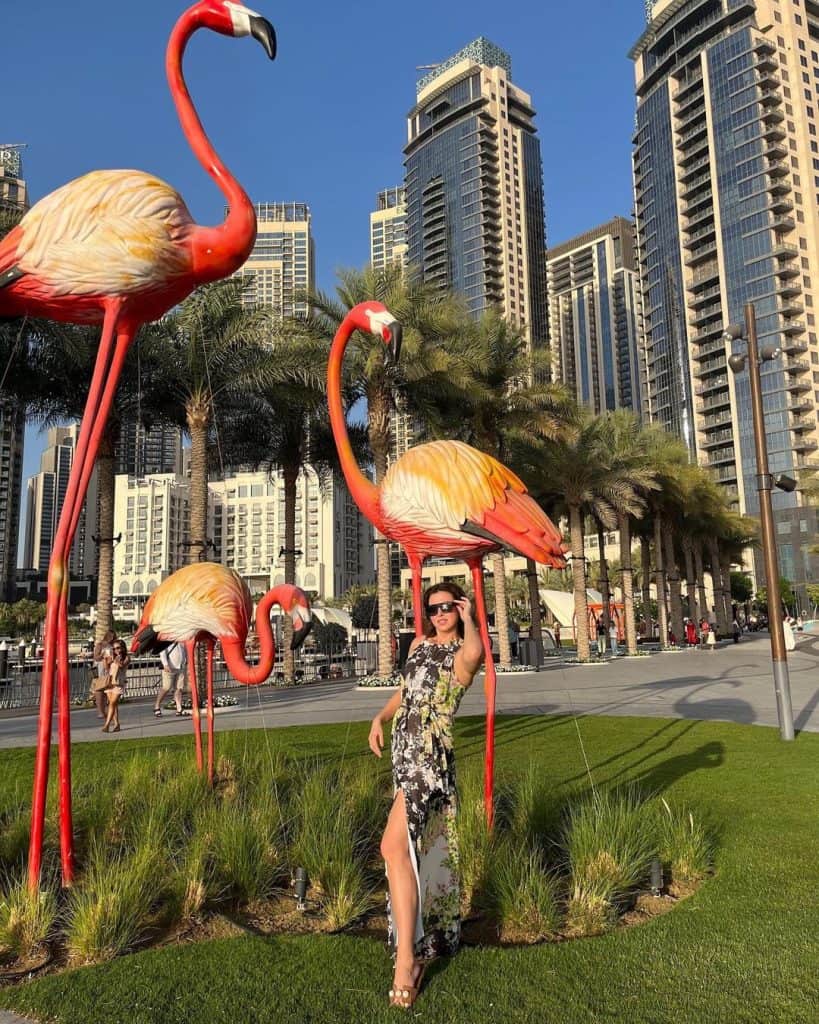 One of Dubai's newest and exciting neighborhood's is found at Dubai Creek Harbour.Located in Dubai Creek Harbour, the 928-meter-tall Dubai Creek Tower desires to become the world's tallest structure. In spite of the tower's unfinished construction, Dubai Creek Harbour has already established itself as one of the city's most picturesque spots.
Flamingos can be seen in their native environment, giving birdwatchers a once-in-a-lifetime opportunity. Taking pictures along the riverfront with the Dubai skyline as a backdrop is one of the top photo ops in the city.
Location: Along the Dubai Creek on the intersection of Al Khail Road (E44) and Nad Al Hamar Road (D62)
Opening hours: Some stations are accessible at all hours. The parking is open on Sunday, Monday, Tuesday, and Wednesday from 8 a.m. to 10 p.m. Parking hours are Thursday through Saturday, 8 a.m. to 11 p.m.
Costs: Free
A picture shoot at the Dubai Miracle Garden is ideal for those who like more natural settings.Beautiful floral installations can be found around the park, including flower-covered giant sculptures, heart-shaped tunnels, and brightly coloured umbrellas.The garden is only open from around the middle of November to about the middle of May, but since that's when most people visit Dubai, it's likely that's when you'll be there too. Photos taken in front of a colourful flower garden in Dubai are guaranteed to turn out beautifully.You won't be able to enjoy the gardens if your visit happens outside of these times.
Location: Street 3 – Al Barsha – Al Barsha South – Dubai
Opening hours: 9 am 
Costs: AED 55 per person. 
The Palace Downtown is a stunning Dubai hotel with an amazing view of the Burj Khalifa. Even if you aren't staying at the hotel, you can still enjoy the pool area outside for some of the nicest photos you can get while in Dubai.Using a professional camera is also difficult, as permission to do so is completely at the choosing of security workers. Having a phone with a wide-angle lens might be a lifesaver in crowded places like the Burj Park by Emaar.
Location: Sheikh Mohammed bin Rashid Blvd – Downtown Dubai
Opening hours: 24 hours daily 
Costs: The costs will be vary based on your hotel room
The Burj al Arab is a symbol of Dubai and one of the world's largest seven-star hotels. Even if a stay there would be exceedingly costly, you can still shoot stunning photographs without actually entering the building.Jumeirah Public beach is the greatest site to capture pictures of the Burj al Arab. The best part is that you don't have to worry about cost if you want to check out the beach while in Dubai.The beach is beautiful at any time of day, but if you want to see something truly amazing, you should go around sunset. 
Location: On the coast of the Persian Gulf
Opening hours: 7 am to 11:30 pm Daily
Costs: Access to the beach is free, but you'll have to fork over a few dirhams to access the park.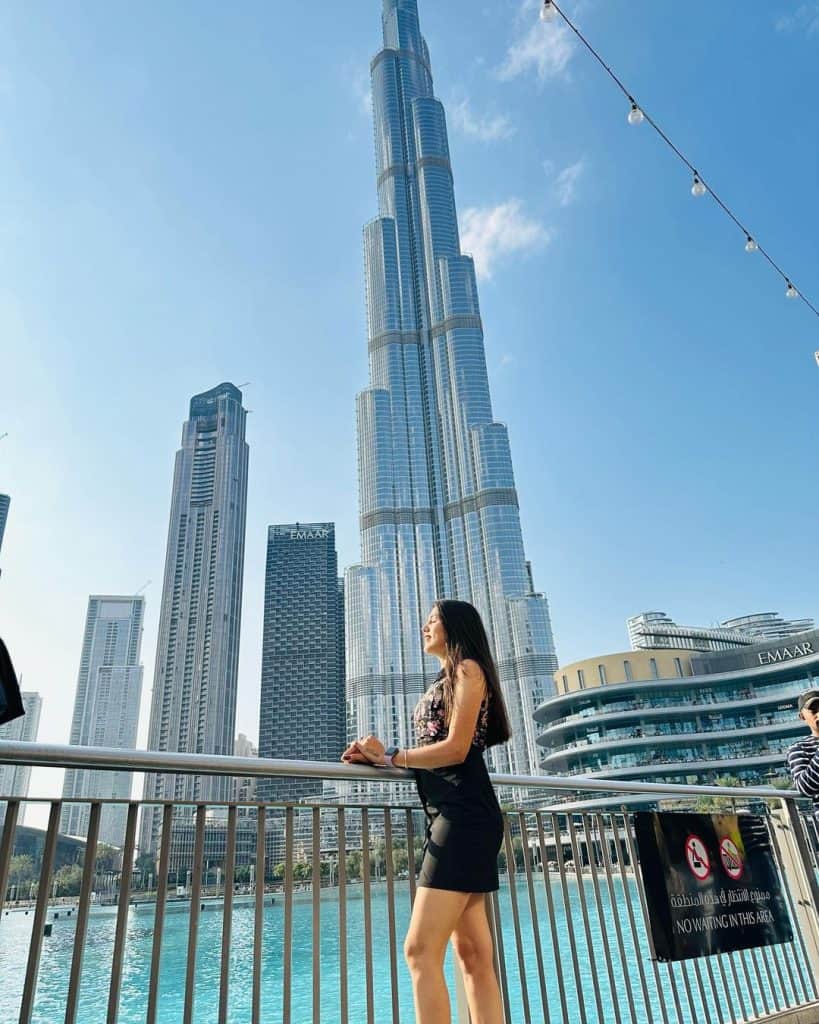 The Burj Khalifa, at 830 meters (2,723 ft) tall, is the world's tallest building and one of Dubai's most photographed landmarks.It's one of the top spots in Dubai for photography and offers an incredible view of the city. Don't miss the glass viewing platform on the 124th floor if you want to capture pictures with the Dubai skyline in the background.The painted wings within the structure are a must-photograph because they are a well-known Instagram location in the city of Dubai.
Location: 1 Sheikh Mohammed bin Rashid Blvd – Downtown Dubai 
Opening hours: 24 hours Daily 
Cost: Ticket prices vary based on which levels you want to visit and when.With the standard tickets you can visit the 124-125 levels and they cost between AED 159-234. If you want to go for sunrise, you should book the Sunrise + Morning treat option which costs AED 129 AED.
8. Wings of Mexico Statue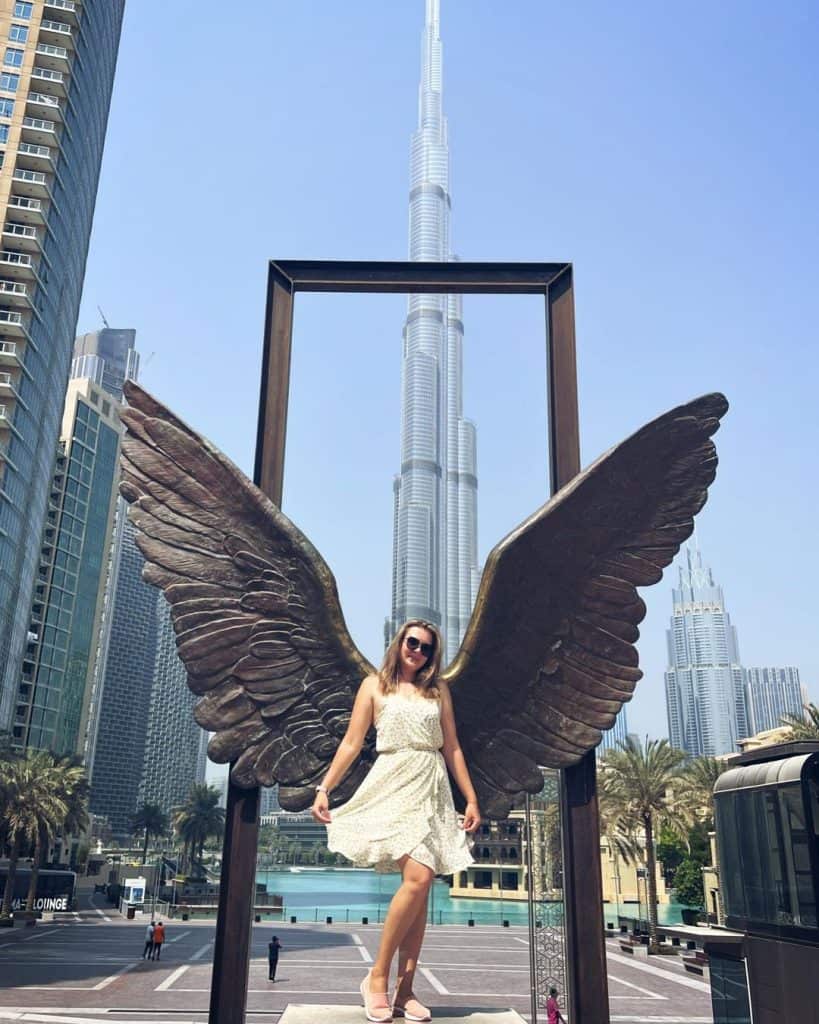 The Wings of Mexico statue is not only one of the most interesting attractions in Dubai, but also one of the most popular places to take pictures there. In 2010, Mexican artist Jorge Marin created this iconic metal sculpture of angel wings. The combination of the Burj Khalifa and Wings of Mexico makes for a picture-postcard-worthy scene.If you put the Burj Khalifa in the background and take a picture of the wings, you'll have the greatest Instagram post.You have two main options for framing it: with the Burj Khalifa towering in the background, or within the wings themselves.
Location: 57RG+C67 – Sheikh Mohammed bin Rashid Blvd – Downtown Dubai – Burj Residence Phase I & II – Dubai – United Arab Emirates
Opening hours: 24 hours Daily 
Costs: Free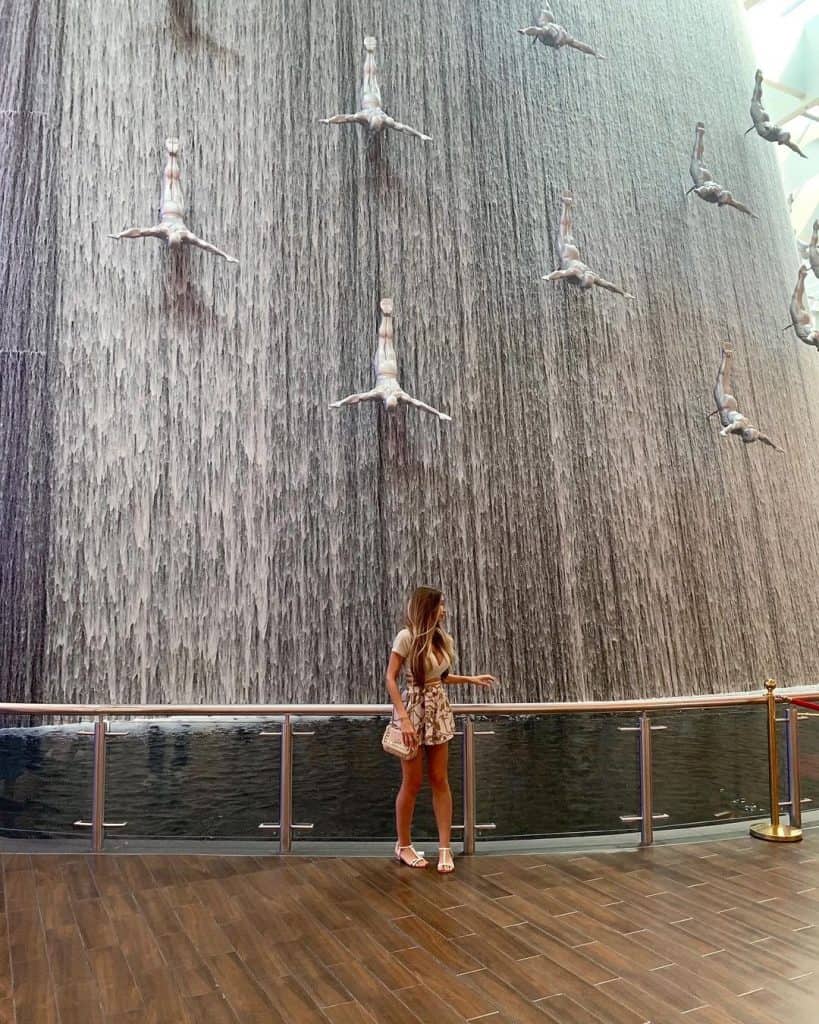 Another must-see in Dubai is the Waterfall Wall, located in the heart of the Dubai Mall. Divers are sculpted out of fibreglass and placed along the 24-metre-tall waterfall. In my opinion, it is one of the most photogenic spots in all of Dubai.If you want to avoid the crowds, the ideal time to visit is first thing in the morning, however you can go at any time.
Location: Inside Dubai Mall 
Opening hours: 24 hours Daily 
Cost: Free
The iconic hotel Atlantis, The Palm may be found on the man-made Palm Jumeirah island chain in Dubai. The resort's attractions, such as the Aquaventure Water Park and the Lost Chambers Aquarium, are open to the public regardless of whether or not they are staying at the resort. If you're already inside the hotel, go toward the Lost Chambers Aquarium's entrance; the Ambassador Lagoon will be visible just below the aquarium's entrance.
Pictures of Dubai's incredible indoor aquarium will be all over social media. There are all kinds of fish, manta rays, and sharks in this enormous aquarium. It was undoubtedly among Dubai's most gorgeous locations.
Location: Crescent Rd – The Palm Jumeirah – Dubai – United Arab Emirates
Opening hours: Atlantis Aquaventure Waterpark 10 am to 5:30 pm 
Cost: The ticket for the Aquarium costs between AED 110-135 per person, you can buy the tickets here. If you don't want to visit the whole Aquarium and you manage to get inside the hotel then it's free, apart from the cost of the taxi ride.
The modern city of Dubai is one of the most beautiful locations I've ever been to. With its towering skyscrapers, lush parks, elaborate floral displays, seemingly endless freeways, and jaw-dropping vistas, Dubai is a photographer's paradise.
Common Questions about Instagrammble places in dubia
Start Planning Your Dubai Trip Now!
Book Your Flight:
Use Skyscanner to find a cheap flights. A travellers favorite way to book flights, as it searches websites and airlines around the world with one click.
Book Your Bus or Transportation Within Dubai:
There are two ways to book your transporation, ask your hotel or hostel, go to the local bus terminal, or book online, for a less stressful trip using EasyBook or 12go.asia
Book Your Accomodation: 
Find the best hotels or hostels at HostelWorld, Booking.com, Agoda.com. Perks include with no upfront payment. Pay when you check out and Free cancellations.
Dont Forget Your Travel Insurance:
Two popular choices are SafetyWing and WorldsNomads. A traveler should buy traveler's insurance to protect themselves against unexpected events such as trip cancellations, medical emergencies, and lost or stolen baggage. It provides peace of mind and financial protection in case of unforeseen circumstances.
Useful Apps
RAKTA / Roads & Transport Authority / Bus Bud – Booking Bus
Botim / Threads / WhatsApp – Communication
Booking.com / Agoda / Trivago -Booking Hotel
Dubai.metro / Rail.cc / Omio – Booking Train
Eateasy.ae / Uber Eats / Talabat – Food Delivery
Talixo / RTA / Book Taxi Dubai – Booking Taxi
Want More Information On Dubai?
Be sure to check out my nomad travel guide on Dubai for even more tips.
Disclosure: Please note that some of the links above may be affiliate links, and at no additional cost to you, I earn a commission if you make a purchase.