Why Pai is the perfect digital nomad destination
Are you a digital nomad looking for your next adventure? Look no further than Pai, Thailand. Pai is located in the northwest of Thailand, about a three-hour drive from the city of Chiang Mai. It's a little off the beaten path, but that's part of its charm. If you are taking the bus, I recommend taking some motion sickness medicine before you start the trip.
Once you arrive in Pai, you'll find a small town with a laid-back atmosphere. It's a place where you can slow down and relax. There are plenty of cafes to choose from, making it easy to work remotely. The Wi-Fi is reliable and the coffee is good. 
 There are plenty of hiking and biking trails to choose from, as well as waterfalls and hot springs to visit. The Pai Canyon is a must-see, offering panoramic views of the surrounding mountains. There are also several temples and cultural attractions to visit, including the iconic White Buddha and the Pai Canyon.
Things to do In Pai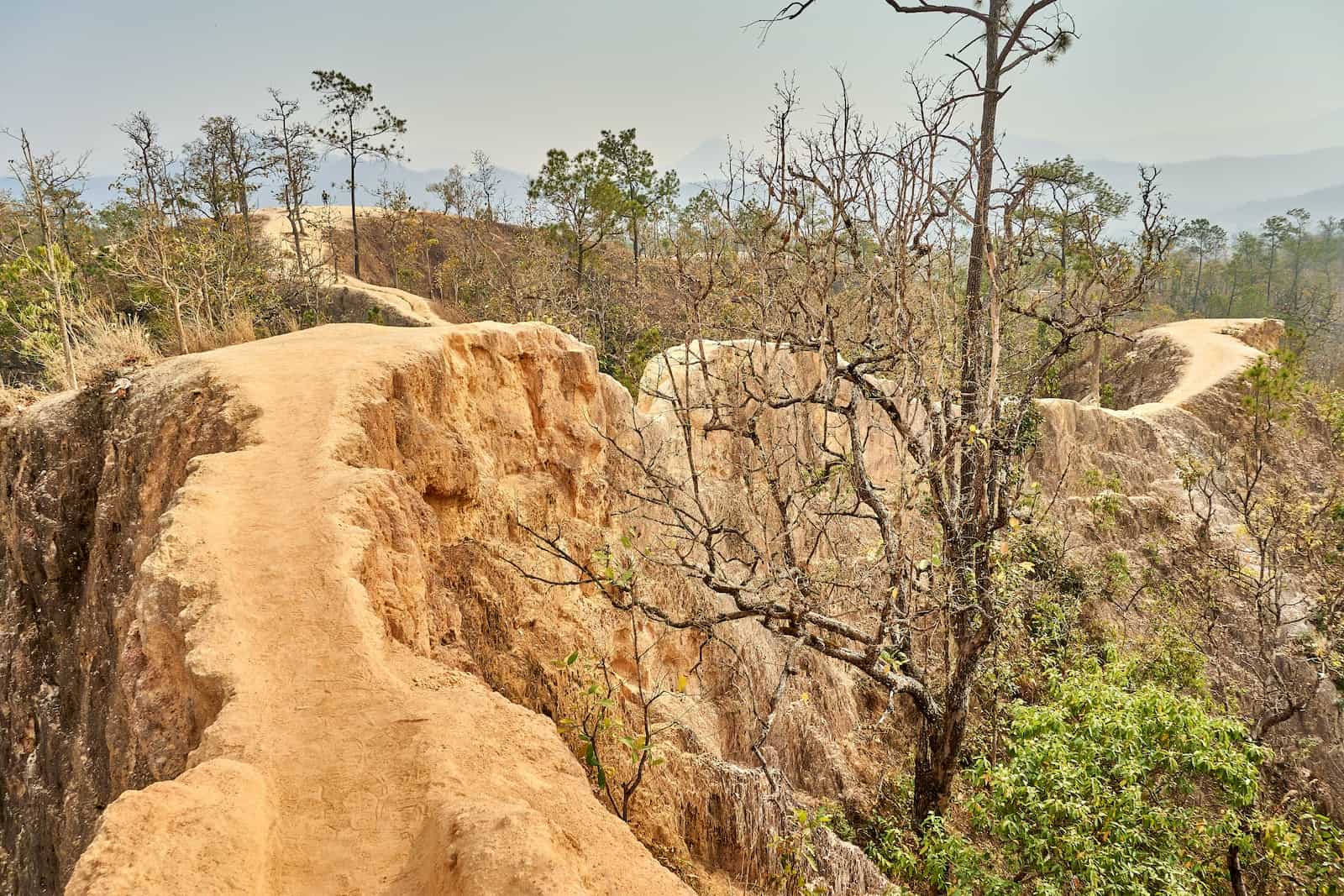 There are at least 14 things you can do during a lunch break or free evening. Grab your motorbike and take a look at this list, nothing is ever more than a 5 – 30 minute drive away. The mobile signal is also strong enough that you can hotspot from your phone.
Wat Phra That Mae Yen: Big Buddah Pai

Coffee In Love: Express that there are many options, 

Kho ku so Bamboo Bridge

Thai Pai Memorial Bridge

Pai Canyon

Chinese Village/Santichon Village

Pam Bok Waterfall

Land Split

Pai Bamboo Bridge: Kho Ko So

Pai Night Market

Sai Ngam Hot spring/Tha Pai Hot Spring

Nam Lod Cave

Pai Circus Hostel

Get a massage
Alternatively, go explore different cafes around town, and save the exploring for the weekend. There are daily half day and full day tours that take you to the main places and pick you up from your hotel.
One of the best things about Pai is the food. The town is known for its delicious street food and there are plenty of restaurants to choose from. You'll find everything from Thai curry to pizza to vegan options. There's also a weekly night market where you can sample local dishes and shop for souvenirs.
Speaking of shopping, Pai has a thriving artisan community. There are several markets and boutiques where you can find handmade crafts, jewelry, and clothing. It's the perfect place to pick up a unique souvenir or gift. Just take a stroll in the night market and you will see for yourself.
Where to stay
If you want to find longer term accommodation join this facebook group 'Our Pai Family'
Cha Li's Family Hostel – Has Cheap and comfortable capsule style dorms, a pool and restaurant.
Golden Hut  – Right by the river the views are very good, and you are just a 5 minute walk from the main road.
Night Life In Pai
Pai is also home to a vibrant nightlife scene. There are several bars to choose from, as well as live music and cultural performances. It's a great place to meet other digital nomads and make new friends. Check out this list, and post by Madmonkey hostel, one of the top party hostel chains.
Best Time To Visit Pai
Many people talk about how cold Pai is, which is true when compared to other parts of Thailand. Winter season is between November and March, where the temperature ranges between 10 C at night and 30 C during the day ( 50 F and 86 F).
April is when the heat hits its peak, if you visit during this time be prepared for that weather.
Monsoon season is from May to October, where you will see heavy showers and cooler temperatures. During this season things are cheaper but you will have to deal with the rain and mud. Rain lasts from 1 -3 hours at a time.
Conclusion: Why Choose Pai?
So, why choose Pai for your next digital nomad adventure? It's a place where you can work remotely, explore the great outdoors, and immerse yourself in the local culture. It's a small town with a big personality, offering something for everyone. So pack your bags and head to Pai, Thailand – you won't be disappointed.
Start Planning Your Thailand Trip Now!
Book Your Flight:
Use Skyscanner to find a cheap flights. A travellers favorite way to book flights, as it searches websites and airlines around the world with one click.
Book Your Bus or Transportation Within Thailand:
There are two ways to book your transporation, ask your hotel or hostel, go to the local bus terminal, or book online, for a less stressful trip using Easybook or 12go.asia
Book Your Accomodation: 
Find the best hotels or hostels at HostelWorld, Booking.com, Agoda.com. Perks include with no upfront payment. Pay when you check out and Free cancellations.
Dont Forget Your Travel Insurance:
Two popular choices are SafetyWing and WorldsNomads. A traveler should buy traveler's insurance to protect themselves against unexpected events such as trip cancellations, medical emergencies, and lost or stolen baggage. It provides peace of mind and financial protection in case of unforeseen circumstances.
Useful Apps?
Grab/Uber – Local Transportation
Uber Eats/Grab – Food Delivery
Whatsapp – Communication
Want More Information On Thailand?
Be sure to check out my nomad travel guide on the Thailand for even more tips.
Disclosure: Please note that some of the links above may be affiliate links, and at no additional cost to you, I earn a commission if you make a purchase.