TOP 15 INSTAGRAMMABLE SPOTS IN Kuala Lumpur Malaysia
Kuala Lumpur, also known as KL, is the name of Malaysia's capital and a well-liked pit stop for travelers to Southeast Asia. It is a diverse metropolis with areas of ancient jungle mixed in with cutting-edge modern architecture. It is one of Malaysia's most picturesque cities with its modern towers, street art, vibrant Batu Caves, and Instagrammable restaurants. 
For Instagram users, content creators, and photographers, KL is the perfect location. However, before going to KL, you must first find all the Instagrammable locations.
Read on for my list of the best Instagrammable spots in Kuala Lumpur, along with details on their addresses, opening times, and costs.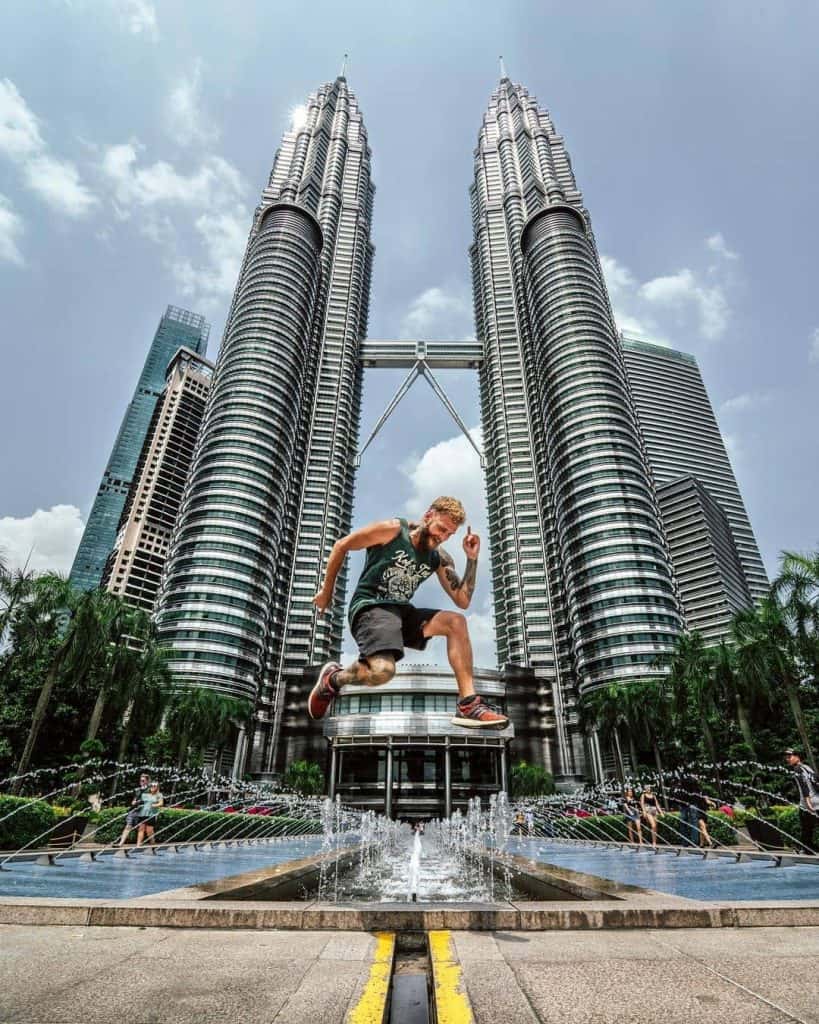 When people think of Kuala Lumpur, they all immediately picture the Petronas Towers. Any visitor to Kuala Lumpur should make time to visit this pair of structures. Petronas, the tallest twin tower in the world, is characterized by its distinctive glass, steel, and concrete facades. When illuminated at night, these enormous twin towers have a stunning appearance. 
Inside KLCC Park, near the fountains, is the ideal location for taking pictures of the towers. In any case, a wide-angle lens is required to adequately capture both towers. Golden hour at sunset is the ideal time to visit this tower.
Location: Petronas Twin Tower, Lower Ground (Concourse) Level, Kuala Lumpur City Centre
Opening hours : Tuesday to Sunday 10 AM to 6 PM 
Cost: Accessible for free from the ground. Tickets for the observation deck, which are also available on a first-come, first-served basis, are released each morning.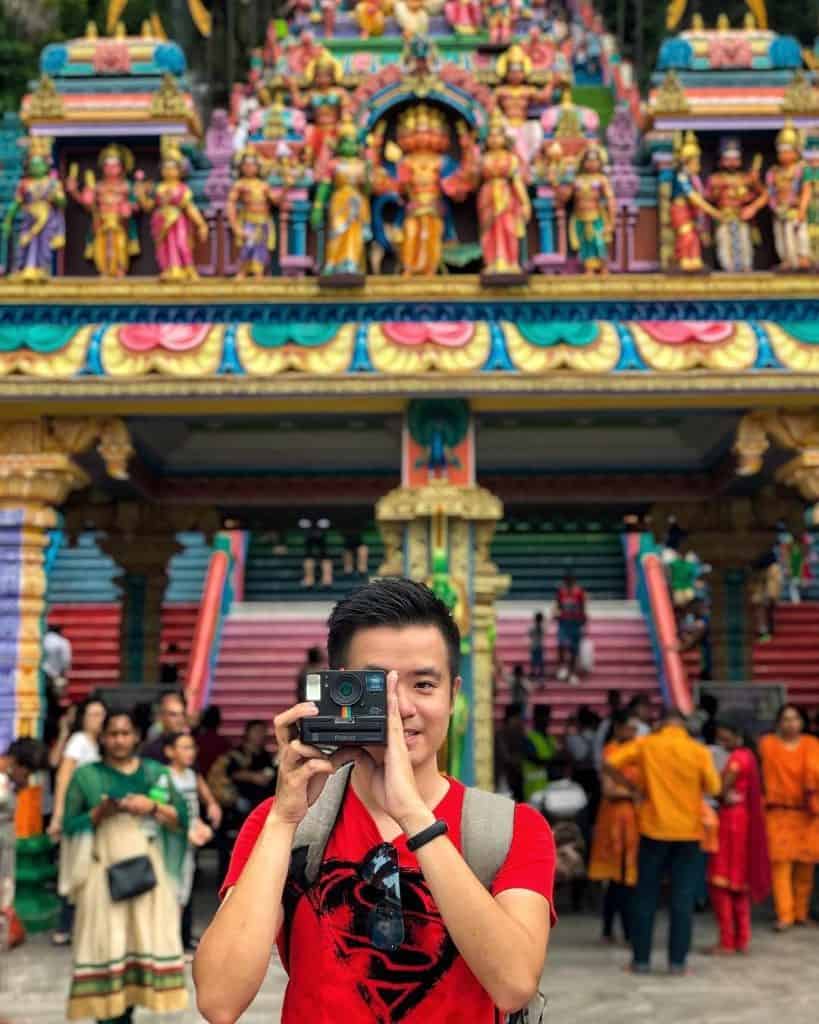 A revered Hindu complex made up of limestone caverns and caves embellished with colorful temples and shrines is known as the Batu Caves. Visit Batu Caves around sunrise for the best chance of skipping the crowds, before things get busy around 9 a.m.
Take advantage of the chance to climb the stairs and explore the caves while you're there. Photography is permitted, but you must dress appropriately and cover your elbows and knees. The stairs are free to view, but there is a fee to enter the cave. The most beautiful pictures are taken from the base of the staircase leading up the cliffs.
Location : Gombak, 68100 Batu Caves, Selangor, Malaysia
Open hours : Daily, 6 am-9 pm. Suggest to go in the morning as possible to avoid the crowds and intense heat. 
Cost: The entrance to the Batu Caves is free. You must pay an additional RM35 (8.5 USD) admission fee if you also wish to visit the nearby Dark Caves.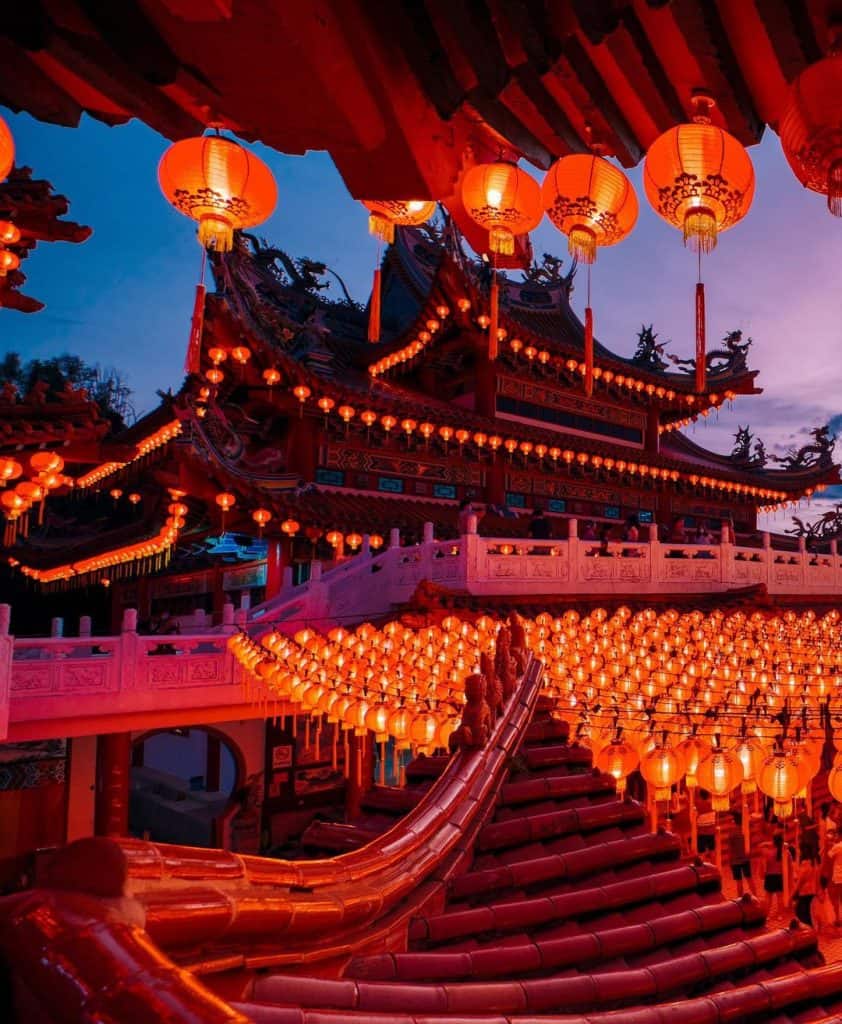 Red lanterns, which are popular among women on their wedding days and symbolize luck and joy, cover Thean Hou Temple, which is south of the city center. The largest Chinese Buddhist temple, it is set in a beautiful park with palm trees and other tropical plants, a checkerboard the size of a small country, and other Asian and Buddhist statues.
Right in front of the entrance is the primary photo opportunity. A wide-angle lens and some patience are required. If you come later in the day, this place will be crowded. Instead, you could ascend the temple's stairs to its upper level and take in its splendor from there.
Location: 65, Persiaran Endah, Taman Persiaran Desa, 50460 Kuala Lumpur, Wilayah Persekutuan Kuala Lumpur
Opening hours: The current operating hours are Mondays 8 a.m.–2 p.m., Tuesdays and Wednesdays 6–12 p.m., and Thursdays through Sundays 7–12 p.m.
Entrance fee: It is free to visit, but keep in mind the dress code when visiting a temple.
4. Kuala Lumpur City Gallery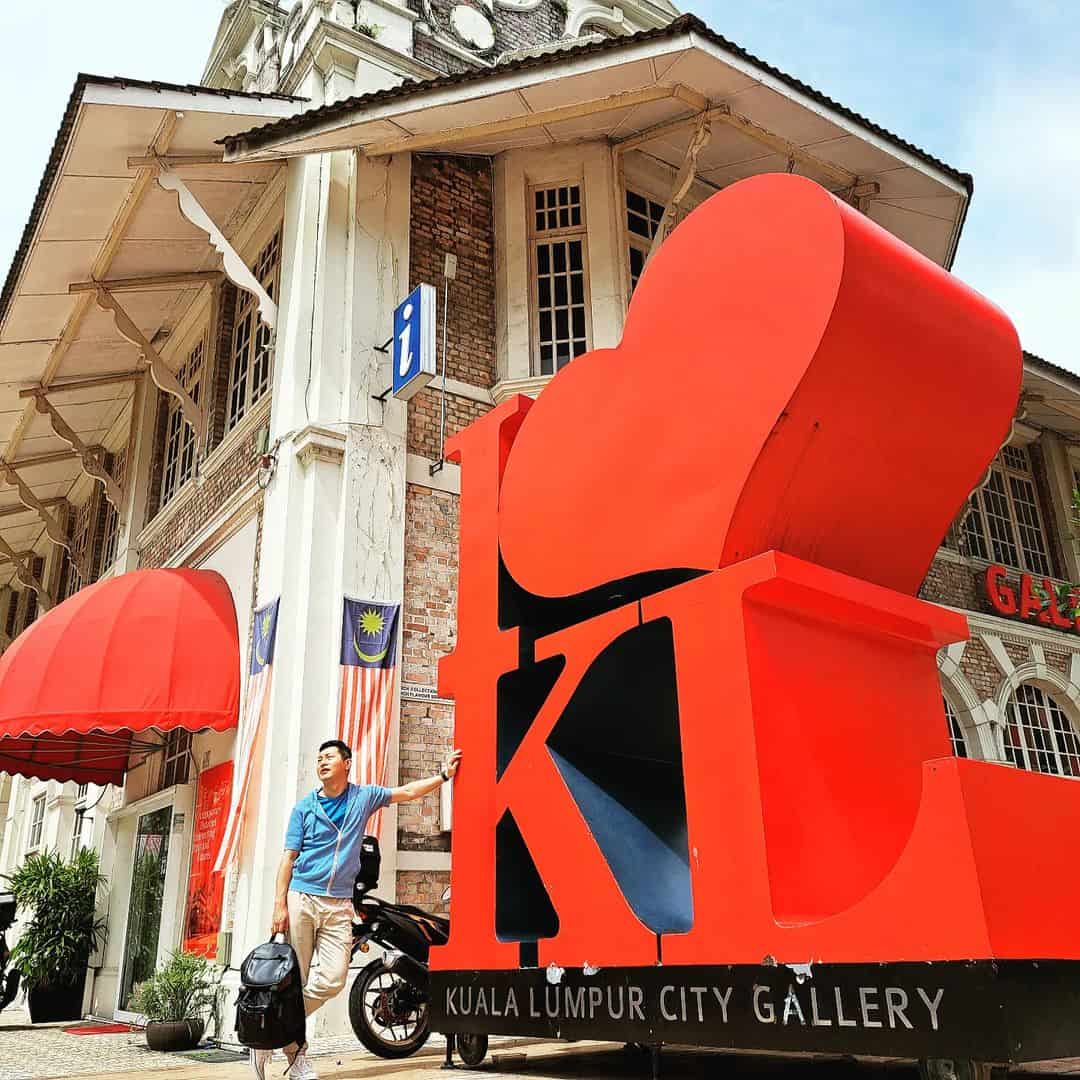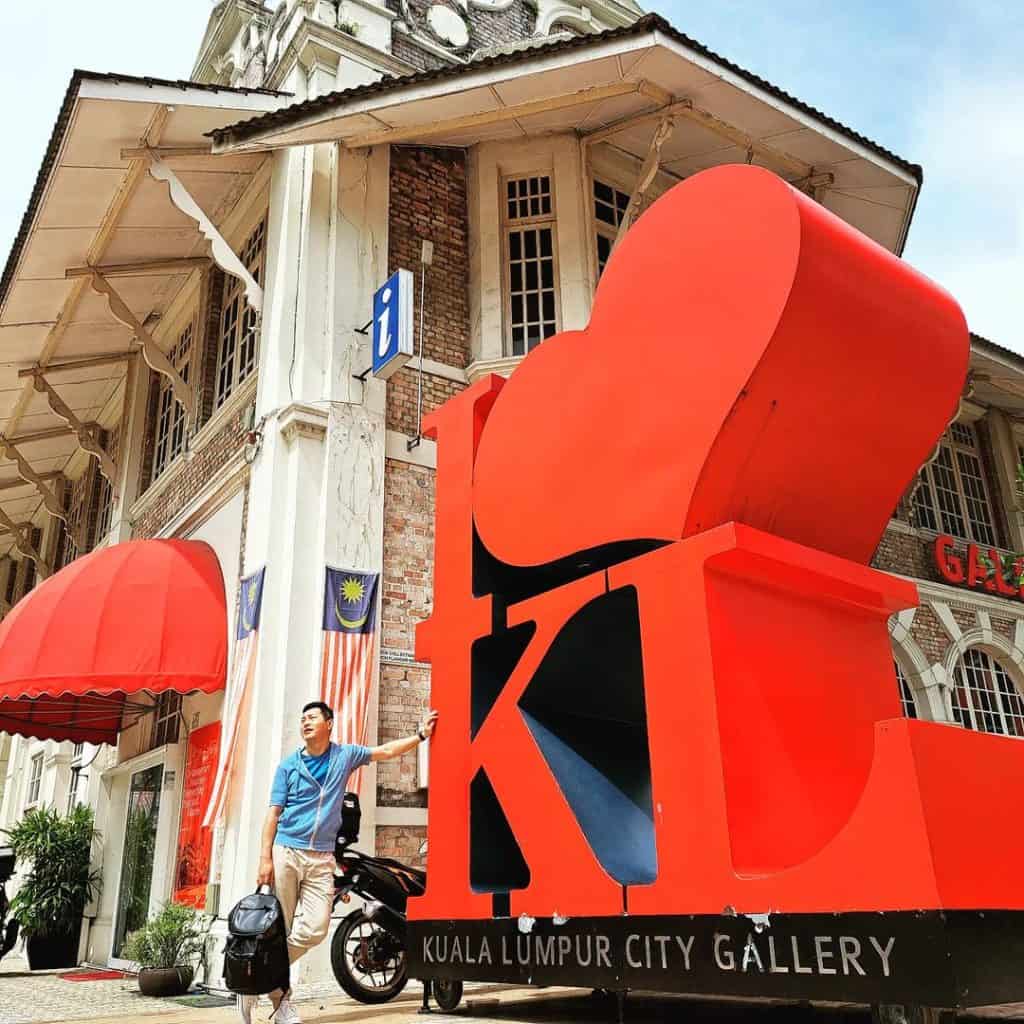 One of the best spots for photography, not many people venture into the Kuala Lumpur City Gallery. The gallery provides historical information on how KL grew to its current size.
Although not a traditional museum, this location still offers an important view of historic structures around Kuala Lumpur.
Location: Dataran Merdeka in the heart of KL's tourism zone, next to the Music Museum 
Opening hours: daily from 9 a.m. to 6.30 p.m.
Fees: 5.00 RM for 3 years and older.  The ARCH Gift Shop and ARCH Cafe ((the gallery outlet) accept  the ticket price as payment for items there.
5. Infinity pool at The Face Suites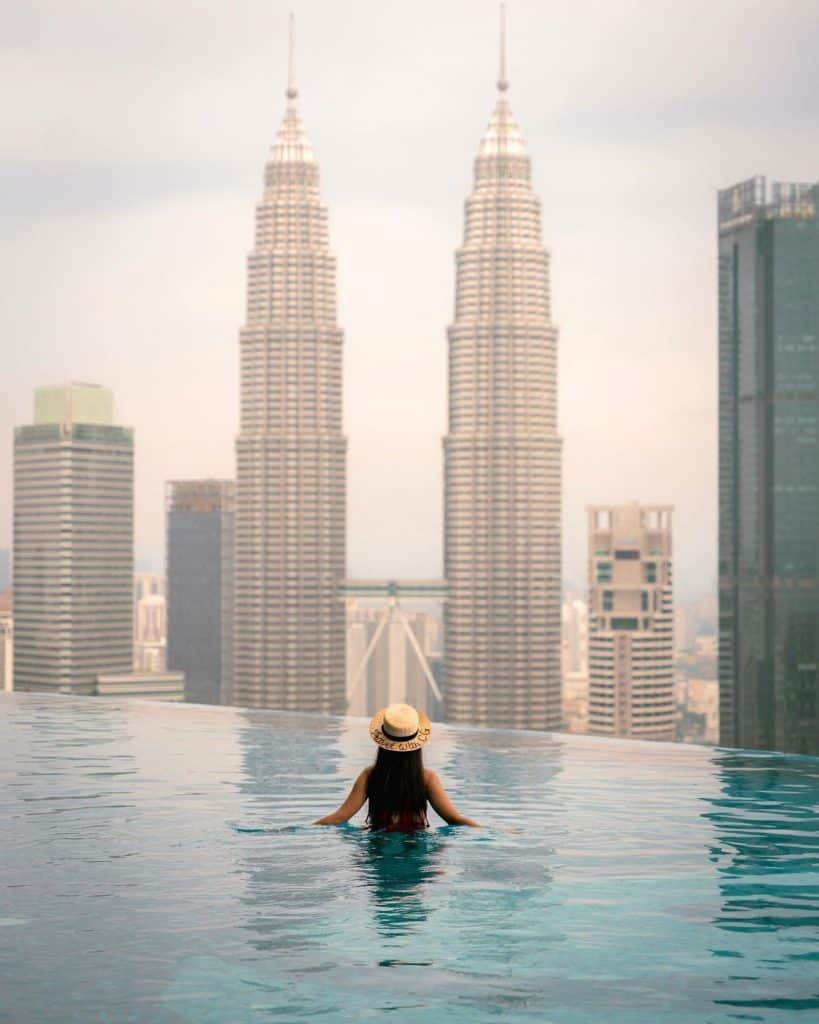 The most lavish ways to take in the views while floating above the city suites are infinity pools, which are renowned for being found in KL. The Face Suites and Regalia Suites are similar in that both have lots of AirBnB apartments and stunning views from their rooftop pool. The majority of people prefer this because it is close to both the KL Tower and the Petronas Tower.
Location: 1020, Jln Sultan Ismail, Kampung Baru, 50250 Kuala Lumpur, Wilayah Persekutuan Kuala Lumpur, Malaysia
Opening hours and fees: Since this is a hotel, check the FACE Suites' nightly rates for your dates. Opens at 7 a.m.
6. Astaka Morocco Putrajaya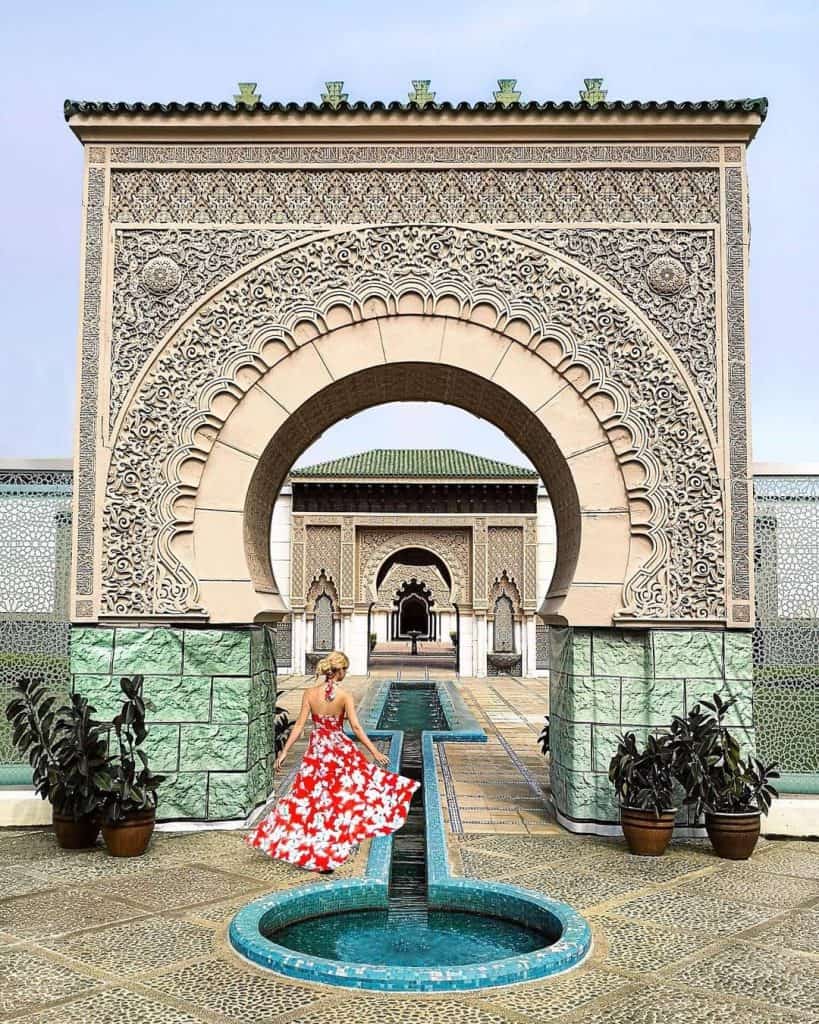 Astaka Morocco is one of the less well-known Kuala Lumpur Instagram locations, despite being technically in Putrajaya. Putrajaya is a popular choice for day trips from Kuala Lumpur because it is very easy to get there. Given that Putrajaya is on the way from the city center to the airport, you might decide to stop there. On this list of Kuala Lumpur locations with the best Instagram potential, two breathtaking locations in Putrajaya cannot be missed. Astaka, Morocco, is another one of them. Although it is prohibited to take photos inside the building, there are plenty of photo opportunities on the exterior, which is accessible to the public for free.
Location: Putrajaya
Opening hours: 9 a.m. to 6 p.m. Daily 
Fees: Free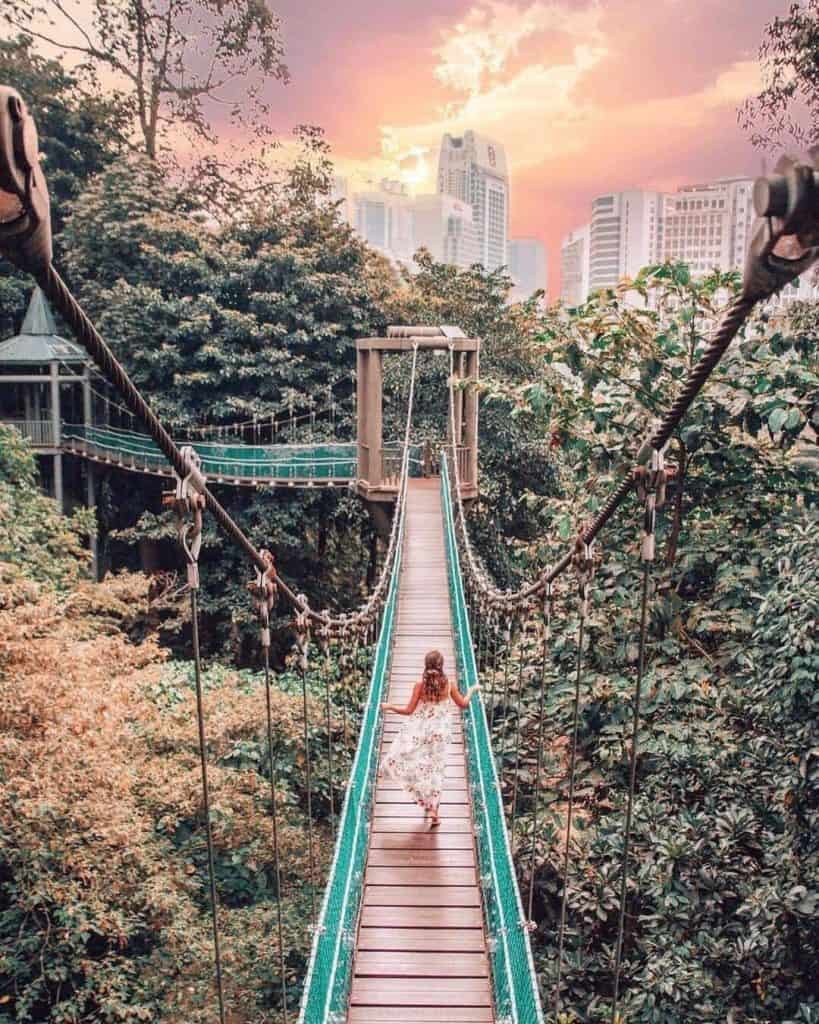 If you want to take some photos in nature and escape the hustle and bustle of the city, head to the KL Forest Eco-Park. A tropical jungle can be found in the middle of the city, next to Kuala Lumpur's renowned KL Tower. 
Because Kuala Lumpur is the only city in the world with a natural rainforest in its city center, this jungle is unique. For those who enjoy the outdoors, there are a huge variety of trees, monkeys, hiking trails, cool canopy walkways, and other natural attractions. There are miles and miles of lush, natural vegetation that you can observe, including various flora and tropical tree species. Popular photo locations include the park's suspension bridges and the numerous paths that are spread throughout the area. However, you should wear comfortable clothing, athletic gear, hiking boots, and athletic shoes. 
Location: Lot 240, Bukit Nanas, Jalan Raja Chulan, next to the KL Tower. 
Opening hours: 8 a.m. to 5:30 p.m. 
Fees: Foreign visitors must pay an admission fee of 40 MYR (8.40 EUR), but bring cash because card payments are not accepted.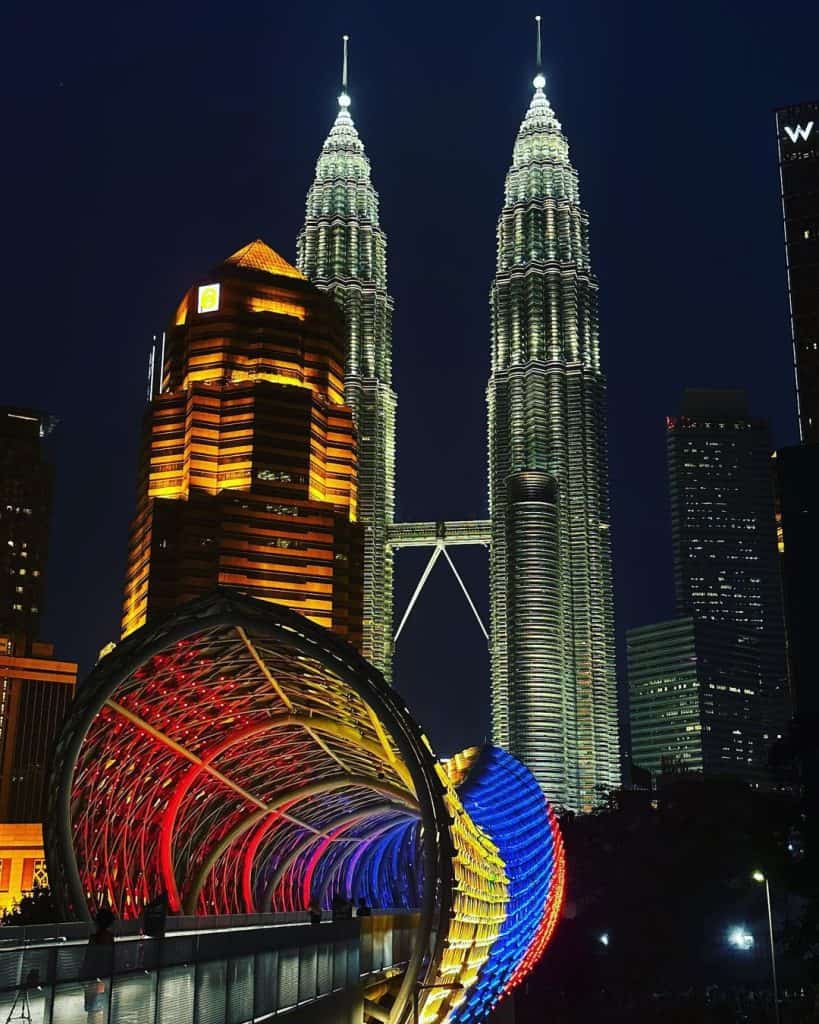 The Saloma Link Bridge connects Kuala Lumpur's two halves, which were previously separated by a road. The bridge significantly accelerates bicycle or foot travel between the two. The bridge bears the name of a Singaporean-Malaysian singer and actress.
You can see the Petronas Twin Tower from here during the day, but at night, the tunnel comes to life with the colors of the Malaysian flag stretched across its side, which is quite amazing to see. You can also take pictures of the bridge with the Petronas Towers in the background if you find the right angle. The Saloma Link Bridge is still worthwhile to visit even though it is technically busier at night. Arrive early in the morning if you want more space to take pictures during the day. 
Location: Kampung Baru 
Opening hours: Daily, 5 a.m. to 12:30 a.m. 
Fees: Free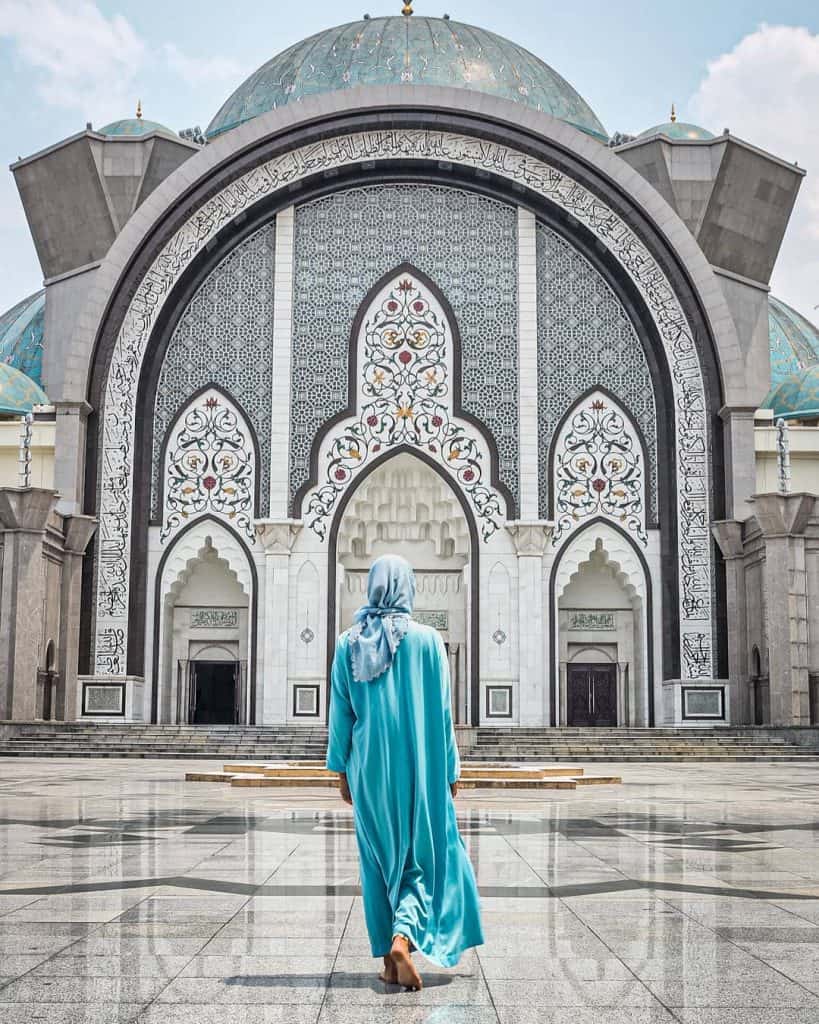 A large mosque in KL with a capacity for 17,000 worshipers at once is the Wilayah Mosque, also referred to as the Federal Territory Mosque. Visitors from all religions, including Islam, are welcome. The mosque is quite lovely, and the stunning reflection you can see on one of the walls is one of its most notable features.
When entering a mosque, you must wear a robe, and women are required to cover their heads with a headscarf. This will be provided without charge by the mosque. You are welcome to visit the mosque outside of prayer times. This location is open all day, unlike some of the more well-known Instagrammable spots in KL, where you must arrive early if you don't want other people in your photos. The mosque is open to the public and is a lovely place to take pictures, but fewer tourists are aware of it, so it isn't very crowded. 
Location: Jln Tuanku Abdul Halim, Kompleks Kerajaan, 50480 Kuala Lumpur, Wilayah Persekutuan Kuala Lumpur, Malaysia
Opening hours: 10 a.m. to 6 p.m. Daily 
Fees: Free
10.KL Tower/Menara Kuala Lumpur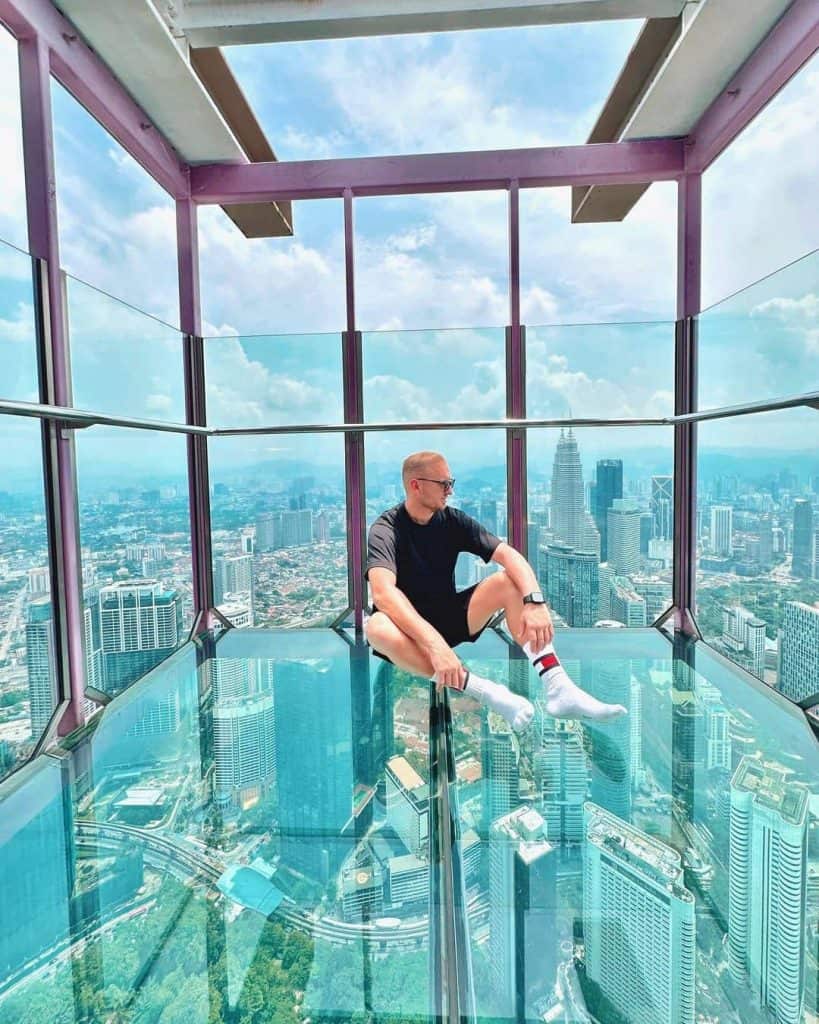 Another must-see attraction in Kuala Lumpur is the telecommunications tower known as the KL Tower (Menara Kuala Lumpur), which is located in the center of the city. Although the Petronas Towers look more impressive from the outside, if you have to choose between the two, I would strongly suggest climbing the KL Tower.
Unlike the Petronas Towers, which always produce better images because there are no glass reflections in them, the 360-degree viewing deck at the KL Tower, known as the Skydeck, is truly open air. These sky boxes can help you take beautiful pictures. There are 2 glass platforms; pick the purple one with a view of the distant Petronas Towers for better pictures. There is a security guard present and shoes are not allowed in the Sky Box. 
Location: Jalan Puncak, which branches off from Jalan P. Ramlee
Opening hours: 9:30 a.m. to 10 p.m. 
Fees: 105 Malaysian ringgit (£20) for entrance to both the Skydeck and Skybox
KL is becoming more and more well-known among tourists, and for good reason—it's a relatively inexpensive city to visit, and the majority of the population speaks English here. Every region of the country has places that are Instagrammable. In addition to having some of the best photo locations, it is a foodie's paradise for those who adore the local cuisine. 
If you've already visited the city, please share in the comments your favorite spots for taking pictures in Kuala Lumpur as well as any additional spots you think should be included. 
common questions about instagrammble places in kuala lumpur
Start Planning Your Malaysia Trip Now!
Book Your Flight:
Use Skyscanner to find a cheap flights. A travellers favorite way to book flights, as it searches websites and airlines around the world with one click.
Book Your Bus or Transportation Within Malaysia:
There are two ways to book your transporation, ask your hotel or hostel, go to the local bus terminal, or book online, for a less stressful trip using Easybook or 12go.asia
Book Your Accomodation: 
Find the best hotels or hostels at HostelWorld, Booking.com, Agoda.com. Perks include with no upfront payment. Pay when you check out and Free cancellations.
Dont Forget Your Travel Insurance:
Two popular choices are SafetyWing and WorldsNomads. A traveler should buy traveler's insurance to protect themselves against unexpected events such as trip cancellations, medical emergencies, and lost or stolen baggage. It provides peace of mind and financial protection in case of unforeseen circumstances.
Usefull Apps?
Grab/Uber – Local Transportation
Food Panda/Grab – Food Delivery
Whatsapp – Communication
Want More Information On Indonesia?
Be sure to check out my nomad travel guide on the Malaysia for even more tips.
Disclosure: Please note that some of the links above may be affiliate links, and at no additional cost to you, I earn a commission if you make a purchase.