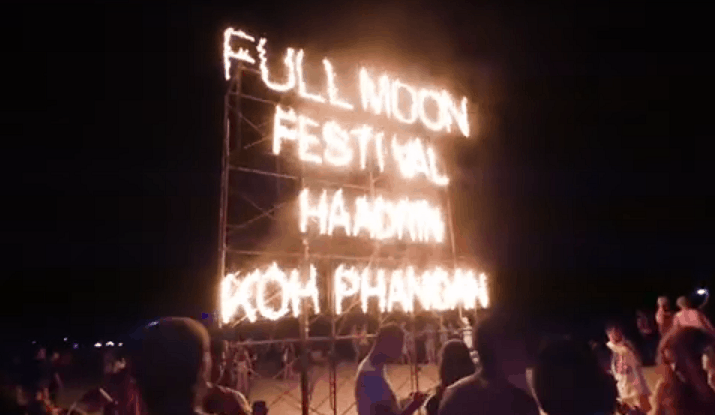 This massive party takes place on a stretch of beach on Koh Pha Ngan (Koh Phangan) island in Thailand. Each month, on the night of the full moon, thousands of people come from all over the world to partake in festivities and dance all night long.
1. Getting There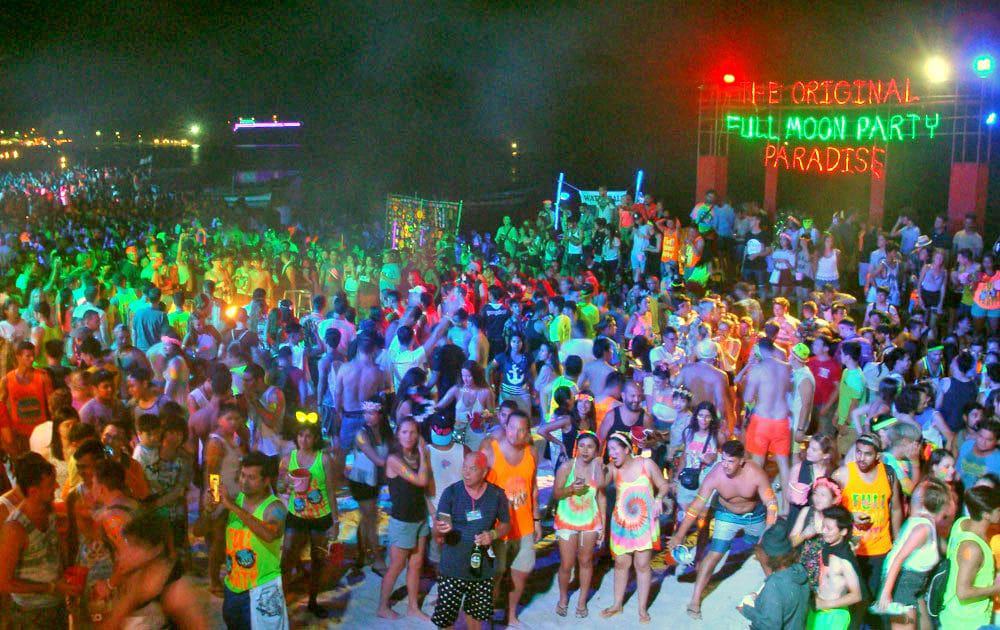 Depending on where you're coming from, the two closest islands to Kho Pha Ngan are Koh Samui and Koh Tao. There are inexpensive ferries running daily between all the islands.
The actual beach party is located on Haad Rin beach on Koh Pha Ngan island.
From Bangkok: The fastest way to Koh Pha Ngan is to take a short flight to Koh Samui and catch a ferry to the island. There are also budget-friendly overnight bus & boat options you can purchase from travel agents in Bangkok. To save time and money, I suggest an overnight bus, not only do you not waste hours in transit, but you save on housing for one night.
You will want to be there 2 days prior to the party because other smaller events occur, and you want to be able to take in the sights and relax before everyone rushes there. 
2. Where to Stay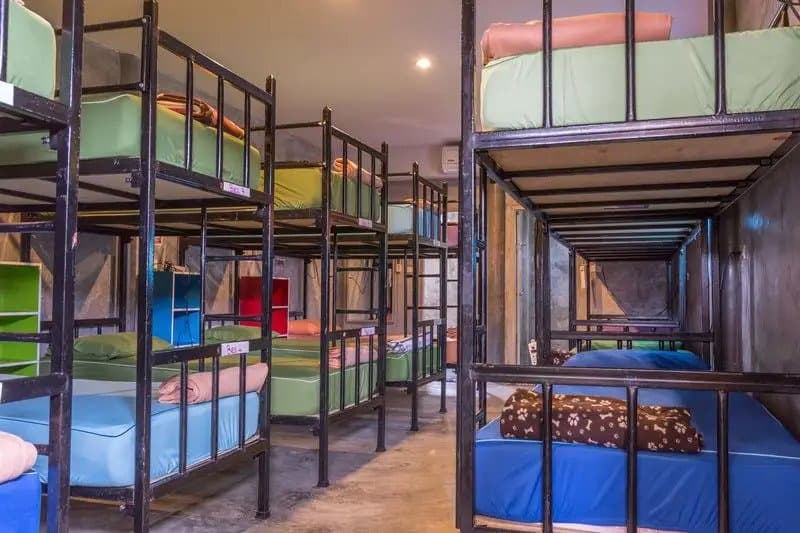 Accommodation typically books up solid on Koh Pha Ngan the week before and after the Full Moon Party. Book in advance to make sure you have somewhere to stay. Or and leave your bags at a friend's hotel and stay out all night.
I would recommend finding accommodation on another island, catching a ferry to Koh Pha Ngan, partying all night, and catching a ferry back the next day. I personally booked a month ahead of time and was able to get a good price on a hostel there on the island.
3. What to Wear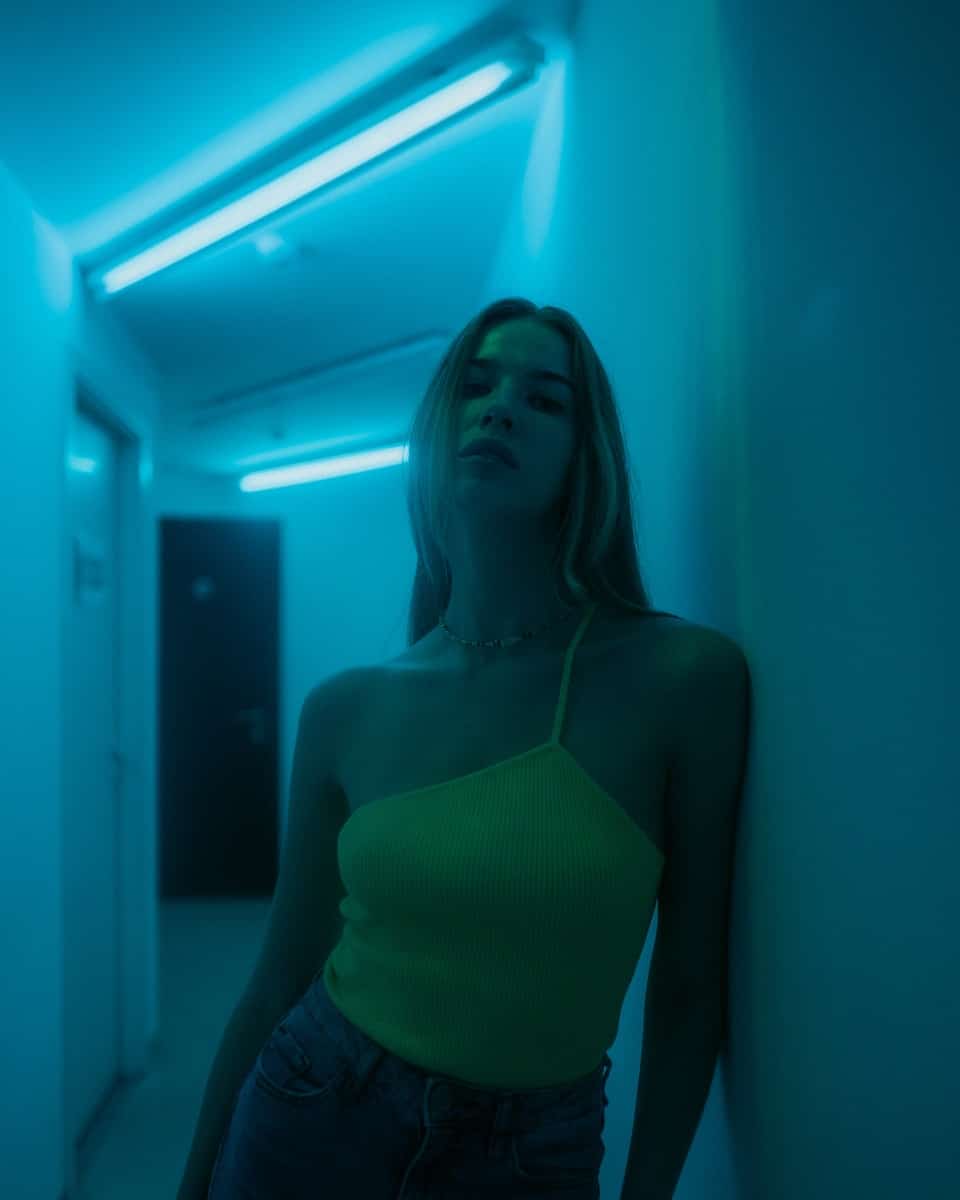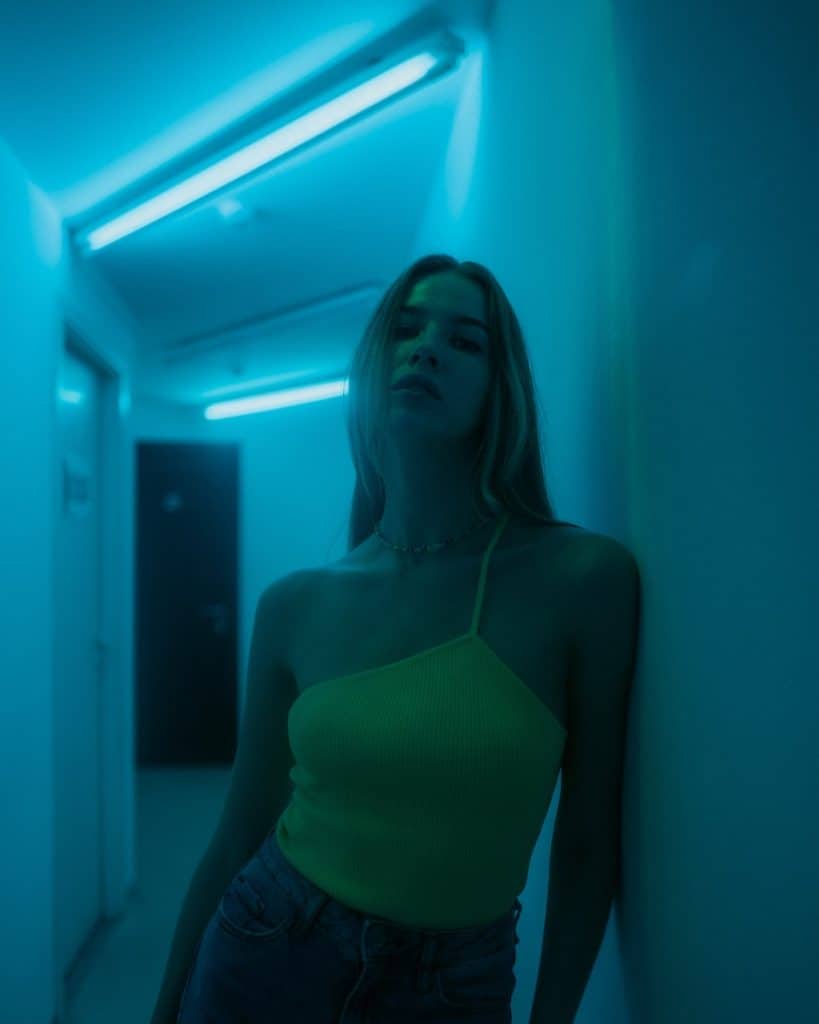 To get fully involved in the event, wear traditional, neon, Full Moon Party attire complete with fanny packs. You can also drink a couple of pre-moon drinks, and make your way to Haad Rin where the famous beach party takes place!
Once in Haad Rin, the fun gets started! You can begin the artistic ritual of covering yourself in neon paint. I went for some face and arm paint.
No need to pack anything special for the party! You can get all your Full Moon Party swag from street vendors for about $10-15 USD. From drinks, paint, food, everything is there. But please don't take anything you aren't willing to lose. When I last celebrated the Full Moon Party, my friend had his bag ripped or slashed, and he lost everything, luckily we were able to find his password in then sand.
4. The Beach Party
Once covered in paint, make your way to the beach to get amongst the "wild & crazy." the party experience of a lifetime.
The beach is packed with people from all over the world, fire dancers, drink bucket stands, dance stages, DJ's…you name it! 
All along the beach, there are vendor stands selling these little plastic buckets (the kind kids normally build sand castles with) made into giant cocktails with about five straws in them to share! They're about 350 baht, or around $11 USD each.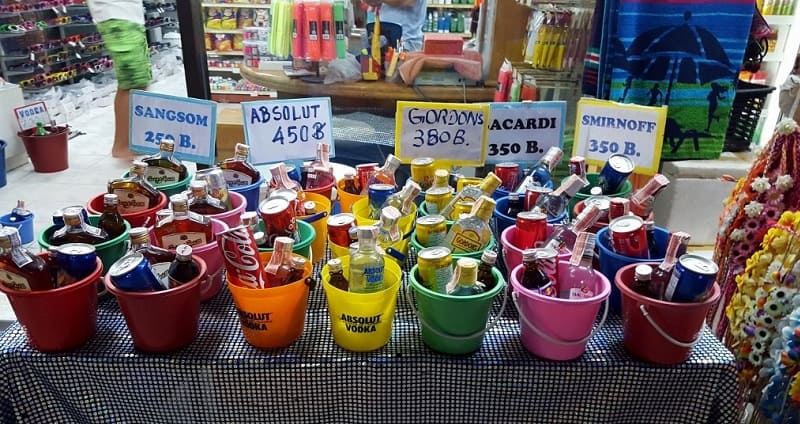 One of these will definitely make sure you have a great time. 
Helpful Tip: Plan on wearing sneakers, so you aren't barefoot on the beach. While there isn't really any glass being served, you still want to be careful not to step on anything that would hurt you.
In addition to all the music, there are giant jump ropes that are lit on fire that five people could jump over at the same time, twirling fireballs on ropes, and people spinning fire poles. I saw people get burned while jumping some flaming rope, so just use common sense here.
5. Is the Full Moon Party Just for Backpackers?
Overall, the Full Moon Party is a crazy party made up of visitors from all around the world. As much as it is generalized that the crowd is mostly made up of young backpackers, I met people of all ages and from every background. I even met an older japanese couple on their honeymoon around the world.
You will, however, find a LOT of young, hard-partying Aussies and backpackers all over Thailand.
The Full Moon Party is a legendary monthly beach party that takes place on the island of Koh Phangan in Thailand. It attracts thousands of party-goers from around the world who gather to enjoy music, dancing, and a vibrant atmosphere under the light of the full moon.
The Full Moon Party is held every month on the night of the full moon. However, in some cases, the party may be postponed or canceled due to special circumstances such as national holidays or local events. It is advisable to check the dates before planning your trip.
The Full Moon Party offers an unforgettable experience with multiple stages featuring different genres of music, fire shows, neon body paint, beach games, and an energetic crowd. You can dance until sunrise, socialize with people from various cultures, and enjoy the vibrant nightlife.
Start Planning Your Thailand Trip Now!
Book Your Flight:
Use Skyscanner to find a cheap flights. A travellers favorite way to book flights, as it searches websites and airlines around the world with one click.
Book Your Bus or Transportation Within Thailand:
There are two ways to book your transporation, ask your hotel or hostel, go to the local bus terminal, or book online, for a less stressful trip using Easybook or 12go.asia
Book Your Accomodation: 
Find the best hotels or hostels at HostelWorld, Booking.com, Agoda.com. Perks include with no upfront payment. Pay when you check out and Free cancellations.
Dont Forget Your Travel Insurance:
Two popular choices are SafetyWing and WorldsNomads. A traveler should buy traveler's insurance to protect themselves against unexpected events such as trip cancellations, medical emergencies, and lost or stolen baggage. It provides peace of mind and financial protection in case of unforeseen circumstances.
Useful Apps?
Grab/Uber – Local Transportation
Uber Eats/Grab – Food Delivery
Whatsapp – Communication
Want More Information On Thailand?
Be sure to check out my nomad travel guide on the Thailand for even more tips.
Disclosure: Please note that some of the links above may be affiliate links, and at no additional cost to you, I earn a commission if you make a purchase.