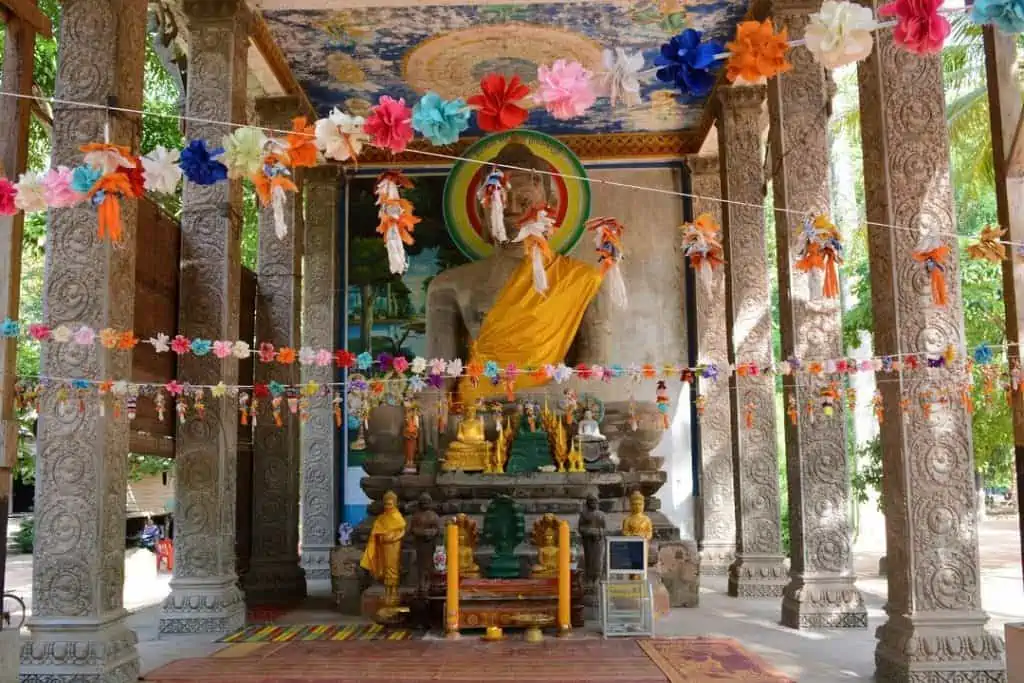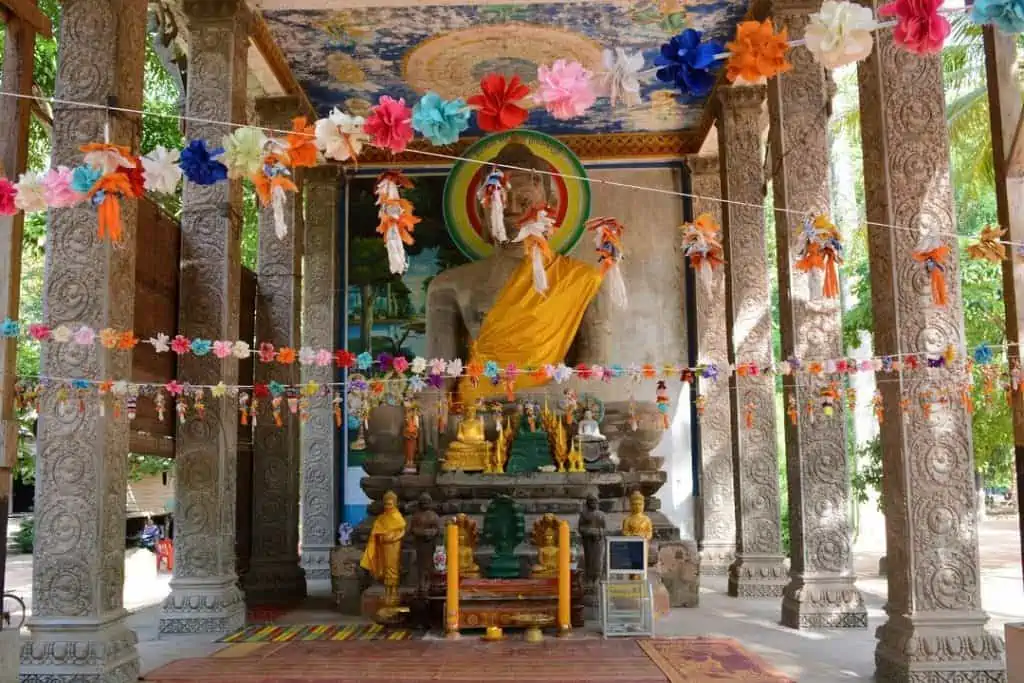 Traveling to Cambodia is easy, but knowing a few things before arrival will help you navigate the traps that often snare tourists on their first visits. Tourism in Cambodia is on the rise. With double-digit growth in recent years, over 6 million tourists visited Cambodia in 2018. 
1. Visa costs and requirements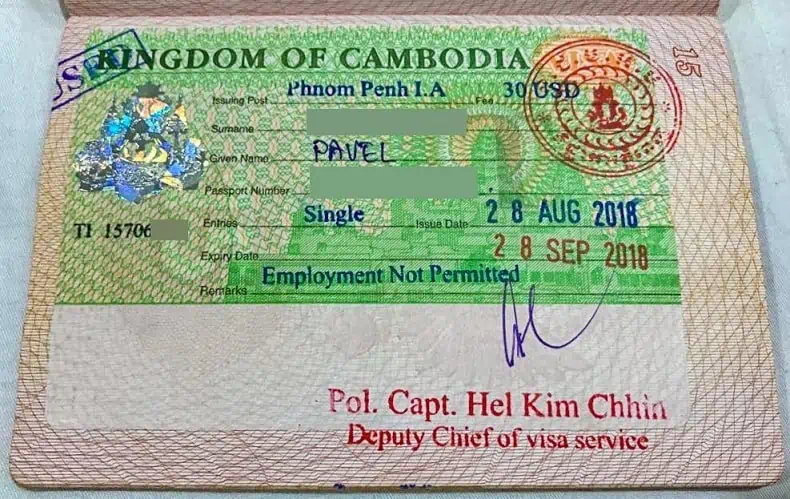 A visa for Cambodia can be arranged online before travel via the Cambodian e-visa website. Citizens from many approved countries can also get a 30-day visa on arrival at the airport in Siem Reap or Phnom Penh. Visa on arrival is available at some of the major land border crossings but not all.
Two passport-sized photos are required as well as the application fee. The official price for a visa should be around US $30–35. Officials prefer if you pay the application fee in U.S. dollars. You may be charged more for paying in Thai baht. If you travel by land, there will be plenty of offers from the bus operators for them you get your visa faster for a fee. I was iffy about this but it worked out. Do your research though.
2. Getting to Cambodia
Cambodia has around a dozen land border crossings with neighboring Thailand, Laos, and Vietnam. But the easiest way to reach Cambodia with the least amount of hassle is via a budget flight to Siem Reap or the capital, Phnom Penh. Plenty of inexpensive flights are available from Bangkok and Kuala Lumpur. I personally took a night bus using 12go.asia, which is easy to use, just book online and make your way to the station, for more details just check out my post here.
3.Money in Cambodia
The official currency in Cambodia is the Cambodian riel (KHR), but U.S. dollars are widely accepted and circulated. Both are accepted interchangeably, however, dollars are preferred in many cases. You'll see prices in urban and tourist areas quoted in dollars. Thai baht is used in some places, particularly near the borders.
Try to carry smaller denominations of Cambodian riel and U.S. dollars at all times. Horde your small change! Your U.S. dollars should be in relatively good condition without tears or excessive damage or they won't take them.
4. When to visit Cambodia
For the most part, Cambodia has two dominant seasons: wet and dry. You will rarely be cold while in Cambodia. The dry season and peak months to visit are between November and April. Temperatures in April can exceed 103 degrees Fahrenheit! The rain begins sometime in May or June after the hottest months to cool things down. Heavy monsoon rains make a lot of mud, shut down roads, and greatly contribute to the mosquito problem.
5. Angkor Wat in Cambodia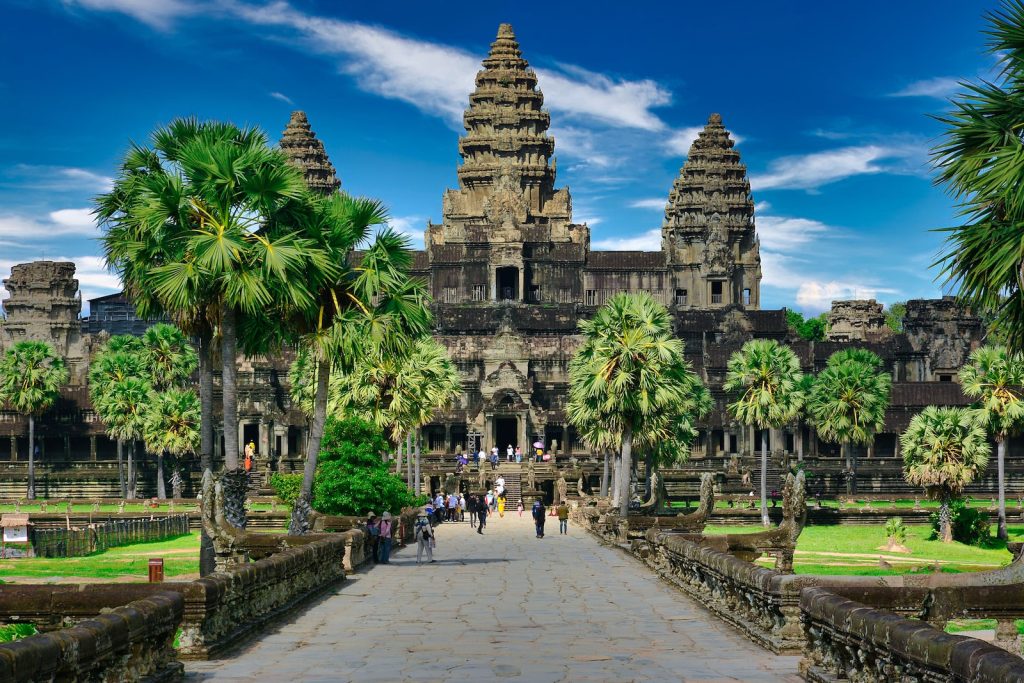 Although there is much more to see when traveling in Cambodia, the ancient ruins of Angkor temples dating back to the 12th century are the crown jewel for tourism. Angkor Wat is considered the largest religious monument in the world and even appears on Cambodia's flag.
Today, Angkor Wat is protected as one of Southeast Asia's most impressive UNESCO World Heritage Sites.
Angkor wat costs
Unless you are Cambodian, you must buy an admission pass, often called Angkor Pass, to visit the temples in Angkor Archaeological Park. 
Where to Buy the Angkor Pass?
The Angkor Pass can only be purchased at the official ticket center, located 4 km away from Siem Reap town and open from 4.30am to 5.30pm every day. Tickets purchased from hotels, tour companies and other third parties are not valid.
The entrance ticket can be paid in cash (US Dollars, Cambodian Riel, Thai Bath, Euro) or by credit card (Discover, Visa, Mastercard, Union Pay, JCB, Diners Club). An on-site ATM is available to withdraw cash.
Entrance Fees
The entrance fee to the Angkor Archaeological Park depends on the type of admission pass that you choose. There are 3 types of passes available, the mentioned prices are effective from February 1st, 2017.
1-day pass – US$ 37;
3-day pass – US$ 62;
7-day pass – US$ 72;
The 3-day pass is valid for 10 days from the issue date, the 7-day pass is valid for 1 month from the issue date.
6.Bartering/Haggling
You can get away with pretty much haggling for anything in Cambodia. Restaurants, outdoor food stalls, even rates for guesthouses. 
Haggle in groups. This is the key. Having two other friends will make it much easier to convince Cambodians to give a discount. 
There usually isn't much room for negotiations over vegetables, meats and other food items. But You can haggle over non food items such as clothes, shoes, kitchenware, hardware etc.
7. Basic greetings
If you're heading to Cambodia, then picking up a few Khmer phrases is a good idea. While many Cambodians (especially younger ones) can speak pretty good English, knowing a few phrases in Khmer will warm the hearts of locals and bring about a few smiles – and even better deals.
Chom Reap Sour (chom-reap-sore) / Hello (formal)
Susadei (Soos-a-day)/ Hello (informal)
Soksaby (soks-a-bye) / How are you and I am fine 
Chom Reap Lear (chom-reep-lear) / Good bye (formal)
Lee hi (lee-hi) / Good bye (informal)
Bah (bah) / Yes (male)
Jah (chaa)/ Yes (female)
Ot Teh (ot-tei)/ No
Arkun (Ar-koon) / Thank you
Som Dtoh (som-toe) / Sorry/ excuse me
 Directions
Baht schweng (bart-shweng) / Turn left
Baht Saddam (bart-sadam) / Turn right
Chop (chop) / Stop
Tini (tinny) / here
            Da Trong (da-trong)/ Go straight
At the market
Bo man (bow-man)/ How much?
T'lay (t-lay)/ too expensive
Moi, bee, bai, boum, bram, bram moi, bram bee, bram boum, dop/ counting from one to 10.
Chhmua ei? (cham-moo-ey)/ What is your name?
Knyom Chhmua ___ (knyom-cham-moo)/ My name is _____
8. Getting around by tuk tuk
The best way to travel around town in Cambodia is by tuk tuk. These tips will help you negotiate a price, stay safe, and get to your destination.
Prices – Everyone pays different rates (some people seem to be able to negotiate lower rates and others seem to always pay more) but here are some tips to get you started. Prices never go below $1. A trip that's up to 5 minutes is usually about 4,000-6,000 riel ($1 – $1.50). Across town is usually $3 and anything in between a short trip and across town trip is $1.50 to $2. A trip that will cost $1.50 for 1 person will be $2 for 2-3 people and even more if you have 4. It's important to remember that prices have gone up recently because Cambodia has experienced inflation and rising gas prices. Do not expect to pay the same rates you paid a few years ago.
9. Sim Card
If you're planning a trip to Cambodia, a top tip for keeping down costs is to switch to a local SIM card. Take advantage of better fees, plans and deals to reduce your roaming rates. Cambodia has some good SIM card options, but the coverage can sometimes be questionable. You can get 1GB of data from with a new SIM card for $2 and you then add more data or calling minutes usually in $1 intervals. Calls within Cambodia cost between 5-8 cents a minute depending on network and time. International calls cost 20 cents per minute. Data packages can be added for 50 cents a day or $5 a month. Cambodia's top telco providers for less than US$1.
10. Cambodia Travel Tips
Avoid mentioning or asking questions that may cause locals to become uncomfortable. Controversial topics include: war, politics, the Khmer Rouge, the problem of landmines, and other subjects that could trigger dark memories.
Avoid supporting unsustainable practices such as child begging or the many children selling souvenirs to tourists. Don't buy souvenirs made from insects, shells, or wildlife; these cause further damage to the environment. Practicing sustainable travel is especially important in Cambodia.
The water in Cambodia is unsafe to drink. Bottled water can be purchased everywhere; always check the seal before drinking.
Petty theft (most often in the form of motorbike-based bag snatching) can be a nuisance in Cambodia. Don't keep your smartphone sticking out of your pocket, and watch out for your purse or daybag while riding in tuk-tuks.
common questions about traveling to cambodia 
Start Planning Your Cambodia Trip Now!
Book Your Flight:
Use Skyscanner to find a cheap flights. A travellers favorite way to book flights, as it searches websites and airlines around the world with one click.
Book Your Bus or Transportation Within Thailand:
There are two ways to book your transporation, ask your hotel or hostel, go to the local bus terminal, or book online, for a less stressful trip using Easybook or 12go.asia
Book Your Accomodation: 
Find the best hotels or hostels at HostelWorld, Booking.com, Agoda.com. Perks include with no upfront payment. Pay when you check out and Free cancellations.
Dont Forget Your Travel Insurance:
Two popular choices are SafetyWing and WorldsNomads. A traveler should buy traveler's insurance to protect themselves against unexpected events such as trip cancellations, medical emergencies, and lost or stolen baggage. It provides peace of mind and financial protection in case of unforeseen circumstances.
Useful Apps?
Grab/Uber – Local Transportation
Uber Eats/Grab/Food Panda – Food Delivery
Whatsapp – Communication
Want More Information On Cambodia?
Be sure to check out my nomad travel guide on the Cambodia for even more tips
Disclosure: Please note that some of the links above may be affiliate links, and at no additional cost to you, I earn a commission if you make a purchase.