TOP 15 INSTAGRAMMABLE SPOTS IN Bali Indonesia
Bali is perfect for Instagram content, blessed with thundering waterfalls, lush forests, white and black sand beaches, and lively bars. Take images of the waves lapping against the shore or the sky changing to orange and red at sunset. Put your subject in the area of the frame between the ornate temple gates. Play around with the quirky, colorful restaurant themes. 
To capture the perfect moment, pick one of these 10 Instagrammable locations in Bali: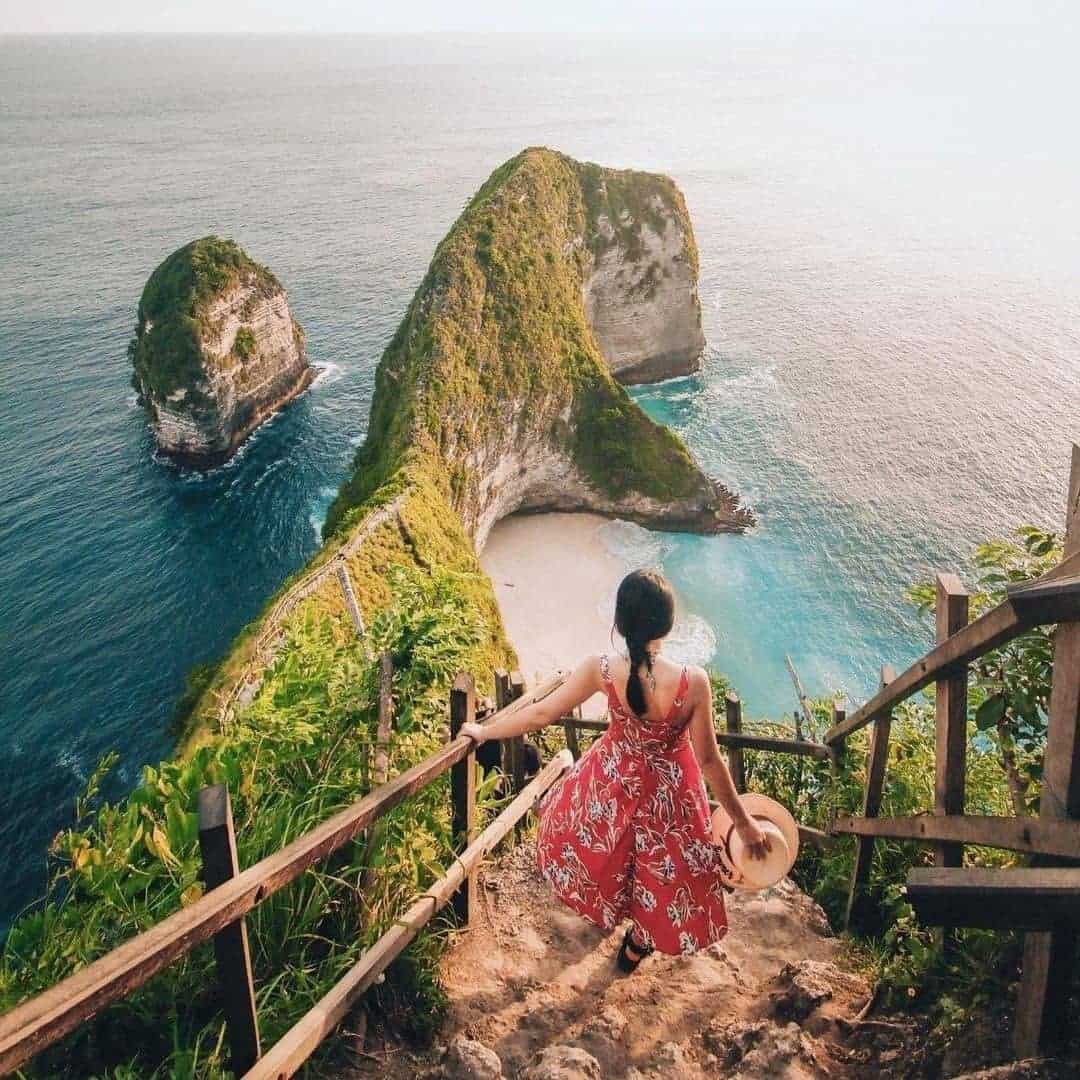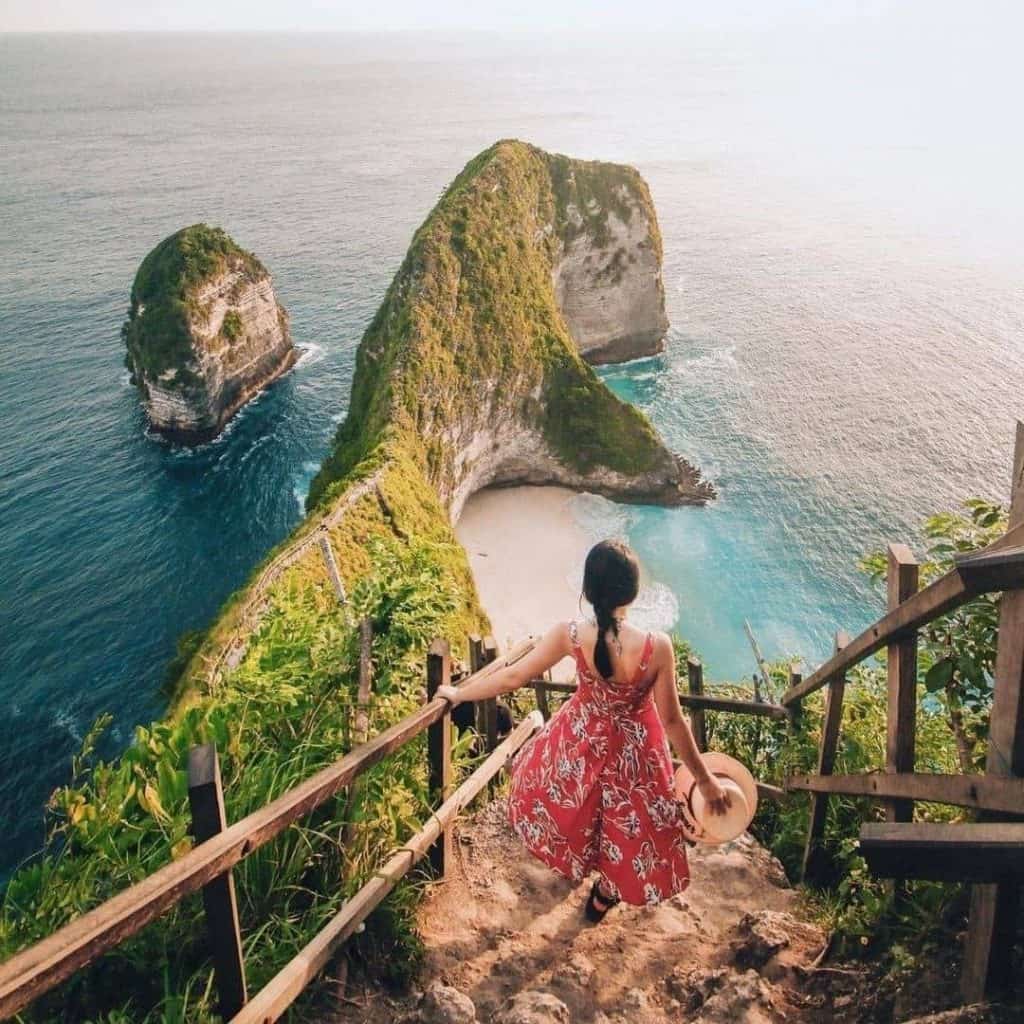 Instagrammable places in Bali start with Kelingking Beach. You may take amazing beach pictures, explore unexplored caves, and enjoy a big bay that makes you think of paradise. Undoubtedly, one of the best features of this attraction is how, from above, the coastline resembles a T-Rex skull. The beach's pristine sand, turquoise seas, and jagged limestone cliffs give it a surreal and alluring appearance. 
On the eastern coast of Nusa Penida, Kelingking Beach is one of Bali's most distinctive sites and is well-known for its magnificent landscape. It is a popular spot for snorkeling, swimming, and sunbathing. However, be ready because it can be challenging to make your way down to the beach from the top of the cliff.
Location : Bunga Mekar, Nusa Penida, Klungkung Regency, Bali 80771, Indonesia
Opening hours : 24 hours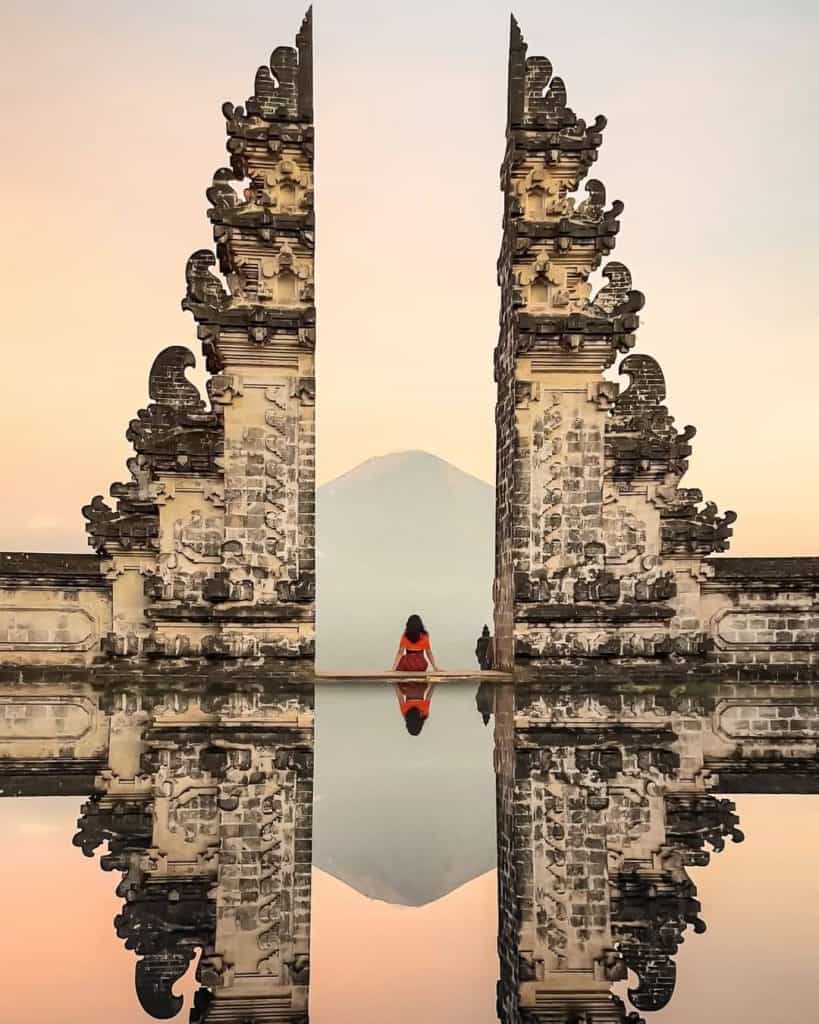 Not surprisingly, visitors to Bali would schedule a trip to the well-known gate for a walk to tranquility into their itinerary, given its stunning green surroundings and serene ambiance. It is the oldest and most revered temple on the island and predates other Hindu temples. In actuality, one of Bali's six holiest temples is Pura Lempuyang. It is also believed to restore the land's spirit. 
Many years ago, The Gates of Heaven appeared in several vacation photos. Many people have flocked to this Instagrammable spot in Bali for the views of Mount Lempuyang in the distance and the chance to take the iconic picture of the gates reflecting in a body of water. Along with the enormous exotic traditional Balinese gate, enjoy the gorgeous green backdrop and add shadows from the green hills to your photos.
Location: Tista Village, Abang District, Karangasem Regency precisely on the slope of the Bisbis hill 
Opening hours: Everyday 7 AM to 5 PM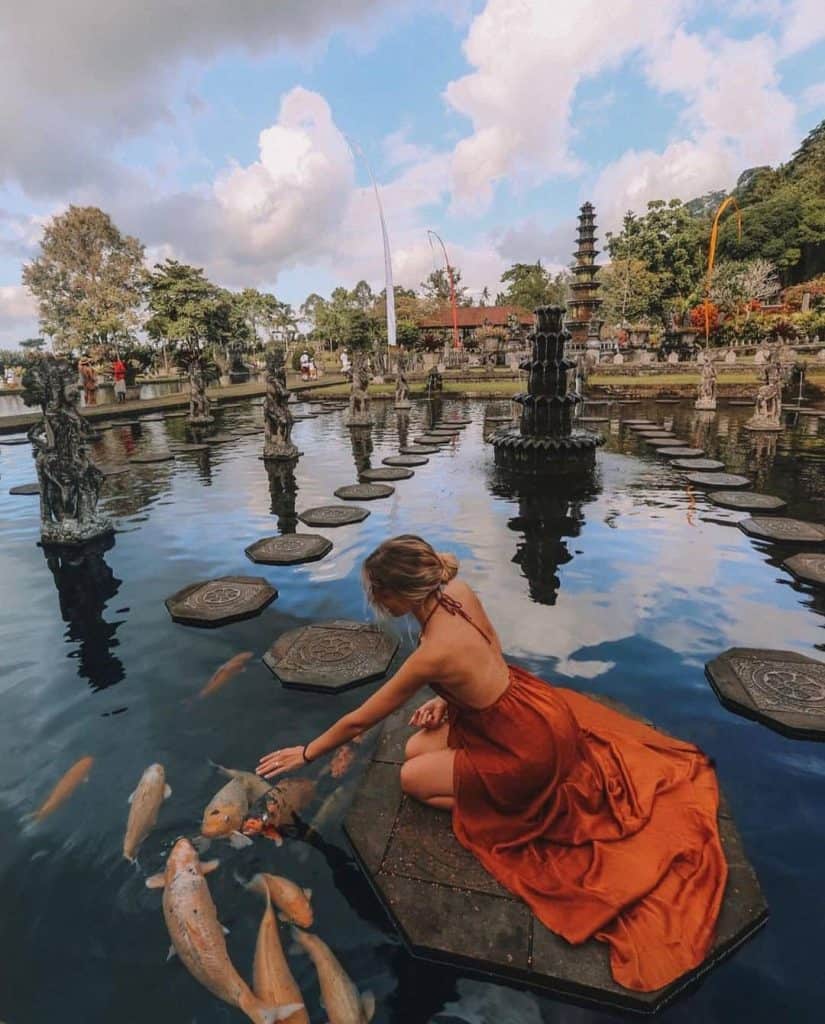 Tirta Gangga is the name of the famous Bali water palace that you may have seen on Instagram. A stunning landmark is one of Bali's Instagrammable spots. Their outdoor gardens, which feature stepping stones and a sizable fish pond, are well known. When the fish have gathered around you, carefully sit on the most significant stepping stone. A picture perfectly captures the "zen vibes" state of mind. Local Balinese people respect this Hindu water temple, which is said to have healing powers. The palace's picturesque setting, featuring serene water features, towering mountains, and verdant gardens, provides the perfect backdrop for an impromptu photo shoot, offering a unique and captivating visual appeal.
Location : Jalan Raya Abang Desa Adat Jl. Raya Tirta Gangga, Ababi, Kec. Abang, Kabupaten Karangasem
Opening hours: 8 AM to 6 PM 
4.Tegalalang Rice Terrace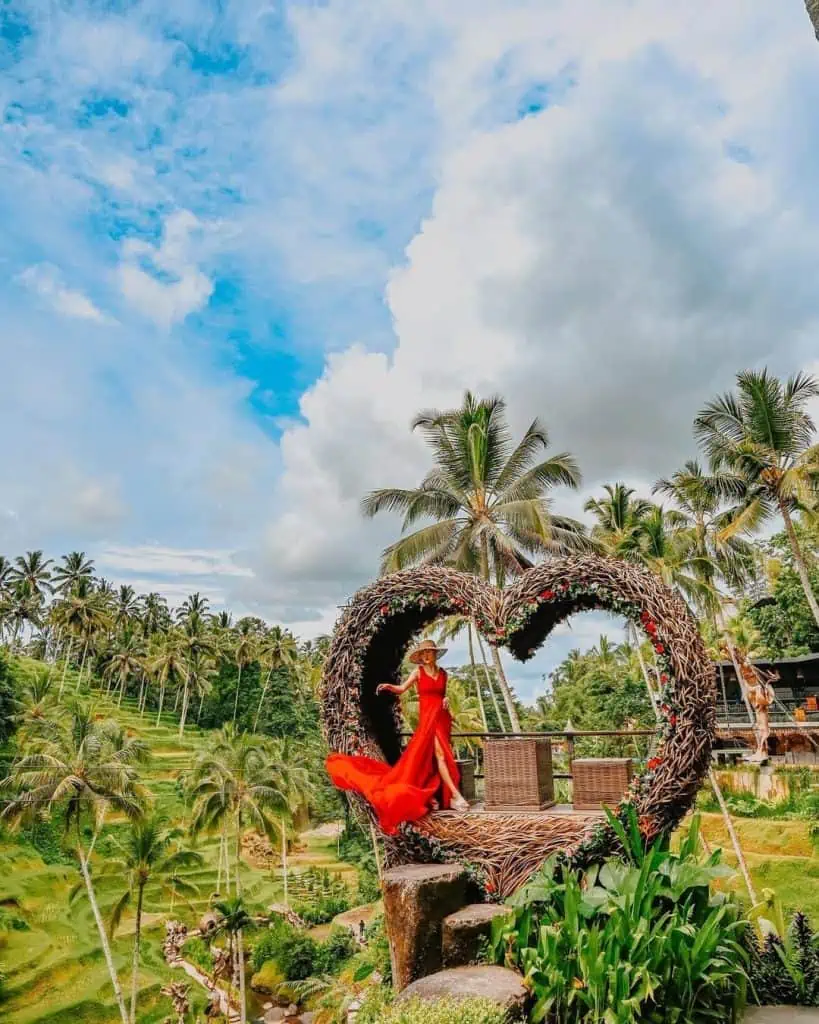 Tegalalang Rice Terraces provide breathtaking views of rice terraces. They are conveniently located in the famous and busy city of Ubud. Visitors can only enjoy the magnificent view of the lovely rice paddies on the valley's slopes from the terraces. The surroundings and dense forests are perfect for those of you looking for an adventure or to relax and take in some fresh air from your regular lives at home.
It is one of Bali's most famous and Instagrammable rice terraces and a well-known tourist destination. Visitors swarm here in droves to snap photos and enjoy the breathtaking views. Discover how the rice fields were grown using conventional Balinese agricultural methods by taking a tour of the region.
Location : Jl. Raya Tegallalang, Tegallalang, Kec. Tegallalang, Kabupaten Gianyar
Opening hours: 8 AM to 6 PM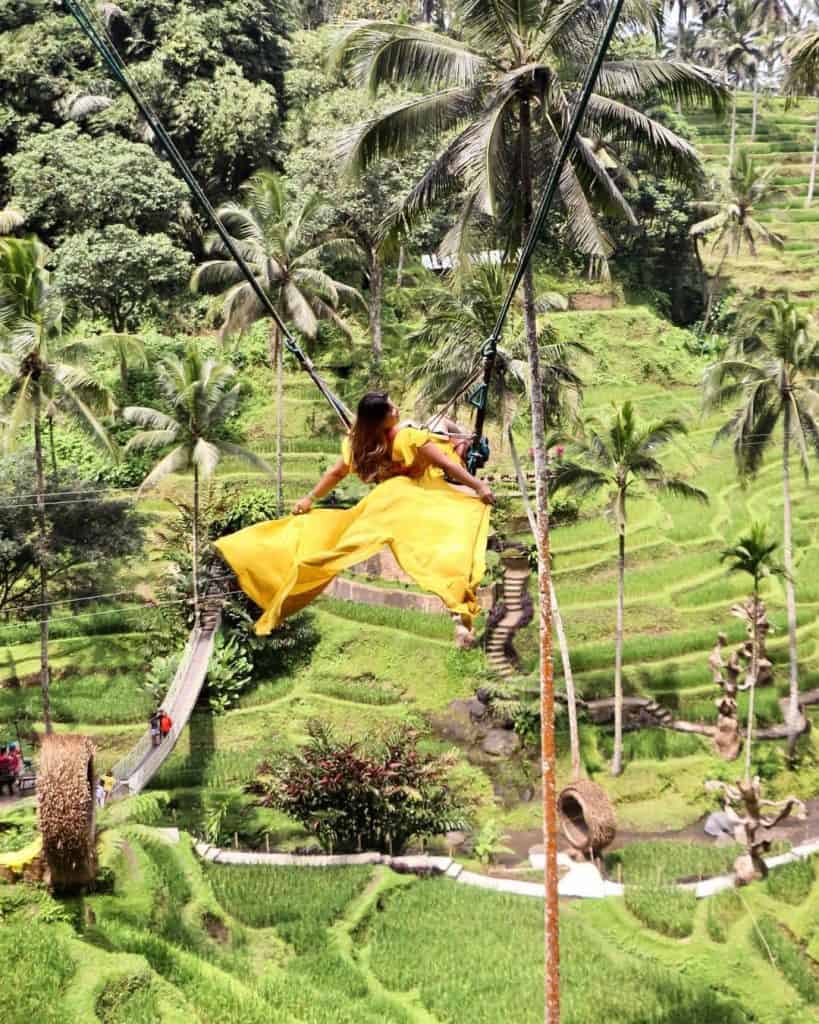 The Bali Swing, one of Bali's biggest and most well-known swings, has a variety of swings of various heights that look out over a charming palm tree valley and river. These recreational amenities have a heartwarming, authentically Balinese jungle vibe. Go when it's least crowded because of the hype and the breathtaking Vista.
There are a multitude of swings in the jungle that have varying heights, from 10 to 78 meters above the ground. For the best photo opportunities, visiting in the early morning or late evening is suggested when the lighting is more subdued. It is also essential to check the weather forecast before the excursion.
Location : Jl. Dewi Saraswati No.7, Bongkasa Pertiwi, Kec. Abiansemal, Kabupaten Badung
Opening hours: Everyday 8 AM to 5 PM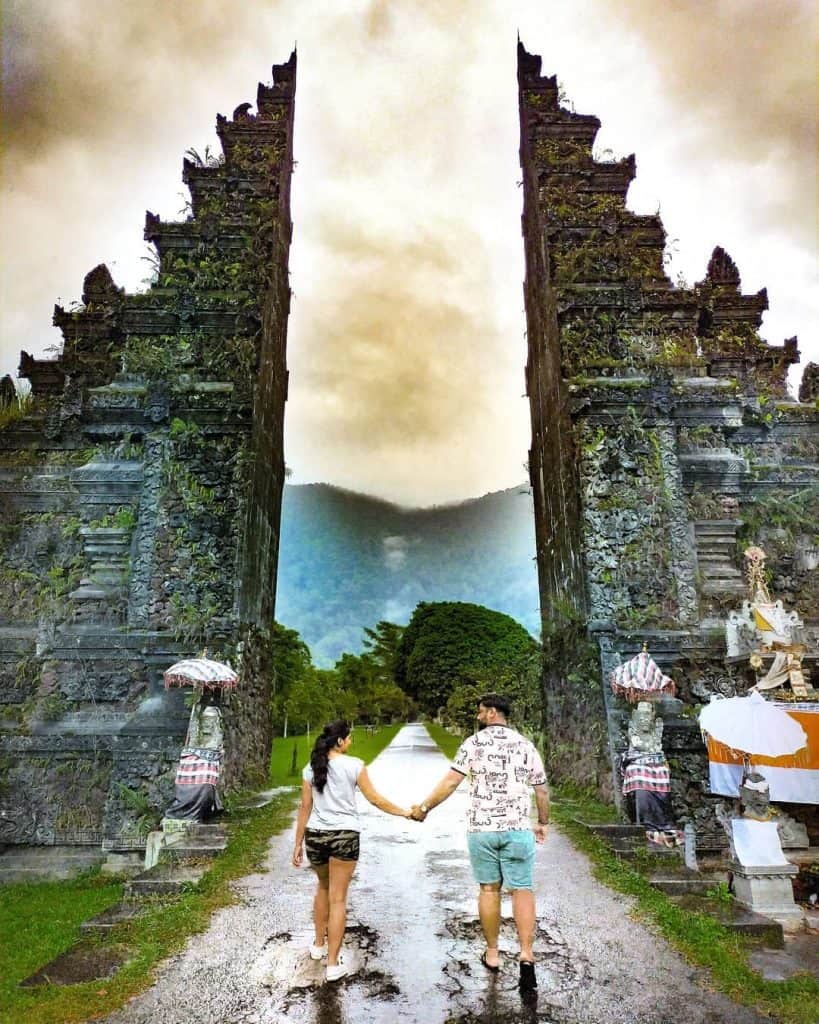 In addition to Pura Lempuyang Temple, there is another location where you can post in front of the temple gates. The well-known gate leading to a stroll into peace is one of the most popular spots for Instagram users. The entrance is marked by two massive gates, which make an excellent Instagram backdrop. The dark-colored gates contrast nicely with the light green of the nearby greenery.
Location: Jl. Raya Singaraja-Denpasar, Pancasari, Kec. Sukasada, Kabupaten Buleleng
Opening hours: 24 hours which is from sunrise to sunset
7. Ulun Danu Beratan Temple
Yet another sight deserving of fantasies is the Ulu Danu Beratan Temple in Tabanan Regency. It has become one of the most famous Bali photo locations because of the misty Bedugul mountain range in the background. The entire complex creates a beautiful vista. Due to its location near Lake Beratan, the temple gives the impression that it is floating on the lake from a distance. This temple has been a well-liked photo site for many people, from the Polaroids era to the present-day Instagram era.
Location: Bali, Tabanan, Baturiti, and Candikuning
Opening hours : Everyday 7 AM to 7 PM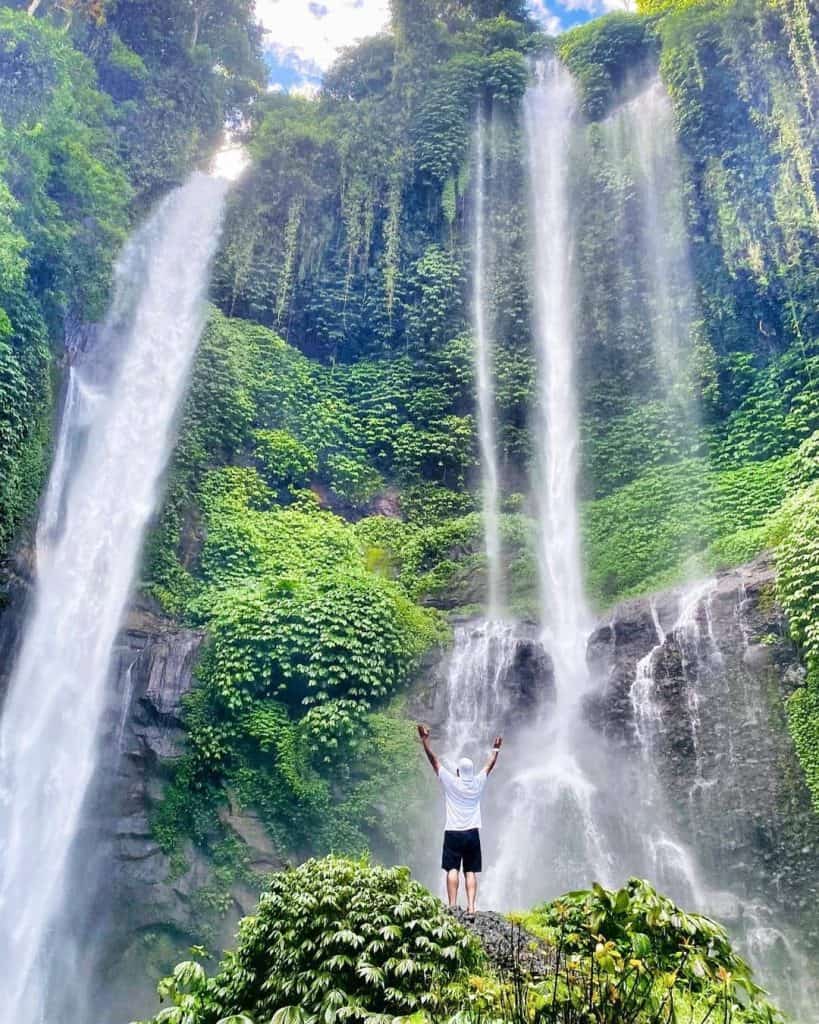 In addition to visiting beaches and temples, it's time to explore some incredible waterfalls. Gitgit Waterfall is one of Bali's most popular Instagrammable spots if you like the outdoors and the jungle—a lush forest coupled with a magnificent waterfall that plunges into a refreshing pool. At certain times of the day, even the sun can be seen reflecting off the water's surface. 
You might also be interested in visiting the waterfalls in Bali, Tegenungan Waterfall, Kanto Lampo Waterfall, and Tibumana Waterfall. Every one of these Instagrammable spots offers many chances to grab jaw-dropping shots of the thundering cascade, topped off with gorgeous lighting and unforgettable experiences. 
Location : Jl. Raya Bedugul – Singaraja
Opening hours : 7 AM to 5 PM Everyday 
9. Wanagiri Hidden Hills Lookout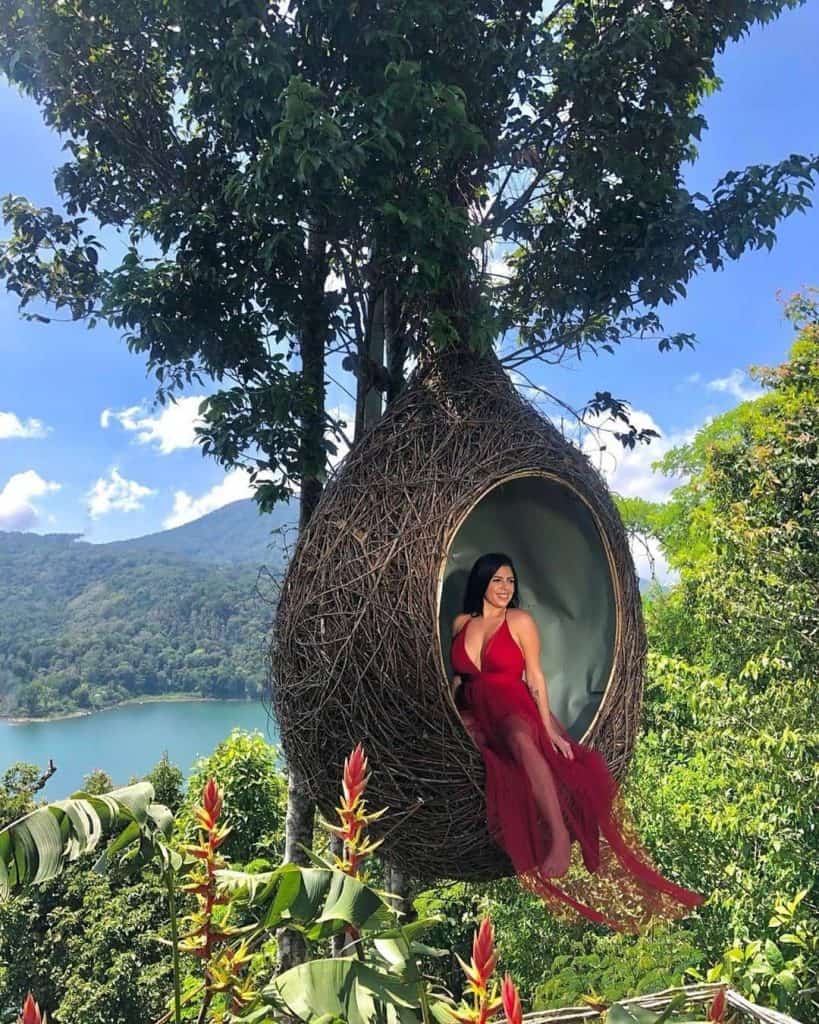 Recently, pictures of this northern Bali location have started to appear on everyone's Instagram feed. As a result, Wanagiri Hidden Hills Lookout is sometimes called a "selfie peak region." Some of the most popular attractions at this place include the gigantic bird's nest, swings, and lake views from lookouts. Pick from a range of nests and swings for a ton of great Instagram photos. The journey from Canggu takes around an hour and a half without traffic. If you get here before sunset, you will have a breathtaking view of the sunset from the top of the hill.
Location: Pancasari, Kec. Sukasada, Jalan Raya Munduk, Wanagiri, and Kabupaten Buleleng
Opening hours : 8 AM to 6 PM Everyday 
10. Banyumala Twin Waterfall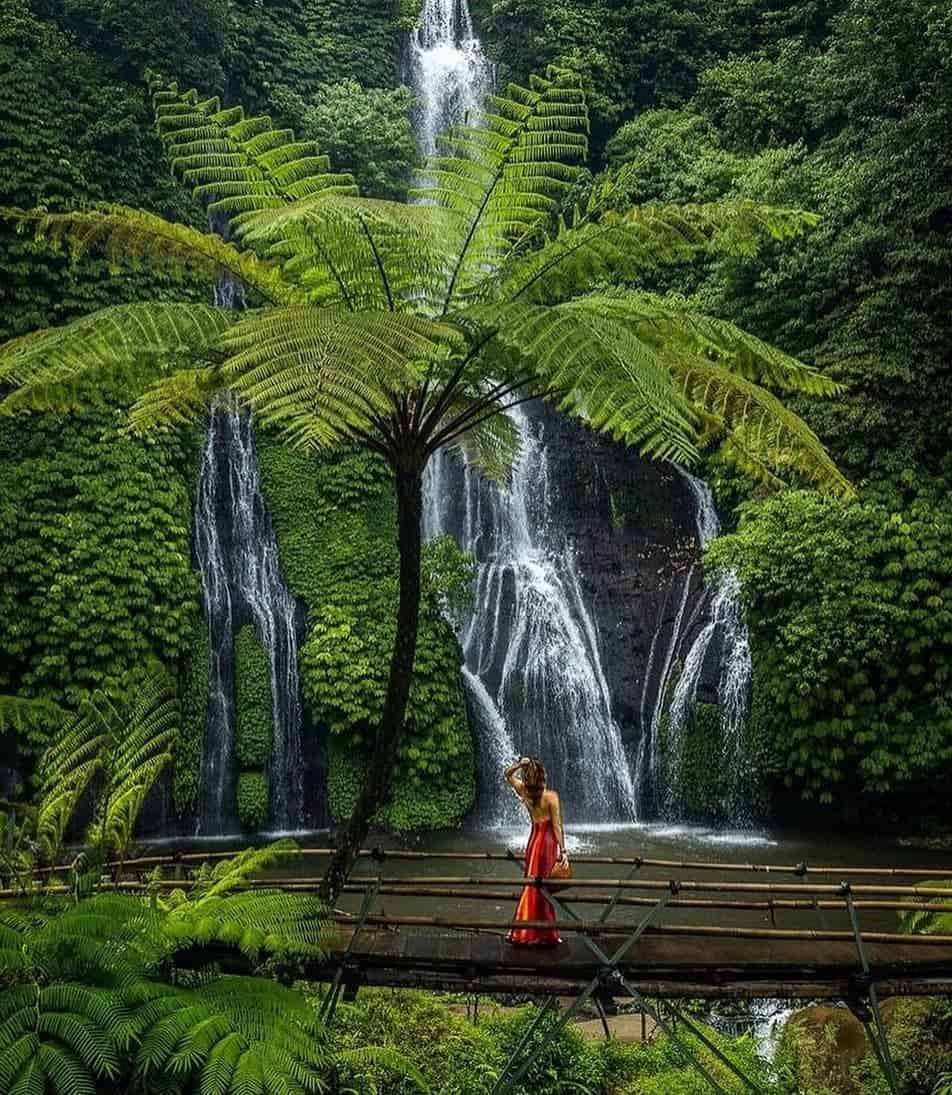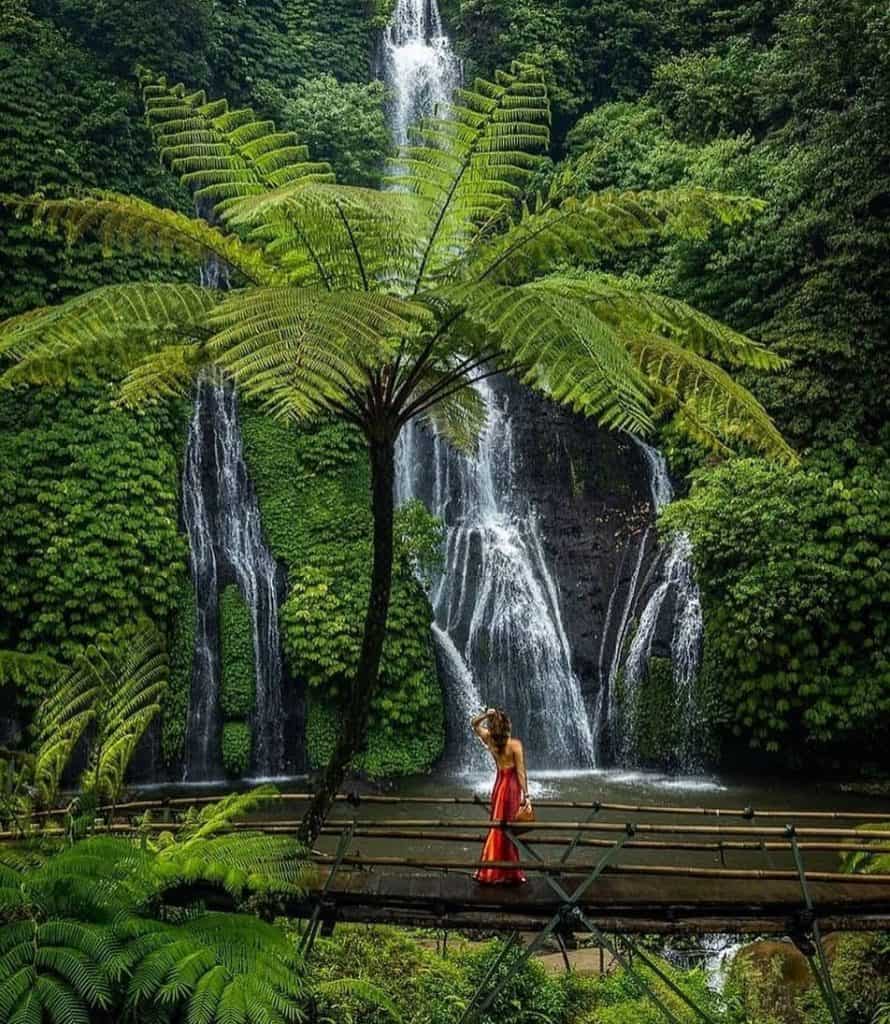 Visit Banyumala Twin Waterfalls, one of Bali's most beautiful attractions and a well-kept secret on the island. The waterfall will gradually come into view as you approach the main entrance via steep walkways and bamboo bridges. You may capture pictures of the flowing waterfalls from several adjacent rocks and terrain features. After the hike, treat yourself to a refreshing swim in the pool.
The pristine natural beauty is still present. This magnificent waterfall may be found on the crater rim road between Munduk and the main highway connecting Singaraja to Denpasar. During the journey, you'll be surrounded by lush vegetation, rocks, a river you'll cross, and a spectacular waterfall. By visiting Banyumala Twin Waterfall, you might spend your vacation unwinding.
Location : Wanagiri, Kec. Sukasada, Kabupaten Buleleng
Opening hours: 8 AM to 6 PM 
One of the world's most naturally gorgeous locales is Bali. There are many beautiful locations to visit that are typically not too busy so that you can appreciate and explore the surroundings, even though the crowds at major sights might be overpowering.
Bali is surrounded by beaches, mountains, volcanoes, high cliffs over the ocean, waterfalls (some with cliff leaping), and unusual natural occurrences.
COMMON QUESTIONS ABOUT INSTAGRAMMABLE places in bali indonesia
Start Planning Your Indonesia Trip Now!
Book Your Flight:
Use Skyscanner to find a cheap flights. A travellers favorite way to book flights, as it searches websites and airlines around the world with one click.
Book Your Bus or Transportation Within Thailand:
There are two ways to book your transporation, ask your hotel or hostel, go to the local bus terminal, or book online, for a less stressful trip using Easybook or 12go.asia
Book Your Accomodation: 
Find the best hotels or hostels at HostelWorld, Booking.com, Agoda.com. Perks include with no upfront payment. Pay when you check out and Free cancellations.
Dont Forget Your Travel Insurance:
Two popular choices are SafetyWing and WorldsNomads. A traveler should buy traveler's insurance to protect themselves against unexpected events such as trip cancellations, medical emergencies, and lost or stolen baggage. It provides peace of mind and financial protection in case of unforeseen circumstances.
Useful Apps?
Grab/GOJEK – Local Transportation
GOJEK/Grab – Food Delivery
Whatsapp – Communication
Want More Information On Indonesia?
Be sure to check out my nomad travel guide on the Indonesia for even more tips.
Disclosure: Please note that some of the links above may be affiliate links, and at no additional cost to you, I earn a commission if you make a purchase.