INDIA is a shopper's paradise. There is an astonishing variety of dazzling clothes, shoes, jewelry, spices, and Indian souvenirs to buy in India, plus a lot more. There is only one rule when shopping in India, bargain, bargain, bargain. Merchants will try and sell you items at more than 1000% markup (10 times what they usually sell it for) to tourists, 'cause hey it's only $5 right?', you'll see that you'll run out of money quicker than you expected.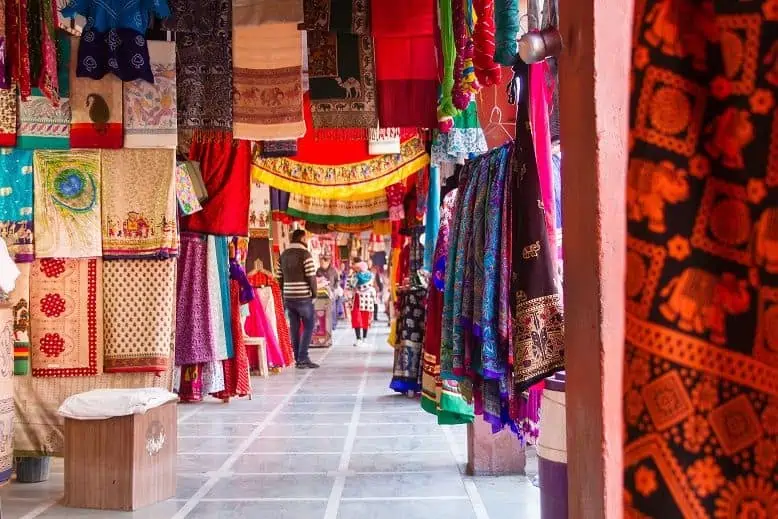 1. Jaipur – The Shopaholic's Bucket List
If you have to choose one place in India to shop at for everything traditional and ethnic, it has to be Jaipur. Mirror Work, tie and dyes, exuberant embroideries and just so much color! Keep to traditional items, clothing and handicrafts, a bargain at bazaars, break for amazing street food and you are set. Maybe even buy some traditional puppets.
What: Jewelry (Lac, Trinkets, Precious, Customized), Clothing (Traditional),  Footwear (Traditional Jaipuri Jootis), Handicrafts, Saris, Home Decor (Curtains, Bedspreads etc)
Top Places: Bapu Bazaar, Johri Bazaar, MI Road, Badi Chaupar, Link Road
Must Buy: Lac jewelry is a specialty, Traditional clothing, Handicrafts, Precious Stone and trinket jewelry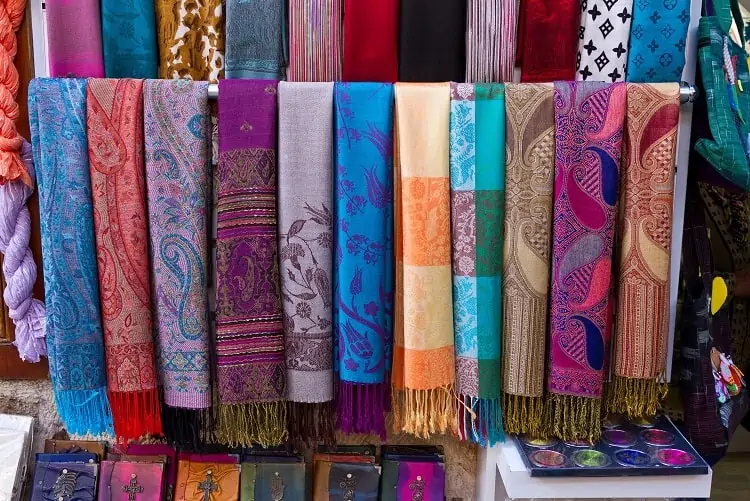 2. Kashmir, Srinagar – A Paradise of More Than One Kind
While the Pashmina Shawls and Silk Carpets and just a handful of saffron are going to cost you a small fortune, you can be assured that these three are Kashmir's absolute favourites and worth all the money. A bargain at local shops. Go to authorised outlets for Pashmina shawls or take an expert with you who can help you buy the authentic stuff. And don't forget to hoard Paper mache boxes and handicrafts for family and friends too!
What: Paper-mache handicrafts, Pashmina Shawls, Carpets and Rugs, Saffron and other spices, Silver jewellery and decor, Kashmiri embroidery suits, Kashmiri Tea, old maps, old photographs and Kashmiri art.
Top Places: JK Govt handloom showroom, Shops near Lal Chowk, Main market area, Maharaja Bazaar and Kokar Bazaar (for spices)
Must Buy: Paper-Mache handicrafts, Carpets and Rugs, Saffron, Kashmiri Embroidery handicrafts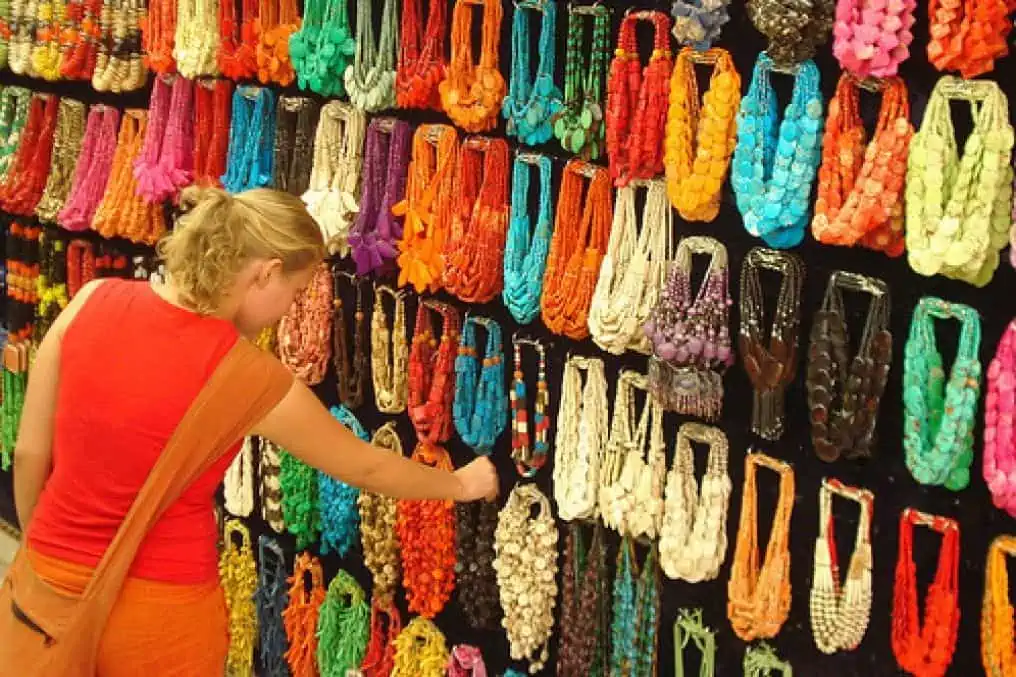 3. Delhi – The Best of Worlds
If there is one place where you get the best of both traditional, ethnic and contemporary as well as budget street shopping and splurging designer labels, it is Delhi. The sheer variety on this city's list is amazing and this makes it one of the best places to buy clothes in India. Connaught place and Janpath Market are essentials. Don't miss Sarojini Nagar and Lajpat Nagar if you are interested in street shopping and clothing (sometimes even top brands) and jewellery on a budget. Delhi Haat is essential for Handicrafts from around the country and Select Citywalk and Dlf Emporio for brands and designer labels.
 What: Clothing (both street and labels), Trinkets, Silver and street Jewelry, Handicrafts, books
Top Places: Connaught Place and the adjoining emporiums and Janpath Market, Delhi Haat, Select City Walk, DLF Emporio, Sunday Darya ganj Book Market, Khan Market, Hauz Khas (for independent designer studios)
Must Buy: Clothes from both budget streets and designer labels, handicrafts and jewelry
4. Chennai – The Land of Kanchipuram Silk Saris
4. Chennai – The Land of Kanchipuram Silk Saris
You just don't leave Chennai without a bright Kanchipuram Sari. Even if you don't wear saris too often, a fine silk sari is essential, and if you are looking for a special one, it doesn't get better than this. Head to the Nalli store if you aren't an expert at saris for a full proof shopping spree. Do visit Pondy Bazaar and maybe grab a bite at Anna Salai in between. Express Avenue and Phoenix Market  City are some popular malls for shopping in India.
What: Kanchipuram Silk Saris, Clothing, Jewelry, Dance costumes and accessories (classical), handicrafts
Top Places: Pondy Bazaar, Anna Salai and T-Nagar, Nalli, Panagal, Egmore, Mylapore (for dance costumes, accessories and handicrafts), Phoenix Market City
Must Buy: Kanchipuram Silk Saris
5. Goa – Beach shacks, Night markets and Stalls
Goa may already be your favourite, but if you like shopping at flea markets, stalls, and shacks and bargaining you might just fall for it again. Anjuna market is extremely popular and essential. Do bargain and check at multiple stalls before you settle for a purchase. 
What:  Artificial Jewelry and trinkets, Clothing, Beachwear, Footwear, Spices, Local handicrafts, Handbags, Accessories
Top Places: Anjuna Flea Market, Saturday Night Bazaar at Arpora, Mapusa Market (for spices), Calangute Market Square
Must Buy: Artificial jewelry and accessories so grab all that you like. 
7. Mumbai
Like any other metro in India, Mumbai's shopping list doesn't have any single highlight or speciality but a muse for anything you may desire. If you are in the mood for street shopping, there is the essential Colaba Causeway, Fashion Street and Hill Road. Don't forget to bargain here. There is also a certain Chor Bazaar and the word is you can find some vintage movie posters here. Could this be the best place to shop in India? We think so too! Amongst malls, do drop in at High Street Phoenix.
What: Clothing (both street and brands hopping), Accessories, Footwear, Jewelry, Maybe even some old and new Bollywood posters
Top Places: Colaba Causeway, Linking Road, High Street Phoenix, Oberoi Mall, Hill Road
Must Buy: Street junk jewelry and Kolapuris, and your favorite labels
8. Mysore – Of Gold and Zari Silks
Emporiums in Mysore are the best places to buy handicrafts and Devaraja Market for Silk Saris. You'll find a lot of labels and brands here too at Devaraja Market. Do not leave without a box of Mysore Pak!
What: Mysore Silk Saris, Sandalwood and Rosewood handicrafts, furniture, sculptures, paintings, Sweets- Mysore Pak
Top Places: Government Handicrafts Emporium, Devaraja Market, Cauvery Arts & Crafts Emporium, BN Road, Government Sandalwood Oil Factory
Must Buy: Silk Saris and Mysore Pak
9. Kolkata – The Land of the Bankura Horses and Lal Paar Saris
Other than the iconic saris with red borders, Kolkata can surprise with immense variety in silk, Tussar etc as well. Don't leave without Terracotta handicrafts, sweets like Sandesh and Chumchum and a stop at the College street for a chance to stumble upon some rare books.
What: Saris, Bankura Horses and other Terracotta handicrafts, jute handicrafts, sweets, books, Darjeeling tea
Top Places: New Market, Dakshinapan Shopping Center, ChowringhRoad, College street (for books), South City Mall, Quest Mall
Must Buy: Terracotta Handicrafts, Sweets and a Lal Paar Sari 
10. Ahmedabad – Gujarat's Hotspot for Shopping
While Ahmedabad may not have the most happening shopping scene, it does offer some of the best options for ethnic wear in North India. Step out proudly with a colourful and glittering pair of 'ghagra choli' and some beautiful handicrafts.
What: Ethnic Wear with Patola, Mirror and Bandhej work, traditional footwear, handicrafts
Top Places: Law Garden night
11. Lucknow – The City with a Style of Embroidery
Lucknow is synonymous with its fine Chikan thread work which though you'll find popular in most places in India, the variety you will get here will spoil you for choice. The malls here may not be that fancy, but the bazaars and markets live up to your expectations. Do visit the markets in Lucknow for a rewarding experience for shopping in India!
What: Chikan threadwork clothes and decor items, precious jewellery
Top Places: Aminabad, Hazratganj,  Gadbadjhala
Must Buy: Chikan work clothes
12. Jodhpur – Tie, Dye and Buy
Just like Jaipur, Jodhpur is also a paradise for those who love handicrafts and traditional and ethnic wear. Almost every market will have tie and dye products. Head to Mochi Bazaar for some amazing footwear. If you're looking to add some colour to your wardrobe, shopping in Jodhpur is a must!
What: Clothing with Tie and Dye, Bandhej, and traditional work, Handicrafts and Paintings, leather goods, footwear (Jootis), jewellery
Top places: Nai Sadak, Station road, Mochi bazaar (for jootis), Lakhera bazaar (for lac jewellery)
Must Buy: Tie and Dye clothes, Lac Jewelry and Jootis 
13. Kerala – The One-stop Destination for Cashew Nuts, Kasavu Mundu and More
God's own country has nothing but everything natural here. From spices, coffee to essential oils, everything has an original aroma of its own. When it comes to jewellery- it's nothing but pure gold. Kerela is filled with charming markets and malls. Make a visit to the tea and coffee estates and lay your hands on freshly plucked beverage leaves. It's truly a paradise of sorts.
What: spices, gold jewellery (real & artificial), handicrafts, aroma oils, cashew nuts, banana chips, tea, coffee and Kasavu mundu
Top places: Connemara market, Cochin spice market, Broadway, Lulu International shopping mall, Oberon Mall
Must buy: One must take back the antique coins and cashew nuts.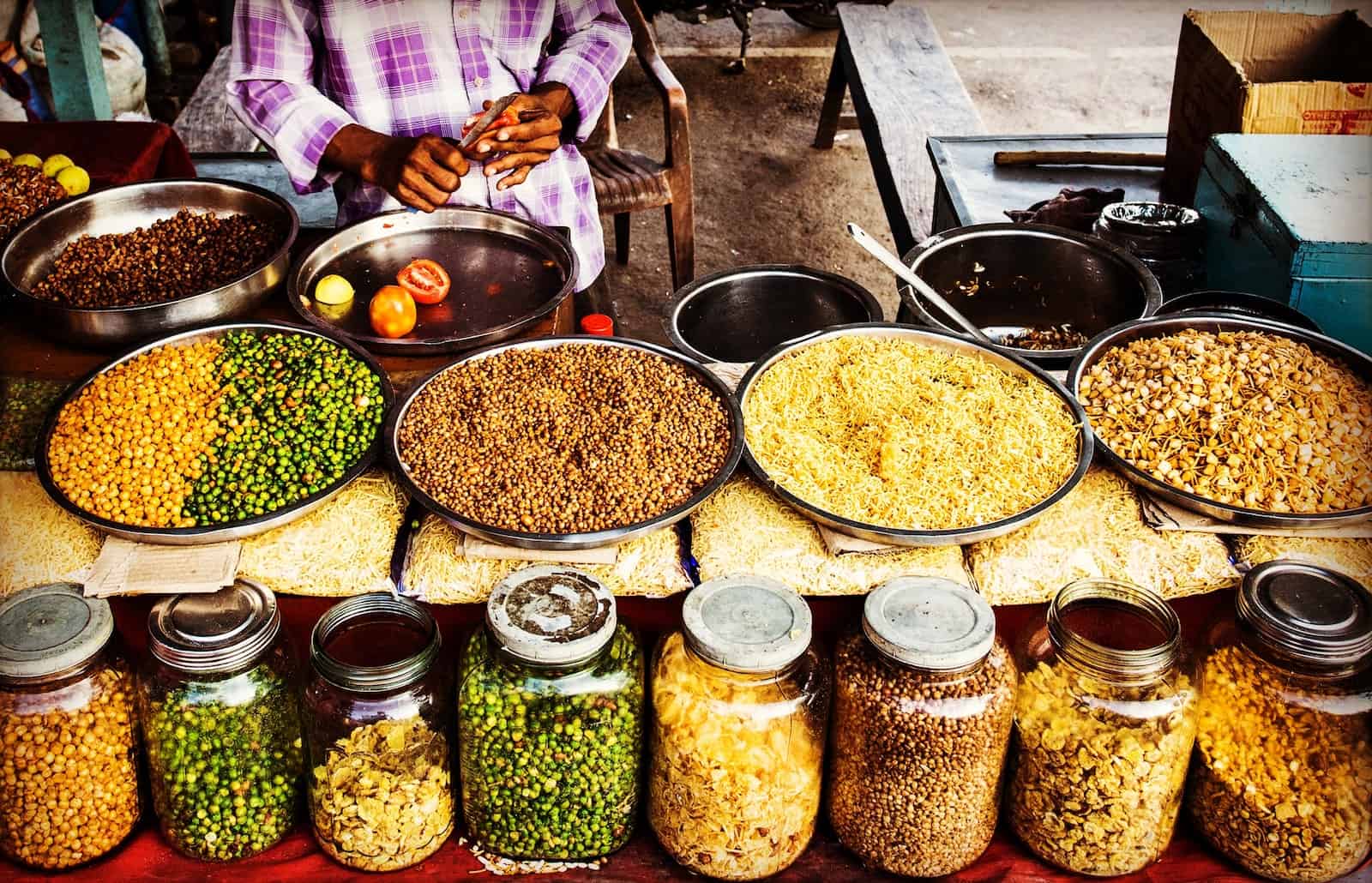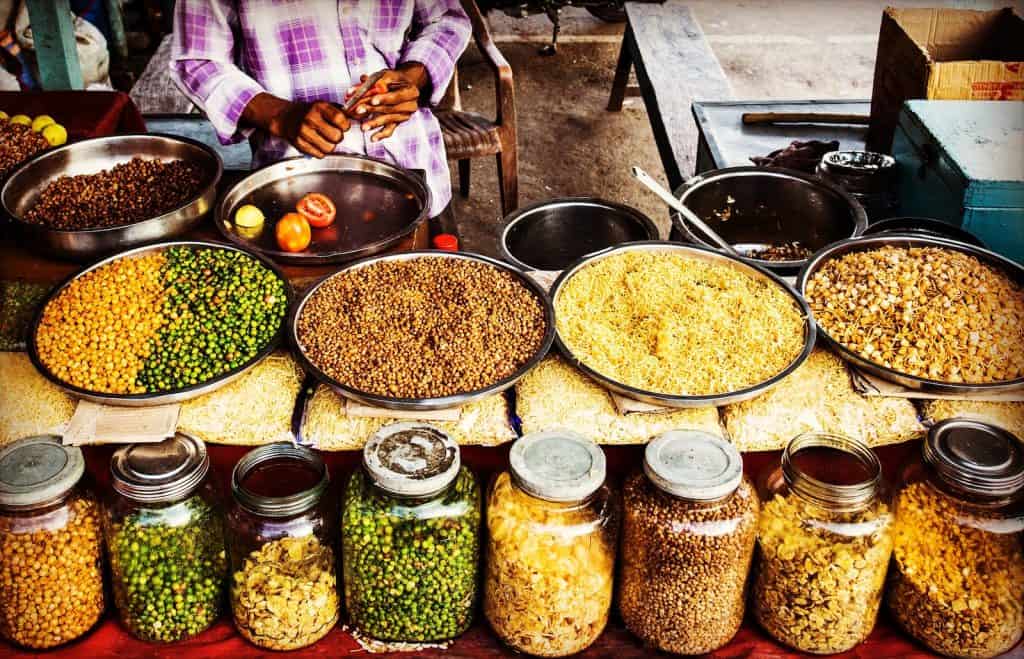 14. Nainital – Every Street Shoppers Dream!
Nainital attracts shoppers not for conventional wool clothing but for bamboo fabric. It's a lot of fun to shop at the flea markets here and find a plethora of shopping items which will leave you spoilt for choice. Take a walk down Mall road and the Tibetan market and one can't help but turn into a shopaholic!
What: woolen items, bamboo fabric, artificial jewelry, pine tree craft works and fruit pickles.
Top places: Mall Road, Bhotia bazaar, Tibetan market, Bara Bazaar and Earthco
Common questions about best places to shopo in india
Start Planning Your India Trip Now!
Book Your Flight:
Use Skyscanner to find a cheap flights. A travellers favorite way to book flights, as it searches websites and airlines around the world with one click.
Book Your Bus or Transportation Within India:
There are two ways to book your transporation, ask your hotel or hostel, go to the local bus terminal, or book online, for a less stressful trip using EasyBook or 12go.asia
Book Your Accomodation: 
Find the best hotels or hostels at HostelWorld, Booking.com, Agoda.com. Perks include with no upfront payment. Pay when you check out and Free cancellations.
Dont Forget Your Travel Insurance:
Two popular choices are SafetyWing and WorldsNomads. A traveler should buy traveler's insurance to protect themselves against unexpected events such as trip cancellations, medical emergencies, and lost or stolen baggage. It provides peace of mind and financial protection in case of unforeseen circumstances.
Useful Apps
AbhiBus/MakeMyTrip/ClearTrip – Booking Buses
Whatsapp/Wechat- Communication
Want More Information On India?
Be sure to check out my nomad travel guide on the India for even more tips.
Disclosure: Please note that some of the links above may be affiliate links, and at no additional cost to you, I earn a commission if you make a purchase.