10 Instagrammable places in Barcelona
Barcelona, the capital of Catalonia, has a vibrant arts and entertainment scene. The city is known for its stunning architecture, including Gaudí's buildings, tiny streets in the Gothic Quarter, and magnificent parks.Barcelona's lively artist culture makes it home to several amazing photo sites that will impress both professional and amateur photographers. 
This blog will show you the best places to take Instagram photos in Barcelona, as well as the most photographed hotels and some tips to help you get the photos you want.
Sagrada Familia, a huge Catholic church that has been under construction since 1882, is the first of our Barcelona Instagram spots. It is the world's largest unfinished Catholic cathedral, making it one of Barcelona's most unusual attractions! Sagrada Familia, a UNESCO World Heritage Site since 1984, is Spain's most-visited monument.The most famous building in Barcelona must be seen before leaving.
It's a big building, so if you want to take a picture of the whole thing, you should do it from the small park in front of Sagrada Familia, where you can get the whole thing in one shot.Sunrise is the greatest time to photograph Sagrada Familia without crowds. It's almost impossible to take a nice Instagram picture here in the afternoon.
Location: Barcelona , spain 
Opening hours: March and October: Mon – Sat, 9 AM – 7 PM; Sundays, 10:30 AM to 7 PM. April to September: Mon – Sat, 9 AM – 8 PM; Sundays, 10:30 AM – 8 PM. December 25th and 26th, January 1st and 6th: 9 AM – 2 PM.
Entrance Fees: The cheapest standard entrance fee is €30 ($32.50 USD)
The Arc de Triomf is a favourite place to take photos in the Ciutadella park of Barcelona. The Arc de Triomf is a structure made of red bricks that stands tall in front of Ciutadella Park. Another Barcelona icon you shouldn't miss!
The Arc de Triomf is a majestic arch that is a top Instagram spot in Barcelona. It is not to be confused with the Arc de Triomphe in France, which is also a popular Instagram spot in Paris. Arc de Triomf is best visited early in the morning to avoid crowds, but images can be shot anytime.
Location: Passeig de Lluís Companys, 08003
Opening hours: 24 Hours 
Entrance Fees: Free
Barceloneta beach and the W Hotel skyline are Barcelona's most iconic sights, therefore visiting them year-round is essential. Barcelona's busiest and liveliest beach is La Barceloneta.
Barceloneta Beach is wonderful for swimming, sunbathing, and eating. Being the closest beach to the city centre makes it convenient to visit anytime.It has a beautiful walk path, and there's nothing better than taking a shot of the sunset there.
One of the most interesting and distinctive structures in Barcelona is the Casa de les Punxes, better known as Casa Terradas. It is very easy to find because it is on Avinguda Diagonal. This building is a great example of the modernist style.Inside, there are beautiful stained-glass windows, iron stairs, and arches with flower designs.
Location: Avinguda Diagonal, 420, 08037 Barcelona, Spain
Opening hours: Mon to Fri 9 AM to 6 PM 
Entrance Fees: Free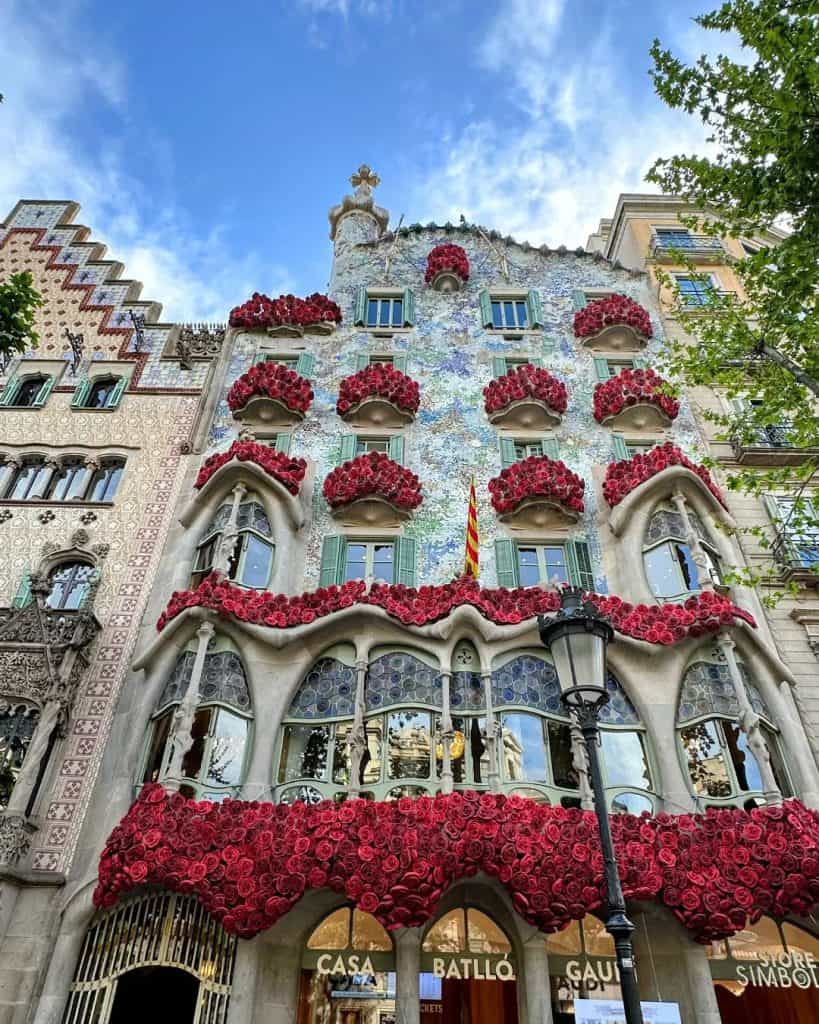 Casa Batllo is another stunning mansion on our list of Barcelona's most Instagrammable sites. Colourful tile mosaics, a dragon-like roof, and deformed windows and arches give it a storybook appearance. One million tourists from throughout the world visit Casa Batllo, a UNESCO World Heritage Site since 2005. 
The inside of Casa Batllo is just as fun and interesting as the outside, so give yourself enough time to look around the whole building.The street opposite Casa Batlló is great for shots of the exterior. Near bus stops are great photo spots with benches.Since Casa Batllo is popular, we recommend visiting in the morning or evening to avoid crowds.
Location: Pg. de Gràcia, 43, 08007 Barcelona, Spain
Opening hours: Mon to Sun 9 AM to 8 PM 
Entrance Fees: A general admission ticket is €35 ($37.65 USD) for adults, €32 ($34.40 USD) for seniors 65+, and €19 ($20.50 USD) for students and teenagers 13-17 (children under 12 are free).
Because of the view from its rooftop bar, the Ayre Hotel Rosellón is the most Instagrammable hotel in Barcelona.You don't have to stay at the hotel to go to the rooftop, but you do have to make a reservation and order drinks or food. If you like good food and a nice view, this hotel should be on your list. On a sunny day, there is nothing better than eating a meal while looking at the amazing Sagrada Familia.With those views, you'll be able to take lots of beautiful shots that are good for Instagram.
Location: C/ del Rosselló, 390, 08025 Barcelona, Spain
Opening hours: Daily 11 AM until Midnight 
Barcelona Cathedral, commonly known as the Cathedral of the Holy Cross and Saint Eulalia, is a must-see in the Gothic Quarter. One of Barcelona's top photographic places.Barcelona Cathedral, not Sagrada Familia, is another gorgeous Catholic church and a favourite Instagram location in Barcelona. Barcelona Cathedral is one of its finest Gothic buildings. Barcelona Cathedral's rooftop walkway is the greatest area to snap shots, but the whole church is beautiful.
There are several photo options inside and outside the cathedral. Visit the cathedral rooftop for a stunning city view. You could also eat at Hotel Colon Terrace and look out at the Cathedral and the area around it while you eat.You can photograph Barcelona Cathedral any time of day, but the building truly shines in the evening around sunset.
Location: Pla de la Seu, s/n, 08002 Barcelona, Spain
Opening Hours: Mon to Fri 10:30 AM to 6:30 PM & Sat 10:30 AM to 5:00 PM , Saturday (closed to tourists on Sundays).
Entrance Fees: Admission to Barcelona Cathedral is €9 ($9.70 USD).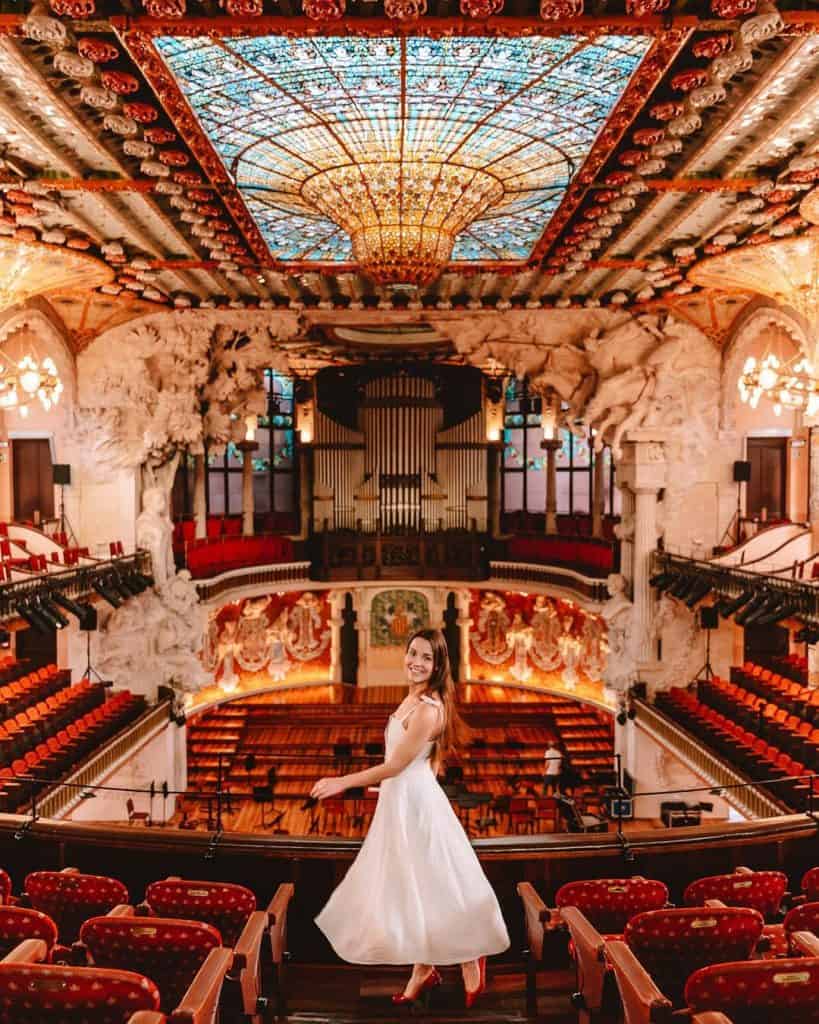 The Palau de la Musica was constructed in the early 1900s and has since become a popular tourist attraction in Barcelona. The building was built to be the home of a famous choral society. In 1997, it was added to the list of UNESCO World Heritage Sites. Palau de la Musica is a great example of Catalan Art Nouveau building, and both the outside and the inside are absolutely stunning.We recommend planning your visit for a weekday, right when the concert hall opens.
Location: C/ Palau de la Música, 4-6, 08003 Barcelona, Spain
Opening Hours: Every day of the week from 9:00 AM to 3:30 PM
Entrance Fees: Self-guided tours are €16 ($17.25 USD) per person while guided tours are €20 ($21.50 USD).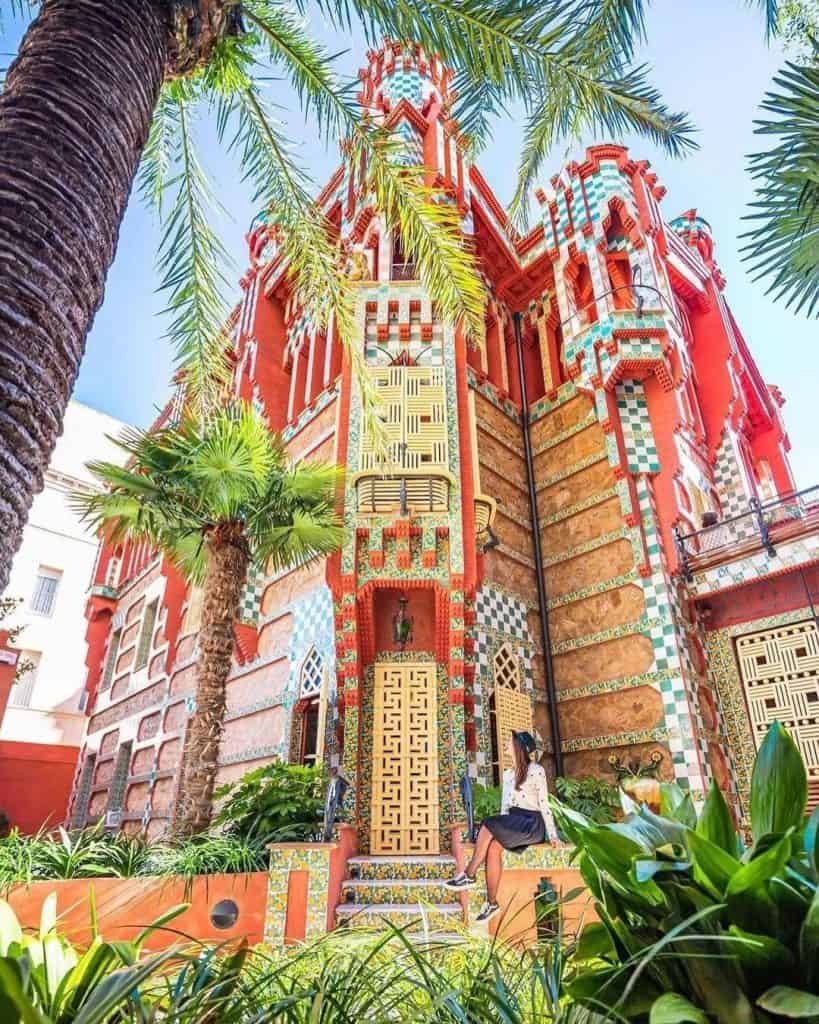 Casa Vicens, Gaudi's first big building, is our final Barcelona Instagram spot. It is a great example of Gaudi's unique take on the orientalist style, which became famous in the 19th century. Gaudi clearly drew inspiration from Indian, Persian, and Japanese architecture, but he added his own unique twist to make the building unique. Today, anyone who likes history, art, or building must go to Casa Vicens!To avoid crowds, visit Casa Vicens within 1-2 hours of opening.
Location: Carrer de les Carolines, 20-26, 08012 Barcelona, Spain
Opening Hours: Monday from 10:00 AM to 3:00 PM and Tuesday through Sunday from 10:00 AM to 7:00 PM.
Entrance Fees : General admission is €18 ($19.40 USD) for adults and €16 ($17.25 USD) for students 12-25 and seniors 65+ (children 11 and under are free). 
Casa Padua is a stunning Barcelona residence that's popular on Instagram. We don't know much about this building's past or where it came from, which only adds to its mysterious charm. Casa Padua is known for its bright red front entrance and unique red and green decorations on the building's façade. The inside of Casa Padua is closed, but you can capture stunning Instagram photographs of its outside from the street!Morning is the best time to visit Casa Padua, however this is one of the least popular Barcelona Instagram spots, so it shouldn't be a problem to leave this one until later in the day when other spots are too busy.
Location: C/ de Pàdua, 77, 08006 Barcelona, Spain
Opening hours: 24 hours
Entrance Fees: Free
If you are only going to be in Barcelona for a short period of time, you should try to pack as much as possible into that time by making some advance plans. It is highly recommended that you get your tickets in advance for major attractions such as the Sagrada Familia, Casa Batlló, and Parc Guell.
Common Questions About Places In Barcelona
Start Planning Your Spain Trip Now!
Book Your Flight:
Use Skyscanner to find a cheap flights. A travellers favorite way to book flights, as it searches websites and airlines around the world with one click.
Book Your Bus or Transportation Within Spain:
There are two ways to book your transporation, ask your hotel or hostel, go to the local bus terminal, or book online, for a less stressful trip using 12go.asia
Book Your Accomodation: 
Find the best hotels or hostels at HostelWorld, Booking.com, Agoda.com. Perks include with no upfront payment. Pay when you check out and Free cancellations.
Dont Forget Your Travel Insurance:
Two popular choices are SafetyWing and WorldsNomads. A traveler should buy traveler's insurance to protect themselves against unexpected events such as trip cancellations, medical emergencies, and lost or stolen baggage. It provides peace of mind and financial protection in case of unforeseen circumstances.
Useful Apps
Omio / Alsa / Busbud – Booking Bus
Milow / Whatsapp / Telegram – Communication
Agoda.com / Booking.com – Booking Hotel
Renfe / Trainline / Omio – Booking Train
Just Eat / Uber Eat / Glovo – Food Delivery
Mitaxi / Kiwi Taxi / Taxibarcelona – Booking Taxi
Want More Information On Spain?
Be sure to check out my nomad travel guide on the Spain for even more tips.
Disclosure: Please note that some of the links above may be affiliate links, and at no additional cost to you, I earn a commission if you make a purchase.