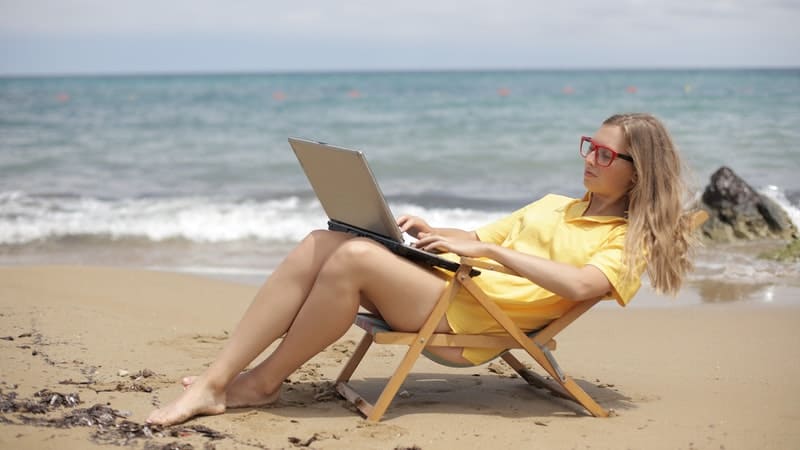 Are you looking for the best jobs for digital nomads or jobs you can do anywhere? Do you want to kickstart your dream of becoming a digital nomad and become location independent? If that's the case, you are in the right place. The digital nomad movement is developing, and with it comes many job opportunities that allow you to live anywhere and travel full-time. Following are the ten amazingly proven jobs that successful digital nomads are performing around the world today. Let's get started by taking a look at digital nomad jobs for beginners below. 
1.  Virtual Assistant
Among the top choices for nomad jobs is to become a virtual assistant for online clients. You can work as a VA from anywhere, thanks to the advancements in office technology. All you need is a laptop and a working Internet connection to communicate with your clients and help them with different tasks on a regular basis. You can help your clients as a VA with different activities, including financial bookkeeping, data entry, task management, file management, customer support, or project management. So, you don't have to stay at one place as you can enjoy the location freedom with VA jobs.
2.  Social Media Management
Social media management is another job that allows digital nomads to work while traveling since all that a manager needs is a steady Internet connection. Social media managers/marketers generate traffic from sources a company owns, such as pages, communities, groups, etc. In addition, they perform numerous tasks to connect their businesses with potential customers. With the rise of the new advertising techniques used on social media platforms comes the increase in demand for experts in this industry.
You can work as a part of a marketing agency as the digital nomad, helping businesses promote their services and products and build an integrated brand on social media platforms. The average hourly income of a social media manager sits at around $25, with monthly packages between $350 to $1000. If you have proven techniques and outcomes, then, as a passive income, you can manage social media for online marketing agencies.
3.  Affiliate Marketing
In years gone by, affiliate marketing has changed from what it used to be. Today, influencers have taken over the celebrity endorsement role for different startup companies and have given the opportunity for ambitious entrepreneurs to provide similar marketing results for a business at some cost. Affiliate marketing is when somebody starts their website or blog, promotes other people's services or products, and earns an affiliate commission every time a sale is made. These sales are tracked through links used within the affiliate's content detailing approval or review of the product.
Basically, an affiliate marketer is similar to an agent, except they work online. An agent has some monetary affiliation with the service and gets money when they make a sale. For those who get this job right, this can generate a passive income that will enable digital nomads to live the lifestyle they want.
4.  eCommerce Business
Another great job for a digital nomad is setting up an eCommerce store. eCommerce businesses can let you go anywhere sans any issues. You will not have any geographical restrictions and will be able to make thousands of dollars per month from any part of the globe. There are plenty of options available: You can run a store on Amazon or import goods and sell in your local shop. If you go with Amazon, it will take care of your shipping process, and you can work from anywhere. You simply need to have a laptop and a steady Internet connection to manage your store online. You can travel across the globe, while you got your products in a warehouse.
5. Writing
Freelance writing is another and one of the best options for digital nomads. Whether for content writing or copywriting for marketing purposes, great writers are always required for publications, websites, and blogs. Digital nomad writers can earn anywhere from some dollars per hour for entry-level jobs to hundreds or thousands of dollars for big projects. It is among those jobs which lets you travel anywhere you want while doing your work.
If you enjoy writing and possess excellent writing qualities, you can become a freelance writer. All you need to do is to search for your niche and begin writing. There are so many online platforms like Fiverr, Upwork, Guru, etc., where you can find relevant gigs. What's more, you can set up your own blog and provide custom writing projects.
6. Programming
Developers are digital wizards who write code and algorithms to communicate with a computer's OS. Programming positions are some of the highest-paying remote jobs in the industry today. The greatest perk is that the programming job can be performed independently and even in an offline environment.
If you are a developer of a particular computer language, such as .Net, Java, JavaScript, Ruby, or Python, you can enter this field quickly since it is an extremely in-demand skill. Or else, consider training in one or multiple programming languages as an investment into your digital nomad lifestyle since you won't face any difficulty finding jobs in the future after getting this skill.
7. Graphic Designing
Graphic designs and illustrations help in creating visuals and design imagery everywhere. These could include anything from graphic design work to images used on the front end of your site and logo designs. As ad and marketing campaigns scale with the business over time, a designer will be required, and so, the demand for this particular job will always be there in the industry. Expert graphic designers can earn thousands of dollars per month.
It is a great option for digital nomads as they have don't have to be physically present for the clients at a particular place. If you are an amazing graphic designer, you can work from any part of the world. You don't have to work at an office exclusively. All you need is creativity, a working laptop, a steady Internet connection, and designing software, depending on your skillset.
8. Teaching Language Online
For those who happen to know multiple languages fluently, being an online language teacher can be an amazing option for building a digital nomad career. In some cases, even only knowing English fluently can help one earn a spot teaching the language. Being an online language teacher is a job that can be taken anywhere with a steady Internet connection. Virtual teachers use video chat to teach and communicate with their language students. The flexibility of being an online language teacher and many opportunities in this field makes it among the amazing jobs for digital nomads.
9. Photography
Freelance photography came up more often than expected as the common job during the survey of successful digital nomads. Photography is one of the high-paying jobs, which include requested photoshoots, stock photography, selling photography, etc. You can make money between $1,000 to $10,000 every month. However, this will depend upon your skills. People usually think that clicking the camera and taking a picture is all it takes. But photography is much deeper and more complex than that. You cannot do this job with no experience.
You will have to be a professional photographer with extensive experience. Basically, you will need to understand how to take photos and learn about different angles. Plus, you need to get the right equipment and learn how to use it. To get this started, it is ideal to take a photography course from a renowned institute. Next is to build an online portfolio with your pictures. You can show your amazing shots to different brands and websites for freelance photoshoots. Over the years, you will get jobs that will pay you to travel the world and capture stunning photographs.
10. Video Production or Editing
There is so much demand for video editors and producers these days. The reason is the footage that we see in movies, TV shows, ads, and even videos on YouTube goes through an extensive editing procedure before getting deemed sufficient for the viewers. Video editors transform the raw footage into its final form. Together with the director and team, a video editor goes over every single shot and creates a single masterpiece out of them.
While most media jobs need a person to be physically present on the set, being a video editor or producer is different. Video editors enjoy the freedom of having all their work on their laptops without needing to be in a specific location. There are so many video editors who freelance and work on their projects from the comfort of their homes. Such nature of the video editing job makes it a good fit for digital nomads. Those who are passionate about this job will need to get video-creating software for practicing and start mastering their skills.
The jobs mentioned above are only a few jobs for digital nomads. There are several other amazing jobs for digital nomads these days. You can choose the job that fits your requirements and get started with enjoying location independence.
COMMON QUESTIONS ABOUT digital noma jobs