Our Stay in Rio Dulce ( Tijax), Guatemala
We stayed in Tijax while in Rio Dulce, where we stayed in really cool cabins, and went canoeing. Oh and we got rescued by the Guatemalan Navy! Yup, it was an interesting chain of events there.
Getting to Tijax

We honestly didn't know how to get to the hotel and so wandered around for a bit. Let me save you some trouble!
Be sure and have the number of the hotel, and tell them your estimated time of arrival. You will have to go to the pier and take a small boat to the hotel. They can pick you up for free if you call them, otherwise you will have to pay 10 quetzales to take a charter across each way.
If you find yourself without a phone, you can go to a local shop and ask to make a call, you will pay them a small fee, but then you can call the hotel. 
I asked the hotel where they usually pick up and was told the pickup point is Sun Dog Cafe, or Bruno's Restaurant dock
Things to do at Tijax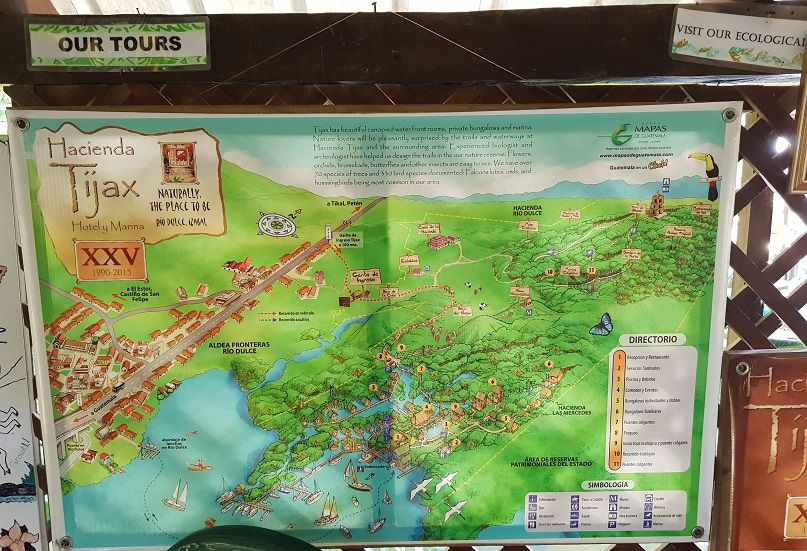 We chose this place because we wanted to relax. You can drink at the bar or at the pool. Take a horseback riding tour or a walking tour. Apart from that, this place is meant for relaxation. So if you are looking to party this isn't the right place. You can also go for a canoe ride, which is what I suggest you do.
Navy Picked Us Up
But don't do what we did. My friends thought it would be a cool idea to all stand up on the canoe and take photos. The result was that they couldn't get back on. Eventually some locals came by to try and help, but even they were having trouble with helping, because water was inside the canoe itself.
So what happened next was a little scary. The Navy actually came to help. Imagine a boat with a bunch of men with large guns, heading your way.  Yeahh… Even worse.. Once they saved my other 2 friends, my friend Maritza and I began to paddle back to the hotel, just to see the boat drive away past our line of sight. We were not sure if we had just lost them, since they had no phones or identification. Luckily a few minutes later we saw them and it was all okay.
So just be safe out there, and don't be dumb like us!.