6 Steps For Preparing For Your Trip Abroad.
Let's get ready together!
Many first time travelers are unsure on how to prepare for their first trip. Let me help you try and ease that stress with steps I follow when getting ready for a trip.


---
TLDR:TOO LONG DIDNT READ
Step 1: Find the top things to do in the country. Finding what you want to do and if its worth doing saves time and money.
Step 2: Plan your route. You know what to do, where to do it, now you can plan each day.
Step 3: Inform yourself of common scams. Don't get scammed out of your hard earned money.
Step 4: Look into local customs Do's and Dont's and learn some local words. Customs are different everywhere you go, let's learn something new.
Step 5. Pack your essentials! Don't forget those socks, power bank, medicine etc!
Want to learn more? Check it out in detail below!
---
Step 1: Find the top things to do in the country


I usually start by googling for example "things to do in Thailand" and I sift through multiple sites and make a list of the places I want to see. One good place to search is google's "Things to do" at the top of the search results; google even provides day trips that others have suggested. Once you find the places you want to check out, go to TripAdviser and see what other travelers have said about the location. You may find out that the place really isn't worth going to, or what to watch out for while being there. Don't forget to write down if the places have an entry fee and their hours!
Ex. Lets say we are going to Bangkok, Thailand
Places to see:
1. Pak Khlong Talat
2. Temple of Dawn (Wat Arun)
3. Temple of the Reclining Buddha (Wat Pho): 100  Baht
4. Wat Pho Thai Traditional Massage School: $10 USD
5. Grand Palace: 500 Baht
6.Yaowarat Rd (ChinaTown)
Step 2: Plan your route

Now that your research is done, lets make a plan so that you spend less time commuting and more time adventuring and taking in the sights. Open up google maps and start entering in the places you want to see. Soon enough you'll have a general idea of the area where those sites are. This helps for two reasons: 1. Now you know where to stay if you want to stay close to the attractions. 2: Now you can plan each day and have a general idea of how far everything is from each other.
Ex. We map the previous examples locations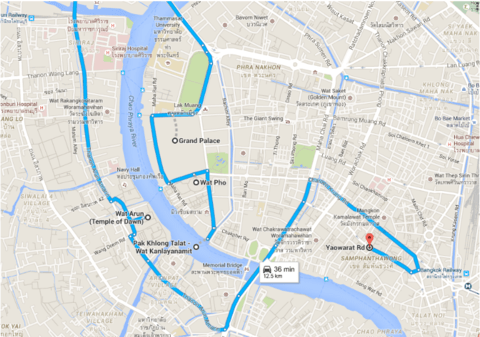 Based on this map, now we know that this can be all seen in one day. Of course yours won't look as nice as this, you may have locations all over the country like this.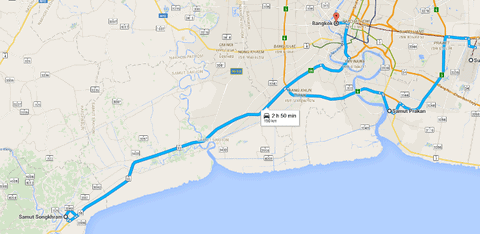 But now this helps you to know that you need to go from Bangkok to Samut to be able to see the other place. Now you can look into buses, trains, flights etc.
Step 3: Inform yourself of common scams and learn some of the local language

A mistake first time travelers make is not informing themselves of scams that are targeted towards tourists. From over priced taxis, to fake tourist spots. You'll save a lot of time and money and thank me later, by doing this step. Sometimes even knowing a few local words can also be helpful.
Ex. Bangkok, Thailand
Common Scams
1. An Expensive Taxi ride: the driver accidentally forgets to turn on the meter, and asks for a large sum of money. Always ask before you enter a taxi if they use the meter, if they say no, just look for another taxi.
2. Tuk Tuk Driver Suggestions/ Tourist Route: For a small fee, your driver says he can take you to some nice places. What happens is he stops at tailors, souvenir shops and tourists offices, which are usually overpriced. Why? If you buy something, he gets a commission.
Big rule of thumb, NEVER HAND OVER YOUR PASSPORT when renting motorbikes.Keep scans of it to use instead.
Common Phrases
Sa-wat dee (hello)
Used for both hello and goodbye.  
Khop koon (thank you)
Gee baht? (how much)
Essential for all the shopping
Yoo tee nai…? (where is…)
Just point at a place on your map
Mai ow (don't want)
Useful for fending off persistent street vendors.
Khor tort (sorry)
Step 4: Look into local customs: Do's and Dont's

Although in most places foreigners are forgiven for their indiscretions, it's good to know some of the rules and customs before being a guest in someone else's home.
Ex. Bangkok, Thailand
1. Do not point:  If you need to gesture towards something  point with all four fingers out and your thumb against you palm.
2. Revealing clothing in Temples: Neither men or women are allowed to have shorts on.Cover yourself down to your ankles.
3. Respect the monarchy: You can find yourself in a bit of trouble if you speak poorly of the monarchy.
Step 5. Pack your essentials!
Packing is just as important as planning! One of the most important things is to see what power outlet type is used in the country to plan to visit, alternatively buy a universal power converter.
1. Basic Toiletries: Toothbrush, Travel size: toothpaste, shampoo, contact solution, personal care items.  Don't forget liquids should be less than 100 ml and fit in a clear quart sized bag.
2. Power Bank and Charging Cords: Keep your devices charged on the go.
3. Day Backpack: So you can carry that days essentials.
4. Money Belt: Keep your extra money hidden.
5. Power Converter/Adapter: Not all countries use the same power plug.
6. Medicine: Dramamine – for motion sickness, Pepto Bismo- for upset stomach, Alka Seltzer – for upset stomach and altitude sickness
7. Scans of your passport and id: Sometimes to rent bikes and motorcycles, a passport is required, hand over a copy and never the original.
8. Water Bottle: Stay hydrated when you travel, we may forget to drink water.
Step 6. Have your documents ready
Some countries require visas and proof of entering and exiting the country, so have paper copies of important documents like your passport, visas and flights on hand. Save yourself the hassle of trying to find them and just have them ready