You see your friends going to Europe and Asia, but how many people can say they have gone to Cuba? Brightly colored streets, beautiful antique cars and culturally rich cities, are what you'll find in the country of Cuba. But wait you say. Isn't it illegal to go to Cuba? The answer is NO. All you need is a visa, a planned itinerary and health insurance to be able to visit.
Getting a visa and Health Insurance


You will see confusing posts about Cuba Tourist Cards and Visas, but for those from the United States or Canada, you're visa will be handled by the airline that you choose to book with. There are 12 options for visas, but I suggest going with "support for the Cuban people" visa.
These visas are self-reporting and require you to keep an itinerary on hand. Keep detailed records of expenses and your itinerary in the event that you are audited by OFAC ( The Office of Foreign Assets Control) which can happen within 5 years of your visit.
Another thing to keep in mind is that you are restricted from using government hotels or spending money on any military owned businesses. The best thing to do is, stay at casas particulares and eat locally at paladares Here is the restricted list for reference. https://www.state.gov/e/eb/tfs/spi/cuba/cubarestrictedlist/275331.htm
So I mentioned that visas were purchased via the airline. Well this is done before departure at the gate for your flight to Cuba, alternatively you can buy it online through a 3rd party provider.
Southwest: $50. Can be bought online in advance or at the airport upon departure.
Delta: $50. Buy at the gate or order it by mail in advance.
JetBlue: $50. Buy at your final airport before flying to Cuba.
United: $75. Buy at the gate in Newark or Houston.
American: $85. Online or at the airport in Charlotte or Miami the day of your departure.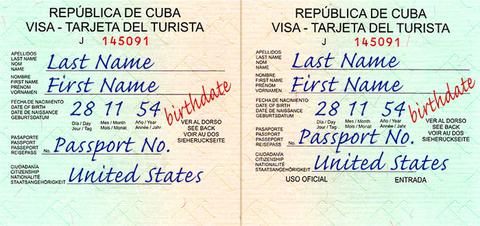 Call your airline as changes could have been made, make sure not to lose the visa as it is needed to enter and to leave.
As far as health insurance goes, some airlines include that with your ticket, so call your airline to check. Don't be afraid to get extra travelers insurance.
Cuban Money


Be vigilant with Cuban money as they use 2 forms. CUC, the Cuban Convertible Peso aka the tourist money and Cup, the Cuban peso, the locals money. CUC have images of murals on it, while CUP have peoples faces. Make sure when making transactions that you receive the correct change back!
$1 USD = 1 CUC = 24 CUP
Note: American credit cards don't work in Cuba so be sure to take enough cash to last your trip. I would say anywhere from $50 -100 depending on how luxurious you want to travel.
While US Dollars are usually very strong, when travelling in Cuba, you will get a hefty 10% penalty fee plus the exchange rate charge when converting. So it may make more financial sense to bring Euros or another form of currency to convert, I'll leave the math up to you. You can exchange money directly at the airport. Note there are two exchanges present, one to convert foreign currency to local, and local to foreign, don't be led astray. You will find the currency exchange that you need, downstairs walking out towards the Taxi area.
Finding a place to stay


For the budget traveler or those looking for a more authentic experience, I suggest finding a "Casa Particular". This can be found via Airbnb or by simply asking your taxi driver. Many times simply upon arriving via Viazul to a new city, there will be families there offering home-stays.  The Cuban people make most of their living from tourism and are very connected, if you need something , don't hesitate to ask. They can find you housing, transportation and tourist activities in different cities, by referring you to a friend. In Havana I stayed with Antonia, because her house was very close to the Viazul bus station. https://www.airbnb.com/rooms/17494401 She can help you arrange housing elsewhere if you ask.
Getting around


To get from city to city you can grab a private taxi or go by bus. Private taxis can be expensive but you could try and split the cost with other travelers, splitting among 4 people would be a good way. Alternatively, you can take Viazul to your next destination. Viazul, is a private bus company, while not luxurious, it does have AC and is a cheap way to get from point A to B.
Within the city,most places are walkable, but you can  always rent bicycles and scooters. If you are wanting to use a car, I suggest reserving in advance as rental cars are limited.
Vintage Taxis, $8-10 per ride within the city. Renting one for a longer 2-3 hour trip can cost around $60 -$70 USD depending on your bargaining skills.
Connecting to the outside world. Internet/wifi


YES, there is wifi!! But there is a limitation. You must find a wifi spot usually located by an ETECSA, a Cuban telecom company. You can buy cards for 2-3 CUC but may have to queue in line. You can find cards faster from local touts or your hotel for 4-6 CUC. Another note, is there is usually two lines,  one for buying wifi cards and another to pay for local services and bills, so make sure you aren't waiting in the wrong line.
Common questions about visiting cuba
Start Planning Your Cuba Trip Now!
Book Your Flight:
Use Skyscanner to find a cheap flights. A travellers favorite way to book flights, as it searches websites and airlines around the world with one click.
Book Your Bus or Transportation Within Brazil:
There are two ways to book your transporation, ask your hotel or hostel, go to the local bus terminal, or book online, for a less stressful trip using 12go.asia
Book Your Accomodation: 
Find the best hotels or hostels at HostelWorld, Booking.com, Agoda.com. Perks include with no upfront payment. Pay when you check out and Free cancellations.
Dont Forget Your Travel Insurance:
Two popular choices are SafetyWing and WorldsNomads. A traveler should buy traveler's insurance to protect themselves against unexpected events such as trip cancellations, medical emergencies, and lost or stolen baggage. It provides peace of mind and financial protection in case of unforeseen circumstances.
Useful Apps
Booking Cuba – Booking Bus
CubaMessenger / Sinch / Whatsapp – Communication
Booking.com / Trivago / Viahero – Booking Hotel
Trip Advisor / Cuba Travel / RailwayHero – Booking Train
Mandao / Alamesacuba – Food Delivery
Happy Taxi / Cuba E Taxi / Taxi in Cuba – Booking Taxi
Want More Information On Cuba?
Be sure to check out my nomad travel guide on the Cuba for even more tips.
Disclosure: Please note that some of the links above may be affiliate links, and at no additional cost to you, I earn a commission if you make a purchase.