Coronavirus and  State Level 3 Warning
I, like many others, wasn't sure if travelling during a pandemic was a good choice. Would I catch the virus? Would I be chastised for travelling during such an uneasy time? Taking a look at the state department's website, you will see Mexico at a level 3 "Reconsider Travel". But after visiting one of the murder capitals of the world (Honduras), the state warning didn't make me change my mind. 
I thought very hard, and then proceeded to book my ticket.  Why? Being surrounded by four walls for so long was draining my spirit and motivation.
The Airport
I wasn't sure what to expect, when arriving in Cancun, Mexico. Back home in Texas, there were many people who had forgotten that virus still existed so it seemed. When I arrived at the airport in Cancun, nothing seemed out of the ordinary. Our main defense, wearing our masks, submitting a mandatory digital health declaration and of course a poor attempt at social distancing. I was already convinced that being in Mexico would be no different than the United States, at least when it came to preventative measures.
Unexpected Surprise
I was wrong. In every restaurant, store, hotel, you name it. There was always an attendant, checking your temperature, giving you sanitizer and asking you to clean your shoes on some solution or disinfectant mask. In all the places I visited Cancun, Playa del Carmen and Tulum, there was plenty of space to spare.
I found out that many locals were taking the virus seriously. The reason being that so many of their jobs depended on tourism.. I even heard that in some parts of Mexico, gangs had enforced quarantine with threats of violence, because the virus was bad for business.
Yes, you still saw people without masks in the tourist areas, people were still trying to party. But I felt more safe in Mexico, than I did at home. Again not only is there more open space, but there were more covid friendly measures in place. You may even find yourself being one of the few people at a beach in the evening, or at a restaurant for lunch. But I am sure that won't last for long, as Mexico becomes the #1 destination for travelers.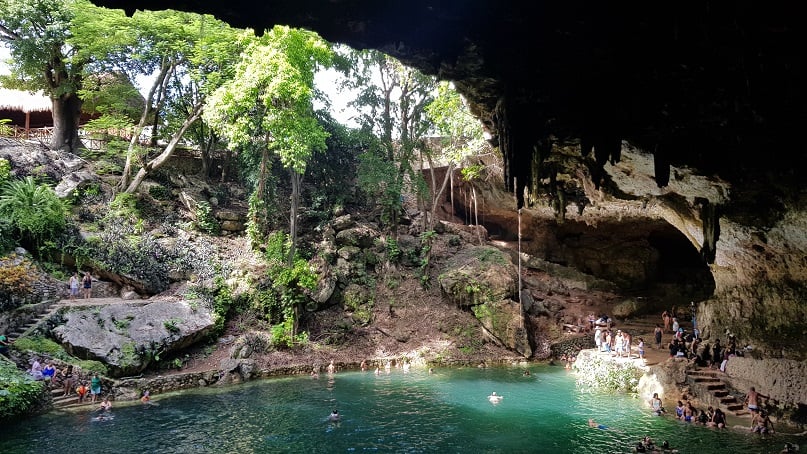 What was open?
Things seem to be opening up around Mexico, from Cenote tours, beaches, and other tourist destinations like Xplore. Even the bars were open! Most of the shops in Playa Del Carmen's famous 5th avenue were open and ready for business too. If you are planning to travel somewhere this year Mexico is a good option.
Tips From My Trip
My trip was full of good food, beaches and Cenotes. Using local transportation called Collectivos, you could move city to city for 40 pesos, or about $2 USD. My friend Jasmine and I, travelled from Cancun to Playa Del Carmen to Tulum and back using the travel mode. Keep in mind you are with other people in something resembling a large minivan. So if you want more space I suggest renting a car or using the ADO buses. The ADO bus will cost you from 2x – 4x, but you have AC, they play movies, you have a toilet, and in theory it's more covid friendly.
If you are paying more than 25 pesos for a taco, you are overpaying. Taxis will be one of your biggest expenses, while in these areas. So if you can rent a bicycle or even consider getting a rental car if you are travelling in a group. 
For accommodation, I would say to check Airbnb, there are many great places for a discount. Going for longer than a week? Message the host, you can usually get a discount. Don't focus too much on finding the cheapest place but instead being close to the places you want to visit, this is especially true when a taxi is wanting $4 – $10 each way, even if its a 5 minute drive, this is very true if you look like a tourist. 
Was it worth it?
Yes! The food was amazing and moderately priced. You can live in Mexico for half of what you would pay in the states. If you like the beaches and outdoors, or just fresh air, Mexico is the place to be.  If you want to make some friends, be sure and check the Couchsurfing community too; they are very active.