I was originally looking at going to Cancun when I spotted a very cheap flight from Delta, FOR. $357.91. So I did what every reasonable person would do and bought a ticket before looking into all the details…. Do I need a Visa? I wondered after booking. The simple answer is yes, but you can get more details on that on my other post.
Off my flight, off to to adventure! … Oh wait.
I arrived in Cuba, not knowing what would lie ahead, But, I had two tasks in mind. 1. Convert Money and  2. Find my host, who had graciously offered to pick me up from the airport.
First thing, you will want to do is convert some money. Don't make the same mistake I did and wait in the wrong line for 30 minutes. You will want to exit the terminal downstairs and find a the Exchange office that is attached to the airport but accessible only from the outside. Don't be surprised when you get a 10% fee plus the exchange fee, due to having US dollars, I lost close to a good 13%, so do your research regarding taking other currencies that may convert better. Be vigilante with Cuban money as they use 2 forms. CUC, the Cuban Convertible Peso aka the tourist money and Cup, the Cuban peso, the locals money.


$1 USD = 1 CUC = 24 CUP
Now if you didn't arrange transportation. You'll want to grab a taxi. Now not all taxis here use meters so make sure you agree on a price. Getting into town will cost from $20-25 on average.
7 days and 7 nights
With only 7 days to explore Cuba, I dove into the depths of google and choose what I found were the highlights and must sees for my style of travelling. Fair warning, my travel style isn't for all people, as sometimes I take night buses or trains to other cities, or take 6 am flights, but this plan is a good overview!
2 Days, 3 Nights in Havana
3 Days, 2 Nights in Viñales
2 Days, 2 Nights in Trinidad
The adventure begins
After arriving to my host's house, I decided to take a walk to a main street where taxis generally frequent. So in Havana you can find taxis just about anywhere, but I was  about 20 mins out from the city center. I could have paid $5 or 5 CUC, to head to Old Havana but I decided to go the local route. I hailed a 'taxi collectivo', a shared Taxi heading to Old Havana.  To hail a taxi collectivo you stand by a main street looking for one with the sign 'taxi', once a taxi stops just tell him where you want to go. He will either tell you to get in, or tell you he isn't headed there. Now a taxi ride such as this goes for as little as 50 cents to $1, 10-20 CUP. Luckily, I had gone to the local bank and asked for local money. Another note, is to always agree on a price before entering a taxi and to ensure which currency they want, but for a tourists it's safe to assume its CUC. Regular taxis can range from about 5 – 10 CUC, while the fancy taxis range from 10 + CUC.
Day 1: Havana
El capitolio
Parque Central
Catedral de San Cristobal
Castillo de la real Fuerza
Plaza de armas
La Catedral de la Virgen María de la Concepción Inmaculada de La Habana
Castillo de san salvador de la punta
El malecon
Once I arrived to Old Havana, I was ready to trek by foot. I will spare you the history but I will tell you what I did through the day. I highly encourage going by foot or bicycle as you get to see more than you would by taxi.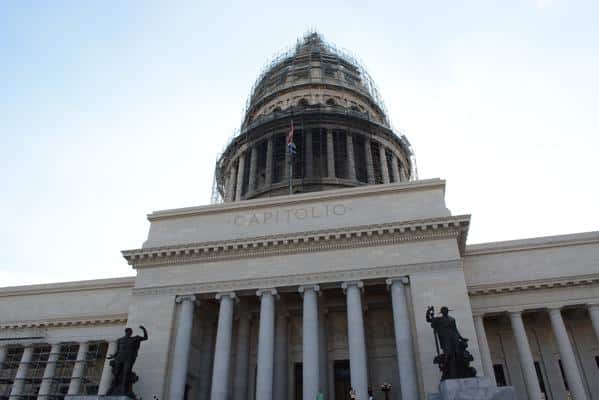 I started at El Capitolo, a great spot for people and car watching. Then made my way to the parque central, where you can find wifi through ETACSA. Making your way to the Catedral de San Cristobal, you will see many shops were you can eat. I suggest trying the 50 cent pizzas, though you will find them for up to $4 CUC.
Day 2 & 3: Trinidad
I found the city of Trinidad to be very tame. I spent my time here, walking around by foot. You will find tourist priced food in the main streets, but if you feel brave, wonder the backstreets, and you will find meals for about $1. Walking towards Parque Central Cespedes will put you near an ETACSA building where you can buy more wifi cards and use wifi, it is also a great spot to people watch. I suggest walking towards Plaza Major, here you'll find a church and many restaurants.
There isn't much to do in the city but you can arrange horseback riding tours and can make your way to the beach. Horseback riding was a fun experience that allowed me to see a waterfall and taste fresh cane juice at a stop on the way. We were entertained by the owner with a lovely song, wooing all of the tourist with his charm and voice. If you get the chance, try the cuban honey and take some home. I regret not taking some home!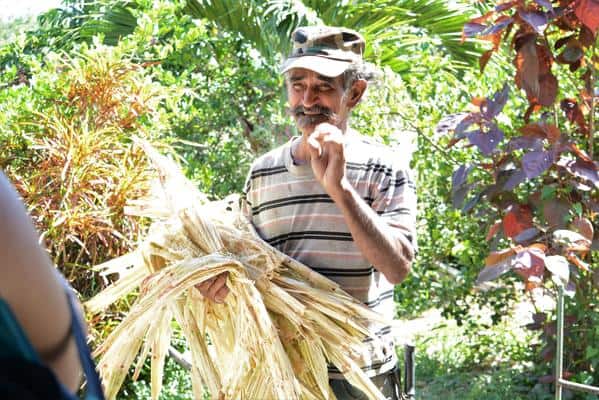 I was able to get a ride from my host to Ancon Beach, which was beautiful and relaxing. Nothing beats $2 mojitos and a beautiful sunset.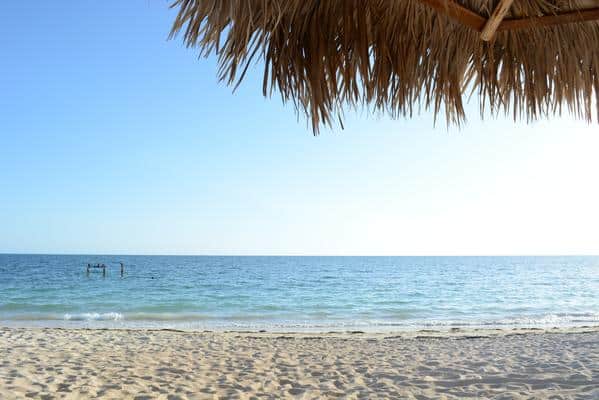 Day 4: Trinidad -> Havana -> Vinales
I made my way back to Havana, when I realized, I had seen what I wanted and would love to spend more time in Vinales. So as soon as I arrived, I hopped onto a bus towards Vinales.
(TALK ABOUT TRIP LENGTH)
Day 5 & 6: Vinales
I really enjoyed Vinales due to being able to see the more rural side of the country. You will probably want to rent a bicycle as soon as you get there. While most of everything in town is on a main street, having a bike gives you the freedom to explore more. As always the food in the main streets is priced higher but if you go towards "Adela Azcuy" ( I may be wrong about the street name but its there), you will find a very cheap food court.
I suggest taking a day to bike around and explore in this order.
City Center
Jardin Botanico de Vinales
Indian Cave
Palenque de los Cimarrones
Note:Bike hire in Viñales: 6 CUC / $6 for 5 hours (no locks)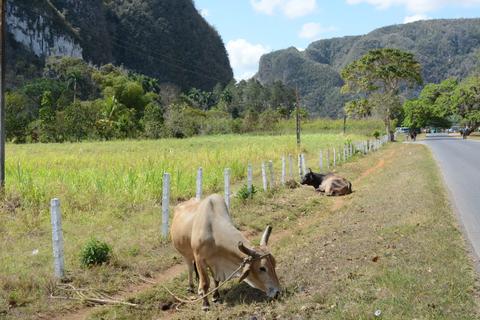 Now it was a fairly long bike ride to Indian Cave, but with many beautiful sights, you would have otherwise not been able to see if you took a taxi. Once you arrive to Indian Cave, you have to pay 5 CUC to go through the cave. While this isn't the most interesting Cave, I felt that the journey there was worth it.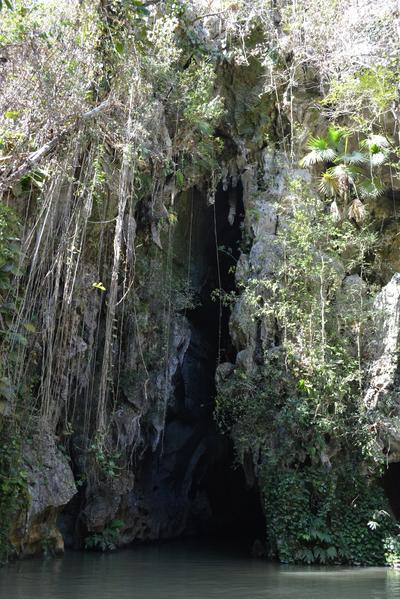 You'll notice that you passed a cave opening on the way to Indian Cave, this is called Palenque de los Cimarrones, a nightclub. This club is fairly interesting, it's not a dance the night away type of club but more of a social night. When I went they had a comedy show and a drag show mix. It won't blow you away, but it's worth just to check it out, since it looks cool at night.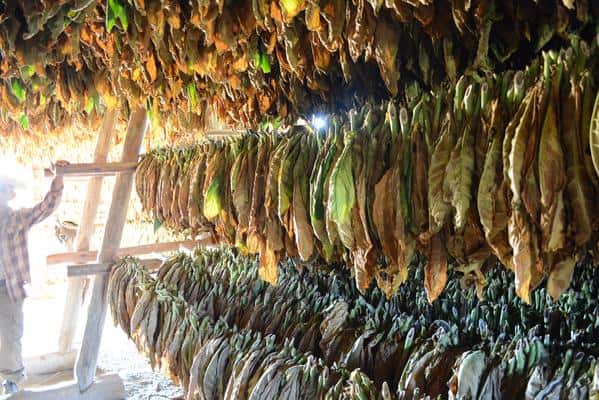 I was able to go an a nice horseback riding tour that took me to a tobacco farm. On tours like this, you will be given the chance to buy some Cuban Cigars direct from the farmers, make sure not to pay more than $3- $5 per cigar, and inform yourself of the limit for your country, as there is a limit to how many you can take back. I suggest buying ONLY from farms or reputable stores, as any others are likely fake, cheap substitutes.
Another event that I really liked was going to Cuevos de Santo Tomas. I suggest arranging this through your host or through the tourist center in the main street. I believe for about $15- $20, you will get a Taxi and the entrance fee covered for this cave.  You will see that it is fairly large, and beautiful.
Day 7 & 8
I ventured back to Havana for the last night, and day before I was to leave. I suggest taking a ride along the seaside in a classic Taxi, or just relaxing at the peer?. Take in the scenery around you. Not many people have been able to make this unique journey.
Item Prices
As an extra note here are some common prices and tipping guides
Coffee: 50 cents – $1
Bottled Water: 20- 70 cents
Beer: $1 -2
Cigars at a plantation: $3- $5
Tour of Havana: $30 CUC
HorseBack Riding: $5/hour
Bike Rental: $6 for 5 hours. Note: Bring your own lock
Tipping
Bathroom tips: 50 cents
Tour Guides: $2
Musicians $1 CUC
Start Planning Your Cuba Trip Now!
Book Your Flight:
Use Skyscanner to find a cheap flights. A travellers favorite way to book flights, as it searches websites and airlines around the world with one click.
Book Your Bus or Transportation Within Brazil:
There are two ways to book your transporation, ask your hotel or hostel, go to the local bus terminal, or book online, for a less stressful trip using 12go.asia
Book Your Accomodation: 
Find the best hotels or hostels at HostelWorld, Booking.com, Agoda.com. Perks include with no upfront payment. Pay when you check out and Free cancellations.
Dont Forget Your Travel Insurance:
Two popular choices are SafetyWing and WorldsNomads. A traveler should buy traveler's insurance to protect themselves against unexpected events such as trip cancellations, medical emergencies, and lost or stolen baggage. It provides peace of mind and financial protection in case of unforeseen circumstances.
Useful Apps
Booking Cuba – Booking Bus
CubaMessenger / Sinch / Whatsapp – Communication
Booking.com / Trivago / Viahero – Booking Hotel
Trip Advisor / Cuba Travel / RailwayHero – Booking Train
Mandao / Alamesacuba – Food Delivery
Happy Taxi / Cuba E Taxi / Taxi in Cuba – Booking Taxi
Want More Information On Cuba?
Be sure to check out my nomad travel guide on the Cuba for even more tips.
Disclosure: Please note that some of the links above may be affiliate links, and at no additional cost to you, I earn a commission if you make a purchase.